Blue Horizon Apartments
This post may contain affiliate links which means that if you purchase through my link I may earn a small commission which helps to keep this site going. Thank you. You can find more info in my disclaimer.
Blue Horizon Apartments are located in Przno, right in the heart of the Budva Riviera. In fact, it's probably one of the most idyllic and convenient spots to base yourself for your holiday.

---
Location
Przno's only 10 minutes from the resort hub of Budva town, but it has more of that Mediterranean seaside village feel that Montenegro's famous for. The little cove has plenty of beach front and amenities like restaurants and shops are just a short walk from the apartments.
There's also a great spa centre in Hotel Maestral down on the seafront, so you can just pop across the road for a relaxing massage or treatment. We've been here a couple of times for Thai massages and have walked out feeling like new people!
---
Blue Horizon Apartments
Click on any picture to open the picture gallery.
But back to the Blue Horizons…
Blue Horizon Apartments is a large apartment complex just off the main coastal road that runs from Budva to Petrovac. In fact, in this location you can really explore the Budva Riviera and all its beaches because they're all so close.
The complex has off street parking, two pools and serviced apartments. The other great thing about this complex is that the Hotel Residence is just next door, so you can easily pop over here for coffee, sweets and meals if you don't feel like going far.

discover kotor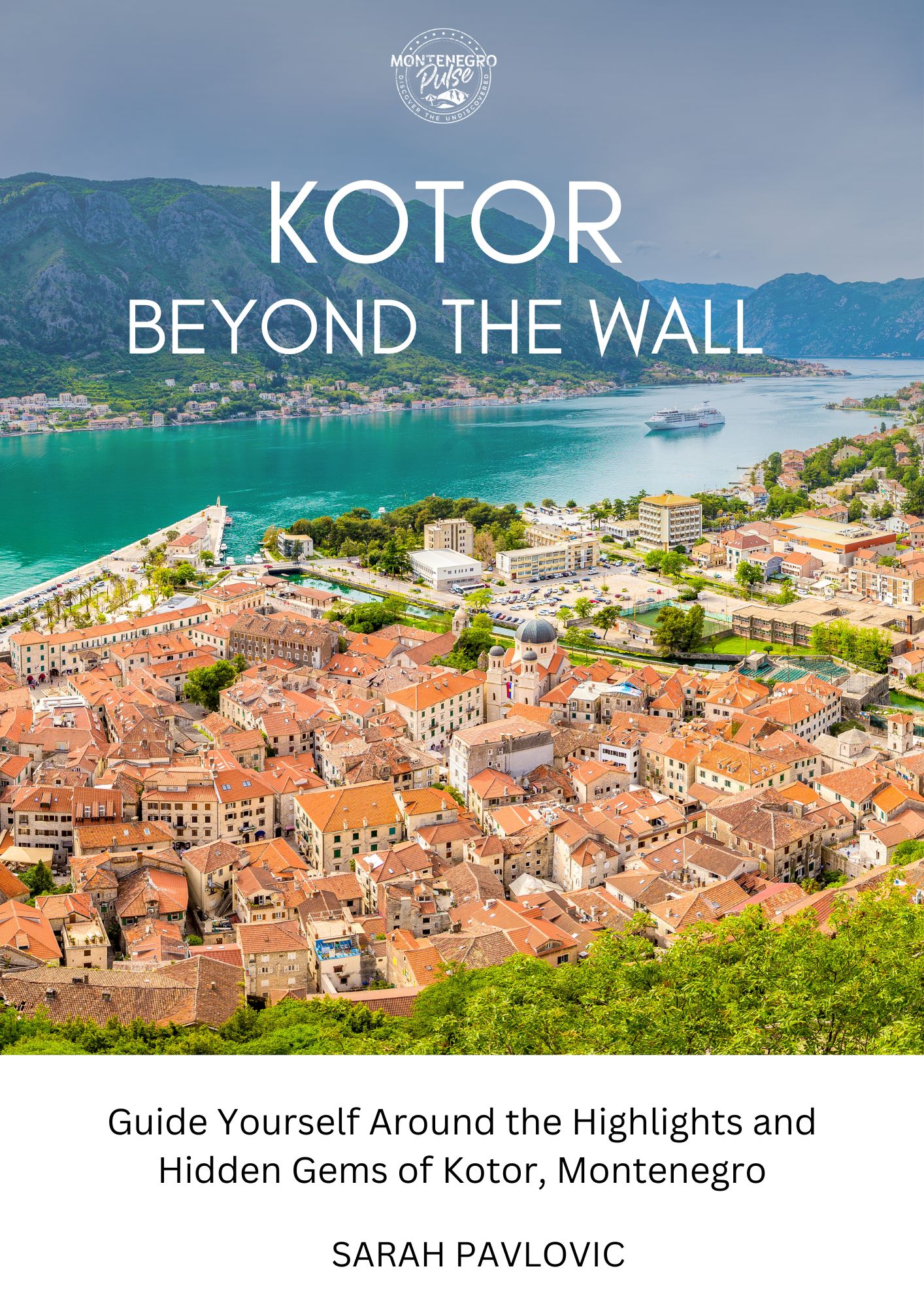 Guide yourself with the
"World's Best Guide to Kotor"
Top attractions
Hidden gems
Bonus walking tour
What to eat
Exclusive experiences
Essential visitor tips
If you do feel like venturing out, you've got some lovely restaurant choices down on the Przno waterfront. You've also got hundreds of choices in Budva town itself – everything from traditional Mediterranean cuisine to traditional Asian cuisine.

Would you like to stay on the Budva Riviera but not keen to hire a car? Then this is also a great choice for you. There's a bus stop just in front of Hotel Residence so you can catch a local bus to Budva or in the other direction to Sveti Stefan or Petrovac. You can also grab a taxi if you prefer.
There are both one bedroom and two bedroom apartments in the Blue Horizon Apartments complex.  Ideal for couples, families or groups.
The apartments are modern and relaxed with an open plan design. They all have air conditioning, tvs, fully equipped kitchens and are supplied with linens and towels. So you have everything you need for a comfortable self-catering holiday.
---
One Bedroom Apartments
The one bedroom apartments can sleep either 2 adults and 2 children or 3 adults. They have one bedroom with a double bed and a pull out sofa. 
---
Two Bedroom Apartments
The two bedroom apartments can sleep up to 6: 4 adults and 2 children or 5 adults. There are two bedrooms and a pull out sofa.
---
Pools
The complex has two pools for guests - a main pool and a kiddies pool. Even though the beach is a short walk away, lazing by the pool and cooling off whenever you feel like it is even better!
---
Facilities
---
To Book
---
Blue Horizon Apartments
help the stray animals of Montenegro
Book your accommodation anywhere in the world through any of the search boxes on our site and we'll make a donation towards sterilising stray animals in Montenegro. 
It costs you nothing, and you get the biggest selection and lowest prices guaranteed. It's a win-win!