Montenegro Pulse contains affiliate links and is a member of the Amazon Services LLC Associates Program. If you make a purchase using one of these links, I may receive compensation at no extra cost to you. See my disclaimer for more information.

Budva Travel Guide: Best Things to Do in Budva, Montenegro (2023)
Budva is Montenegro's most popular seaside resort town. With a 2,500 year-old town, miles of beaches leading to glittering sea and parties til dawn, Budva is the quintessential summer resort.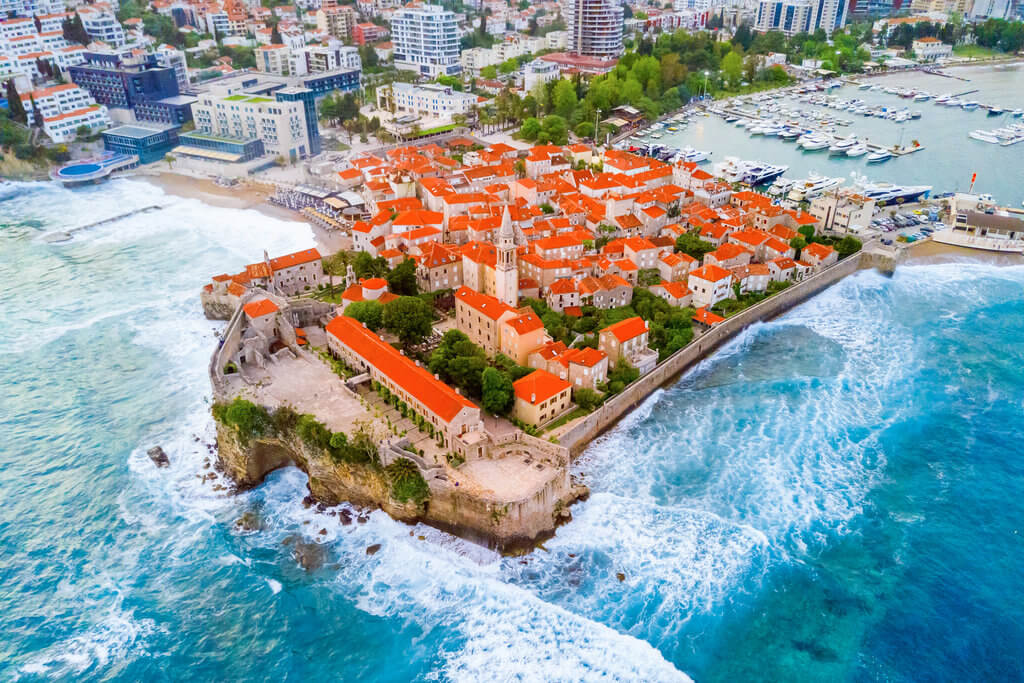 Budva old town. Image: Deposit Photos
With a sunny Mediterranean climate, swathes of beaches and excellent nightlife, Budva is a favourite with people looking for a summer holiday. 
If you're after a beach holiday where your daily exercise consists of wandering between your lounger and the shore for a cool off in the sea (maybe with a couple of snaps of your fingers to call your waiter to refresh your drink thrown in), Budva is the perfect place for you.
And if a beach holiday sounds like just what you need… but you'd also like a bit more to do than just going to the beach, you'll also find adventure activities like kayaking, canyoning and paragliding in Budva.
Budva's central location means it's also a good base for exploring. It's well connected and from here you can easily visit Montenegro's top attractions with a rental car or on tours.
Budva is also a relaxed destination for families. You'll find family-friendly resorts where your kids can spend hours building sand castles and splashing in the hotel pool while you catch up on some reading. You'll also find fun family activities like Budva Aqua Park and canyoning, and at night you can wander the promenade with cones of gelato.
But there are also downsides to staying in Budva. The main problem is the traffic in summer, as tourists descend on the town for a bit of beach time. There are traffic jams on the main road through the centre and it's hard to find parking. The town itself is an uninspiring urban jungle, but you can avoid most of these problems by staying within walking distance of the beach or by visiting outside of the peak season months of July and August.
---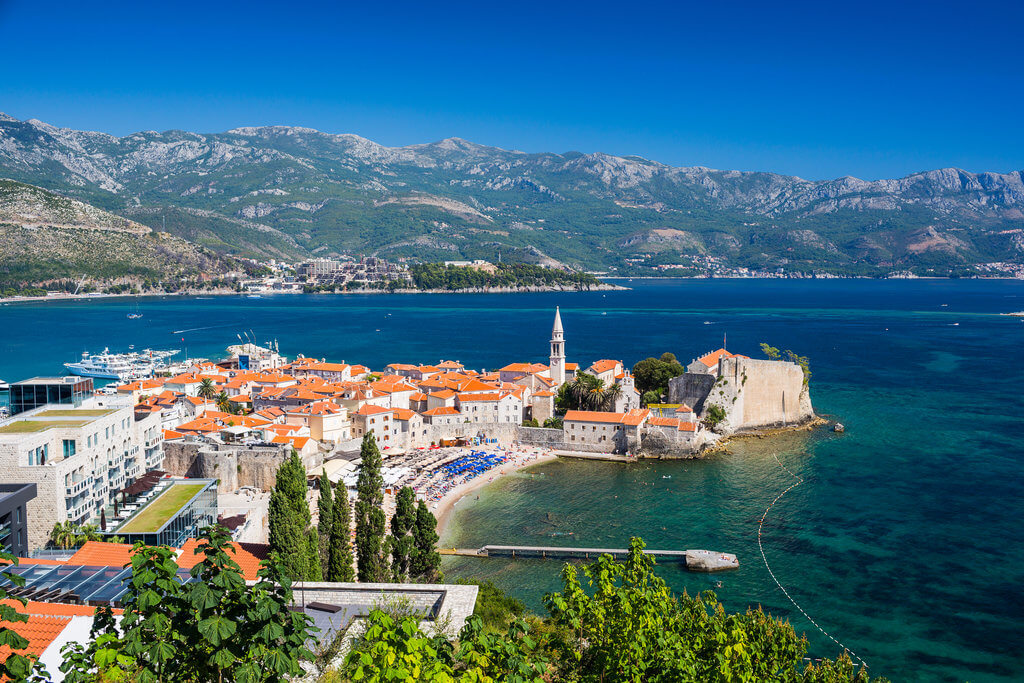 Budva old town. Image: Deposit Photos
---
Things to See and Do in Budva
Stari Grad - The Old Town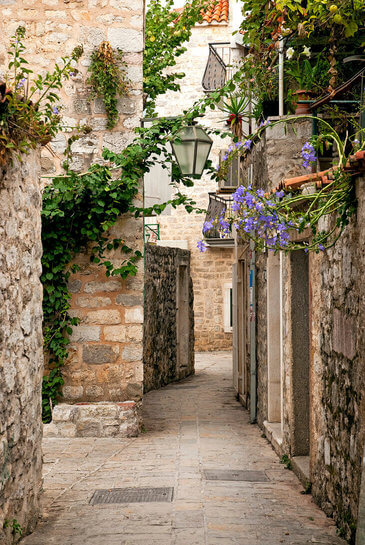 Budva old town. Image: Deposit Photos
Budva old town is the site of one of the oldest settlements on the Adriatic coast. It was settled around 2,500 years ago by the Illyrians, but was also ruled by Greeks, Romans, Venetians and Slavs.
The walls and streets of the old town were mainly built during Venetian rule, but, like other old towns from Dubrovnik to Ulcinj, Budva old town suffered significant damage in a 1979 earthquake. While devastating for  residents, the earthquake unearthed a lot of previously-hidden archaeological sites and artefacts, which are now on display in the town and in the town museum.

There aren't many attractions in Budva's old town, especially compared to Kotor old town, so one to two hours in enough here. Most of the churches are closed, but you can visit the citadel and see some of the ancient artefacts in the town museum.
There are also some great beaches near Budva old town, so you can combine exploring the ancient streets with some beach time.
The Citadel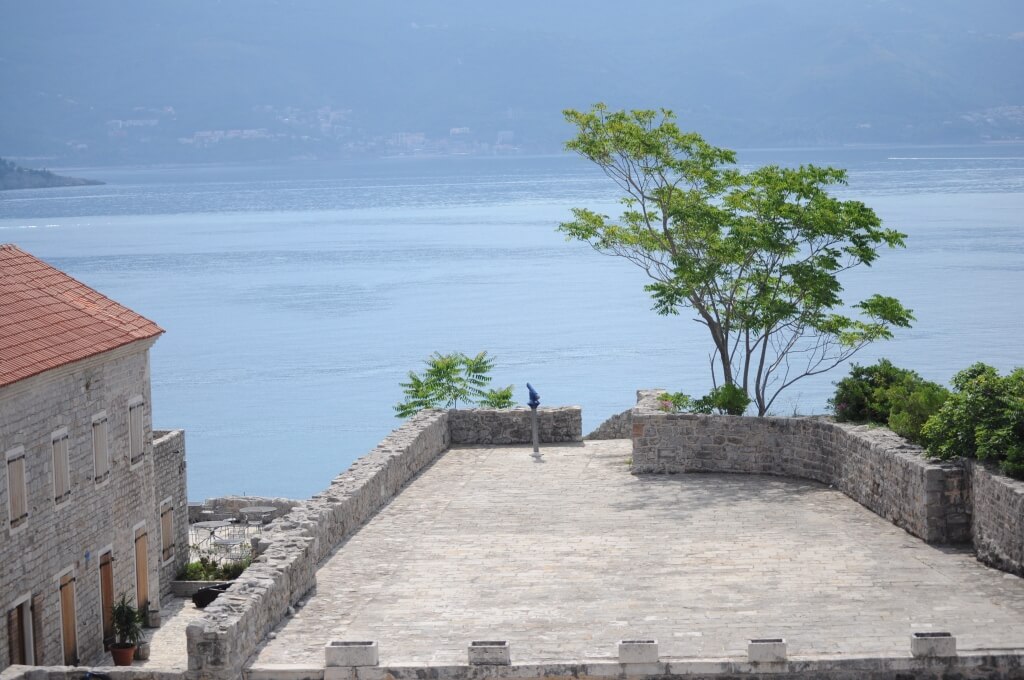 Budva Citadel
The first mention of Budva's citadel was in 1425, but archaeologists believe this was the site of an acropolis in ancient times. The acropolis was traditionally built on the highest point, with sheer cliff below it. From here, a settlement could be defended easily. 
The citadel has been consistently expanded and upgraded through the various empires that have ruled Budva. The biggest part of the citadel is the wing of barracks, built by the Austro-Hungarians in 1836.
Inside the citadel you'll find a small library and a little museum. You'll also find the ruins of Santa Maria in Castello Church (12th – 14th centuries). 
There's not a lot to see in the citadel, but it's a good place to grab a cold pivo (beer) and enjoy the views of the Budva Riviera and Sveti Nikola island.
Address: Citadel, Budva Old Town
Opening hours: 9am – midnight May – October, 9am – 5pm November – April
Entrance: €3.50
Ruins of early-Christian Basilica
In front of the citadel you'll see the ruins of an early-Christian basilica that's dated to the late 5th or 6th century. 
You'll also find several more churches in town:
Church of St John the Baptist (Sveti Ivan), 17th century (but the original church was built in the 7th century)
Church of Santa Maria in Punta, 840
The Church of the Holy Trinity, 1804
Church of St Sava the Annointed (St Sabba Abbas), 12th century
Town walls
In the corner where the citadel meets the outer wall, you'll find the entrance to the town walls, which you can walk around. 
Budva's town walls date back to the 9th century and in the 16th century had six watchtowers. A huge earthquake in 1667 damaged the walls, but they were rebuilt. From the top of the walls you'll get views of the town and coastline. 
Address: Budva Town Walls, Budva Old Town
Entrance: €1.50
Greek and Roman Necropolis
There's evidence that Budva is one of the oldest settlements on the Adriatic coast. In 1938 a Roman and Greek necropolis was uncovered by today's Avala Resort. The necropolis was in two parts – one part was Greek, dating from the 4th to 1st centuries B.C, and the other part was Roman, dating from the 1st to 2nd centuries A.D. You can see part of the ruins of the necropolis next to Avala Resort.

Budva Museum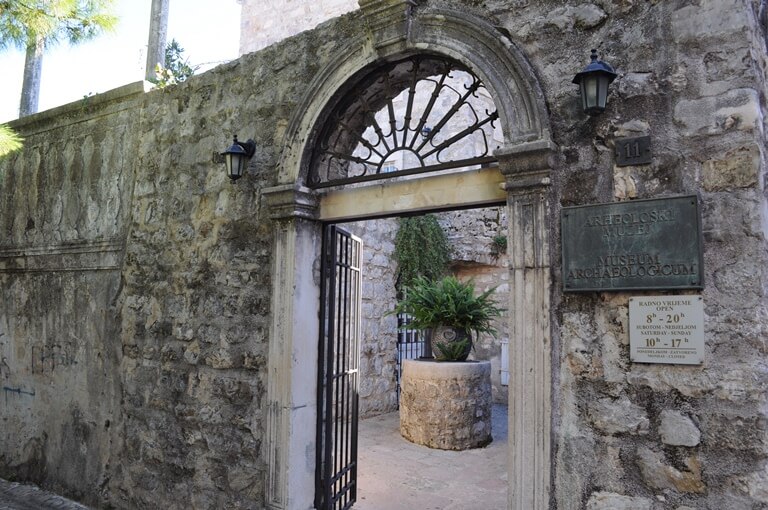 Budva Museum
Budva Museum is where you can see examples of life in Budva through the ages. The original town gates suggest Budva is as old as the 6th century B.C., when it was an ancient Greco-Illyrian settlement.
The museum has permanent exhibitions of archaeological and ethnographic collections as well as a lapidarium (exhibit of stone artefacts).
The archaeological collection has displays of weapons, tools, jewellery and everyday objects dating back to the 5th century B.C. They include artefacts from the Illyrians, Greeks, Romans, Venetians and Slavs who have lived here. 
The ethnographic collection shows you examples of traditional clothing, furniture and every day household items from the 18th to 20th centuries. 
Address: 11 Petra i Petrovića, Budva
Phone: +382 33 453 308
Opening hours: 8am - 8pm Monday - Friday, 10am - 5pm Saturday and Sunday
Entrance: €2 for adults, €1 for children
You should know: The museum covers 4 floors and there are no lifts, only stairs
Gallery of Modern Art
Opened in 1972, Budva's Gallery of Modern Art has exhibitions and displays of modern art from local artists. It also houses an eclectic collection of modern art from around former Yugoslavia.
Address: Cara Dusana 19, Stari Grad, Budva
Phone: +382 33 451 343
Opening hours: 8am - 2pm and 6pm - 9pm Monday - Friday, 6pm - 9pm Saturdays
Local's Tip: Download Google Maps on your phone to find these attractions in Budva. Click here for instructions on how to use Google Maps offline (without data or Wi-Fi connection.
Budva Dancer Statue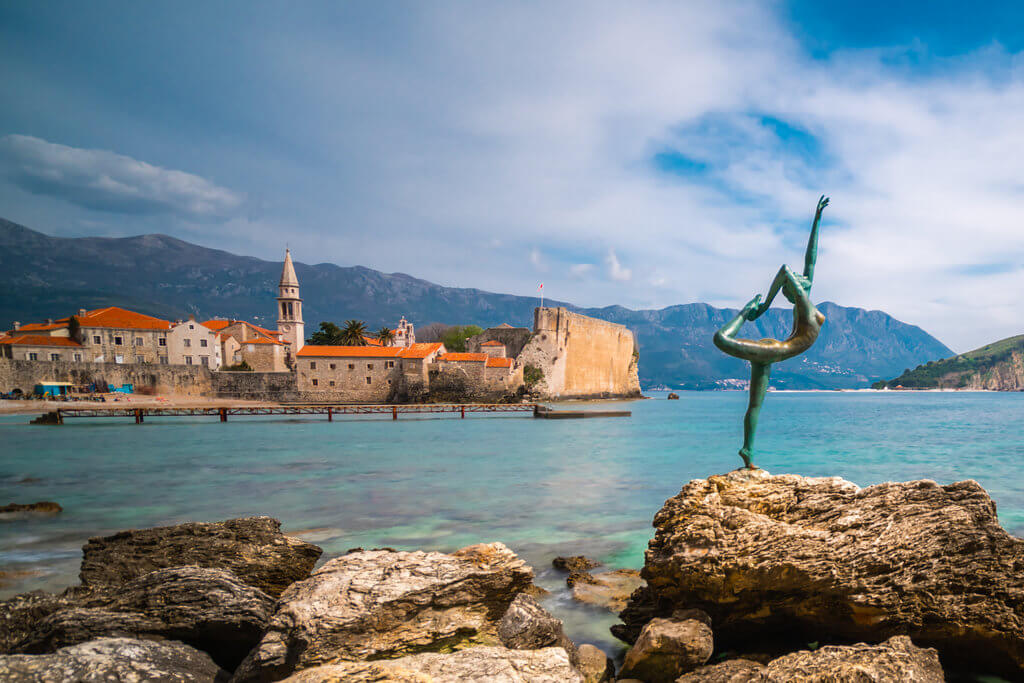 Budva Dancer Statue. Image: Deposit Photos
Budva's Bronze 'Ballerina' statue has become an iconic symbol of the town. The most common story is that it was inspired by a girl who waited for her sailor to come back from sea. The sailor never came back and she died on this spot of a broken heart.
The truth is the sculpture is by Gradimir Aleksic and is of the Yugoslav gymnast Olga Kalivoda. She came to Budva on holiday in 1962 and trained on the beach. Aleksic saw her and asked her father if he could take a photo, then he made the sculpture based on the photo. After a brief stint in Belgrade the sculpture was moved to Budva in 1965.
You'll find the statue on the walkway from Hotel Avala (by Ričardova Glava Beach) to Mogren Beach.

Budva Beaches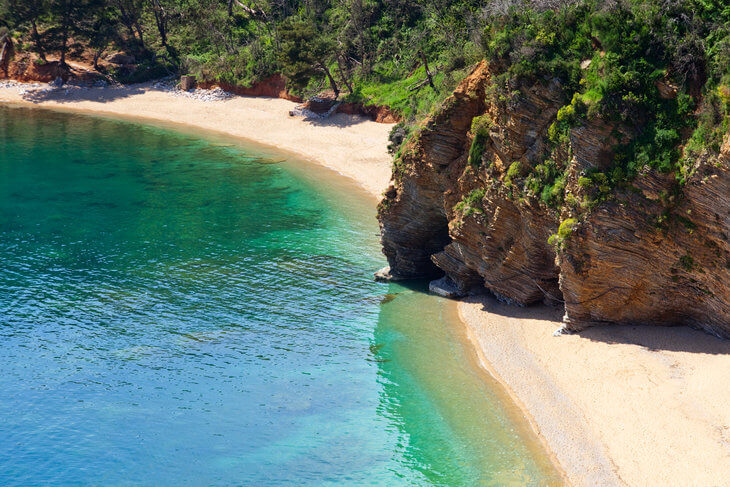 Mogren Beach. Image: Deposit Photos
Budva has a stunning coastline of beaches just waiting to be explored. Right next to the old town you can grab a lounger on Ričardova Glava (Richard's Head) beach. From there, a seaside walkway brings you to Mogren Beach, a popular 350m stretch of beach that's divided by a rock tunnel. 
On the other side of the old town, Budva's most popular beach is Slovenska Plaža (Slovenian Beach), a mile-long stretch of beach between Budva old town and luxurious Dukley Hotel and Resort.
Read More: All 20 Budva Beaches
Sveti Nikola Island
Sveti Nikola (St Nicholas) Island is also known locally as Hawaii. For €3-5 per person you can get a round trip boat ticket from Budva to the island. The island has a beach and a few restaurants, but can get very hot and the beach is rockier than other Budva beaches like Mogren and Bečići. 
Kayaking and Stand Up Paddling
Budva's coast is ideal for exploring by kayak or SUP, especially when the summer temperatures are rising. The water is around 26°C (79°F) in summer and it's mostly calm, so it's great for beginners and families. The Adriatic Sea is also very clear, so you'll be able to go snorkelling and see lots of sea life under the water. 
Read More: Kayak and SUP Rental in Budva

Canyoning
Canyoning is a fun and exciting activity where you hike, abseil, swim, slide and jump your way through a canyon. There are lots of canyons where you can go canyoning in Montenegro and Budva has one right on its doorstep.
Drenovsnica Canyon is just a few minutes from the heart of Budva and it's suitable for anyone over 12 years old. The tour finishes with an optional zip line and lunch at a local restaurant.
Read More: Canyoning in Drenovsnica Canyon
Paragliding
Braići, in the hills above Budva, is one of Montenegro's best paragliding spots. And from here you get views over the whole Budva Riviera. You can take a tandem paragliding flight with an experienced instructor even if you've never been paragliding before. All you have to do is gather your courage and enjoy the ride!
Read More: Paragliding Experience from Budva or Petrovac
Diving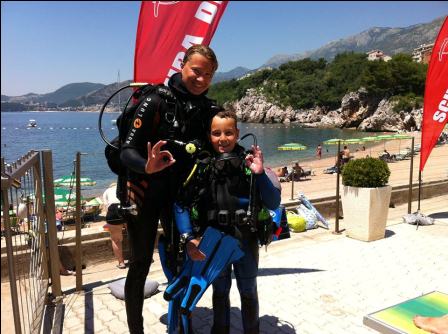 There's a wide range of diving experiences, packages and courses available at the PADI dive centre in Montenegro.
Even if you've never dived before, you can book a dive experience and learn in just a day. If you've always wanted to learn, you can become a fully qualified diver in just 4 sessions. 
Read More: Diving in Montenegro
Day Tours
There are lots of day tours departing from Budva that will take you to more of Montenegro's beautiful attractions. These tours fit a lot into a day and they're one of the easiest and cheapest ways to see Montenegro if you don't have a rental car. 
A word of caution: Budva is very popular with Russian tourists and therefore many of the tours from Budva are in Russian. Most guides speak English too so you won't have trouble communicating, but the tour will mostly be in Russian.
I recommend booking tours through Get Your Guide or Viator which are aimed at English-speaking tourist. If in doubt you can read reviews before you book. The following three tours are run by 360 Monte, one of the best tour operators in Montenegro, and are strictly in English.
The Montenegro Full Day Tour takes you to try traditional fare in Njeguši village, the Petar Petrović-Njegoš mausoleum in Lovćen National Park, Cetinje, for a traditional lunch, on a boat cruise on Rijeka Crnojevića and includes a walking tour of Budva.
The North Montenegro Tour takes you through the scenic mountains to Durmitor National Park. On the tour you head up to the Tara Djurdjevića Bridge, which spans the Tara Canyon, the deepest canyon in Europe. Then you visit the Black Lake and Ostrog Monastery.
Rafting through the Tara Canyon is one of Montenegro's most popular activities and there are tours throughout the summer. This tour departs from and returns to Budva.
Water parks
Aquapark Budva
Aquapark Budva is Montenegro's top water park. It's a great place to spend a day, especially for families. The park has 12 slides, 4 pools, a restaurant, cocktail bar and VIP booths.
Address: Topliski Put, Budva
Opening hours: 10am - 8pm daily from 1st May - 30th September
Entrance: 
Adults (1.30m and taller): Full day - €20, 4 hours (after 3pm only) €15
Children (1m-1.3m): Full day - €12, 4 hours (after 3pm only) €8
Children under 1m: Free

Aqua Park Mediteran
Hotel Mediteran has a small water park that has 7 pools, a lazy river, slides and sunbathing areas.
Location: Aqua Park Mediteran, Jadranska Magistrala, Bečići
Opening hours: 11am - 7:30pm daily
Entrance: €15 for adults and €7.50 for children under 14.

Krapina Estate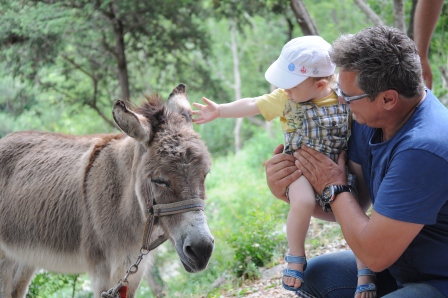 Krapina Estate is just 5km from Budva but you'll feel like it's a world away. The village has a zipline, animals, walking paths, swimming holes, a waterfall and a traditional restaurant. 

Read More: Explore Krapina
Nightlife
Next to the beaches, Budva is also famous for its nightlife. People come from all over Montenegro to go out here. 
It's easy to go bar-hopping in the old town. Most of the bars have outdoor areas - perfect for summer heat. Not so perfect if you want to stay in the town and like to go to bed early though.
There's a 1am curfew for music in Budva old town, so when the bars shut down everyone heads up to Top Hill, on the hill just above Budva.
Top Hill is by far the most popular club in Montenegro. It fills with up to 5,000 people all summer. In fact, it's only open in July and August! After the old town bars close, grab a cab up to Top Hill, just 5 minutes from town and party into the wee hours. Top Hill regularly features international djs and has wine, vodka and Jacuzzi bars as well as a VIP area.
Opening hours: 11pm - 5am
Address: Topliski Put
Entrance: €10 - €25 depending on the event
Casinos
Many people come to Montenegro and want to visit the casino featured on 2006's James Bond film, Casino Royale. Unfortunately, it wasn't filmed in Montenegro! It was filmed in the Grandhotel Pupp in the Czech Republic.
So although you can't play at the same table as James Bond, you'll find casinos in these hotels:
---
Day Tours From Budva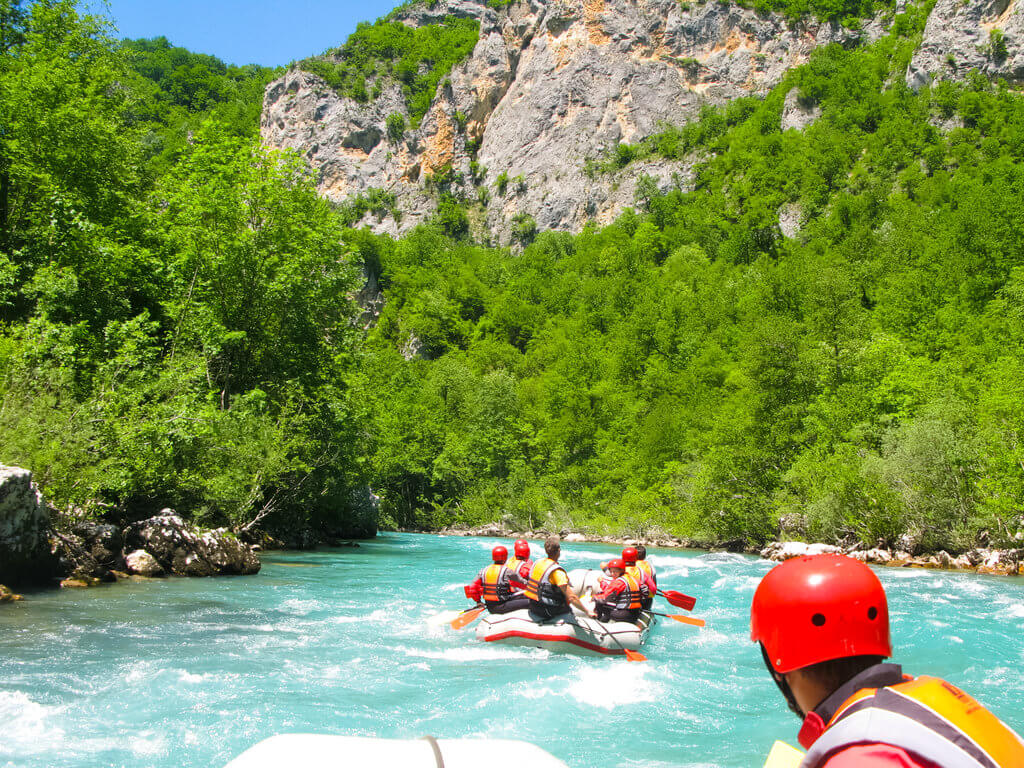 Rafting in Tara Canyon
You can join full-day tours around Montenegro from Budva. These tours start in Kotor, but have pick-ups from Budva, Tivat and Herceg Novi.
---
Tours to Budva
You can visit Budva on a group tour or with a private guide. 
Read More: Montenegro Tours from Dubrovnik >
---
Budva Accommodation
You'll find lots of accommodation in Budva, from luxury hotels to hostels. 
If you stay in, or near, the old town you'll have the convenience of having everything, including beaches, within walking distance. But you'll also have to pay for parking if you have a rental car and the bars can play music until 1am, making it somewhat noisy in the height of summer.
Bečici Beach is a popular beachside destination, especially for families. The beach is a combination of small pebbles and sand and you'll find lots of upmarket resorts to choose from.
Away from the beach, you'll find lots of self-catering apartments and smaller hotels in the newer part of Budva. And you'll also find villas in the hills and a little further south along Budva's coast, also known as the Budva Riviera.
Some of the top hotels in Budva are: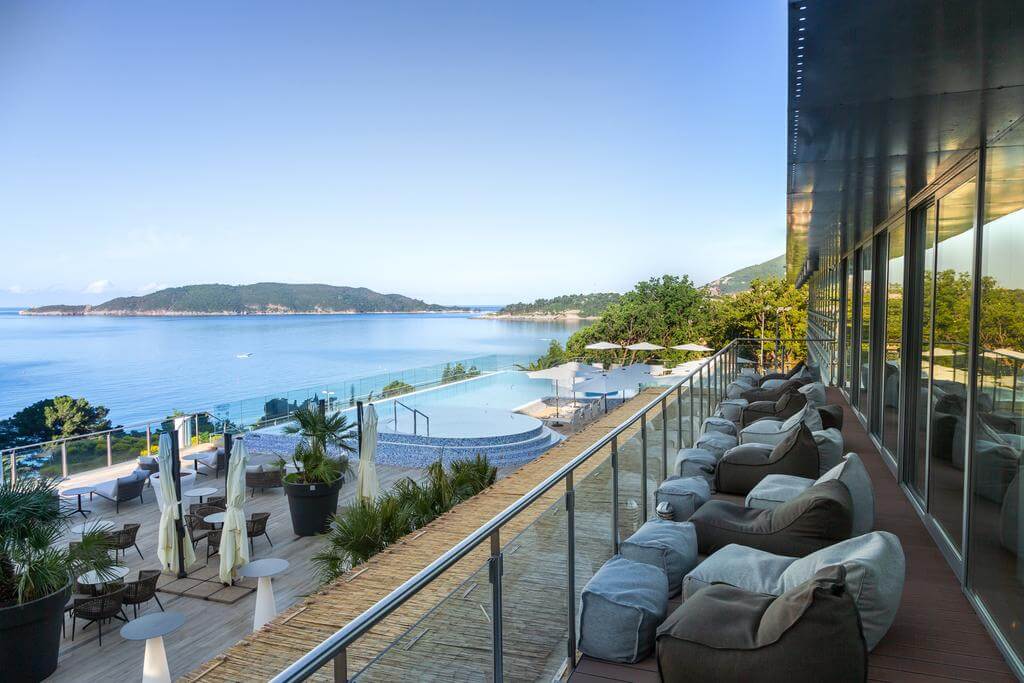 Falkensteiner Hotel Montenegro – formerly the Queen of Montenegro, the Falkensteiner Montenegro is great for a beach holiday on Bečići Beach. This four star hotel is the ideal place to relax with a spa, pool, great views and a hotel beach. Read more >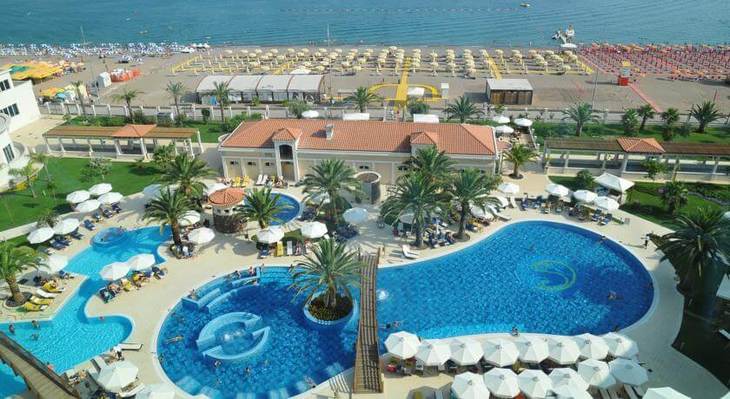 Splendid Conference and Spa Resort – with a beach front position on Bečići Beach, this five star resort is the ultimate place for a beach holiday. It has both indoor and outdoor pools, a spa and a hotel beach just a few steps from your room. Read more >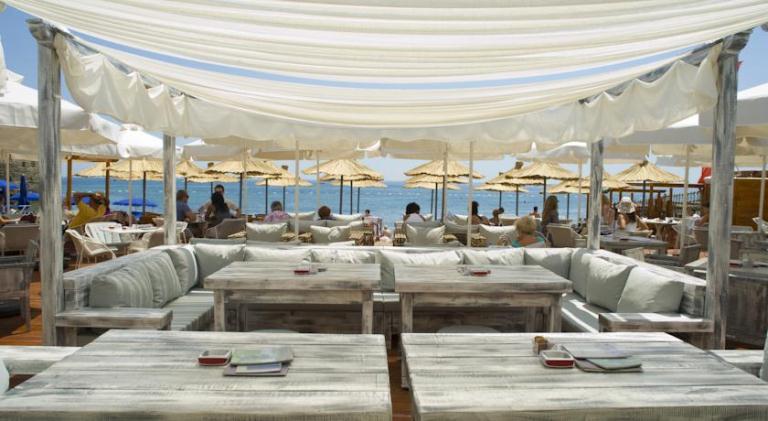 Hotel Astoria – Hotel Astoria is a cosy boutique hotel in Budva old town. The hotel's rooftop restaurant is the perfect place to enjoy a sundowner and a few steps through a gate in the old town walls leads to Ričardova Glava Beach. Read more >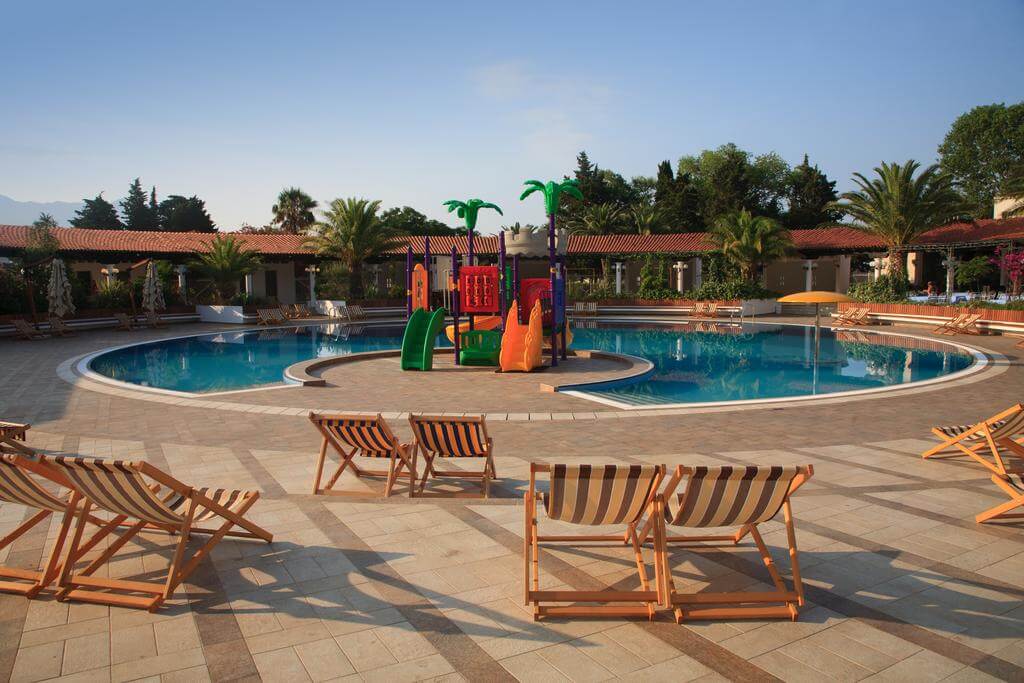 Slovenska Plaza – Slovenska Plaza is a popular holiday resort on Slovenska Plaza Beach. It has a village feel with buildings dotted among gardens, lots of activities like beach volleyball and yoga, outdoor pools and it's ideally located on the main promenade close to Budva old town. Read more >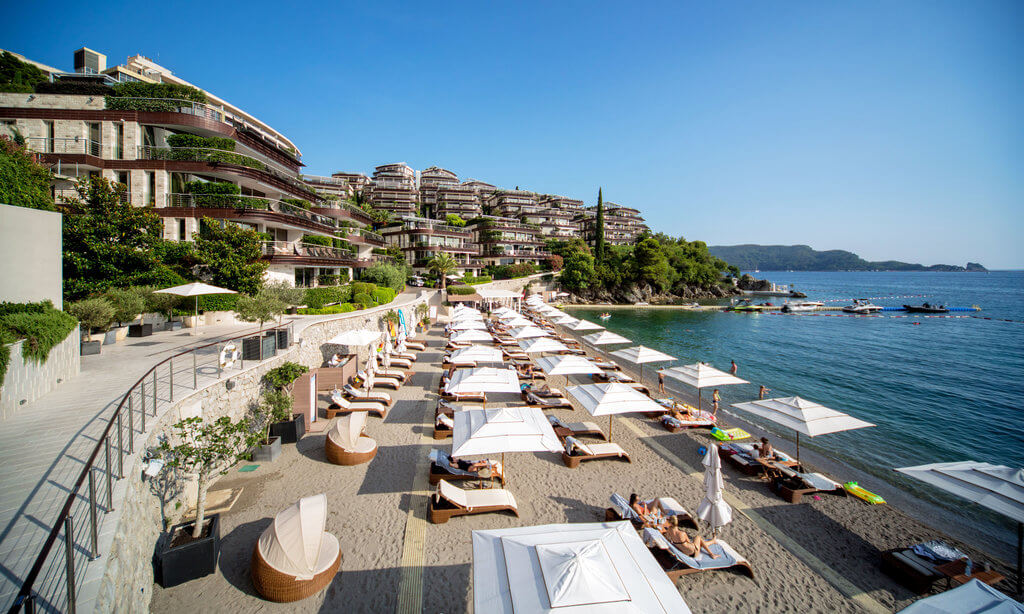 Dukley Hotel and Resort – this five star resort is a more intimate five star hotel than Splendid Conference and Spa Resort. With small private beaches, an hourly water taxi to Budva old town and every whim catered to, this is one of the best places to stay in Budva. Read more >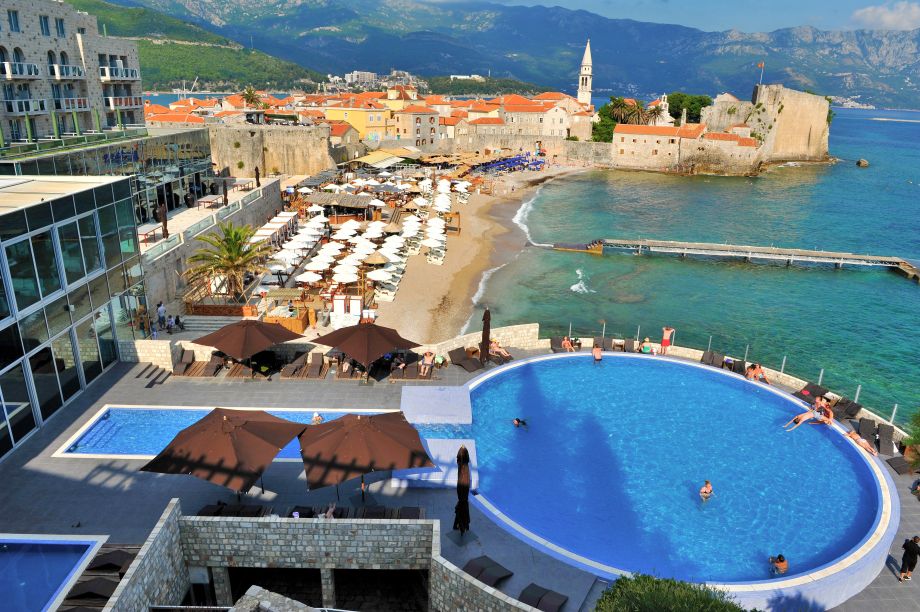 Avala Resort and Villas – Avala Resort and Villas is ideally located next to the old town on Ričardova Glava Beach. From here you're a short walk from the town, promenade and Mogren Beach but away from the busiest and noisiest parts of Budva. Read more >
Read More: Hotels in Budva

---
Restaurants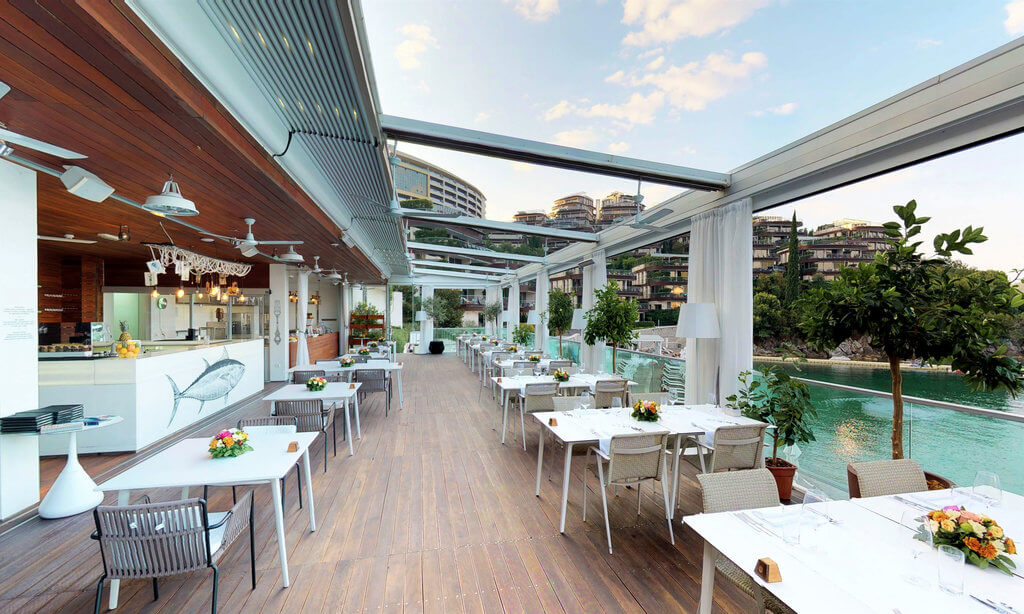 Dukley Beach Lounge. Image: Dukley Beach Lounge
The old town is teeming with restaurants and dining options that cater to everyone.
Inside the town you'll find authentic seafood and meat dishes at Konoba Stari Grad. And if you're willing to travel a little out of town, you'll find some off the beaten path gems.
Read More: Best Budva Restaurants
---
Budva Weather
Budva has a typical Mediterranean climate, with hot, sunny summers and mild winters.
The weather is consistently hot and sunny through July and August, which is why it's such a popular summer holiday destination. Spring and autumn/fall are mild and warm, but with an higher chance of rain. Winter is mild, with higher rainfall but no snow.
Here's a general temperature guide to help you decide what to pack. Don't forget that if you're planning to go inland in Montenegro, you'll need to bring layers because it can be much colder away from the coast.
January: 1.4°C – 9.5°C
February: 3.1°C – 11.3°C
March: 5.8°C – 15.1°C
April: 9.1°C – 19.1°C
May: 13.5°C – 24.3°C
June: 17.3°C – 28.2°C
July: 20.3°C – 31.8°C
August: 20.2°C – 31.7°C
September: 16.5°C – 27.3°C
October: 11.6°C – 21.7°C
November: 6.8°C – 15.4°C
December: 2.9°C – 11.1°C
---
Getting to Budva
By Plane
The best airports to fly into are Tivat (21km/12mi away) and Podgorica (65km/40mi away) airports. You can also fly into Dubrovnik airport in Croatia (72km away). Beware that you can face lengthy queues at the border, the Kotor Bay ferry and on the roads between Dubrovnik and Budva from mid-July to mid-August, particularly on weekends.
Read More: Flights to Montenegro
By Car
Budva lies on the E80 Adriatic Highway. It's very easy to drive yourself to Budva in your own car or with a rental car from the airport.

By Taxi
You can easily book transfers from any airport to Budva, and if you stay in a central location you can easily stay in Budva without a rental car. You'll be able to walk to beaches and restaurants and use local taxis and tours to get around. If you plan to do a lot of sightseeing around Montenegro, I recommend hiring a car. 

By Bus
Budva's bus station (Autobuska Stanica Budva) is in the centre of town. You can catch regular intercity buses to Budva from elsewhere in Montenegro and Serbia. You'll find bus timetables at Busticket4.me and Balkan Viator.
Address: Autobuska Stanica Budva, Rozino, Budva
Phone: +382 33 456 000
Local's Tip: Merkur Restaurant, next to the bus station, has excellent local-style food at good-value prices. It's worth skipping some of the touristy restaurants closer to the sea and eating here instead.

By Train
You can't get directly to Budva by train. The closest train station is in Bar (40km/25mi away). From Bar train station you can hire a car, get a bus or book a transfer to Budva.

By Ferry
There's no direct ferry to Budva. The closest ferry port is also in Bar (40km/25mi from Budva) and there are sailings from Bari and Ancona, in Italy, up to six times weekly. Click here to see timetables and book tickets. 

---
Getting Around Budva
Rental Cars
Hiring a car is a great idea if you want to do some sightseeing around Montenegro. You can pick one up at the airport or once you get to Budva and it'll give you the freedom to explore and comfort to make short trips.
Read More: Hire a car in Montenegro
Taxis and Transfers
Transfers
To avoid haggling or getting overcharged by unmetered taxis, it's a good idea to book transfers, especially airport transfers, in advance. Book your transfers online here.

Taxis
Local taxis are easy to find in the central areas of Budva and you can call them to pick you up. There's no Uber or Lyft in Montenegro.
Budva Taxi Phone Numbers:
Slava Taxi: 19715
Terrae Taxi: 19717, 077-272-777
Kavex: 19550
Hello Taxi: 19555
Extra Taxi: 19696
Vip Taxi: 19666
Sany Taxi: 19728
Buses
There are four local bus routes in Budva. All buses depart from the Budva centre bus stop which is at the roundabout on Mediteranska Ulica opposite Perla Restaurant.
Budva Centre – Aqua Park
Route: Centre, Opština, Stadion, Bim Slavija, Osnovna škola, Aqua Park. 
Budva Centre – Aqua Park:
10:00h, 11:00h, 12:00h, 13:00h, 14:00h, 15:00h, 16:00h, 17:00h, 18:00h
Aqua Park – Budva Centre:
10:30h, 11:30h, 12:30h, 13:30h, 14:30h, 15:30h, 16:30h, 17:30h,18:30h
Ticket price: €1

Budva Centre – Petrovac
Route: Centre – Opština – Stadion – Boreti – Hotel Putnik – Rafailovići – Kamenovo – Pržno – Sveti Stefan (Hotel Adrović) – Blizikuće – Reževići – Skočiđevojka – Perazića do – Petrovac (Centre)
Budva – Petrovac: 
06:10h, 08:10h, 09:10, 10:10h, 11:10h, 12:10h, 13:10h, 14:10h, 15:10h, 16:10h, 17:10h, 18:10h, 19:10h, 19:30h, 21:10h, 23:10h
Petrovac – Budva:
06:50h, 09:10h, 10:10h, 11:10h, 12:10h, 13:10h, 14:10h, 15:10h, 16:10h, 17:10h, 18:10h, 18:50h, 19:50h, 20:10h, 22:10h, 00:10h
Ticket price: €2

Budva – Jaz – Trsteno – Ploče

Route: Centre – Crvena zgrada – Stadion – Bim Slavija – Opština – Jaz – Trsteno – Ploče

Budva – Jaz – Trsteno – Ploče: 
08:00h, 09:00h, 09:30h, 10:15h, 11:00h, 11:30h, 12:30h, 13:15h, 14:00h, 16:15h, 17:15h, 17:45, 18:30h, 19:15h
Ploče – Trsteno – Jaz – Budva: 
08:45h, 09:45h, 10:15h, 11:00h, 11:45h, 12:15h, 13:15h, 14:00h, 15:00h, 17:00h, 18:00h, 18:30h, 19:15h, 20:00h
Ticket price:  Budva – Jaz €1,  Budva – Trsteno – Ploče €1.50
Budva – Sveti Stefan
Route: Centre – Opština – Stadion – Boreti – Hotel Putnik – Rafailovići – Kamenovo – Pržno – Miločer – Sveti Stefan

Budva – Sveti Stefan:
06:00h, 06:30h, 07:00h, 08:00h, 08:30h… every 10 minutes until 22:00h
22:15h, 22:30h, 22:45h, 23:00h, 23:15h, 23:30h, 23:45h, 00:00h, 00:30h, 01:00h, 01:30h
Sveti Stefan – Budva:

06:30h, 07:00h, 07:30h, 08:00h, 08:30h… every 10 minutes until 22:00h
22:15h, 22:30h, 22:45h, 23:00h, 23:15h, 23:30h, 23:45h, 00:00h, 00:30h, 01:00h, 01:30h, 02:00h
Ticket price: €1.50

---
The Legend of Budva
The legend of Budva is the tale of Cadmus and Harmonia, who founded the town more than 2,500 years ago. 
Cadmus was the prince of Phoenicia. While searching for his sister Europa, who was kidnapped by Zeus, Cadmus found himself among the Greeks.
Eventually he married Harmonia, daughter of Ares, the God of War and Aphrodite, the Goddess of Love. But Cadmus was tortured by a cursed necklace they'd received for their wedding and they were exiled from Thebes. So they left Thebes and made their way to the Adriatic coast in an ox-drawn cart. They chose the most beautiful place on the coast to settle in and called it Bouthoe/Budva after the faithful oxen (butoe) who drew their carriages on their journey.
Despite founding both Bouthoe and today's Ohrid in Macedonia, Cadmus was still troubled by ill-fortune from having killed a sacred dragon and said that if the gods were so enamoured by a serpent, he might wish to be one too. His words were taken literally and he immediately began to grow scales. Harmonia begged to join him and was also turned into a serpent. Local legend says they still live on in the bushes of Budva.
---
Related Articles
Kotor - the most popular town in the Bay of Kotor.
Bay of Kotor - stunning beauty, Venetian architecture, few beaches.
Tivat - close to all major attractions and home to a super yacht marina.
Herceg Novi - picturesque town with the best beaches in the Bay of Kotor.
Lustica Peninsula - rustic and rural getaway.
Bar - off the beaten path.
Skadar Lake - an outdoor lover's dream.
Book Your Trip With My Recommended Providers