Dolphin Watching in Montenegro
(This post may contain affiliate links. Find more info in my disclaimer.)
Dolphin watching in Montenegro is your chance to experience a unique close-up dolphin encounter on a luxury sailing yacht.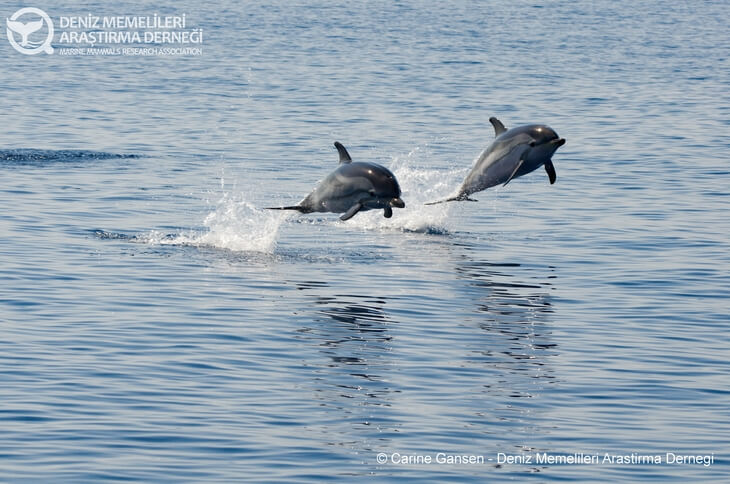 There's something so magical about watching dolphins swim and play. The way they propel themselves into the air and investigate everything curiously... if you've ever had dolphins peering at you as they swim along the hull of your boat, you'll know what I mean!
Here in Montenegro, we're lucky enough to often see dolphins in the Bay of Kotor and all along the Adriatic coast. One of the most fascinating things I've seen was a pod of dolphins systematically hunting a huge school of tuna. They'd surround the fish and then pick them off one by one. They didn't even mind when we nipped in a grabbed a couple of fish for ourselves! 
If you'd like to get up close with dolphins, you can book a tour to take you dolphin watching in Montenegro. These are private, intimate tours on a beautiful Discovery 55 sailing yacht. Not only can you get up close to dolphins, you can make a day of it as you relax on a luxurious yacht.

Dolphin Watching in Montenegro
Here are two videos of dolphin watching tours on Chance Discovery.

The Dolphins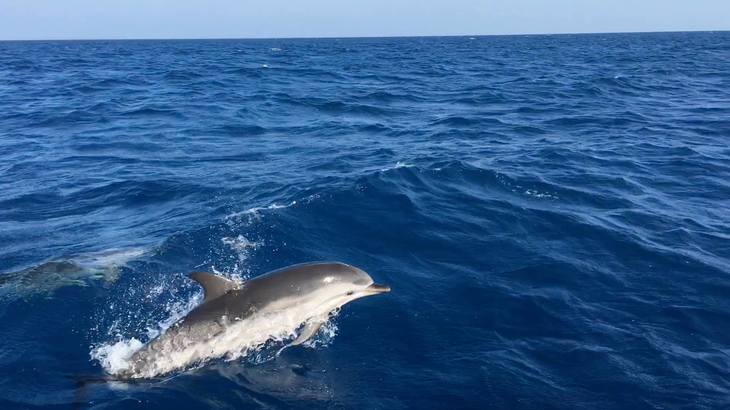 A striped dolphin swims beside the yacht
The two dolphin species we have here in Montenegro are the bottlenose and striped dolphins. Both were once common in the Adriatic Sea, but are now highly endangered. 
Dolphins were seen as competition for fish for a long time along the coast and were actively hunted. Even though the hunting long gone, their populations have have been affected by declining fish stocks and pollution in the Adriatic Sea. 
Being a wild encounter, dolphin sightings aren't guaranteed, but are highly likely because the guides from Montenegro Dolphin Project know the best places to find them. As well as dolphins, you might be lucky enough to see impressive sea turtles, jellyfish and swordfish.
Joco the dolphin is a legend in the Bay of Kotor. Anyone who was here in the 80's knows about and has seen Joco. The dolphin was famous for swimming around the bay and playing with people on beaches all along the coast. Here's a clip of Joco in Kotor from 1988.
---
The Yacht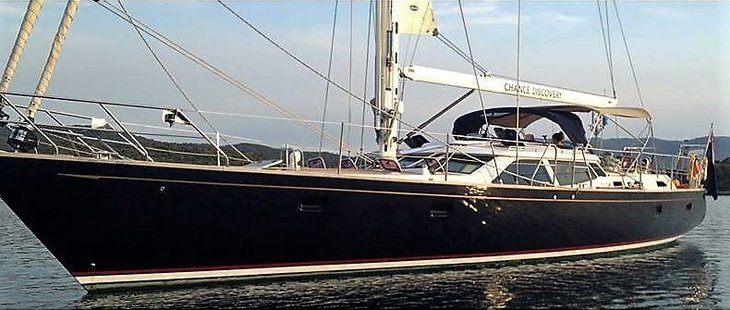 Chance Discovery is a luxury, ocean-going Discovery 55 sailing yacht that's based in Tivat. It has everything you need on board, including kitchen (or galley if you want to show you know your way around a boat), bathroom (the head), six beds (berths) and plenty of deck space for sunbathing. 
As soon as you arrive on board, Richard will show you around the boat and before you know it you'll feel completely at home. Then you just need to pick your favourite spot to relax and enjoy the scenery!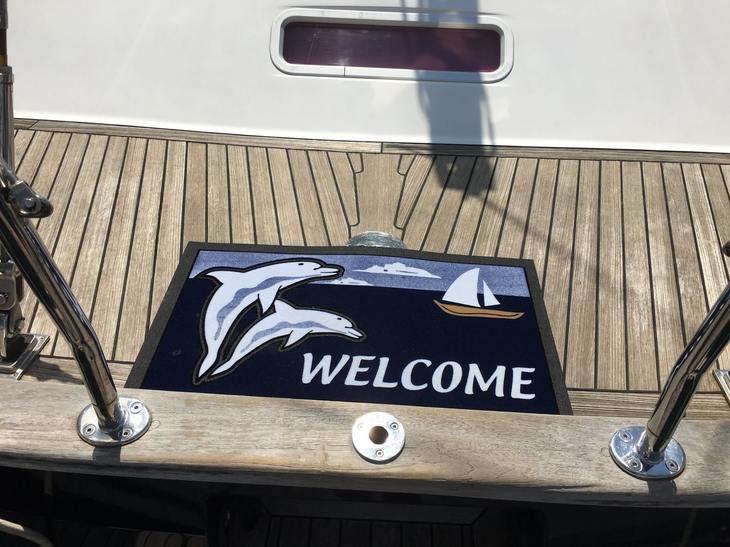 Welcome aboard!
The best place to sit is on the 'dolphin watching seats' at the front (the bow - you'll be an expert on yachts by the time the tour's over!). From here you can get close up views of the dolphins as they come to check you out. 
If it's not that warm, you can head down into the comfortable saloon, from which you'll still have an excellent view.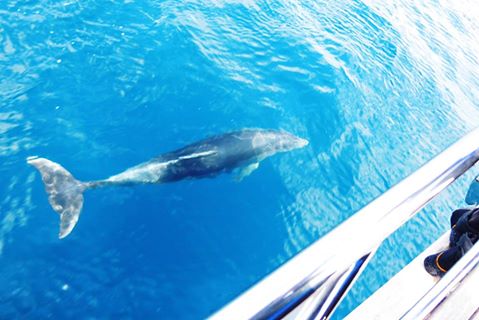 A dolphin comes to investigate the yacht
Every detail on the Discovery 55 has been thought of. There are handholds all over the boat, so you'll always feel stable and the extra-high railings on deck make it good for kids. It's also a very heavy and stable boat, meaning you'll still be comfortable if there's a little swell!

Here are a few pictures of Chance Discovery.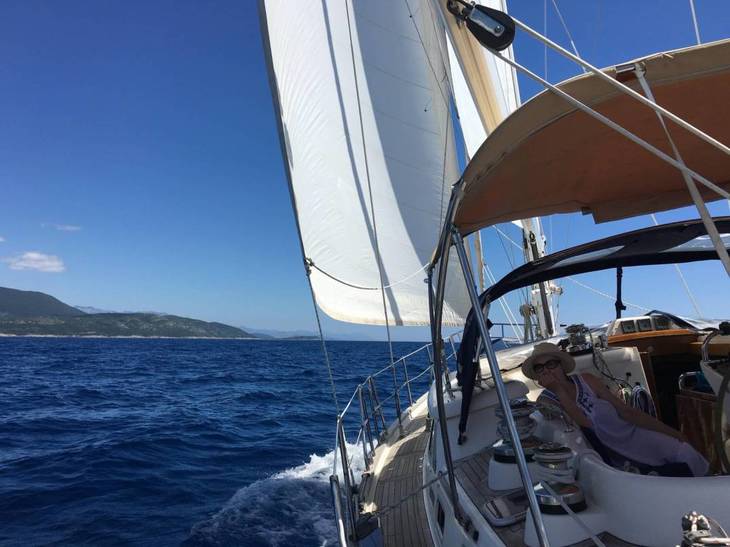 On deck with sails up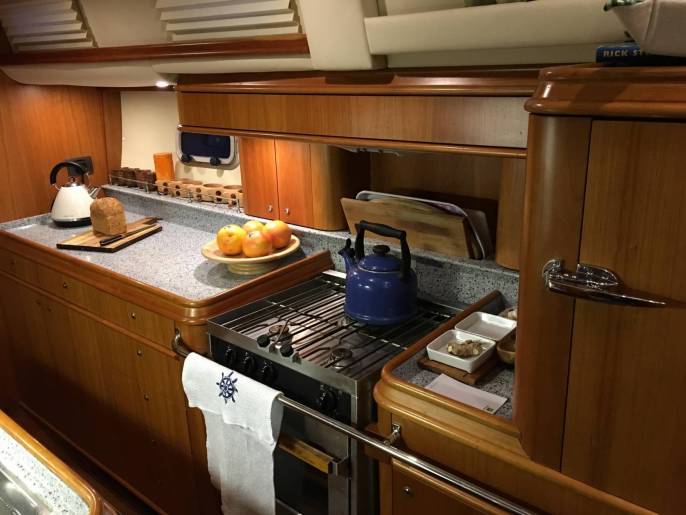 The galley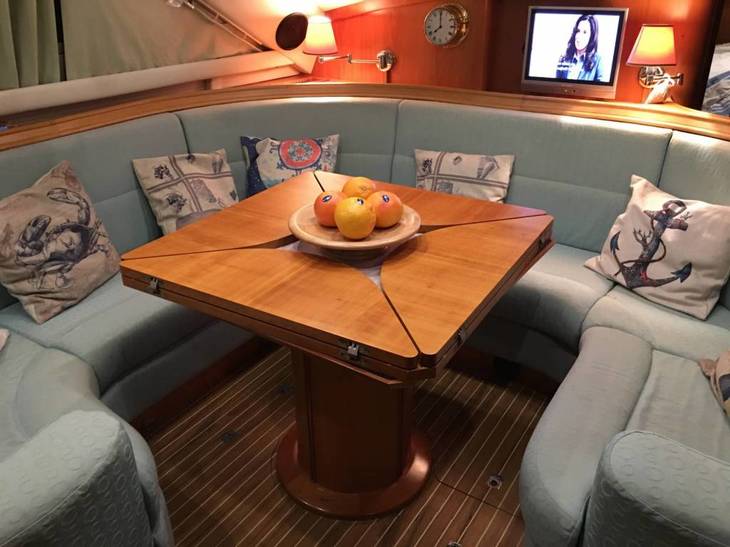 The saloon
---
Tour Options
Dolphin Watching Day Tour
This is the only dolphin watching excursion available in Montenegro and it's limited to five people per tour. 
What I love about it is that it's not only a unique chance to see dolphins up close in their natural habitat, but to join researchers from the Montenegro Dolphin Project.
The researchers know where to find the dolphins and double as your guides.They're the perfect people to tell you about the dolphins' behaviour, breeding and the main threats they face in the Adriatic.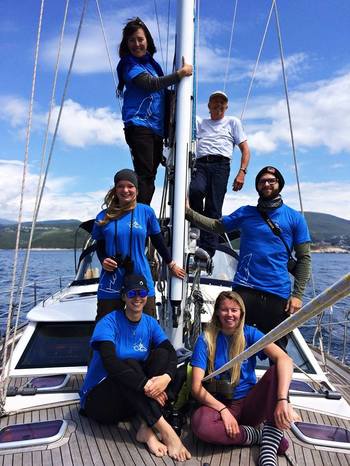 Richard and the Montenegro Dolphin Project team
The tour has been designed under the guidance of Montenegro Dolphin Project researchers, following best practice guidelines. This means the tour is sustainable and minimises any negative impact on any dolphins you see.
10% of the fees will contribute to funding on-going research of the Montenegro Dolphin Project and Marine Mammals Research Association.
Also joining you on the tour is your skipper and owner of Chance Discovery, Richard. Richard is based in Montenegro and sails extensively around Montenegro, Croatia, Italy, Albania and Greece. You're in extremely good hands with him at the helm!
This tour starts out from Porto Montenegro in Tivat and is a full day tour of dolphin watching and sailing. Along the way, you'll sail through the Bay of Kotor and out into the Adriatic Sea to find the pods of local dolphins. 
You'll get a totally unique view of Boka (the local nickname for the Bay of Kotor) from the boat. From here, you can really appreciate the little hamlets along the coast, with the dramatic hills behind. 

As you exit the bay, you can't miss Mamula - the Austro-Hungarian fortress island that was used as a prison during WWII. And when you look left and right, you'll see more fortresses on either side of the entrance to the bay.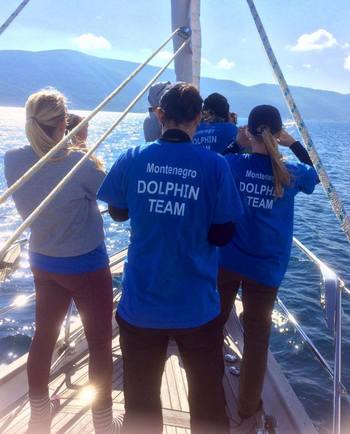 On the lookout!
Once you leave the bay, you'll be on dolphin-spotting patrol. We have had them swimming along our bow inside the bay before too, so always keep a look out! If you feel like leaving the dolphin-spotting to the professionals, you can take the opportunity to do some sunbathing on deck or hang out down below.

The direction you head in will depend on where you'll most likely find dolphin pods and after a morning of dolphin watching, Richard will head down into the galley to prepare you a delicious lunch featuring local ingredients. 
After lunch you'll continue the dolphin watching, before sailing or motoring back through the Bay into Porto Montenegro.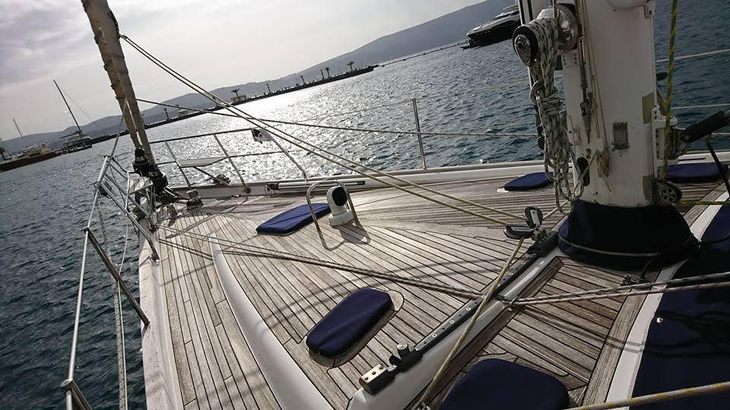 Heading for home. Sailing back into Porto Montenegro marina at the end of the day.
Tour Details
Start point: Bay of Kotor or Lustica Peninsula
Start time: Flexible
Duration: 8 hours
Price: €125 per person
What's included: water, soft drinks, juice, snacks, lunch, guide, skipper, sailing on Chance Discovery, fuel and towels
What you should bring: swim wear, sunscreen (no oils please because it stains the teak deck and can be dangerously slippery), sunglasses, hat, long sleeves and socks. You don't wear shoes on a yacht, so it's good to have a pair of socks on hand in case you get cold

Beware that this is the only dolphin-watching tour in Montenegro and it books out very early! If you would like to go dolphin watching, please make your reservation as early as possible to avoid disappointment.

---
Two or more Days Dolphin and Scenic Tour
This is a unique two+ day eco-trip on the Montenegrin coast. It's a fantastic opportunity to combine the beauty of the Adriatic with a holiday that contributes to the well-being of our natural world. 
On the trip you're joined by a marine biologist from the Montenegro Dolphin Project team, and with them you'll have the opportunity to:
Traverse the exquisite Montenegrin coastline.
Learn sailing techniques in the Bay of Kotor.
Explore offshore waters in search of striped dolphins and fin whales.
Enjoy engaging with the marine biologists through onboard conservation and research activities.
Visit Bigova fishing village
Sail around Sveti Stefan
Tour Details
Start point: Bay of Kotor or Lustica Peninsula
Start time: Flexible
Duration: 2+ days
Price: €275 per person per day
What's included: water, soft drinks, juice, snacks, meals, guide, skipper, sailing on the Chance Discovery, fuel and towels.
What you should bring: swim wear, sunscreen (no oils please because it stains the teak deck and can be dangerously slippery), sunglasses, hat, long sleeves and socks. You don't wear shoes on a yacht, so it's good to have a pair of socks on hand in case you get cold.
---
whale and Dolphin Expedition
The Marine Mammals Research Association offers a unique opportunity to join its research expeditions in the Mediterranean. On this research trip, you have the chance to live aboard Chance Discovery and either participate in the research or just sit back and relax.
The expedition aims to fill knowledge gaps on top marine predators that are listed as threatened or data deficient on the IUCN Red List. These species include:
Common Bottlenose Dolphin (Tursiops truncatus)
Striped Dolphin (Stenella coeruleoalba)
Short-beaked Common Dolphin (Delphinus delphis)
Risso's Dolphin (Grampus griseus)
Sperm Whale (Physeter microcephalus)
Cuvier's Beaked Whale (Ziphius cavirostris)
Fine Whale (Balaenoptera physalus)
Mediterranean Monk Seal (Monachus monachus)
Humpback Whale (Megapteranovaeangliae)
Expedition Schedule
Leg 1: Departing 01.09.19: Montenegro, Greek Ionian and Sicily
Leg 2: Departing 09.09.19: Sicily and the Aeolian Islands
Leg 3: Departing 18.09.19: Ligurian Sea
Leg 4: Departing 26.09.19: Ligurian Sea and Balearic Islands
Leg 5: Departing 04.10.19: Balearic Islands to Gibraltar
Leg 6: Departing 12.10.19: Gibraltar, Portugal and Spain
Leg 7: Departing 21.10.19: Spain via Biscay to UK
Berth Options
You can join the excursion for one or more legs. The price is €1,475 per leg.
Space on this excursion is limited to four guests using two master cabins. One cabin is a double and the other has single bunks. Both have ensuites. 
If you're interested in joining the research expedition, you can contact Richard via the booking form for more information.
---
Book Dolphin Watching in Montenegro
If you'd like to book a dolphin watching tour in Montenegro, or if you have a question about it, you can fill in the form below and be put directly in touch with Richard who'll be more than happy to help. 
If you like Chance Discovery, you can also rent it for longer periods. You can sail around the Montenegrin and Croatian coasts and even as far as Greece. Just contact Richard via the form below to discuss your dream trip!
Like This? Pin It!
More things to Do in Montenegro
Dolphin Watching in Montenegro
help the stray animals of Montenegro
Book your accommodation anywhere in the world through any of the search boxes on our site and we'll make a donation towards sterilising stray animals in Montenegro. 
It costs you nothing, and you get the biggest selection and lowest prices guaranteed. It's a win-win!