The Great Montenegro Tour Review
This post may contain affiliate links, which means we may earn a small commission if you make a purchase. There is no added cost for you and commissions help us keep this site free - thank you! You can find more info in our disclaimer.
"You have to swallow it all in one go!"

I looked dubiously at the shot glass full of rakija in my hand. It was 9am and I hadn't even had a coffee or breakfast yet. But with an obligatory 'Ziveli!' the rest of the tour group and I downed the 52% alcohol grape brandy and started our day… Montenegro style!
Once we'd downed our shots, we looked around at the dozens of proscuittos hanging from the ceiling. The smell of smoked meat permeated the air and the walls were black from years of smoking. It wasn't until then that we realised what really goes into making prosciutto: 3 weeks packed in salt, 3 weeks of drying and then 4 months of round the clock tending the fire that smokes the meat. No wonder the salty, thin layers of meat are always presented to honoured guests coming for dinner.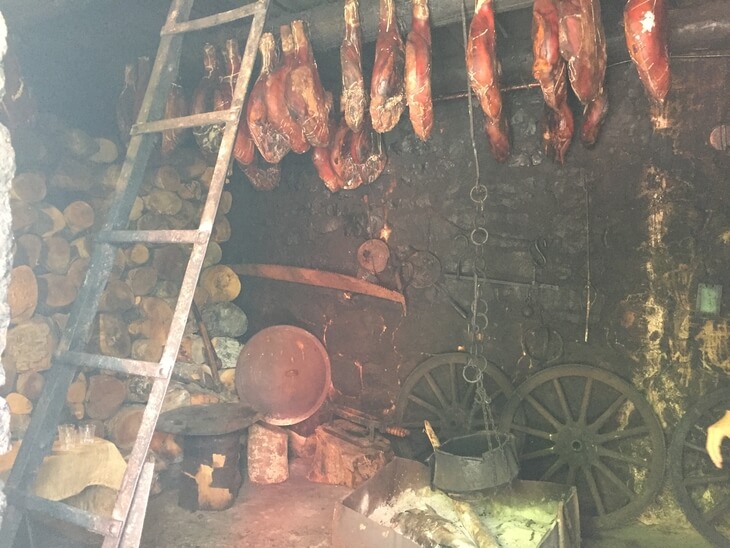 Great Montenegro Tour: Proscuittos hanging the smoking room
discover kotor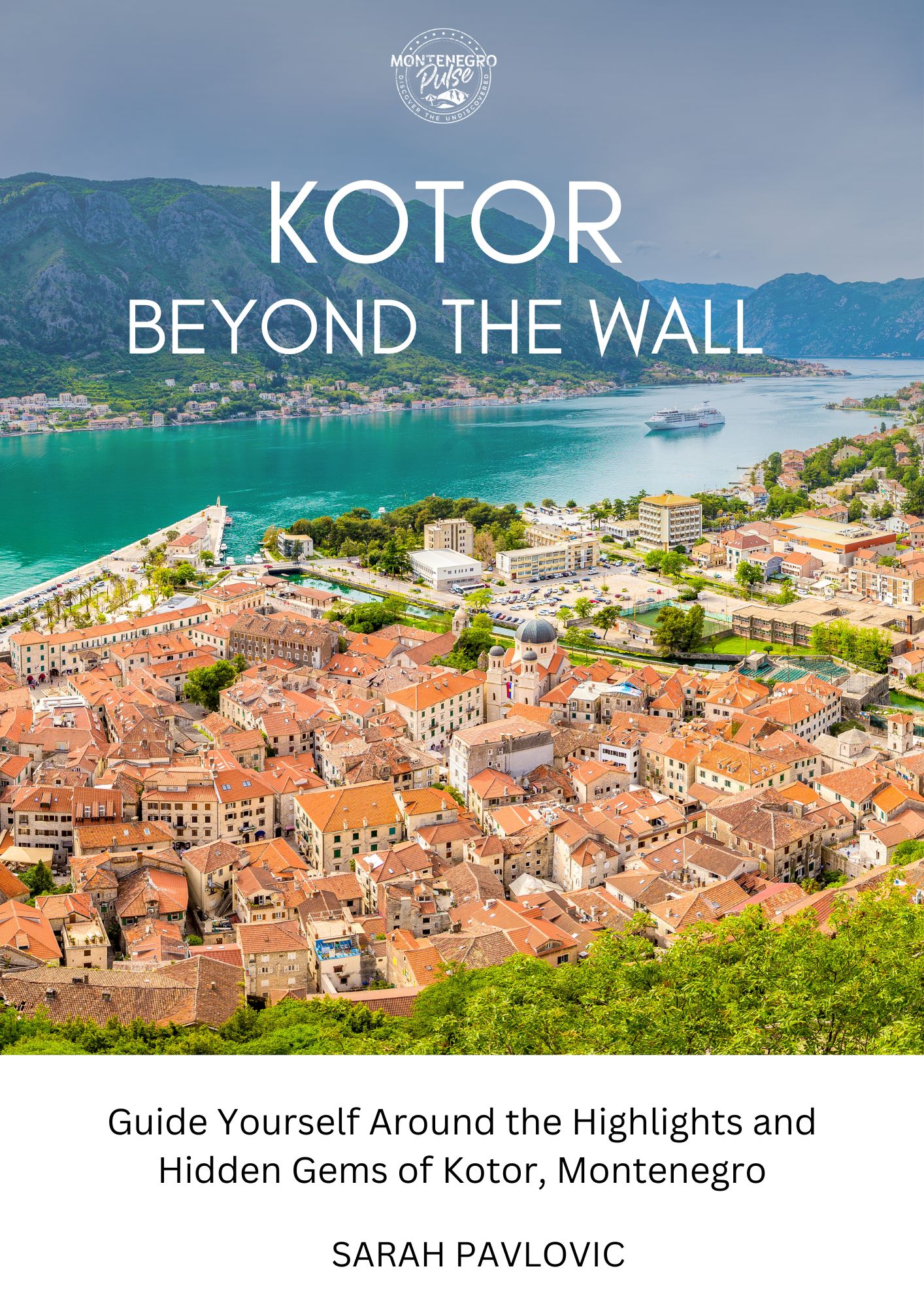 Guide yourself with the
"World's Best Guide to Kotor"
Top attractions
Hidden gems
Bonus walking tour
What to eat
Exclusive experiences
Essential visitor tips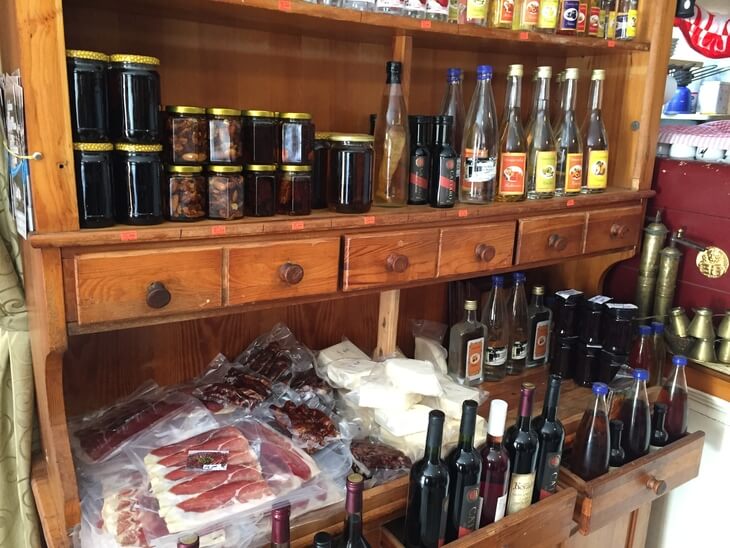 Great Montenegro Tour: Proscuitto, wine, rakija and honey make for delicious souvenirs
After our shots it was time to fill up on a traditional Montenegrin breakfast: prosciutto and cheese between slices of chewy homemade bread, accompanied by a glass of wine – because why not continue on the path that you've already started down?
This restaurant, Kafana Kod Pera na Bukovicu (try saying that after a couple of rakijas!), has been exclusively family owned and run for 5 generations over the last 135 years. They really know their rakija and proscuitto.
Jelena, our guide, had warned us in advance that we wouldn't be eating anything fancy today, but it would all be Montenegrin food, and everything about the tour would be Montenegrin… right down to the road works we encountered next.
Faced with the choice of waiting or of taking a detour up a dirt track, we took the detour. Making entertainment from delays is like a sport in Montenegro and Jelena had us all cheering Sasha, our driver, on as it took him four attempts to force the bus up the slippery track. Maybe this is why Montenegrins start the day with rakija shots.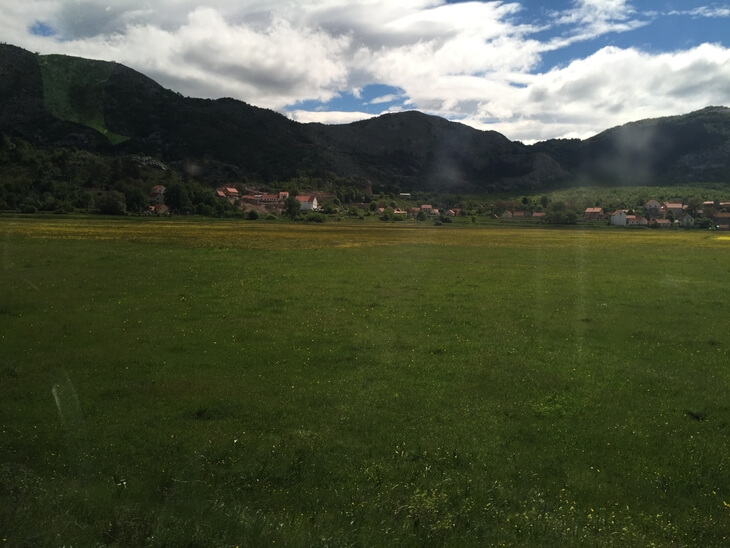 Great Montenegro Tour: The terrible view on our detour :-P
Our next stop was the mausoleum of Petar Petrović Njegoš, Montenegro's favourite son. But first a jaw-dropping photo stop in Lovćen National Park. The lookout gives you stunning views over the whole of the Bay of Kotor and there's a wooden bench that will complete the perfect picture.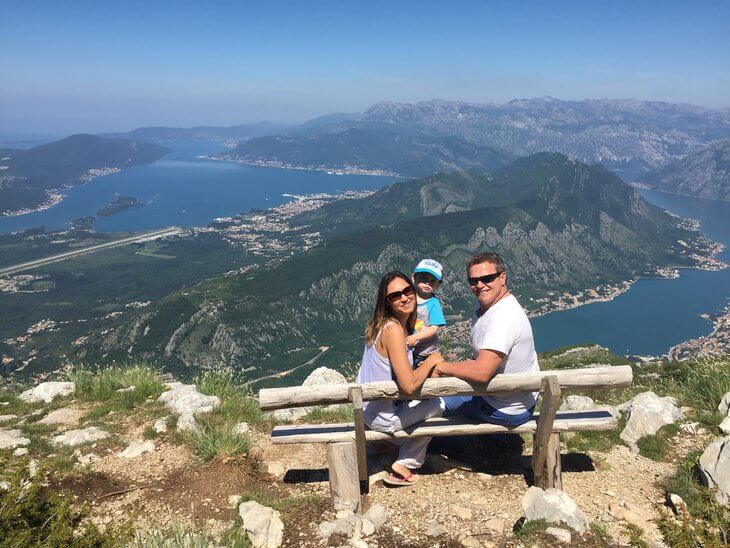 Great Montenegro Tour: The view of Kotor Bay from Lovcen National Park
Jelena promised us a hike to burn off the prosciutto and alcohol and true to her word, we clambered up 461 steps to the mausoleum. It was worth every step. We were greeted with a magnificent, gold-roofed mausoleum and black marble statue of the famous bishop, poet and ruler.
Petar Petrović Njegoš is lauded for bringing education to the masses in Montenegro and it's here you truly understand the variety Montenegro encompasses. While on the Montenegrin coast girls had been educated since the 1300's, here in the mountains it wasn't until Njegoš that girls were permitted into education. And in a region deeply divided by religion and politics, there's one thing all Montenegrins agree on – the greatness of Petar Petrović Njegoš. His tomb lies on top of Mount Lovćen's second highest peak, rather than its highest, because he famously declared that there was sure to be a Montenegrin more deserving than him of the highest peak in future. In the 166 years since his death, there hasn't been a more celebrated Montenegrin yet.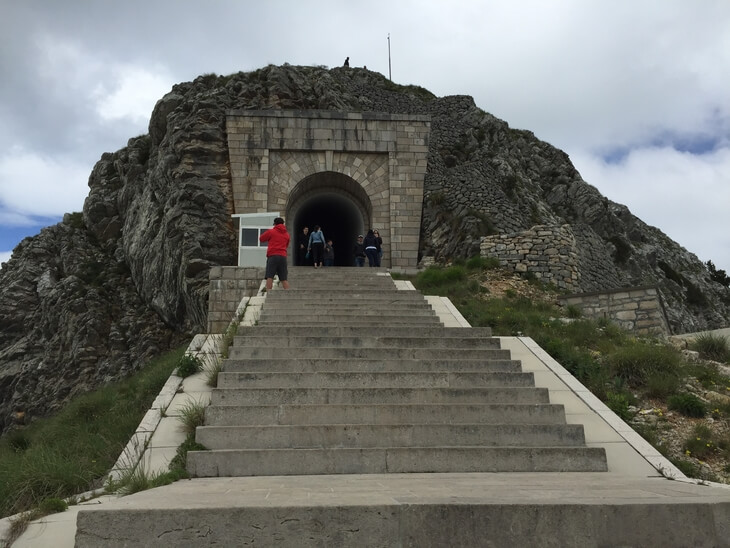 Great Montenegro Tour: The path to the mausoleum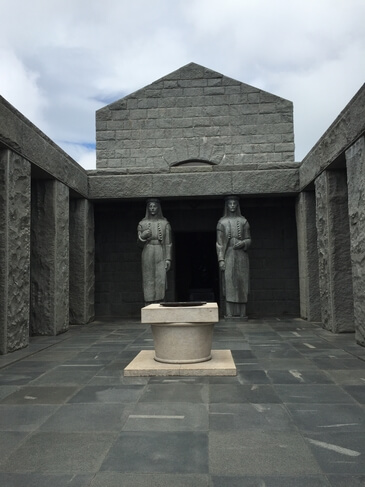 Petar Petrovic Njegos' mausoleum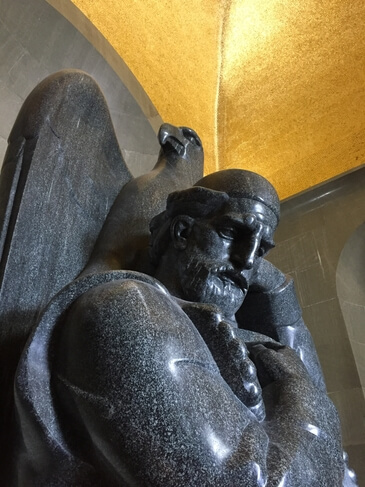 A marble statue of the great man and the gold ceiling
We followed a stone path along the top of the peak to a stone circle, where Jelena proclaimed we'd all get our new Facebook profile pictures.
And she was right.
The glorious view from here included Montenegro's coast, Lake Skadar, and even stretched as far as Albania and Croatia.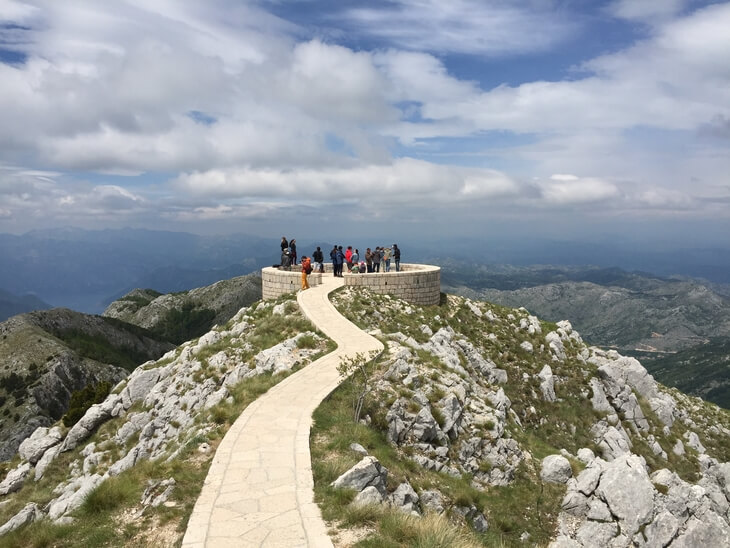 Great Montenegro Tour: The 360 degree viewing circle
Add in a jump on the stone parapet and you've got a profile picture to make all your friends jealous!

A quiet ride through the countryside of Lovćen National Park brought us to Montenegro's old royal capital – Cetinje. This is one of the most underrated places in Montenegro, it's like a mini European capital. The cobble streets are lined with ruined palaces and historic buildings that are marked for preservation. There are several museums, including King Nikola's palace, which has been filled with authentic period furniture and gifts from visiting dignitaries. There's also an impressive 3-D map of Montenegro and Cetinje Monastery, which is said to be home to piece of the cross Jesus was crucified on and John the Baptist's right hand.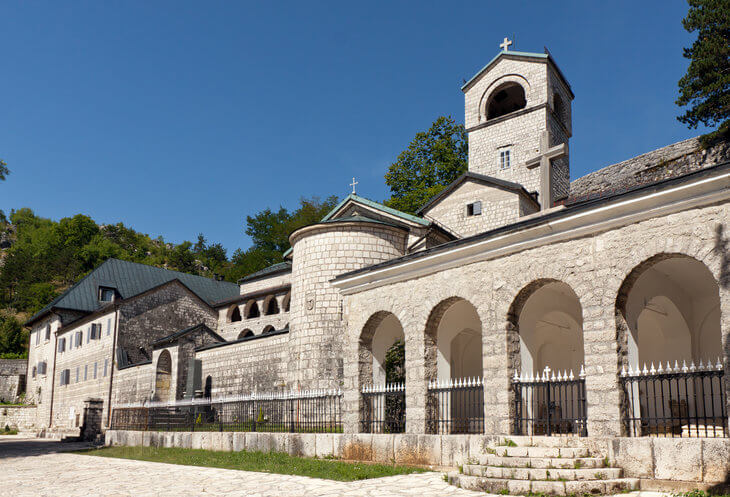 Great Montenegro Tour: Cetinje Monastery
By this time our prosciutto sandwiches and rakija had been walked off and so we headed over to Rijeka Crnojevica for another traditional Montenegrin meal – carp from Skadar Lake.
But first, another glorious photo at another of Montenegro's most iconic photo stops.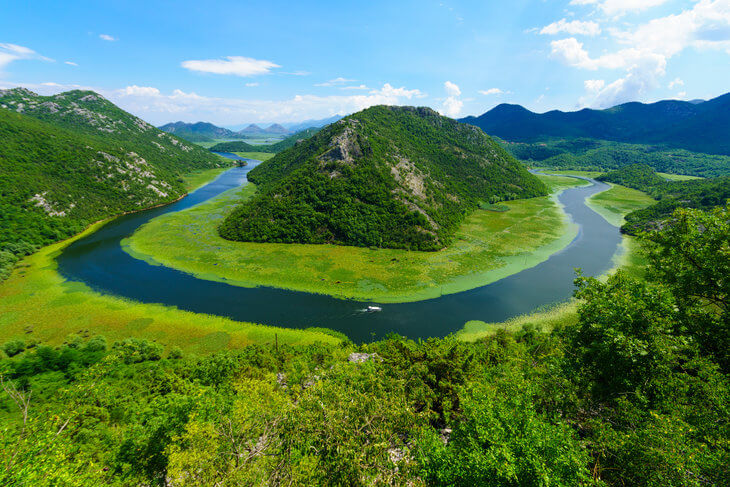 Great Montenegro Tour: Pavlova Strana
Image: Deposit photos
This photo of Pavlova Strana is an iconic photo of Montenegro, but most people don't even make it here and don't know where to get this knockout view. A little mountain goat-style climbing leads to a rock where you'll get another profile picture worthy shot.
Lunch is another outdoor affair overlooking the river. In one direction cormorants duck and dive for fish, while in the other cows graze peacefully on lush grass. It's hard to picture any more idyllic scene than this.
And then the dulcet tones of our guide ring out "Does anybody else want my fingers in their food?"
You see, fish in Montenegro isn't served nicely filleted and ready for the eating. Fish in Montenegro is served whole, as in with the head, the fins and bones… and it's up to you to fillet it. It's a skill you pick up quickly with a little practice, but if you're not keen to learn Jelena is there to give you a helping hand. Literally.
Local's Tip: Order a glass of local red wine to go with your meal. In Montenegro red wine is often served with fish and this area is Montenegro's top wine producing region. Watch out though, it's potent! A half glass was enough to make me tipsy!
After lunch we all piled into a boat and motored quietly along the river, passing more cormorants, herons and little diving ducks with their unbelievably tiny ducklings in tow. The captain pulled out some cups, a flask of home-made wine and a bottle of water. Only it wasn't water, it was more home-made rakija and was just what we needed to put a little fire in our bellies before we leaped into the river for a swim.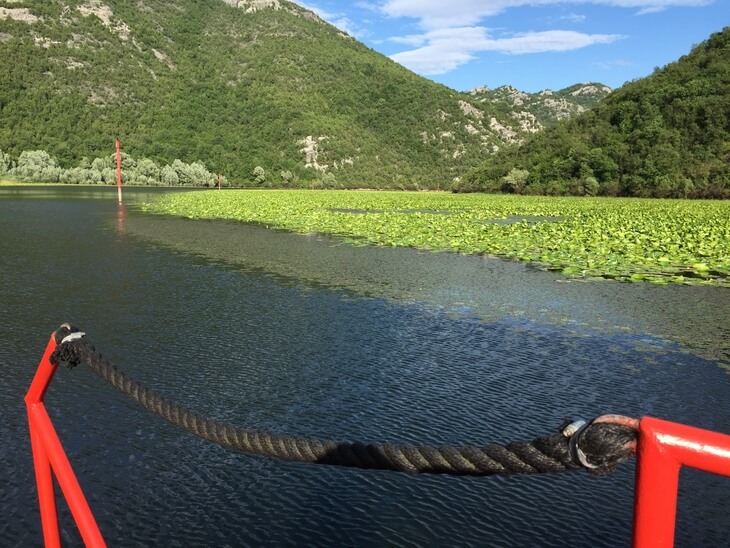 Great Montenegro Tour: Cruising on Rijeka Crnojevica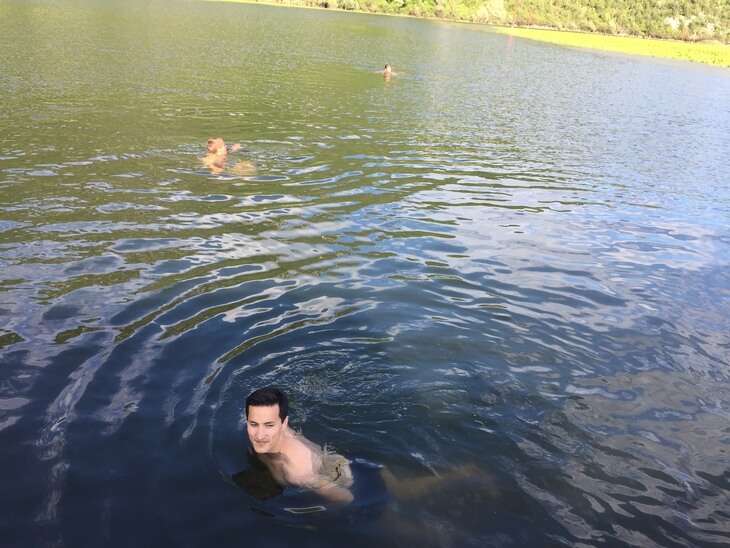 Great Montenegro Tour: The water gets up to 28 C in summer
Another small detour through lush wilderness brought us to Montenegro's glittering Budva Riviera and Budva old town. At sundown, the town was alive with teenagers in ball dresses, marching through town on their way to prom; tourists languishing over long seafood dinners and children playing hide and seek among the 2,000 year old ruins of the old citadel.
Jelena gave us a walking tour through the old town and although Budva has a bad rap among western tourists, I loved the vitality in the town that you won't find in the sleepy hamlets of the Bay of Kotor. It seemed hard to believe when I hauled myself out of bed for the 8.30am start this morning, but I could suddenly see why lots of people leave the tour here and stay to party on in Budva.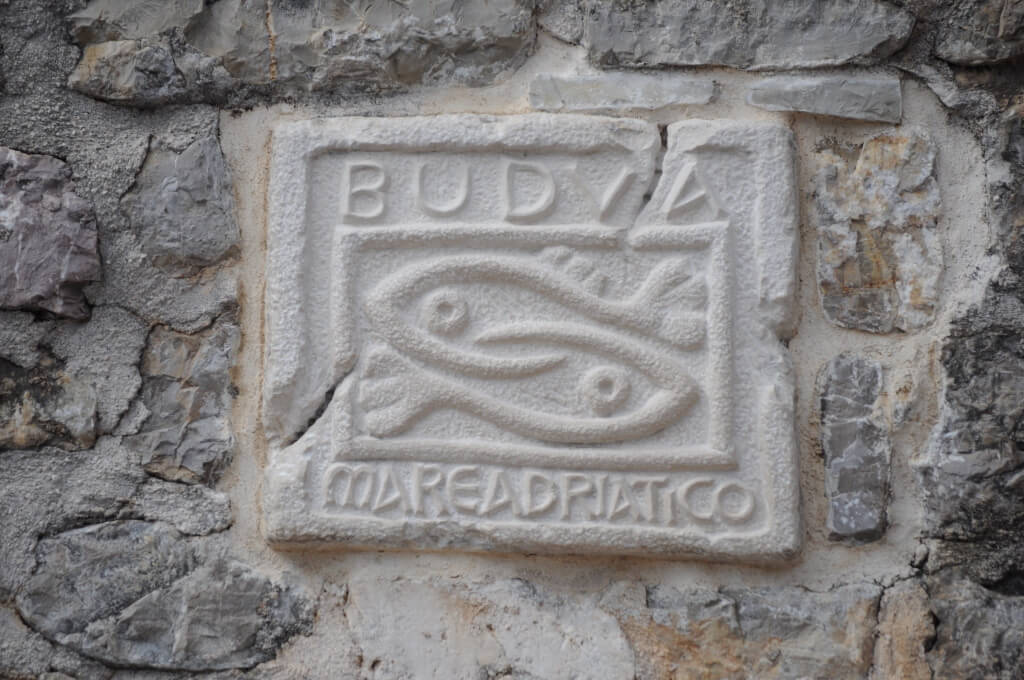 Great Montenegro Tour: Budva mixes 2,000 year old history with a modern resort vibe
For me, it was back to Kotor and my family. As we drove through the dark, we all murmured about what a great day it had been and how astounded we all were with the sheer variety we'd experienced. When we got back to Kotor, it was hugs all round for Jelena, who'd absolutely made our day with her enthusiasm, energy and humour.

My Verdict on the Great Montenegro Tour
At 12 hours long, the Great Montenegro Tour is very good value. There are extras like €3.50 for breakfast, €5 for Lovćen National Park and the Petar Petrović Njegoš mausoleum, €7 for lunch and a tip for your guide (usually 10%).
There's really no limit to who can do the tour. Our tour group included single travelers, honeymooners, people in their 20's and a couple well into retirement. You do need to be in reasonable physical condition to handle the long day, but the only physical exertion was walking up the stairs at the mausoleum, something that's optional. It wouldn't suit anyone with serious mobility issues.
This is a great tour if don't have a rental car or if you're just in Montenegro for a short time. On your own, you would need at least two day trips to see these parts of the country. This is the real value in the Great Montenegro Tour – you can explore the incredibly diverse landscape of Montenegro in the shortest time possible – leaving you more time to lie on the beach or explore other areas.
Book This Tour
---
Related Articles
Great Montenegro Tour
help the stray animals of Montenegro
Book your accommodation anywhere in the world through any of the search boxes on our site and we'll make a donation towards sterilising stray animals in Montenegro. 
It costs you nothing, and you get the biggest selection and lowest prices guaranteed. It's a win-win!