Konoba Feral
This post may contain affiliate links which means that if you purchase through my link I may earn a small commission which helps to keep this site going. Thank you. You can find more info in my disclaimer.

Konoba Feral is one of our favourite little restaurants in Herceg Novi. I'd love to say it's a local's secret, but the fact that it's packed out all summer long shows that the cat's out of the bag with this restaurant.
The restaurant is right by the marina in Herceg Novi which lies directly beneath the old town. It's really easy to find and has nice, busy atmosphere.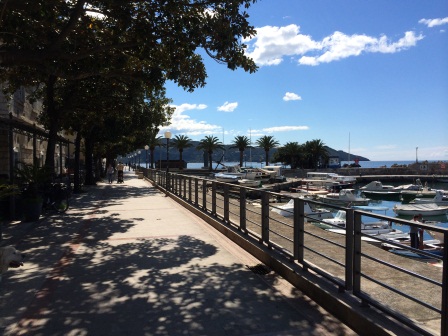 Herceg Novi promenade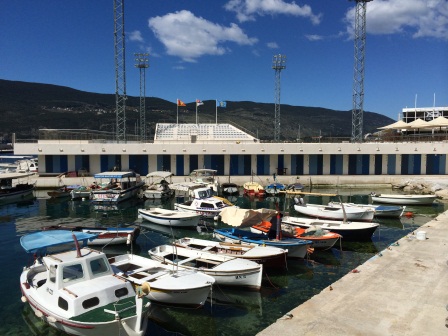 Herceg Novi marina
You can sit out on the terrace outside – great for us non-smokers – and enjoy the breeze and sight of people wandering along the promenade. Or you can sit in their indoor area – perfect for cooler weather, especially as they're open year round.

Local's Tip: A word of warning - if you want a table for dinner on the terrace in summer, call and book ahead. These are in demand and the terrace is quite small.
discover kotor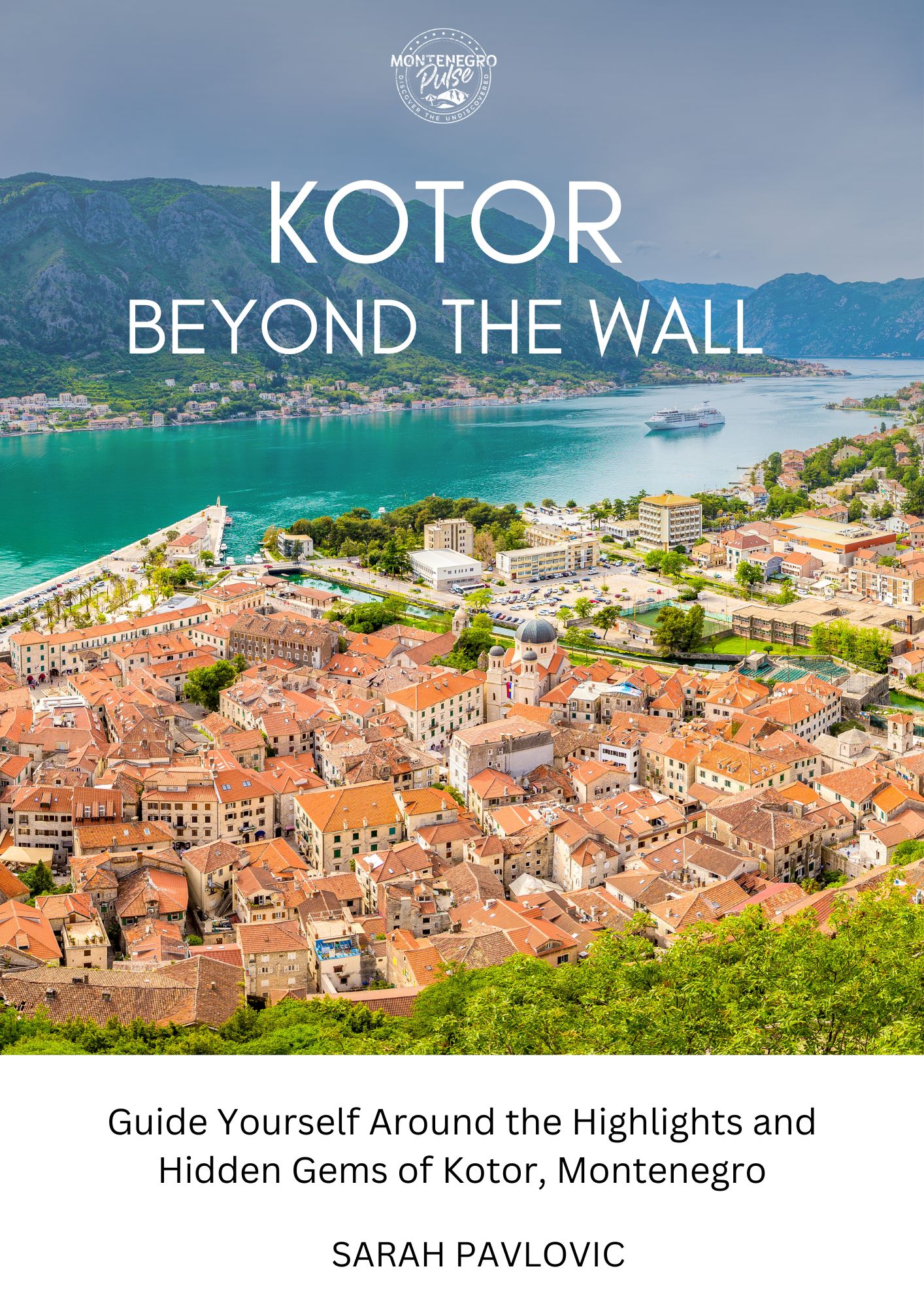 Guide yourself with the
"World's Best Guide to Kotor"
Top attractions
Hidden gems
Bonus walking tour
What to eat
Exclusive experiences
Essential visitor tips
---
Konoba Feral Menu
Konoba Feral is named for the lights the fishermen attach to their boats when out fishing for calamari at night. And you'll see the menu is heavily influenced by Montenegrin traditional seafood. You can try all the classics like black risotto, sea bream and calamari of course.
However, seafood's not all they do. They have a great selection of traditional Montenegrin meat dishes like Njeguski steak (schnitzel filled with cheese and prosciutto). They also have some non-traditional dishes like turkey with plum sauce and chicken with peanut sauce.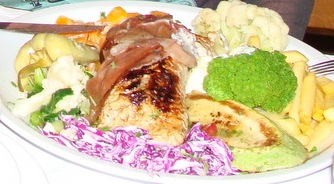 All of these are done really well and as you see here… the portion sizes are generous!
This is the Njeguski steak.
All this for about €10.
One of the things I like about this restaurant is that the meals come with a generous helping of steamed and grilled vegetables so you don't need to order a side salad to go with your meal. They also come with fries, so don't worry, the meals aren't too virtuous! 
Savo and my dad getting stuck into some grilled calamari and cold Niksicko beer - the perfect summer dinner!
What they don't do is dessert – a bit of a shame as judging by the rest of the menu it's something they'd do well too. But if you're like me and a meal out just isn't complete without dessert, you can head 50m down the promenade and grab something sweet at either Dodo or Bluefin.

---
What We Like
There are a lot of reasons why we keep coming back here:
Generous portions
Consistent quality.

Efficient service.

Inexpensive at around 

€

10 - 12 for a main.
Seaside atmosphere.

Open all year around.

---
What You Should Know
This restaurant is wheelchair accessible – park in the large paid parking lot above the marina and take the road down to the promenade.
Advance bookings are recommended during the summer.
---
Location
Address: Setaliste Pet Danica 47, Herceg Novi, Montenegro.
Phone: +382 (0)69 047 127.

Related Articles
Montenegro Restaurant Guide
The Best Restaurants in Herceg Novi
The Best Restaurants in Kotor
Konoba Feral
help the stray animals of Montenegro
Book your accommodation anywhere in the world through any of the search boxes on our site and we'll make a donation towards sterilising stray animals in Montenegro. 
It costs you nothing, and you get the biggest selection and lowest prices guaranteed. It's a win-win!