Lustica Water Taxi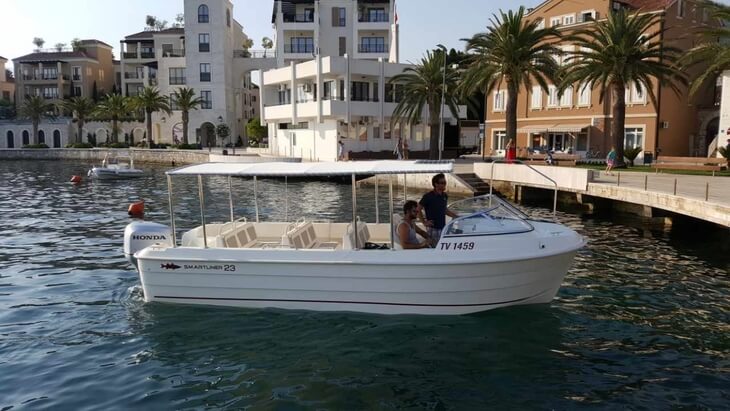 The Lustica Water Taxi at its departure point in Tivat
Luštica Peninsula beaches are some of the most popular summer destinations for Bay of Kotor locals. We love them because:
They're on the open sea, so the water is extremely clear with visibility easily 20m.
You often see dolphins.
The sandy beaches are great for little kids and the rocky beaches are great for snorkeling and cliff diving.
The beaches are spacious.
There are some great places to spend the day – from budget to luxe.
You can find real getaways, where you feel a million miles from the summer hustle and bustle.
So what's the best way to get there if you're staying in the bay?

Driving
You can drive there if you have a rental car. If you're driving I'd recommend these beaches:
Blue Horizons – a sandy and shallow bay, lined by forest and walking paths, this is a favourite with families with small children.
Oblatno – also known as Almara Beach Club, it's trendy, sandy, shallow and has a great bar and restaurant.
Both of these beaches are only 20 minutes' drive from Tivat/Kotor.
The beaches further out on Lustica are It's a 45 minute drive to Žanjice and Mirišta beaches, but I have to admit the roads are mostly gravel and the signage is a bit sketchy. There also aren't any organised carparks, meaning you have to park wherever you can squeeze yourself into a spot.
Lustica Water Taxi
My preferred way of getting to the beaches is by the  Luštica water taxi that runs between Tivat and Luštica Peninsula. It's fast, stress-free, cool (unlike the inside of a car in a Montenegrin summer!) and well… it's just fun! And at €10 per person, it's a lot cheaper than renting a boat for a day.
The Luštica Water Taxi starts out from Tivat's waterfront, known locally as Pine. Pine is the strip of waterfront in front of the town and next to Porto Montenegro. The departure point is in front of Una Montenegro, at the Porto Montenegro end of Pine.
From there, the water taxi takes you to Rose, Dobreč and Žanjice beaches. 
Rose
Rose is a pretty, little fishing village just inside the entrance to the Bay of Kotor and opposite Herceg Novi. The waterfront is lined with old stone homes, fishing boats and a couple of restaurants. The place to go here is Forte Rose, where you can eat, swim and sunbathe.

Because Rose is a little hamlet at the end of Luštica Peninsula, it's never crowded and it's the perfect escape on summer days.
It's also the perfect escape if your dream holiday is a quiet seaside hamlet where you can shuffle between the dips in the sea and sitting in the shade with a gin and tonic and a good book. 
Rose isn't ideal for young children because there's no beach in Rose. So if you want a beach it's best to head around to Dobreč or Žanjice beaches, which are much more kid-friendly.

Dobreč
Dobreč is a small bay with a pebble beach. The only way to get there is by boat, meaning it's relatively uncrowded. There's a restaurant onsite and you can get loungers and swim and snorkel the day away. 
Žanjice
Žanjice is one of the most popular beaches on Lustica Peninsula. It's very busy in July and August, but it's the best equipped. There are several restaurants, ice cream stands and places to hire loungers. Like Dobreč, the beach is pebbly and slopes gently, making it better for kids.
If you want to go upmarket, the place to go here is Ribarsko Selo, also known as Fisherman's Village.
The seaside complex has a restaurant where the menu changes daily depending on the catch, but it's mainly seafood.
You can also hire loungers, day beds and get cocktails for the full experience.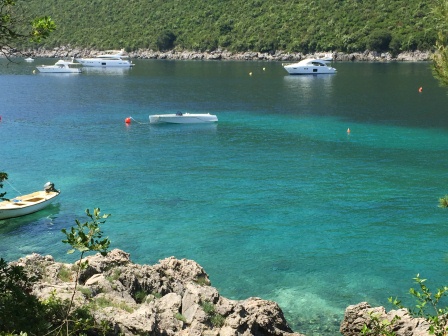 If you're interested in experiencing the lifestyle and history of Lustica Peninsula, the Taste and Feel of Lustica tour takes you on a historical and gastronomical tour of one of Montenegro's untouched places.
---
Lustica Water Taxi Schedule
There are two departures from Tivat daily - one in the morning and one in the evening. The water taxi starts out from Tivat and stops in Rose and Dobreč before ending in Žanjice. Then it turns around and returns to Tivat stopping in Dobreč and Rose along the way.
Tivat - Lustica Line
Departs Tivat: 10am, 6pm.

Rose: 10.15am, 6.15pm.
Dobreč: 10.20am , 6.20pm.
Arrives in Žanjice: 10.30am , 6.30pm.
Lustica - Tivat Line
Departs Žanjice: 11am, 7pm.
Dobreč: 11.05am, 7.05pm.
Rose: 11.10am, 7.10pm.
Arrives in Tivat: 11.30am, 7.30pm.

---
Lustica Water Taxi Price
€10 per person one way. Each leg is €10, so if you want to go from Tivat to Rose it's €10 and if you want to go from Rose to Žanjice, it's another €10. 
---
Book the Lustica water Taxi
The water taxi is limited to 10 people at a time, which is why I recommend you book your tickets in advance. Although it's nice to not have to plan every day of your holiday (it is a holiday after all!), if you do want to do this I recommend booking in advance because of the limited numbers that can fit.
If you'd like to book your tickets, you can send an advance booking or ask a question via the form below. Online seat reservation is exclusive to Montenegro Pulse readers. 

---
related Articles
---
Home

>
Things To Do in Montenegro
> Lustica Water Taxi
---
help the stray animals of Montenegro
Book your accommodation anywhere in the world through any of the search boxes on our site and we'll make a donation towards sterilising stray animals in Montenegro. 
It costs you nothing, and you get the biggest selection and lowest prices guaranteed. It's a win-win!