Montenegro Bird Watching holiday
This post may contain affiliate links, which means we may earn a small commission if you make a purchase. There is no added cost for you and commissions help us keep this site free - thank you! You can find more info in our disclaimer.

The villa you get to call home while on the Montenegro bird watching holiday
This is a unique one week Montenegro bird watching holiday. There's just one departure for the whole year: 21st May 2016.
This holiday takes place during the ideal time of year for bird watching in Montenegro – when migration meets with breeding season. The holiday is based on Skadar Lake, one of the top 5 sites for migratory birds in Europe.
This is where the rare Dalmatian Pelican makes its home alongside the world's second largest colony of Pygmy Cormorant. More than 280 bird species call this area of over 400 square kilometres of wetland home. The terrain includes open water, mud flats, rivers, floating vegetation, marshland, rocky shores and forest, providing the ideal habitat for these birds.
Click here to watch a short BBC video about the Dalmatian Pelican on Skadar Lake.
"Tranquility emanates from here and the air is filled with birdsong - not surprisingly it's an ornithologist's dream." - Wild Travel Magazine
You'll also visit Biorgradska and  Durmitor National Parks, where you'll be able to view alpine species like Nutcracker and Three-toed Woodpecker in the untouched conifer forests of the parks.
This Montenegro bird watching holiday is hosted by a lovely couple, Ben and Emma (and their three children), who have an undying passion for this region.
They've made the lake their home and love to share the best of it with their guests. They take excellent care of all of their guests and give them an experience they'll never forget.
I have no hesitation in recommending them whole-heartedly!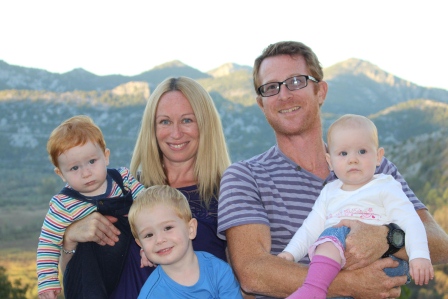 Your hosts - Ben and Emma
discover kotor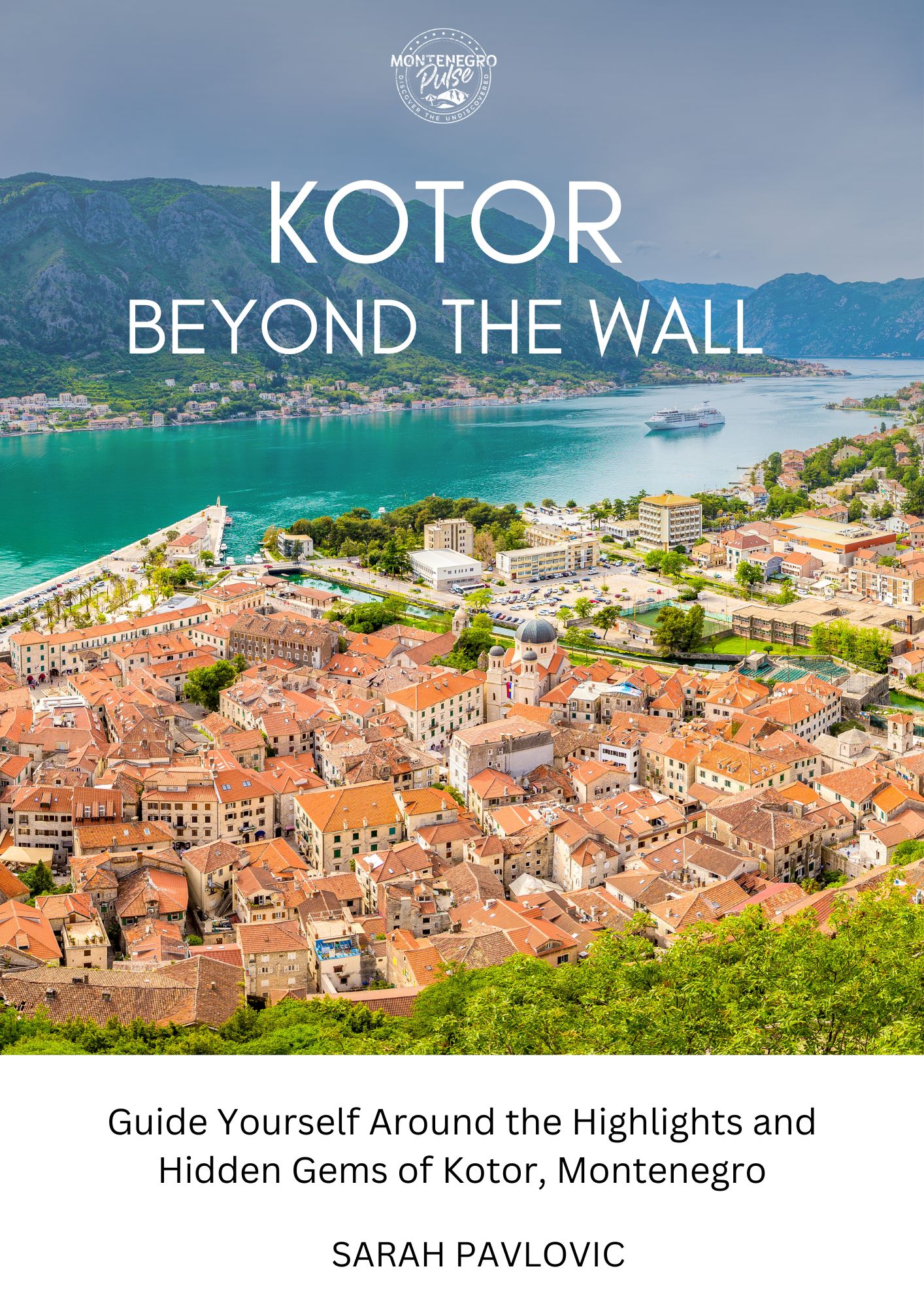 Guide yourself with the
"World's Best Guide to Kotor"
Top attractions
Hidden gems
Bonus walking tour
What to eat
Exclusive experiences
Essential visitor tips
The Guide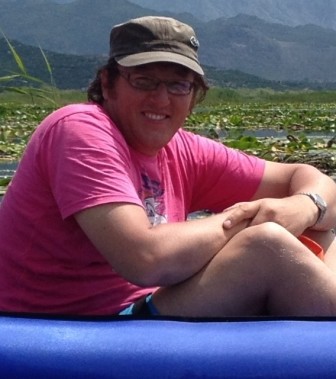 Your expert guide for the trip is Andrej Vizi. Andrej is one of Montenegro's leading ornithologists and is the curator of the National History Museum of Montenegro.
He's also responsible for monitoring winter bird numbers around Montenegro and is the project co-ordinator for bird ringing in Montenegro.
Between Andrej and Ben and Emma you couldn't be in better hands!
---
Skadar Lake Villa
Villa Miela where you're based on your Montenegro bird watching holiday is in Virpazar – the gateway to Skadar Lake. It's an old, stone building that's been lovingly renovated. It's even rumoured that an Orthodox saint was born there!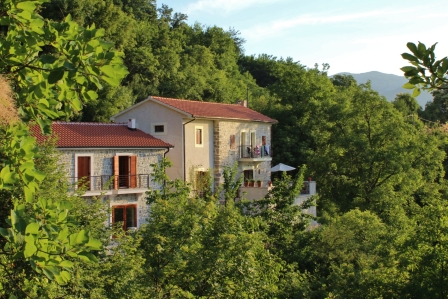 Villa Miela
The villa's terrace has stunning views over the lake and there's a hot-tub for you to relax in at the end of a day's exploration.  There's also a well-stocked kitchen and a barbecue so you can enjoy your meals al fresco  while you drink in the views.
The villa's orchard is full of organic fig, plum and pomegranate trees.

This is the kind of idyll villa holiday dreams are made of!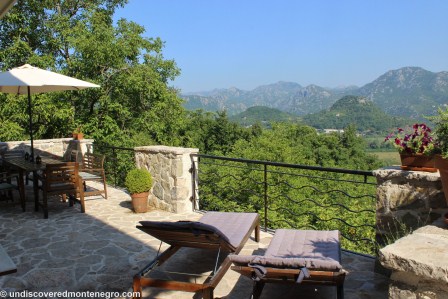 The view from the terrace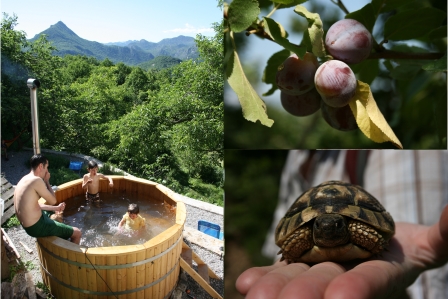 Enjoy the hot tub, pick fresh fruit and meet the locals
It's also just two minutes from the lake shore, bars, shops and restaurants and 30 minutes from the coast.

The villa can sleep  up to 10 people:

3x double/twin rooms
1x 4-bed family dorm room
Each room has an ensuite bathroom.
Villa Amenities:
Free WiFi
Modern kitchen with washing machine and dishwasher
Living area with TV, DVD player, library of books and dvds
Terrace with gas barbecue, sun loungers, hammocks
Hot tub
Mountain bikes (no charge)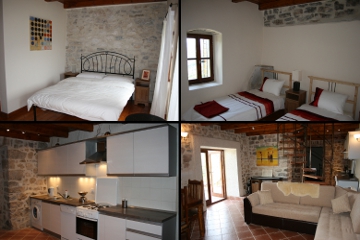 Light, airy and cool in summer, you'll feel right at home in the stone villa
You can read Trip Advisor reviews of Villa Miela here.

---
Montenegro Bird Watching Holiday Itinerary
Day 1: Sunday 21st May
Arrival in Podgorica and transfer to Villa Miela in Virpazar, Skadar Lake National Park. Group welcome dinner.
Day 2: Monday 22nd May
Take a boat cruise in a traditional wooden motor boat on Skadar Lake. The trip takes you across the calm waters to the north eastern shore, which is the breeding ground of the Dalmatian Pelican. This bird is an endangered species and the world's largest water bird.
On the way, you'll stop to see the Pygmy and Great Cormorants roosting areas. You can also expect to see Glossy Ibis, Squacco Herons, Whiskered Terns, Ferruginous Ducks, Short-toed Eagles and Scops Owls.
A packed brunch is included.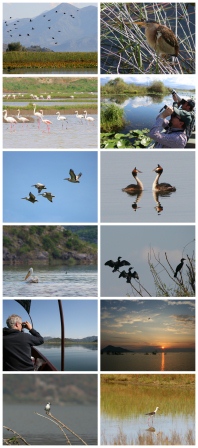 Day 3: Tuesday 23rd May
Take a scenic drive around Skadar Lake's southern shores. On the way you'll look for birds which like the rocky crags and Mediterranean shrubs here: Blue Rock Thrush, Black-eared Wheatear, Eastern Orphean, Cirl Bunting and Subalpine Warbler.
Then it's a 30 minute drive to Cijevna Canyon, a beautiful karst river and an Important Bird Area. Lunch is at a restaurant next to the gushing waterfalls before you explore this beautiful area further. 
Day 4: Wednesday 24th may
Today takes you down to the Ulcinj saltpans and the Bojana Delta, Montenegro's top site for waders. The saltpans are a protected area of shallow pans with no vegetation. 241 species of water bird have been recorded here including Black-winged Stilts, Kentish Plovers, Collared Pratincoles and Greater Flamingos.
This site is another Important Bird Area and is one of Europe's most important winter migration sites as it lies on the Southeast Europe flyway.
After visiting the saltpans, you'll enjoy lunch at a fish restaurant on the banks of the Bojana River, where you'll spend some more time spotting birds. 
Day 5: Thursday 25th may
A free day for you to enjoy Villa Miela's hot tub, orchard or head out wherever you choose. If you feel like exploring, I would recommend heading down to Montenegro's coastal towns of Budva and Kotor. 

Day 6: Friday 26th May
Today you leave Virpazar and head north into the mountains. You'll stop in Biogradska Gora National Park for a walk in one of Europe's last primeval forests.

This is home to various species like the Imperial Eagle, Yellow and Blue Tits and the Crested Tit. This is where you'll have lunch and get to try some delicious Montenegrin mountain food.
From here you'll head on towards Durmitor National Park, passing the second deepest canyon in the world – the Tara Canyon. This route leads you over the Djurdjevica Bridge, which gives you stunning views of the canyon.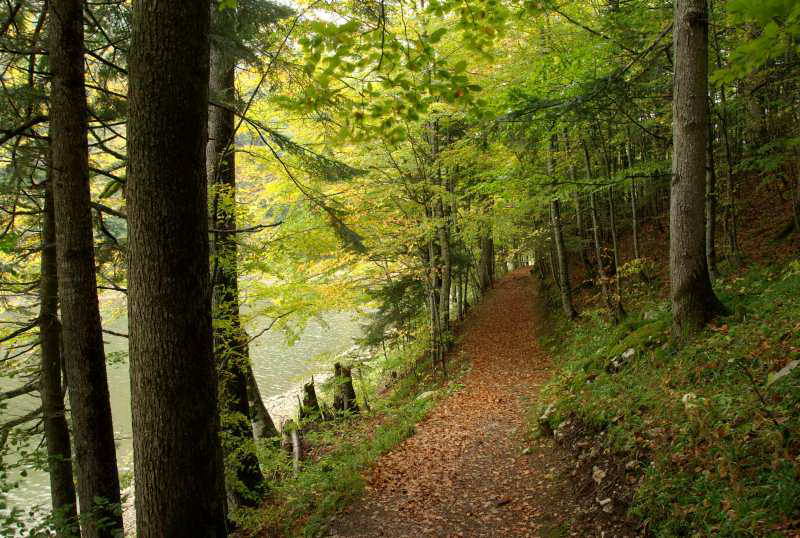 Biogradska Gora National Park
Your accommodation for the night is a nice hotel with forest and mountain views on the edge of the town of Zabljak. Dinner is included.

Day 7: Saturday 27th May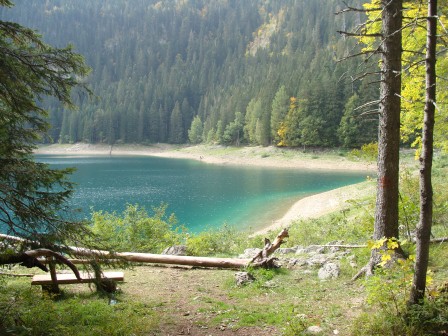 The Black Lake in Zabljak
Spend the morning exploring Durmitor's UNESCO protected forests. 163 bird species have been recorded here including Goshawks, Common Crossbills, Nutcrackers, Three-toed Woodpeckers and Black Woodpeckers.
In the afternoon you head back to Virpazar via Skakavac waterfall. Overnight in Villa Miela.
Day 8: Sunday 28th May
Departure. Check out is at 10am.
If you are interested in a Montenegro bird watching holiday but can't make this dates, you can send an enquiry via the form below and we may be able to put together a personalised itinerary for you.
Optional Extra tours
The holiday comes with the five tours above. These extra tours are also available on your free day.
Lake Cruises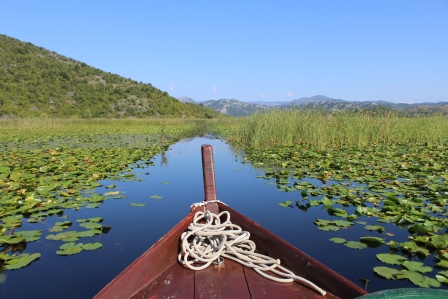 Cruise through the lily pads on the lake
A great and effortless way to get out on the lake and up close with the wildlife. The lake is a haven for bird species in Europe.
Read more about cruising Skadar Lake here.
4 people: £15 per person
5-10 people: £10 per person
---
Horse Riding
£40-60 per person depending on the tour
There's a minimum of 6 people required for this tour.
---
Adriatic Sunset Cruise
£450 for a 4 hour cruise
This is for a max of 6 people and includes transport.
---
Lovcen Adventure Park
Try Lovcen's rope swing course. There are courses for all levels for ages 5 and up. 
Read more about the Adventure Park here.
£30 per person
This includes transport and lunch.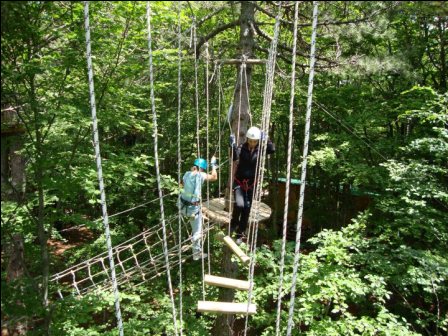 The ropes course in the treetops in Lovcen Adventure Park
---
Whitewater Rafting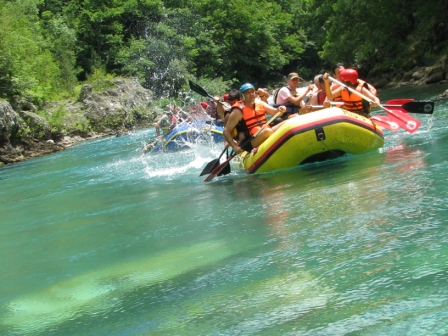 Rafting on the Tara River
1-4 people: £150 per person
5-6 people: £130 per person
7-8 people: £110 per person
This includes transport, English-speaking guide, one night in Durmitor National Park, 1 dinner, 1 breakfast and 1 lunch.
Read my review here.
---
Canyoning
This is Montenegro's most thrilling adventure tour through some of Montenegro's untouched scenery.
£60-80 per person depending on the tour
There a minimum of 6 people required for this tour.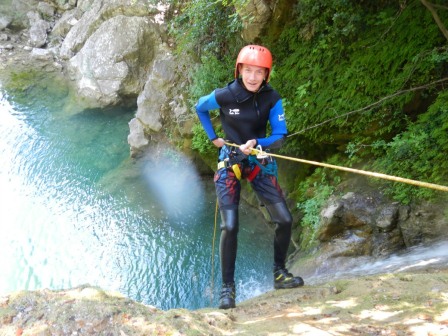 Canyoning in Montenegro
---
What's Included
This Montenegro bird watching holiday includes:
7 nights' accommodation in a double or twin room
Welcome dinner and dinner in Zabljak
5 guided birding tours
Lunch on excursion days
Transport and translation in Montenegro
Use of mountain bikes
---
Pricing
The price of the Montenegro bird watching holiday is £790 per person. There is a single's supplement of £200 for single travellers wishing to have their own room.
These holidays are payable in GBP so I've listed all prices in Pounds rather than Euros to allow for exchange rate fluctuations.
Spaces are limited to 8, so book early to avoid disappointment.
---
Enquire and Book a Montenegro Bird Watching Holiday
If you have any questions about the Montenegro bird watching holiday or would like to make a booking, you can do so by filling in the enquiry form below. You'll be answered within 24 hours.
---
Holidays on Skadar Lake
---
read More About Skadar Lake:
Montenegro Bird Watching Holiday
help the stray animals of Montenegro
Book your accommodation anywhere in the world through any of the search boxes on our site and we'll make a donation towards sterilising stray animals in Montenegro. 
It costs you nothing, and you get the biggest selection and lowest prices guaranteed. It's a win-win!