Montenegro Kayak Holiday
This post may contain affiliate links which means that if you purchase through my link I may earn a small commission which helps to keep this site going. Thank you. You can find more info in my disclaimer.

The villa you get to call home on the Montenegro kayak holiday
This Montenegro kayak holiday is perfect for kayak enthusiasts. There are four kayak tours included with the holiday ranging from easy to challenging.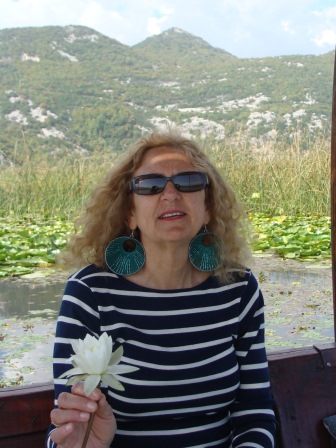 My mum on Skadar Lake with a waterlily we picked
These tours will help you become an expert in your own right on Skadar Lake. You'll learn about the history of the area, visit the monasteries, meet the wildlife and of course do plenty of kayaking!

I love taking visitors out on Skadar Lake. There's nothing like gliding across the water, picking waterlilies and spotting birds. The only that's maybe even better, is doing it in a kayak! You can go places the boats can't and get so close to the wildlife.
There's a minimum age limit of 10 for this holiday because of the amount of kayaking. Although you don't need to have kayaking experience, you do need a good level of fitness to complete the most challenging tours.
The Montenegro kayak holiday is hosted by a lovely couple, Ben and Emma (and their three children), who have an undying passion for this region.
They've made the lake their home and love to share the best of it with their guests. They take excellent care of all of their guests and give them an experience they'll never forget.
I have no hesitation in recommending them whole-heartedly!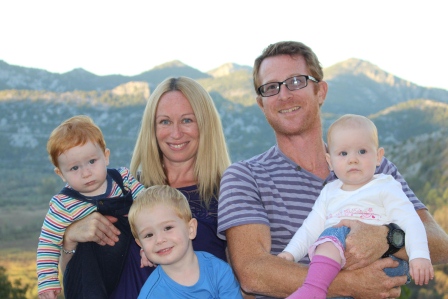 Your hosts - Ben and Emma
Many of my customers have booked a week's beach holiday on the coast and a week's holiday with Ben and Emma – the feedback I've received about splitting a two week holiday in Montenegro like this has been overwhelmingly positive. You get the best of both worlds – a week enjoying the sun and beaches and a week exploring Montenegro's hidden backcountry.
So, let me tell you about the Montenegro kayak holiday...
discover kotor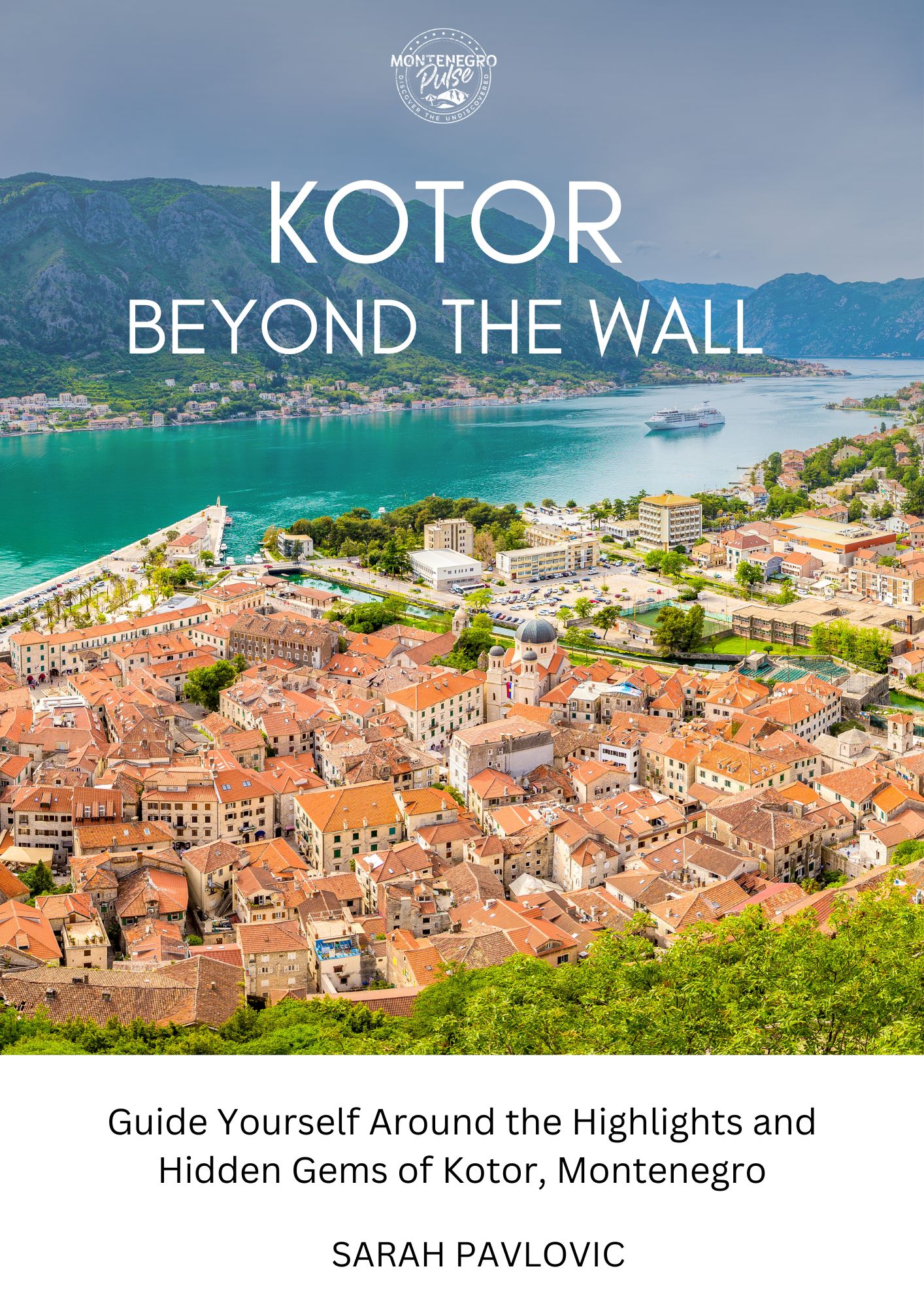 Guide yourself with the
"World's Best Guide to Kotor"
Top attractions
Hidden gems
Bonus walking tour
What to eat
Exclusive experiences
Essential visitor tips
---
Skadar Lake Villa
Villa Miela where you're based on your holiday is in Virpazar – the gateway to Skadar Lake. It's an old, stone building that's been lovingly renovated. It's even rumoured that an Orthodox saint was born there!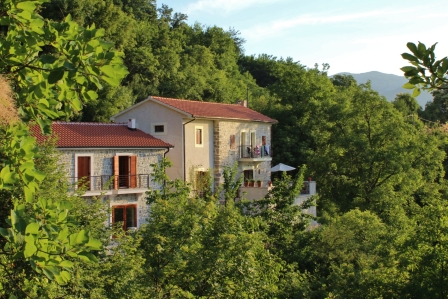 Villa Miela
The villa's terrace has stunning views over the lake and there's a hot-tub for you to relax in at the end of a day's exploration.  There's also a well-stocked kitchen and a barbecue so you can enjoy your meals al fresco  while you drink in the views.
The villa's orchard is full of organic fig, plum and pomegranate trees.

This is the kind of idyll villa holiday dreams are made of!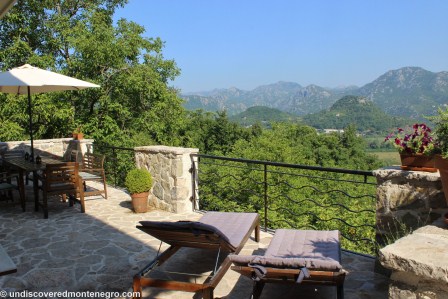 The view from the terrace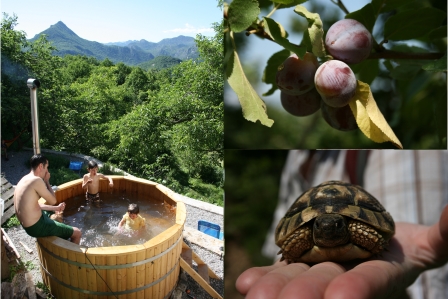 Enjoy the hot tub, pick fresh fruit and meet the locals
It's also just two minutes from the lake shore, bars, shops and restaurants and 30 minutes from the coast.

The villa can sleep  up to 10 people:

3x double/twin rooms
1x 4-bed family dorm room
Each room has an ensuite bathroom.
Villa Amenities:
Free WiFi
Modern kitchen with washing machine and dishwasher (who wants to wash dishes holiday?)
Living area with TV, DVD player, library of books and dvds
Terrace with gas barbecue, sun loungers, hammocks
Hot tub
Mountain bikes (no charge)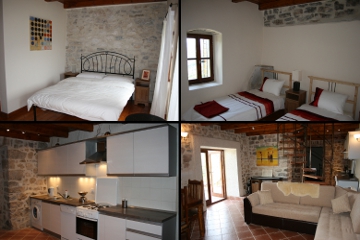 Light, airy and cool in summer, you'll feel right at home in the stone villa
You can read Trip Advisor reviews of Villa Miela here.

---
Montenegro Kayak Holiday Guided Tours
There are 4 tours included with the Montenegro kayak holiday. There are also extra optional tours that you can add to the itinerary.
Your guide on the kayaking tours is a fully qualified kayak coach who knows the Skadar Lake waterways like the back of his hand. The trips are fine for everyone from complete beginners to experienced paddlers. 
The Kayaks
The kayaks are Sevylor Colorado and Z-Pro Tango inflatable tandems. This means there are two people to a kayak, which makes it 1) easier to travel because you only have to do half the work and 2) ideal for families because children can be paired up with adults.
If you're a complete novice you might be worried about falling out. No need to worry, these kayaks can't be rolled or capsized, so you won't fall out – until you decide to go for a swim!
All of the kayaking equipment you need is provided.
Tour 1: Island Prison and Private Beach
The first tour starts at Virpazar, just 2 minutes from the villa. It leads you through the swathes of waterlilies on the lake to a place called Godinje. Here you'll see an island prison called Grmozur and a natural spring at Radus. After that, you'll enjoy a rest and swim at a private beach. For lunch, you can either have a packed lunch or dine at a fisherman's cottage (extra cost paid directly to the owner).
Difficulty: Easy – moderate. A total of 4-5 hours paddling.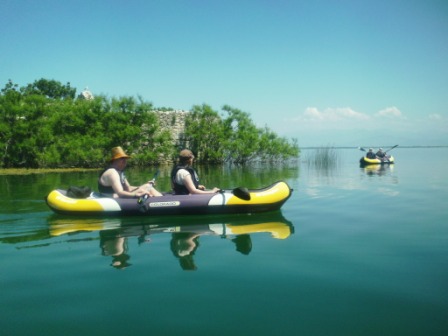 ---
Tour 2: Birding and Culture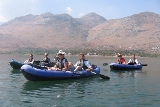 Kayaking on Skadar Lake
This tour takes you on a circular tour starting in Vranjina, just across the bridge from Virpazar. On the tour you'll visit the bird reserves of Manastirska Tapija. Skadar Lake is famous for its bird reserves and bird watching. 
Then you'll pass the hills of Vranjina and stop at St Nikola, one of the monasteries on the lake. 
You'll then return back to Vranjina via the Moraca delta. A packed lunch is included with the tour.
Difficulty: Moderate – challenging. A total of 5-6 hours of paddling.
---
Tour 3: Island Monasteries
This tour takes you on a circular trip around the lake's monasteries. You'll learn about this history of the churches on the lake from the nuns and monks who run them.
Along the way you'll enjoy plenty of swimming in the lake's clearest waters, sunbathe on fresh water beaches and look out for non-venemous freshwater jellyfish.
Difficulty: Easy. A total of 3-4 hours paddling.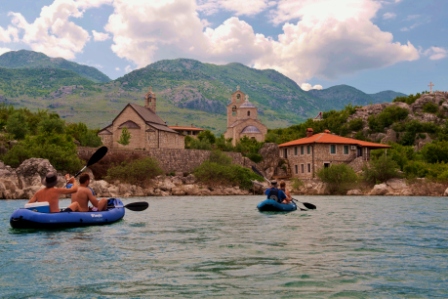 ---
Tour 4: Majestic Serpentines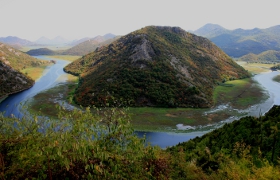 This last kayak tour is a journey from Karuc to Rijeka Crnojevica through the serpentine channels of Pavlova Strana.
This is one of the most photographed and famous places on the lake. You have a packed lunch included with the tour and have the option of having dinner at a local restaurant (payable directly to the restaurant).
Difficulty: Challenging. Up to 8 hours paddling.

---
Optional Extra tours
The Montenegro kayak holiday comes with the four tours above. You can also add any of these extra tours to the existing itinerary.
Lake Cruises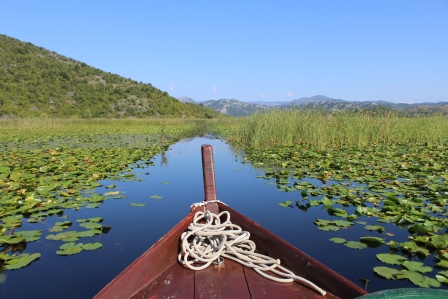 Cruise through the lily pads on the lake
A great and effortless way to get out on the lake and up close with the wildlife. The lake is a haven for bird species in Europe.
Read more about cruising Skadar Lake here.
4 people: £15 per person
5-10 people: £10 per person
---
Horse Riding
£40-60 per person depending on the tour
There's a minimum of 6 people required for this tour.
---
Adriatic Sunset Cruise
£450 for a 4 hour cruise
This is for a max of 6 people and includes transport.
---
Lovcen Adventure Park
Try Lovcen's rope swing course. There are courses for all levels for ages 5 and up. 
Read more about the Adventure Park here.
£30 per person
This includes transport and lunch.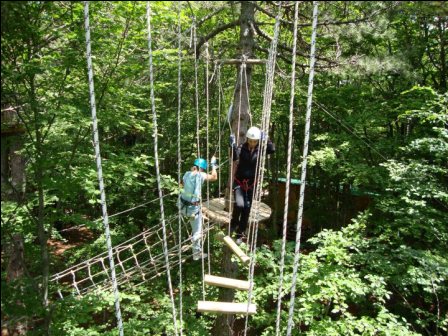 The ropes course in the treetops in Lovcen Adventure Park
---
Whitewater Rafting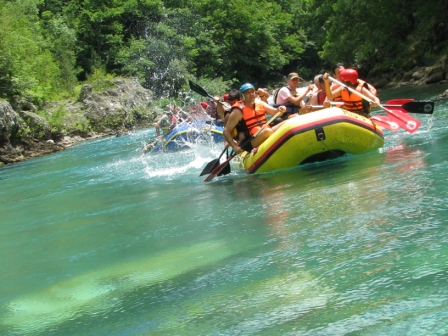 Rafting on the Tara River
1-4 people: £150 per person
5-6 people: £130 per person
7-8 people: £110 per person
This includes transport, English-speaking guide, one night in Durmitor National Park, 1 dinner, 1 breakfast and 1 lunch.
Read my review here.
---
Canyoning
This is Montenegro's most thrilling adventure tour through some of Montenegro's untouched scenery.
£60-80 per person depending on the tour
There a minimum of 6 people required for this tour.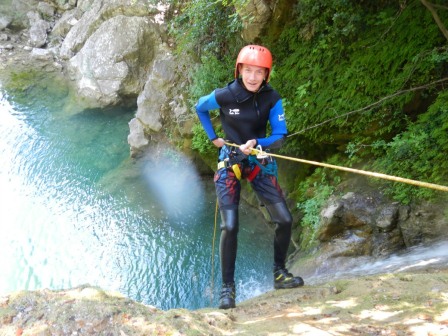 Canyoning in Montenegro
---
What's Included
The Montenegro kayak holiday includes:
7 nights' villa accommodation in a double or twin room
Welcome dinner
4 guided tours
Some lunches depending on tour
Kayaks, life jackets and paddles
Use of mountain bikes
---
Who is This Holiday For?
This holiday is ideal for keen kayakers who want to explore a new area. It's also good for relatively fit people who would like to try kayaking.
Couples
Families with children over the age of 10
Groups
---
Pricing
The pricing of the Montenegro kayak holiday depends on the time of year you visit. These holidays are payable in GBP so I've listed all prices in Pounds rather than Euros to allow for exchange rate fluctuations.
Here is the 2016 pricing of the kayak holidays:
April/October: £645 per person
May/June/September: £695 per person
The holiday is not available in July or August. If like the look of this holiday and want to come in July or August, I recommend you check out the Active Villa Holiday.
Changes
If there are 6 or more in your group, you have the option to hire the entire a villa (a supplement may apply).
Sometimes  the villa can accommodate shorter stays, but it depends on availability. If this is something you're interested in, I recommend you enquire to ask.
You can get a personal quote by filling in the form below and letting us know which activities you want to do.
---
Enquire and Book a Montenegro Kayak Holiday
If you have any questions about a Montenegro kayak holiday or would like to make a booking, you can do so by filling in the enquiry form below. You'll be answered within 24 hours.
---
Holidays on Skadar Lake
---
read More About Skadar Lake:
Montenegro Kayak Holiday
help the stray animals of Montenegro
Book your accommodation anywhere in the world through any of the search boxes on our site and we'll make a donation towards sterilising stray animals in Montenegro. 
It costs you nothing, and you get the biggest selection and lowest prices guaranteed. It's a win-win!