Montenegro Local Favourites
(This post may contain affiliate links. Find more info in my disclaimer.)
Here's our list of great places in Montenegro that are popular with locals but haven't been discovered by the tourist masses… yet.
Get into these while they're still unknown!

Restaurants
Sebelj
Sebelj is one of those places you'd never notice. I'd driven past it probably 50 times before I discovered it.
But when I did it was one of those 'Why haven't we been here before?!' moments.
It was actually a stroke of luck we went there. We were heading to another restaurant with friends but got caught in a rain shower. Since they were on their motorbike, they suggested we stop at Sebelj instead.
You can tell by the number of cars in the parking (even on a rainy day) that this is a popular restaurant with locals. I've followed the 'when in doubt follow the locals' mantra all over the world - and I'm happy to report I've yet to be disappointed!
Menu
Sebelj has excellent Montenegrin dishes like:

Veal soup
Slow roasted meat under the 'sac'
Grilled meat
Calamari
Seafood
I had these delicious 'ustipci' which were barbecued mince patties. They were so delicious, I literally groaned with the first bite. The fries were simple home fries but the potatoes were incredibly sweet. Obviously locally grown.
Our friends were similarly groaning over their soups and roast lamb.
Pricing
The pricing at Sebelj is very reasonable at €5-10 for a main, €2.50 for soup, €2.50 for salads and €2.50 for desserts.
Location
Lastva Grbaljska between Tivat and Budva
Phone: +382 86 463 544 +382 69 477 002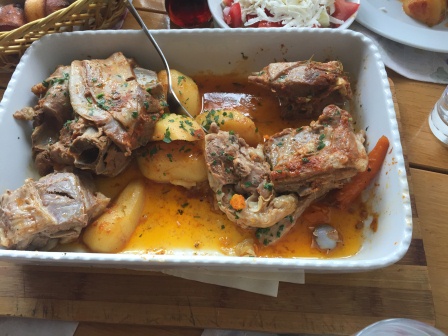 Roast meat from under the 'sac'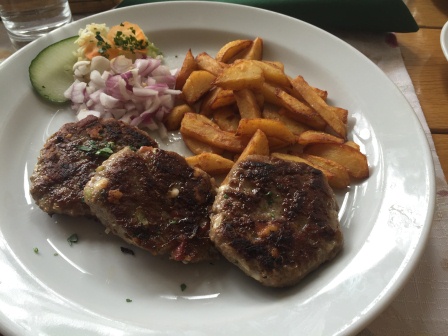 My delicious ustipci
Sidro
If you want to eat like a local in Tivat, avoid Porto Montenegro and head to the original marina in Tivat.
Sidro, meaning anchor in Montenegrin, lies on Kalimanj marina. To get there you head south of town along the waterfront and around the marina. It's only a 10 minute walk from town.
Sidro Menu

Sidro is known among locals for having the best barbecue in Tivat. Locals often come here for their steaks, sausages and hamburgers. We like to order a platter and take it up to Vrmac Ridge for a picnic.
Sidro also does the standard Montenegrin salads like cabbage, garden and Serbian salad. My personal favourite is the 'sopska' which is a mix of tomato, cucumber, capsicum and feta cheese. Add black pepper and you've got salad heaven.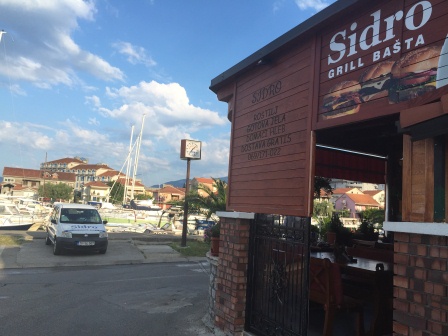 The other reason to visit Sidro is they are one of the few places that have Balkan homestyle meals. Balkan food is hearty and delicious, but sadly not easy to find in typical tourist haunts. At Sidro you can get dishes like stuffed capsicums, goulash and baked beans. These are the staples of local households. You can also get them to take away – that's takeout for my American friends :)

Merkur
Merkur is like a little oasis in the busyness of Budva. I'm going to go out on a limb and say this is our favourite restaurant in Budva. 

The restaurant itself is large and you can stop for a full meal, ice cream or just a coffee. We've been here several times and have loved it every time.
When you walk in the traffic is drowned out by the sound of the water fountains and the interior makes you feel like you're sitting in a garden.
The glass dining room or the covered terrace are perfect for all kinds of weather.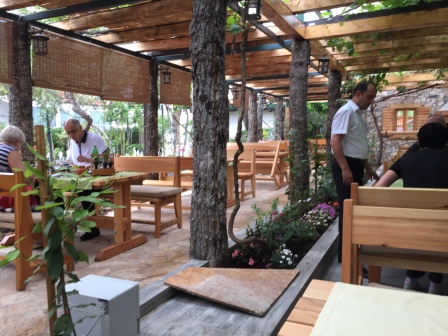 Menu

The options at Merkur are varied and there's something here for everyone. Choose from fish, meat, pasta, pizza soups and salads.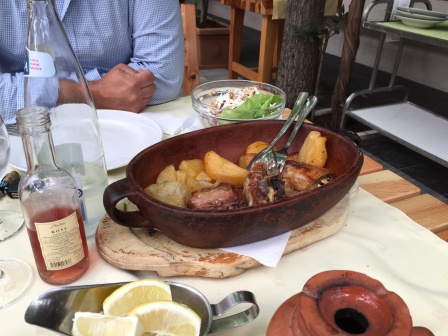 Roast meat from under the 'sac'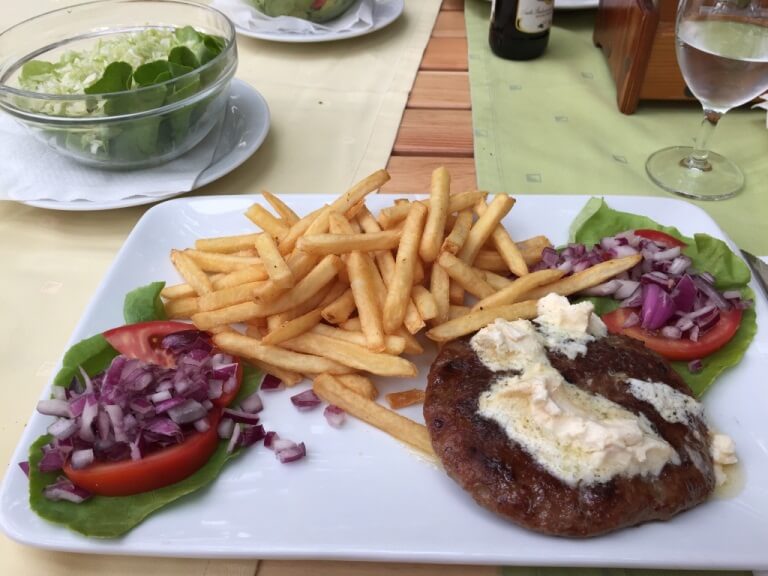 Pljeskavica (hamburger) with kajmak cheese
The Balkan grill is great – my favourite is the hamburger with kajmak- a type of Balkan cream cheese. This comes with a large helping of home fries and a side of onions. I like to get a side salad to go with it, just to lighten it up a bit.

Savo's favourite is the baked meat from 'under the sac'. This is type of Balkan specialty that I'd highly recommend trying. Meat is slow roasted on coals under an iron dome. The result is meat that falls off the bone and it's usually served with roast potatoes from under the sac too. These might be considered 'soggy' to some, but that's just how roast potatoes are done here.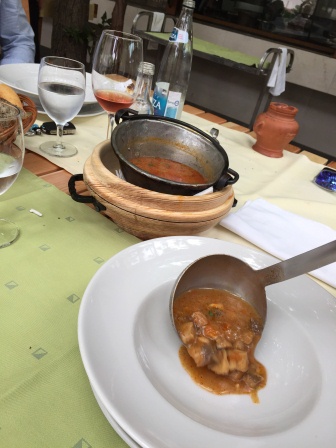 Veal soup
We also love the soups but they're well spiced, so might be too peppery for some. The portions are also large (as you can see in the pictures!) so I usually have to choose between soup and dessert and dessert usually wins for me!

The service at Merkur has always been fast and impeccable. Attentive but not intrusive. All in all, we love the consistently good food and service.
Pricing
The pricing is very reasonable here. €8 for my hamburger meal, €2.50 for soups and salads and €12 for the roasted meat dishes. This is great value.
Animal Garden
The thing that also surprises and delights at Merkur is the little animal garden. The garden has a wooden lookout that kids just adore and from up there you can see peacocks, peahens, ducks, rabbits, swans and tortoises all relaxing around the garden.
Location
Merkur is a little off the beaten path in Budva in that it's not along the seafront. It's actually right behind the bus station so it's still a walkable distance or short taxi ride from the seaside.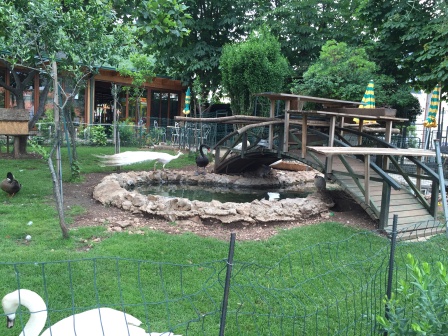 Part of the animal enclosure
Voda U Krsu
I was first introduced to Voda U Krsu when shopping in Delta City Mall in Podgorica. There are just two places to choose from in the food court in the mall but there's no shortage in choice.
Voda U Krsu has top notch Montenegrin homestyle food. You can choose from schnitzels, rice dishes, stuffed vine leaves, stews, roast potatoes, mashed potatoes, salads and spreads. It's all delicious. And dead cheap too.
I brought my former boss here after a meeting. He's a bit of a food snob, having spent many years in France and he was blown away. Our meals were under €10 – for the both of us including drinks.
Yes, you're eating a food court in a mall so this is not the kind of place for a special meal. But it's good and cheap and our favourite option in Podgorica.
Delta City mall is also easy find in Podgorica, so it's a great option if you're passing through or don't know your way around.
Voda U Krsu also has a restaurant with the same great quality in Bar.
Beaches
Kamp Begovic
Kamp Begovic at Uvala Veslo on Lustica Peninsula isn't a beach that you'll find on the tourist maps, but it is a firm favourite with locals. It's definitely one of our favourites. We like to go by boat and anchor off, but it's easy to get there by car too.
This beach is a rocky promenade rather than a beach so it's not suitable for families with small kiddies because the entry to the water is off the rocks. But if you have older kids (or you're one at heart!) the rocks are great for jumping off into the water.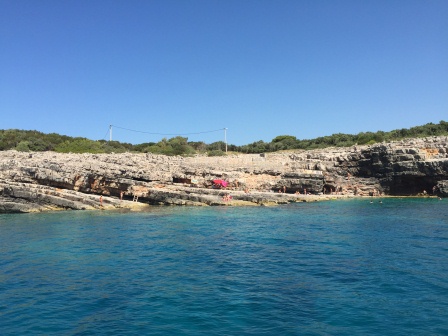 The water here is very clear, so bringing snorkelling gear or goggles is a must.

When you arrive you park in the camp which is a shady grove. This is perfect for picnics and games. There's a short walk from here along a path down to the water. There are also toilets and a small kiosk selling snacks on site.

There are no loungers or sun umbrellas for rent on this beach. You'll need to bring everything you need as there are no stores in the area. So bring your own shade (a stand is essential for umbrellas because of the rocks) and sunscreen.
There are sea urchins in this area too so goggles or a mask will help you avoid these as well as explore underwater.
Zukovica
Zukovica is a little beach that's off the beaten track even for most locals. But those who know about it will happily make the journey out here.
The beach itself is golden sand with rocky beaches either side. If you want a spot on the beach in summer, it's best to arrive early. If you're planning to visit Montenegro outside of July and August you might just get this beach pretty much to yourself!
There's nothing in way of shops or rentals here, so you'll need to bring everything with you and take it away again.
Dobra Luka
Dobra Luka beach is a beach that we've found you can easily get to by car. It's a small pebbly beach and is never very busy. 
It's about 20 - 25 minutes from either Tivat or Kotor and we've seen it completely empty even in the height of summer - on the weekend! 
I have the feeling there might be a bounty on my head for telling the world about this beach, but that's why I started this website - to share the best of Montenegro with you!
Krapina
I'm so excited to share Krapina with you. This is a true local's secret… in fact, most locals don't even know about it!
This place is just 5km from Budva but you'd never know. It feels like it's a whole world away. You'd never know 'Budva The Concrete Jungle' is just down the hill from here.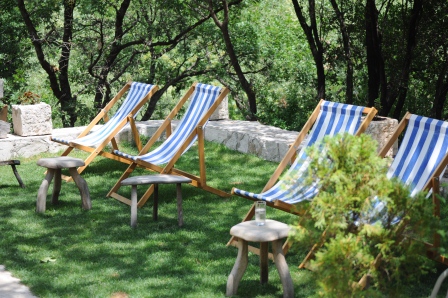 Niagara
Niagara is a surprising spot on the outskirts of Podgorica. There's  a charming and very good restaurant on site that's a refreshing place to stop for lunch. They have tame rabbits that you can pet and a children's playground.
But what people come to see are the Cijevna waterfalls. The Cijevna River runs past the restaurant and the sides suddenly drop away to create a dramatic set of waterfalls. The waterfalls stop when the river dries up though so you can only see them outside of the summer season.
Location
---
Home

>
Things To Do in Montenegro
> Local Favourites
---
help the stray animals of Montenegro
Book your accommodation anywhere in the world through any of the search boxes on our site and we'll make a donation towards sterilising stray animals in Montenegro. 
It costs you nothing, and you get the biggest selection and lowest prices guaranteed. It's a win-win!