Montenegro map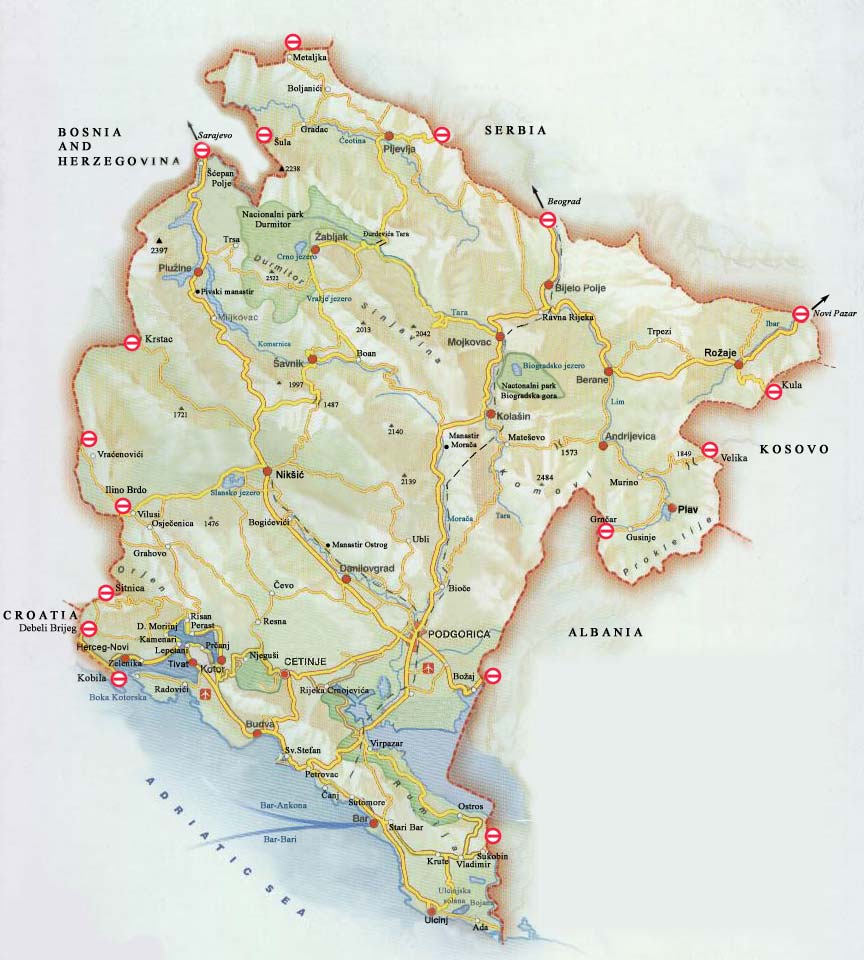 Montenegro map
Booked your holiday to Montenegro and you're all set?
Flights and accommodation booked? Check!
Rental car booked? Check!
Got a GPS so you can find your way around? Check!
Sadly no. That last one is not going to help you much here. 
Let me tell you a story. Recently we bought a new car. We traded our beloved Renault Megane in for something a little larger that would accommodate all the equipment a baby apparently needs to function. 
After lots of research, we settled on a Peugeot 3007. We were so excited about all the fancy automation that it comes with. I can call my husband without touching my phone and he'll be on the car speaker. The windscreen wipers adjust themselves automatically depending on how heavy the rain is. And it has built in GPS. No more pulling out a Montenegro map when we go somewhere new!
Or so I thought. Problem is, that it just shows me driving along an unmarked road in unmarked territory. 
And that seems to be about how most GPS units deal with Montenegro. 
Even when I get on my iphone it will show me the route from Herceg Novi to Zabljak, but all the roads are unmarked and it doesn't give me enough detail to navigate my way through the city of Niksic on the way. Plus, to use it I need to use mobile data all the time. That gets expensive if you're spending a week in roaming!
But it gets worse...

The Time My GPS sent me 250km in the wrong direction
A few years ago I decided to visit some friends in Germany and Switzerland and I took a few rescue dogs with me that had families waiting for them over there. I took a GPS unit with me to help me along the way and it was great.
Until it came time to coming back to Montenegro.
I started out from Switzerland, intending to drive all 1,400km in one go. Again, I relied on my GPS to tell me where to go. 
After some 12 hours of driving, I was happy to finally turn off the highway, knowing that I must be heading towards Dubrovnik in the dark. But after 15 minutes I knew something wasn't right and turned around and went back to the toll station to ask the attendant.
You know that feeling when someone tells you something and your brain just won't accept it because the reality of the situation is just too much? That was me. On being told that I had missed my turn-off. By 250km. There was nothing for it but to turn around and go back unless I wanted to follow unlit country roads through Bosnia all the way home. 
That was the last time I relied on GPS in the Balkans! 
So, as much as I love technology, here in Montenegro there's just no beating an old fashioned Montenegro map to help you get around without having to stop and ask directions (now that would be a disaster right guys?!)
No, but seriously, getting or bringing a Montenegro map is a must when you come on your vacation. And if you're planning to do a bit of sightseeing, it'll become your best friend!
---
Why A Montenegro map Beats GPS Here
The thing with Montenegro is that we don't generally use street names and numbers. That makes it difficult to find your way around. 
Sure the cities like Podgorica have street names and numbers, so getting around it fairly straight forward. But in the majority of the country you'll get an address like:
Radovici bb
Which literally translates as: Radovici no number.
So when you book your accommodation, you'll get detailed directions to find it based on streets and landmarks. A Montenegro map is invaluable here. A Montenegro road map will have all the little no-name roads and land marks that GPS just doesn't have. 
Once you have a map Montenegro is generally easy to navigate because there are just a few main roads. For example there's one road that runs the length of the coast and you'll use that to get anywhere along the coast.
For specific addresses, you'll need directions using landmarks.
Not sure where Montenegro is? Find out here.

---
Where To Get a Montenegro Map
Before You Leave
Getting a map before you arrive can help you get to your accommodation seamlessly. I particularly recommend this if you're:
Coming in summer - no one wants to get off a flight and then search for a map when it's almost 40 degrees (100 Fahrenheit)!
Arriving at night
Arriving in Dubrovnik and driving across the border
Here's a list of maps we recommend that you can buy from Amazon:

Freytag and Berndt publish a map of Montenegro that's ideal for travellers driving themselves around the country. 
It's in English, Spanish, French and German.
---
They also publish a map that includes all the countries of former Yugoslavia:
Montenegro, Serbia, Croatia, Slovenia, Kosovo, Bosnia and Herzegovina and Macedonia.

This is ideal if you're travelling around the region.

It's got larger maps of the main cities: Belgrade, Ljubljana, Zagreb and Sarajevo so you don't need separate maps for them.
It's also got info on places of interest, airports, attractions and camp grounds.
It's in English, Serbo-Croatian, French, German, Italian, Dutch, Spanish, Slovak, Hungarian and Czech.
---
Gizi Maps have two folded tourist and road maps - one of just Montenegro and one of Serbia and Montenegro.
They show you all the roads in Montenegro, distances, borders, attractions and airports.
They're printed in English, German, French, Russian, Hungarian and Serbian.

On Arrival
You can also grab a Montenegro map once you've touched down. Stop in at any petrol station and you'll find road maps in the magazine sections. 
This is fine if you're arriving in Tivat airport, there are petrol stations in both directions on the main road. If you're flying into Podgorica and will be driving yourself to your accommodation, I'd recommend arriving with a map because you'll have to navigate around the city.
Some rental car agencies might provide maps. When I was working for a tour operator, the (large) rental car agency we worked with didn't. 
---
Kotor Town maps
Kotor is one of the must-sees in Montenegro. But its streets are a bit of a rabbit warren. I've seen tourists walking back and forth trying to find their hotel - narrow stone streets can tend to all look the same!
When you go to Kotor, stop at the info kiosk at the front of the main gate and get yourself a free town map. It's got all the churches, old palaces and historical sites on it. It hasn't got restaurants or other attractions listed so it won't help you find those, but it will help you find your way around the town.
Find out more about things to do in Kotor here.
---
Download a Montenegro Map
Montenegromaps have high quality maps that you can download for free. They've got maps of the whole country as well as different regions. You can find their list of maps here.
---
Montenegro's Most Popular Destinations
Montenegro Coast
Montenegro mountains
National Parks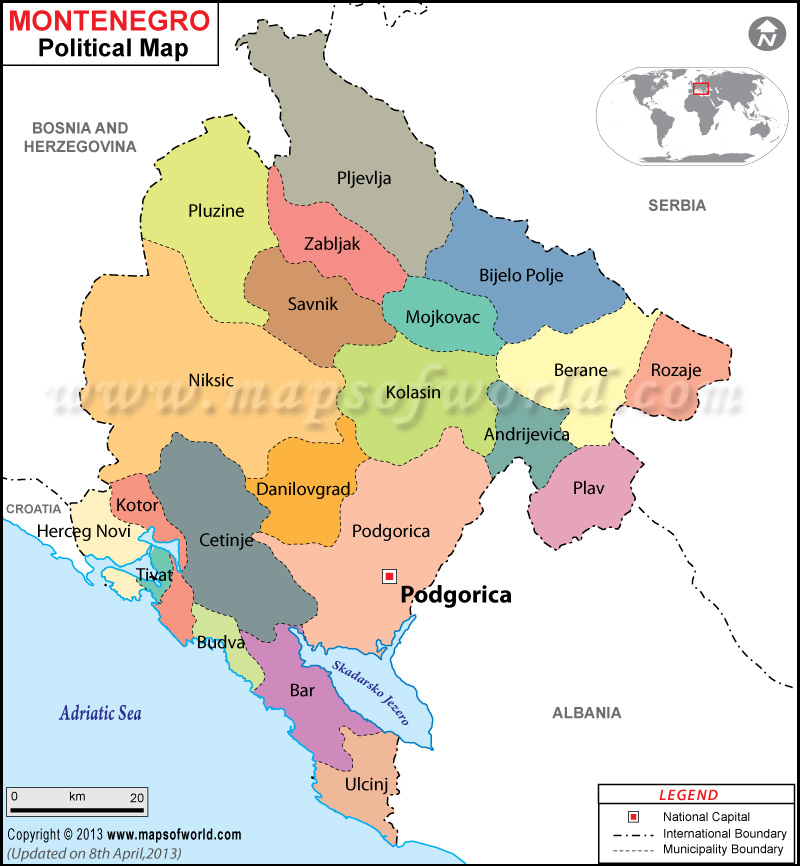 Map of Montenegro's regions
Related Articles
---
Home

>
Visit Montenegro
> Montenegro Map
---
Help us help the stray animals of Montenegro
Book your accommodation anywhere in the world through any of the search boxes on our site and we'll make a donation towards sterilising stray animals in Montenegro. 
It costs you nothing, and you get the biggest selection and lowest prices guaranteed. It's a win-win!