Your Montenegro Restaurants Reviews
(This post may contain affiliate links. Find more info in my disclaimer.)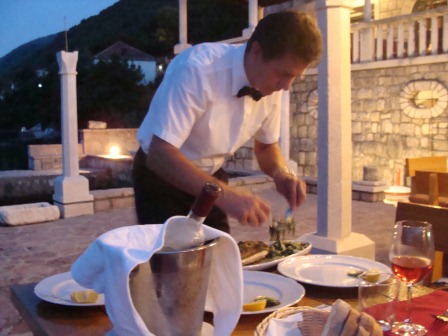 This is the place where you get to write your own Montenegro restaurants reviews! Loved it? Hated it? This is where you get to tell everyone about it!
There are few topics that can topics that we think about and talk about as much as food. Two friends can vehemently disagree it and two strangers can bond over it. I don't know about you, but in our house, food is constantly a topic of discussion – what's that new restaurant like? What's on the menu for baking day this week? What's for dinner?!

Everyone has an opinion… and it's usually a pretty strong one!
We'd like to know yours!
What did you think of Montenegrin cuisine?
Did you go to a restaurant that blew your socks off?
Did you go to a restaurant that blew your socks off – but not in a good way?
This is where you get to pay it forward and tell fellow visitors about your experiences.
Write your own reviews here.
We've written plenty of our own reviews, but food is one of those (as well as polarising) subjective topics. And every restaurant has bum days in the kitchen.
You can check out our picks at:
Write your own reviews and help other visitors to Montenegro get an idea which restaurants would suit them.  
And hey… we all love to share pictures of our delicious-looking food and dishes that look like works of art. I don't know about you, but my Instagram and Facebook feeds are enough to derail any dieter's willpower!
You can also add pictures of your favourite dishes to your reviews. 
Write Your Own Montenegro Restaurants Reviews
Your Montenegro Restaurant Reviews
No matter what else you like to do, there's one thing we all love to do... eat! This is the place where you get to share YOUR opinion on Montenegro's restaurants.
What Other Visitors Have Said
Click below to see what others have to say...

Review of Konoba Feral

We spent our holiday in Herceg Novi last August and had several meals at Feral. The location is ideal - right on the marina below the old town so we had …
Ribar Review Not rated yet
On your recommendation we tried out Konoba Ribar on our holiday. We were looking for a real Montenegrin seafood meal and we definitely found it here. …
help the stray animals of Montenegro
Book your accommodation anywhere in the world through any of the search boxes on our site and we'll make a donation towards sterilising stray animals in Montenegro. 
It costs you nothing, and you get the biggest selection and lowest prices guaranteed. It's a win-win!