Mount Orjen Hike
This post may contain affiliate links which means that if you purchase through my link I may earn a small commission which helps to keep this site going. Thank you. You can find more info in my disclaimer.
Mount Orjen at 1,894 meters is the highest mountain on the Adriatic coastline and dominates the entrance to Kotor Fjord.
Meeting some of the Mount Orjen locals on the way up!
We've done this particular hike many times both in the spring or autumn sun, and when there's several metres of snow covering the ground. It's a moderate hike that most people will manage without trouble and the scenery is varied and beautiful all the way.
As you head up from Herceg Novi, you drive through local villages where local families tend small gardens and graze livestock, (cows, sheep and goats). 
This tour starts at Borici with an ascent of approximately one hour (approx 375 m ascent / 25m descent) on stony switchback pathways through forest and up onto the Vratlo pass to the mountain za Vratlo. Here you will make a refreshment stop before continuing on the following optional hikes: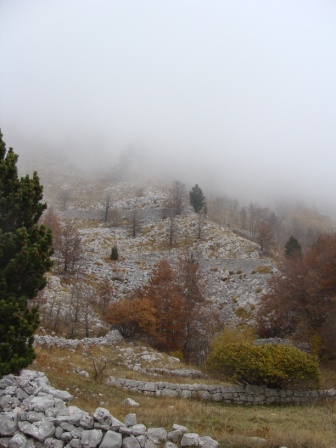 The switchback paths which are old Austro Hungarian roads leading up to Orjen.
Grab: 1383m (mountain hut – Kamenska plateau – Miskovica Rocks – Grab). 1 hour 45 mins round trip. From Grab you have a view to the open sea and coastline as well as the Vratlo pass.
Veliko Cedilo: 1466m (mountain hut – Carevarupa – Zlijebska Jama Ridge –peak) 2.5 hours round trip.  Veliko Cedilo is located in the south-eastern part of the Orjen massif. The summit is visible from the mountain hut. Cedilo is one of the best viewpoints, from here you can see the overall size of the Orjen massif.
Subra: 1679m (mountain hut – plateau – Subra) 4 hours round trip, 575 m ascent / descent. Subra is one of the most significant features on Mount Orjen and the limestone landscape is very impressive.

The views from Subra peak are extensive and this hike is well worth the effort. The route crosses limestone pavement, through forest and past sinkholes. Care is a needed on a couple of sections with exposed drops.

For those wishing to relax and enjoy the area you are welcome to rest at the mountain hut if you do not wish to ascend further. There is a lake here and the area is ideal for enjoying a well-earned rest and the view of the sea and Mount Orjen peaks.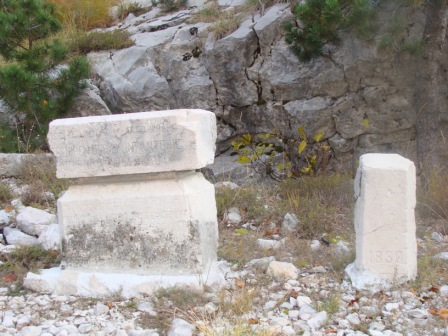 You'll see plenty of Austro Hungarian remnants littered along the paths.
About The Mount Orjen Hike
Difficulty
Medium. Minimum 7 kms / optional up to 15kms. Initial ascent from trail start to mountain hut 450m. 
When
The tour is scheduled every Friday from 7th June to 27th September. 
Departure is from the Mercator Mexx supermarket in Meljine, Herceg Novi car park at 9am..
The tour lasts for approximately 8 hours in total.
Price
35 Euros per person on all departures for groups of 4 or more. This includes an English-speaking guide and transfers from either Mercator Mexx or Herceg Novi bus station.
The tour is also available for smaller groups at the following prices:
2 people: 55 Euros per person.
3 people: 40 Euros per person.
To Book
Just complete the form below with your details to book your own Mt Orjen adventure.
Mount Orjen
help the stray animals of Montenegro
Book your accommodation anywhere in the world through any of the search boxes on our site and we'll make a donation towards sterilising stray animals in Montenegro. 
It costs you nothing, and you get the biggest selection and lowest prices guaranteed. It's a win-win!