Montenegro Pulse contains affiliate links and is a member of the Amazon Services LLC Associates Program. If you make a purchase using one of these Amazon links, I may receive compensation at no extra cost to you. See my disclaimer for more information.

The Perfect Spark.Me Itinerary
The Spark.Me business and digital innovation conference is a good enough reason to visit Montenegro all by itself – I've written about the reasons why I want to go to the Spark.Me conference already. But Montenegro isn't just another grey city to just fly in and out of when the conference ends.

No, Montenegro is a lush, sparkling, blue and green destination that's in full spring bloom. May is the perfect time to visit Montenegro:

The weather is warm and you'll be able to enjoy uncrowded beaches.
It's lively but not crowded.
A pre-season visit means you'll experience warm Montenegrin hospitality, before the locals get tourist-jaded.
The mountain fields are a riot of colour with wild flowers everywhere.
It's breeding season in the national parks, so you'll see plenty of animals and babies.
That's why you'll be kicking yourself if you don't leave a few extra days for sightseeing while you're here for Spark.Me.
I've put together the perfect itinerary for your stay in Montenegro while you attend the Spark.Me conference. 

This five day itinerary makes sure you get the most out of the conference, while still making sure you see the best Montenegro has to offer.

---
How to Get There
Spark.Me takes place in Budva in May. The best airport to fly into is Tivat airport, which is just 30 minutes from Budva. There are plenty of good flights to Tivat from all over Europe in May. You'll even find budget airlines like Easyjet flying from London and Manchester direct to Tivat for next to nothing (see my guide to finding cheap flights to Tivat here). And thanks to the gorgeous weather, you don't need more than carry-on luggage, saving you even more on your flights. A private transfer to Budva starts at just €22. 
If flying into Tivat isn't an option, your next best option is Podgorica airport in the capital. You can get a shuttle from Podgorica airport for the 1 ½ hour trip to Budva for as little as €21. Your third best option is Dubrovnik airport just over the border in Croatia. It's around 2 ½ hours from Cilipi airport to Budva and it's my least favourite because you'll have a border crossing, which can add time to your trip – time that should be spent soaking up the sun! A transfer from Cilipi airport to Budva starts from €87.
---
Where To Stay
Spark.Me is held in Hotel Mediteran in Becici, an idyllic beachside hamlet just outside of Budva. Naturally this is the perfect place to stay, but there are also other great choices like Hotel Anita just across the road.
If you like to work hard and play hard and want to be in the centre of the action, Budva town is just five minutes from Becici and has dozens of choices. The old town is lively without being crowded and it's the perfect place to get dinner then soak up the atmosphere with a couple of drinks in a local bar. My top picks near Budva old town are:
Hotel Tre Canne – the top floor restaurant and pool make this one of my favourites.
Hotel Astoria – right in the heart of the old town with a rooftop restaurant.
Freedom Hostel Budva – beds in the old town don't need to cost an arm and leg. Dorm beds here start from just €7 per night. If you're attending Spark.Me on your own, staying in a hostel is a great way to meet some new people and you'll easily find people to go out with at night.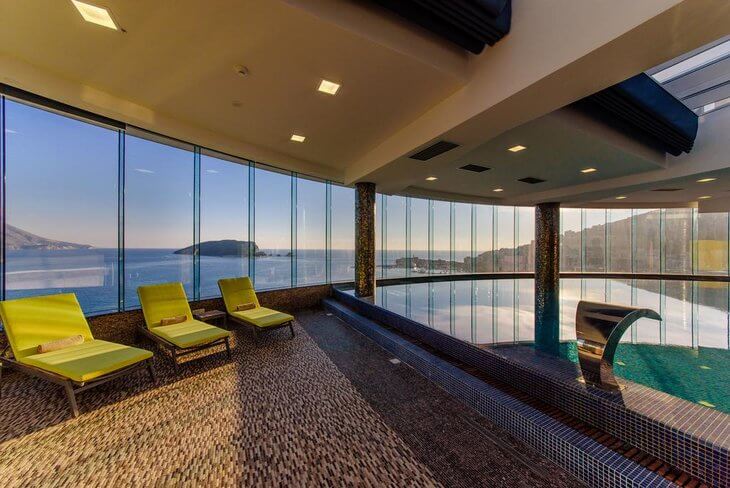 Hotel Tre Canne overlooking Budva and Sveti Nikola Island
Search All Accommodation in Budva
---
Spark.Me itinerary
Day 1
You'll want to arrive in Budva a day before the conference starts.  Take this day to get settled, then head into Budva for a leisurely stroll. I recommend:
 

Walking to Mogren Beach from Budva old town. Go for a swim.
Explore the old town and visit the Citadela and town museum.
A Montenegrin seafood dinner at Stari Grad or Porto restaurants before heading back to your accommodation for the night.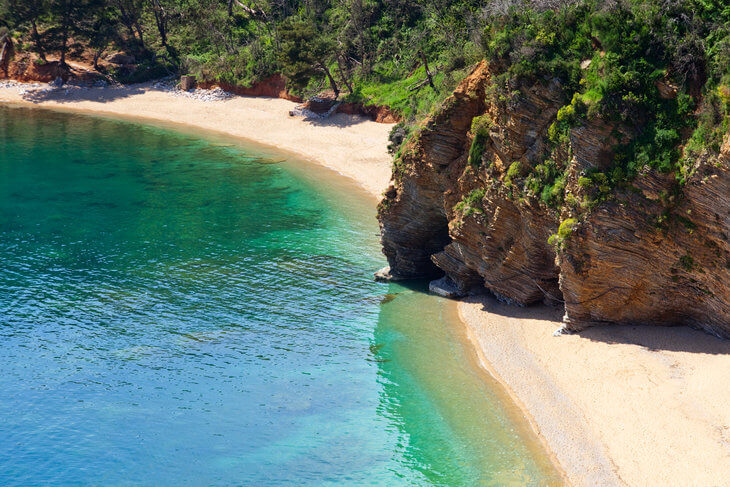 Mogren Beach
Image: Deposit photos
Day 2
Spark.Me registration starts at 8am and the conference starts at 10am. If you're staying in the hotel, you can get to registration early and then head off for breakfast. After the conference there's a cocktail reception, which is the perfect time to mingle with other attendees and make new contacts – don't forget your business cards!
Day 3
Day two of the conference kicks off at 10am and ends around 6.30pm. Your brain will definitely be full and sparking after two days of inspirational speakers and meeting like-minded people. Keep this positive momentum by treating yourself to a really nice dinner in Sveti Stefan, 15 minutes from Budva. For a really special experience, make a reservation at Aman Sveti Stefan or take in the views of the island from Olive or Adrovic restaurants.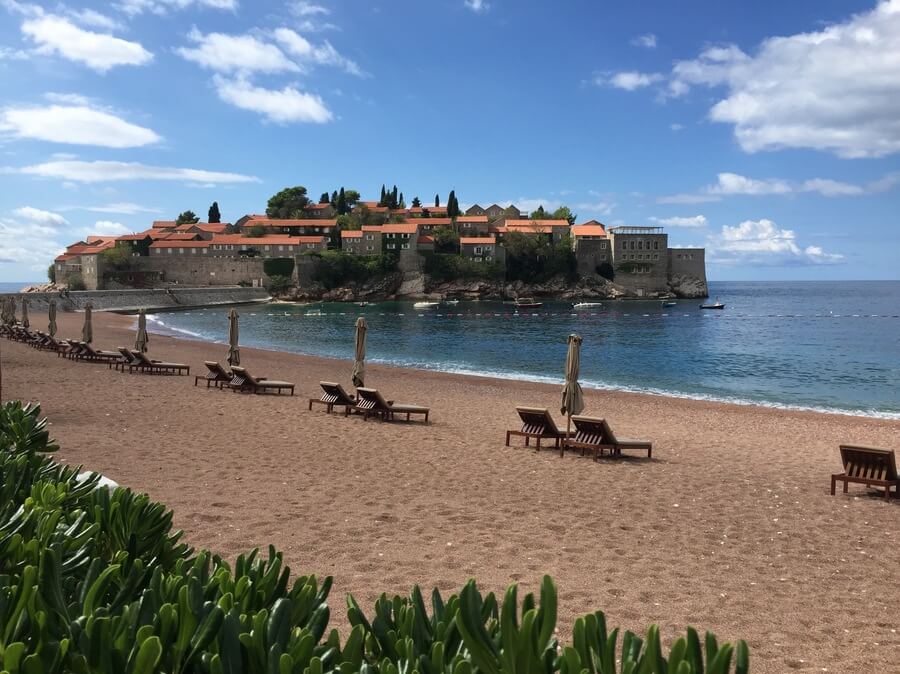 Sveti Stefan
Day 4
Although you'll have had three days of inspiration and getting a taste of Montenegro's beautiful coast, you don't want to go home without getting the full picture of what Montenegro has to offer. And there's only one way to do that – on the Great Montenegro Tour.
The Great Montenegro Tour packs a whole lot of Montenegro into just one day and will show you how stunning and diverse Montenegro really is. The tour starts out from Kotor at 8.30am. My advice is to get to Kotor an hour early to see the town – and get a much-needed coffee! Book a transfer for 7am to get there by 7.30.
From Kotor you'll head up the serpentine road to Njegusi village for breakfast (which starts with shots of rakija – grape brandy that's 52% alcohol!) and get these views on the way up...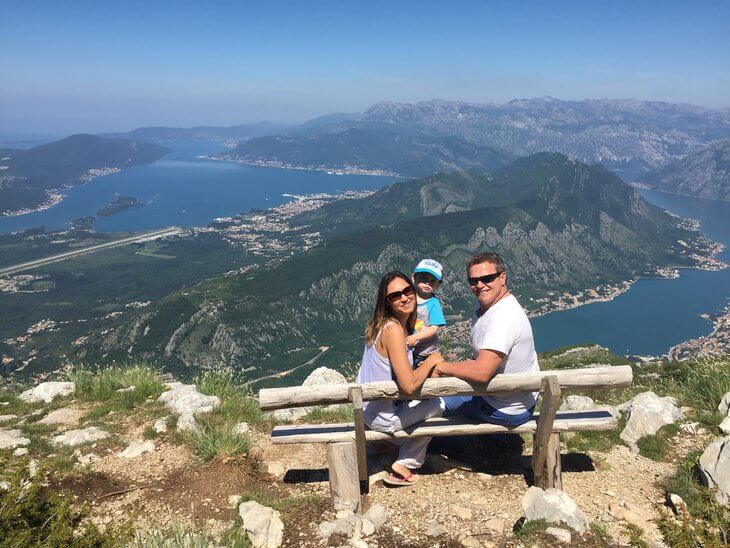 Lovcen National Park overlooking the Bay of Kotor
Then you'll scale the 461 steps to the mausoleum on Mount Lovcen to take this picture...
Then it's on to Cetinje, the old royal capital, for a historical walking tour. After that you drive to Skadar Lake for a delicious lunch of lake fish and local wine, a boat ride on the lake – bring your swimsuit! – and then back down to Budva for a  walking tour.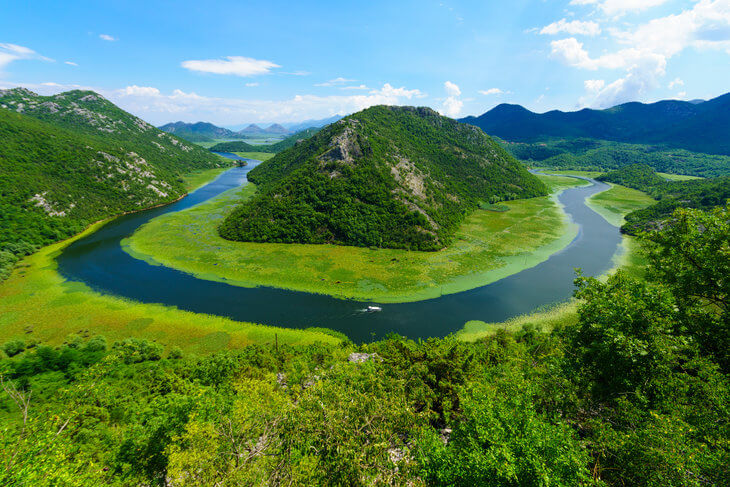 You'll get this famous Skadar Lake view on the Great Montenegro Tour
Image: Deposit photos
You can leave the tour in Budva or go back to the start point in Kotor. Click here for more details about the Great Montenegro Tour.

Day 5
Depart :(
So there you have it, the perfect itinerary for Spark.Me attendees. You'll leave Montenegro with new ideas, new inspiration, new friends, a new appreciation for rakija shots for breakfast and a plan to come and do it all again next year!

Spark Me Itinerary
Book Your Trip With My Recommended Providers