Tours From Dubrovnik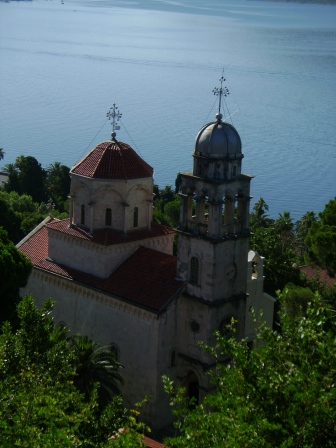 Savina Monastery in Herceg Novi
There are some great tours from Dubrovnik if you only have time to visit Montenegro for a day. If you're planning on staying in Dubrovnik but don't have time to stay in Montenegro as well, I'd highly recommend visiting by booking a tour from Dubrovnik.
From there you can be in Montenegro in less than an hour and you come out right into the stunning Bay of Kotor. The scenery and feel of the country is quite different. If you're planning on visiting Dubrovnik in summer, you'll find that Montenegro is a lot less crowded and no less beautiful. 
These tours from Dubrovnik will treat you to gorgeous scenery as you drive along the seaside. And because the distances aren't great, you can take in a lot of the coast in just a day if that's all you have. 

The Private Tour and Small Group Tour below take you all the way to Sveti Stefan on the Budva Riviera - something I'd highly recommend doing!

---
Montenegro Tours From Dubrovnik:
---
Montenegro Day Trip From Dubrovnik
On these day tours from Dubrovnik to Montenegro, cross international borders and spend the day in one of Europe's lesser-visited gems. Enjoy a scenic drive around Kotor Bay with its numerous small settlements, including Risan, once the seat of the Illyrian queen Teuta, and picturesque Perast. Take a break in the medieval town of Kotor, encircled by walls and fortresses and listed as UNESCO World Heritage Site. Don't miss its popular attraction, the Cathedral of St Tryphon.

Then continue your tour along the steep slopes to Cetinje (only April-October), stopping briefly along the way in the village of Njeguši. You will drive through Cetinje, once the seat of the Montenegrin rulers. 

Continue towards Budva with a panoramic view over #content_47028075, an exclusive island hotel. In Budva, a charming ancient town that is today a lively tourist resort, you'll have more free time to explore. Return to Dubrovnik with a ferry ride across the bay.
Find out more about these tours from Dubrovnik and book here.
Ancient Montenegro Day Trip
UNESCO Heritage town Perast
From Dubrovnik, your day trip starts with a drive into the countryside on your way to the ancient country of Montenegro, where you'll find natural beauty combined with a rich historical and cultural heritage. 

On the drive to the town of Risan, pass by the beautiful Konavle region and the Bay of Kotor. Look out the window to see scenic valleys, rolling hills and traditional villages. In Risan, your guide will show you the main sights of this old, Roman town, including a beautiful villa and the well-preserved mosaics. 

Then take a short boat ride from the Baroque town of Perast to the small island in the bay, called Our Lady of the Rocks. Visit the Church of Our Lady of the Rocks, a Baroque church built in the 17th century that is home to a fine collection of wall paintings. 

Get the boat back to mainland for your last stop in Kotor, one of the best-preserved medieval walled cities on the Adriatic. Enjoy a guided tour, followed by free time to explore the city on your own. Your guide will answer your questions and help you to not end up lost in the winding alleys! 

After a short ferry ride across Kotor Bay, head back to Dubrovnik in the evening, with beautiful pictures and interesting facts about Montenegro to always remind of you of wonderful day trip.
Find out more about these tours from Dubrovnik and book here.
Private Day Tours From Dubrovnik
Start your day with a pickup from your centrally located Dubrovnik hotel, and then travel out of the city by minivan. While your private guide drives, sit back and relax, admiring the scenic countryside of Župa Dubrovacka Valley and the Konavle region. 

Cross the border to Montenegro and travel along the picture-perfect Montenegro coast, typified by sweeping blonde-sand beaches. 

Pass the UNESCO-listed Bay of Kotor -- Europe's southernmost fjord -- and then stop at the charming coastal town of Risan to stretch your legs and admire the seaside views.
Continue to the neighboring village of Perast, lying at the foot of St Elijah Hill, for a walking tour. Much of it was destroyed following an earthquake in the late 1970s, but the gorgeous village still exudes a very Baroque feel with its beautiful villas and churches. After exploring the town with your guide, take a boat ride to a small island close to Perast to see a magnificent 17th-century Baroque church called Our Lady of the Rocks (costs 1 Euro).

Travel to Kotor, and then enjoy a walking tour of this beautifully preserved medieval town. Learn about the town's important sailing heritage, having had its own merchant navy under the Byzantine Empire. Visit St Tryphon Cathedral, an elegant Romanesque building, and then enjoy some free time in the town to explore independently.

Hop back into your minivan and enjoy a coastal drive to Sveti Stefan, a small island city that juts out into the Adriatic Sea. Soak up the views and then head to the coastal town of Budva for lunch (own expense). Enjoy a couple of hours here at leisure, perhaps relaxing on its famous beaches or strolling around the pretty streets.

Meet your guide at the pre-arranged time and start your journey back to Dubrovnik, passing along the scenic coastal roads. Enjoy one last treat– a ferry crossing along the Bay of Kotor – and then finish your tour in the late afternoon back at your hotel.
Find out more about these tours from Dubrovnik and book here.
Small Group Day Trip From Dubrovnik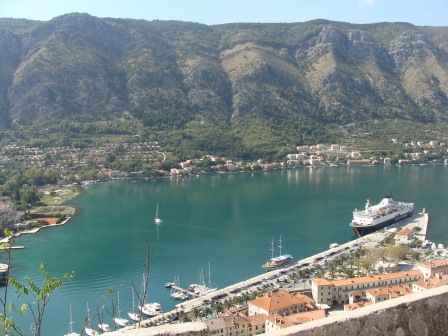 After pickup from your Dubrovnik hotel, get ready for an exciting day in Montenegro! Relax in a comfortable minivan and take in views of Dubrovnik's old town, a UNESCO World Heritage Site, as you leave the Croatian city behind and continue through the beautiful Župa Dubrovacka valley and the Konavle region. 

Next, cross the border to Montenegro and admire the picturesque Montenegro coast, offering a varied palette of ocean-blue colors.

Drive along the Bay of Kotor and stop at the charming coastal town of Risan. Continue with a visit of Perast, another beautiful small town, located at the foot of St Elijah Hill. Here, you have the option to board a local boat (own expense) and head to Our Lady of the Rocks island to visit the 17th-century Baroque-style church. 

Continue to Kotor by minivan and enjoy a sightseeing walking tour of the town, one of the best-preserved medieval towns on the Adriatic Coast, and discover the area's important sailing tradition. Visit St Tryphon Cathedral with your guide, before enjoying free time to explore on your own. 

Get back in your comfortable minivan and relax on the drive to the Sveti Stefan islet and resort. Take in views of the beautiful Adriatic Sea and learn the interesting history of this location from your guide. Admire views of the Montenegro coast as the drive continues toward the coastal town of Budva. Here, enjoy a sightseeing tour of the town, take time to wander around Budva Old Town on your own, relax on a beautiful sandy beach, and satisfy your appetite with lunch at a local restaurant (own expense). 

To end your tour, take a short ferry trip across the Bay of Kotor and enjoy a scenic drive along the coastal roads of Montenegro back to your Dubrovnik hotel.
Find out more about these tours from Dubrovnik and book here.
White Water Rafting Day Trip From Dubrovnik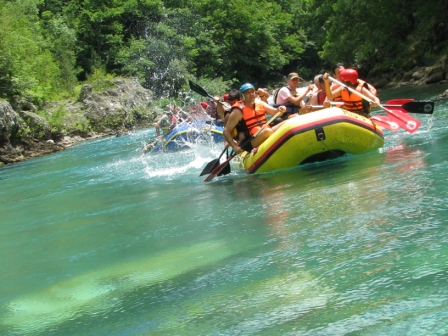 After pickup from your Dubrovnik hotel in the early morning, enjoy the drive across the Croatian border into Montenegro and to a rafting camp on the Tara River, one of the most spectacular rivers in Europe and a popular place for river rafting.

When you arrive at the rafting camp, enjoy a delicious breakfast of local specialties. Your experienced guide then will introduce you to river rafting with a brief safety overview and instruction. 

Now you're ready to begin your river-rafting adventure! Be driven by Jeep to the most attractive part of the Tara River Gorge, and hop in your raft to start your tour. While passing by waterfalls and wild springs, stop for photo ops to capture the breathtaking scenery.

The Tara River will provide you with an unforgettable rafting experience as you make your way through the Tara River Gorge, the longest canyon in Europe and second longest in the world after the Grand Canyon. Your guide will give you instructions on how to paddle through the Class III and Class IV rapids while you admire the riverside sights, including old water mills, monasteries, and shepherds with their young lambs, drinking water from the river. Pass well-preserved villages and take in the stunning shape of Durmitor Mountain, for which Durmitor National Park is named. 

After 15 miles (25 km) of rafting, you'll reach a central rafting stop. Relax on a local restaurant's terrace overlooking the river, where you'll enjoy a lunch local specialties. You can also go for a swim to cool off in this calm area of the river.

In the late afternoon, you'll be driven back to Dubrovnik.
Find out more about these tours from Dubrovnik and book here.
These tours from Dubrovnik into Montenegro are a really great way of packing a lot into a small amount of time. Getting a guided tour ensures you don't miss any highlights (and there are many!) and can relax and enjoy a relaxing day being shown around.  
You may have heard that the Croatian-Montenegrin border is very busy in summer and it generally is in July and August. However, tour buses and transfer companies have a special lane which gets them through very quickly. If you're driving yourself, I recommend taking the smaller border which you can read about here.
If you're planning to stay in Montenegro and are looking for a personal tour, my friend Liset can put together a personalised tour just for you. You can find out more about that here.
---
Home

>
Things To Do in Montenegro
> Tours From Dubrovnik
---
help the stray animals of Montenegro
Book your accommodation anywhere in the world through any of the search boxes on our site and we'll make a donation towards sterilising stray animals in Montenegro. 
It costs you nothing, and you get the biggest selection and lowest prices guaranteed. It's a win-win!