Montenegro Pulse contains affiliate links and is a member of the Amazon Services LLC Associates Program. If you make a purchase using one of these links, I may receive compensation at no extra cost to you. See my disclaimer for more information.

Yachting In Montenegro
Sailing and yachting in Montenegro have always been an important part of life. Historically coastal Montenegro was built with riches brought back by sailors and captains. And fierce battles between Ottoman Turks and local tribes played out all along the coast and in the Bay of Kotor.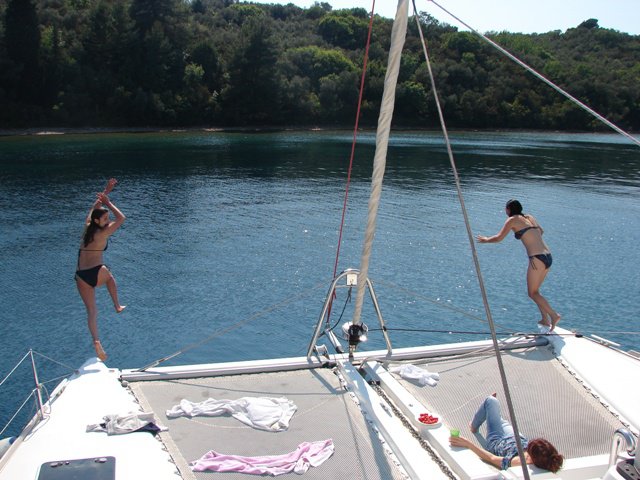 The warm waters around Sveti Marko island in Tivat are the perfect place to enjoy yachting in Montenegro!
When you eat out you can see how seafood has heavily influenced the local cuisine along the coast - fresh seafood is available on almost every menu.

Since Porto Montenegro marina opened, Montenegro has become a haven for yachting in the Adriatic - it's fast overtaking Croatia as the most popular destination. You'll see yachts all over Montenegro as their owners seek out some sun and fun along the uncrowded coastline.
But you don't need to have seven figures in the bank to enjoy yachting in Montenegro. There are lots of options for you to hire your own boat and enjoy 'the life' for a day! Rentals start from just €80.
---
A Yachting Paradise
The warm, calm Adriatic waters are perfect for yachting in Montenegro. And with so many reasons to get out on the water, it's a must-do while you're here.
There's the abundance of seaside eateries that you can just float right up to.
And we can't forget the hidden beaches and coves all along the coast that are ONLY accessible by boat.
Then there's  the pure joy that goes with cutting across the water. It's unbelievably exhilarating!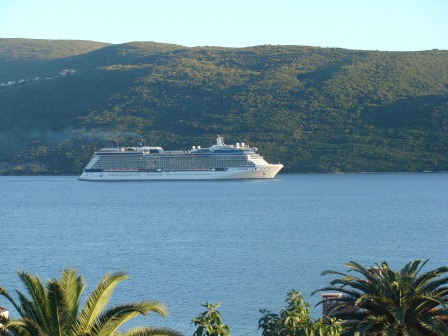 A cruise ship in the Bay of Kotor
Put all three of those together and you have the perfect formula for a boating culture.
The boats floating around the coast range from a simple 'barka' – a small fishing boat with an outboard engine - to mega luxurious super yachts, to 3,000 passenger cruise ships… it doesn't matter what you're in – as long as you're on the water!
---
Destination Montenegro
Croatia has been a favourite among yacht owners for a long time. It's beautiful and relatively untouched as well as cheap compared to a lot of the rest of the Med.

However, rising prices and crowding along the Croatian coast have made yachting in Montenegro instead a really attractive option for owners. Yachts have been arriving in droves over the past few years.


Here, owners still have the breath-taking Adriatic coastline to explore, but with the advantages of smaller crowds and cheaper prices. And if you have a yacht there are other advantages of being outside the EU, like tax-free fuel at Porto Montenegro in Tivat.


Sailing idyll in Perast
---
Boat Charters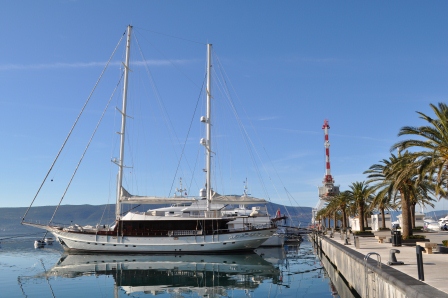 So how can you experience yachting in Montenegro?
There are lots of options! Keep reading to find the perfect one for you.
Rent A Boat
You can rent a boat. These are great for a day or a week's stay. 

Hiring your own boat will give you the freedom to explore where you like and I promise it'll be an unforgettable experience. These come either skippered or unskippered (bareback) if you have the right licence. Click here to find out more.

---
Yacht Charters
Chartering a yacht is a fantastic way to enjoy the yachting lifestyle... without the expense and headaches of owning one. Have you heard the saying about boats that goes:
'The two happiest days of boat ownership are the day you buy the boat. And the the day you sell it.'
Well, that certainly true for lots of people. Although the thought of owning a yacht sounds sooo idyllic... in reality it's a huge financial and time commitment. A boat costs roughly 10% of its purchase price per year to maintain. 
It's great if you have a passion for it and have the time to get plenty of use out of your boat, but if not, chartering a boat is definitely the way to go. 
If you're interested in chartering a yacht in Montenegro, Sailing Europe has the best selection of yachts for charter here. Their boats can be delivered to you at any of the major ports along the coast (Bar, Budva, Tivat and Kotor) and many can also be delivered to Dubrovnik. 
They have both sail and motor yachts and over 12,000 yachts worldwide!
And if you have your own boat and want to experience Montenegro's stunning coast, read on.

---
Berthing
If you want to bring your own boat and need to find berthing, you'll need to make sure you organise berthing in advance. You can book a space in a marina (you can find contact details on their websites) or organise a berth where you're staying.
The coastline is full of little 'pontas' – little piers with berths – and places to anchor a small boat. But these aren't easy to find because they're so in demand during the summer months.
It's worth asking your host whether they can find a berth for you to rent close to your apartment, villa or hotel.
Often they'll have neighbours who will let them use their ponta. Don't make the mistake of thinking you'll be able to find or use any one you like - the locals are notoriously possessive of their moorings!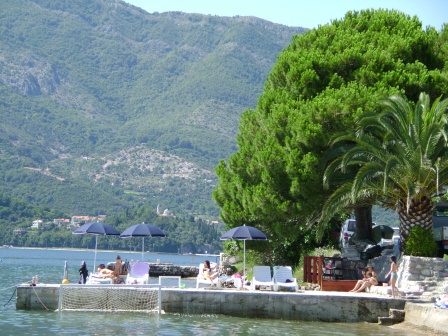 Private 'pontas' like this are all over the coast
---
Supplies and Services for Yachting in Montenegro
If you've got your own boat in Montenegro, you're definitely going to need supplies and services at some point. 
Supplies
There are a number of supplies shops all along the coast and it's relatively easy to get whatever you need. Try these shops:
LunaMar: Teuta Building, Porto Montenegro.
Una Sipa: Locations throughout coastal Montenegro.
---
Luxury Marinas
If you have a large sail or motor boat Porto Montenegro and Budva Marina are the two most suited for and most popular with large yachts.
Budva
| | |
| --- | --- |
| | Budva Marina (also known as Dukley Marina) has a total of 250 berths and can take yachts up to 70 metres. It lies right next to the old town, so is an ideal location to be berthed. The downside here would be the risk of noise from the old town in summer, but the coast along here is stunning and you've got Sveti Nikola (or Hawaii Island as it's known locally) just opposite the marina. |
Tivat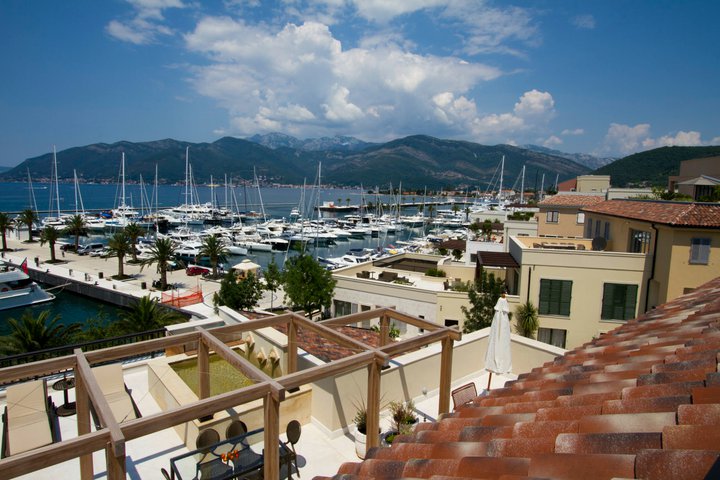 Porto Montenegro
Porto Montenegro is just next to Tivat town centre and has 400 berths for vessels ranging from 12 to 250 metres. Porto Montenegro is relatively quiet (although the marina is still under construction so there is some building noise from September to May) and has a village of luxury apartments, restaurants, shops and salons.
Upcoming
With the enormous demand for berths in Montenegro, there are many new marina developments planned for the future. Stay tuned for more marina and residence complexes in the near future. Some of them are:
One and Only, Kumbor, Herceg Novi.
Lazaret, Meljine, Herceg Novi.
Lustica Bay, Lustica Peninsula.
Blue Horizons, Lustica Peninsula.
What are you waiting for?
There are so many reasons to experience yachting in Montenegro. And it really is something you can do no matter what season you're coming.
Whether you want to experience the boating lifestyle just for a day or you're a committed boatie for life who wants to explore a new destination, Montenegro can cater to you and give you an experience you'll always remember.
Yachting in Montenegro
Book Your Trip With My Recommended Providers