SBI! Review: How I turned Hate into Love... and a profitable Online Business
An honest SBI! review about how I'm using SBI! to create a life of freedom.

'I'm in Beirut. What have I done?!'
Those are the words that ran through my mind as I stood on the street, looking the dusty road stretching out in front of me.
To me, Montenegro was like a war zone. Unkempt streets, concrete houses and a culture and language I just couldn't understand. I couldn't believe I'd swapped my beautiful, green, familiar New Zealand for life in this strange country.
To give you some background, my husband and I spent 6 years in my home country of New Zealand. We had always dreamed of having our own business and bought into a franchise based in shopping malls around the country.
We quickly learned that was a huge mistake.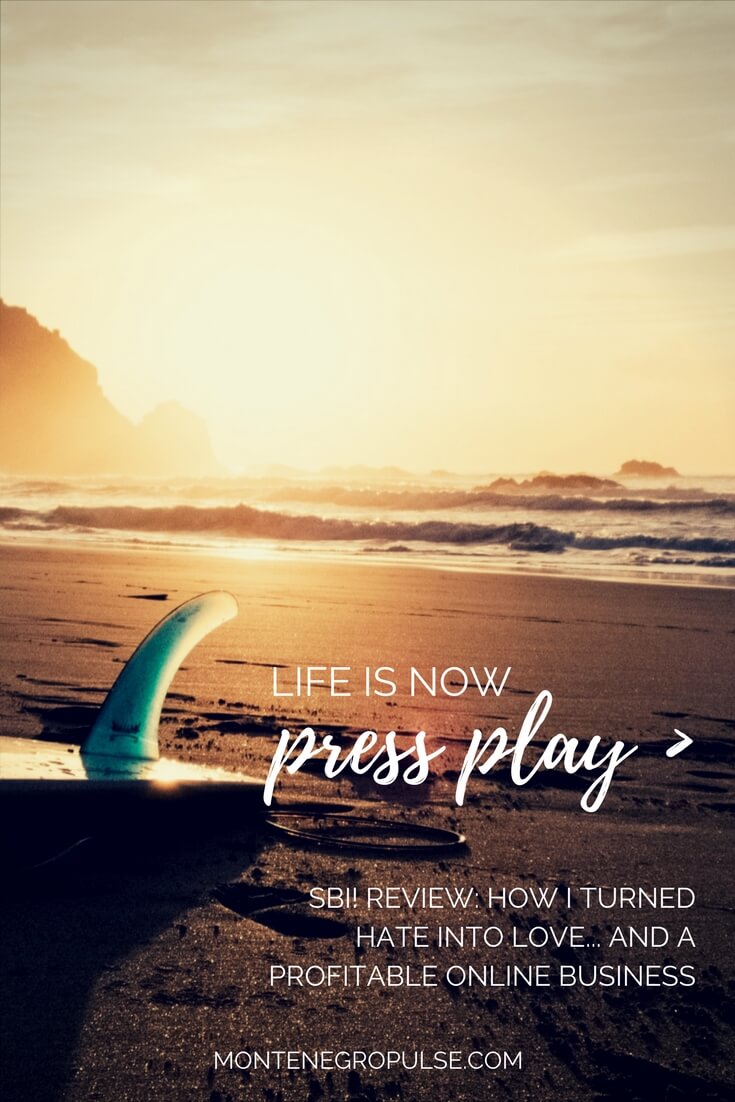 Pin this SBI! Review
We had borrowed heavily to get into this business and were now stuck working 362 days a year (the stores are closed by law 3 days a year) for less money than we could have earned at regular jobs.

The worst part was having to stay in the shops until 7pm on Christmas Eve and then having to go back on Christmas Day to prepare for the Boxing Day sale – a terrible Christmas tradition in New Zealand. Christmas falls in the middle of summer in New Zealand and instead of spending Boxing Day surfing, I had to spend it dealing with returns.
But we were stuck there because the malls' one-sided leases meant that we were barely scraping by and were always playing catch-up, preparing for the next rent increase. The mall was making money, the franchise owner was making money. The only ones not making money from our business was us.
We finally got out of the franchise but took a huge financial hit and after 6 years of working we had nothing but grey hair to show for it. It's hard to express how bitter we felt, not at the lost money, but at the lost time. We had had no vacations and felt like the last few years were wasted.
It was off the back of this catastrophe that we decided to make a fresh start in Montenegro, my husband's home country. 
Out of the pot and into the fire as they say!
I hated it.
---
New Life, New Perspective
After a few months of wallowing, I decided it was time to pick myself up and dust myself off.
I had always loved travelling and delighted in discovering new places, new things to do and new restaurants in my new home. The place started to grow on me.

I got myself a job with a tour operator and helped people book their holidays in Montenegro.
I often found myself on long phone conversations and writing epic emails to my clients about the best things to see, do and eat here. They were so grateful because although they'd heard Montenegro was beautiful, they just couldn't find reliable answers to their questions anywhere. 

SB! Review: How I spend my days now
Although I loved my job, that nagging desire to be my own boss started to pull at me again. But I wasn't going to make the same mistakes twice, I had learned my lesson the first - and second - time around. 
I had also experimented with programmes like Amway in the past. Although there's no huge upfront cost like buying or building a bricks and mortar business, with Amway there was a huge personal cost in that all your friends and family start avoiding you because you're always trying to sell them something! The only way to make money with these schemes is to be super aggressive and try to recruit everyone you meet.
Our new business had to:
Have low financial risk – we were not going to lose the shirts off our backs again.
Not require smarmy and aggressive selling – ugh, don't who doesn't hate the hard sell?
Offer passive income potential – the business would have to keep running even if we didn't work on it full time or took a holiday.
Allow us freedom in our lives – this is the most important for us. We don't want to be slaves to our business this time. We want a business that gives us freedom, rather than taking it away.
With that in mind I googled 'how to start an online business' and came across Solo Build It! (then Site Build It! and known as SBI! for short).
I pored over every page on the SBI! site and just kept thinking 'This can't be true. Can it? Can I, who has no idea about programming, who struggled to update the website in two previous jobs, really have an online business? But these other people do and they're just ordinary people like me.'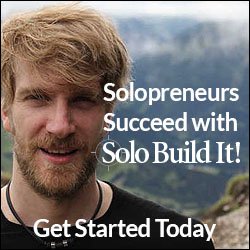 After 3 months of researching and thinking, I decided to do it. I risked $30 (a lot less than the $420,000 we'd paid to buy into the franchise!) and bought a month of SBI!. Hubbo thought I was crazy of course, but it was easy to talk him into risking $30... see no hard sell!
Then I spent every weekend following the Action Guide – SBI!'s step by step guide for building an online business. This is one of the key ingredients to SBIers' success – the fact that SBIers start out researching ideas and making sure their idea is profitable before they start building a website.
Profitable online businesses don't just happen and there's a huge failure rate, the SBI! process makes your chance of success more than 100x that of a non-SBI! website owner. 100x! I'm not aware of any programme out there who can boast that kind of success... and has the data to back it up.

---
SBI! vs Other Programmes
If you're serious about starting your own online business, you have or will come across several other courses and programmes out there. I've done several, the most expensive being Marie Forleo's B-School which is priced at $2,000.
Here are my thoughts on how SBI! compares to these programmes and why I only recommend SBI!:
SBI! costs $299 per year and you can get started for as little as $29… and it has a 90 day money back guarantee. You can try SBI! for three months with no risk at all. That's a far cry from a $2,000 upfront outlay.
There is nothing in any of these courses that isn't covered in the SBI! Action Guide, forum and articles. There is a tonne covered in SBI! that's not covered in any of these courses.
B-School's niche research is limited to 'following your passion' and offers little information on keyword research and finding out whether your idea is actually viable. I knew I had a profitable niche and how I would make money before I wrote a single word for Montenegro Pulse.
Most courses are six weeks long. You just can't learn, and build, an online business in six weeks. That's why SBI!'s mascot is the tortoise – you're building a business and like all good things, it takes time.
Once you finish a course, they still recommend you spend another $5,000 on a professionally built website. None of the courses I've done has provided technical how-to for website building – the biggest barrier for most wannabe online business owners – except for their obligatory affiliate link to Bluehost. And after you've dropped 2k on a course and another 5k on a basic site, you don't really feel like paying more money to keep updating it and troubleshooting problems. Starting an online business was supposed to be cheaper than starting a bricks and mortar business after all! With SBI! you do it yourself, all the tools are provided with the SBI! package and you don't have to learn any programming. In fact, within SBI! you'll find step-by-step instructions for everything – from building your site, to creating a marketing plan, to posting to social media, to creating and selling ebooks. It's all covered.
If you're like me and you don't know how to code, or anything much about computers, SBI! will save you soooo much time. When something needs updating their programmers will do whatever is necessary and all you have to do is follow their instructions (which usually take 2 minutes) and you're done. When you're trying to do these things on your own (especially if you're trying to follow Google's instructions) these things can take half a day to work out!
And that brings me to my next point...
Time. If you're building an online business, especially if you're working a full time job, have a family, or just a life, time is your most valuable asset. You need to be creating content, posting on social media, following your niche and learning about building an online business. You don't have time to waste half a day figuring out how to implement Google's spam filter.
SBI! also makes sure you know what you need to know, and nothing more. The SBI! crew follows, analyses the data (and actually understands it, unlike you or I would) and tells you if you need to do something. That leaves you more time to make a video your audience will love and share with all their friends, instead of throwing your laptop out the window because you can't work out whether you should switch to HTTPS or not.
Everything you need is in one place. And it all works together. If you're using another system to build your website, you'll need different programmes for keyword research, building forms, creating newsletters, sending autoresponders, monitoring your traffic etc. With the SBI! package, it's all in one place and it all integrates seamlessly. There's no installing a plug in, only to have that break another plug in you're using – there goes another half day on troubleshooting! You can see the full list of tools included with SBI! membership here.
SBI!'s forums are absolutely priceless. If you're having a problem, there is someone there who's already asked the question, or there's someone who will gladly help you. In fact, the SBI! community is the most experienced, most generous group of online entrepreneurs I've found anywhere. Kindness is part of the SBI! culture. And if you can't find an answer in the forums, SBI!'s customer support is second to none.
The forums are also where you'll find a bunch of new friends who share your goals. When you first start an online business I guarantee some of your friends and family will tell you you're crazy. But when you 'meet' others in the forums who are travelling full time, working from home or making $15,000 a month, you'll realise that your dreams are achievable too.
Beware the online schemes that use fake SBI! reviews to lure you in, take your money and don't care about your success. Read this to learn what to watch out for and only trust reviews written by actual SBI! owners - we're the ones with sites about things other than "making money online". SBI! is all about your success. Everything they do is to help you create a successful business that offers you wealth, freedom or whatever your end goal is. 
---
What Is Success?
Over the last three years, I have managed to build a profitable business that has changed my life. And I've been able to do it in around 10 hours a week while my son naps.
Here are just some of the ways building Montenegro Pulse has improved my life:
I didn't have to put my baby in daycare and go back to work when my maternity leave ended. Instead, I was around for his first smiles and first steps. I don't have to grovel to a boss to get time off whenever he's sick. Those things are priceless to me.
This is something that is just for me. I know all you stay at home mums know how much that means!
I've grown personally, become resilient and developed valuable skills that help me in all walks of life.
I have an income that keeps coming in, even when I visit my sister in London or spend a month in New Zealand. I stop working, but unlike a job, the money doesn't. I can already see that it won't be too long until my husband can quit his job and we can travel as we please. Oh and I don't have to put in any leave applications!
I do something I love. I genuinely get excited about going to work each day. I'm bursting with ideas, I can't wait to share my new discoveries, a beautiful picture or a video with my audience.
I help some of the nicest people I know to support their own families here, help my audience get the best out of their Montenegro holiday and get paid handsomely for it... talk about job satisfaction!
My business has huge growth potential. Last year my income grew 10 fold. This year I'm on track to triple it again. It's so exciting to increase my income exponentially without putting in any extra hours!
Mostly I work from home, but my office view often looks like this...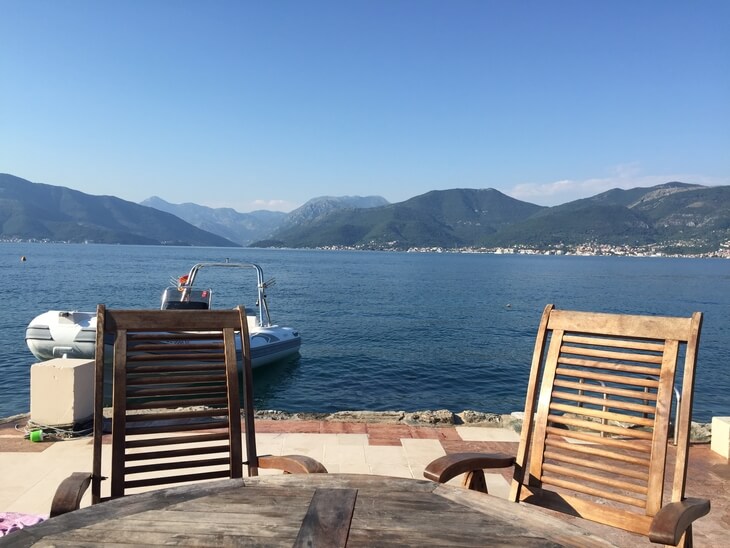 SBI! Review: My seaside office
Or this...
SBI! Review: The rent on this office is just the price of a coffee
Not too shabby right?
My business also allows me to help stray animals in Montenegro. I collect donations for sterilisations, help pay for vet bills and connect people who want to adopt an animal with people who can help.
And finally, I've turned a place I hated into a place I love… and I've created a profitable business and valuable asset from it.
I can't overstate how SBI! has helped me change my life for the better. But building an online business isn't for everyone. You need BAM:
Brains – knowledge about your niche. SBI! helps you discover your niche, even if you think you don't know anything about anything.
Attitude – a never-give-up attitude is essential to building anything, especially a business. You will fall down. All you have to do is pick yourself up, dust yourself off and get back on that horse cowboy.
Motivation – building a business takes time and effort. There is no shortcut.
The difference with SBI! is that it makes it doable. So many of the obstacles that make people give up are removed. With SBI! you can live the life of your dreams. My dream is for us to split our time between Montenegro and New Zealand and skip winters. SBI! has made that possible for me and it can do the same for you.
If my SBI! review has sparked some BAM in you, you can take a video tour of SBI! here. I would love to see you become SBI!'s next success story! 

SBI! Independence Sale
SBI! is about creating independence - financial independence, lifestyle independence, location independence... whatever your goal is. 
From June 27th to July 5th SBI!'s annual Independence Sale is on, meaning you can get 33% off both SBI! and SBI! for WP.
More SBI! Reviews and Information
Sitesell.com - the Solo Build It! homepage and a good place to start. 
Real Success - more SBI! success stories.
Case Studies - more SBI! success stories categorised by industry. This is a really good one to get an idea of what you can do.
If you join SBI! from a link on this page, I will get a commission at no extra cost to you. Affiliate income like this allows me to keep sharing the best of Montenegro... and make the long trek back to New Zealand at Christmas so I can spend Boxing Day surfing and not shopping!
But, I'm not doing this for the money. If you are interested in SBI! but don't want me to get a commission, you can just go straight to sitesell.com. 
I'm doing this because there are lots of fake SBI! reviews out there by an unscrupulous company called Wealthy Affiliate. They suck people into their programme - people like you and me who just want to enjoy their lives, spend time with their families and contribute something good to the world - and direct them to write fake SBI! reviews saying Wealthy Affiliate is better. This sucks more people in and goes in a vicious circle. And no one is 'wealthy' but Wealthy Affiliate... isn't that the ultimate irony?
How do I know Wealthy Affiliate members aren't successful?
Well, SBII! being SBI!, they crunched the numbers. And the results are shocking. You can read about it here. Please don't be the next victim of a pyramid scheme like this!
---
Question Time!
Interested in SBI! but still a bit skeptical?
Got a question you want to ask me personally about SBI!?
Shoot.
If you want to know anything about SBI! from my perspective, just ask me in the comments below or use my contact us page. If you've had enough of the 9-5, I would love to see you empowered to change your life too. 
Happy travels,
Sarah xo
---
Pin This SBI! Review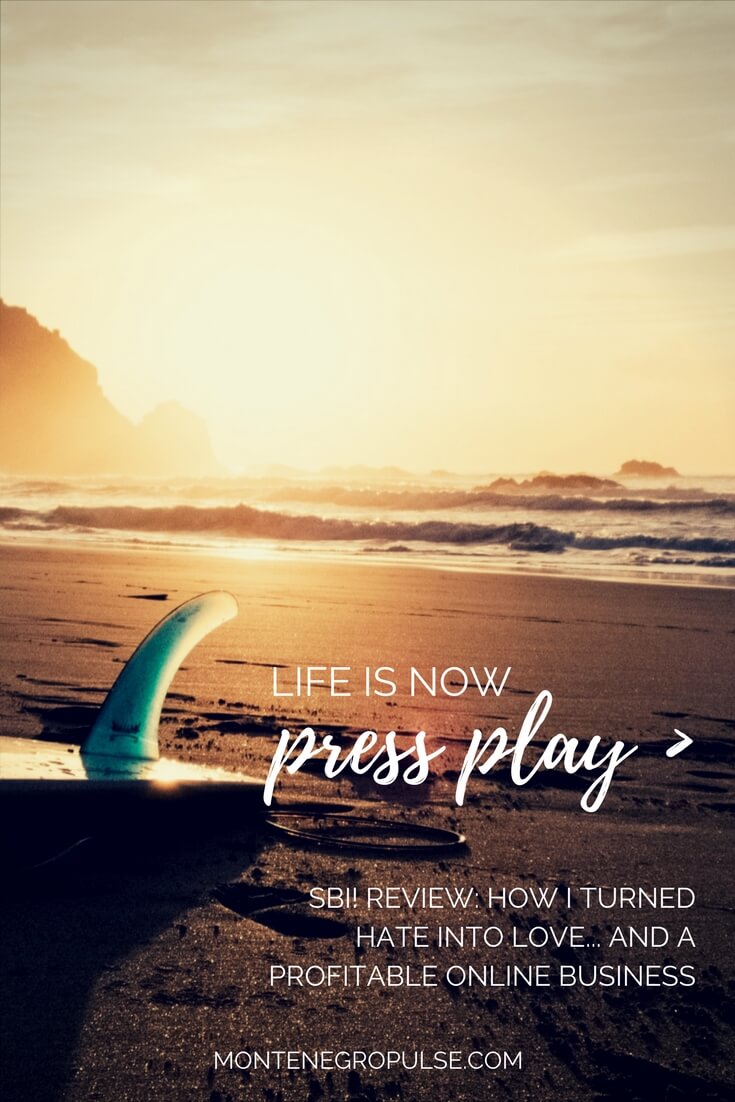 ---
Home

>
About Us
> SBI! Review
---
Help us help the stray animals of Montenegro
Book your accommodation anywhere in the world through any of the search boxes on our site and we'll make a donation towards sterilising stray animals in Montenegro. 
It costs you nothing, and you get the biggest selection and lowest prices guaranteed. It's a win-win!