Montenegro Pulse contains affiliate links and is a member of the Amazon Services LLC Associates Program. If you make a purchase using one of these links, I may receive compensation at no extra cost to you. See my disclaimer for more information.

Kotor Secret City Trail: Brilliant Walking Tour x Scavenger Hunt

Try to keep your bearings as you play the Kotor Secret City Trail: Lost in the Medieval Streets of the Old Town.
Solve riddles on your phone to unlock stories about some of the most beautiful and interesting places in Kotor. Along the way you'll visit top spots, discover hidden gems, experience its modern culture and try some local specialties. Keep your eyes peeled, exquisite architecture is hidden all along this trail!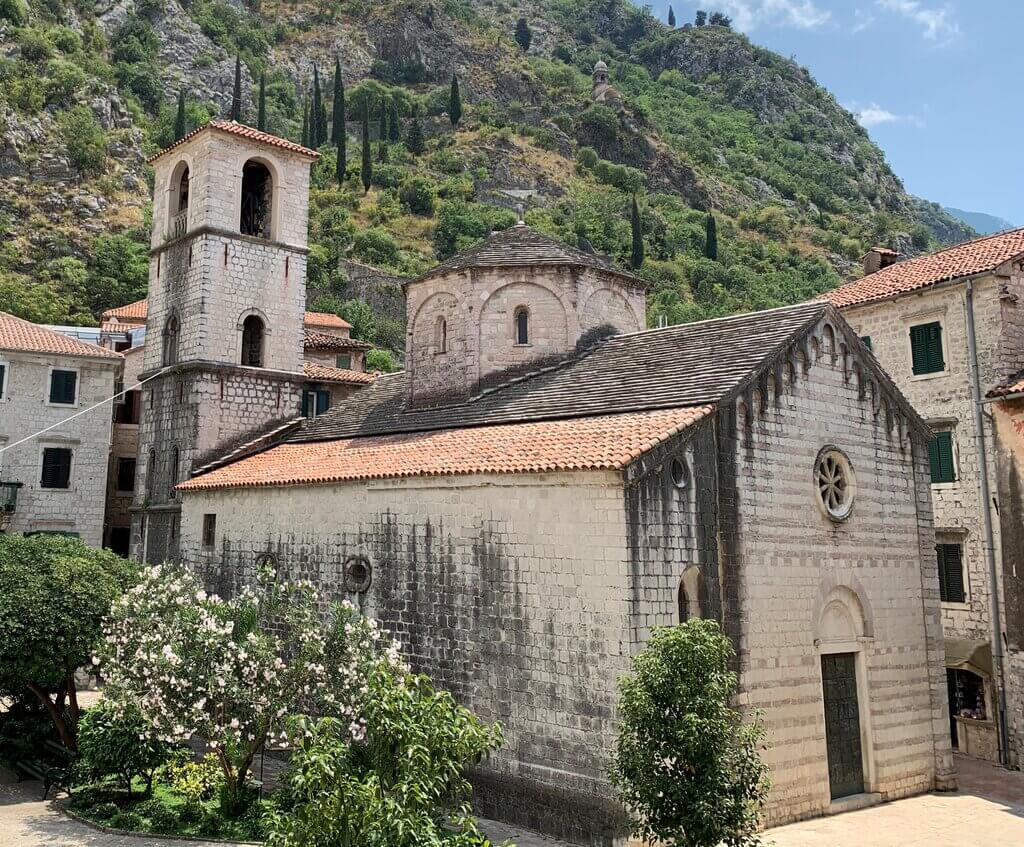 Saint Mary's Church, Kotor
Do you love exploring independently on your travels?
How about discovering hidden gems?
Do you love puzzles, quizzes or escape rooms?
Yes?!
Then I have the perfect activity in Kotor for you.
The Kotor Secret City Trail is a fascinating alternative to taking a walking tour of Kotor old town. Not only will you see the all the top sights, like Saint Tryphon Cathedral and the town walls, but you'll discover unique experiences that you won't find on any walking tour in the old town. These are hidden gems only the locals know about!
What is the Kotor Secret City Trail?

So, what is the Kotor Secret City Trail?
The secret city trails are often described as an outdoor escape rooms, gamified walks or a cross between a self-guided walking tour and a scavenger hunt. This trail is a route around several popular attractions and hidden gems inside Kotor old town. Your team solves riddles that lead you from site to site. Each riddle you solve unlocks an interesting story about the site.
Not only is this the most unique and fun way to explore Kotor's beautiful medieval streets, but it allows you explore Kotor at your own pace. You don't have to stick to anyone's schedule and it gives you the flexibility to stop and visit any attractions you like. 
The Kotor Secret City Trail is also great for families. While kids usually get bored on walking tours full of facts that mostly go over their heads, the Kotor Secret City Trail is a tour they can actively get involved in… and it's lots fun!
What others are saying about Kotor Secret City Trail
"Most interesting we've done thus far travelling in any city. Very informative!" – team Fish on Fire, August 2021
"Wow, great challenge and I certainly learnt plenty that I did not know about Kotor as well as discovering some places I had never seen!" – Hayley, Kotor Bay resident of 15 years
"Awesome!" – The Almers, May 2022
"Fun & challenging - a great way to discover the town of Kotor!" - K & S, May 2022
Kotor Secret City Trail: How it Works

The Kotor Secret City Trail is made up of 13 riddles that take you on a route around Kotor old town. Each riddle is made of 2-3 clues to guide you to an attraction. When you get to each attraction you'll solve a puzzle, like finding hidden items or decoding a cipher. When you enter the correct answer you unlock an interesting story about the site. If you struggle to solve a riddle you can ask for a hint at any time. 
About half way through, the game brings you to a cool local café where you can try a world's only coffee experience (this is definitely a worthwhile experience!) and refuel for the second half of the game.
When you buy Kotor Secret City Trail you'll receive a link to your game by email and the link is valid for 3 months. You can start the game whenever you like by opening the link from your email and you don't have to schedule a time or date when you purchase the game. You'll receive directions for the start point and can open and start the game when you get there.
All you need to play is a phone with internet access because you'll need it to enter your answers and unlock the stories. One of the cheapest ways to get data in Montenegro is by buying an eSIM from Airalo or cheap tourist sim card (these cost around €10) that come loaded with lots of data for your stay. You can pick one of these up at any newspaper stand or at the T-com store in Arms Square, just inside Kotor's main gate.
Kotor Secret City Trail: How Long it Takes

The game takes around 2 ½ hours from start to finish, but it's really up to you how long it takes. You can choose to move on to the next riddle as soon as you unlock a story, or you can choose to stop to visit the attractions as you reach them.
Your game is timed and there's a leader board on the Kotor Secret City Trail page, but the clock is stopped while you're at each attraction and on breaks, so you won't be penalised even if you stop for pizza and beer.
You also have 15 days to finish the trail once you start, so you don't have to do it all in one day.
Kotor Secret City Trail: Who it's For

The Kotor City Trail is for anyone, from families with kids to adults. Children as young as 5 can get involved in solving the clues while teenagers could do the whole game on their own. Your team can be any size from 1-5 people.
The route covers around 2km, and although it's mainly on the flat part of the old town, there are some stairs at the end of the game.
Kotor Secret City Trail: How Much it Costs

The Kotor Secret City Trail costs €26. But, as a Montenegro Pulse reader you can get an exclusive 10% discount by using the code montenegropulse at check out. You get this because I'm also the creator of Kotor Secret City Trail :).
To compare, group one-hour walking tours of Kotor start at €12 per person, which adds up to €60 for 5 people. Private 2-hour tours cost €60 per person, totalling €300 for a group of 5. As you can see, the Kotor Secret City Trail is excellent value for money.
"This is a really great way to see the city and get some history about it. Highly recommend!" - PnJNomads, April 2023
Ready to Play?
Are you ready to put your skills of deduction to the test while exploring one of the most beautiful medieval towns of Europe?
Yes?
Hit BUY NOW below to go the Secret City Trails website where you can purchase the Kotor Secret City Trail. Don't forget to use the code montenegropulse to get 10% off!
Have fun!
Book Your Trip With My Recommended Providers