Montenegro Pulse contains affiliate links and is a member of the Amazon Services LLC Associates Program. If you make a purchase using one of these links, I may receive compensation at no extra cost to you. See my disclaimer for more information.

A Visitor's Guide to the Most Beautiful National Parks in Montenegro
The national parks in Montenegro are the perfect places to see Montenegro's famed 'wild beauty' and get a taste of authentic local culture. Find out about all five nationals parks and decide which ones you should visit on your trip.
Sedlo Pass, part of the Durmitor Ring
It's no wonder Montenegro's known for being so beautiful; fully 10% of the country is made of national parks and they're a treasure trove of stunning scenery and authentic culture.
Each of the parks offers something different, and while you don't need to visit them all during your stay, including one or two will give you a fuller Montenegrin experience than if you just stayed on the seaside.
There's lots to see and do in Montenegro's national parks, especially if you enjoy the outdoors. Hiking is an obvious one, but you'll also find whitewater rafting, zip lines, boat trips, kayaking, cycling, cultural monuments and authentic local cuisine.
They're also great for families. You don't have to drive very long to get to the national parks and there are lots of family-friendly activities like educational walking trails, treetops obstacles courses, row boats and some really fun places to stay, like bungalows with playgrounds and barbecues.
There are five national parks for you to choose from. Lovćen and Skadar Lake national parks are the easiest to get to if you're staying on the coast. Lovćen is just an hour from Kotor and Skadar Lake is a 45 minute drive from Budva or Bar. 
Durmitor and Biogradska Gora national parks are great for overnight stays in the mountains and as part of a round-Montenegro itinerary. They've both got small towns with nice accommodation, restaurants and walks nearby. During the winter these are also Montenegro's main ski fields. 
The final national park, Prokletije, is much more remote and draws serious mountaineers from around the world. 
Let's explore the national parks of Montenegro!
Durmitor National Park
Durmitor is the largest of the national parks of Montenegro and it's a UNESCO World Heritage site.
It's one of the most-visited national parks because it's so beautiful and easy to get to.
There are also lots of things to see and do and you'll find good accommodation options, from bungalows to hotels.
If you'd like to visit this area, the best place to stay is in Žabljak. This small town is the gateway to Durmitor and it's right on the edge of the park.
Highlights in Durmitor: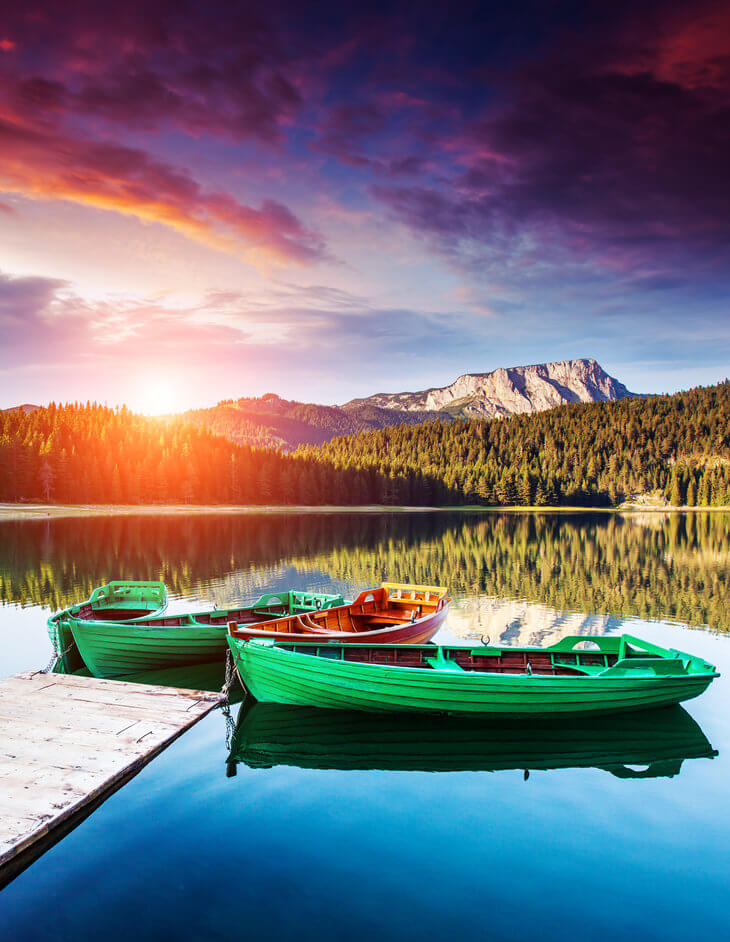 The Black Lake, Durmitor National Park. Image: Deposit Photos
Biogradska Gora National Park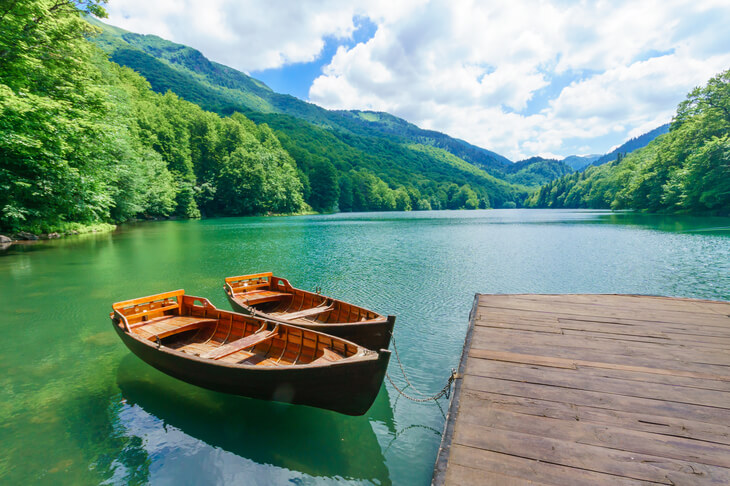 Lake Biograd, the heart of Biogradska Gora National Park. Image: Deposit Photos
Biogradska Gora National park lies in the north east of Montenegro. It's the smallest of the national parks of Montenegro, but it's so important because it's one of only three remaining virgin forests left in Europe and trees in the park are up to 400 years old.
There are lots of reasons to plan a visit to Biogradska Gora. It's a great place for families, with an open-air noddy train ride and boats that you can hire to row around the lake. 
It's an outdoor and nature lover's paradise too. There are lots of hiking and biking trails, horse-riding and jeep safari tours you can take through the park. 
Or if you just want to kick back and do some light sightseeing and spend lots of time relaxing in a Jacuzzi and getting massages, Biogradska Gora is the perfect mountain retreat to relax. You'll find excellent hotels in nearby Kolašin and no crowds.
Highlights in and around Biogradska Gora National Park:
Lake Biograd

Katuns (summer pastures)

Hiking

Morača Monastery

Mrtvica Canyon
Lovćen National Park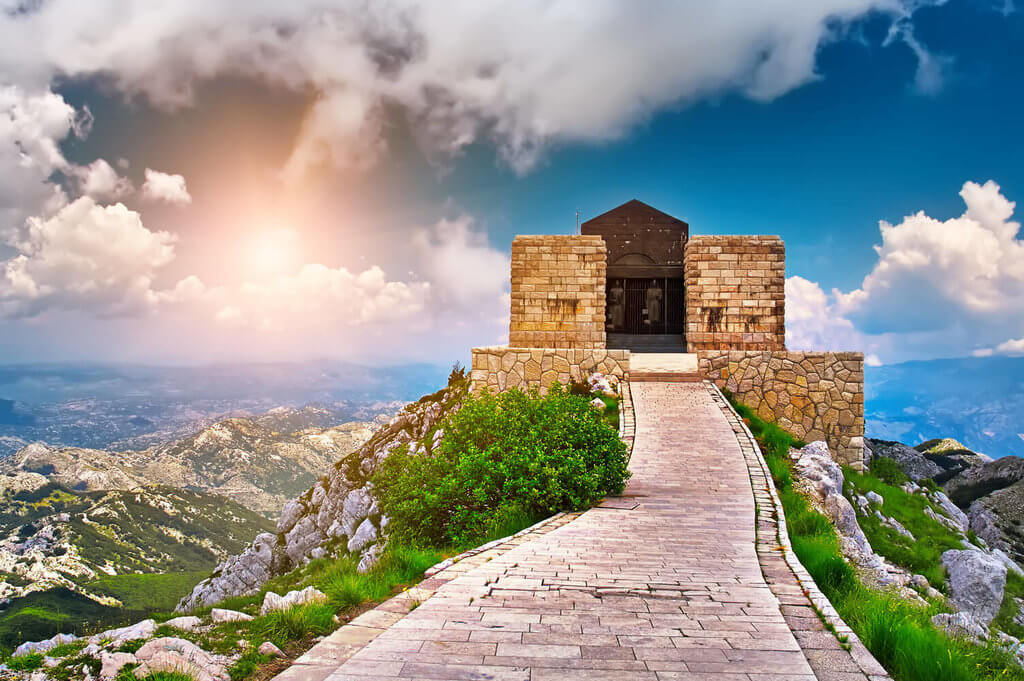 Petar Petrovic-Njegos mausoleum in Lovcen National Park. Image: Deposit Photos
Lovćen is one of the most popular national parks of Montenegro. It lies between Kotor, Cetinje and Budva and is an easy day trip from anywhere on the coast.
The route via the serpentine road up from Kotor is one of the most scenic in the country and will give you stunning views of the Bay of Kotor. It does have 25 hairpin turns, but this probably won't be a problem since you'll be wanting to stop so often to take photos of the view! 
On the way you'll be able to stop in the village of Njeguši to try some famed Njeguši prosciutto and cheese.
Highlights in Lovćen National Park:
Serpentine road
Ivanova Korita
Skadar Lake National Park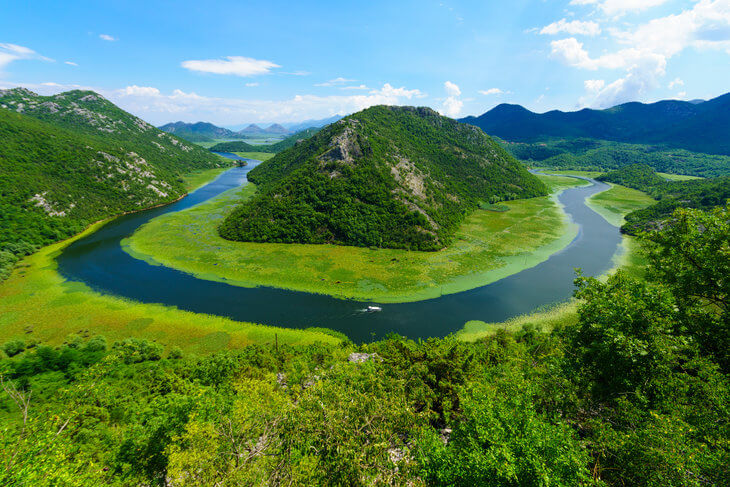 Pavlova Strana in Skadar Lake National Park
Skadar Lake is one of the largest lakes in Europe and creates the border between Montenegro and Albania. It's also one of the most important bird reserves in Europe and taking a boat out on the lake is a must-do while you're here.
Here's a video from one of our trips:
This region is also Montenegro's premier wine-making region and there are boutique wineries all over this area. You can book a wine and food tasting at a family-run winery and even stay in a villa onsite.

You can easily reach Skadar Lake in a day trip from anywhere along the Montenegrin coast and there are tours going there daily.
Highlights of Skadar Lake National Park:
Island fortress and prison
The parks are all managed by National Parks of Montenegro and in each you'll find a visitor's centre which will be able to offer local information. This is especially useful if you're planning to do some hiking outside of the summer months, when the conditions can be variable.
Prokletije National Park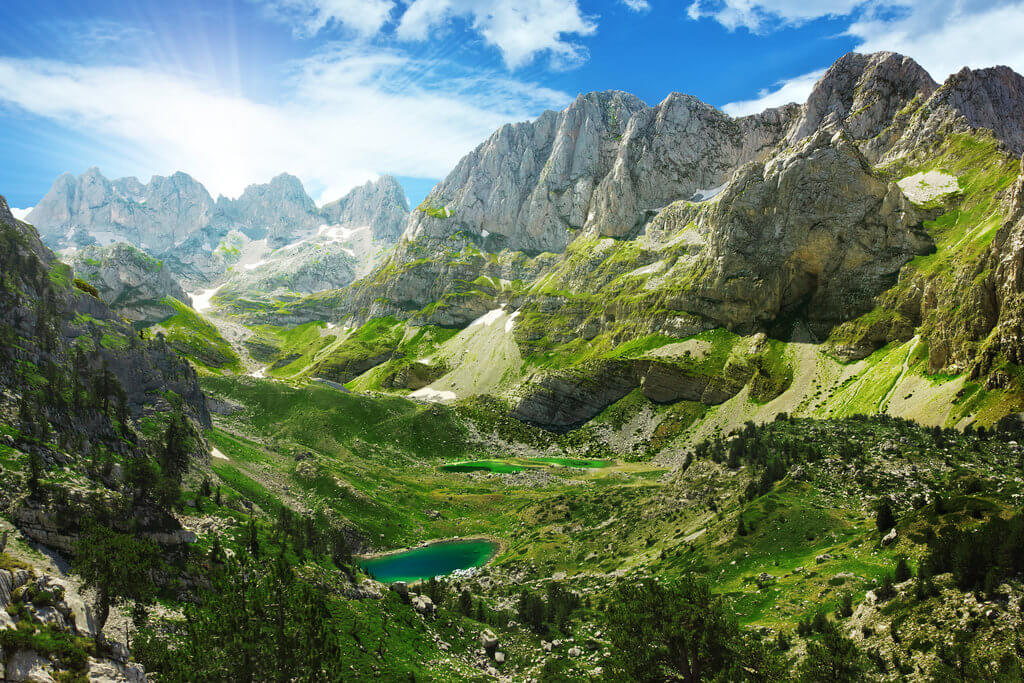 Prokletije Mountains. Image: Deposit Photos
Prokletije is the newest national park of Montenegro. It's home to the highest peak in Montenegro, Maja Kolata, which beats Bobotov Kuk in Durmitor by just 5m. The name Prokletije actually means 'accursed mountains' and the range lies on the border with Albania in the south east. 
Prokletije is the least-visited national park in Montenegro, but it draws serious mountaineers from Europe to scale its dangerous peaks.
Highlights of Prokletije National Park:
Lake Plav
Maja Kolata peak
Grlja waterfall
Grebaja Valley
Ali-Pasha Springs
You can camp inside any of the national parks of Montenegro in a tent or caravan. The caravan parks are well equipped with electricity and fresh water connections as well as wastewater tanks. The parks also have bungalows available and huts on many of the hiking trails.
Related Articles
The Coast of Montenegro
The Mountains of Montenegro
Things to Do in Montenegro
Book Your Trip With My Recommended Providers
National Parks of Montenegro