Montenegro Pulse contains affiliate links and is a member of the Amazon Services LLC Associates Program. If you make a purchase using one of these links, I may receive compensation at no extra cost to you. See my disclaimer for more information.

Visitor's Guide to Lake Skadar Kayaking: Beauty, Tranquility, Fun!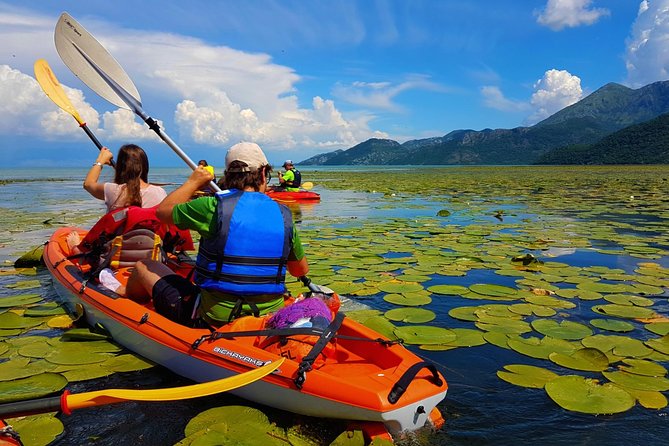 Virpazar to Grmozur and Lesendro kayak tour. Image: Viator
Lake Skadar kayaking is a fantastic way to explore one of the most beautiful places in a country that's bursting with natural beauty.
Skadar Lake is one of Europe's most important sanctuaries for birds, especially migratory birds. And this is just one of the reasons the national park has become a major attraction for tourists to Montenegro.
Of course when you visit, getting out on the lake is must-do. You can do this on a boat trip or by kayak. There's nothing like gliding across the calm waters, spying on rare birds as they go about their business. The tranquil lake is like another world where time stops. 
Lake Skadar is home to hundreds of bird species, many of them rare and endangered. Kayaking on the lake allows you to explore tiny lily pad lined alleys and watch the native wildlife without scaring it away. 
Along the way you'll be able to jump out and swim, enjoy freshwater beaches and discover the history of the lake.
---
Where to Find Lake Skadar Kayaking
The best place to go kayaking on Lake Skadar is from the lakeside town of Virpazar, which lies around 20 minutes from Montenegro's capital, Podgorica.
Virpazar is a small, atmospheric township on the shore of Lake Skadar which dates back to the 13th century. From Virpazar you can kayak to an island prison, ruined fortresses, freshwater beaches, picnic areas and island monasteries. You can also see a plethora of wildlife like turtles, frogs, cormorants, pelicans, kingfishers and more.
In the township itself you'll find some excellent restaurants serving local cuisine, including the lake's specialty, marinated carp. Nearby you'll find Besac Fortress, several good wineries and a visitor center.
---
When to Kayak on Skadar Lake
The best time for Lake Skadar kayaking is between April and November. This is when the weather will be warmest and the lake most active. 
May and September are ideal times to do some bird-watching. Spring is breeding season and you'll see lots of activity and mating rituals out on the lake. 
High summer (July and August) is when the water temperatures are warmest. The lake gets very warm in summer (and through September) and hovers around 26°C (79°F).
Local's Tip: Whenever you enter Skadar Lake National Park ie. go out on the water, you'll need to pay a €5 per person national park entrance fee at the booth in Virpazar.
Lake Skadar Kayaking Guided Tours
These Lake Skadar kayaking tours will take you to see some of Montenegro's most spectacular natural and cultural sights. The lake is the biggest in the Balkans and the tours take you to places you would never find on your own. I recommend booking a tour if you're interested in seeing any of these sights. 
Island Prison Kayaking Tour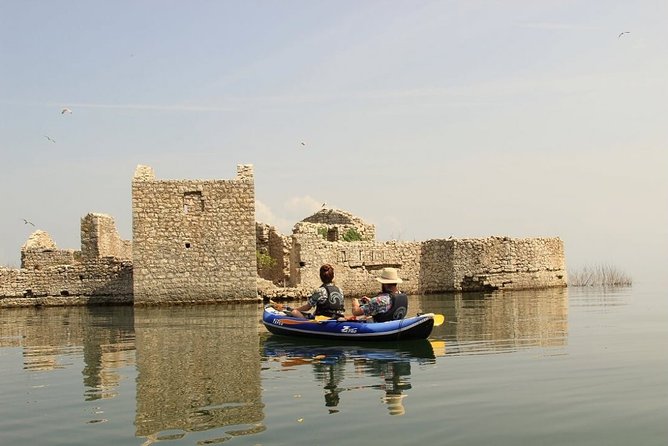 This tour is a return paddle from the lily pads and rushes of Virpazar to the old island prison of Grmožur and then to a secluded freshwater beach called Pješačac. Along the way you stop at the tiny lakeside settlement of Raduš for a lunch of fresh lake fish and other traditional specialities.
 

KAYAKING to the 

Island Monasteries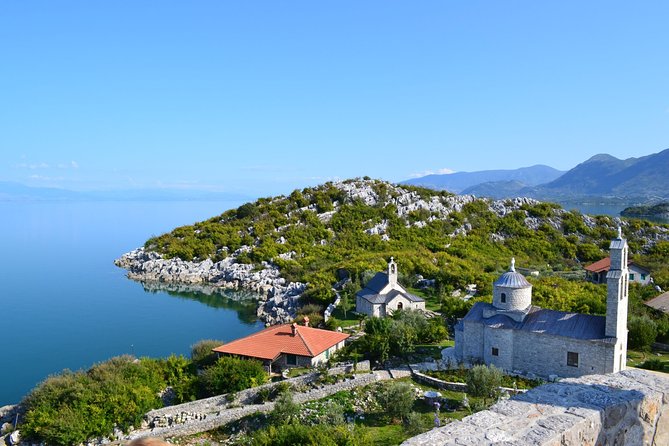 Get the safari feel kayaking along Lake Skadar's southern shores on a circular trip to visit two of the lake's unique 14th Century island monasteries under the gaze of Albania's spectacular Accursed Mountains (Prokletije). With a bit of R&R at nearby Murići freshwater beach and several great swimming spots on the way, the tour is perfect for all abilities.
Virpazar to Grmožur Island and Lesendro Fort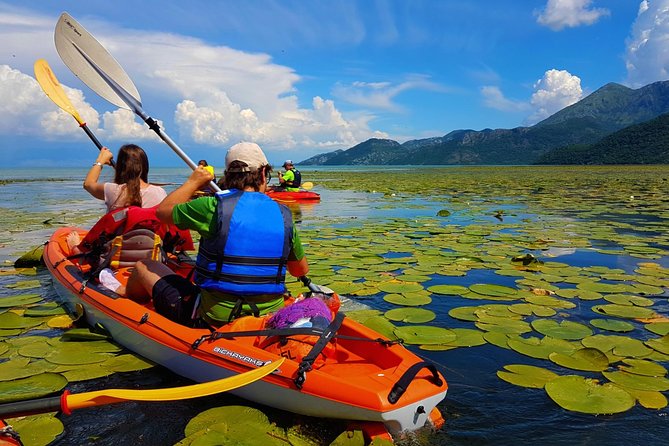 This tour takes you to two of Lake Skadar's landmarks - Grmožur island and Lesendro fort. Grmožur island was a notorious island prison and Lesendro fortress was built in 1843 to help defend against Ottoman Turk invasion. It finishes with swimming and drinks on nearby Pelinovo beach.
---
Kayak Rental
Lake Skadar Kayak Rental from Virpazar
If you'd like to explore Lake Skadar on your own, you can hire kayaks in Virpazar. From here it's easy to head out into the main area of the lake and explore the waterways on your own.
You'll be able to kayak around old stone forts, relax on freshwater beaches and look out for birds.
There's a choice of double and single kayaks available, so they're ideal for families with children who are too small to paddle on their own. All rentals come with safety equipment like life vests, instructions and advice on the best places to see based on the current conditions and wildlife to see.
Pricing:
Single kayaks: €5 per hour or €20 per day.
Double kayaks: €10 per hour or €30 per day.
Book Kayak Rental from Virpazar
---
What to Bring for Lake Skadar Kayaking
No matter what time of year you're kayaking on the lake, you'll need to bring some basic things.
Must haves:
Spare change of clothes - you're bound to get wet!
Sunscreen
Hat
Sunglasses
Snacks and water
Camera
Towel
Optional extras:
Binoculars
Go Pro - the best waterproof, shockproof camera.
Waterproof bag - we love the Overboard ones.
More things to Do on Skadar Lake
---
Holidays on Skadar Lake
Book Your Trip With My Recommended Providers