Montenegro Pulse contains affiliate links and is a member of the Amazon Services LLC Associates Program. If you make a purchase using one of these links, I may receive compensation at no extra cost to you. See my disclaimer for more information.

Rafting in Montenegro: Adventure in the Majestic Tara Canyon
Find out what makes rafting in Montenegro so popular and how you can experience your own rafting adventure through some of Montenegro's most stunning scenery.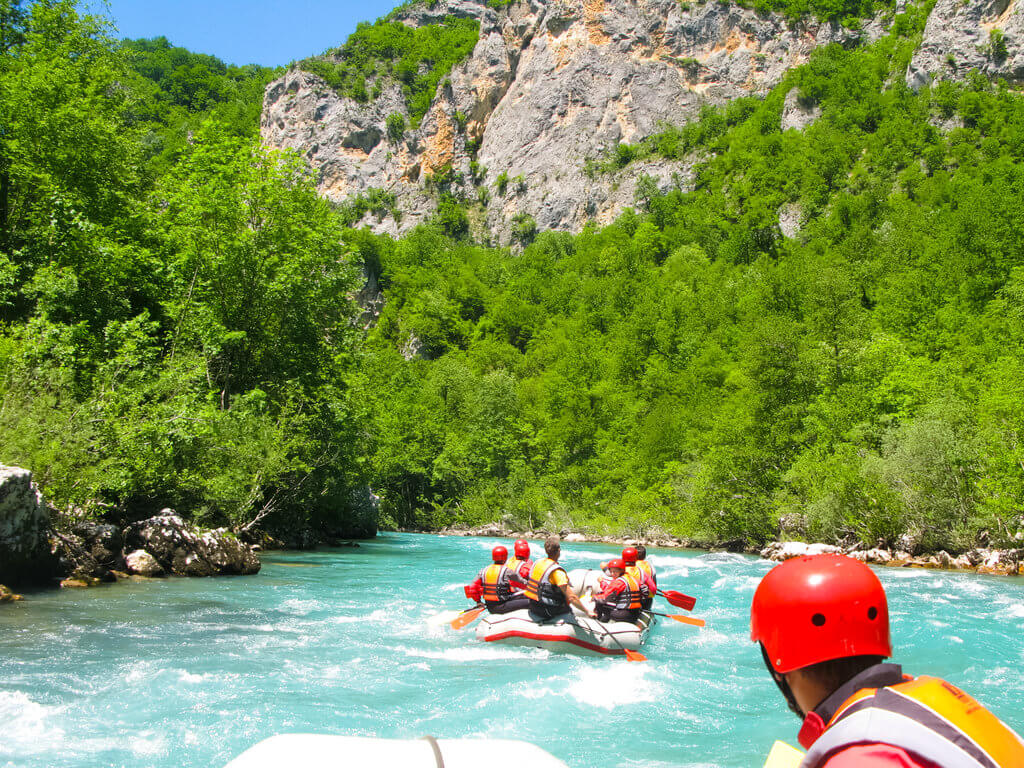 Rafting in Montenegro. Image: Deposit Photos
White water rafting is one of the most popular things to do in Montenegro. It combines a fun and exciting activity with some of the most spectacular scenery you'll see in this region. It's also ideal for families and you can take day tours, stay overnight and do multi-day tours.
One of the reasons rafting is so popular is because the tours take place on the Tara River, which flows through the Tara River Canyon, a stunningly beautiful part of Montenegro.
The Tara Canyon is the second-deepest canyon in the world, a protected area in Durmitor National Park and a UNESCO Heritage site. Not only that, the river is known as the 'Tear of Europe' because it's so clean you can drink from it. 
This is a stunning wilderness that all visitors to Montenegro should see!
About Rafting in Montenegro
Rafting tours in Montenegro depart from Sćepan Polje, in the north-west of the country. This part of the river has the most exciting rapids, waterfalls and places to stop along the way. Sćepan Polje is around 2 ½ hours' drive from the coast of Montenegro.

Rafting tours start at a rafting camp along the banks of the river. They're relaxed and inviting places to experience Montenegro's beautiful mountain scenery and warm hospitality. 
If you've stayed overnight or booked a day tour, you'll get breakfast at the camp, which is usually a traditional-style breakfast of bread, french toast, yogurt, eggs, cured meats, local cheeses like kajmak (clotted cream) and jam.

Rafting in Montenegro: traditional breakfast in the rafting camp
Then you'll be given wetsuits, life jackets, booties and helmets before you travel in a van to Brštanovica, where the boats are launched. It takes around 25 minutes to get to the launch point where you'll get in the raft. Each raft takes up to 8 people and a skipper.

 Along the way you'll experience a mix of calm stretches and exciting rapids. The rapids in summer are enough to give you thrill without being scary, which makes them ideal for most people, including kids.
The scenery along the way is breathtaking. The Tara River's water is crystal clear and the canyon is full of lush green forest. You'll see waterfalls trickling into the river and birds flitting about hunting insects.
When it's calm you can jump out and swim alongside the raft. But be warned, the water is very cold! The water temperature of the Tara River ranges from 7˚C to 12˚C (44˚F to 54˚F) and it's a bracing but unforgettable swim!
Rafting in Montenegro: paddling along a calm stretch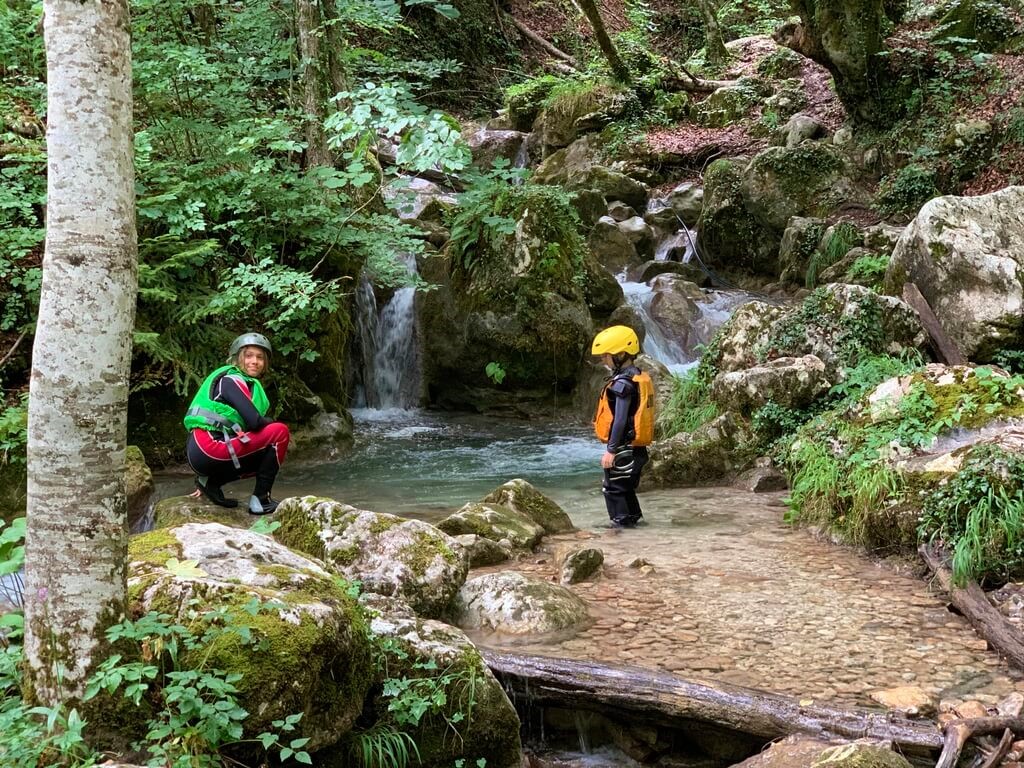 Rafting in Montenegro: stopping at a waterfall
One of the highlights of the tour is stopping at a waterfall. Your skipper will stop the raft on a riverbank and you can take a short walk to a pool with a waterfall. You can get into the pool and under the waterfall and grab a drink at the shack selling cans of juice and beer.
During a rafting tour you'll spend around 3 hours on the river. The tours always cover the same distance, but the speed of the river varies depending on the time of year. It's fastest in spring when snow melt swells the river, and slows through the summer. The tour finishes when you get back to the rafting camp.
You can take shower and get changed before refueling with lunch. Lunch is also usually traditional cuisine from Montenegro's mountain regions. It can be beans and sausage, goulash, sač (traditional-style roasted meat and vegetables), freshwater fish, salads and home-made bread.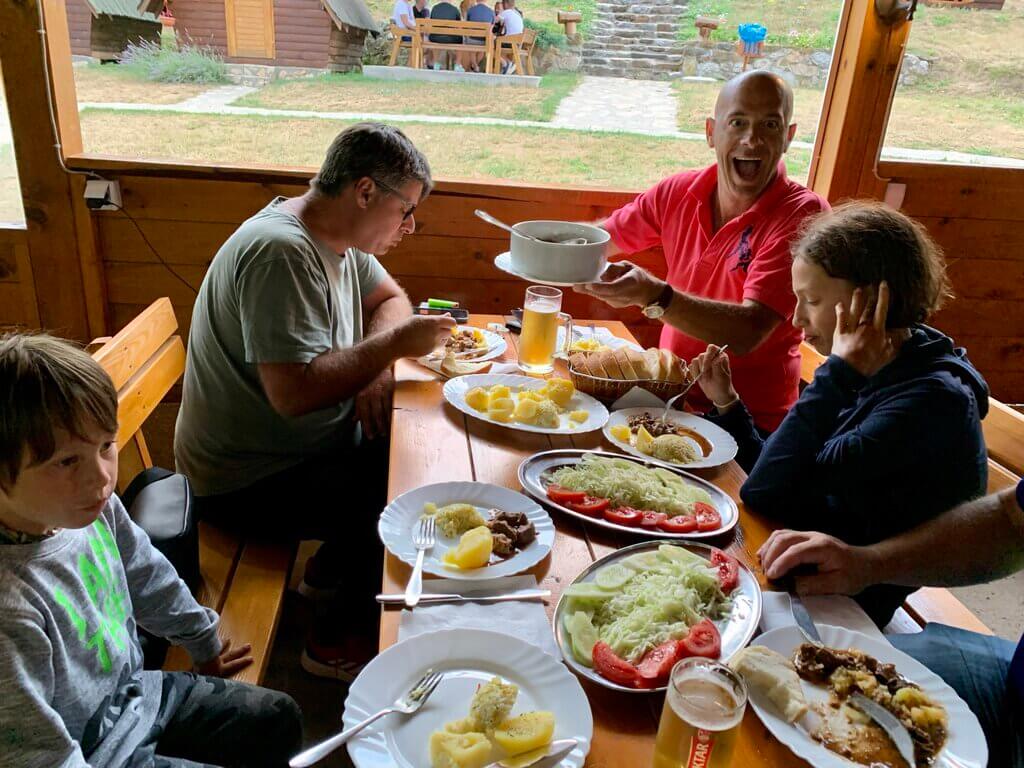 Rafting in Montenegro: a traditional meal after the rafting adventure
After lunch, you'll head back to your accommodation if you're on a day trip, or you can stay at the camp or move on to your next destination.

When to Go Rafting in Montenegro
The rapids on the Tara River vary between class 5 and class 3 rapids. Class 5 are the biggest and are only for experienced rafters and thrill-seekers, while classes 3 and 4 are suitable for almost everyone, including children.

The rapids are biggest in spring, when snow melt swells the river. They get smaller throughout summer as the water level drops. Summer is the ideal time to go rafting in Montenegro; the weather is warm, the canyon is a lush green and the rafting is exciting without being dangerous.
The river level and size of the rapids varies from year to year, depending on how much snow fell during the winter. Here's a general guide to the best times to go:
April/May/June: for 16 years and over only due to higher water levels and bigger rapids
July/August: suitable for children from 5 years old
September: this is less of a white water experience, but the rapids are still fun and the scenery is always stunning
Rafting Tours in Montenegro
Booking a group or private tour is an easy way to go rafting in Montenegro. Day tours take around 12 hours in total and everything is organized for you. The tours include transport, meals, rafting, equipment and have pick-ups from around Montenegro, and even Dubrovnik.
White water rafting is an adventure sport that requires specialist knowledge of the river and rapids. I recommend only booking rafting tours with companies that take their clients' safety seriously. 
Many companies offer rafting tours, but skimp on safety measures, are not insured and allow both paying guests and skippers to drink limitless amounts of alcohol. This can make your trip unsafe and ruin your experience.
That's why I recommend only booking with reputable companies that have been vetted and have proven safety records. Tour aggregators like Get Your Guide and my local partners do due diligence to ensure that all their clients have a safe and fun experience when they go rafting in Montenegro.
MONTENEGRO

 RAFTING DAY TOUR FROM THE COAST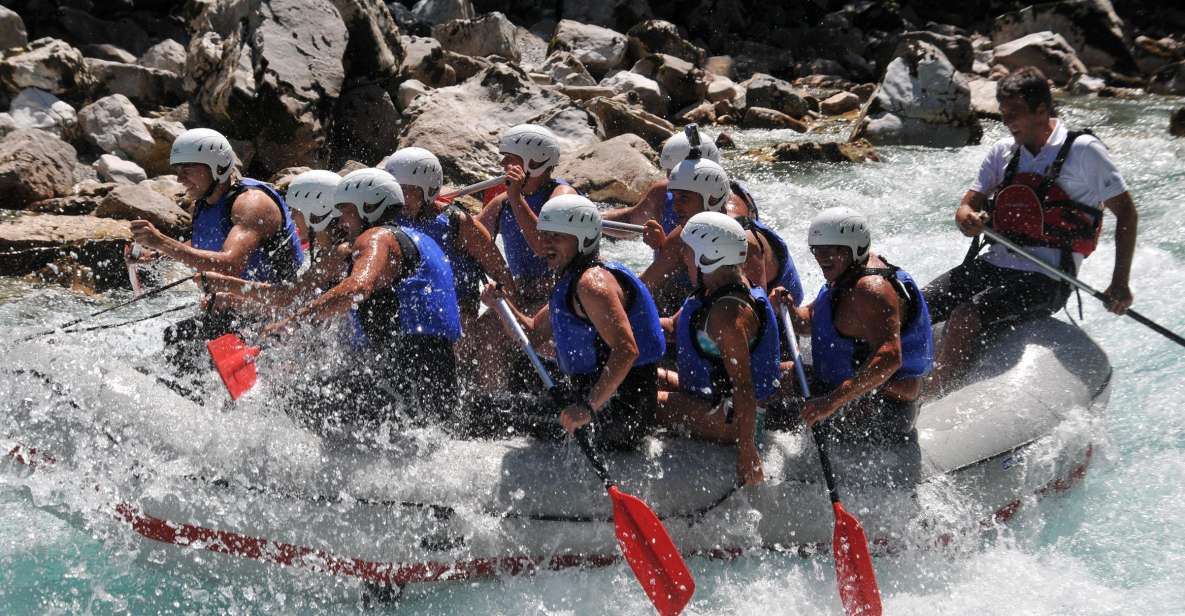 This popular tour is the best-value day tour from the coast and you can do it as a group or private tour.
It includes transport to Sćepan Polje, breakfast in the rafting camp, 3 hours of rafting, lunch and swimming beside the river and all your equipment. You can join this tour in Kotor, Budva, Tivat or Herceg Novi.
12 hours

Start in Kotor, Budva, Tivat or Herceg Novi

Transport, breakfast and lunch included
MONTENEGRO

 RAFTING TOUR WITHOUT TRANSPORT
If you have a rental car you can drive yourself from your accommodation to Šćepan Polje and just book the rafting tour. This is a great option if you're travelling around Montenegro.
I highly recommend booking a bungalow or the stunning private cabin at the camp this tour departs from too. This camp has tidy bungalow accommodation and authentic traditional cuisine right on the banks of the river. They also offer more activities like free climbing, canoeing and jeep safaris. 
This is a great place to spend the night before or after the rafting for a relaxed experience in this beautiful region.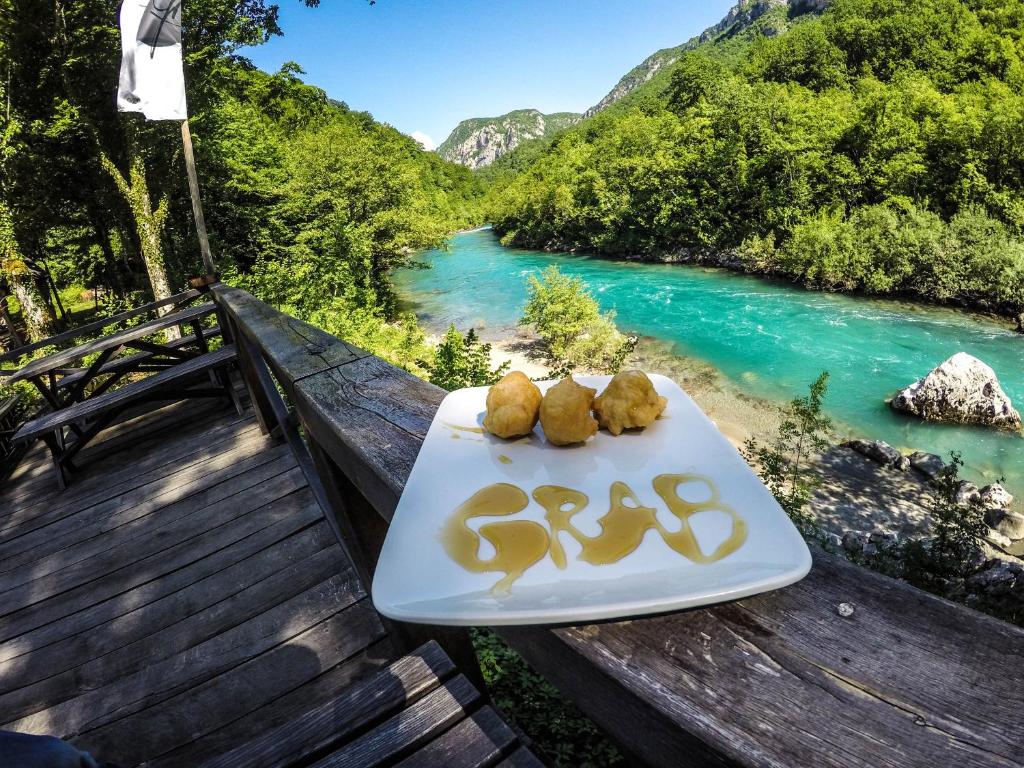 This tour includes around 2 hours of rapids and relaxing paddling, a snack and lunch.
2-3 hours
Snack and lunch
All equipment included
Montenegro RAFTING TOUR FROM DUBROVNIK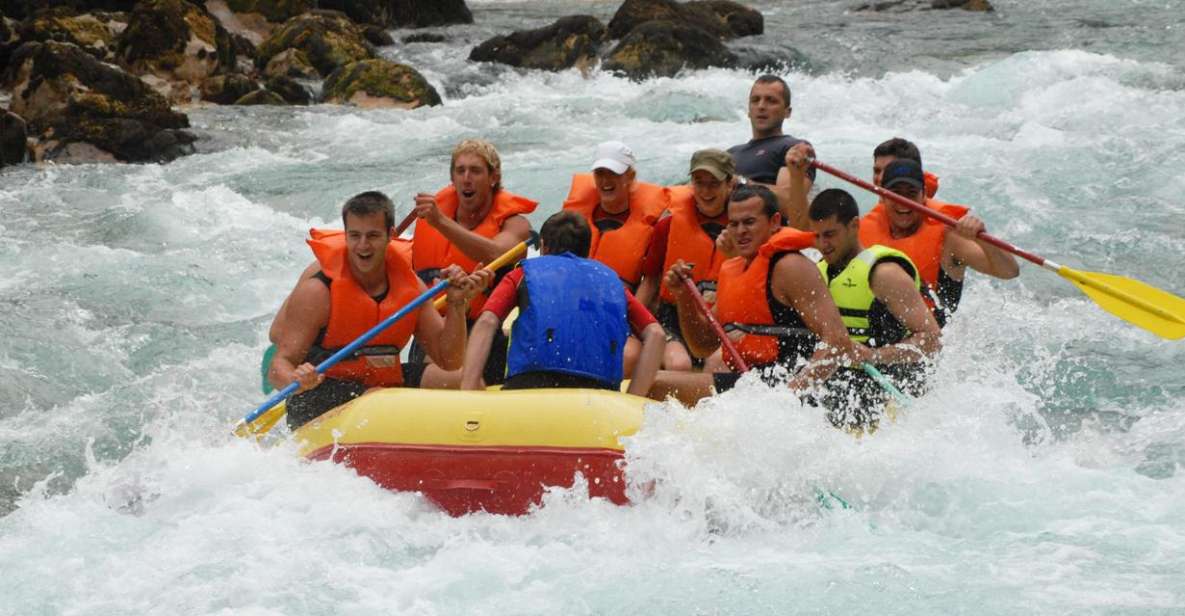 This full-day tour departs from Dubrovnik and while the trip to Šćepan Polje from Dubrovnik is quite long (around 4 hours), the scenery along the way is stunning.
As with other full-day rafting tours, breakfast and lunch at the camp are included. Drinks are not included and Montenegro uses euros while Croatia uses kunas, so you will need to have some euros in cash to pay for drinks.
Pick-up from 20+ hotels in Dubrovnik

Breakfast and lunch

Bring your passport and euros for buying drinks in Montenegro
Where to Stay When You Go Rafting in Montenegro
Rafting day trips from the coast take around 12 hours on average. If you plan to travel around Montenegro, staying in a rafting camp or in a nearby town is a great experience and cuts down on travelling time.
The best places to stay are the rafting camps Šćepan Polje, in nearby Plužine or in Žabljak. Šćepan Polje isn't a town, so there aren't any restaurants or shops. But each camp has its own restaurant where you can get drinks and meals and it's a natural retreat by the river. If you'd prefer to stay in a small town, Plužine and Žabljak have accommodation, restaurants and conveniences like stores.
Rafting Camps

There are several rafting camps on the banks of the Tara and staying in one can be a great experience. They're simple, relaxing and a lot of fun. They also give you the chance to spend time in nature and experience some authentic Montenegrin hospitality and food.
Rafting camps are made up of groups of bungalows with a shared dining area and toilet and shower blocks. You can book a bungalow and your stay usually comes with three hearty meals. You can buy drinks onsite, but no snacks. The nearest store is 25km away in Plužine, so it's best to bring snacks with you.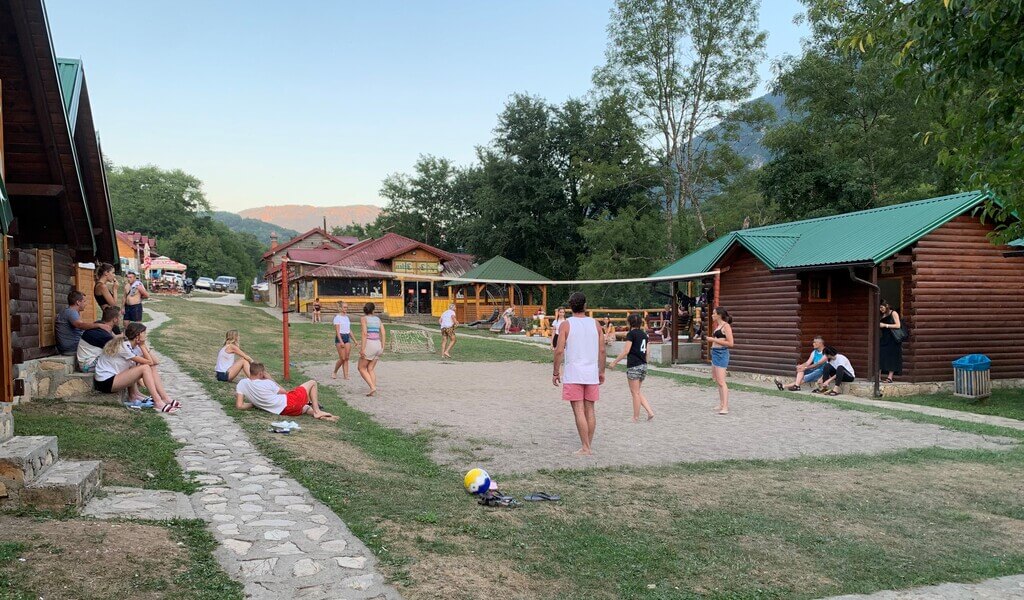 Rafting in Montenegro: people relaxing at a rafting camp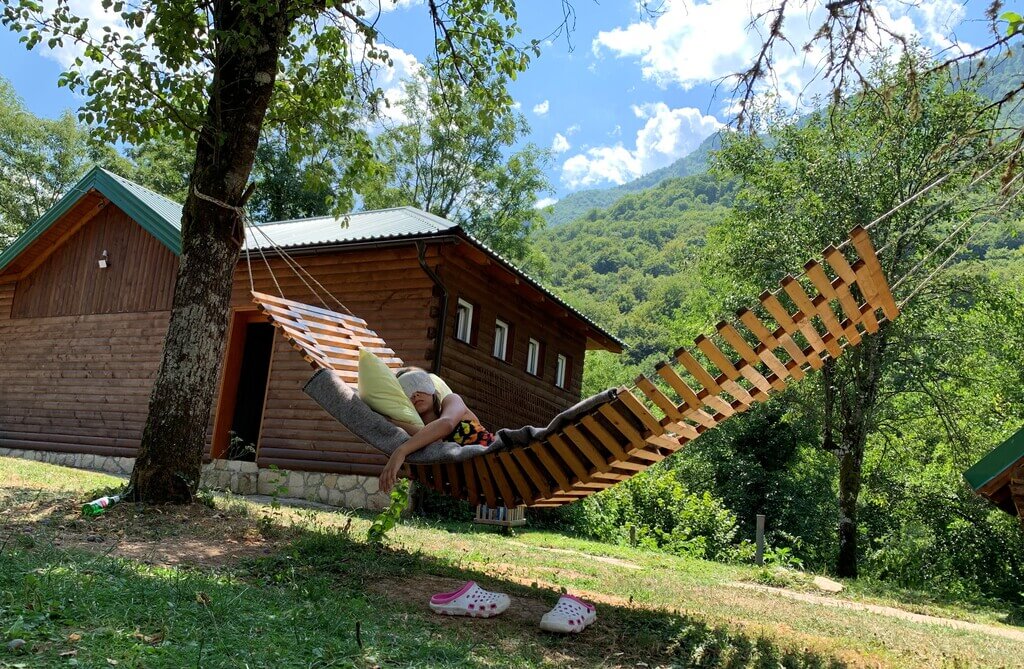 Rafting in Montenegro: napping in a hammock after rafting
Rafting camps usually also have some activities like hiking trails, climbing, volleyball courts and lots of outdoor space for relaxing.
The downside of rafting camps is they can be noisy. In summer, camps often have live music until late (12-1am) and other guests like to socialise outdoors. If this bothers you I recommend bringing earplugs or choosing accommodation elsewhere.
Grab Ethno Village and Camp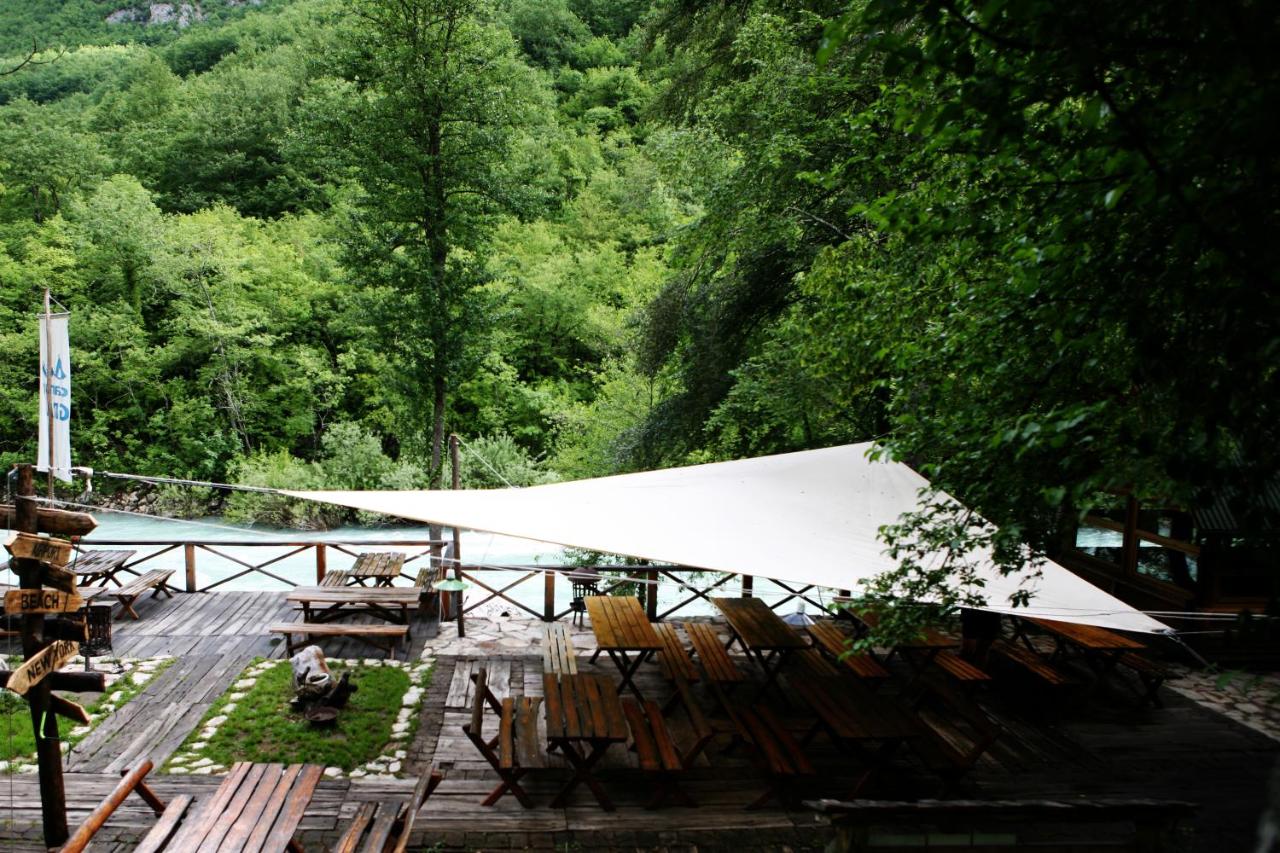 Dining area by the river at Grab Ethno Village and Camp
This popular rafting camp has bungalow accommodation that's a cut above what most rafting camps offer. The rooms are finished to a high standard and offer things like wardrobes and terraces.
The rest of the camp, including the beautiful riverside dining area, food and rafting are done with similar care and attention to detail, which is why Grab is such a popular rafting camp.
Country House Selo
If you'd like something more private, Camp Grab also has this beautiful cabin near the camp. It has two bedrooms, a bathroom, a kitchen, a fireplace and firepit.
When you stay here you can also use the facilities at Camp Grab, including the restaurant and riverside beach.
It's the ideal choice for a secluded getaway!
Waterfall Rafting Center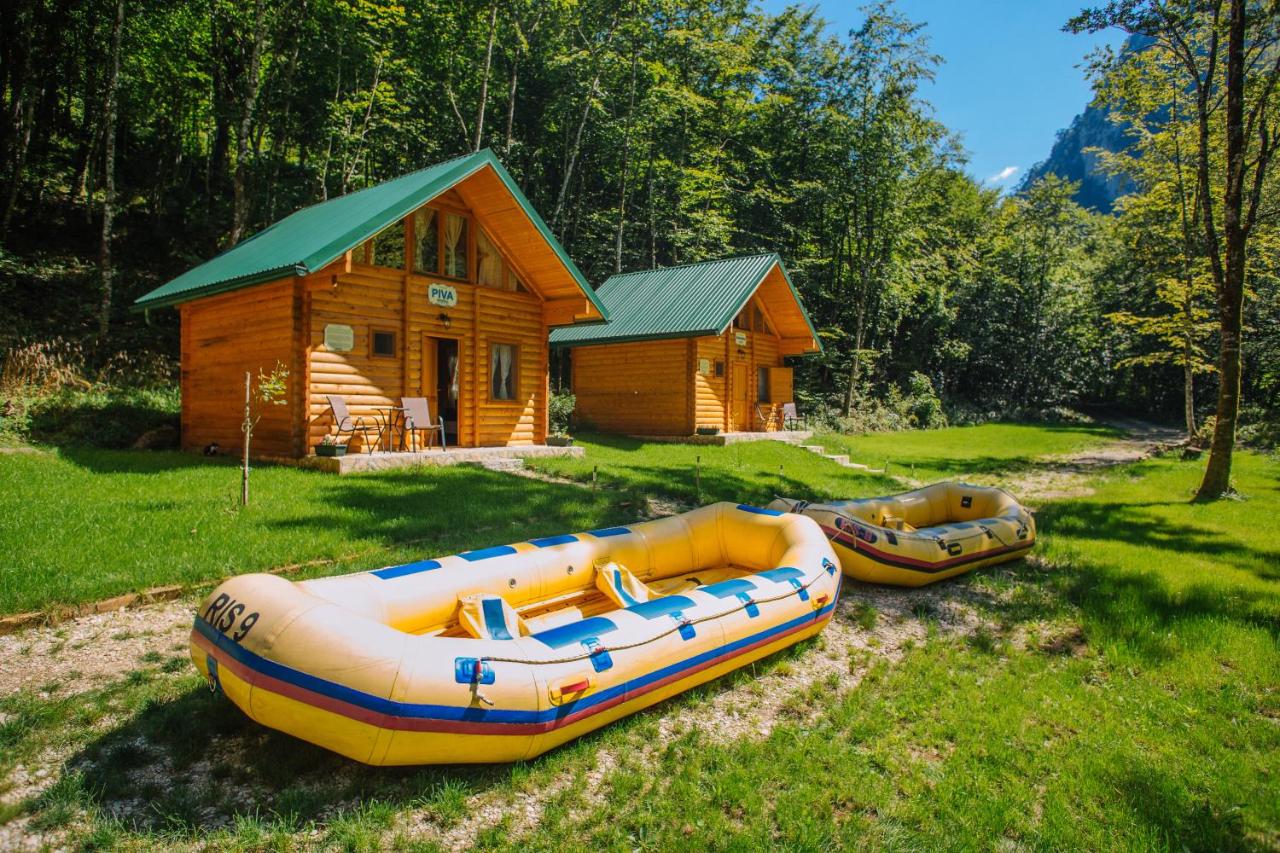 Waterfall Rafting Center is set around 5km from Šćepan Polje, on the Piva River. It's a stunning and peaceful spot. The water in the Piva is a beautiful aquamarine colour and the camp lies opposite a beautiful waterfall.
The camp has bungalows that sleep up to six people. The downside here is that there is electricity in the cabins only during certain hours morning and night, but that could be just what you're looking for if you want to disconnect and enjoy time in nature.
Rafting Camp Modra Rijeka
Also lying on the beautiful Piva River, Rafting Camp Modra Rijeka has comfortable wooden bungalows and this is one of the few camps where you can get a cabin with an ensuite bathroom. Most camps have shared ablution blocks with toilets and showers.
The camp is set in a beautiful natural area that's perfect for switching off and relaxing.
Accommodation in Plužine
Plužine on the shore of Lake Piva. Image: Deposit Photos
Plužine is small lakeside town on the shore of Lake Piva. Here you'll find comfortable accommodation and conveniences like stores. You can take a boat trip on the lake, go stand up paddling and it's just half an hour from Šćepan Polje.
GuestHouse Zvono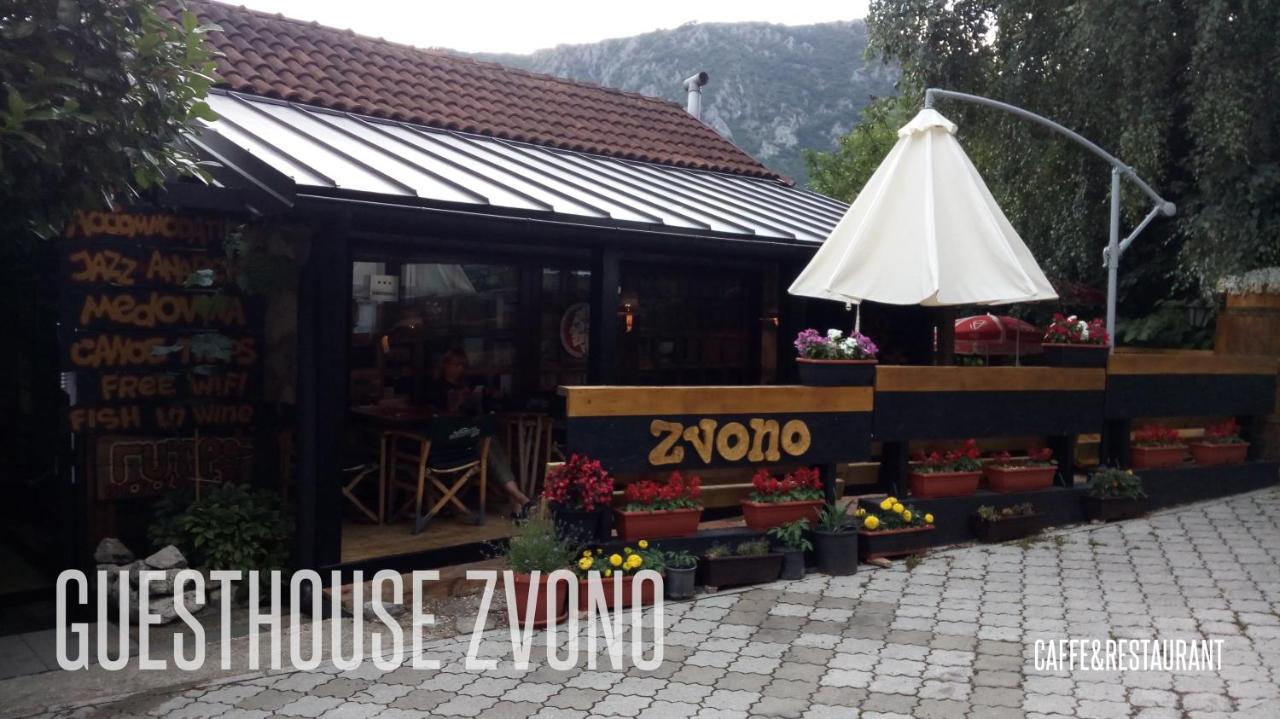 Guesthouse Zvono has rooms overlooking Lake Piva. The rooms sleep up to five people and have both garden and lake views.
Guesthouse Zvono joins a very popular standalone restaurant, which is known for good food, jazz music and a fun vibe. They also run boat trips and rent kayaks on the lake.
This is a great place to stay if you'd like a comfortable stay near Šćepan Polje.
Accommodation in Žabljak

The Black Lake in Žabljak. Image: Deposit Photos
Žabljak is a small but popular town and the gateway to Durmitor National Park. It's a great place to spend a night if you want to visit the north of Montenegro and it's a 2 hour drive from Šćepan Polje.
The best way to get there is via Sedlo Pass, which makes up part of the Durmitor Ring, a scenic drive through Durmitor National Park.
There are lots of things to do in Žabljak. The Black Lake is a major attraction, and you can see the Tara Canyon from the Tara Bridge, try via ferrata, go hiking, see stećci (ancient gravestones) and find a wealth of good accommodation and restaurants.
Hotel Soa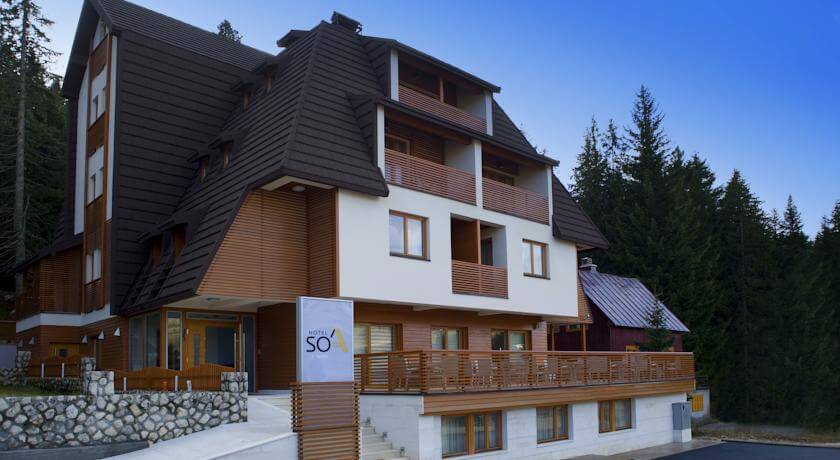 Hotel Soa has stylish accommodation that's ideal for couples. This modern hotel has stylish rooms, a very good restaurant and even a spa and wellness centre. The restaurant and cozy fireplace are ideal for lingering over drinks in the evenings.
Hotel Soa is just a short walk from the Black Lake and is surrounded by pine forest. Although it's just a 10 minute walk from the town centre, it offers a feeling of quiet and seclusion.
North Story
North Story Luxury Chalet Apartments and Rooms is a modern new hotel on the outskirts of Žabljak. You can choose between hotel-style studio rooms and self-catering apartments.
The great thing about this hotel is the facilities. It has a restaurant, and breakfast is included with your stay, but also has a pool, hot tub and sauna. These, plus the surrounding nature, make this a wonderful getaway in Žabljak.
Rafting Holidays and Multi-Activity Tours Including Rafting in Montenegro
Rafting is also a great activity for multi-day tours. There are lots of multi-day tours you can join which include several days of rafting or a day of rafting among other adventure and outdoor activities.
What To Bring Rafting in Montenegro
Passport – for crossing the border into Bosnia and Herzegovina. You'll need this no matter which tour you do, so make sure you remember to bring it!
Swimsuit
Towel
Sunscreen
Hat
Sunglasses
Camera/phone
Warm layers – It can be a lot colder here than on the coast and you can also get chilled from the water
Drinks and snacks
A waterproof bag is useful so that you can bring your phone or camera and take pictures
A waterproof camera like a GoPro is also great to record your adventure!
Cash for drinks and tipping guides – Although the currency in Bosnia and Herzegovina is KM (konvertibilna marka), you can pay in euros.
Earplugs – the camps can be noisy during the night. Bring earplugs if you're a light sleeper.
Related Articles
Book Your Trip With My Recommended Providers