Rafting In Montenegro
(This post may contain affiliate links. Find more info in my disclaimer.)
Photo: CC by 2.0
Rafting in Montenegro is one of our favourite things to do mid summer when the temperature starts soaring... it's a nice change when we feel like a bit of a break from the hardships of swimming and lying on the beach!
It's also one of the most popular tourist activities in Montenegro.
---

Getting There - The Tara Canyon
Montenegro's Tara Canyon is in the north of the country and forms a border with Bosnia. It's the second deepest canyon in the world (after the Grand Canyon) and it's the perfect location for a spot of white water rafting. 
We'll usually put together a group of friends and fill two or three boats – this always encourages a little friendly competition! – and head up towards Scepan Polje which is where the camp and finish point are.
Piva Lake
You'll need to bring your passports for this trip. Because this part of the canyon forms the border with Bosnia, you'll exit Montenegro and then re-enter in your boat. 
If you're staying on the coast, you'll need to leave around 3 hours to get up to the start point.  The roads are good, but windy in places.
Going rafting in Montenegro will offer you plenty of photo opportunities. The trip up will take you through stunning mountain scenery. 
Your first photo op will be overlook Lake Slano and then you'll come to Lake Piva.
You'll pass a small settlement called Pluzine and then cross a bridge over the lake. The bridge is the perfect place to take photos of the lake and mountains. You can park before the bridge and walk along it to take your pictures.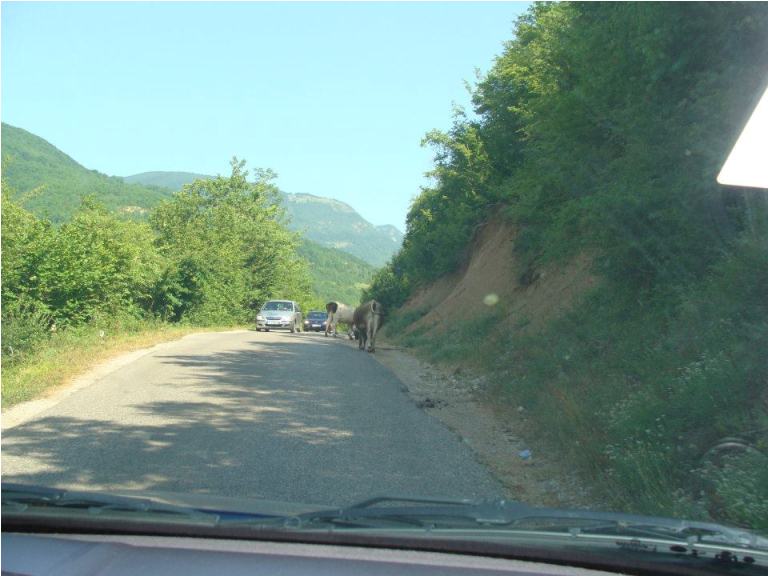 Don't be surprised if you meet some locals having lunch on the road
---
Suiting Up at the Camp
We like to get up there by about 9am. We then share in a hearty mountain breakfast of cured meats, eggs, local cheeses and home-made bread. By 10.30am we're all suited up in our wetsuits and ready to go. 
When you book a trip to go rafting in Montenegro you'll be provided with a wetsuit, lifejacket, booties and a helmet. You'll need to bring your own:
Swimsuit
Towel
Sunscreen
Hat
Sunglasses
From the camp it's an off-road ride in a 4WD and this is where you'll need your passports to cross the border. It's about a 20 minute trip following the river down to the start point.
The driver will take your passport back for you, so you don't need to worry about your passport falling out of the raft.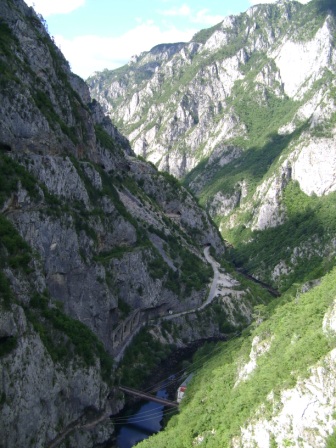 The Tara Canyon
Local's Tip: buy some drinks before you set out and take them with you. They'll sit in the bottom of the raft, in the 10°C water, and be nice and cold when you take a rest stop.
And then off you go!
---
On the River
You spend about 3 hours in total on the river with a mixture of calm spots and rapids.
The river is a mix of thrilling rapids and calm paddling
There's a rest stop about half way along where you can get out, have a swim (if you can handle the cold water!) and walk up to a waterfall. Although it seems impossible, the water coming out of the waterfall is even colder and it's great fun to get underneath it for a few seconds for a photo.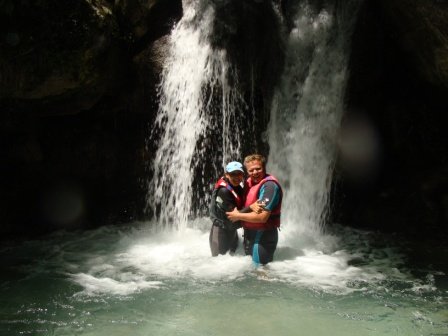 Get in the waterfall if you can...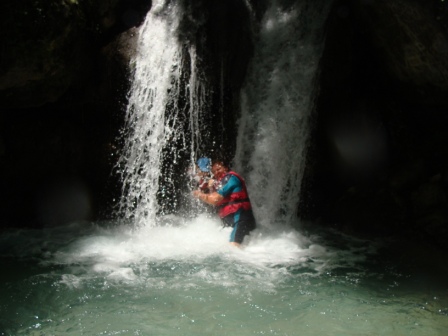 There's nothing quite like snow melt to remind you you're alive!
Then it's back into the sun to thaw out!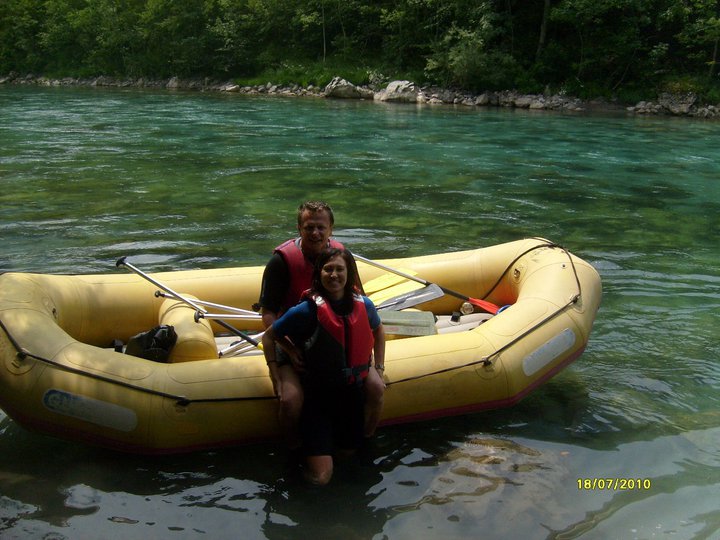 Taking a break and enjoying our surroundings
There are also plenty of places you can stop to jump off the rocks. If you want to do this ask your guide to stop somewhere along the way. This is only for confident swimmers though. The current is strong and you'll need to be able to get yourself back to shore.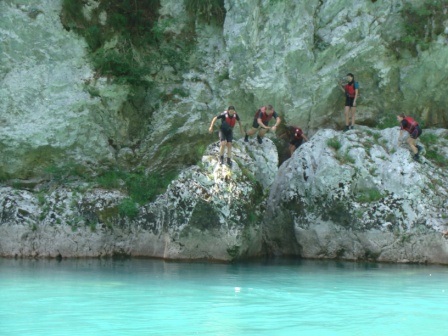 Cliff jumping into the river
As you can imagine, the canyon scenery is quite stunning. You're flanked by forest on both sides, so use the calm stretches to snap a few shots.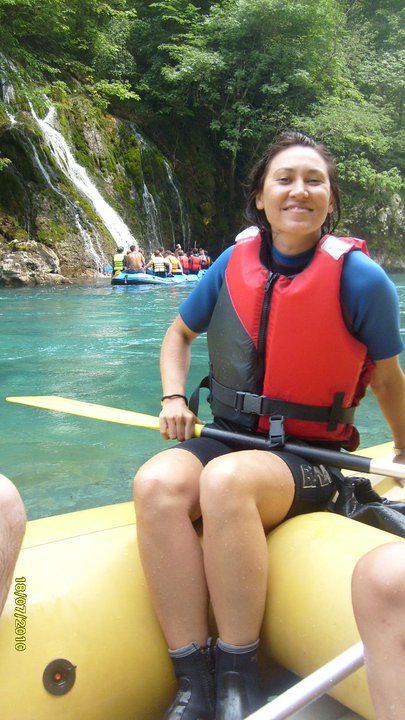 Photo ops are everywhere!
After you finish and get back up to camp you can take hot showers and settle down to well-earned and hearty mountain meal of meat, potatoes, salad and cheese.
My recommendation is take the traditional lamb. The meat and potatoes are slow roasted under a 'sac' - an iron dome. The meat is so tender it falls apart and the potatoes are mouthfuls of heaven.
Sorry Jamie Oliver, but you could learn a thing or two about how to roast potatoes from the Balkan women!
The perfect compliment to these are fresh and sweet local cucumbers, tomatoes and cabbage salad.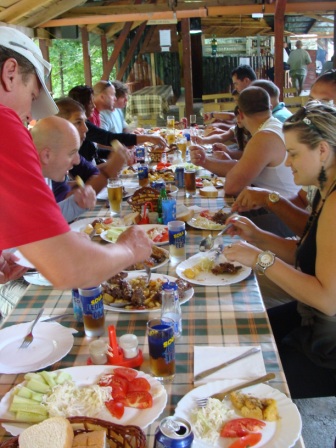 There's nothing quite like coming out of cold water and then warming up with a cup of tea and a hot meal!
---
When To Go Rafting in Montenegro
Tours to take you rafting in Montenegro operates from May to September each year. We tend to go in July or August when it's quite calm. 
May/June: for 16 years and over only due to higher water levels and bigger rapids.
July/August: suitable for 8 years and over.
September: this is less of a white water experience, but the rapids are still fun and the scenery is is always stunning.
---
Who It's Suitable For
This trip is suitable for those over 8 years old who have good mobility - you'll be getting in and out of the raft and will need to stay in the boat while going over rapids.
---
What To Bring
When you go rafting in Montenegro you'll need to bring:
passport
swimsuit
towel
sunscreen
hat
sunglasses
camera
swimsuit
a change of warm clothing no matter when you're going. It can be substantially colder here than on the coast and you can also get chilled from the water.
drinks and snacks for the drive
When rafting in Montenegro one of these inexpensive waterproof bags comes in handy. You can take your phone or camera and snap some pics to remember your trip.
We also have a GoPro... an awesome camera for recording all your adventures - on land and in the water.
---
Find a Rafting Tour
When you go rafting in Montenegro, there are two locations you can find it:
Scepan Polje at the north-west tip of Montenegro on the border with Bosnia and Herzegovina.
Djurdjevic Tara Bridge in Durmitor National Park, 30 minutes from Zabljak.
The best way to choose will be to choose how you plan to get there. Both locations are up in the north of Montenegro and you can either leave early in the morning from the coast or stay overnight. 
Here are the tour options:
---
Whitewater Rafting in the Tara Canyon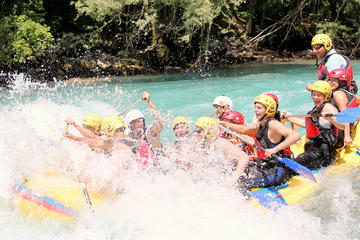 Whitewater rafting in the Tara Canyon
Rafting in the Tara Canyon is the most popular activity tour in Montenegro. Tara Canyon is the deepest canyon in Europe and it's stunningly beautiful. 
Enjoy some exciting rafting, swim in crystal clear water and try some traditional mountain cuisine all on a day trip you can do from Kotor.
Tour Details
Start point: Kotor
Start time: 7am
Duration: 12 hours (approx)
Price: From €84 per person
---
Rafting Tour from Zabljak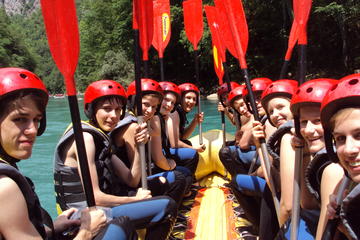 This tour starts at the Djurdjevica Bridge 23km from Zabljak.
You get suited up at the camp and start a 3 hour tour down 14km of rapids. Along the way you see Ljutica River, the shortest river in Europe. 
The tour includes a photo shoot as you pass under Djurdjevica Bridge and then you finish up at Zugica Luka. 
After thoroughly earning  your lunch on the river, you'll head back to the camp for a well-earned lunch of roast meat or fish (vegetarian options are also available). 

Tour Details
Start: Djurdjevica Bridge
Finish: Djurdjevica Bridge
Duration: 9am - 1.30pm
Price: €66 per person excluding lunch
Read More: Rafting the Tara River from Zabljak
Location
---
Self Drive or Private Transfer from the Coast
This option starts from Scepan Polje, on the Bosnian border. It's a 3 hour drive from the coast. Once you get to camp you'll get your equipment and be driven to the start point up river. Then you'll paddle back down to the camp at Scepan Polje.
The tour includes 3 hours of rapids and relaxing paddling, breakfast and lunch. You'll stop at the waterfall pictured earlier and be able to get in and take some photos - it's a quick dip for most because the water is very cold!
Tour Details
Start: Scepan Polje
Finish: Scepan Polje
Duration: 9am - 1.30pm
What's Included: directions, rafting, equipment, breakfast on arrival and lunch  - vegetarian meals are also available.
Price: €55 per adult and €45 per child under 16
Transfers from the coast are available on request.
---
Overnight Options
If you want to go rafting in Montenegro but aren't keen on a long drive from the coast, there are all kinds of accommodation options close to the rafting sites. 
Tents at one of the rafting camps
Staying at the Rafting Camp
If you want to go rafting in Montenegro and want to stay on the river, you can book overnight stays at the camp. The camp has hiking, a climbing wall and bike rental - all of which you can take advantage of if you stay overnight.
Private Cabins: For €85 - €95 per person you can book a private cabin with bathroom, rafting trip, breakfast, lunch and dinner. 
Shared Cabins: You can book a bed in a shared cabin with rafting and three meals for just €75 per person.
You can book this accommodation with the self-drive or private transfer tour.
---
Staying In Pluzine
Pluzine is a tiny township on the banks of Piva Lake. It's a 35 minute drive from Scepan Polje.
The town is mainly made up of tourist accommodation and is known for dramatic lake views and hearty mountain food. The accommodation here mainly consists of guesthouses and bungalows.
Staying in Pluzine is suitable for the self-drive or private transfer tour.
Read More: Find accommodation deals in Pluzine
---
Staying In Zabljak
If you would rather stay in a bigger town when you go rafting in Montenegro, Zabljak would be the closest. Niksic is closer to Scepan Polje, but the town has no attractions and I wouldn't recommend staying there.
Zabljak is a small town and the gateway to Durmitor National Park It's a great place to spend a night if you want to visit the north of Montenegro and it's a 2 hour drive from the rafting camp at Scepan Polje (the start point for the self-drive rafting tour). Zabljak is a 3 hour drive from the coast and you'll find good quality hotels and guest houses there. I recommend:
Hotel Soa: nice, upmarket hotel close to the Black Lake. 
Polar Star: comfortable rooms and mountain bungalows suitable for families.
Staying in Zabljak is suitable for the rafting tour from Zabljak and the self-drive tour.
Read More: Zabljak
Read More: Durmitor National Park
Read More: Find accommodation deals in Zabljak
---
Book A Self-Drive or Private Transfer Rafting Tour
To book a self-drive tour or tour with private transfers to take you rafting in Montenegro, just fill in the form below and we'll get back to you with confirmation of your booking.
---
Related Articles
Canyoning in Montenegro
Stand Up Paddling
Things to Do in Montenegro
---
Home

>
Things To Do in Montenegro
> Rafting in Montenegro
---
help the stray animals of Montenegro
Book your accommodation anywhere in the world through any of the search boxes on our site and we'll make a donation towards sterilising stray animals in Montenegro. 
It costs you nothing, and you get the biggest selection and lowest prices guaranteed. It's a win-win!