Rafting in Montenegro... and One Secret Rafting Destination to Try!
This post may contain affiliate links. Find more info in my disclaimer.
Discover some of Montenegro's most beautiful scenery on an exciting family-friendly adventure when you go rafting in Montenegro.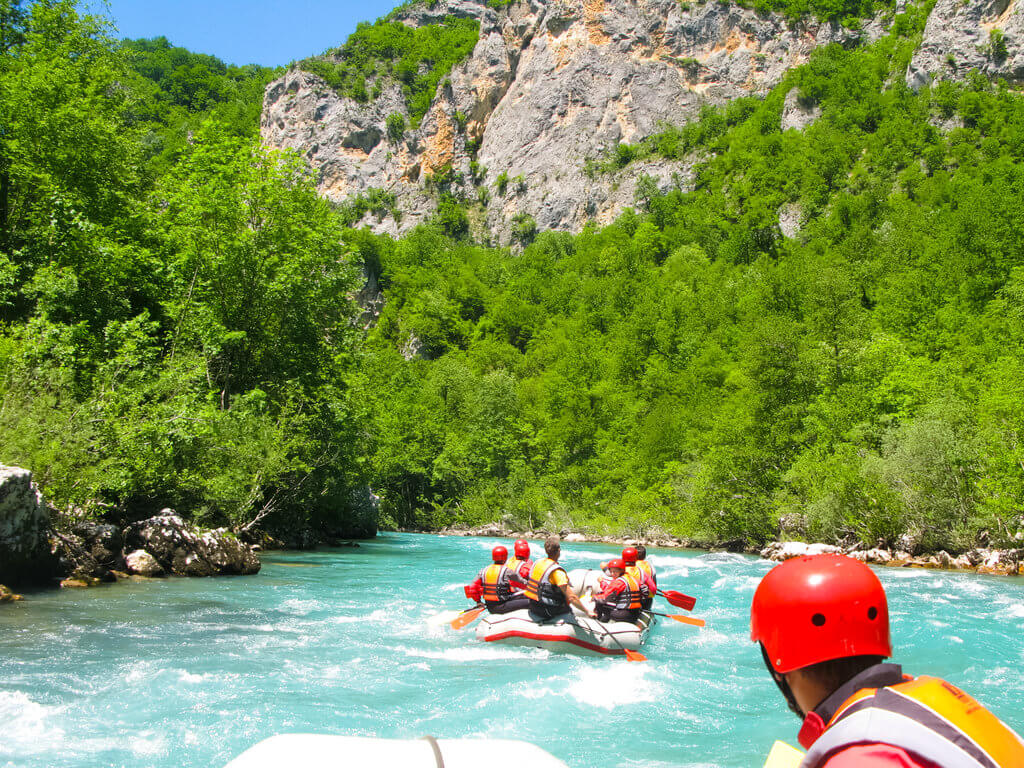 Rafting in Montenegro
Rafting in Montenegro is one of the best ways to see Montenegro's legendary 'wild beauty'. 
It doesn't get wilder or more beautiful than this!
Montenegro's rafting tours take place in the Tara Canyon. The Tara River Canyon is the second-deepest canyon in the world after the Grand Canyon in the United States and part of it runs through Durmitor National Park, a UNESCO Heritage site. It's a stunning wilderness that I recommend all visitors to Montenegro go to see.
Even though the rafting tours in Montenegro take place up in the north-western corner of the country, you can still do a tour in a day trip from the coast. You can also stay overnight to shorten the day and I'll tell you how to do that below. 
Pluzine. You'll drive through here on the way to go rafting in Montenegro

About Rafting in Montenegro
During a rafting tour you spend about three hours on the river. There's a mix of calm floating and more exciting rapids. The rapids are biggest in spring when ice melt swells the river. Then they get smaller through July, August and into September. Generally they're class 3 to 4 rapids, which makes them ideal for tours that are exciting, but not dangerous.
In calm spots you can jump out and swim alongside the raft. But be warned, the water is very cold! The water temperature in the Tara River ranges from 7˚C to 12˚C (44˚F to 54˚F)… it's a bracing but unforgettable swim!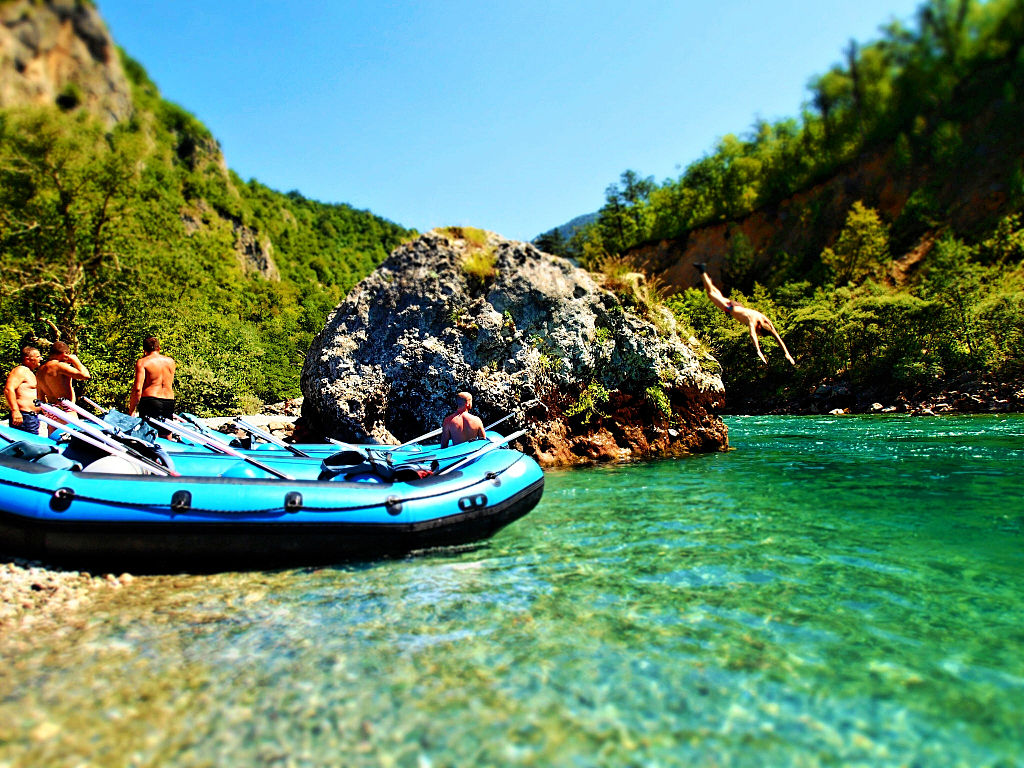 Rafting Montenegro. Image: Jasmine Halki CC by 2.0
You can also drink the water in the river. The Tara River is known as the 'Tear of Europe' because its water is so clean and clear. You'll be able to see the riverbed and fish below you.

One of the highlights of the tour is stopping at a waterfall. The raft stops on the riverbank and a short walk brings you to a pool with a waterfall. This is the ultimate photo stop, but it's usually a quick one because the water is freezing!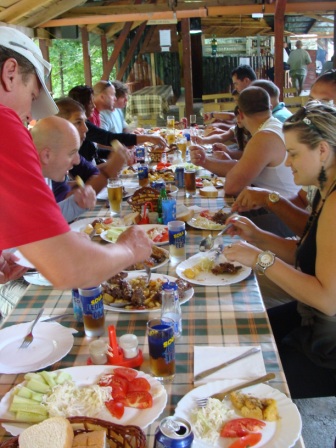 Then when you finish rafting you'll be treated to some lip-smacking Montenegrin mountain fare back at the rafting camp.
This usually includes traditional slow-roasted meat and potatoes, fresh salads of tomato, cucumber and cabbage and some crusty home-made bread.
It's the perfect end to a cold water activity like this. 

---
When to Go Rafting in Montenegro
Tours to take you rafting in Montenegro operate from May to September each year. We usually go in July or August when it's quite calm. 
---
Who Can Go Rafting in Montenegro
Almost anyone can go rafting. You also need to have good mobility - you'll be getting in and out of the raft and will need to stay in the boat while going over rapids. Each tour operator has its own minimum age limits; you can check them when you read the full information about each tour linked below.

---
How to Go Rafting in Montenegro
Šćepan Polje

Šćepan Polje is the most popular place to go rafting in Montenegro. The Tara River forms the border with Bosnia and Herzegovina and Šćepan Polje is right on the border. You'll actually cross the border into Bosnia and Herzegovina to start the tour, which is why you must bring your passport.
To go rafting here you can either book a tour with transport or drive yourself up. Both options include breakfast and lunch as well as the rafting. 
Here's my list of the top rafting tours in Montenegro:
Drive Yourself Rafting Tour
If you have a rental car you can drive yourself from your accommodation to Šćepan Polje and back again and just book the rafting tour.
This tour includes 3 hours of rapids and relaxing paddling, breakfast and lunch and you can book it by filling in the form below. This will put you in touch with my friend Hayley who can make the booking for you.
Hayley can also help you book an overnight at the camp. The camp has hiking, a climbing wall and bike rental - all of which you can take advantage of if you stay there.
Private Cabins: For €85 - €95 per person you can book a private cabin with bathroom, rafting trip, breakfast, lunch and dinner. 
Shared Cabins: You can book a bed in a shared cabin with rafting and three meals for just €75 per person.
Tour Details
Start: Šćepan Polje
Finish: Šćepan Polje
Duration: 9am - 1.30pm
What's Included: directions, rafting, equipment, breakfast on arrival and lunch  - vegetarian meals are also available.
Price: €55 per adult and €45 per child under 16
Transfers from the coast are available on request.
Foča, Bosnia and Herzegovina

I'm going to let you in on a little secret. 
One of my favourite places to go rafting is in Foča, Bosnia and Herzegovina.
Around 25 minutes' drive from Šćepan Polje you come to Foča, which is also a popular rafting destination. We love it here because it's less busy than in Montenegro and the rafting tour is longer. Rafting tours from Foča start at the same departure point as the ones from Šćepan Polje, but you pass Šćepan Polje and continue along the Drina River back to Foča for another hour.
And Bosnians are special people. Like all of the Balkans they're warm, welcoming, funny and are amazing cooks, but Bosnians are known for being especially relaxed and you're guaranteed to have a good time with them.
If you want to go rafting from Foča you'll need a rental car to drive yourself to the rafting camp. The drive takes around 4 hours, so you need to leave early in the morning if you're staying on the coast or you can stay somewhere nearby. There are some accommodation recommendations at the bottom of this page.
There are two rafting tours from Foča:
Rafting Holidays and Multi-Activity Tours Including Rafting in Montenegro
Rafting is also a great activity for multi-day tours. There are lots of multi-day tours you can join which include several days of rafting or a day of rafting among other adventure and outdoor activities:
---
What To Bring
---
Accommodation 
The drive from the coast up to the Tara River takes three to four hours. When you add in breakfast, preparation, rafting, lunch and the return drive the whole tour takes a good 12 hours. 
So you might like to spend a night or two in accommodation closer by, especially if you're travelling with kids. The best places to stay are the rafting camps Šćepan Polje, or in nearby Plužine or Žabljak. Šćepan Polje isn't a town, so there aren't any restaurants or shops. But each camp has its own restaurant where you can get drinks and meals and it's a natural retreat by the river. If you'd prefer to stay in a small town, Plužine or Žabljak would suit you better.
If you look at a map of Montenegro you might think Nikšić would be a good option too. Although it's Montenegro's second-largest city (after Podgorica), it's not a tourist destination and I don't recommend staying here. Plužine and Žabljak are smaller, but prettier, and have more attractions.
Accommodation in Šćepan Polje

Accommodation in Plužine
Plužine is small lakeside town on the shore of Lake Piva.

---
Accommodation in Žabljak

Žabljak is a small town and the gateway to Durmitor National Park It's a great place to spend a night if you want to visit the north of Montenegro and it's a 2 hour drive from the rafting camp at Scepan Polje (the start point for the self-drive rafting tour). Zabljak is a 3 hour drive from the coast and you'll find good quality hotels and guest houses there. I recommend:
---
Related Articles
Rafting Montenegro
help the stray animals of Montenegro
Book your accommodation anywhere in the world through any of the search boxes on our site and we'll make a donation towards sterilising stray animals in Montenegro. 
It costs you nothing, and you get the biggest selection and lowest prices guaranteed. It's a win-win!