Đurđevića Tara Bridge: Tara Canyon Viewpoint and Zipline
This post may contain affiliate links which means that if you purchase through my link I may earn a small commission which helps to keep this site going. Thank you. You can find more info in my disclaimer.
Discover the Đurđevića Tara Bridge, feat of engineering and one of the best places to see the majestic Tara River Canyon.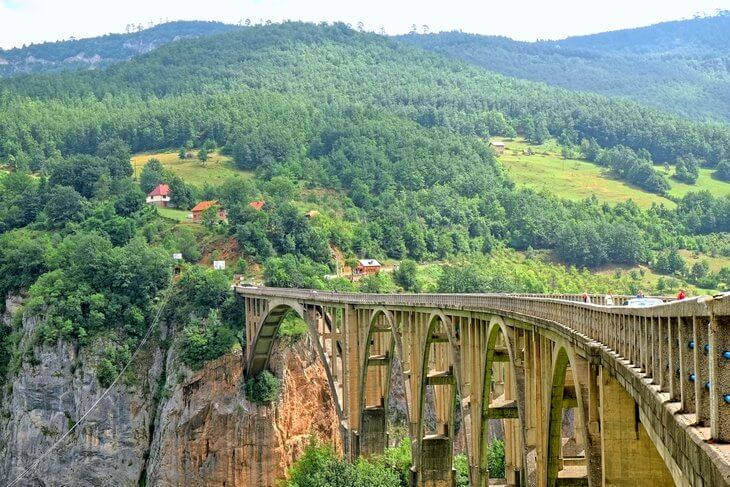 Đurđevića Tara Bridge. Image: Deposit Photos
The Đurđevića Tara Bridge is one of the best places to see the Tara Canyon in Montenegro. The Tara Canyon is the second-deepest canyon in the world next to the Grand Canyon in the United States and the views from the bridge are magnificent.
The Đurđevića Tara Bridge connects the two sides of the Tara Canyon and was initially built to connect the remote Durmitor region with the rest of the Kingdom of Yugoslavia. The bridge was started in 1937 and was a mammoth task. Its architect, Mijat Trojanovic, was tasked with connecting the two sides of the Tara Canyon, almost 400m apart, over a 170m abyss.
The scaffolding for the bridge was cut from a nearby spruce forest and reached a massive 141m tall – it's still the largest wooden scaffold ever built!
Finished in 1940, it's 365m (1,198ft) long, has five arches and towers 172m (564ft) above the Tara River below. At the time it was built, it was the biggest concrete arch bridge for vehicles in Europe. 
But the bridge is more than just a beautiful lookout and marvel of engineering, during the Second World War it was the scene of fierce battles and partisan resistance.

discover kotor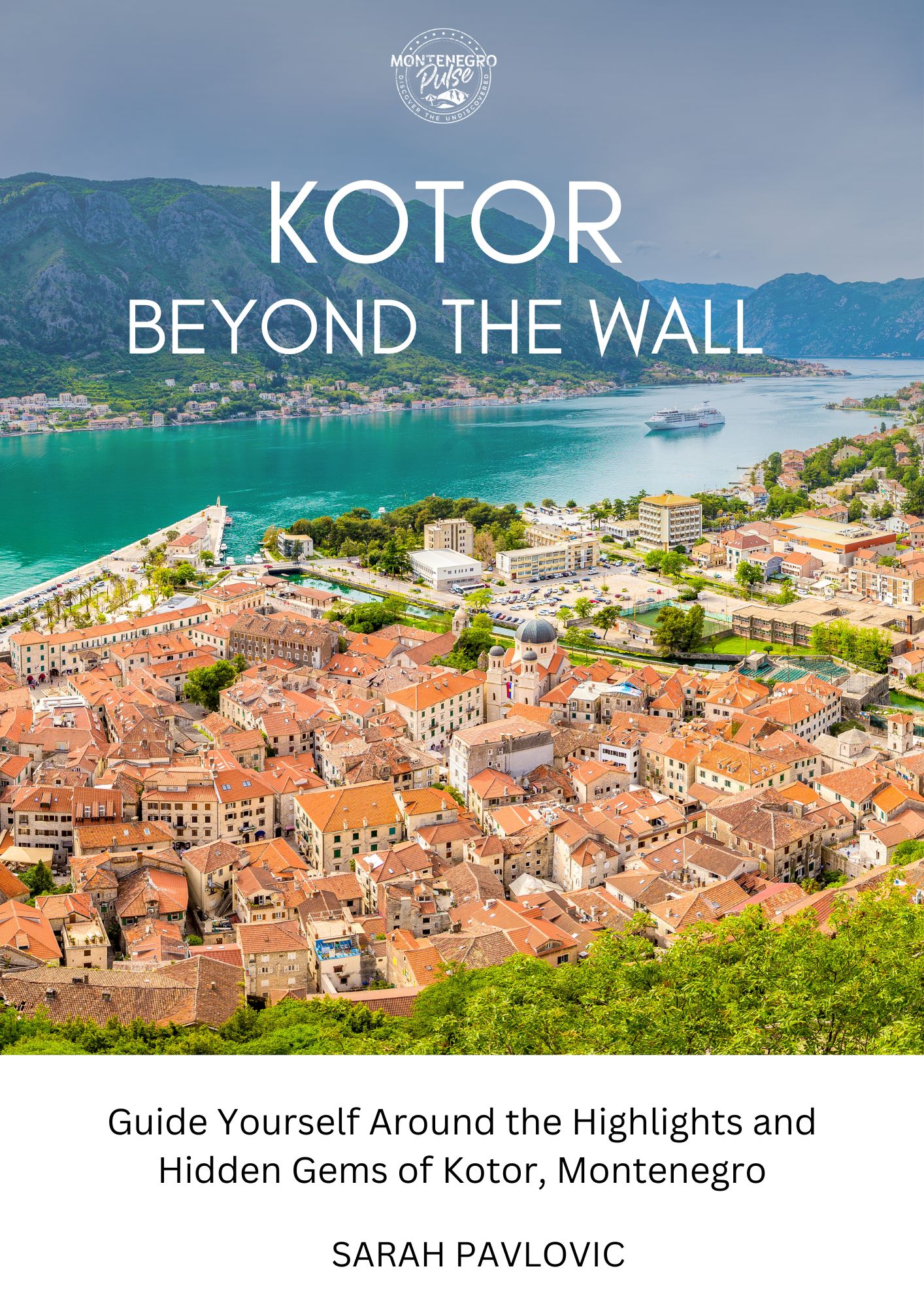 Guide yourself with the
"World's Best Guide to Kotor"
Top attractions
Hidden gems
Bonus walking tour
What to eat
Exclusive experiences
Essential visitor tips
In 1941 most of Montenegro, which was then part of the Kingdom of Yugoslavia, was occupied by Italian forces. The Italian forces occupied the bridge, which was the only way across the canyon, but this mountainous area of Montenegro was perfect for guerilla warfare and there were lots of partisan resistance fighters based around Žabljak. The most famous of them was Josip Broz Tito, who was based around the Black Lake and went on to become the President of the Socialist Federal Republic of Yugoslavia.

In 1942 the partisan resistance, with one of the engineers, Lazar Jauković, blew up the central arch of the bridge and stopped the Italian advance. Unfortunately, Lazar was later captured and executed on the bridge. You can see a monument to honor him beside the bridge. The bridge was rebuilt in 1946 and it was even used in filming the World War II movie Force 10 from Navarone, featuring Harrison Ford.
Today, the Tara Đurđevića Bridge is a major attraction in Montenegro and it's a fantastic place to see the Tara Canyon. From the bridge, which you can walk along, you'll get stunning views of the canyon and surrounding countryside. Far below you are the rapids of the Tara River, known as the 'Tear of Europe' because it's so clean.
The canyon is densely forested and the colors go from lush green in spring and summer to a riot of yellows, oranges and reds in autumn to cool white when it's blanketed in snow in winter. This area is part of Durmitor National Park, so it's a beautiful natural area.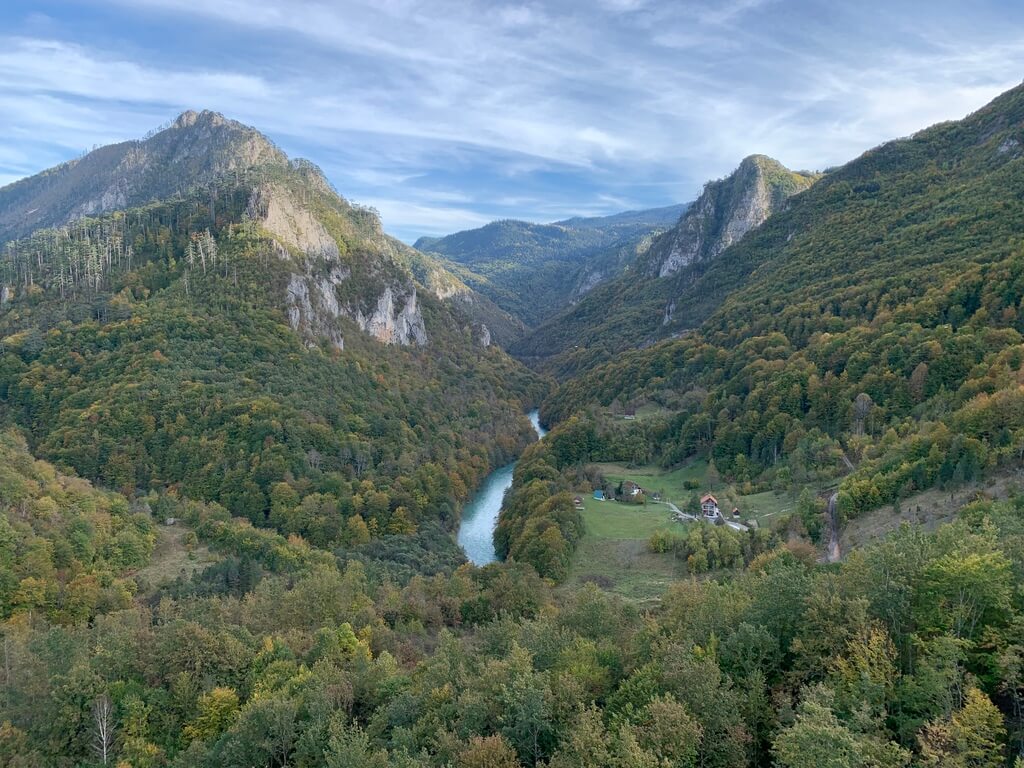 View from the Đurđevića Tara Bridge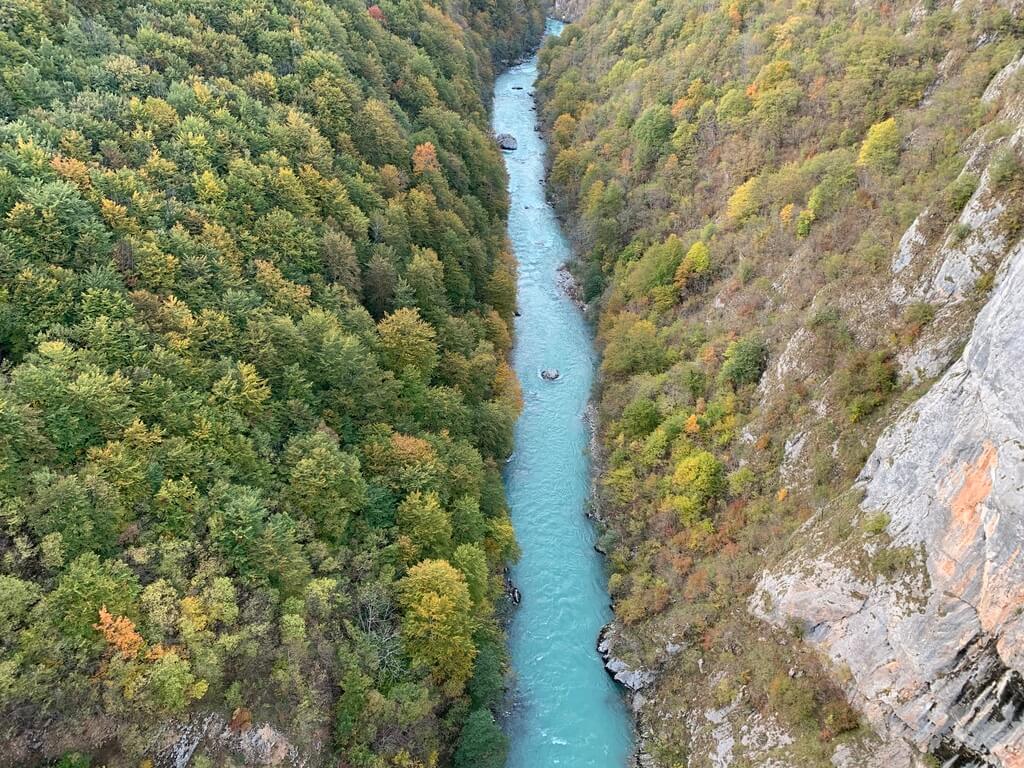 Tara River
---
What to Do at Đurđevića Tara Bridge

Tara River Bridge Zipline
If you're looking for a thrill you can zipline across the Tara Canyon at the Đurđevića Tara Bridge. There are two different ziplines run by two different companies. Extreme Zipline Tara is just over 1km in length and flies across the canyon at up to 120km/h. Red Rock Zipline is 350m long and has two lines so you can go at the same time as someone else. 
Address: Most na Đurđevića Tari, Durmitor National Park
Hours: 10am – 7pm, 15th April – 1st October
Pricing: Extreme Zipline Tara is €25, Red Rock €10
Tara Canyon Rafting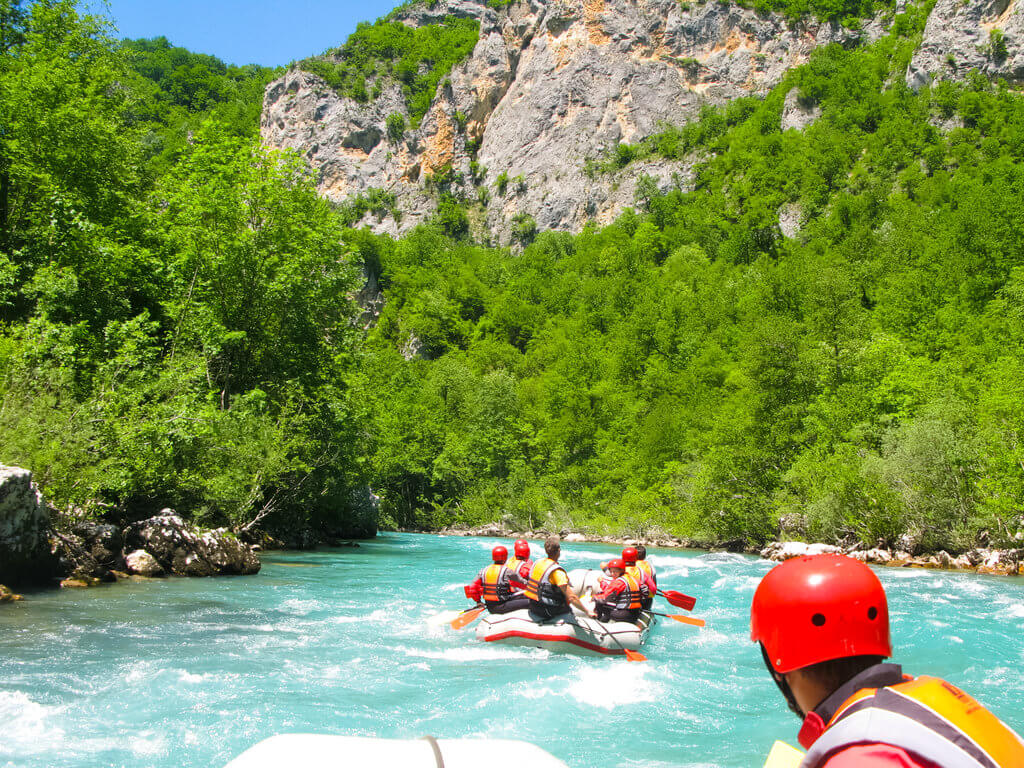 The best way to see the Tara Canyon is by rafting down it. There are rafting tours that depart from Kotor, Tivat, Budva, Herceg Novi and Podgorica between May and October. The rapids are biggest in May and June and get smaller throughout summer and autumn. 
Rafting tours usually spend two to three hours on the river and often include traditional-style breakfast and lunch. 
More Things to Do Nearby
Via Ferrata - a fun and exciting sport that's somewhere between hiking and rock climbing.
Durmitor Ring - a beautiful drive through Durmitor National Park's most stunning scenery.
The Black Lake - Durmitor's most popular attraction.
Canyoning - challenge yourself to navigate Nevidio Canyon on a canyoning adventure!
Stećci - visit the mysterious and unusual medieval tombstones that are only found in this region of the Balkans.

---
Getting to Đurđevića Tara Bridge

Self-Drive
Žabljak to Đurđevića Tara Bridge: 23km (14mi)
Kolašin to Đurđevića Tara Bridge: 68km (42mi)
Plevlja to Đurđevića Tara Bridge: 37km (22mi)
If you want to see the Đurđevića Tara Bridge, it's best to stay in either Žabljak or Kolašin and visit it from there. These two towns are Montenegro's top mountain resorts because they're close to Durmitor National Park and Biogradska Gora National Park. The bridge is an easy drive from either of these towns and it's very close to the road that connects the two, so if you do something like the Discover Montenegro self-drive tour you'll be able to stop at the bridge.
Address: Most na Đurđevića Tari, Durmitor National Park
Tours
North Montenegro Tour - the North Montenegro Tour is a great way to see Durmitor National Park, including the Black Lake and the Đurđevića Tara Bridge, on a day tour from the coast.
Untouched Montenegro - a private full-day tour through Montenegro that includes the Budva Riviera, Skadar Lake, Morača Canyon, Biogradska Gora National Park and Durmitor National Park.
Durmitor National Park from Podgorica - a great way to see both the beautiful Morača and Tara Canyons. This tour also includes the Đurđevića Tara Bridge, the Black Lake and Morača Monastery.
Accommodation at Đjurđevića Tara Bridge
This is a rural area, so if you're looking for a town the best places to stay are in Žabljak or Kolašin. But if you'd like stay among some of Montenegro's beautiful mountain scenery there are a few places to stay here:
Kljajevica Vocnjak - an authentic and welcoming homestay where you can experience simple Montenegrin lifestyle and warm hospitality.
Rafting Apartments Goran Lekovic - simple and friendly accommodation with shared bathroom and kitchen. You can book rafting directly with the owner, Goran.
related Articles
Žabljak, Gateway to Durmitor National Park

Visiting the Black Lake in Montenegro's Durmitor National Park

Tara River Canyon - Best Places to See the Jewel of North Montenegro
Durmitor National Park, the Perfect Mountain Escape in Montenegro
Visitor's Guide to Biogradska Gora National Park
help the stray animals of Montenegro
Book your accommodation anywhere in the world through any of the search boxes on our site and we'll make a donation towards sterilising stray animals in Montenegro. 
It costs you nothing, and you get the biggest selection and lowest prices guaranteed. It's a win-win!