Montenegro Pulse contains affiliate links and is a member of the Amazon Services LLC Associates Program. If you make a purchase using one of these links, I may receive compensation at no extra cost to you. See my disclaimer for more information.

Kolašin Travel Guide: 12 Best Things to Do in Kolašin (2023)
The best things to do, where to stay and where to eat in Kolašin. Discover local attractions, book tours and find off-the-beaten-track gems from locals.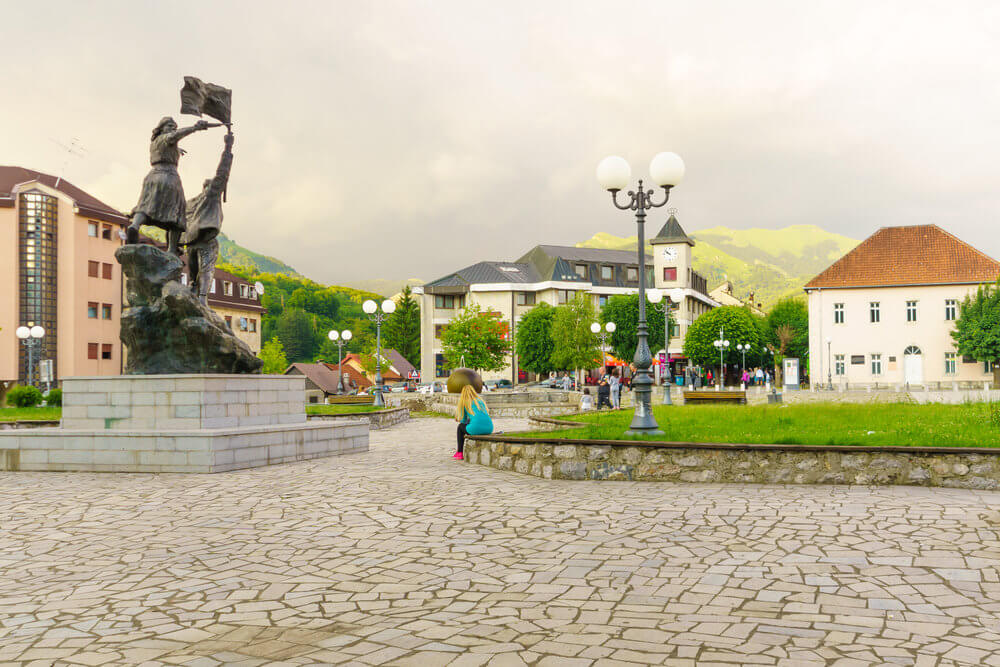 Trg Boraca in Kolašin. Image: Deposit Photos
At first glance Kolašin (pronounced Ko-la-shin) doesn't have much to recommend itself to visitors to Montenegro.
But look beneath the surface and you'll discover a treasure trove of natural attractions nearby. With a good choice of comfortable hotels and great restaurants, there are lots of reasons to stay here on your travels around Montenegro. 
Kolašin is a small mountain town in Montenegro's north-east that's most popular in winter because it's close to the Kolašin 1450 and 1600 ski fields.
In summer it's a laid-back mountain town. While there's not a lot to do or see in town, it's the ideal base for night or two while you experience some of Montenegro's natural beauty and traditional culture. The area around Kolašin is stunningly beautiful and there are lots of ways to enjoy the outdoors here.
Things to Do in Kolasin
1. Upper Town Square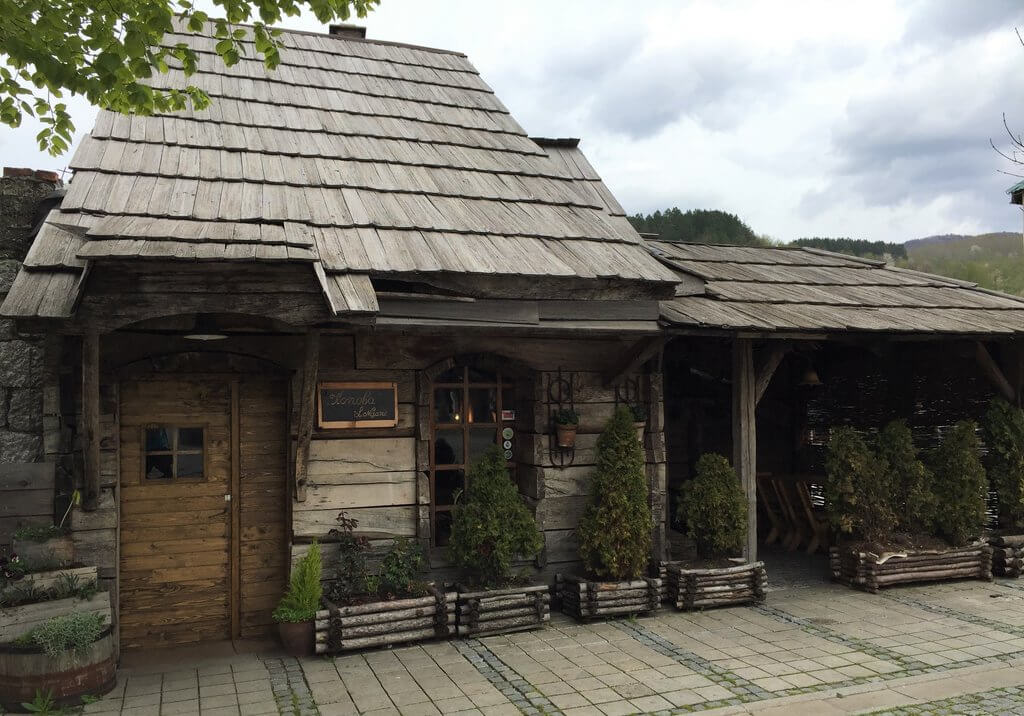 Konoba
Kolašin was originally a fortified town, founded by the Ottoman Turks in 1651. Its biggest claim to fame is being the scene of the bloodiest battle in Montenegro, when it was liberated from the Turks in 1878. 
Today, Kolašin centres around two main squares: the upper and lower town squares. The upper town square is the old Turkish town. A wander over here brings you to Konoba, a cosy, traditional restaurant where you can try some of the local specialties like layered cheese, kačamak (maize porridge), ham and cornbread. 
Address: IV Proleterske, Kolašin
Phone: +382 69 609 144
Hours: 10am – 11:30pm daily
2. Lower Town Square/trg Boraca and the Culture Centre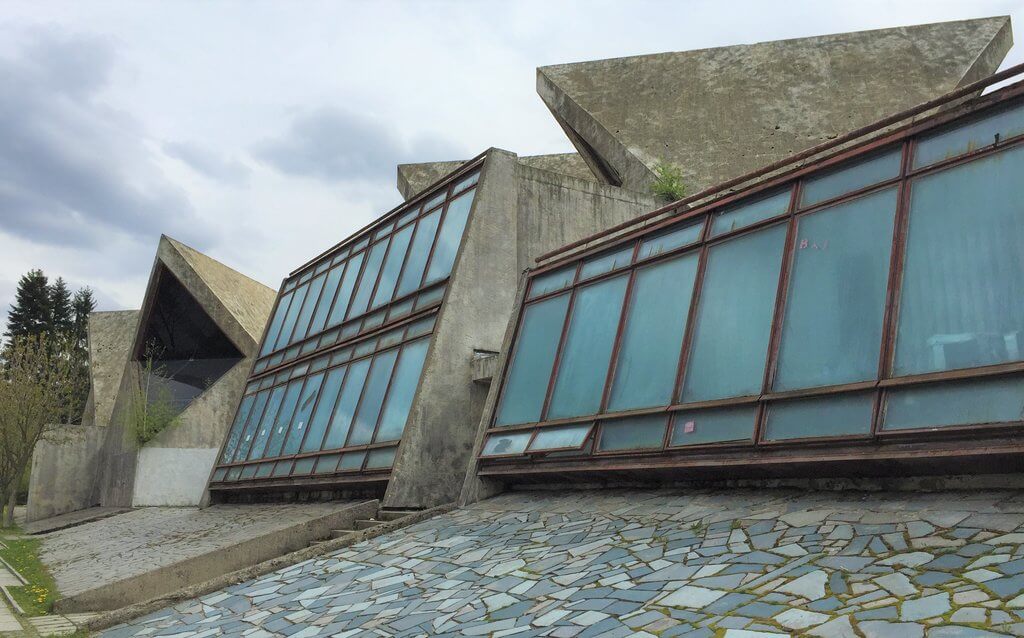 Kolašin Culture Centre
The upper square, Trg Boraca, has a memorial statue to Partisan soldiers who died during World War II and a fountain. While here, you can't miss the huge culture centre behind the square. The culture centre is home to Kolašin museum and it's a prime example of communist Brutalist architecture.
Address: 9 Mirka Vešovića, Kolašin

3. Adventure Park Kolasin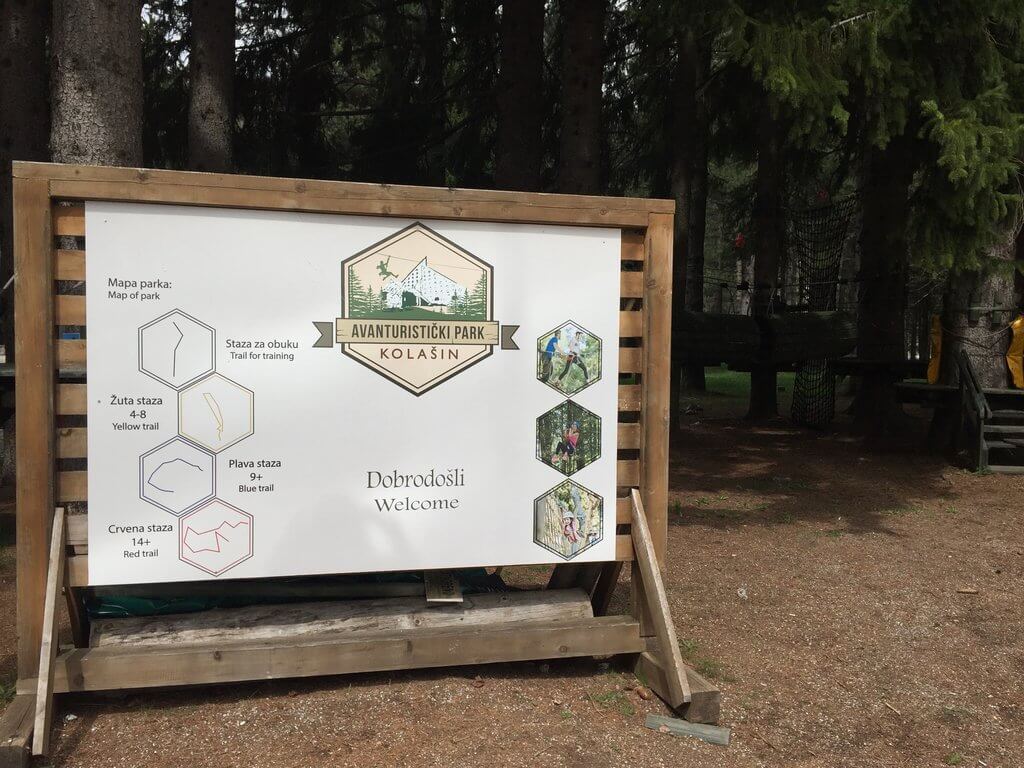 Next to Bianca Hotel and Resort, you'll find a tree-tops ropes course that's ideal for adventurous families. 
There are three difficulty levels to choose from:
Yellow trail: 4-8 years
Blue trail: 9+ years
Red trail: 14+ years
Address: Mirka Vešovića, Kolašin
Phone: +382 67 263 138
Hours: 9am – 6pm daily
Price: €6-10 per person
4. Horse Riding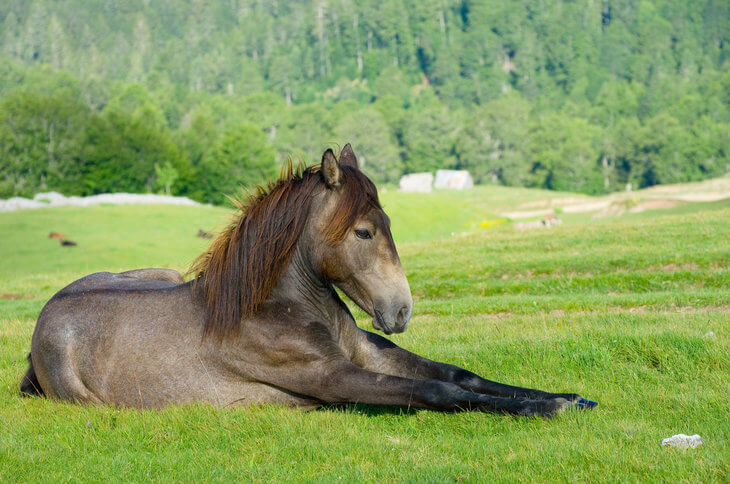 The gently rolling hills of Biograska Gora and Bjelasica are ideal for horse trekking. You can do a day tour or overnight tour on horseback:
5. Kolasin 1450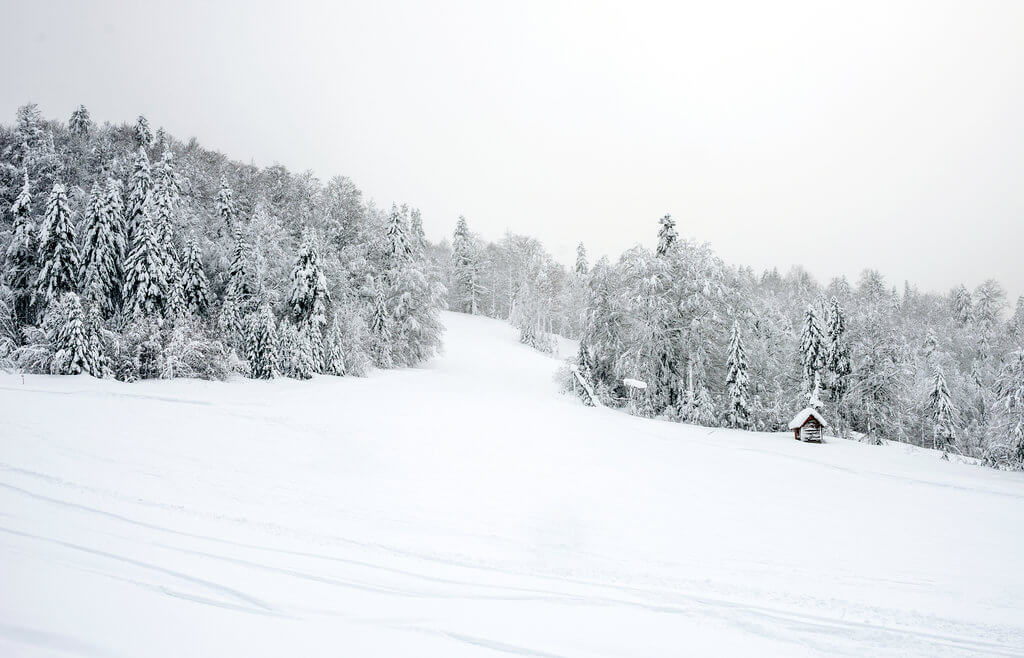 Kolasin 1450
Kolašin 1450 is Montenegro's most popular ski field and it's just a 15 minute drive from Kolašin centre. In winter Kolašin is buzzing with skiers from around Montenegro and Albania.
In summer you can ride the ski lift which brings you to just over 2,000m above sea level. From there, you can walk to Katun Vranjak, where you'll get panoramic views of Biogradska Gora National Park and the peaks and lakes of the Bjelasica Mountains.
6. Jeep Safari
You can take a jeep safari through Biogradska Gora National Park and the Bjelasica mountain range. The tour is a great way to explore these beautiful destinations, which you'd otherwise only be able to see by foot or with your own 4x4.
Along the way the tour also visits a katun, shepherd's huts that are traditional in this part of Montenegro. The tour takes you up Zekova Glava for panoramic views and you can swim in a lake in summer.
7. Botanical Garden
There's a small, privately-owned botanical garden where you can see examples of plant species from Montenegro's mountain regions. The garden is a passion project and run by husband and wife, Zora and Daniel Vincek. Although it's privately owned, visitors are welcome.
Address: Put Braće Vujisic, Kolašin
Hours: 24 hours
Entrance: free
8. Partisan Memorial Cemetery Breza
During World War II Kolašin was heavily bombed by Germany and Italy. During the war, around 1400 soldiers from Kolašin fought in the war and 400 of them were killed. The Partisan Memorial Cemetery is dedicated to patriots from all over Montenegro who were imprisoned and killed here.
The memorial is another good example of Brutalist architecture.
Addresss: Partisan Memorial Cemetery, Breza
Hours: 24 hours
Entrance: Free
9. Stara Barutana
Stara Barutana (the old magazine) is the ruin of a gunpowder magazine built in the 19th century. By this time the writing was on the wall for the Turkish Ottoman Empire, so the Orthodox Greek who designed the building built a cross-shaped base so that it could be turned into a church once Kolašin had been freed from the Turks. 
Unfortunately for the Greek soldier his Turkish commander realised what he'd done and executed him immediately. Today, there's little left of the building but you can get great views of the town and river from the site.
Address: Stara Barutana, Vinića Brdo
Hours: 24 hours
Entrance: Free
10. Biogradska Gora National Park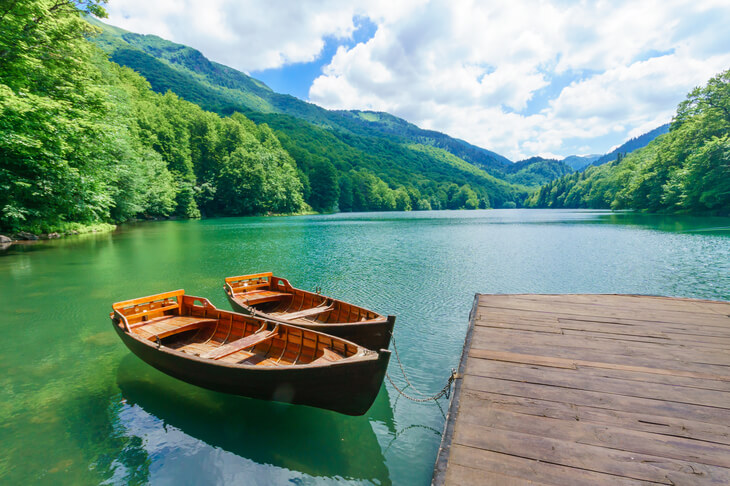 Biograska Gora is the main reason people come to Kolašin. It's one of only three virgin forests left in Europe and you can go hiking, biking, boating, fishing, horse riding, visit traditional katuns (shepherds' huts) and go off-roading.

11. Đurđevića Tara Bridge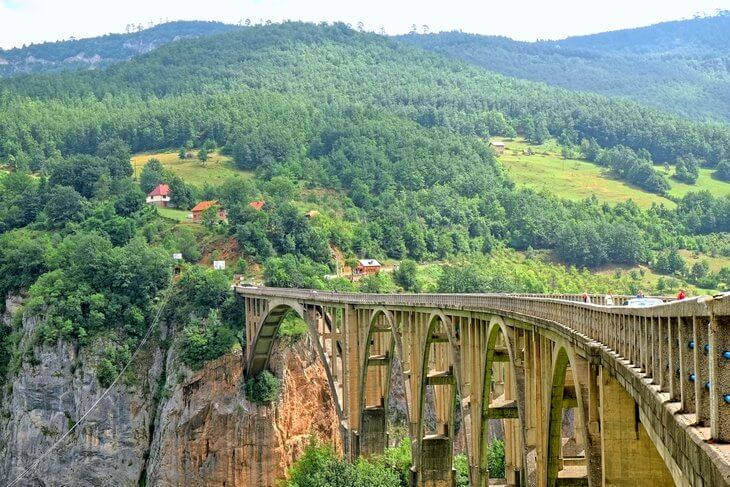 The Đurđevića Tara Bridge joins the two sides of the Tara Canyon and it's the ideal stop if you're travelling between Žabljk and Kolašin. 
From the bridge, which you can walk along, you'll get magnificent views of Tara Canyon. You're surrounded by lush greenery, below you are the rapids of the Tara River, known as the 'Tear of Europe' because it's so clean and there are just a few villages dotted among the forest and rolling hills.
You can also zip line across the canyon. And since it's the deepest canyon in the world after the Grand Canyon in the US, it'd be a shame not to!
12. Mrtvica Canyon
When you find out Mrtvica Canyon means 'Canyon of the Dead', you'd be forgiven for imagining some dry, desert wasteland. 
On the contrary, Mrtvica Canyon is another lush, green canyon with rushing rapids and fairy tale-like scenery. Just watch this video to see what I mean.
You can hike Mrtvica Canyon either on a guided tour or on your own:
---
Accommodation in Kolasin
Hotels in Kolasin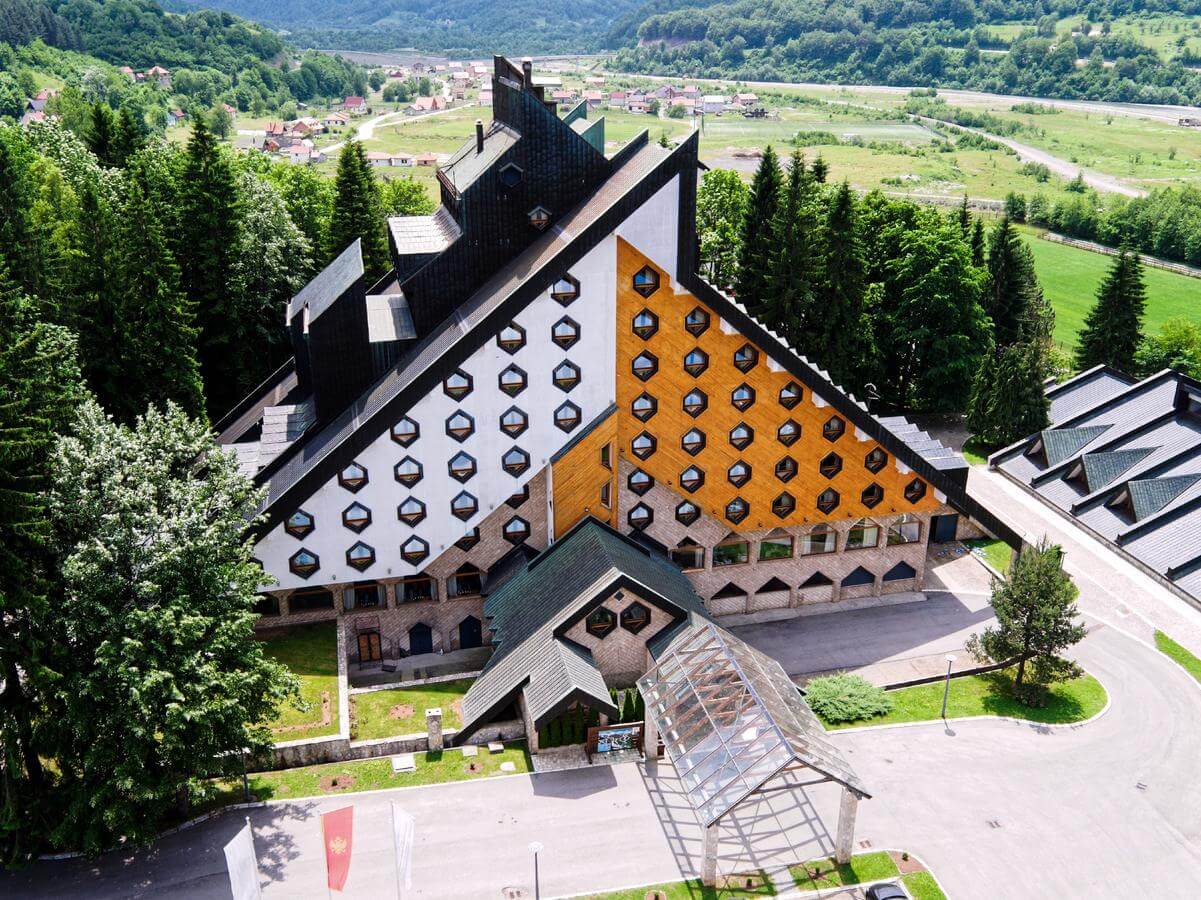 Bianca Resort and Spa
There are two four star hotels in Kolašin:
Bianca Resort and Spa – a large four-star resort a few minutes' walk from the centre of town. This hotel is surrounded by forest and has a real alpine chalet feel. Indoor and outdoor pools (including a shallow kids' pool), Jacuzzi and spa make this a great family hotel. The traditional Montenegrin rugs and wooden furniture add a nice touch.
Four Points by Sheraton – a modern four-star hotel in the centre of Kolašin. There's no pool here, but there is a Jacuzzi and spa centre with massages and a steam room. There are also indoor and outdoor play areas for kids.
Self-Catering Accommodation in Kolasin
You'll find lots of self-catering chalets and small family-run guesthouses in Kolašin too. Here are some recommendations:

Stone Lodge - modern stone and wood lodge 1.5km (1mi) from Kolašin
Chalet Kolašin – modern one- and two-bedroom apartments walking distance to town  
MM Lodge - comfortable 3-bedroom lodge that sleeps seven people
Faro di Montagna - a cute nest of wooden chalets on the banks of the river in Kolašin
Amazing Chalet in Kolašin Montenegro (that's seriously it's name) - the perfect chalet for a family
Lodge House Tara - a cosy log house across the road from Kolašin River
Search More Accommodation in Kolasin
---
Restaurants in Kolasin
Since Kolašin isn't very touristy (yet), prices here are cheaper than on the coast. Coffee in a local café still goes for about 50c and you can get a plate of fries or pancakes for about €1.50. 
But it's worth spending a little more and visiting two traditional restaurants to try some local fare. Local specialties to try here include:
Layered cheese
Kajmak - similar to clotted cream
Buckwheat, barley and cornbread
Lamb sač - slow-roasted under an iron dome results in succulent, falling-off-the-bone meat
Kačamak - maize porridge
Cicvara - cornmeal mixed with kajmak
Pies - thin layers of pastry filled with regional cheese, meat or vegetables
Konoba Amanet
Amanet is a hidden gem about 3km from town. First you'll be greeted by the resident, snow-white Samoyed who's only too happy to pose for photos.
The restaurant is a wooden log house decorated with traditional Montenegrin wooden furniture. There's a range of traditional tools and household items decorating the walls and ceiling beams. In summer you can sit in the huts overlooking the river. The food here is fantastic and very affordable. 
Address: Kolasin, Montenegro
Phone: +382 68 140 140
Hours: 8am - 11pm daily
Restoran Vodenica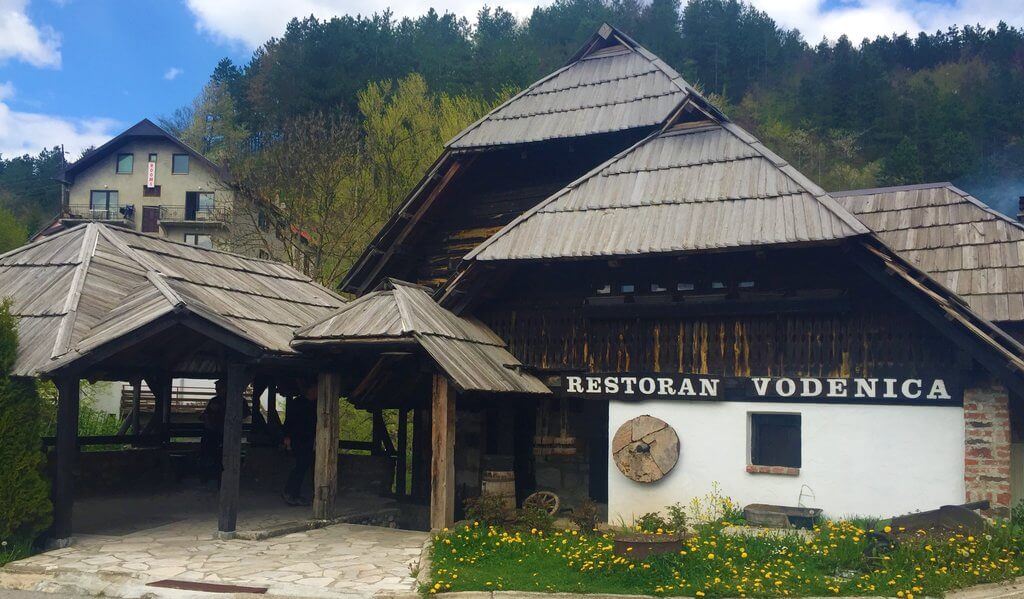 Restoran Vodenica is the old town mill on the banks of the river. People used to gather here to mill their grain.
You head up a flight of creaking stairs to what feels like a baba's (grandma's) dining room. And you'll get food just as comforting as your grandma's!
The 'meat in peasant mode' (that's literally what it says on the menu) is to die for, as is the homemade bread. You get huge plates of fresh salad and roast potatoes.
If you want to try some traditional specialties go for veal soup, prebranac (beans), kačamak or cicvara (maize or cornmeal porridges), popara (bread cooked with kajmak cheese, butter and milk), roast meat, sausages and kajmak cheese.
Address: Kolasin, Montenegro
Phone: +382 69 241 507
Hours: 7am - 11pm daily

Savardak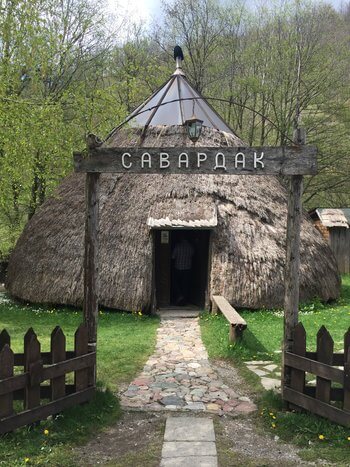 Savardak is about as authentic as it gets. It serves traditional meals in a traditional savardak hut by the Kolašin river. The setting is lovely and it's great if you're keen to try some traditional kačamak or cicvara.
This restaurant is generally highly rated but there are some common complaints. The dark, smoky interior, poor service, lack of English and no child-friendly dishes. The kačamak is very good, but beware that it, along with the cicvara and popara, is only available in portions for two at €16 each, so if you're a couple you can't take two different dishes to share.
Address: Kolasin, Montenegro
Phone: +382 69 051 264
Hours: 9am - 9pm daily

---
Getting to Kolasin
By Car
Kolašin is 72km from Podgorica, 136km from Budva and 157km from Kotor. 
The best way to get there is by car. That way you'll be able to visit Biogradska Gora and other nearby attractions. From Podgorica it's a beautiful drive up the Morača Canyon. I highly recommend stopping at the Montenegro Animal Sanctuary along the way too.
Read More: Rental cars in Montenegro
By Bus
There are regular intercity buses from around Montenegro and Serbia. You'll find bus timetables and you can buy tickets online at busticket4.me.

By Train
Kolašin has a train station and sits on the route between Belgrade and Bar. This train journey is consistently ranked among the best in Europe for its stunning scenery.
There are two trains daily in both directions so you can choose between daytime or night time trips. The trains are modest, there's no first-class, but there are sleeper cabins.
Tickets cost around €40 each way and you can find more information on the Serbian Railways website.
---
Weather in Kolasin
Temperatures in Kolašin are generally a bit cooler than on the coast. The daytime temperature in summer is usually a pleasant 20 – 25°C (68 – 77°F). Unlike on the coast, it can get very cold at night, even in summer, when the temperature regularly drops to 5 – 10°C (41 – 50°F). So even if you're planning a summer visit you'll need to pack appropriate clothing.
As a winter resort, Kolašin is covered in snow all winter. Generally snow cover goes from November to April, but it varies year to year.
---
Related Articles
Book Your Trip With My Recommended Providers