Biogradska Gora National Park
(This post may contain affiliate links. Find more info in my disclaimer.)
Biogradska Gora is the smallest of the national parks of Montenegro and is located in the north east of the country.
The small town of Kolasin is nearby and the best place to stay if you're wanting to stay in this area. The park has a visitor's centre on Lake Biograd, which is about 20km outside of Kolasin, in the national park. 

Top Things to Do in Biogradska Gora
Hiking
| | |
| --- | --- |
| There's a nice, easy walk around the lake which takes about an hour. You'll also find more difficult trails available if you're looking for something more challenging. The trails average 12km each and there are various trails which can take up to six days.  | |
If you're interested in hiking in Montenegro, we recommend Rudolph Abraham's book The Mountains of Montenegro.
You can also contact the visitors centre for information on hiking in the area on npbiogradskagora@nparkovi.me. 
Boating
You can rent a boat on Lake Biograd for the very reasonable price of €8 an hour.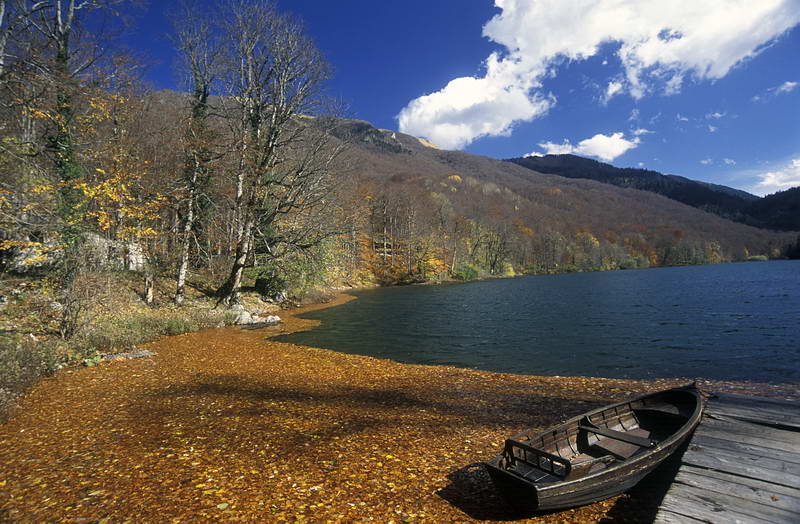 Skiing
Biogradska Gora is the other of two national parks of Montenegro with a skifield. Kolasin is Montenegro's most popular ski resort in winter and is well equipped with accommodation and restaurants. There are six lifts in total including the baby lift.
Eating and Drinking
One of the highlights of heading into the mountains and national parks of Montenegro is the food. Kolasin is a great place to try some hearty, Montenegrin mountain food such as pasulj (beans), sarma (mince and rice stuffed cabbage or vine leaves) or lamb cooked in milk.

Local's Tip: Pasulj and sarma are Montenegrin specialities I highly recommend trying when you're in the mountains - they're delicious!

Sarma

Pasulj (beans)
Where to Stay
Kolasin is the best place to stay if you want to visit this national park. It's a small town right on the edge of the park and has good quality hotels and restaurants. The town is more peaceful during the summer time, but is buzzing in winter when it becomes Montenegro's most popular ski resort.
The town is a bit run down in general but you can see remnants of Montenegro's communist past here in the monuments and buildings. There are lots of chalets that are full during the ski season but a lot less busy during the warmer months, these 
Hotels
Bianca Resort is by far the largest and best hotel in Kolasin.
Other good quality hotels are Hotel Cile and Djevojacki Most.
Apartments, Motels and Bed and Breakfasts
Click here for other accommodation options in the area.

---
Home

>
Mountains of Montenegro
> Biogradska Gora National Park
---
help the stray animals of Montenegro
Book your accommodation anywhere in the world through any of the search boxes on our site and we'll make a donation towards sterilising stray animals in Montenegro. 
It costs you nothing, and you get the biggest selection and lowest prices guaranteed. It's a win-win!