Montenegro Pulse contains affiliate links and is a member of the Amazon Services LLC Associates Program. If you make a purchase using one of these links, I may receive compensation at no extra cost to you. See my disclaimer for more information.

Biogradska Gora National Park Travel Guide: Best Things to Do (2023)
Discover Biogradska Gora National Park. Everything you need to know about visiting one of Europe's last virgin forests. What to do, where to stay, how to get there and much more!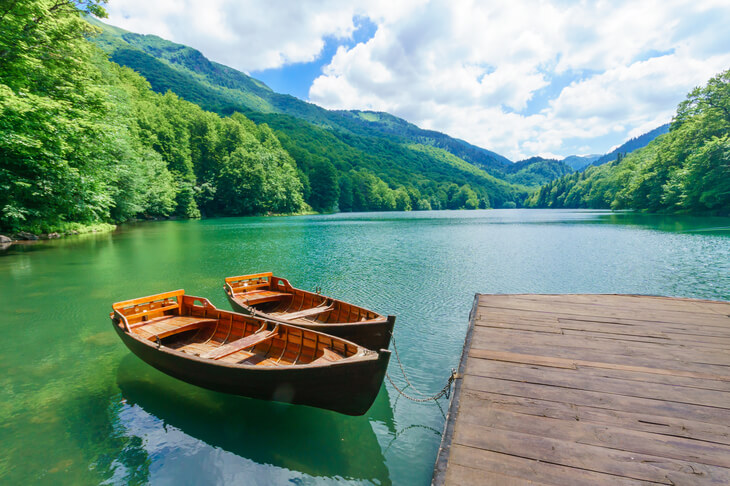 Lake Biograd
Biogradska Gora National Park makes for a great day trip from Podgorica or a relaxing stopover as part of a round-Montenegro itinerary. Aside from the national park, there are lots of natural and cultural attractions in the area that you can add to your itinerary.
And while Durmitor National Park is more popular, because it's a shorter drive from the coast, Biogradska Gora competes solidly on scenery and offers a less-crowded experience.
---
About Biogradska Gora National Park
Biogradska Gora National Park is the smallest of Montenegro's five national parks, but it packs a lot into its 5,650 hectares.
The rainforest, which covers 1,600 hectares of the park, is one of only three remaining virgin forests left in Europe, and trees in the forest are up to 60m tall and 400 years old.
Despite its size, it's rich in biodiversity with 2,000 plant species, 200 bird species, 80 species of butterfly, 350 insect species as well as mammals like wolves, bears, foxes, deer, squirrels and dormice.
The park's existence is largely thanks to Montenegro's King Nikola I, who, after liberating the area from Ottoman Turks in 1878, admired the area's beauty. That was enough for the locals to give it to him and he, in turn, gave it protection. In 1952 Biogradska Gora officially became a national park. 
Need to Know
Best time to visit: May to October
Biogradska Gora entrance fee: €3 per person. Children up to 7 years go free

Things to Do in Biogradska Gora National Park
Walk Around Lake Biograd
The walk around Lake Biograd
Lake Biograd's emerald green waters surrounded by forest were the spark for King Nikola's admiration, and not much has changed today. 
When you drive into the park you'll follow the gently winding road through the forest until you come to the parking area next to the lake. You can park here for free. This is the gateway to the rest of the park and where you should start your exploration. 
Lake Biograd is the biggest and most accessible of the six glacier lakes in the park and there's an easy 3.5km walk around the lake. Along the way you'll find signposts with information about the park and the plants and animals that are found there.
Lake Biograd Boats
You can also hire boats from the hut next to the lake and row out onto the lake. This is a great option for families with kids who are too small to make the 3.5km trek around the lake. 
The wooden row boats cost €8 per hour come with life jackets. An hour is just enough time to take a leisurely row around the lake.
Tourist Train
Another favourite with families is the tourist train which takes you from the park entrance at Kraljevsko Kolo to Lake Biograd. You can park at the entrance to the park and instead of driving, jump aboard the open-air train and listen to information about the park on the 3.5km journey to the lake. The train ride is free of charge and included with your park entrance fee of €3 per person (children up to 7 years are free).

Biogradska Gora visitors Centre
A little back from the lake, in a wooden building, you'll find the visitors centre, which only takes 10 minutes to visit and is well worth seeing.
Inside you'll find a room set up with examples of traditional furnishings from this area. In the main part of the centre you'll find information about the park and the species that live there.
Beside the visitors centre there's a 21m high lookout where you can get elevated views of the lake and park.
Hours: 9am - 5pm daily, May to October.
Biogradska Gora National Park Hiking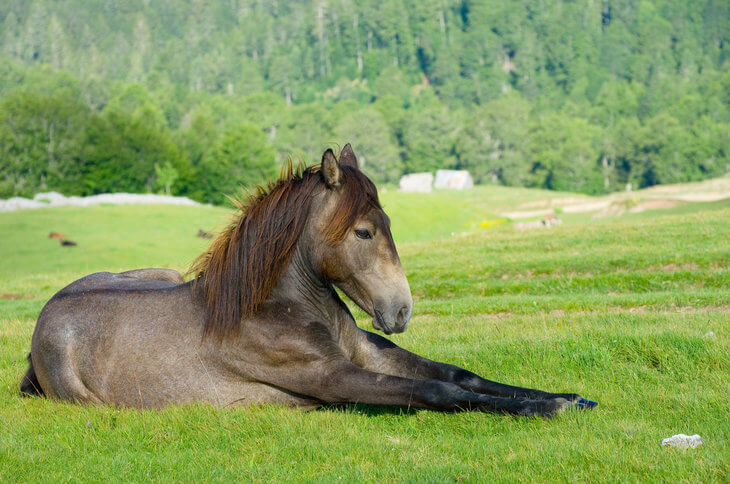 The rolling hills of Biogradska Gora and the Bjelasica mountains
Biogradska Gora National Park and neighbouring Bjelasica range are fantastic places to do some hiking. There are several hiking trails in the park of varying difficulty. The trails lead to mountain peaks and or glacier lakes, which offer the most stunning scenery.
Hiking this area also gives you the opportunity to visit katuns, which are cultural highlight for visitors in this area. Traditionally, people from this region would bring their livestock to graze in these summer pastures and they'd stay in katuns, small groups of wooden shepherd's huts.
Now, often retired from their original purpose, the katuns are an excellent way to experience the region's tradition, culture and awesome hospitality. Staying in a katun is the logical choice if you're hiking in the area. They're ideally situated among the hiking trails and offer you the chance to experience the traditional, rustic food and lifestyle. 
Book a stay in a katun:
To get great views of Biogradska Gora head to these lookouts:
Crna Glava, 2,139m: views of Pešića Lake and Usurlovačko Lake
Zekova Glava, 2,117m: views of Pešića Lake and the peaks of Crna Glava, Borova Glava and Cmiljeva Glava
Bendovac, 1,774: views of Lake Biograd and the katun Dolovi Lalovi

ća
Here are the recommended trails:

Lake Biograd to Dolovi
Route:
Lake Biograd
Bendovac
Dolovi
Length: 8km
Difficulty: medium
Time required: 2 hours

Bjelojevića rijeka to Jelovica

Route:
Bjelojevića River
Lanista
Jarčeve Strane
Katuni Biogradsko Jezero
Bendovac
Dolovo
Svatovsko Groblje
Jusin Brijeg
Provalija
Kota2019
Crna Glava
Pešića Jezero
Jelovica
Length: 35 km
Difficulty: medium
Time required: 8 hours
Šiška to katun Vranjak

Route:
Šiška
Katun Šiška
Ursulovac
Crna Glava
Zekova Glava
Katun Vranjak
Length: 18 km
Difficulty: medium
Time required: 4 hours 
Kolašin to Kraljevo kolo

Route:
Kolašin
Bakovica Klisura
Trebaljevo
Goles
Ravni Jeljak
Biogradska Gora
Biogradsko Jezero
Kraljevo Kolo
Length: 7 km
Difficulty: medium
Time required: 3 hours
Kolašin to Crna glava

Route:
Kolašin
Basanje Brdo
Melaja
Lica
Kordelj
Jagnjačar
Jagnjačarska Bara
Savina Bara
Kota2077
Crna Glava
Length: 12 km
Difficulty: medium
Time required: 3 hours
Bjelasica-Troglava-Zekova Glava Hiking Tour
Guided hike through Biogradska Gora National Park and Bjelasica mountain range to Zekova Glava mountain, which overlooks Pešića Lake. The tour includes a traditional meal in ethno village Vranjak.

If you're interested in hiking in Montenegro, Rudolph Abraham's book The Mountains of Montenegro.is must read. It's full of detailed information about the best hikes in Montenegro.
Mrtvica Canyon
Mrtvica Canyon lies between Biogradska Gora National Park and Podgorica, so it's not inside the national park. But if you want to do some hiking in the area you'll definitely want to check this one out. Click here for more information.
Hire Equipment
You can hire the following equipment from the hut next to the lake:
Guide: €60 for four hours or €100 for eight hours
Hiking sticks/trekking poles: €3 per day
Snow shoes: €4 per day
Biogradska Gora Jeep safari
If you have a 4wd there is a 30km round trip through the countryside. You can get information about the route and current conditions at the information centre. The price to use the trail is €20 per vehicle or €10 for a shortened trail.
If you don't have a 4wd you can also do the jeep safari tour from nearby Kolašin. 

Horse Riding
The gently rolling hills of Biograska Gora and Bjelasica are ideal for horse trekking. You can do a day tour or overnight tour on horseback:
Biking Biogradska Gora
Free Ride Trail Biogradska Gora
Route:
Length: 1.1 km one way

Cross Country Trail Biogradska Gora
Route:
Length: 4.1 km
Time required: 45 minutes
Dvije Glave i Pet Jezera – Two Peaks and Five Lakes

Route:
Lake Biograd
Dolovi Lalevića
Svatovsko Groblje
Jusin Brijeg
Savina Bara
Jaževi (the start of the Biograd River)
Jagančarske Rupe
Zekova glava and Troglava
Katun Vrnjak
Zekova Glava
Crna Glava
Galica
Suvodo mountain hut
Jezerine
Katun Suvodo
Katun Šiška
Šiško Lake
Ševarina Lake
Reljina
Jusin Brijeg
Biogradsko Jezero
Length: 63km 
Time required: 8-9 hours
Top Biking Trail 3
Top Biking Trail 3 is one of a series of biking trails around Montenegro. This one leads from the turn-off on the E65 to Lake Biograd.

You can hire good quality mountain bikes from the information centre for €3 per hour or €10 per day.
More resources for biking in this region:
Find out where to get maps at the bottom of this page.
Fishing
There are two places you can go fishing in the park: Lake Biograd and fly fishing in the Tara River (catch and release only). Fishing permits cost €20 per day.

More Things to Do Near Biogradska Gora National park
Đurđevića Tara Bridge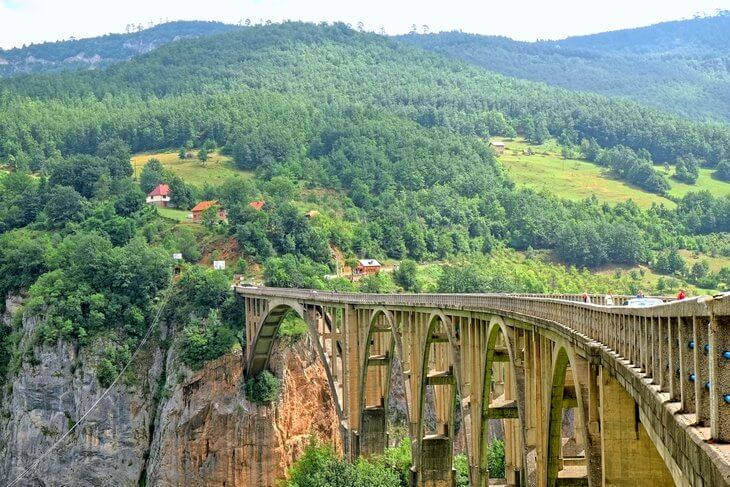 Đurđevića Tara Bridge
The Đurđevića Tara Bridge was once the highest vehicular concrete arch bridge in the world. It connects the two sides of the Tara Canyon and it's a great place to admire the Tara Canyon. You can walk out onto the bridge and get stunning views of the river and lush, green canyon below.
You can also zipline across the canyon!
Morača Monastery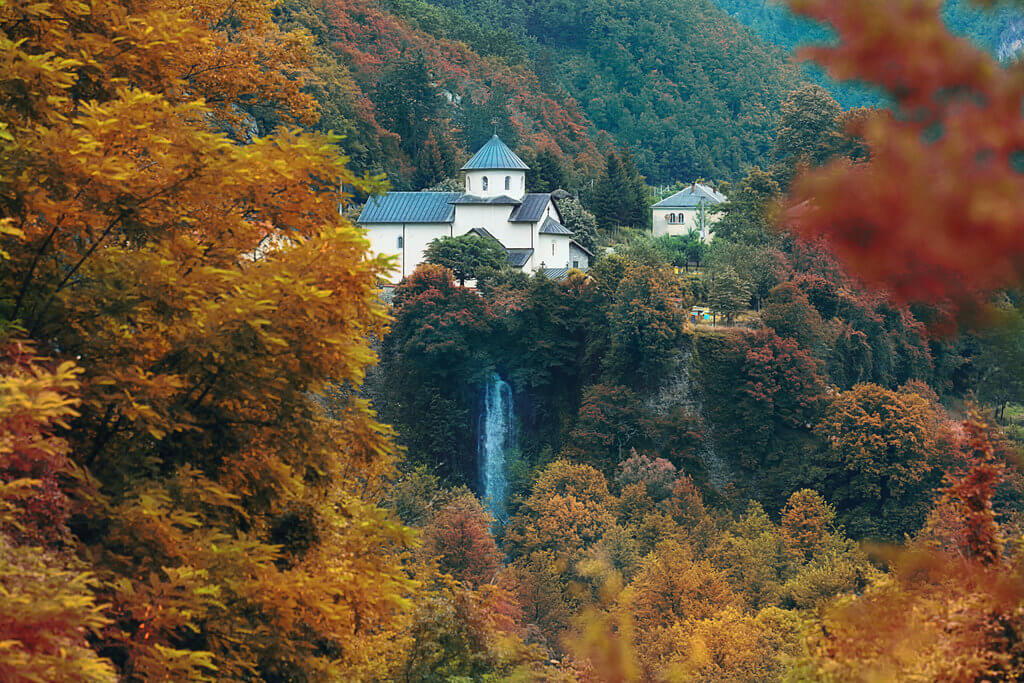 Morača Monastery
The drive from Podgorica to Biogradska Gora National Park is a beautiful drive that follows the Morača Canyon.
Near Kolašin you'll come to Morača Monastery, which was built in 1252 by Stefan Vukanović, the Serbian king of the Nemanjić Dynasty.
The monastery's location was chosen for the waterfall that cascades out of the rock and into the canyon below and it's a beautiful place to visit. You can walk around the monastery grounds, visit the old and new churches and enjoy a picnic beside the canyon.
Address: Morača Monastery, Kolašin
Mrtvica Canyon
Mrtvica Canyon translates as 'Canyon of the Dead' but don't let that put you off. This canyon is a stunning 16km hike that takes you along the river, through a fairy gate and a man-made rock tunnel.

Self-guided Mrtvica Canyon Hike
Click here to read a great guide to hiking Mrtvica Canyon on your own.
Guided tours to Mrtvica Canyon:
Address: Mrtvica Canyon, Kolašin
---
Biogradska Gora National Park Accommodation
The best place to stay near to Biogradska Gora National Park is Kolašin, a town around 20km from the park. Kolašin is the gateway not only to Biogradska Gora, but to Kolašin 1450 ski field so you'll find lots of accommodation and restaurants there. 
The town is busiest during ski season, but is pleasantly busy during the warmer months.
Top Hotels Near Biogradska Gora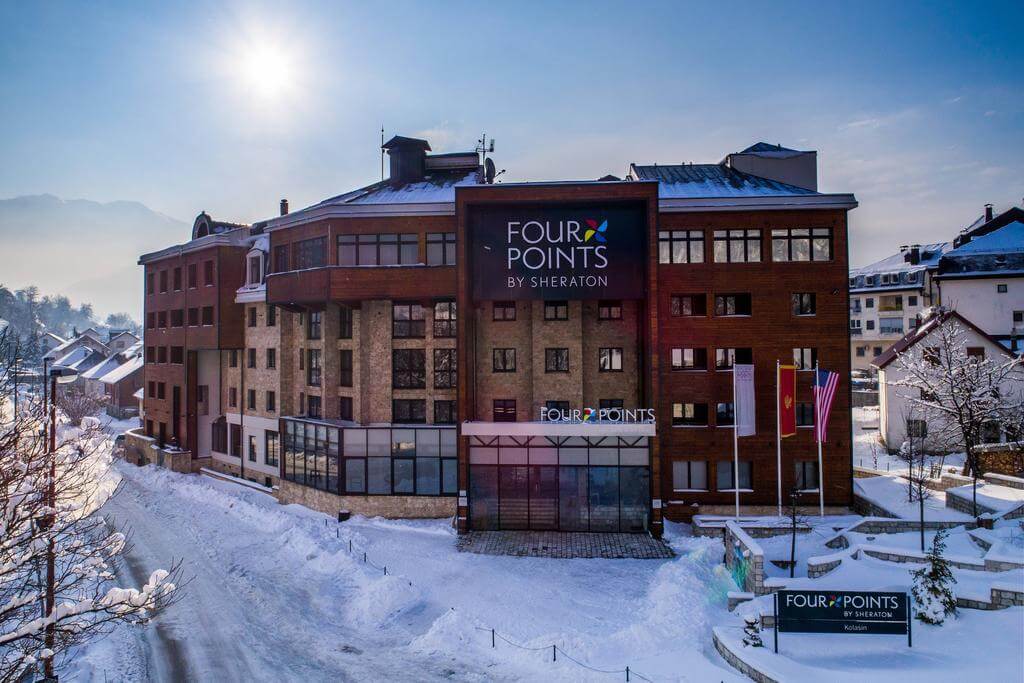 Four Points by Sheraton Kolasin
Self-Catering Accommodation near Biogradska Gora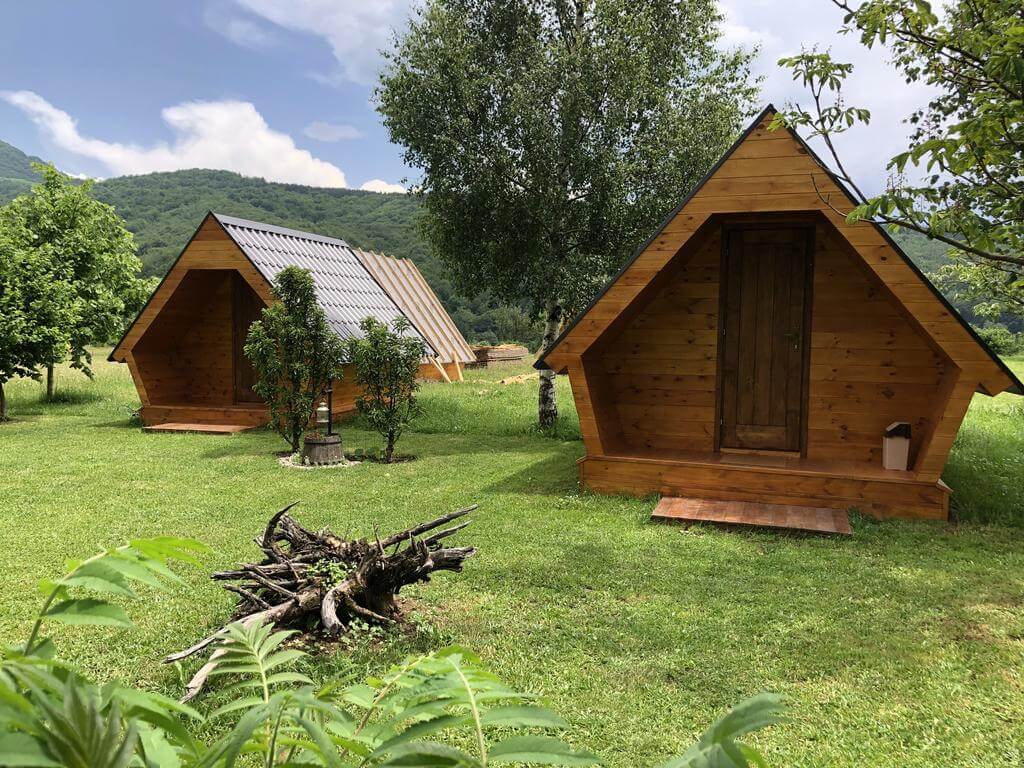 Blue Village Holiday Park
You'll also find lots of good-quality self-catering accommodation around Kolašin and the national park:
If you like rustic and rural try one of the ethno villages or bungalows where you can stay in a log cabin surrounded by the green, rolling hills this area is known for.
Here are some recommendations:
Blue Village - holiday park with outdoor pools and rural views
Art Apartments Minic - unique, mushroom-shaped bungalows
Biogradska Gora National Park bungalows - if you want to stay inside the national park there are 12 bungalows available for rent around Lake Biograd. You can choose between bungalows that sleep two or three and they cost €10 per person per night. You can rent them at the entrance to the park or at the park ranger hut by the lake
Biogradska Gora National Park Camping
There is a campsite at Kraljevo Kolo, which is the entrance to the park. There's space there for both tents and mobile homes and the price to camp here is €10 per day.
You can also camp elsewhere in the park. It costs €3 per day to get a permit to camp in a tent in the park and if you want you can hire a tent for €8 per day from the hut next to the lake. A permit to stay in a mobile home  in the park costs €10 per day.
It also costs €5 per day for a permit to light a fire and the price includes fire wood.
You need to buy your permits at the park entrance and the park ranger hut by the lake.
---
Where to Eat
One of the highlights of heading into the mountains and national parks of Montenegro is the food. It's hearty and unique comfort food that's just what you need after a day in the wilderness. 
There's a restaurant overlooking the lake a few minutes' walk from the dock on Lake Biograd. But, comparing to the prices in Kolašin, and even the rest of Montenegro, the prices in the restaurant are expensive: €2.30 for an espresso, €2.40 for a cappuccino and €2.80 for a Coke or juice. If you've been used to paying 50 cents for coffee in Kolašin you'll get sticker shock here.
However, comparing to elsewhere in Europe €2.80-4 for a beer, cider or even whiskey or gin is still pretty cheap and it does come with a great view.
Restaurants in Kolašin
You'll find more good restaurants in Kolašin. And since the town isn't too touristy yet, the prices are very cheap. At a local café in town espresso coffee costs 50 cents and a plate of fries is €1.50. 
But, it's worth spending a little more and visiting two traditional restaurants to try some traditional meals. Local specialties to try here include:
Konoba Amanet
Amanet is a hidden gem about 3km from town. First you'll be greeted by the resident, snow-white Samoyed who's only too happy to pose for photos.
The restaurant is a wooden log house decorated with traditional Montenegrin wooden furniture. There's a range of traditional tools and household items decorating the walls and ceiling beams. In summer you can sit in the huts overlooking the river. The food here is fantastic and very affordable. 
Address: Kolasin, Montenegro
Phone: +382 68 140 140
Hours: 8am - 11pm daily
Restoran Vodenica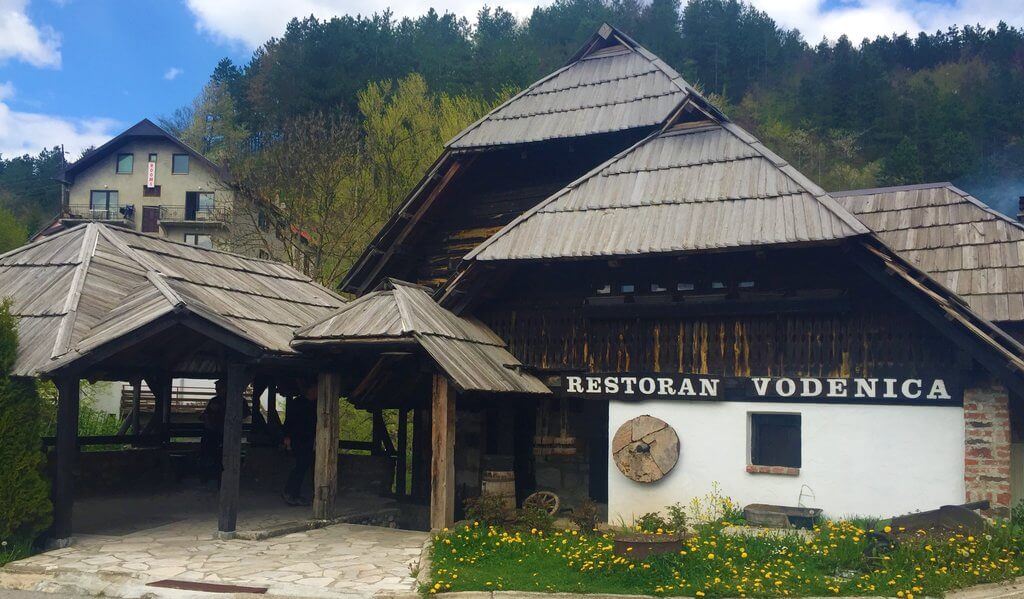 Restoran Vodenica is the old town mill on the banks of the river. People used to gather here to mill their grain.
You head up a flight of creaking stairs to what feels like a baba's (grandma's) dining room. And you'll get food just as comforting as your grandma's!
The 'meat in peasant mode' (that's literally what it says on the menu) is to die for, as is the homemade bread. You get huge plates of fresh salad and roast potatoes.
If you want to try some traditional specialties go for veal soup, prebranac (beans), kačamak or cicvara (maize or cornmeal porridges), popara (bread cooked with kajmak cheese, butter and milk), roast meat, sausages and kajmak cheese.
Address: Kolasin, Montenegro
Phone: +382 69 241 507
Hours: 7am - 11pm daily

Savardak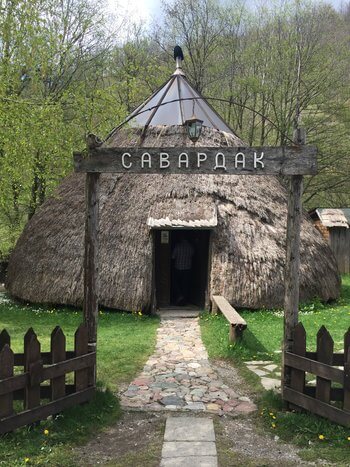 Savardak is about as authentic as it gets. It serves traditional meals in a traditional savardak hut by the Kolašin river. The setting is lovely and it's great if you're keen to try some traditional kačamak or cicvara.
This restaurant is generally highly rated but there are some common complaints. The dark, smoky interior, poor service, lack of English and no child-friendly dishes. The kačamak is very good, but beware that it, along with the cicvara and popara, is only available in portions for two at €16 each, so if you're a couple you can't take two different dishes to share.
Address: Kolasin, Montenegro
Phone: +382 69 051 264
Hours: 9am - 9pm daily

---
Getting to Biogradska Gora National Park
By Car
The best way to get here is with your own car or a rental car. To get to Biogradska Gora take the E65 along the Tara River and turn off at the blue bridge that's sign-posted with Biogradska Gora National Park.
By Bus
Get the local bus from Kolašin or Mojkovac and ask to be let off at the turn off for Biogradska Gora National Park. It's around an hour's walk (5km) from the main road to the lake. It's a 20-30 minute walk to the entrance to the park where you'll need to pay your €3 entrance fee. This is where the open-air train starts so this will shorten your walk by 3km.

By Train
The Bar-Belgrade train stops in Kolašin. You can get out there and either take tour, bus or taxi to the park.

---
Tours to Biogradska Gora National Park
Untouched Montenegro
The Black Lake, Durmitor National Park. Image: Deposit Photos
Explore Montenegro's stunning national parks and cultural gems on this privately guided full-day tour.
Start/finish: Kotor, flexible
Duration: 12-13 hours
Mrtvica Canyon Hiking Tour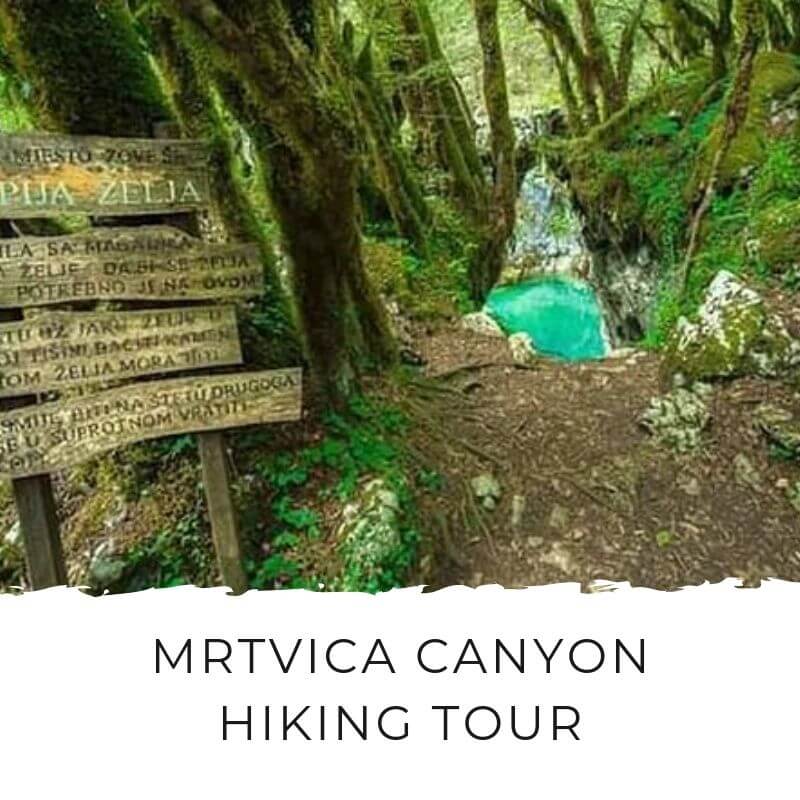 This tour includes a guided hike through Mrtvica Canyon, lunch at Morača Monastery and a two-hour stop at Biogradska Gora National Park.

---
Biogradska Gora Map
You can also find a good Biogradska Gora map at Mapcarta. You can choose between road and terrain, satellite and road, satellite and traffic views and download each. 

I also recommend downloading the Montenegro map from Google Maps onto your phone. You can use the map offline without a Wi-Fi connection.
Click here for instructions to do that.

---
Biogradska Gora or Durmitor National Park
If you have to choose to visit either Biogradska Gora or Durmitor National Park I can't give you a definitive answer. There are pros and cons for each, depending on your personal preference. Both parks are scenically stunningly beautiful and both have lakes that you can walk around and hire boats to row out on.

Durmitor National Park
Durmitor National Park is generally closer to the coast, at around 2 – 2 ½ hours' drive so you can fit it into a day trip, although you'll be able to see more if you stay overnight. It's also more popular and busier than Biogradska Gora. 
Žabljak, where most people stay when they're visiting Durmitor, is a busy little tourist town with a range of good restaurants and it's walking distance to the national park. It's also close to the Đurđevića Tara Bridge and you can join a rafting tour in Tara Canyon from there. 
There are a lot of foreign tourists in both Žabljak and at the Black Lake because it's a popular tour bus stop and lots of people stay there as they tour around Montenegro.
Biogradska Gora National park
Biogradska Gora is around 3 – 3 ½ hours' drive from the coast so it's not a popular day trip destination for people staying on the coast. Most people visiting the park will stay overnight. 
Kolašin, where most people stay when they're visiting Biogradska Gora, is less touristy in summer so it's less busy and it's more of authentic northern Montenegrin town
---
Related Articles
Book Your Trip With My Recommended Providers
Biogradska Gora National Park: Best Things to Do