The Climate of Montenegro And When To Plan Your Trip
This post may contain affiliate links which means that if you purchase through my link I may earn a small commission which helps to keep this site going. Thank you. You can find more info in my disclaimer.
The climate of Montenegro varies depending on where in the country you are. The geography ranges from the coastal regions in the south right up to mountain ranges in the north and the climate varies with it... So have a read through this page to get an idea of where and when would suit you best for a Montenegrin holiday.
discover kotor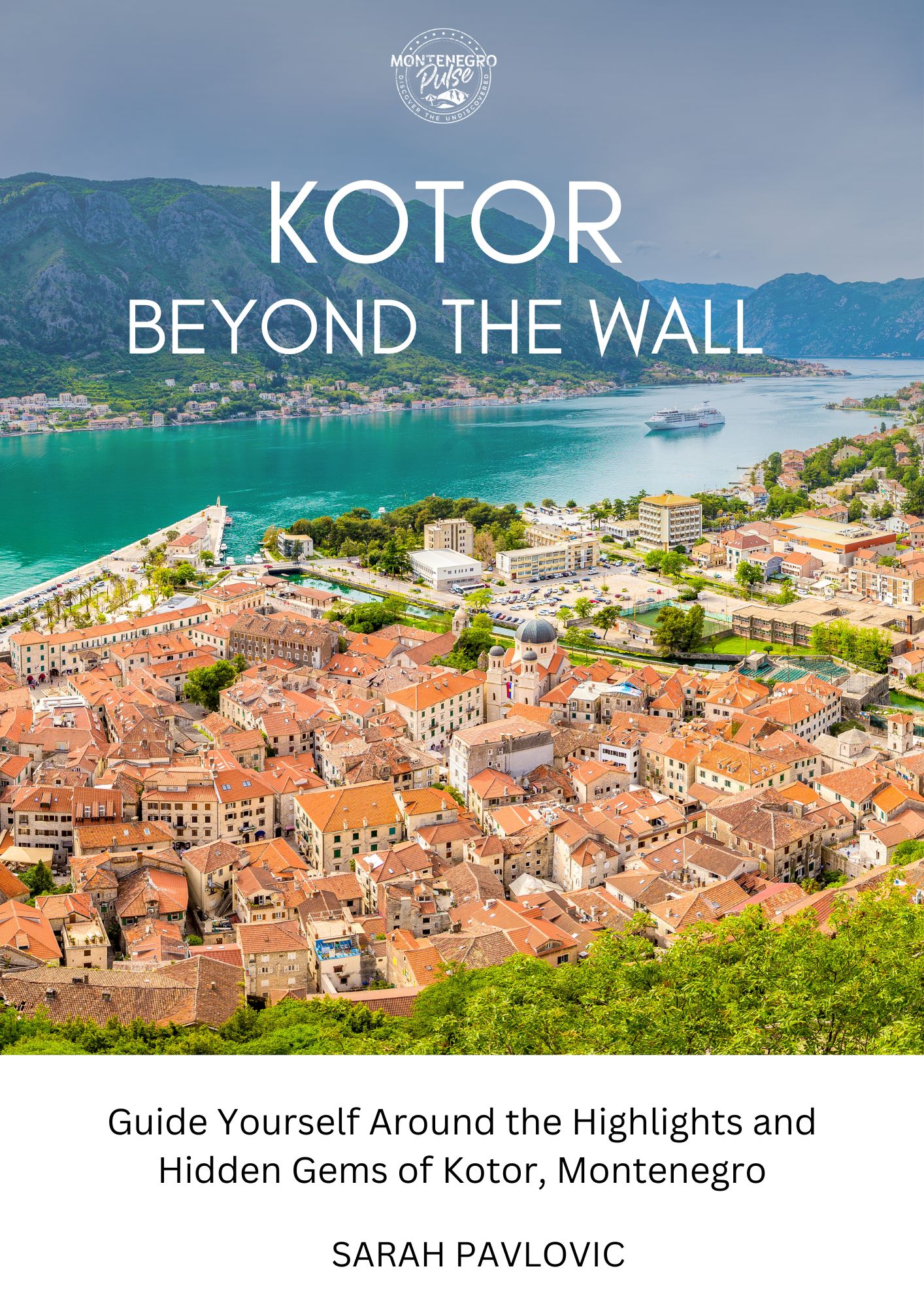 Guide yourself with the
"World's Best Guide to Kotor"
Top attractions
Hidden gems
Bonus walking tour
What to eat
Exclusive experiences
Essential visitor tips
When To Visit
Most people coming to visit will do so between April and the end of October. That's certainly when you'll find the most flight options, cruises and tours. 

Outside of these months you'll find that a lot of the facilities for tourists on the coast are closed over the winter. If you want to head into the more mountainous northern regions, such as Zabljak or Kolasin, you'll find these most busy during the winter ski season and pleasantly uncrowded the rest of the year.
The coastal areas from Herceg Novi to Ulcinj are the most popular regions to visit. However, people looking to get away from the tourist crowds and get a more complete Montenegrin experience also combine a trip into the interior with their stay.
Likewise, if you want to see some of the stunning scenery Montenegro is famous for, a day trip north is a must do.
The  trip to the Tara Canyon - like if you go rafting - will show you some of the best landscapes in Montenegro - lush green forest, lakes and rivers will give you no shortage of photo ops.
So, to the different of climates of Montenegro...
---
Climate of Montenegro Coast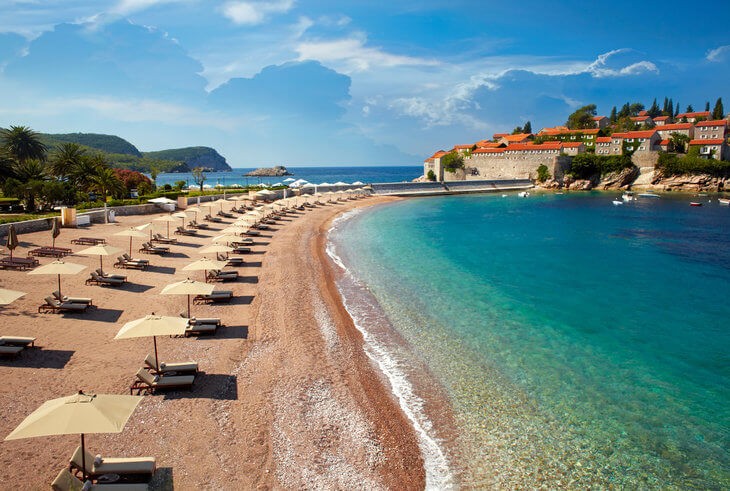 Sveti Stefan on the Budva Riviera
Along the coast the climate of Montenegro is generally Mediterranean which features hot, dry summers and mild winters.
Image: Deposit photos
Winter
In winter the temperatures range from lows of around 0°C (32°F) up to 15°C (59°F) during the day on fine days. You can get some amazing, sunny winter days where it's just perfect to sit outside in your sunnies and jacket, sip a coffee and read a magazine or watch the world pass by. In fact this is how we spend pretty much every fine Sunday morning in Kotor throughout winter!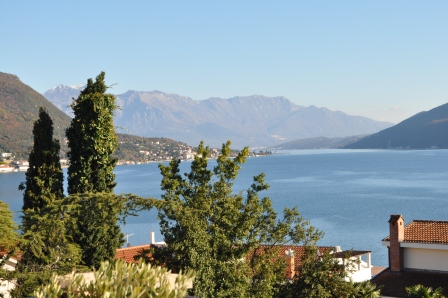 Christmas weather in Montenegro - not so much with the winter wonderland!
It can also rain bucketloads in winter, which is why the landscape is so lush. This is why visiting in winter can be a bit risky. The winter is also punctuated by a north wind that will ensure it won't rain, but definitely requires some insulating layers and tends to be gusty.

As it happens, as I'm writing this it's almost Christmas, it's a balmy 17°C and we have the doors and windows open with the sun streaming in! 
---
Summer
Now, for all that the winter climate of Montenegro on the coast is a mixed bag, the summers... Ohhhh the summers...
The summers on the coast are always hot and dry. If rain does come, it's in the form of a short, intense storm that will be over in an hour. The temperatures generally range between about 20°C at night and 39°C during the day (68°F - 102°F) in July and August and the sunshine is guaranteed. So if you want a beach holiday in the middle of summer with guaranteed sun, this is the place for you.
The summer months are usually still very warm in the evenings, perfect for walking along the beach to a restaurant overlooking the water or to your favourite ice cream parlour - there are plenty of both!
---
June & September
Our personal favourite times of year here are during June and September. The climate of Montenegro's coastal areas is a little cooler - around 20°C - 30°C or 68°F - 86°F during the day. You also have the benefit of uncrowded beaches and restaurants during these months. 
September is ideal. The water is warm from the summer sun and the beaches aren't busy.
---
May & October
May and October are generally perfectly fine for beach-going and swimming, but will be a bit cooler. If you are more of a sight-seer than a beach bum or want to do some hiking, these are the perfect months for you to plan your visit. 
Feel like scaling the old fortress walls above Kotor? May, June, September and October are perfect times to enjoy this walk.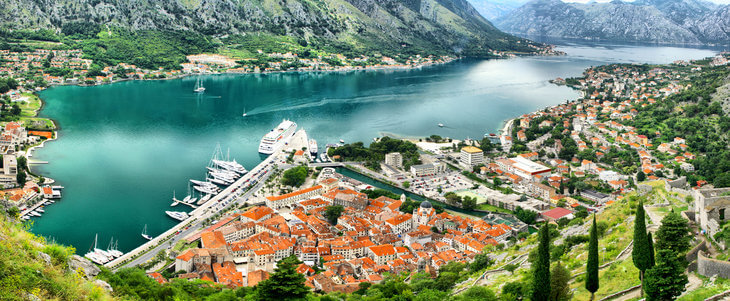 Image: Deposit photos
---
Climate of Montenegro Mountains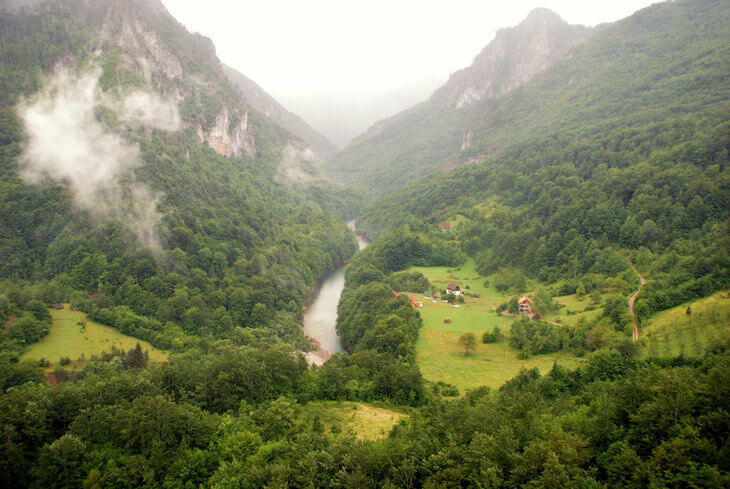 Image: Deposit photos
The climate of Montenegro's mountainous interior is quite different to on the coast. Here you'll find it's cooler in summer and much of it will be under snow for the entire winter. Heading into the mountains for some fresh, mountain air can be welcome change in the summer months, so consider a trip north even if you are coming for a beach holiday.
---
Zabljak & Kolasin
Kolasin and Zabljak are the best centres to head for. Both lie on national parks and are perfect for walking, hiking and generally recharging your batteries. In both you'll find good hotels, restaurants and English-speaking staff. Zabljak and Kolasin are both ski-centres during the winter. The temperatures here in summer range from around 20°C - 30°C or 68°F - 86°F during the day.
---
Lovcen National Park
If you want to take a day off swimming and sunbathing, but don't want to spend a lot of time driving or stay overnight, Lovcen National Park, close to Kotor, is the perfect day trip.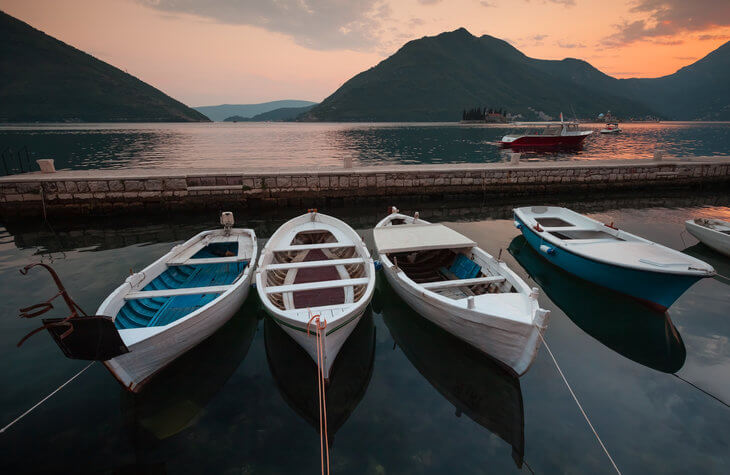 The view of Kotor from the road to Lovcen National Park
The most scenic route is the serpentine road (25 hairpin turns - you have been warned!) up from Kotor which will give you stunning views of Kotor and take you around up to Mount Lovcen and the national park. Here the climate is significantly cooler than on the coast, with snow cover all winter and milder temperatures in summer.
Another great way to cool off in summer is to spend a day rafting in the Tara Canyon. The climate of Montenegro's famous canyon (the second deepest in the world) is mild and pleasant and you'll spend an idyllic few hours surrounded by forest and enjoying some rapids.
---
What's the Weather like in Montenegro Right Now?
---
Related Articles
Visit Montenegro
Things To Do in Montenegro
Travel To Montenegro
Climate of Montenegro
help the stray animals of Montenegro
Book your accommodation anywhere in the world through any of the search boxes on our site and we'll make a donation towards sterilising stray animals in Montenegro. 
It costs you nothing, and you get the biggest selection and lowest prices guaranteed. It's a win-win!