The Ultimate Guide to Lake Skadar: Montenegro's Hidden Gem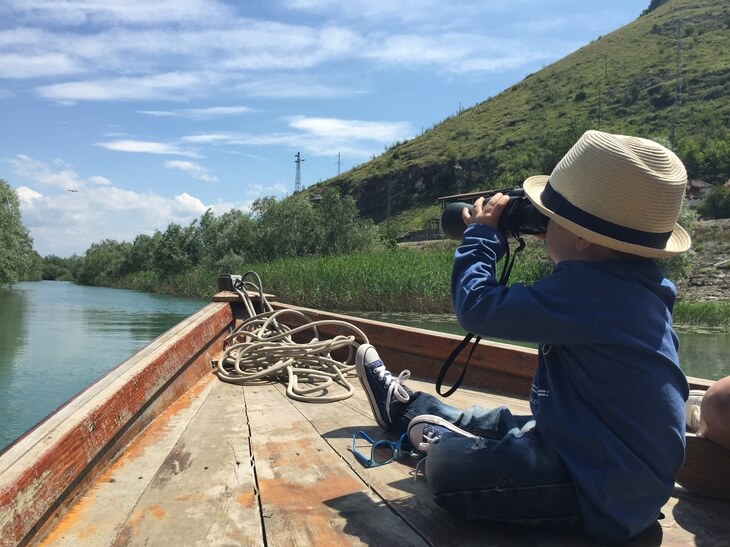 In many ways, Lake Skadar is the essence of Montenegro. While it's the coast that gets the majority of the attention, that only makes up a small part of Montenegro. When you step away from the sun-drenched beaches and coastal villages, you'll see a country that's based on a simple way of life:
Traditional family values
Simple, wholesome food
The art of wine-making

 

A lifestyle where there's no such thing as being in a hurry
This is everything that the Lake Skadar region represents. And it's here you'll be able to get a taste of the real Montenegro.
Lake Skadar is one of the largest lakes in Europe and is an absolute mecca for wildlife – especially birdlife. It's the largest bird reserve in Europe. One of the reasons it's so important because it's the last breeding ground of the endangered Dalmatian Pelican and Pygmy Cormorant. It's also a key resting place for birds migrating from northern Europe to Africa.
In fact, the lake is home to over 280 bird species and bird watching is one of the main attractions here. Depending on the time of year (autumn and winter are best for migratory birds), you'll see pelicans, cormorants, terns, herons and kingfishers among others.
Even if you're not into bird watching, just getting out on the lake in one of the flat-bottomed boats and seeing the wildlife is a great experience. It's one of the most memorable things we've done in Montenegro.
You float through lily pads, see ruins and fishing villages you can't get to from land. Not to mention the local guides always have a few interesting stories for the trip. 
The whole area of the lake and around the lake is a national park in Montenegro and there's a lot to see and do there, especially if you're into outdoor activities. You can cycle, hike, kayak, swim and eat your way around the lake.
Lake Skadar is also culturally significant to Montenegro and there have been people living here for centuries – as you can see by the stone ruins all around the area. It's been the seat of rulers and a hotbed of conflict since the Ottoman Turks invaded.
Come with me and discover Skadar Lake…
---

About the Lake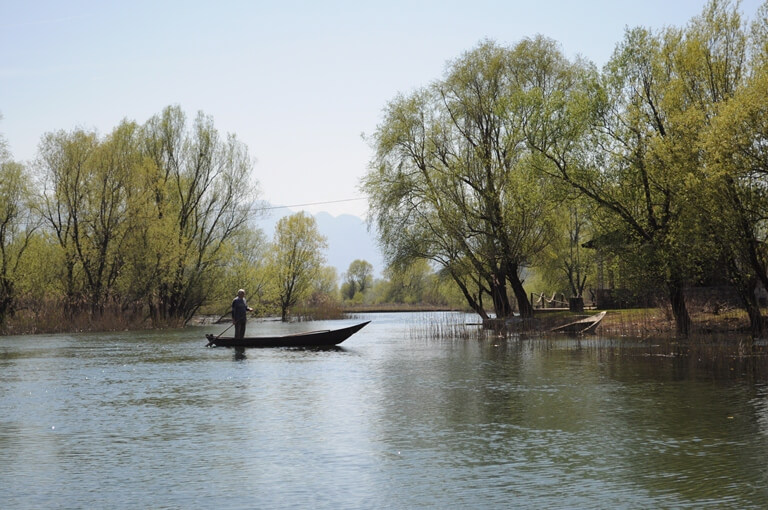 A fisherman in a traditional lake boat
Lake Skadar forms the border between Montenegro and Albania. It's the largest lake in the Balkans and two thirds of it belongs to Montenegro, while a third belongs to Albania.
Millions of years ago the area that's now Lake Skadar was a bay of the Adriatic Sea. The changing geography cut it off from the sea and it became the Zeta-Skadar plain behind Mount Rumija.
62% of the lake's water comes from the Moraca River. There are various other rivers contributing to it: Karatuna, Bazagurska, Crnojevic and Orhavstica, Mala Moraca, Tara, Plavnica, Zetica, Gostiljska, Pjavnik, Svinas, Mala Mrka, Velika Mrka, Kodrabutanska and Rujela. It's also fed by seasonal rivers on the Albanian side and lots of underwater springs. It's connected to the Adriatic Sea by the river Bojana, which drains it into the sea.
The lake's size fluctuates between 370 square kilometres and 530 square kilometres, with it being much larger in winter than in summer. There are about 30 crypto-depressions, areas where the bottom of the lake is below sea level. The deepest of these is at Radus and is 60m deep. They're important to locals here because they're rich fishing grounds. 
---
History
Lake Skadar has been settled by people for centuries. It was part of the Slav kingdom of Zeta until it was conquered by the Ottoman Turks in the 13th Century.
The Montenegrins held onto Zabljak Crnojevica however and kept attacking the Turks from there until they were forced to move back to Cetinje in 1482. They never gave up though and there were skirmishes all around the lake until the Turks were finally defeated.
Once the Ottoman Empire collapsed, the Congress of Berlin confirmed Montenegrin borders in 1875. Skadar, which was originally the capital of Zeta, became part today's Albania. Although Cetinje remained the royal capital of Montenegro, the lake was still a key area and King Nikola's summer court was set up in Rijeka Crnojevica.
During WWII Virpazar was the scene of the first Partisan uprising in Montenegro. They sank the steamboat Skanderbeg in 1942 and it still lies 11m below the surface near the mouth of Rijeka Crnojevica.  
---
Lake Skadar National Park
In 1983 the Montenegrin part of the lake, a total of 400 square kilometres, was declared a national park. The area has a vast range of habitats including marshes, shrub and chestnut forests which makes it incredibly rich in biodiversity. In 1996 it was included in the Ramsar list of Wetlands of International Importance.
Unfortunately national park status isn't enough to protect Lake Skadar from the huge amount of rubbish that washes into it via the Moraca river. Montenegro has a big waste management problem and tonnes of litter washes into the lake from upstream cities like Podgorica and Niksic. 
---
Wildlife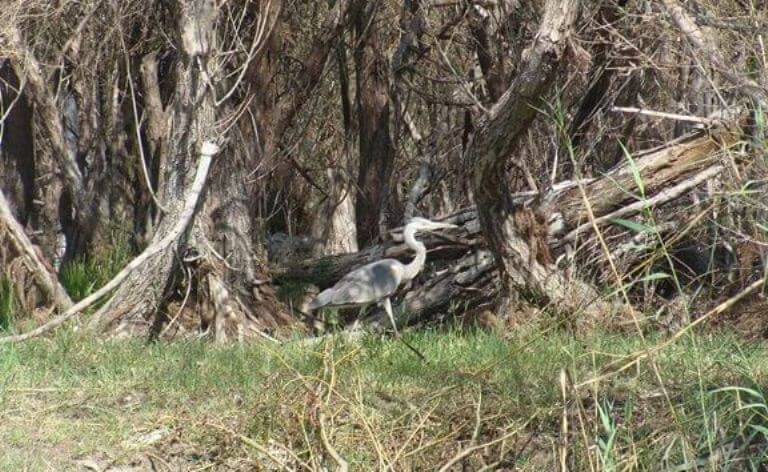 Bird-spotting is a must-do when you come to the lake
Lake Skadar is one of the biggest bird reserves in Europe. It's home to over 270 bird species, including the rare Dalmatian Pelican and pygmy cormorants which you can see on a bird-watching tour or holiday. You'll also see storks, herons, egrets, ibises, kingfishers, falcons, eagles and gulls. 
The lake's fish is an important food source for the local population. It's home 24 native fish species, 7 of which are endemic, including carp, bleak and eel.
Aside from the birds and fish, the lake and its surroundings are home to many other species of freshwater snail, tortoises, lizards, snakes, otters, weasels, foxes, moles, wild boar and the occasional wolf.
21 species from the area are listed on the IUCN Red List of Threatened Species and the main threats to the native species are human activities such as pollution.
---
Visit Lake Skadar
The three main places to go on the lake are Vranjina, Virpazar and Rijeka Crnojevica. If you have to choose one, I'd recommend Virpazar and Vranjina is just a 5 minute drive from there so you could squeeze both in if you just have a day to spend. 
You could also do a day tour and do all three, but depending on your start point, you'd struggle to fit in activities on the lake. If you have the choice between a boat cruise on the lake and seeing Rijeka Crnojevica, my recommendation would be to do the cruise.
Vranjina
Vranjina is the first settlement you'll come to if you're coming from Podgorica. 
Visitors Centre
This is where you'll find the visitor's centre, which I recommend visiting. The visitor's centre has a nicely curated display about all five of the national parks in Montenegro, the wildlife, examples of traditional dress and life in Montenegro, and a 15 minute multimedia presentation. You can also pick up guide books, maps and souvenirs here.
Visitors centre opening times:
May – September: daily from 8am to 6pm
October – April: Monday – Friday 8am to 4pm
Jezero Restaurant
The visitors centre is attached to one of the lake's most popular restaurants – Jezero  (lake in Montenegrin). The restaurant specialises in freshwater fish from the lake, but also serves seafood and meat dishes. The views overlooking the lake here make it an excellent place to stop.
Wine Store
And while you're there, be sure to stop at the wine cellar opposite. The store is a cave carved into the rock and you can pick up some local specialities like Vranac and Krstac. It's open daily from 10am to 6pm.
---
Virpazar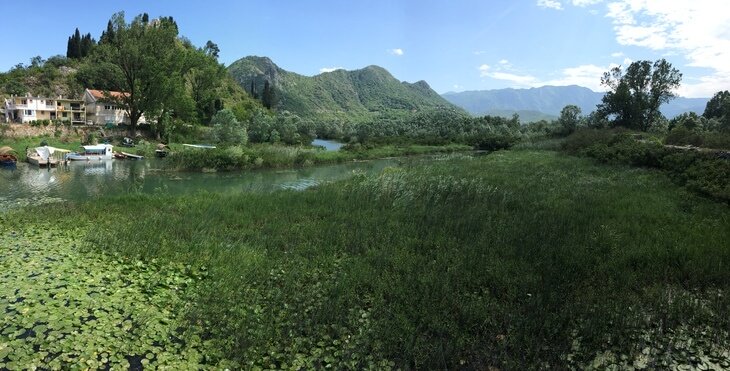 Virpazar is a quaint and charming town on the lake
Virpazar is just across the causeway from Vranjina and it's the main gateway to Lake Skadar. There's an old stone bridge leading to the town centre and you'll find free off-street parking there. The township is tiny and very picturesque with lots of flower boxes and restaurants with outdoor tables.
You'll also find plenty of accommodation here and this is the place I'd recommend staying if you want to stay by the lake. There's a supermarket, atm and you can take a tour or hire a boat, kayaks and mountain bikes from here.
The train that runs twice daily between Bar and Belgrade (Serbia) also stops in Virpazar. The station is around 800m from the township.
Local's Tip: Keep an eye out for the market on Fridays. Local farmers will come to Virpazar on Fridays with their produce. You'll be able to pick up goat cheese, olive oil, honey and figs as well as other fruit and vegetables. The goat cheese here is said to be especially healthy because of all the medicinal plants the goats feed on on Mount Rumija. 
Restaurants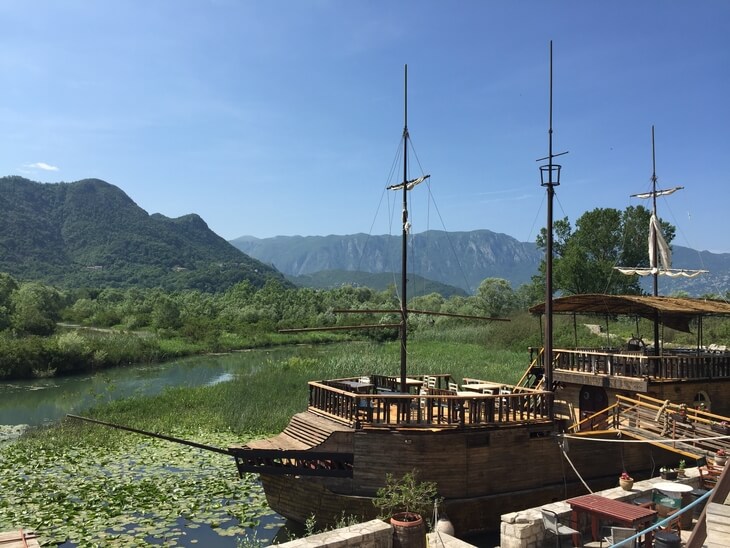 Silistrija restaurant on the shore of Lake Skadar.
Silistrija is a great place to eat in Virpazar. Since you're by a lake, why not dine on a boat? The restaurant is in fact a boat on the lake. The food is excellent and well-priced. As well as the local lake speciality carp, they serve classic Montenegrin dishes like cevapi (Balkan sausages), veal soup, fish soup, chicken and trout. You can get a two course set menu for just €10 per person.
Other good restaurants to try are Badanj, Kormoran and Crmnicki Vinotok.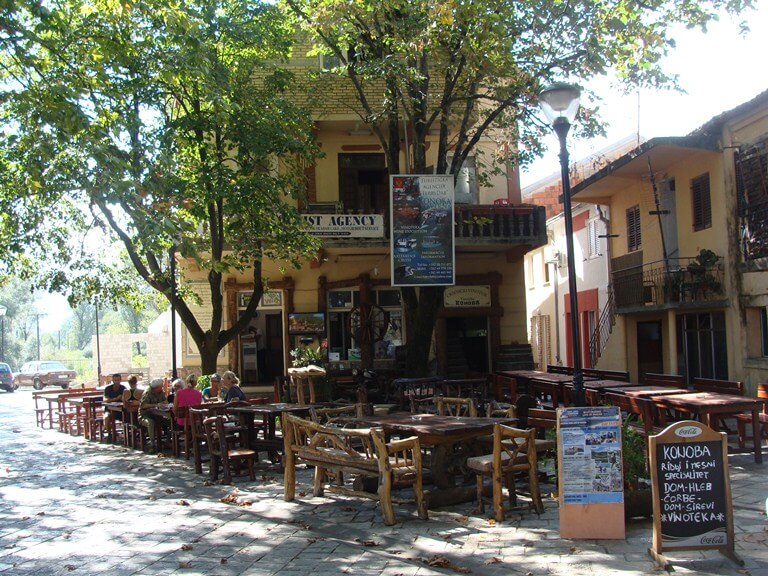 Crmnicki Vinotok in Virpazar centre
Besac Fortress
The Ottoman Empire's Besac Fortress dominates the hill directly above Virpazar. It was built in 1487 and used throughout the empire's rule. Like many old fortresses in Montenegro, it was most recently used as a prison during WWII. It's since fallen into ruin but has been partly restored with the help of European Union funds. 
Festival of Wine and Bleak
The Wine and Bleak Festival is held every year in Virpazar. During the festival people gather from all over Montenegro to try dried and fresh grilled bleak (a lake fish) and wines from local producers. As well as the wine and fish you can try local olives, olive oil, honey and cheeses. 
The Crmnicki region here produces excellent award-winning wines and this is a great chance to try and buy some. Montenegrins love a party and live music tops off the lively festival atmosphere.
You can find out the latest about the festival on their Facebook page.

---
Rijeka Crnojevica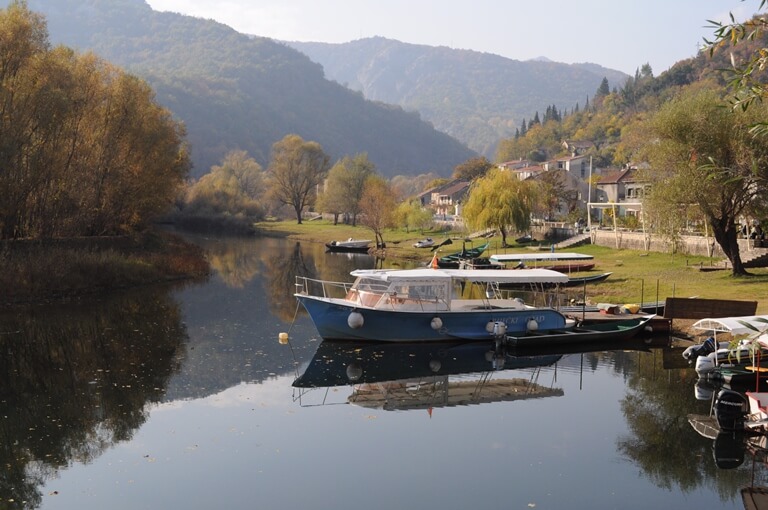 Rijeka Crnojevica
Rijeka Crnojevica is where Montenegro's last sovereign, King Nikola, used to hold his court during summer.  This is also where the first book in the Cyrillic alphabet was printed in 1494. More recently, in Yugoslav times, Rijeka Crnojevica was a small manufacturing hub with lots of small factories.
These days it's a tiny township on the lake. There's actually not much to do here, which is why I recommend Virpazar over Rijeka Crnojevica if you have to choose one. Rijeka Crnojevica has a few restaurants and boats for hire, but not much else. The main attraction is the pretty, old stone bridge that was built by Prince Danilo in 1854. 
Rijeka Crnojevica's old stone bridge
Restaurants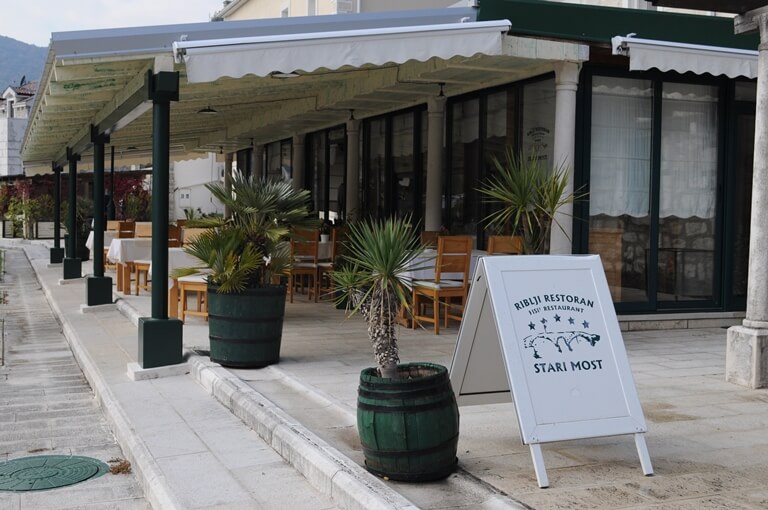 The Stari Most restaurant is the best in Rijeka Crnojevica
Stari Most is the most popular restaurant here. It's on the main promenade opposite the river and has outdoor and indoor seating. The deep areas of the lake here make it a rich source of fish, and the specialities to try are fish soup, eel, trout and carp.
Pavlova Strana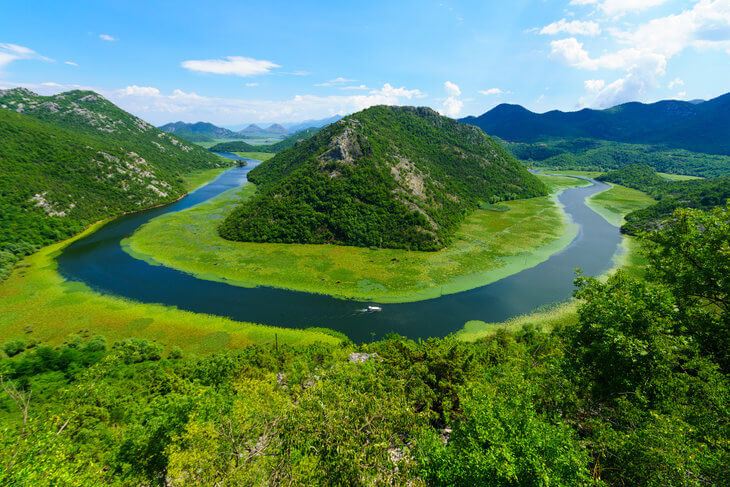 Pavlova Strana - one of Montenegro's most iconic views
One of the most iconic pictures of Lake Skadar is the view from Pavlova Strana. If you want to see this, you'll need to go via Rijeka Crnojevica. There's nothing but a closed hotel there, but you'll be able to pull over on the side of the road and snap a picture of this famous view. 
Obod
From Rijeka Crnojevica you can take a 7km circular route that will take you past the ruins of Obod village, the site of the first printing press in Montenegro. The route takes you by Obod cave which you can go into – watch for bats! You get directions for the hike at the visitors centre.
Visitors Centre
The visitors centre also has a historical display that you can see for €1 per person admission. Opening hours are from 8am to 4pm daily. 
---
Plavnica
Plavnica Eco Resort is a popular spot for Podgorica locals in summer
Plavnica is one of my favourite examples of 'Montenegroness'. It's a huge, shiny stainless steel and glass 'eco-resort' smack dab on the shores of the lake. There's a restaurant with views of the lake that serves mains priced from €6 to €22.
If you'd like to stay here, the resort has four suites priced from €130 a night. There's a pool in the centre that's free for guests staying in one of the suites and costs €10 a day if you're not.
On Saturdays there's a dinner cruise on the lake for €10 per person not including food and drinks. You can also hire the following:
Kayaks: €4 per hour
Pedal boats: €5 per hour
Catamarans: €60 per hour
Speed boats: €120 per hour
Plavnica has a resident hippo, Nika, who once escaped and roamed the lake when it flooded one winter. She's now more securely housed and you can visit her in her compound.
Click here to see reviews on Tripadvisor.
---
Lake Skadar Things To Do
There are Lake Skadar activities for literally everyone. From young to old, couples to families to groups. Whether you're keen to explore old military trails, discover the local history, religion and cuisine or just want a relaxing sightseeing tour. There's something here for everyone!
Lake Skadar Visitors Centre

Virpazar Visitor's Centre
The main visitor's centre in Vranjina has an excellent display about all five of the national parks in Montenegro. It also has information about the wildlife, examples of traditional dress and life in Montenegro, and a 15 minute multimedia presentation. In the shop downstairs you can pick up guide books, maps and souvenirs.
Opening times:
May – September: daily from 8am to 6pm
October – April: Monday – Friday 8am to 4pm
---
Cycling
There are several bike trails around the lake that are suitable for all abilities. You can hire bikes and maps and ride through some stunning scenery around the lake. This is a great way to explore the lake at your own pace. Stop wherever you like and take a closer look at old fortresses and lake villages. Learn More
Lake Skadar is generally accessible all year around. You'll just want to check local conditions with the  visitor's centre in Virpazar if you plan to take any unguided walks or cycle routes. You can contact them on npsj@npskadarlake.org.
---
Godinje
Godinje is 4km outside of Virpazar. It's a little village with conjoined houses. The houses have hidden tunnels between them that were built to escape the Ottomans.
To get there take the left fork uphill after you pass  Virpazar.
---
Monasteries
There used to be around 60 monasteries, fortresses and churches around Lake Skadar. The area has always been the heart of the Montenegrin state so there are lots of centuries' old sites to explore. The Montenegrin capital was usually here or close by when invading armies pushed them back.
Kom Monastery – 15th C. You can visit Kom monastery on a boat tour. The monastery was built on Andrijska Gora island between 1415 and 1427. Inside you'll see 15th and 16th century frescoes. In the centre of the church lie four gravestones of the rulers of the Crnojevic Dynasty.
The monastery is a lovely place with stunning views over the lake. The only thing that interrupts the silence is birdsong and the sounds of the farmyard animals that call the island home.
Beska Monastery – 15thC. There are two churches at Beska Monastery on Beska Island. The larger church, St George, was founded by Dzuradz II Sracimirovic Balsic towards the end of the 15th century. The smaller one, the Church of the Holy Mother of God, was built in 1439 by Jelena Balsic and she's also buried on the island.
Starcevo Monastery – 1377. Starcevo is the oldest church of the Balsic churches. Its Church of the Dormition of the Holy Mother of God and monastery lie in Starceva Gorica.
Moracnik Monastery – 15thC. This monastery was built by Balsa III and the church is the Holy Mother of God.
Precista Krajinska – 11th C. The remains of this monastery lie near the settlement of Ostros in Krajina. The monastery was built by Duke Jovan Vladimir of Zeta but was destroyed by the invading Ottoman Turks. 
A Monastery For Princesses
'What should I do with all these daughters?' King Nikola, the last Montenegrin sovereign, wondered. There were eight princesses (another had died at three months old) and three princes in the Petrovic household. A foreign diplomat once asked the king 'What can you export from this completely poor country?' to which the king replied 'You underestimate my daughters.'
All but two of his surviving daughters were married and became valuable diplomatic assets.  Zorka married the Serbian crown prince, Milica and Stana married Romanov dukes, Ana married into the German court and Jelena became the Queen of Italy. Ksenja and Vjera were banished with their parents to France, where they stayed and never married. Marica died at age 16.
But just in case his daughters weren't married, in 1882 he started repairing Vranjina Monastery so that the princesses could live as nuns. The work was all done in secret and his daughters and even his wife, Queen Milena, never knew about it. 
---
Grmozur Island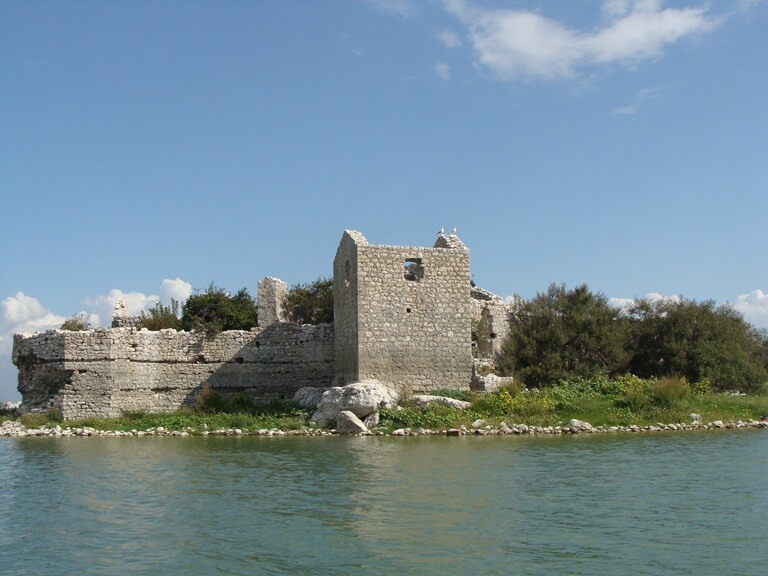 Grmozur Island is a great place to see birds. It's also known as Snake Island, Bird Island and Montenegrin Alcatraz
Grmozur is known locally as 'Montenegrin Alcatraz' (but so is Mamula Island). It's also known as Snake Island. The island has the ruins of a fortress on it that was built by the Ottoman Turks in 1843. It was turned into a prison for (surprise surprise) non-swimming political prisoners once the Montenegrins liberated the area in 1878. Interestingly, guards on the island also couldn't swim.
It was damaged in an earthquake in 1905 and has fallen into ruin ever since. These days it's also known as 'Bird Island' and it's a good spot to see some of the lake's resident birds. It makes for a great scenic backdrop for pictures. You can see Grmozur Island on a boat cruise or kayak excursion.
---
Lesendro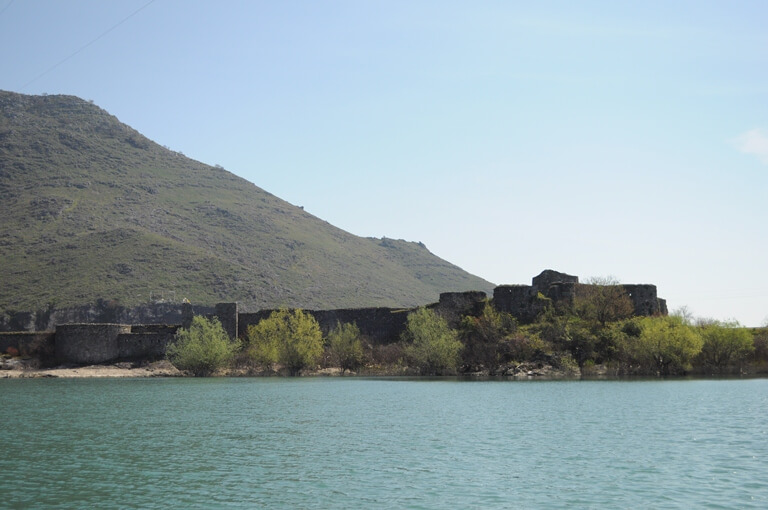 Lesendro, the remains of the embattled fortress
As you pass over the bridge from Vranjina to Virpazar, you can't miss Lesendro, a fortress ruin on the lake. The fortress was built in 1843 to ward off the invading Ottoman Turks on what was originally an island. The island was captured by the Turks in 1843 and further fortified. King Nikola Petrovic Njegos wanted it back so badly that now there's a saying in Montenegro: 'to long for something, like the bishop longs for Lesendro.' He tried to take it back several times and finally succeed in 1878.
The island became a peninsula when the bridge was built for the railway that links Belgrade (Serbia) and Bar on the coast. Now you drive across this same causeway when you drive this route from the coast to Podgorica.
It's difficult to explore the ruins of the fortress because there's nowhere to pull over on the bridge. There's also no safe walking path along the side of the road and railway tracks. If you want to explore it, the best way is to go by boat. 
---
Murici Beach
If you take the left fork in the road when you cross the bridge into Virpazar, you'll head to Murici. It's a 30 minute drive from Virpazar and there's a small village and restaurant on the shore of the lake. This is the only sandy beach on the lake and it's popular with locals and tourists alike. The beach is surrounded by olive groves and overlooks Beska Island which is home to two 14th century Orthodox churches.
There's another small visitor's centre in Murici which is open daily from May to September 9am to 5pm.
There's no public transport to Murici so your options for getting there are boat, kayak, bike or rental car. 
---
Lake Skadar tours
Boat Trips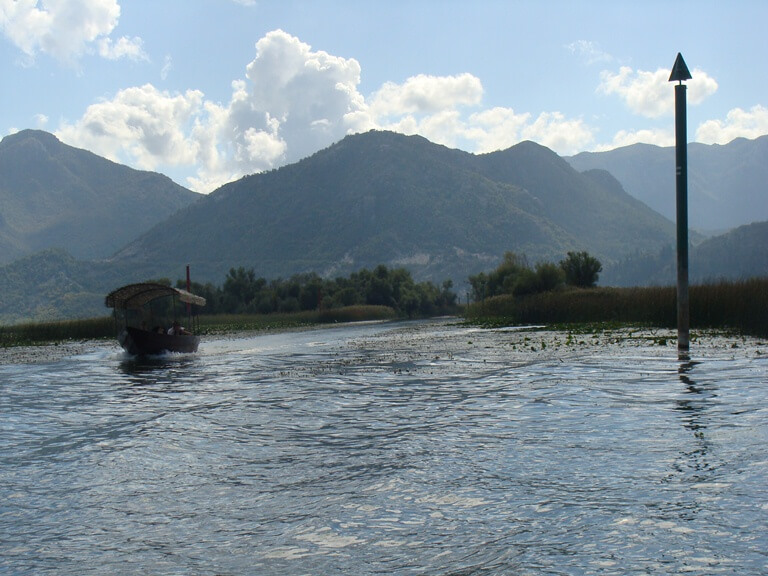 Cruising on Lake Skadar in a traditional wooden boat
This is the most popular thing to do on Lake Skadar. You can hire a boat for anywhere from an hour to a full day. We've taken several trips when we've had visitors and it's always a joy to get out on the lake in a traditional wooden lake boat.
Our favourite trip was one that included Kom Monastery, a lovely 15th century monastery with just one monk, a bunch of animals and absolutely breath-taking 180 degree views of the lake. We were welcomed with some of the monk's homemade plum brandy before we went to see the ancient frescoes in the church.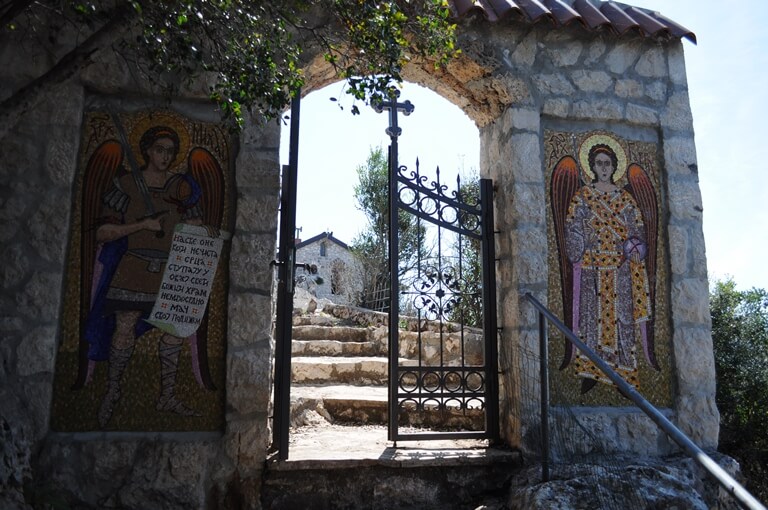 The beautiful entrance to Kom Monastery
The view of the lake from Kom Monastery. The tranquility here is indescribable.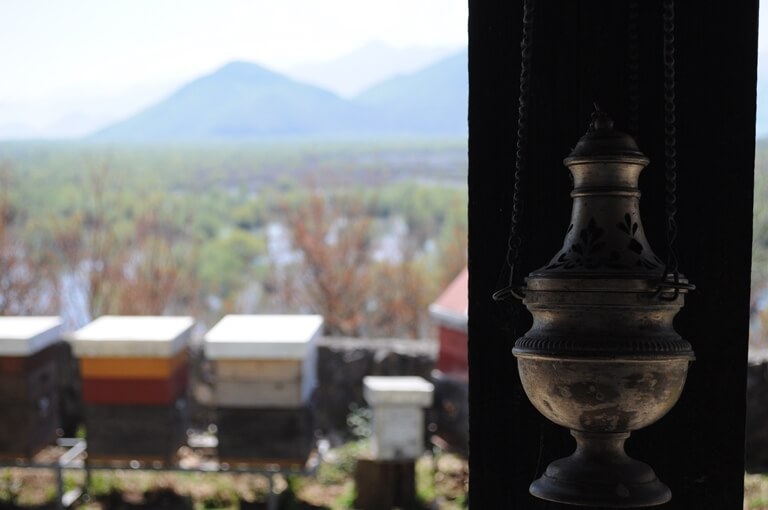 The monastery is the epitome of traditional Montenegrin lifestyle
I can't think of many things that would keep a one year old occupied for three hours, but Kai was so delighted with all the sights and the boat itself that he wasn't bored for a moment.

Kai loved every moment of the boat trip!
Do take sunscreen even if you're heading out on the lake in April or May. Although it was fresh enough for us to need jackets, Kai got sunburned!

You can find out more about Lake Skadar boat tours here. 
Local's Tip: When you take a boat trip, ask your driver to point out the twin Vranjina hills which are locally known as 'Sofia Loren'. Let's just say Sofia Loren was a very popular sex symbol in Montenegro!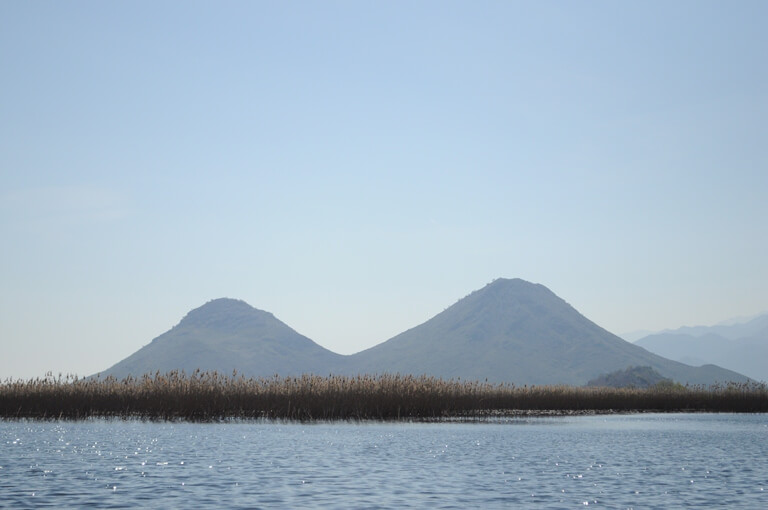 Lake Skadar's 'Sofia Loren'
---
Kayaking
Another great way to get out on the lake is by kayak. You can explore the shallow lilypad-lined waterways, bird watch and relax on freshwater beaches. You can either book a guided tour with a local guide or hire kayaks and explore on your own. You can find out more about kayak tours and hiring kayaks here.
---
Hiking
The area around Lake Skadar is mountainous and ideal for hiking. I recommend booking a hiking tour because a local guide can take you on trails you'd never find on your own. When you book a guided hike you'll get amazing views of the lake plus they'll take you to places where you can pick wild figs and swim in hidden rock pools only the locals know about. You can find out more about hiking tours around Lake Skadar here.
If you prefer to explore the trails on your own, you can pick up a map of hiking trails at the visitors centres in Vranjina, Virpazar and Rijeka Crnojevica. 
---
Vineyard and Gastronomy Tours
The area around Lake Skadar is some of the most fertile in Montenegro and it's a key wine producing region. In fact, the largest single-area vineyard (belonging to Plantaze wineries) in Europe is here.
If you're at all interested in doing a gastronomy tour in Montenegro, this is the best place to do it. There are tours available with excellent local wineries that include meals of traditional Montenegrin cuisine. These home-cooked specialities are things you won't find in restaurants, and in my opinion they're better than restaurant meals. You get to try ham and cheese rolade, fried dough balls, cheese and meat pies, tomato and cucumber salad, young and old cheeses, cured meats and more. 
I've travelled extensively around the world and I can tell you the fresh produce in Montenegro is the best I've ever had. When you try a Montenegrin tomato in summer, you can't help but think 'so this is what tomatoes are supposed to taste like!' And it's not just the tomatoes. I'll never forget the day I walked around friend's yard and picked a pear from the tree. It was like a revelation. I didn't know pears could taste like that!
I heartily recommend a winery or gastronomy tour around Lake Skadar and you can find out more about them here.
---
Bird Watching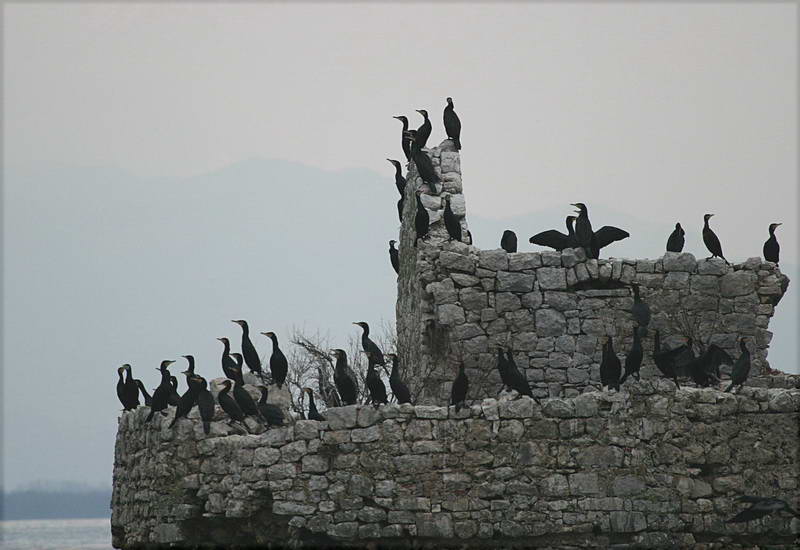 Places like Grmozur Island are ideal for bird watching
The huge variety of bird species on the lake is Lake Skadar's star attraction. Seeing the birds is a must-do whether you're a keen bird-watcher or not.
There are five ornithological reserves on the lake: Panceva Oka, Manastirska Tapia, Grmozu, Crni Zar and Manastiriski Vrbis. The reserves all have towers where you can climb up and get great views of the lake and the birds.
The Dalmatian Pelican is a stunning sight on the lake
Lake Skadar is the last remaining breeding ground for the Dalmatian Pelican in Europe. The pelicans' population was severely threatened with floods wiping out their nests every year. In 2013 a series of rafts was installed and since then the pelicans have taken to building their nests on the rafts. The rafts float on the flood waters and happily the last two breeding seasons have been the most successful in recorded history.
The best way to see the pelicans is to take a boat tour. The local boatmen know where the pelicans are most likely to be on a daily basis and can get you the best views. Click here to find out more about bird-watching excursions.
This is a wonderful short video about the pelicans on the lake and the efforts to protect the population.
SKADAR from The Living Med on Vimeo.
Lake Skadar is so popular with bird-watchers that you can book a full week's bird-watching holiday with local ornithological expert, Andrej Vizi. Andrej is the man responsible for installing the nesting rafts and monitoring bird populations on the lake. The trip includes other popular bird-watching spots in Montenegro. You can find out more about the holiday here.
---
Explore and Discover Day Car Safari
This tour is a packed day of adventure and jaw-dropping scenery on a car safari that includes a gentle two hour hike and the opportunity to swim wild. You'll visit bat caves, stunning natural springs and waterfalls, historic royal settlements and citadels, drive across an African-style plain and take in the stunning views of Pavlova Strana - one of Montenegro's most famous vistas. You'll also enjoy lunch at a delightful restaurant next to the famous Byzantine bridge of Rijeka Crnojevica.
Tour Details
Duration: 7-8 hours
Start and finish point: Virpazar
Price: €50 per person for groups of 4 or more.
           €60 per person for groups of less than 4.
           Lunch at a local restaurant in Rijeka Crnojevica is included in the price.
---
Getting there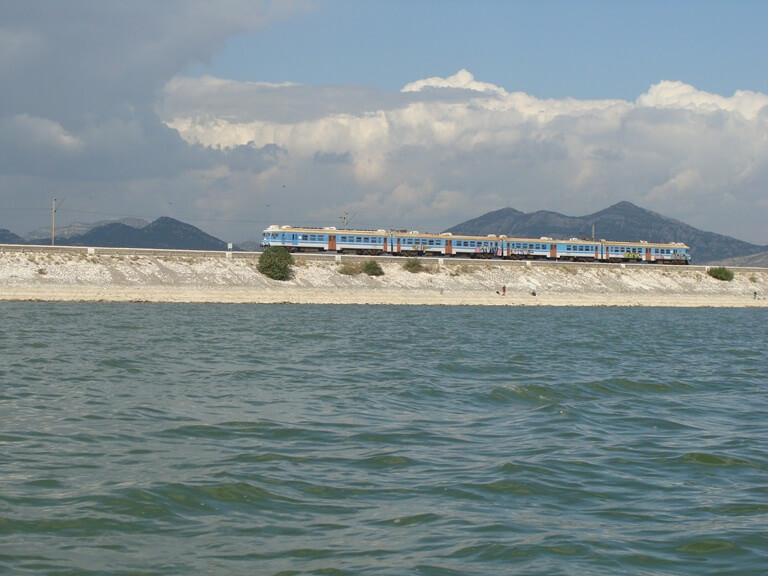 The twice-daily train that runs between Belgrade and Bar is a lovely sight from the lake
The Bar-Podgorica bus stops in Virpazar. There's also a train station 800m from town. The Belgrade-Bar train stops here twice a day.
If you want to visit Virpazar, Vranjina and Rijeka Crnojevica in one trip, your best option is to hire a car.
---
Lake Skadar Accommodation
Lake Skadar is the ideal place to stay if you're looking for a quiet tourist resort that's still got plenty of life and where you can be close to nature. There are lots of accommodation options, but nothing fancy. Most are comfortable and homely, fitting with the rustic feel of the area.
I recommend staying in or close to Virpazar if you want to be close to restaurants and amenities. 

Hotels
There are three hotel options around the lake. Unfortunately I can't recommend any of them highly!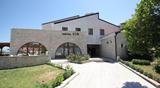 Hotel Vir – 3 stars
Hotel Vir is in the centre of Virpazar. It's an old government-owned hotel so expect a vintage Yugoslav experience. Personally I've experienced this elsewhere in the Balkans and like it! The location is great for exploring the town.
Hotel Pelikan – 3 stars
This hotel is also in Virpazar. It's budget-friendly but expect a hard sell on the owner's boat tours and restaurant. You can find much friendlier and cheaper boat tours here.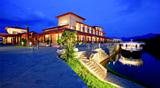 Plavnica Eco Resort – 4 stars
Plavnica is a glittering resort that has 4 suites. The resort is well equipped, but a little run down now. Still, it has nice rooms, a nice pool and a nice restaurant.
---
Apartments and Guest Houses
If you want to experience famous Montenegrin hospitality, an apartment or guest house is the way to go. You'll get a warm welcome and personal touches.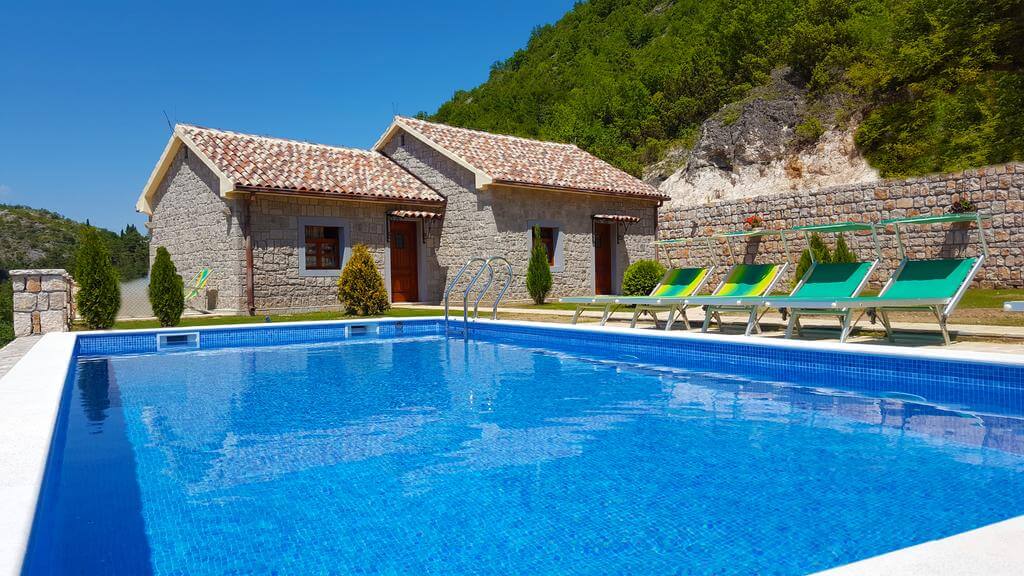 Eco Resort Cermeniza is a small cluster of stone cottages, set around an infinity pool. The cottages are brand new and beautifully done. The accommodation is part of a local winery, so there's no shortage of excellent food and wine!
Vida's House is a beautiful, new apartment in the centre of Virpazar. On the second storey, the apartment overlooks Silistrija Restaurant and the shore of the lake. It's the perfect place to enjoy a glass of the region's excellent wine and absorb the lake's peaceful atmosphere.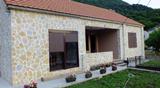 These apartments are just 1km from Virpazar and are great for families. They're well appointed and you get that lovely country feel while still be very close to amenities. 
---
Villa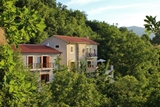 Villa Miela is owned and run by English husband and wife team, Ben and Emma. They offer 7 day holidays at Villa Miela that are packed full of activities that show you the best of Lake Skadar. Hiking, kayaking, yoga, birding - they do it all. You can stay as a couple, family or group. They also offer the whole villa for rent.
---
Holidays on the Lake
Lake Skadar is the ideal place to make the most of Montenegro's stunning natural beauty. When you stay here you'll enjoy a holiday full of outdoor activities, no crowds and some of the best food you've ever tasted.
There are some fantastic holiday options here for everyone, from couples to families. If you're keen to get your children away from screens and into the outdoors, this is the perfect place. Kids soon lose themselves in the magic of exploring the lake's wildlife, tortoises in the fields and climbing trees to pick wild figs.
Click one of the below to find out more:
---
I highly recommend a visit to Lake Skadar during your stay in Montenegro. If you're staying on the coast you can fit a boat trip and visit to Virpazar in a day trip. And if you're looking for a stay in Montenegro's renowned 'wild beauty', Lake Skadar will fulfill every wish. 
Related Articles
Things to do in Montenegro
Kotor Excursions
Montenegro Holidays
---
Home

>
Mountains of Montenegro
> Lake Skadar
---
help the stray animals of Montenegro
Book your accommodation anywhere in the world through any of the search boxes on our site and we'll make a donation towards sterilising stray animals in Montenegro. 
It costs you nothing, and you get the biggest selection and lowest prices guaranteed. It's a win-win!