Lake Skadar: Montenegro's Hidden Gem
(This post may contain affiliate links. Find more info in my disclaimer.)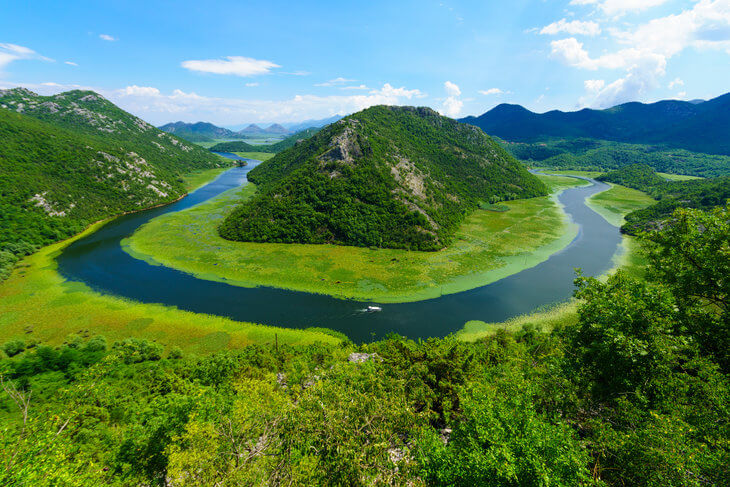 Pavlova Strana
In many ways, Lake Skadar is the essence of Montenegro.
While it's the coast that gets the majority of the attention, that only makes up a small part of Montenegro. 
When you step away from the sun-drenched beaches and coastal villages, you'll see a country that's based on a simple way of life:
Traditional family values
Simple, wholesome food
The art of wine-making

 

A lifestyle where there's no such thing as being in a hurry
This is everything that the Lake Skadar region represents. And it's here you'll be able to get a taste of the real Montenegro.
And there are so many reasons to visit this hidden gem.
Lake Skadar is one of the largest lakes in Europe and is an absolute mecca for wildlife – especially birdlife. It's the largest bird reserve in Europe. One of the reasons it's so important because it's the last breeding ground of the endangered Dalmatian Pelican and Pygmy Cormorant. It's also a key resting place for birds migrating from northern Europe to Africa.
In fact, the lake is home to over 280 bird species and bird watching is one of the main attractions here. Depending on the time of year (autumn and winter are best for migratory birds), you'll see pelicans, cormorants, terns, herons and kingfishers among others.
Even if you're not into bird watching, just getting out on the lake in one of the flat-bottomed boats and seeing the wildlife is a great experience. It's one of the most memorable things we've done in Montenegro.
You float through lily pads, see ruins and fishing villages you can't get to from land. Not to mention the local guides always have a few interesting stories for the trip. 
The whole area of the lake and around the lake is a national park in Montenegro and there's a lot to see and do there, especially if you're into outdoor activities. You can cycle, hike, kayak, swim and eat your way around the lake.
Lake Skadar is also culturally significant to Montenegro and there have been people living here for centuries – as you can see by the stone ruins all around the area. It's been the seat of rulers and a hotbed of conflict since the Ottoman Turks invaded.
Come with me and discover Skadar Lake…
---

About the Lake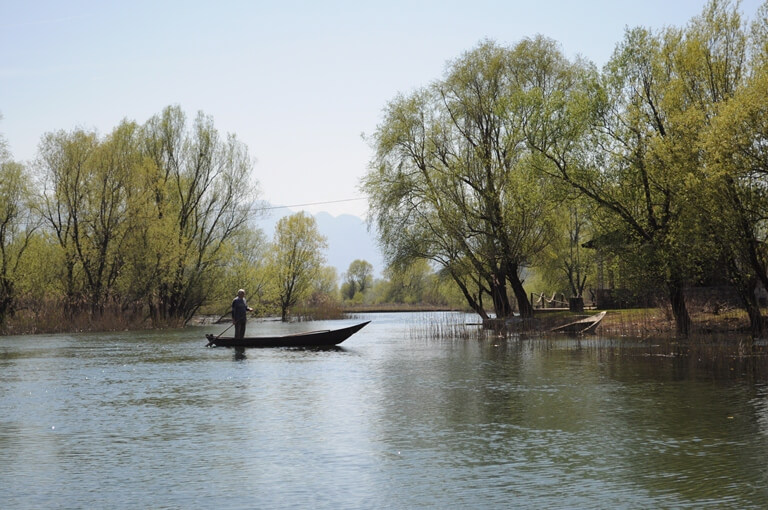 A fisherman in a traditional lake boat
Lake Skadar forms the border between Montenegro and Albania. It's the largest lake in the Balkans and two thirds of it belongs to Montenegro, while a third belongs to Albania.
Millions of years ago the area that's now Lake Skadar was a bay of the Adriatic Sea. The changing geography cut it off from the sea and it became the Zeta-Skadar plain behind Mount Rumija.
62% of the lake's water comes from the Moraca River. There are various other rivers contributing to it: Karatuna, Bazagurska, Crnojevic and Orhavstica, Mala Moraca, Tara, Plavnica, Zetica, Gostiljska, Pjavnik, Svinas, Mala Mrka, Velika Mrka, Kodrabutanska and Rujela. It's also fed by seasonal rivers on the Albanian side and lots of underwater springs. It's connected to the Adriatic Sea by the river Bojana, which drains it into the sea.
The lake's size fluctuates between 370 square kilometres and 530 square kilometres, with it being much larger in winter than in summer. There are about 30 crypto-depressions, areas where the bottom of the lake is below sea level. The deepest of these is at Radus and is 60m deep. They're important to locals here because they're rich fishing grounds. 
---
History
Lake Skadar has been settled by people for centuries. It was part of the Slav kingdom of Zeta until it was conquered by the Ottoman Turks in the 13th Century.
The Montenegrins held onto Zabljak Crnojevica however and kept attacking the Turks from there until they were forced to move back to Cetinje in 1482. They never gave up though, and there were skirmishes all around the lake until the Turks were finally defeated.
Once the Ottoman Empire collapsed, the Congress of Berlin confirmed Montenegrin borders in 1875. Skadar, which was originally the capital of Zeta, became part today's Albania. Although Cetinje remained the royal capital of Montenegro, the lake was still a key area and King Nikola's summer court was set up in Rijeka Crnojevica.
During WWII Virpazar was the scene of the first Partisan uprising in Montenegro. They sank the steamboat Skanderbeg in 1942 and it still lies 11m below the surface near the mouth of Rijeka Crnojevica.  
---
Lake Skadar National Park
In 1983 the Montenegrin part of the lake, a total of 400 square kilometres, was declared a national park. The area has a vast range of habitats including marshes, shrub and chestnut forests which makes it incredibly rich in biodiversity. In 1996 it was included in the Ramsar list of Wetlands of International Importance.
Unfortunately national park status isn't enough to protect Lake Skadar from the huge amount of rubbish that washes into it via the Moraca river. Montenegro has a big waste management problem and tonnes of litter washes into the lake from upstream cities like Podgorica and Niksic. 
---
Wildlife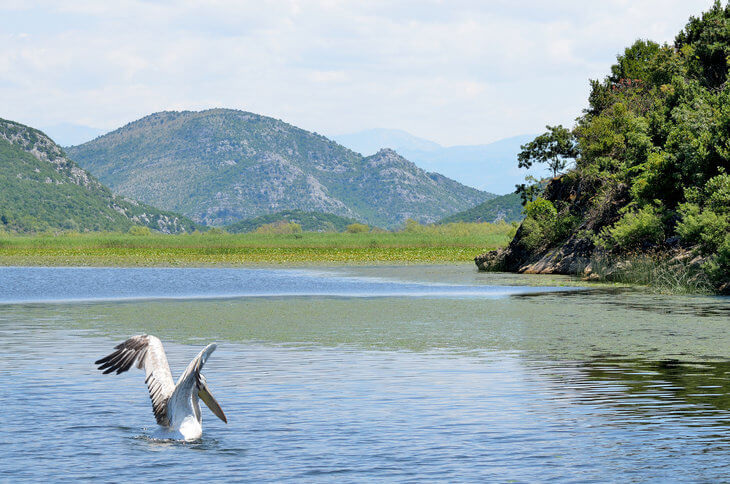 Rare Dalmatian Pelican
Lake Skadar is one of the biggest bird reserves in Europe. It's home to over 270 bird species, including the rare Dalmatian Pelican and pygmy cormorants which you can see on a bird-watching tour or holiday. You'll also see storks, herons, egrets, ibises, kingfishers, falcons, eagles and gulls. 
The lake's fish is an important food source for the local population. It's home 24 native fish species, 7 of which are endemic, including carp, bleak and eel.
Aside from the birds and fish, the lake and its surroundings are home to many other species of freshwater snail, tortoises, lizards, snakes, otters, weasels, foxes, moles, wild boar and the occasional wolf.
21 species from the area are listed on the IUCN Red List of Threatened Species and the main threats to the native species are human activities such as pollution.
---
Visit Lake Skadar
The two main places to go on the lake are Virpazar and Rijeka Crnojevica. If you have to choose one, I'd recommend Virpazar. It's very pretty and there are lots of activities you can do there.
Depending on your start point, you can fit both into a day trip. Here are some examples of itineraries:
From Podgorica
Podgorica - Virpazar - Rijeka Crnojevica - Podgorica
From Budva
Budva - Virpazar - Rijeka Crnojevica - Lipa Cave - Cetinje - Budva
Virpazar
Virpazar is a quaint and charming town on the lake
Virpazar is the main gateway to Lake Skadar. There's an old stone bridge leading to the town centre and you'll find free off-street parking there. The township is tiny and very picturesque with lots of flower boxes and restaurants with outdoor tables.
You'll also find plenty of accommodation here and this is the place I'd recommend staying if you want to stay by the lake. There's a supermarket, atm and you can take a tour or hire a boat, kayaks and mountain bikes from here.
The train that runs twice daily between Bar and Belgrade (Serbia) also stops in Virpazar. The station is around 800m from the township.
Local's Tip: Keep an eye out for the market on Fridays. Local farmers will come to Virpazar on Fridays with their produce. You'll be able to pick up goat cheese, olive oil, honey and figs as well as other fruit and vegetables. The goat cheese here is said to be especially healthy because of all the medicinal plants the goats feed on on Mount Rumija. 
Restaurants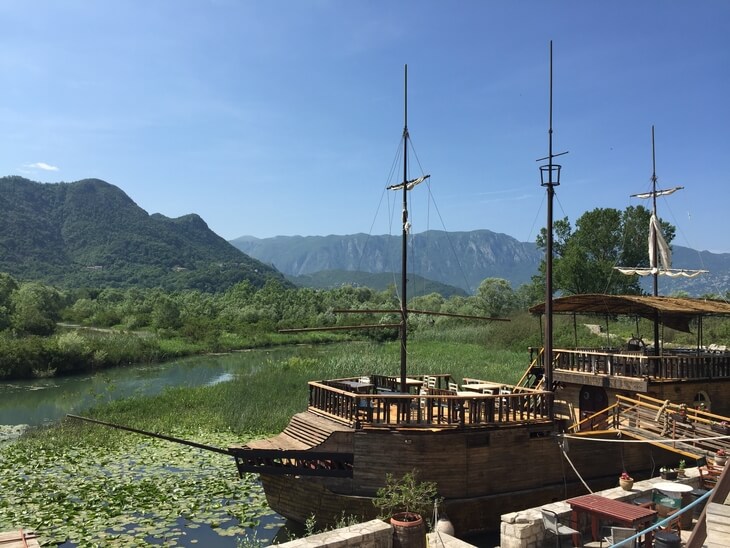 Silistrija restaurant on the shore of Lake Skadar.
Silistrija is a great place to eat in Virpazar. Since you're by a lake, why not dine on a boat? The restaurant is in fact a boat on the lake. The food is excellent and well-priced. As well as the local lake speciality carp, they serve classic Montenegrin dishes like cevapi (Balkan sausages), veal soup, fish soup, chicken and trout. You can get a two course set menu for just €10 per person.
Other good restaurants to try are Badanj, Kormoran and Crmnicki Vinotok.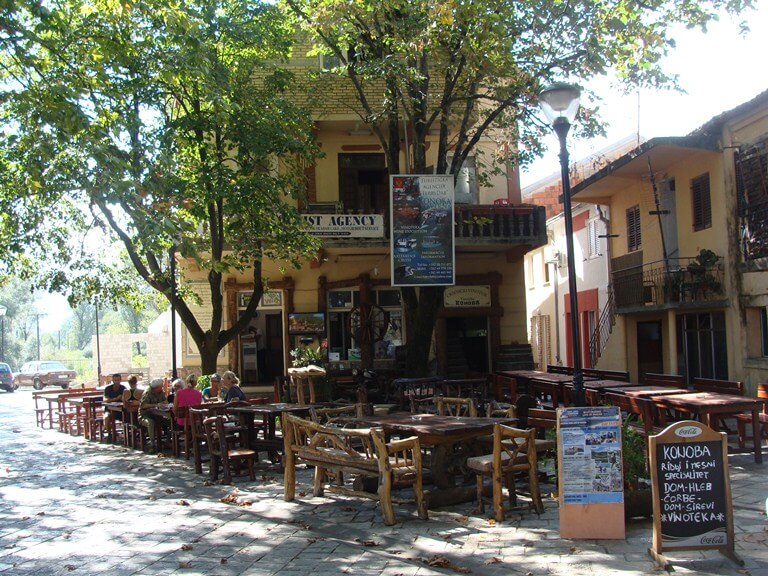 Crmnicki Vinotok in Virpazar centre
Besac Fortress
Lake Skadar and Virpazar from Besac Fortress
The Ottoman Empire's Besac Fortress dominates the hill directly above Virpazar. It was built in 1487 and used throughout the empire's rule. Like many old fortresses in Montenegro, it was most recently used as a prison during WWII.It's since fallen into ruin but has been partly restored with the help of European Union funds. 
It's a short walk up to the fortress and you'll be rewarded with panoramic views of the area.
Address: Virpazar, Montenegro
Hours: 10am to 6pm daily
Price: €1 per person

Festival of Wine and Bleak
The Wine and Bleak Festival is held every year in Virpazar. During the festival people gather from all over Montenegro to try dried and fresh grilled bleak (a lake fish) and wines from local producers. As well as the wine and fish you can try local olives, olive oil, honey and cheeses. 
The Crmnicki region here produces excellent award-winning wines and this is a great chance to try and buy some. Montenegrins love a party and live music tops off the lively festival atmosphere.
You can find out the latest about the festival on their Facebook page.

---
Rijeka Crnojevica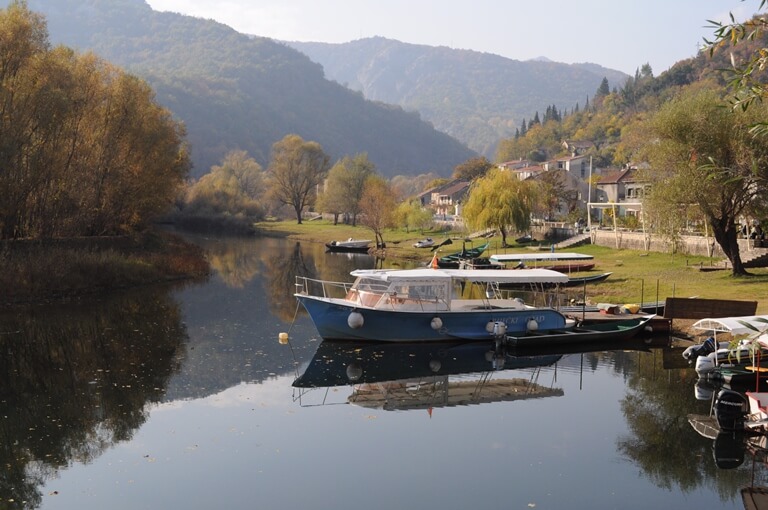 Rijeka Crnojevica
Rijeka Crnojevica is where Montenegro's last sovereign, King Nikola, used to hold his court during summer.  This is also where the first book in the Cyrillic alphabet was printed in 1494. More recently, in Yugoslav times, Rijeka Crnojevica was a small manufacturing hub with lots of small factories.
These days it's a tiny township on the lake. There's actually not much to do here, which is why I recommend Virpazar over Rijeka Crnojevica if you have to choose one. Rijeka Crnojevica has a few restaurants and boats for hire, but not much else. The main attraction is the pretty, old stone bridge that was built by Prince Danilo in 1854. 
Rijeka Crnojevica's old stone bridge
Restaurants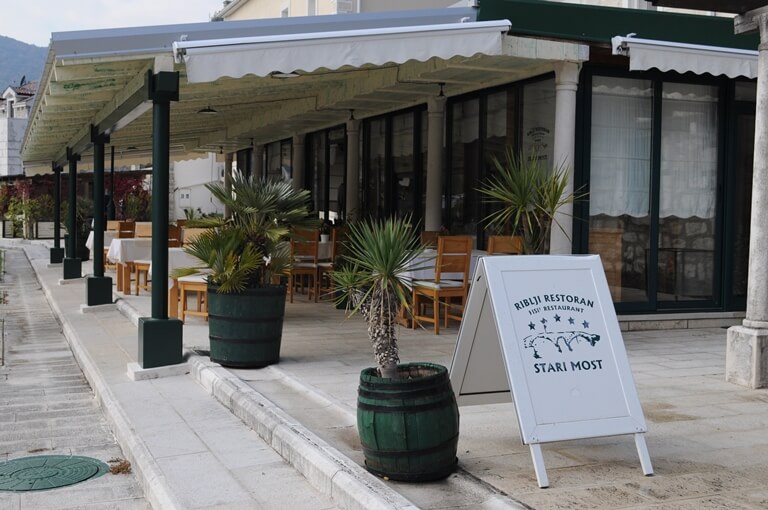 Stari Most in Rijeka Crnojevica
Stari Most is the most popular restaurant here. It's on the main promenade opposite the river and has outdoor and indoor seating. The deep areas of the lake here make it a rich source of fish, and the specialities to try are fish soup, eel, trout and carp.
Poslednja Luka has a terrace overlooking the river, where you can try fresh, local fish and get tipsy on local wine.
Pavlova Strana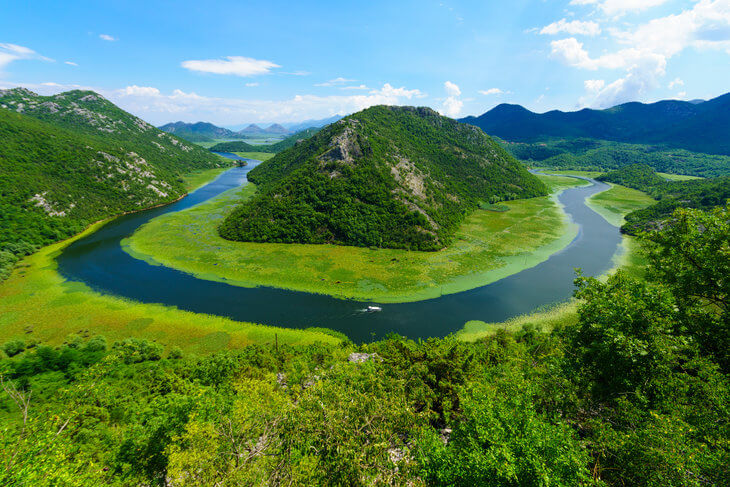 Pavlova Strana - one of Montenegro's most iconic views
One of the most iconic pictures of Rijeka Crnojevica is the view from Pavlova Strana. There's nothing but a closed hotel there, but you'll be able to pull over on the side of the road and snap a picture of this famous view.
Address: Pavlova Strana Viewpoint, Montenegro
Obod
From Rijeka Crnojevica you can take a 7km circular route that will take you past the ruins of Obod village, the site of the first printing press in Montenegro. The route takes you by Obod cave which you can go into – watch for bats! You get directions for the hike at the visitors centre.
Visitors Centre
The visitors centre also has a historical display that you can see for €1 per person admission. Opening hours are from 8am to 4pm daily. 
---
Things To Do at Lake Skadar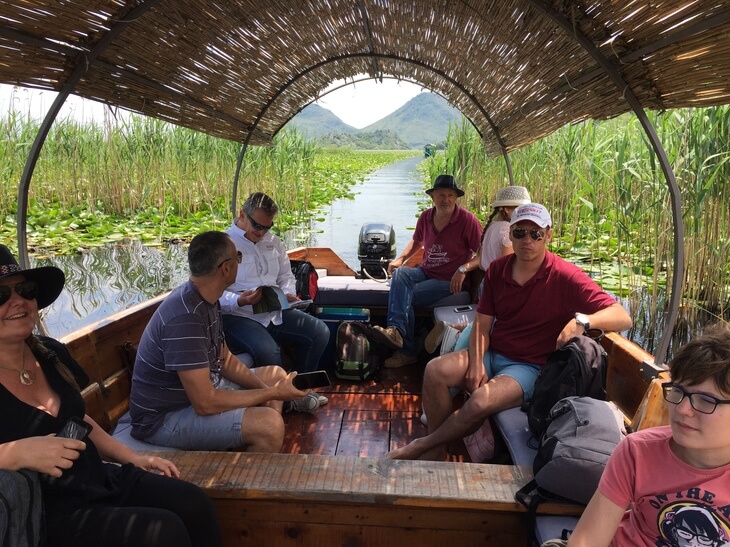 Lake Skadar is a fantastic place to get outdoors and explore some of Montenegro's natural beauty. 
Take a lake cruise, go kayaking, hiking, visit a winery, go bird watching. There are dozens of enjoyable ways to enjoy this outdoor paradise.
---
Getting There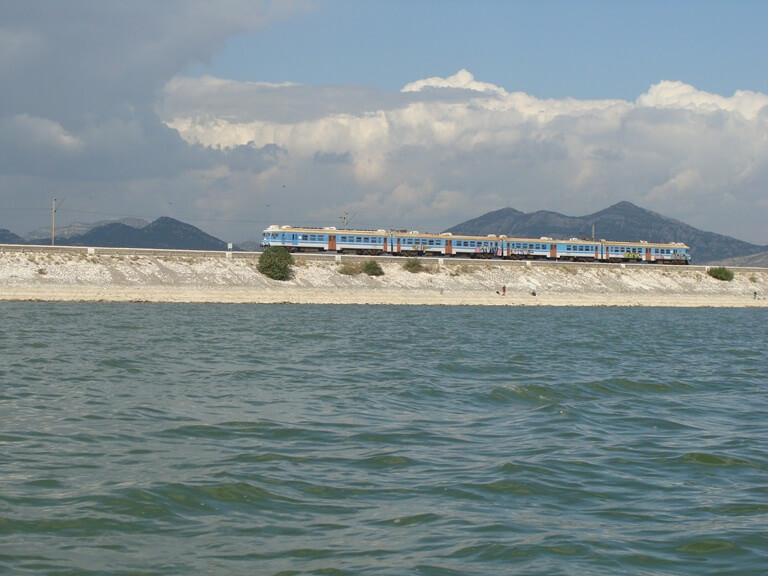 The twice-daily train that runs between Belgrade and Bar
The Bar-Podgorica bus stops in Virpazar. There's also a train station 800m from town. The Belgrade-Bar train stops here twice a day.
If you want to visit Virpazar, Vranjina and Rijeka Crnojevica in one trip, your best option is to hire a car.
---
Tours to Lake Skadar
---
Lake Skadar Accommodation
Lake Skadar is the ideal place to stay if you're looking for a quiet tourist resort that's still got plenty of life and where you can be close to nature. There are lots of accommodation options, but nothing fancy. Most are comfortable and homely, fitting with the rustic feel of the area.
I recommend staying in or close to Virpazar if you want to be close to restaurants and amenities. 

---
Villa holidays
Lake Skadar is the ideal place to make the most of Montenegro's stunning natural beauty. When you stay here you'll enjoy a holiday full of outdoor activities, no crowds and some of the best food you've ever tasted.
There are some fantastic holiday options here for everyone, from couples to families. If you're keen to get your children away from screens and into the outdoors, this is the perfect place. Kids soon lose themselves in the magic of exploring the lake's wildlife, tortoises in the fields and climbing trees to pick wild figs.
Click one of the below to find out more:
---
Related Articles
---
Home

>
Where Is Montenegro
> Lake Skadar
---
help the stray animals of Montenegro
Book your accommodation anywhere in the world through any of the search boxes on our site and we'll make a donation towards sterilising stray animals in Montenegro. 
It costs you nothing, and you get the biggest selection and lowest prices guaranteed. It's a win-win!