Montenegro Pulse contains affiliate links and is a member of the Amazon Services LLC Associates Program. If you make a purchase using one of these links, I may receive compensation at no extra cost to you. See my disclaimer for more information.

Rijeka Crnojevića, Montenegro: 7 Best Things to Do (2023)
Visit Rijeka Crnojevića, the historic riverside town in Lake Skadar National Park that offers traditional cuisine, culture and some of the best views in Montenegro.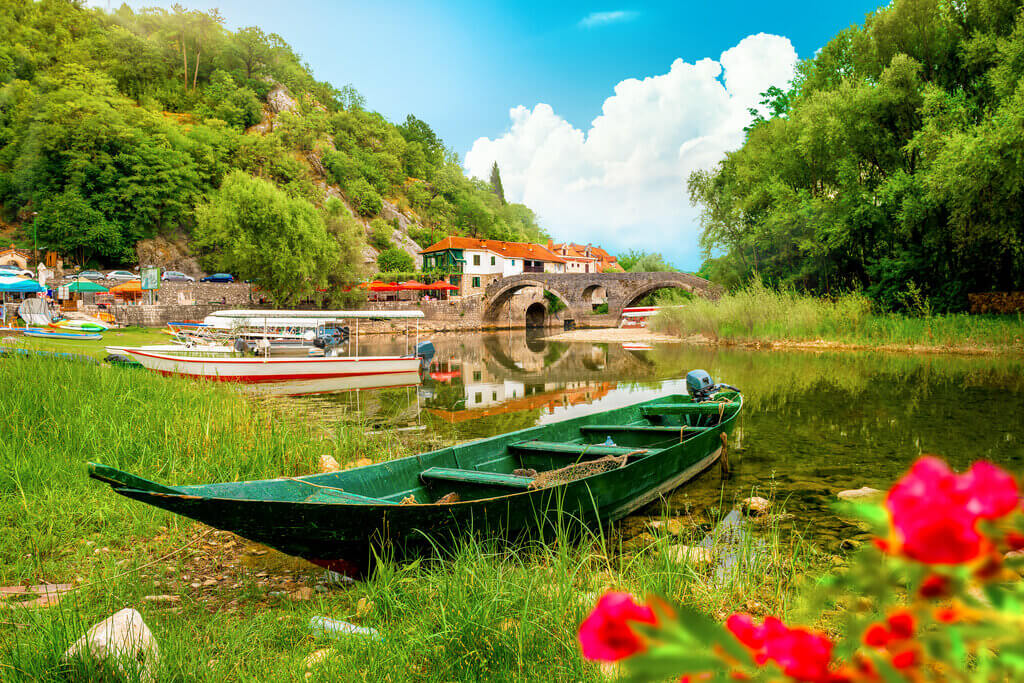 Rijeka Crnojevića. Image: Deposit Photos
Rijeka Crnojevića (pronounced ree-ye-kah tsrnow-yevicha) was one a bustling trade port and the seat of Crnojević Dynasty. When the Ottoman Turks conquered the capital of Zeta, Žabljak Crnojevića, in 1477, the ruler of Zeta, Ivan Crnojević, moved the capital near the medieval town of Obod and named it Rijeka Crnojevića - 'Crnojević River'.
When you visit Rijeka Crnojevića today it's hard to believe this sleepy village of just 300 people was once the centre of Montenegrin trade and innovation. It's where the first state-owned printing press in the world was, where the first south Slavic book in the Cyrillic alphabet was published and where royalty liked to have homes here because of the mild climate.
Today, there are lots of reasons to visit the tranquil riverside village during your stay in Montenegro. It's where you can see some of Skadar Lake National Park's most beautiful vistas, try traditional cuisine and even take a hike to an actual bat cave.
Things to See and Do in Rijeka Crnojevića

1. Rijeka Crnojevića Bridge

The most well-known landmark in Rijeka Crnojevića is the stone bridge that crosses the river. The bridge connected Rijeka Crnojevića with the medieval town of Obod, which was a medieval town on the other side of the river. Obod is where the first south Slavic book in the Cyrillic alphabet was printed and it was called Oktoih Prvoglasnik, an Orthodox liturgical book that was printed in 1494.
The bridge is also known as Danilo's Bridge because it was built by Prince Danilo in 1853 in memory of his father, Stanko Petrović.
2. Boat Tours to Skadar Lake

You can take a boat tour from Rijeka Crnojevića to Skadar Lake. Tours start from €25 and one of the best places to see is Manastirska Tapija, also known as the Montenegrin Amazon because of its rich wildlife. You can also take cruises from Rijeka Crnojevića to the villages of Virpazar, Karuč, Dodoši and Poseljani.
Here's a short video of a typical boat trip on Skadar Lake:
You can also take a boat tour from Virpazar to Rijeka Crnojevića. You can find out more about boat tours from Virpazar here.

3. Wine and Bleak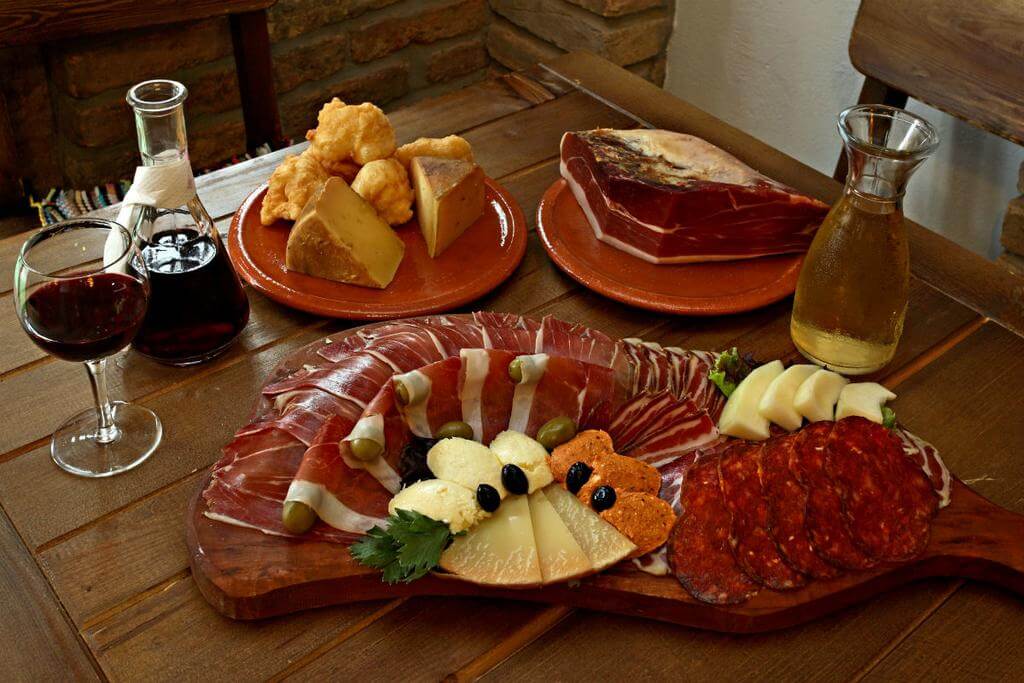 Traditional wine and food tasting at Skadar Lake
In the 19th and 20th centuries Rijeka Crnojevića was the biggest port in Montenegro and its specialty was dried bleak, a type of fish found in Skadar Lake, that was highly prized in Italy. There are lots of restaurants lining the riverside promenade where you can try local specialities. 
Stari Most is a good-quality favourite on the waterfront. Mostina has an outdoor terrace and is based in the house Prince Danilo built when he built the bridge. A little further up the road towards Podgorica and Pavlova Strana, Posljednja Luka has a lovely elevated terrace overlooking the river and countryside.
This area is also Montenegro's wine-making region. The area that lies between Rijeka Crnojevića and Virpazar, called Crmnica, is known for its excellent wines and boutique wineries. While you're here you can visit a boutique winery for a wine tasting.
4. Obod Hike

From Rijeka Crnojevica you can take a 7km circular route that will take you past the ruins of Obod village, the site of the first printing press in Montenegro. The route takes you by Obod cave which you can go into – watch for bats!

5. Pavlova Strana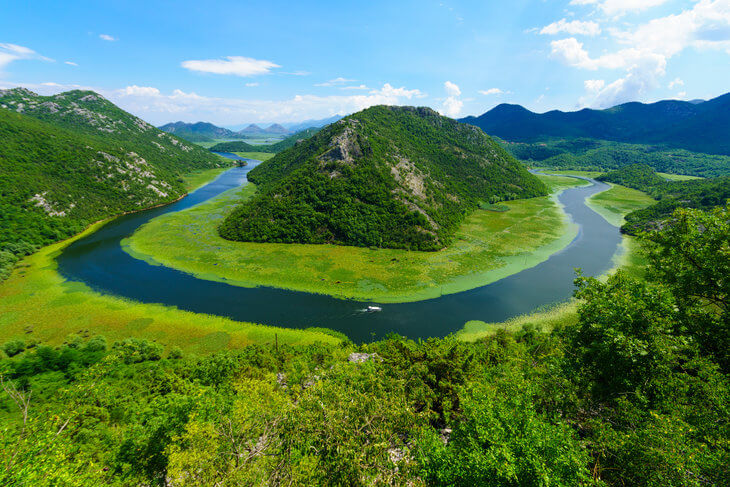 Pavlova Strana. Image: Deposit Photos
Just outside Rijeka Crnojevića you'll find one of Montenegro's most famous vistas, Pavlova Strana. This horseshoe bend in the Crnojević River is a favourite photo stop for visitors to the area.
You can stop at the viewpoint on the road above the horseshoe bend or you can take a boat from Rijeka Crnojevića to Pavlova Strana and further into Skadar Lake.
The Full-Day Montenegro tour includes a boat trip here with a stop for swimming in the river, plus a traditional lunch at a restaurant in Rijeka Crnojevića.

6. Karuč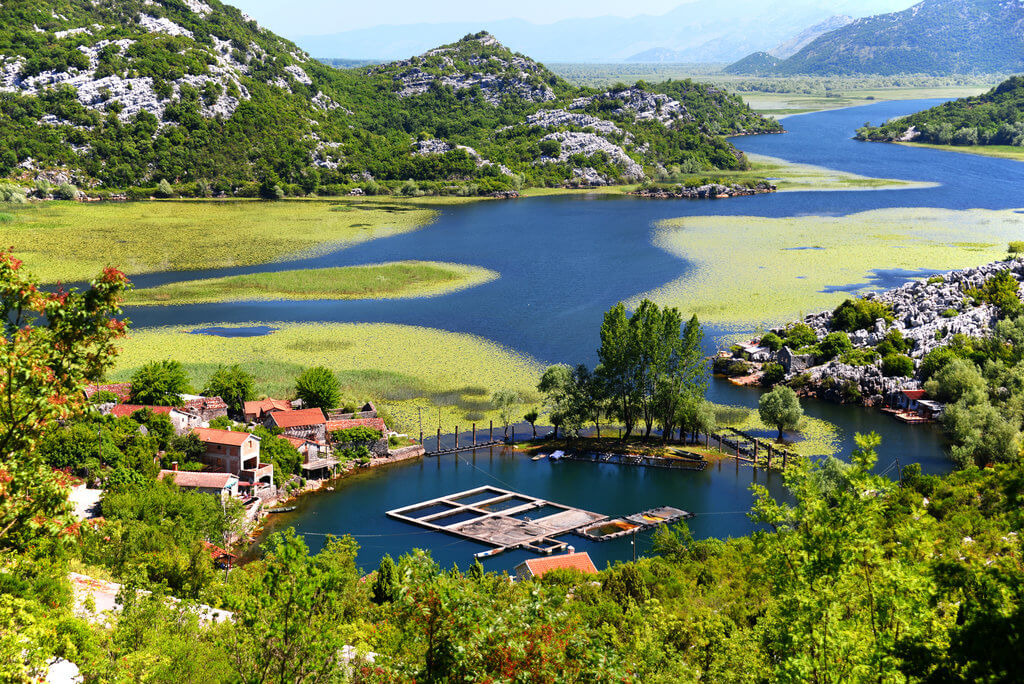 Karuč. Image: Deposit Photos
If you're driving towards Podgorica from Rijeka Crnojevića you'll pass a turn-off for Karuč. Karuč is an old village on the shore of Lake Skadar and a pretty to stop for a walk. Petar I Petrović Njegoš built himself a winter house here and you can see the ruins of the tower in the middle of the village.
There's not much to see in the village, but if you have the time it's worth heading to Karuč just for the views. From the village you'll get beautiful views of the lake, see lake birds like cormorants and ducks and you can stop by the local kafana Kod Sloba for a homemade pomegranate juice and lake fish.
7. Drive to Virpazar
The road between Rijeka Crnojevića and Virpazar is one less travelled, but it's a good way to see authentic Montenegrin villages and countryside.
Along the way you can stop at Poseljani village, which is known for the watermills lining the stream that runs through the village. There were once 14 watermills in Poseljani that milled flour and corn for people in the area. The village is very picturesque, with waterfalls, 300 year-old stone houses and pretty stone bridges.
You can also take a boat cruise from Virpazar to Poseljani village here.
Before you get to Virpazar there's a cute cafe called Macalov Brijeg. You can stop here for coffee and homemade juice overlooking the lake.
---
Accommodation in Rijeka Crnojevića
This tranquil village is a lovely quiet place to stay. It's ideal if you're travelling between Cetinje and Podgorica and want somewhere authentic and pretty to stay. The accommodation is mainly self-catering apartments like Apartment Jovićević which overlook the river. There's also a supermarket in town, so it's easy to grab some basics while you're staying here.

Related Articles
Boat Cruises in Skadar Lake National Park
Kayaking in Skadar Lake National Park
Rijeka Crnojevića
Book Your Trip With My Recommended Providers
Rijeka Crnojevića Travel Guide