Restaurants In Montenegro
This post may contain affiliate links which means that if you purchase through my link I may earn a small commission which helps to keep this site going. Thank you. You can find more info in my disclaimer.

A typical meal in restaurants in Montenegro
Welcome to one of the most important parts of our site – the part about food.
When you come to Montenegro, you know you'll have to eat. And you don't want to waste a meal eating in the wrong places. 
If there's one thing that's true about travelling anywhere in the world it's that the locals know the best places to eat.
And Montenegro is no exception.
discover kotor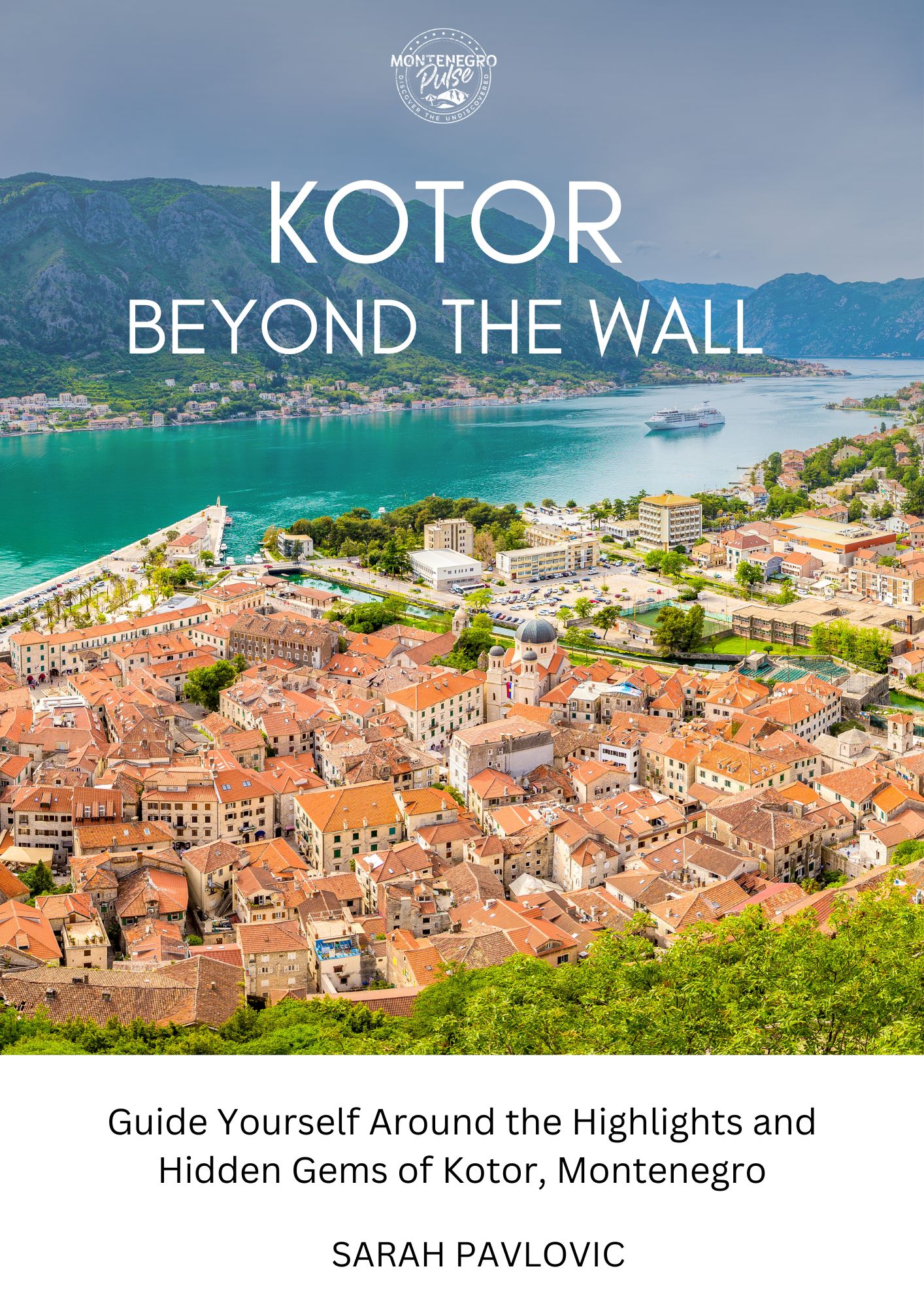 Guide yourself with the
"World's Best Guide to Kotor"
Top attractions
Hidden gems
Bonus walking tour
What to eat
Exclusive experiences
Essential visitor tips
There are lots of restaurants and cafes here. Heck, locals spend a good portion of their days in cafes. But most locals don't have the money to eat out on a regular basis. So when they do, they go where they know they're going to get:
Good quality food
Good size portions
Good service
That's why it pays to follow your nose to the places the locals go.
We've done the hard yards for you… well ok, eating our way around the country is also not that hard! Some of the best-known restaurants here leave a lot to be desired in our opinion. Some of the places you would never find on your own are absolute gems.
Either way, we're on a quest to discover the best and let you know about them. Especially the hidden gems.
We love to try new places and have some old favourites that we return to again and again. Eating out in Montenegro is pretty reasonable and the portions are huge.
There are two main types of local cuisine in restaurants in Montenegro – seafood on the coast and hearty meat dishes when you travel inland. You'll find both types on the coast and both have some delicious dishes that you must try while on holiday. 
Check out our Top Must-Eat List here.
---
Find The Best Restaurants in Montenegro By Area
We've listed out the top restaurants in each area based on our own experiences, friends' experiences and general popularity.
Best Kotor Restaurants
Kotor is the most popular tourist attraction in Montenegro and the old town is full of eateries... so where should you go?
Read More: Best Kotor Restaurants
---
Best Kotor bay Restaurants
There are some fantastic restaurants in Kotor Bay. Restaurants where you can sit waterside and enjoy a romantic seafood dinner while the waves lap gently on the shore. 
Read More: Best Kotor Bay Restaurants
---
Best Budva Restaurants
Budva is one of my favourite places to eat out. There's variety, some local favourites and for sunset dinners, you can't beat the Budva Riviera. Watching the sun go down over the sea while you tuck into fresh seafood is an experience that every visitor to Montenegro should have. 
Read More: Best Budva Restaurants
---
Best Tivat Restaurants
Tivat is a town where you can everything from great value local cuisine to upmarket 5 star dining. Having breakfast, lunch or dinner in Porto Montenegro overlooking the super yachts is another Montenegro must-do experience. 
Read More: Best Tivat Restaurants
---
Best herceg Novi Restaurants
Herceg Novi has some gems that you must try if you're staying or visiting there. You'll find lots of local-style seafood and Balkan grill places that are unpretentious and delicious. 
But my favourite? A little lounge that serves modern Montenegrin cuisine... with a sea view of course!
Read More: Best Herceg Novi Restaurants
---
Restaurant Reviews
I also have detailed information and reviews of some of our favourite restaurants:
Konoba Maestral – Lustica Peninsula
Konoba Ribar – Bay of Kotor
Konoba Feral  – Herceg Novi
Papagaj – Bay of Kotor
Tri Lipe – Herceg Novi
Catovica Mlini – Bay of Kotor
Café Armonia – Perast
Conte Restaurant – Perast
Konoba Mediteraneo - Petrovac
Krapina Estate - Budva
---
Write Your Own Review
We review all the restaurants we visit on our travels and write about them here. Of course we can't get to every single restaurant, but we're hoping you'll help out fellow visitors to the site. That's why we've added a way for you to review your favourite restaurants too. 
Want to Write Your Own Restaurant Review?
Have you a had a fantastic, terrible or somewhere in between experience at a restaurant in Montenegro? You can write your own restaurant review right here!
Restaurants in Montenegro
help the stray animals of Montenegro
Book your accommodation anywhere in the world through any of the search boxes on our site and we'll make a donation towards sterilising stray animals in Montenegro. 
It costs you nothing, and you get the biggest selection and lowest prices guaranteed. It's a win-win!