Montenegro Pulse contains affiliate links and is a member of the Amazon Services LLC Associates Program. If you make a purchase using one of these links, I may receive compensation at no extra cost to you. See my disclaimer for more information.

The Best Kotor Restaurants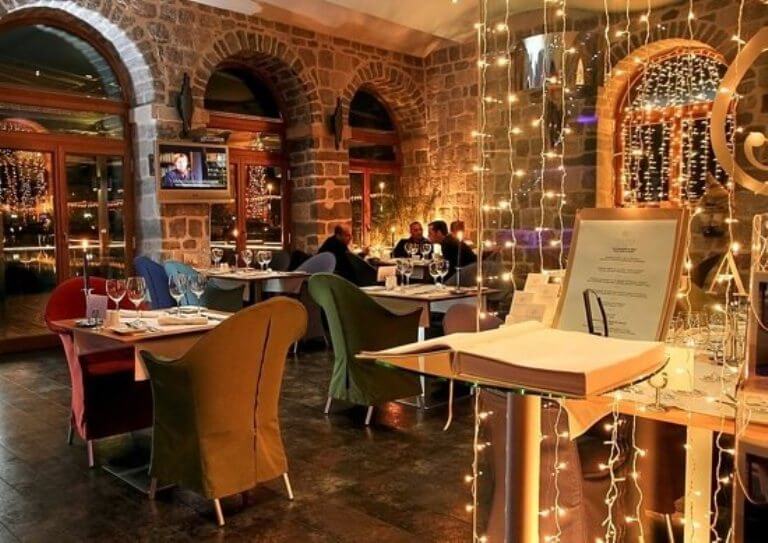 Galion is one of Kotor's most popular restaurants
Kotor restaurants are sure to be one of the highlights of staying in or visiting Kotor - whether it's Montenegrin or international cuisine that you're looking for. 
There are some well-known ones like Galion (pictured above) and there are some hidden gems... keep reading for those!
As with all restaurants on the Montenegrin coast, seafood features highly on most menus. I recommend trying:
Grilled octopus
Calamari - grilled, fried or stuffed
Black risotto made with cuttlefish ink
Seafood platters
Mussels in white or red 'buzara' - perfect teamed with crusty, fresh bread.
Barbecued bream with silverbeet - this silverbeet will convert even the biggest vege-phobes!
If you're not into seafood, don't worry. There are still plenty of mouth-watering meat and vegetarian dishes for you. Look out for:
Cevapi - Balkan sausages
Pljeskavica - Balkan hamburger
Steaks
Chicken
Pasta
And then you get to my favourite... dessert! While in Montenegro you must try krempita - a local cream pie with flakey pastry and a thick vanilla filling. My other favourites are:
Baklava - layers of filo pastry with a walnut filling that's soaked in syrup
Pancakes - not reserved for breakfast here, this is a popular dessert and snack
Fresh figs
Any of the creamy, melt in your mouth cakes that you'll see on display at cafes
Last, but not least, a summer must - ice cream!
So where should you go to try all of these delicious delights? Let's explore the best Kotor restaurants...
Best Kotor Restaurant for Fine Dining
Galion - Kotor 
Galion's floor to ceiling windows and terrace give you panoramic views of Kotor town and the bay
Address: Skaljari, Kotor.
Cuisine: Contemporary Mediterranean seafood
Prices: €€€€
Hours: 12pm - 12am daily
This waterfront restaurant constantly gets rave reviews about it's food, service and location. It lies right on the waterfront a short walk from the old town and therefore has stunning views of the old town, especially at night when the fortress walls are lit up. Even if you sit inside and not on the outside terrace, the floor to ceiling windows will make sure you don't miss the amazing view of the town and marina.
Galion specialises in seafood, but you can get meat and vegetable dishes also. It's an excellent spot if you're looking for a special meal.
Cheese plate at Galion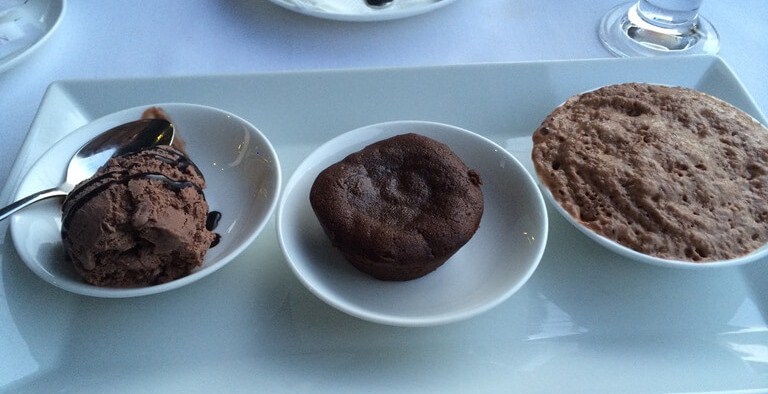 Chocolate dessert platter
---
Best Contemporary Cuisine Restaurants
Astoria Restaurant in Hotel Astoria
Address: Stari Grad 322, Kotor Old Town.
Cuisine: Contemporary Mediterranean
Prices: €€€

Astoria Restaurant is in Hotel Astoria in the old town. They serve excellent Greek-inspired Mediterranean cuisine. 
They serve breakfast, lunch, dinner and snacks.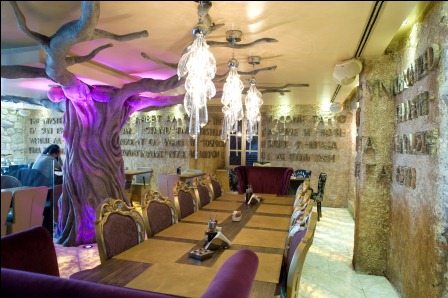 ---
Dojmi - Kotor Old Town
Address: Kotor Old Town Sea Gate
Cuisine: Pizza, pasta, sandwiches 
Prices: €€€

Dojmi is a casual cafe restaurant in front of Kotor old town.
They have a small inside area and a large outdoor terrace which is perfect for a coffee or a light meal while enjoying the view.
From here you have a view over Kotor marina, the bay and the  mountains which surround you on all sides.
Dojmi is right outside the old town - perfect for enjoying the sun
---
Best Kotor Restaurants for Local Fare
Bastion I and III
Address: Bastion I - North Gate, Milk Square (Trg od Mljeka).
                 Bastion III - Tabacina - just across the bridge at the North Gate.
Cuisine: Montenegrin. Bastion I specialises in seafood. 
Prices: €€

These restaurants are great places to get good quality local fare at budget-friendly prices. 
The plain look of the places keeps lots of tourists away, but you'll notice these are firm favourites with locals and they've been Kotor staples for many years with reason. 

You'll find tasty local-style seafood and meat dishes at non-touristy prices. This is a great place to eat if you want to really want to eat local in Kotor. 
---
Tanjga
Address: Suranj bb, Kotor
Cuisine: Balkan grill 
Prices: €€€

Balkan grill is something you must try during your stay in Montenegro. Tanjga specialises in marinated meat that's barbecued to tender perfection. The portions are huge and you can get delicious cabbage salads, 'sopska' salads and mouth-watering roast potatoes on the side. 
My recommendation: try the plejskavica or cevapi!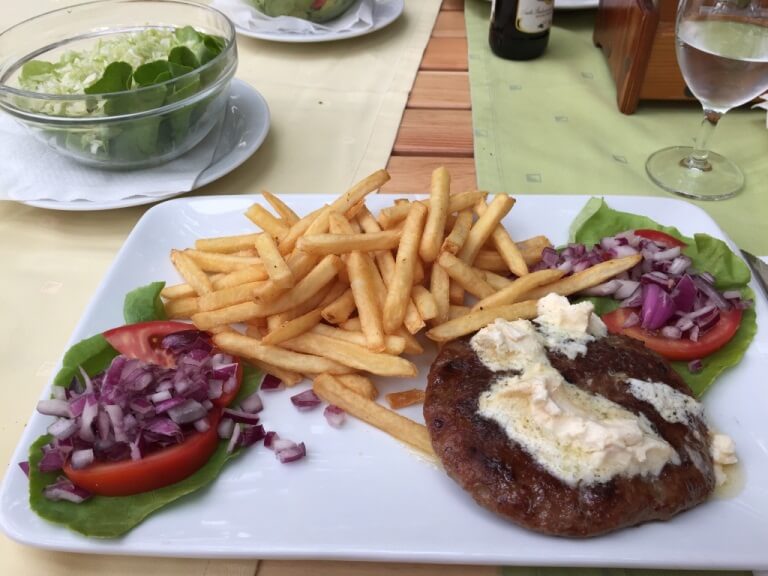 Balkan grill: pljeskavica with kajmak cheese
---
Galerija
Address: Suranj bb, Kotor
Cuisine: Montenegrin seafood and grill  
Prices: €€€

Galerija is ideally situated outside the old town. From here you can enjoy views of the old town (stunning when lit up at night) and the beautiful Bay of Kotor.
The restaurant specialises in Montenegrin seafood and grilled meat dishes. My recommendation is to try the seafood platter so you can sample the best of the local delicacies. Also consider trying the smoked ham, local olives and Vranac wine. 
---
Konoba Cesarica
Address: Old Town 375, Kotor
Cuisine: Montenegrin seafood and grill  
Prices: €€€
Hours: 9am - 9pm daily

Konoba Cesarica is Kotor's best-kept secret. It's a family run 'konoba', a Montenegrin tavern. The owner is a local fisherman who brings his catch every day so the menu changes daily. 
The restaurant is tucked down an alley in the old town and the cool, stone interior adds to the feeling of a 'refuge' from the busy tourist town. 
Walk in, grab a cold beer and relax...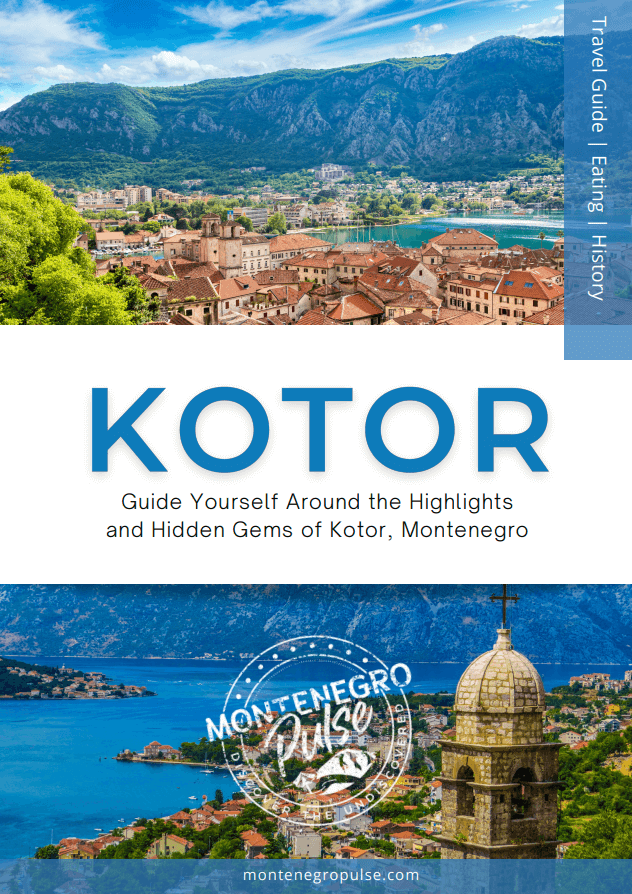 If you are visiting Kotor, my guide to Kotor old town is an indispensable book to take with you. This guide is like having a local best friend to show you the most interesting sights and hidden gems of Kotor.
---
Kotor Restaurants
Book Your Trip With My Recommended Providers