Visit Montenegro
Are you ready to visit Montenegro? This former Yugoslav republic is stepping into the spotlight and now is the time to visit this hidden gem.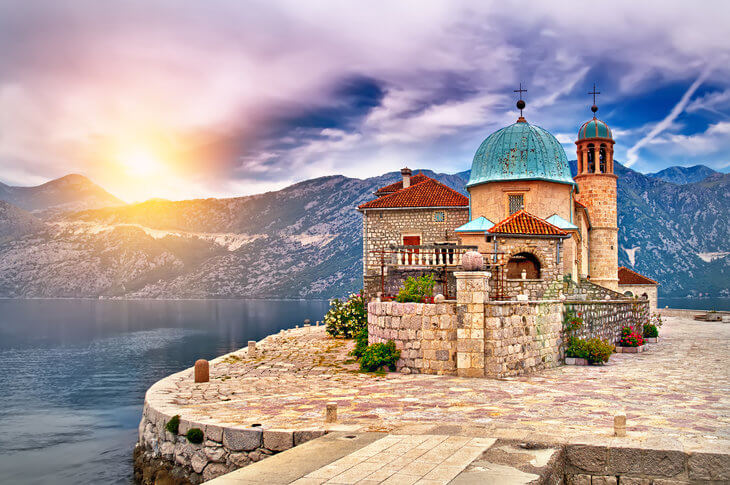 Our Lady of the Rocks. Image: Deposit Photos.
There's no better time to visit Montenegro. This tiny country has long been overshadowed by its larger and better-known neigbour, Croatia, but now it takes its place as one of the fastest-growing tourist destinations in the world.
And with good reason.
Whether it's the warm weather, old-world charm, the excitement of exploring a relatively undiscovered destination or the stunning scenery, there are so many ways Montenegro can deliver your dream holiday this year.
Are you ready to visit Montenegro? This is where you'll find everything you need to know to plan the perfect stay here.
---

What To Expect When you Visit Montenegro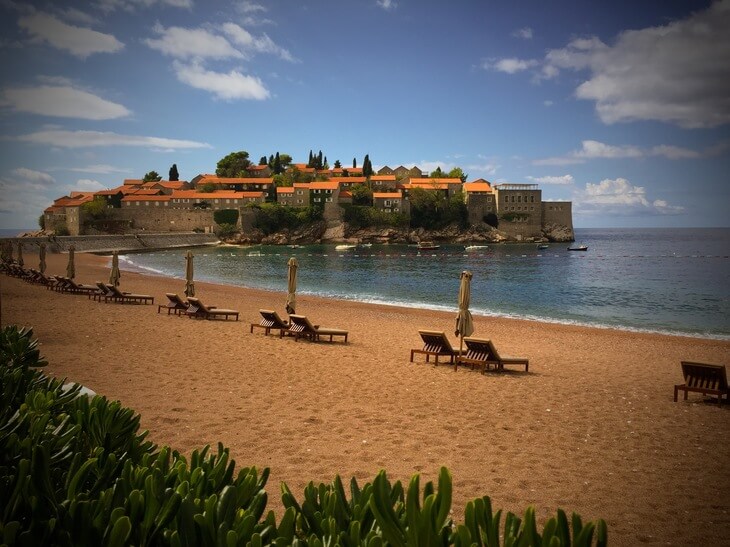 Aman Sveti Stefan, the 5* luxury resort island
First, I'd like to tell you more about what Montenegro holidays are really like and how you can get the best out of yours.

Montenegro is one of those fantastic places that caters to everyone, from backpackers to billionaires.
Backpackers: Travelling through Europe on a shoestring budget? Stay in a hostel in Kotor old town for as little as €8 a night.
Luxury: Or maybe you're strictly a 5* traveler… You can stay on a 15th century private hotel island where prices start from €800 a night.
Beaches: Montenegro is incredibly diverse and packs so much into a small area. Do you want a  holiday where you spend your days lounging, on the beach sipping on cocktails and your nights partying until dawn? Look no further.

Adventure: Want an off-the-beaten-track adventure full of hiking, kayaking, canyoning and rafting? Yep, you'll find that here too.
Romance: Or is your ideal trip a sedate getaway where you spend evenings wandering along the seaside discovering little eateries serving fresh seafood and local wine? You guessed it, you'll find that here in spades.
Families: Or maybe you're looking for a family holiday where your kids can enjoy some summer sunshine and you can get stuck into the latest Jack Reacher book. Montenegro is great for family holidays and when you book direct flights to Tivat, you can be relaxing by the pool with your book within an hour of touchdown.
Montenegro has something to offer almost everyone!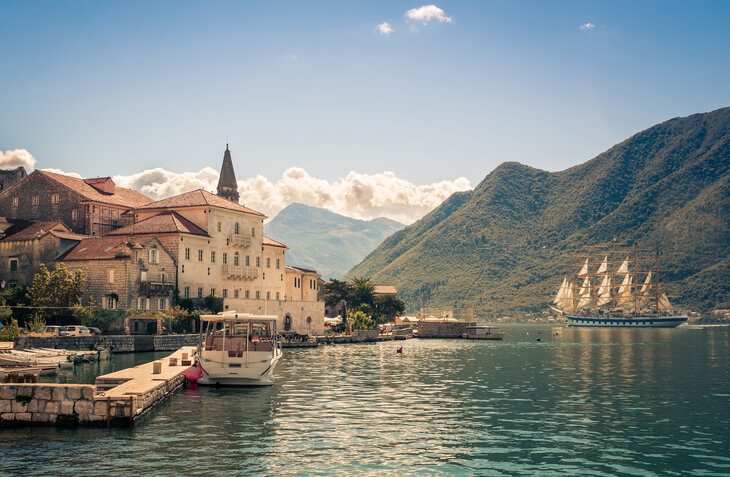 Perast, Bay of Kotor
Image: Deposit photos
But, Montenegro is Not for Everyone
Although Montenegro is a fantastic place, like any destination, it's not going to please everyone. 
Before you go booking your flight and packing your bag, I'd like to tell you a bit more about what to expect in Montenegro. That way when you do arrive, you won't feel misled or disappointed.
It's a rough diamond: If you want a slick, polished holiday experience, unfortunately Montenegro is not the place for you. Montenegrin tourism just hasn't had enough time to get to that standard yet. If you're looking for a first-world destination, where you can expect to have a flawless experience, Montenegro won't meet your standards.
Culture differences: A Montenegro holiday comes with imperfect service, as the locals learn to understand foreign tourists' expectations and mannerisms. But I give them an A+ for effort, because for warm-hearted Montenegrins, hospitality is part of their culture and you'll see that they love to treat you like family. People in the Balkans speak plainly, rarely smile and don't say 'please' and 'thank you', so they can come across as rude to us. However, it's just one of those culture differences. Your Montenegrin waiter isn't being rude when he asks "What do you want?" without a smile, this is the polite way to address customers in Montenegro.
The Montenegrin Shrug: Most Montenegrins grew up during WWII, socialist Yugoslavia or during the more recent Balkan wars. That means they're used to going without and making the best of a situation. They struggle to understand what the big deal is if the power goes out for a couple of hours or the drains smell when the north wind blows. Don't be surprised if your complaints are met with the famous Montenegrin Shrug and a rhetorical "What can we do? That is how it is."
Once we took a German friend, Fritz, out night fishing with friends. At dinner time the table was laid with plates of cured meats, cheeses, bread and glasses of wine.
All of a sudden a flashy speedboat came flying past and set the boat rocking. We simply lifted our glasses, kept talking and waited for the rocking to stop. Fritz couldn't believe that no one was upset about how rude the speedboat driver was, going way too fast and way too close to us. He said in Germany they would have called the police and spent the next hour railing about the incident. Cue the Montenegrin Shrugs.
Montenegrins are great at 'shrugging it off'!
Customer service: And that leads me to customer service. 'The customer is always right.' isn't a phrase that's made it to Montenegro yet. Montenegrins are very generous and most are scrupulously honest. But they won't automatically give in to a customer's demands because the 'customer is always right'.

Poor infrastructure: The infrastructure needs updating, meaning that we have power outages during storms and lots of roadworks. A stay here might mean you get stuck in traffic or have to take a detour, but you'll probably end up getting to see some lovely scenery along the way.
Rubbish: Litter is another problem in Montenegro. The beaches, mountains, roads and waterways are littered with plastic bottles, plastic bags, construction and household waste. 
So Who Should Visit Montenegro?
As I mentioned, Montenegro has something to offer everyone. You'll know you'll love Montenegro if any of the following resonates with you.
You have a sense of adventure: A holiday here will suit anyone with a sense of adventure. This is an emerging destination, well, as far as the west is concerned. Serbs, Russians and Norwegians have been coming here for decades!
You think of yourself as laid back: Don't sweat the small stuff? Live by the philosophy that no one ever went blind from looking at the bright side of life? You'll love Montenegro, whether you want a relaxing family holiday, fun beach-side getaway or an action-packed adventure holiday.
You're an outdoor enthusiast: From the depths of the sea to the tops of the those 'black mountains' Montenegro was named for, you'll find dozens of ways to enjoy the outdoors here.
You love exploring: Do you love to step off the beaten track? You'll be rewarded for your exploratory nature here. Whether it's a hidden beach, a tree full of ripe figs or an idyllic waterfall, you'll discover hidden gems around every corner.
You enjoy new cultures: Montenegrins love to share their culture. There are free concerts, festivals and carnivals year round in Montenegro. Ask your host what's happening locally and you'll find plenty of ways to dip your toe in Montenegrin music, art and food culture. A gastronomy tour is another way to experience Montenegro's wine and food, a cornerstone of the culture.
Still with me and ready to visit Montenegro? 
Let's explore!
---
Where is Montenegro?
One of the first questions you might have is 'Where is Montenegro?' I certainly get asked that a lot!
Montenegro lies in central Europe, surrounded by Croatia, Serbia, Bosnia and Herzegovina, Albania and the Adriatic Sea. 
The flight time from the UK is just under three hours, and it's a comfortable flying or driving distance from the rest of the continent. Most European cities will offer flights to one of the three most convenient airports - Tivat, Podgorica or Dubrovnik.
Read more:
---
Travel to Montenegro
So now that you know where it is and you're keen to visit Montenegro, the next question is 'how do you get here?'
There are lots of ways to get here:
Read more:
---
Where to Visit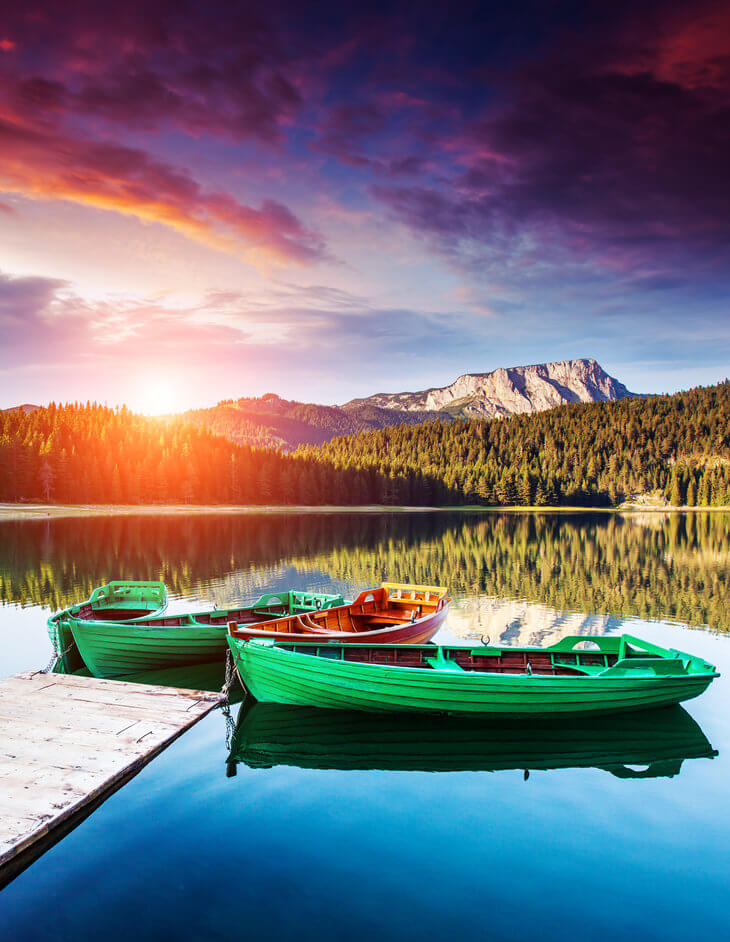 The Black Lake, Zabljak, Durmitor National Park. Image: Deposit Photos.
The secret to a great stay in Montenegro is choose where you want to stay first. Of course, if you're a 5* traveler or a backpacker, you're going to be limited to the destinations that have 5* hotels or hostels, because there aren't many of either in Montenegro.
But if you're not looking for specific accommodation at either end of the spectrum, the best place to start is by exploring each area of the country and choosing the place that will suit you best.
Most people will stay somewhere along the coast in one of these areas for all of or part of their holiday in Montenegro. You'll find that just about everyone you come across in the Bay of Kotor and Budva Riviera speaks some English. These are by far the two most popular places to stay.
But if you really want to get to know Montenegro, no visit is complete without a trip into the 'black mountains' Montenegro is named after. You see, in the local language Montenegro is 'Crna Gora' which literally translates into 'Black Mountain'. And it's this rugged interior that shows you another side of Montenegro.While the coast is all Mediterranean sunshine and olive groves, the mountainous interior is rugged and dramatic. It's where bears and wolves roam free, people live in simple villages and snow covers the ground for many months of the year.If you want to go inland, you can either split your time between the coast and the inland or see parts of it in day trips from the coast – Montenegro is so compact you can easily see it in day trips!
Read More:
---
Booking Your Vacation
History, culture, action, beaches... Montenegro has it all...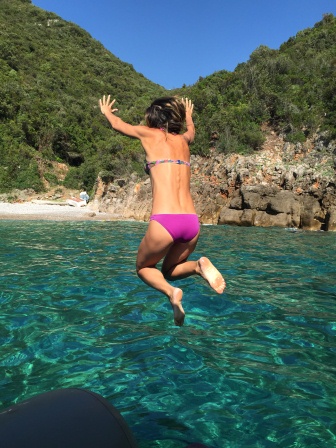 Zagorski Pijesak Beach
It's never been easier to visit Montenegro. The short flight and warm climate make this the ideal place for a vacation.
This is a truly unique place. You can find everything from rustic log cabins in the mountains to adventure holidays to self-catering family holidays to five star luxury. 
Whatever kind of vacation you're after, Montenegro can deliver. And because it's only just hitting the tourist radar, you can still find a deserted beach... like this one on the left!
If you want help booking your trip, download my free booking guide to help you. You can use the step by step process I've used to book hundreds of fantastic holidays here.
If you're starting the process of booking your vacation here, I recommend the following articles. They'll help you find out what you need to know about when to visit, where to stay and whether you should rent a car.
Read More: 
---
Things to Do in Montenegro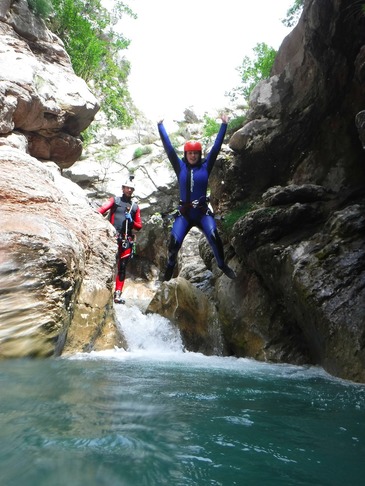 Canyoning in Rikavac Canyon
When you visit Montenegro, you step off the beaten track. And a world of possibilities and adventure opens up!

There are lots of things to do in Montenegro. Especially if you like the outdoors. 
The Mediterranean climate and azure coastlines make it perfect for kayaking, diving, beach-loving and boating.
There there are the canyons for rafting and canyoning. The national parks for beauty.
There are museums, historical monuments, traditional events, monasteries, lakes, prehistoric drawings, ancient towns, mountain villages, ski fields, ziplines... you get the idea. In Montenegro, it's impossible to be bored... unless you want to be.
Read More:
---
More Info About Montenegro
If you're looking for more information about Montenegro, you'll find answers to the most commonly asked questions on my frequently asked questions page. You can also ask me a question there.
---
Ready to Visit Montenegro? More for you to explore...
---
Home
› Visit Montenegro
---
Help us help the stray animals of Montenegro
Book your accommodation anywhere in the world through any of the search boxes on our site and we'll make a donation towards sterilising stray animals in Montenegro. 
It costs you nothing, and you get the biggest selection and lowest prices guaranteed. It's a win-win!