Montenegro Pulse contains affiliate links and is a member of the Amazon Services LLC Associates Program. If you make a purchase using one of these links, I may receive compensation at no extra cost to you. See my disclaimer for more information.

How to Get to Montenegro: Top 5 Easiest and Most Affordable Ways
Wondering how to get to Montenegro? Discover the top 5 easiest and most affordable ways to get to Montenegro, whether you're flying, driving, or taking a bus.
With three international airports to choose from, rail links, daily buses, and a ferry, there are lots of ways to get to Montenegro.
Finding the best option for you will depend on where you're coming from, how much time you have, your desired level of comfort, and of course your budget.
I've been traveling to and from Montenegro for the last 15 years. In this guide, I'll give you a comprehensive overview of the best ways to travel to Montenegro, whether by air, land, rail, or sea.
Flying to Montenegro
For most people, flying is the best way to get to Montenegro. There are daily flights to Montenegro from European centers and further abroad, especially during the summer months.
You can also choose from three international airports, which makes finding convenient and affordable flights easier.
Main Airports
Montenegro is served by two main international airports: Tivat Airport, located near the popular coastal town of Tivat, and Podgorica Airport, situated near the capital city. 
If you are staying in the Bay of Kotor or Budva, Tivat Airport is the most convenient airport to fly into. If you are staying in Podgorica, Bar, Ulcinj, or anywhere in the north of Montenegro (eg Žabljak or Kolašin), Podgorica Airport is the best airport to fly to.
However, Montenegro is tiny, so you can use either airport and easily travel to your destination.
The third airport you can use is Dubrovnik Airport in Croatia. At just 21 kilometers (13 miles) from Montenegro, it's close enough to be a convenient option for flying to Montenegro. And getting from Dubrovnik Airport to Montenegro is easy. You can take a bus, taxi, transfer, or rent a car.
Airlines That Fly to Montenegro
Air Montenegro is Montenegro's national carrier and operates flights from around Europe to both Podgorica and Tivat airports. 
In addition, the following airlines also fly to Montenegro:
Aegean Airlines: Athens
Air Astana: Seasonal - Almaty, Astana
Air Montenegro: Belgrade, Istanbul, Ljubljana, Rome–Fiumicino (starts 15 December 2023), Zürich
Seasonal: Bratislava, Copenhagen, Frankfurt, Lyon, Nantes, Paris–Charles de Gaulle, Sarajevo
Seasonal Charter: Cairo, Katowice, Rzeszów, Tel Aviv
Air Nostrum: Seasonal charter - Bari
Air Serbia: Belgrade
Seasonal: Kraljevo, Niš
airBaltic: Seasonal - Riga
AlbaStar: Seasonal charter - Madrid
Austrian Airlines: Vienna
Seasonal: Vienna
Avion Express: Seasonal charter - Vilnius
Braathens Regional Airways: Seasonal charter - Oslo
easyJet: Seasonal - Berlin, Geneva, London–Gatwick, Manchester
Edelweiss Air: Seasonal - Zurich
El Al: Tel Aviv
Enter Air: Seasonal charter - Katowice, Poznań
Eurowings: Seasonal - Düsseldorf, Stuttgart
flydubai: Seasonal - Dubai–International
FlyOne: Seasonal - Yerevan
Seasonal Charter: Chișinău
Israir: Seasonal - Tel Aviv
Jazeera Airways: Seasonal - Kuwait City
Jet2.com: Seasonal - Birmingham (starts 2 May 2024), London–Stansted (starts 1 April 2024), Manchester
LOT Polish Airlines: Warsaw–Chopin
Lufthansa: Seasonal - Frankfurt, Munich
Luxair: Seasonal - Luxembourg
Norwegian Air Shuttle: Seasonal - Helsinki, Oslo
Pegasus Airlines: Istanbul–Sabiha Gökçen
Ryanair: Berlin, Gdańsk, Kraków, London–Stansted
Seasonal: Barcelona (ends 26 October 2023), Charleroi, Manchester, Wrocław, Zagreb
Scandinavian Airlines: Seasonal - Copenhagen, Stockholm–Arlanda
SkyUp: Seasonal - Kharkiv, Kyiv–Boryspil, Lviv, Odesa, Zaporizhzhia (all suspended)
Seasonal Charter: Gdańsk, Katowice, Rzeszów
SmartLynx Airlines Estonia: Seasonal charter - Tallinn
Transavia: Seasonal - Paris–Orly
TUI fly Belgium: Seasonal - Brussels
Turkish Airlines: Istanbul
Ukraine International Airlines: Seasonal charter - Kyiv–Boryspil (suspended)
Uzbekistan Airways: Seasonal charter - Tashkent
Windrose Airlines: Seasonal charter - Dnipro, Kyiv–Boryspil (both suspended)
Wizz Air: Budapest, Dortmund, Memmingen, Milan–Malpensa
Seasonal: Katowice, London–Gatwick, Rome–Fiumicino, Vienna, Warsaw–Chopin
Montenegro Airport Transfer Options
1. Rental Car
Renting a car for your stay in Montenegro is a great idea to help you get the most out of your stay. It's more cost-effective than using taxis and booking tours if you plan to do a fair amount of sightseeing.
Having a rental car will help you to fit more in to your trip and give you the flexibility to see some of the country's best scenery. You can also rent a car just for a few days of sightseeing during your stay.
There are rental car car booths at the airport. I recommend booking in advance, especially during the summer months, to get the best deals and options.
I recommend Localrent for the best car hire in Montenegro. They have a huge range of cars at 5-25% below what you'll pay with international agencies, excellent service and their deposits are hundreds of euros less than companies like Avis and Sixt.
Read more: Renting a car in Montenegro
2. Airport Transfers
Neither of Montenegro's airports have airport shuttle services and there is no Uber or Lyft in Montenegro. If you're not hiring a car on arrival, it's best to book a transfer to take you to your accommodation.
There are taxis at the airports, but these can be severely overpriced and there are scammers just waiting to pressure you into their cars and then overcharge you. And finding and haggling with a driver can be stressful when you've just arrived in a foreign country. 
Booking a transfer means you know how much your transfer will cost in advance.  All you have to do is get off the plane and meet the driver waiting for you.
How to Get to Montenegro By Air: Essential Details
Average ticket prices from major cities: Expect to pay around €200-€400 for a round-trip ticket from European cities. Prices from North America start at approximately €600.
Airport facilities: Both airports offer car rental services, currency exchange, and basic amenities like restaurants and shops.
Opening hours: Generally open from early morning until late at night, depending on flight schedules. Neither airport is open overnight, so you can't sleep there. You'll find a lot of good accommodation near both airports.
Driving to Montenegro
Driving to Montenegro is easy if you're coming from a nearby country in Europe.
Major roads like the E65 and E80 are in good condition and connect Montenegro to the neighboring countries of Croatia, Serbia, Bosnia and Herzegovina, Kosovo, and Albania.
The trip from Dubrovnik, Croatia to Kotor, Montenegro, for instance, takes about two hours.
Requirements
The only requirements for driving your car or a rental car are the car's paperwork (registration etc) and car insurance for Montenegro. If you don't already have insurance cover for Montenegro, you can buy border insurance at the border crossings.
If you're renting a car outside of Montenegro, let your car rental company know you plan to drive to Montenegro so they can give you the paperwork you need. There's often a cross-border fee for this of €10-20 per day.
Montenegro Border Crossings 
Serbia: Rance, Cemerno, Dobrakovo, Kula, Drazenovac, Vuce.

Albania: Bozaj, Sukobin, Grncar.
Bosnia and Hercegovina: Sitnica, Ilino Brdo, Vracenovici, Krstac, Nudo, Scepan Polje, Metaljka, Sula.
Croatia: Debeli Brijeg, Kobila
Essential Details
Border crossing: Have your identification and any necessary visas ready for a smooth crossing.
Pro Tips
Summer is peak season for travel to and from Montenegro. Plan to leave enough time for border crossings (the Montenegro-Croatia border crossing can take hours).
Familiarize yourself with local driving rules in Montenegro before you arrive.
Taking A Bus to Montenegro
Traveling by bus to Montenegro is an excellent option if you're looking for a budget-friendly and fairly convenient way to explore the beauty that Montenegro has to offer.
You'll find daily buses from neighboring countries such as Serbia, Croatia, Albania, and Bosnia and Herzegovina. Some of the most frequented routes include:
Belgrade (Serbia) to Podgorica
Dubrovnik (Croatia) to Kotor or Budva
Tirana (Albania) to Ulcinj or Podgorica
Sarajevo (Bosnia and Herzegovina) to Podgorica
You'll find both day and night buses on the most popular routes. Although traveling at night might deprive you of some stunning views, it can make traveling in summer heat more comfortable.
One of the common complaints of traveling by bus in the Balkans is that drivers sometimes smoke while driving the bus. Keep this in mind if you plan to travel by bus to Montenegro.
Essential Details

Ticket Prices: Vary depending on the route and company but usually range from €10 to €30.
Booking: You can buy tickets at the bus station, although I recommend booking online if possible, especially during the busy summer months.
Customs and Border Checks: These can add time to your journey, especially during high tourist season.
Pro Tips
Arrive Early: Bus stations can get crowded and chaotic, especially during the summer months. Arriving early ensures you can find your bus and settle in.
Seat Choice: Opt for seats on the right side for coastal routes; you'll get the best views of the Adriatic Sea.
Bus Companies: Not all bus companies are created equal. Research reviews to pick a reputable one.
Luggage Fees: Some bus companies charge an extra fee for large bags, so keep some extra cash on hand.
Travel to Montenegro By Train
The only train route to Montenegro runs from Belgrade in Serbia to the city of Bar on the Montenegrin coast.
This journey of 476 kilometers (296 miles) includes 254 tunnels, 435 bridges, and is considered one of the top 10 scenic rail journeys in Europe!
There are trains running twice daily from Belgrade which stop at Bijelo Polje, Mojkovac, Kolašin, Podgorica (the capital city), Sutomore and finally Bar on the coast.
The journey takes about 11 hours and you can get sleeper cabins for the overnight journey.
The service is no frills on the standard Serbian Railways train and there are complaints about the cleanliness of the trains, but you'll be treated to some stunning scenery as you pass monasteries and go through mountain passes.
There are many highlights and if you take this trip you'll be glued to your window for most of it.
Moraca Canyon: One of the most breathtaking sights, Moraca Canyon offers stunning views of cliffs and the Moraca River below.
Lake Skadar: As the train skirts the edge of Lake Skadar, you'll be treated to expansive views of one of the largest freshwater lakes in Europe.
Tara River Canyon: Another natural marvel, the Tara River Canyon is among the world's deepest river canyons, providing captivating sights of rugged landscapes.
Kolašin: A popular mountain resort town in Montenegro, Kolasin offers vistas of the surrounding forests and hills.
Descent from Kolašin: This descent is one of the steepest rail inclines in the world, descending 1,000m over 70km.
Vrbnica Tunnel: The longest tunnel on the route, the Vrbnica Tunnel marks the border crossing between Serbia and Montenegro. The darkness gives way to a new set of landscapes once you exit.
Mala Rijeka Viaduct: Until 2001 this was the highest railway bridge in the world at 200m above the Mala Rijeka river. You'll get excellent views as the train rounds the bend and gives you a view of the bridge over the canyon.
Buying Train Tickets
You can check an up-to-date timetable on Serbian Railways or Railway Transport of Montenegro. The tickets cost around €24 one way and you can only buy them at the train station.
Rail Europe Passes
Rail Europe has multi-passes that are great if you're planning on travelling around Europe by train.
Rail Europe has a Global Pass which includes unlimited travel in 33 countries in Europe, including Montenegro, Serbia, Croatia and Bosnia and Herzegovina.

Essential Details
Ticket prices: A one-way ticket from Belgrade to Bar starts at around €24. On the night train a couchette costs an extra €6, a bed is €15 in a 3-bed sleeper, and €20 in a 2-bed sleeper. It costs €3 to reserve a seat on the daytime service.
Facilities: Basic amenities are available on the trains and at stations, including bathrooms and snack bars.
Pro Tips
For the best scenic views, aim for a daytime journey.
Book your tickets in advance to secure a window seat for the best vistas.
Taking a Ferry or Cruise to Montenegro
Main Ports
The major ports in Montenegro are in Bar and Kotor. Bar is a commercial port with services from Italy, while Kotor is more focused on cruise ship tourism.
Ferries
Montenegro Lines runs a ferry service from Ancona and Bari in Italy to Bar in Montenegro. The ferry crossings take 8 to 11 hours and you can book cabins for the overnight journeys. 

2023 Update: Unfortunately, these services have been suspended for now. You can check for updates on these services on the Montenegro Lines website.
Cruises
Cruises to Montenegro provide not just a convenient way to travel, but also give you the chance to see several destinations without having to sit in uncomfortable buses for hours.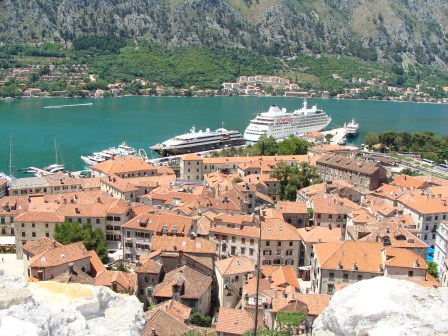 The major cruise port in Montenegro is Kotor port, a UNESCO World Heritage Site renowned for its well-preserved medieval architecture and maze-like streets.
Kotor is a great cruise destination because the views as you sail in through the Bay of Kotor are absolutely stunning. 
There is also a plethora of things to see and do in Kotor. Exploring the old town is a must, but you can also swim in a sea cave, visit an island church, try local delicacies like oysters, wine, and rakija, and much more!
Some cruises also make stops at Bar, further south on the Montenegrin coast. Bar is less touristy than Kotor and you'll find fewer attractions here, but Bar also has an ancient old town perched on a hill about 5km from the cruise port.
Essential Details
Duration: Cruises to Montenegro typically range from 7 to 14 days, often as part of a larger Adriatic or Mediterranean itinerary.
Best Time to Go: The cruise season runs from late April to October, with the warmest and busiest months being July and August.
Facilities: Cruise destinations offer a range of services including currency exchange, shopping, and guided tour arrangements.
Pro Tips
Morning arrivals in Kotor offer the best views and photo opportunities, as the rising sun illuminates the cliffs and medieval fortifications.
Our Lady of the Rocks, the Blue Cave, and Lovćen National Park are top attractions for cruise passengers.
Frequently Asked Questions About How to Get to Montenegro
You can fly into two main airports in Montenegro: Podgorica Airport (TGD), the country's capital, and Tivat Airport (TIV), which is closer to the popular tourist destination of Kotor. Both airports are well-connected domestically and internationally. You can also use Dubrovnik Airport (DBV) in Croatia.
Direct flights to Montenegro come from various European countries such as the UK, Germany, France, and Russia. There are also seasonal flights from countries in the Middle East like Israel. Airlines like Air Montenegro, Ryanair, and Turkish Airlines offer direct services.
The most convenient way to get to Montenegro from the UK is by direct flight. Both Tivat and Podgorica airports are served by airlines like Ryanair and EasyJet. The flight duration is approximately 2 to 3 hours depending on the departure city in the UK.
No, there is no ferry from Dubrovnik to Montenegro. However, there are many day tours, buses and you can drive from Dubrovnik to Montenegro.
Final Thoughts
The most common way to get to Montenegro is by flying. With three international airports to choose from and dozens of connections, flying to Montenegro is easy.
You can also drive to Montenegro from neighboring countries, either in your own car or with a rental car.
If you're on a budget, traveling to Montenegro by bus is cost-effective and there is an excellent bus network connecting Montenegro to countries throughout Europe. The train journey from Serbia to Montenegro is also very affordable and is one of Europe's most scenic train journeys.
For a luxury journey in style and comfort, a cruise to Montenegro offers jaw-dropping scenery and the chance to visit many destinations in one trip.
Book Your Trip With My Recommended Providers