Montenegro Pulse contains affiliate links and is a member of the Amazon Services LLC Associates Program. If you make a purchase using one of these links, I may receive compensation at no extra cost to you. See my disclaimer for more information.

Frequently Asked Questions About Montenegro
I often get asked the same questions from first time visitors to Montenegro. Here's my list of frequently asked questions, all answered for you here.
#1: Which currency is used in Montenegro?
The currency in Montenegro is the Euro. No other currency is accepted. Payment at most shops, supermarkets and restaurants can also be made by card, just smaller mini markets and such won't offer card payment options. You'll also find banks and atms in all towns.

#2: Which language is spoken in Montenegro?
The language spoken in Montenegro is Serbo-Croatian. You'll hear it also referred to as Serbian, Montenegrin, Croatian and Bosnian, but they're basically the same language with a few regional differences.

Most people you'll come into contact with will speak at least some English. People who regularly work with tourists, such as restaurant staff and tour guides, usually speak English as well as other languages such as Russian and Italian.

Here are some words and phrases you might find useful:
Zdravo or Cao (pronounced the Italian way - 'ciao') - hi

Hvala – thank you
Molim – please
Ja bih htjela (pronounced 'ya beeh htyela') – I would like
Gdje je (pronounced 'gdye ye') – where is
People might giggle a little when you try out their language, but rest assured they are definitely not laughing at you. They are absolutely chuffed that you're using their language and find it endearing.
#3:  Will I be able to drive in Montenegro?
A question I get asked a lot is 'is the driving really as hairy as I've heard?' And the answer is really that it depends on you. What kind of driver are you? Are you confident or nervous? How comfortable are you driving on the right hand side? How comfortable are you on narrow or steep roads.
If you're a reasonably confident driver, you'll be fine. The main roads are well sealed and wide. You might encounter narrow and steep roads if you're staying in a villa or hotel off the main thoroughfare. These are usually best just navigated slowly and carefully. Sometimes you'll have to back up a little way to let someone pass. As long as you stay relaxed, you'll find a place where the cars can pass each other. Most of the time the other car will back up without you even needing to.

Don't want to drive during your stay? Find out about taxis in Montenegro here.
Do watch out for the speed limits. They're often lower than you'd expect and there are plenty of police looking out for speeders.
If you're hiring a car, your licence from home is all you need. You don't need an international drivers licence to drive in Montenegro.
Find out about hiring a car here.
If you're hiring a villa or staying off the main road, you'll most likely receive directions to your accommodation rather than a street address that you enter into your gps if you're using one. That's because outside of the towns like Kotor or Budva and main roads, there aren't street addresses in Montenegro.
How does mail get to its destination you ask? The local postman just knows who you are and where you live! Our postman used to know where I worked, so whenever a package arrived for me, he would just bring it to me at work rather than leaving his card in my letterbox at home. Now that's what I call service!
#4:  Will I be able to hire a boat in Montenegro?
Many people ask whether they can hire a little runabout for the duration of their holiday, especially if their accommodation is right on the seafront. The answer is yes! And you can find out how to do that here.
If you don't have the appropriate licence, you can still hire a runabout by hiring a skippered boat for a day or more.
There are many skippers and boat owners who'll take you out for a day of swimming, sightseeing and fishing and you can hire anything from a wooden boat with an outboard engine to a giant mega yacht. You can also find options for that here.

One of the best ways to see sights like Our Lady of the Rocks and the Blue Cave is by joining a group boat tour. These typically include a guided boat tour, swimming and sometimes drinks.
#5:  What does it cost to eat and drink in Montenegro?
Ah that all important question – how much is going to cost you to try all the delights from our Top 10 list of Montenegrin dishes? The good news is – not that much!
A typical main of seafood is going to be in the region of €10 - €15. If you choose a first class fish, they charge per kilo, so it can add up if you choose a big fish.  It pays to ask your waiter in advance what the total will be.
You'll find pizza and pasta options just about everywhere you go and these are really reasonable at around €5 - €10 each. Desserts typically cost around €2.50.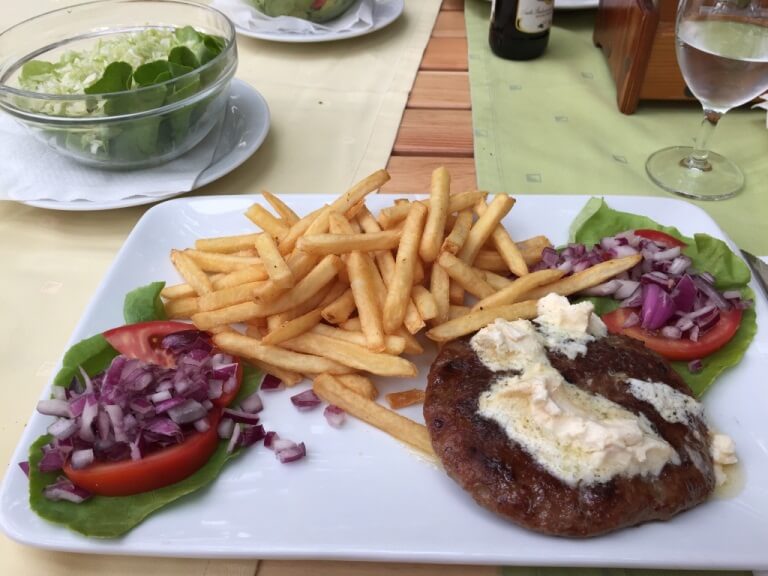 This meal cost €8 without the side salad
Wine is marked up quite a lot in restaurants – a bottle of Plantaze Pro Corde will be around €5 in the supermarkets and around €16 in a restaurant. 
Beer is only around €2 a glass.
If you go out for coffee you can expect to pay between €1 and €2 and a 1kg loaf of bread at the bakery is around €0.80.
If you go to your local farmers market, you'll find seasonal produce, such as tomatoes, very cheaply when they're in season. And the quality of fresh, local produce at these markets is amazing.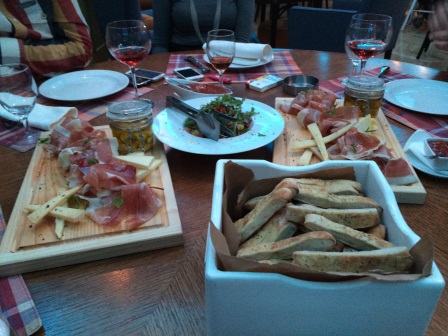 A Montenegrin entree of proscuitto and cheese
#6:  What will the weather be like in Montenegro?
When planning your trip, you'll definitely want to check what the weather's going to be like so that you can plan and pack accordingly. Have a look at our climate page to see what the weather is like when you plan to visit.

#7:  Do I need a visa to visit Montenegro?
Most foreign visitors to Montenegro do not need a visa. The best way to check whether you do or not is to contact a Montenegrin embassy. You can find the contact details for the closest one to you here.

#8:  What are the opening hours in Montenegro?
During the summer shops will be open from about 8am to 10pm throughout the day. Supermarkets in the towns are always open from 8am to 10pm. Banks open from 8am to 3pm. Restaurants and cafes will be open from 7am until late.

Related Articles
Frequently Asked Questions
Book Your Trip With My Recommended Providers