Montenegro Pulse contains affiliate links and is a member of the Amazon Services LLC Associates Program. If you make a purchase using one of these links, I may receive compensation at no extra cost to you. See my disclaimer for more information.

Taxis in Montenegro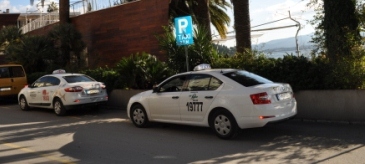 Taxis in Montenegro are cheap and efficient. In fact it's the ideal way to get around town if you haven't got a rental car or you just want to pop into town and don't want to bother looking for parking. In fact, if you're planning on staying for a while, the taxi trip might even be cheaper than paying for parking!
As always, there are some better options than others when it comes to taxis in Montenegro. Take note of these tips and you'll travel trouble-free.
Which Taxis to Use
Always use metred taxis that preferably belong to fleet/company. These will be cheaper than other independent drivers. Even if it's a company taxi waiting at a taxi stand, check that it's metred before you get in. I've been stung before having to pay 5 Euros for a trip that usually would cost less than 2 because the car had no meter and a 'minimum 5 Euro charge' policy – something I didn't notice until it was too late. I haven't made that mistake again!
The easiest way to get a taxi in Montenegro is to call one on the phone. The operators of all major taxi companies speak English and usually a taxi takes no more than 5 minutes to arrive.
Click here for a list of taxi company numbers around the country.
What If You Don't Have an Address?
If you're staying in a hotel or apartment complex it's generally easy to get a taxi to come pick you up. Some difficulty arises however when you need a taxi to come to your villa and you don't have a street address. Addresses in Montenegro are notoriously difficult, having neither street names or house numbers in many places. Your best bet in this case is to get the taxi to pick you up from a nearby restaurant, café or other landmark where they'll be able to find you easily.
Even if you have a rental car on holiday, taxis in Montenegro can be your best friend if you like to have a little tipple with dinner. 
The alcohol limit for driving in Montenegro is zero. Yes, zero.
The police do routinely stop drivers to check breath alcohol levels, so it's worth your while spending a few Euros on a taxi.
Prices vary for taxis in Montenegro and do tend to be more expensive between June and September. However they're still relatively cheap with a ride in any of the towns not usually costing more than a few Euros.

Phone Numbers for Taxis in Montenegro
Bar
Luk Trade Taxi - 19744
Radio Euro Taxi - 19701
Budva
Extra Taxi - 19696
Hello Taxi - 19555
Sany Taxi - 19728
Slava Taxi - 19715
Terrae - 19717
VIP Taxi - 19666
Herceg Novi
Novi Taxi - 19767
More Taxi - 19730
Kotor
Dzir Taxi - 19737
Red Taxi - 19719
Tivat
Dzir Taxi - 19777
Red Taxi - 19729
Ulcinj
De Lux Radio Taxi - 19766
Kalaja Taxi - 19761
Pasa Taxi - 19745
Smart Group Taxi - 19788
Podgorica
Alo Taxi - 19700
Bel Taxi - 19600
Blic Taxi - 19756
Boom Taxi - 19703
City Taxi - 19711
De Luxe Taxi - 19706
Dodge Taxi - 19765
Elite Taxi - 19708
Exclusive Taxi - 19721
Gold Taxi - 19805
In Taxi - 19755
Lady Taxi - 19727
Orange 19 Taxi - 19709
Peugeot Taxi - 19723
Pink - 19705
PG Taxi - 19704
Premijer Taxi - 19722
President Taxi - 19740
Prestige Taxi - 19718
Queen Taxi - 19750
Red Line Taxi - 19714
Royal Taxi - 19702
Plus Taxi - 19712
Danilovgrad
Maxi Trade - +382 (0)20 811 812
Niksic
Maxi Trade - +382 (0)40 200 300
Nik Taxi - 19733
Bijelo Polje
De Luxe Taxi - 19716
Plavi Taxi - 19757
Roller Taxi - 19735
Gradski Taxi - 19797
Mojkovac
Mos Taxi - 19747
Pljevlja
In Exclusive Taxi - 19732
Mega Taxi - 19611
Taxis in Montenegro
Book Your Trip With My Recommended Providers