Montenegro Pulse contains affiliate links and is a member of the Amazon Services LLC Associates Program. If you make a purchase using one of these Amazon links, I may receive compensation at no extra cost to you. See my disclaimer for more information.

Animal Welfare in Montenegro
Animal welfare in Montenegro is something that lies very close to my heart. Ever since I arrived I've spent a lot of time helping various animal welfare groups improve the lives of the huge number of stray animals in Montenegro. 
---
The Current Situation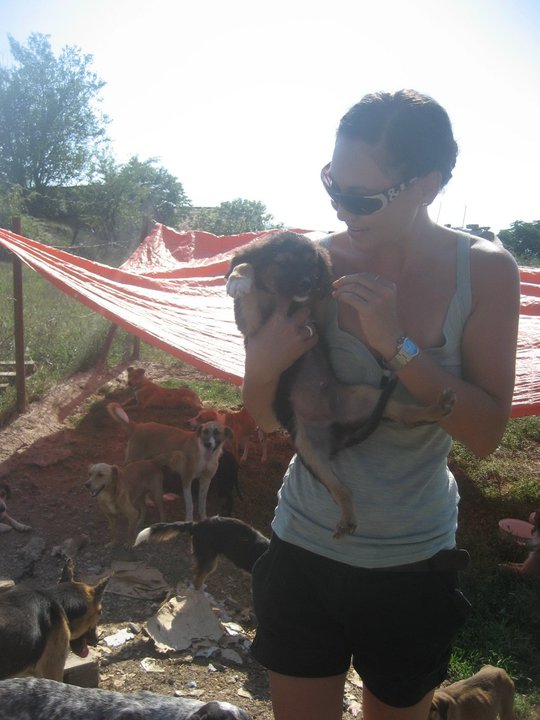 This is me in the Kotor/Tivat shelter which has since been renovated and works well
To be honest, most of the groups here don't function at a high level and most of the on the ground work is done by motivated individuals. These people sacrifice their time, and usually plenty of their own coin, to help abandoned, abused and stray animals here in Montenegro.
Unfortunately the situation for animals in general is quite grim. Sterilisation is rare and kittens and puppies are abandoned in boxes by rubbish containers with enormous regularity. Even unwanted purebred pets are abandoned by road sides when they get sick, hurt or boring. I know this problem is hardly unique to Montenegro. 
---
What Is Helping
There are foreign groups who make huge contributions to animal welfare in Montenegro.
They buy food for the (woefully underfunded and poorly run) shelters, they rehome cats and dogs, they make donations of medicines, flea and tick treatments, building materials, pay vet bills and are run their own spay and neuter programmes.
Spaying and neutering is the only humane method of controlling stray animal populations.
Every year I get literally dozens of emails from tourists asking for help saving a box of abandoned newborn kittens or an injured dog.
Unfortunately, there's very little I can do to help.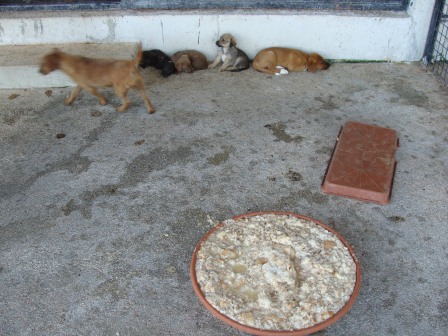 Shelter dogs eat bread and water mostly. 95% of the puppies succumb to Parvovirus and slowly die in the cages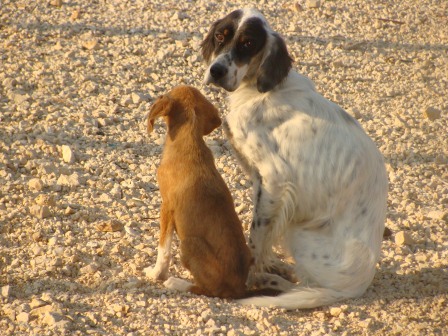 Til (left - named for my favourite German actor Til Schweiger) and Arja were both rescued and went on to have wonderful lives in Germany.
Montenegro Pulse is proud to be sponsoring the sterilisation of the Bijela Shipyard dogs. The dogs survived on scraps from the shipyard's 1,000 or so employees, but when the shipyard went into bankruptcy, the dogs were left abandoned. 
Local animal lovers have been feeding the dogs, but without sterilisation the number of dogs increased and the puppies were dying gruesome deaths. 
Thanks to some very generous donations,ongoing support and local help from volunteers, vets and Herceg Novi animal control, Montenegro Pulse has been able to secure sterilisation for seven of the 20+ dogs.
Sterilising these dogs has far-reaching benefits for the whole community of Bijela because:
Sterilised females stop contributing more unwanted puppies to the stray dog problem.
Sterilised males are less aggressive and territorial.
Bijela Shipyard is on the preschool and school route for many kids. Sterilised dogs mean there is less chance of kids getting bitten.
Local children are traumatised and desensitised by seeing puppies and dogs maimed and killed by passing cars.
Locals are more tolerant of the dogs when they see they aren't producing several litters of puppies every year.
Local adults and children become more aware of the benefits and normalisation of sterilisation. Currently sterilisation is seen as 'unnatural' and even cruel.
We need more funds to sterilise the rest of the dogs before summer. If you can spare a few Euros, I would be so grateful for your support with this meaningful project!

If you're not able to make a donation, you can also support the project for free! Just book your next holiday accommodation anywhere in the world through any booking.com link on this site and a portion of the commission will go towards sterilising stray animals in Montenegro!
Instead, what I do is tithe part of the income from Montenegro to sterilisation programmes run by organisations I work closely with.
It costs anywhere between €30 and €62.50 to sterilise a cat or dog here. Male cats are the cheapest and female dogs are the most expensive. 
In conjunction with Friends of Dogs Montenegro, we are sterilising all of the cats in Herceg Novi old town. There's a steady population of adults, with several litters of kittens annually. 
The good news is that you can help too... and it doesn't cost you a penny. 
---
How You Can Help
Book Your Holiday
Book your stay through Montenegro Pulse and you'll automatically make a donation towards sterilising and helping abandoned animals in Montenegro.
And it won't cost you a thing!
Just use any of the accommodation search boxes you see around the site to book and you'll be helping without it costing you a cent. A part of the commission I earn gets donated to animal welfare charities in Montenegro.
You'll be getting the biggest choice and lowest prices guaranteed so it's a win-win!
You don't need to book accommodation just in Montenegro either. You can book anywhere in the world and know that you'll be helping the animals here.
---
Are you looking for help with an abandoned animal? Scroll down to find a list of organisations you can contact.
Sterilise an Animal
The one way we can help these animals is to reduce the number of unwanted kittens and puppies being born, only to die at a few weeks old from starvation, injury or disease. Sterilisation also astronomically improves the quality of life of the sterilised animal:
No more fighting.
No more being pregnant and giving birth twice a year - you can imagine the stress that puts on an animal!
No more mating - now I know some find that unnatural and even cruel, but I have a Zoology degree and I can tell you that cat mating is truly horrific - click here if you really want more detail.
Stops the spread of diseases like FIV and chlamydia.
Sterilisation also helps people:
No more being kept awake all night by randy animals in mating season.
No more packs of stray dogs roaming the streets or diseased cats wandering around.
I've added a Paypal donation option to this page that will allow you to make a donation towards sterilising an animal in Montenegro.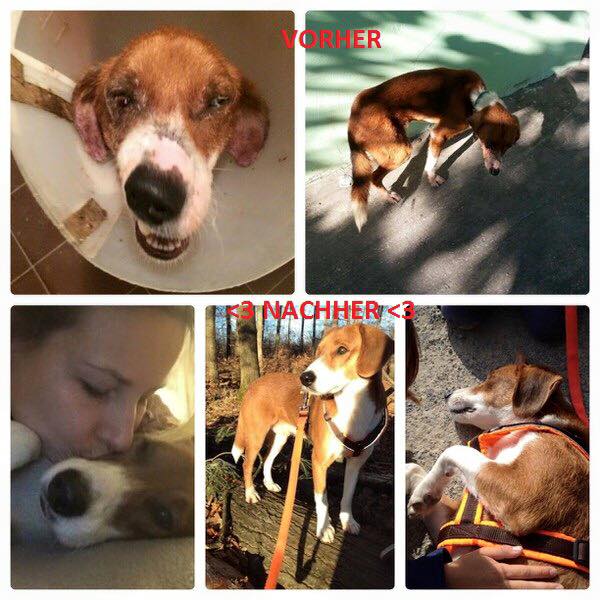 Ray - a typical transformation of one of Tierhilfe Montenegro's dogs
Even just the few dollars you would usually spend on a coffee makes all the difference. You see, with a programme like this it's not just the animal that gets sterilised that's helped, it's all of their potential offspring who are spared suffering and pain.


Just one cat and her offspring can produce 420,000 cats in six years.

99% of these kittens wouldn't make it past a month here in Montenegro - they die of cat flu, herpes, predators and being thrown in garbage containers or abandoned in the woods.

I'd be so grateful if you could find it in your heart to help the animals of Montenegro. 

Please click the donate button below to donate to Montenegro's only spay and neuter programme.

This poor kitten was too starved and weak to fight off his infection

This is me applying a donation of flea treatment to a local stray cat called Mimi
Make a Donation
Click the donate button to make a donation
One Click Monthly Automatic Donation
You can make a monthly donation to help stray and abandoned animals in Montenegro with just one click! Choose your donation amount below and you'll make an automatic donation monthly. You can cancel any time through your Paypal account.
---
Take A Survey
If you've found this page, I assume you've felt upset by the plight of unwanted cats and dogs in Montenegro. We'd be so grateful if you'd take two minutes to fill in our survey and tell us about your experiences. This is your chance to tell local welfare groups and the government how your stay in Montenegro was affected and help change the situation.
Click here to take the 2 minute survey.
---
Help While on Holiday
Here is a list of ways you can help while in Montenegro. This list is reprinted with the blessings of the wonderful people at Kotor Kitties.
Email the Montenegrin authorities about how seeing suffering animals has affected your stay in Montenegro. You can include photos and cc our friends at Friends of Dogs on friendsofdogsmontenegro@gmail.com.
Here are the email addresses you can contact:
President: nada.mugosa@predsjednik.me
National Tourism Organisation:info@montenegro.travel
Government of Montenegro: pr@gov.me

If there are homeless cats around the hotel, guest house, or vacation rental you're staying in, take note of whether they have water and a regular feeding schedule. If they do, take time to thank the manager or host, and tell them how nice it is to see that they're cared for! Be sure to follow up in any review you leave, and send us a picture of the feeding station, name of facility, etc. so we can also thank them
If they're not being fed and have no fresh water, talk to the management about how much you enjoy seeing the cats, but how much nicer it would be to see them well cared for!
In either case, tell them about our free spay/neuter program, which includes vaccine and flea treatment. Kotor Kitties can lend them a carrier AND take care of the vet bill!
One of our greatest needs is for help transporting cats to and from the vet for surgery! If you're willing to take some time out of your vacation to help with transport, please contact us a few weeks ahead of time. We'll try to match you up with a kitty ready to go in for care. The vet is about a 15 minute walk from Old Town Kotor; if you have a car there are cats and kittens around the Bay needing transport!
On a tight budget but really want to donate? Many of us face that as tourists. Instead of filling your suitcases with souvenir gifts for friends and family, consider giving them the picture of a kitty you've had spayed or neutered in their honor. The vet offers us a special rate of 20 euros for a male or 30 euros for a female street cat
When you interact with locals about the cats, try to keep the communication positive. In this part of the world, unwanted animals are still routinely poisoned or drowned. So it's important to educate people on humane solutions, rather than emphasize the "problem"
If you have the ability to bring a hard-sided pet carrier (easy to sterilize after use) or a humane trap with you to Kotor, it would be greatly appreciated and put to good use immediately!
Also point out the benefits of a well-cared-for group of cats:
1. They help control rodents year-round, even when they're fed
2. They will discourage new cats from moving into the territory
3. They are much healthier once spayed or neutered and treated
4.Tourists are charmed by visiting with healthy cats and dogs; they frequently miss their pets at home, and enjoy cuddling them when they're healthy and well cared for
5. Less build-up of garbage from left-over food left by well-meaning tourists
---
Find Help for an Abandoned Animal
Here is a list of groups you can contact to try to help a stray animal. These groups mostly don't have any fundraising or local business support. The members pay out of their own pockets. If you find help for an animal you've found, please offer to cover expenses or make a donation!
Friends of Dogs Montenegro - Bay of Kotor.
Ruka-Sapi - Podgorica.
NVO Spas - Podgorica and northern Montenegro.
Stray Aid Montenegro - Bar.
Tierhilfe Montenegro - German aid organisation
Kotor Kitties - Kotor
Animal Welfare in Montenegro
related Articles
Kotor Kitties: A Movement That's Changing Montenegro's Attitude to Cats
Monty the Cat: From Starving Stray to International Adventurer
Montenegro Animal Welfare Sanctuary
DMAD: Montenegro Dolphin Research
Book Your Trip With My Recommended Providers
Animal Welfare in Montenegro