Montenegro Pulse contains affiliate links and is a member of the Amazon Services LLC Associates Program. If you make a purchase using one of these links, I may receive compensation at no extra cost to you. See my disclaimer for more information.

Kotor Kitties:  Changing Montenegro's Attitude to Cats
Kotor Kitties is the first high-quality, high-volume sterilisation project and the first trap-neuter-return project in Montenegro!

Kotor's Cats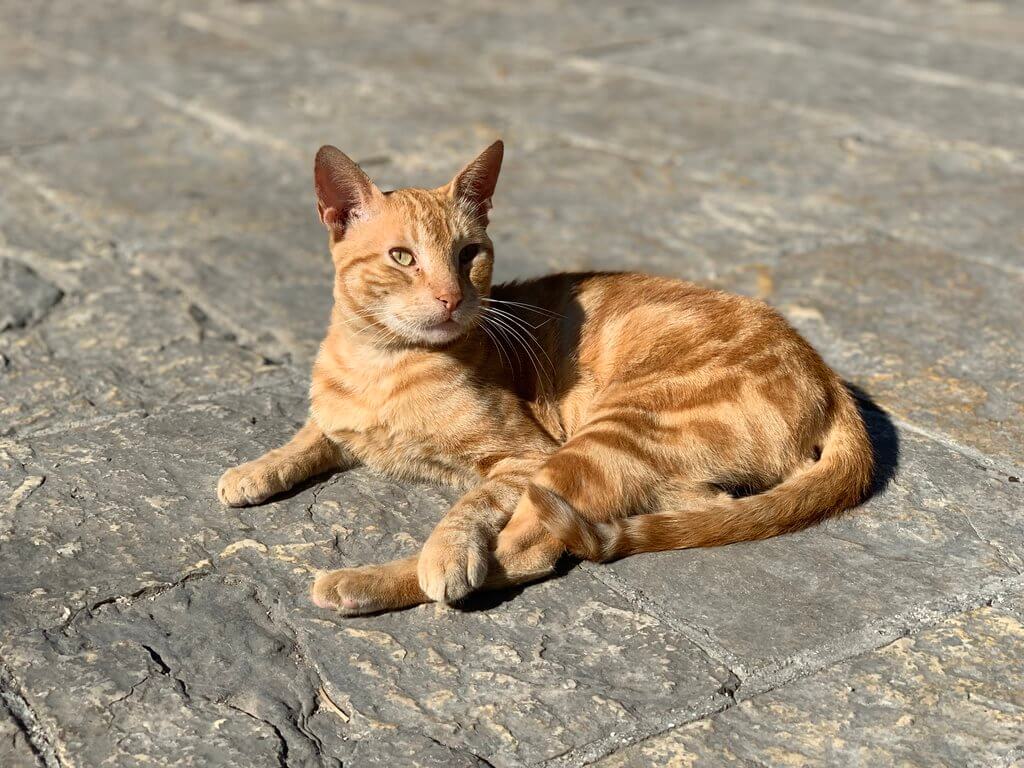 A ginger tom in St Tryphon's Square
Kotor has always been a home to cats and the town's population is watched over by its big cousin, the Lion of Saint Mark, the symbol of Venice, which looks out from walls and buildings throughout the town.
When you visit Kotor you'll see them basking in the sun in St Tryphon's Square, waiting at shop doors and perched on top of ancient walls.
At first glance their life seems idyllic as they're fawned over by tourists. Many look healthy and well-fed, cared for by the locals. Souvenir shops full of cat souvenirs would have you think that Kotor is a cat haven.
But Kotor's kitties need help. 
Reality for Kotor's Cats
Photo: Kotor Kitties
The reality for a stray cat in Kotor is being shooed away from restaurants, going hungry and spending a long winter on cold cobblestones.
But the most heartbreaking are the sickly-looking kittens huddling around Wood Square near the River Gate. Kittens, often only a few weeks old, are regularly dumped there.
They have respiratory infections and herpes and go blind.
They have fleas and worms.
They are sick, injured and the mortality rate for kittens is over 90%!
Every day desperate tourists, like you, try to find help for these poor souls but the couple of people who try to care for the town's cats are at breaking point.
It's incredible that a busy tourist hub like Kotor can have such a huge problem.
A litter of kittens literally thrown out with the trash in Kotor. Photo: Kotor Kitties
Kotor Kitties' Work
One organisation has come to help Kotor's cats.

Kotor Kitties is a U.S.-, U.K. and Montenegrin-registered charity that's offering free sterilisation and medical care to cats all over Montenegro.
The charity was started by American tourist, April King, and some local volunteers who decided 'let's raise money for 10 spays and see how we go.'
A year later, they'd spayed or neutered 796 cats.
Almost 5 years later, they're up to 9,000 cats and counting!
Just have a look at the numbers to see how many cats Kotor Kitties has affected:
Just one female cat and her offspring producing an average of 2.8 surviving kittens per litter at a rate of two litters per year = 
1 year: 12 cats
2 years: 67 cats
3 years: 376 cats
4 years: 2107 cats
5 years: 11,801 cats
6 years: 66,088 cats
7 years: 370,092 cats
8 years: 2,072,514 cats
9 years: 11,606,077 cats
x 7,098...that's a lot of cats!
And they're just getting started.
Kotor Kitties has started a movement in Kotor that's spreading throughout Montenegro. Volunteers are now catching community cats for trap neuter return as a humane way to control Montenegro stray cat population.
And not only that. Kotor Kitties has fundamentally changed the way cats are viewed in Montenegro.
From a pest with dozens of unwanted kittens per year, Montenegrins are starting to embrace cats. Now that they know they can get their cats sterilised and they won't have dozens of unwanted kittens to deal with, Montenegrin are happily keeping cats as pets.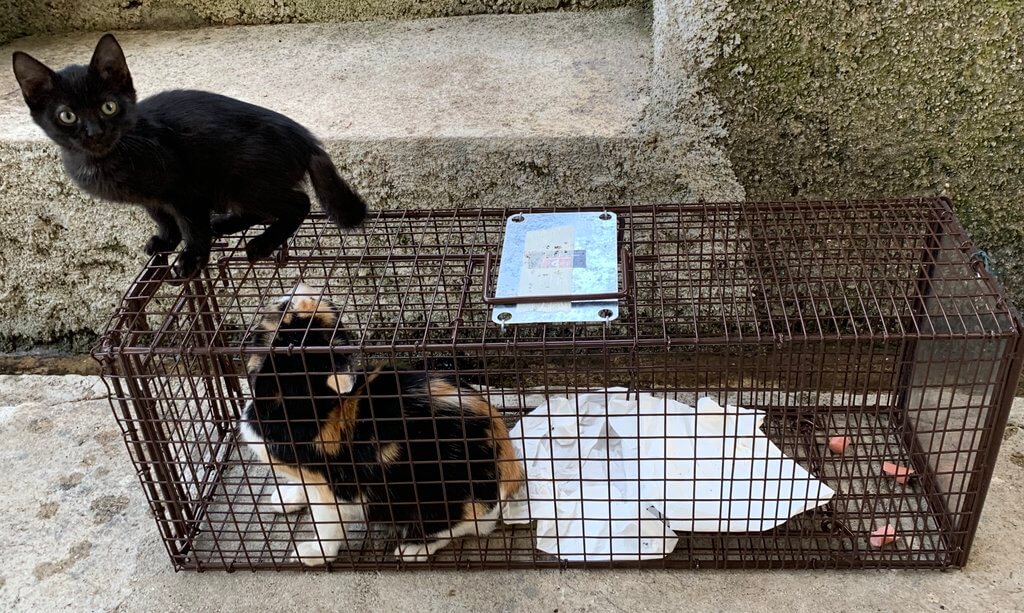 A stray cat I trapped in my back yard and sterilised with help from Kotor Kitties
By the way, a 'snip and tip' is when a cat gets the snip and an ear tip. A small piece of the cat's ear is cut to show that it's sterilised. If you see a cat with an eartip it means it's been sterilised by Kotor Kitties!
Vets Relja and Nebojsa
Kotor Kitties has help from a growing number of local vets who are going above and beyond to improve the lives of Montenegro's cats.
They're overcoming limits within their small clinics, pushing back against official and peer pressure and working long hours to make this project possible.
I was so impressed with Kotor Kitties' work that I decided to become a volunteer and am now honoured to serve on the board of directors. I believe this work is fundamental to Montenegro's development as a healthy and happy nation.
How You Can Make a Difference
If you're reading this, I'm guessing you are planning to visit or have visited Kotor.
Maybe you've already felt shocked by the obliviousness of locals to the horror that lies within their city walls.
Maybe you can't stop thinking about that tiny, filthy kitten that you had to leave behind when your cruise ship left.
Or maybe you just like to do some good when you travel.
Instead of buying a cat-themed souvenir to remember Kotor by, how about spending your money on something that will make a real difference?
You can make a donation of any amount:
€1 goes towards sterilising Kotor's cats. Every euro helps!
€5 pays for medicine to help cats recover from anaesthesia quickly.
€36.20 sterilises a cat. A gift to one cat that's really a gift to the millions kittens that won't suffer and die on the streets of Montenegro.
Please click the button below to make a donation of any amount now!
From me and the cats of Kotor - THANK YOU!!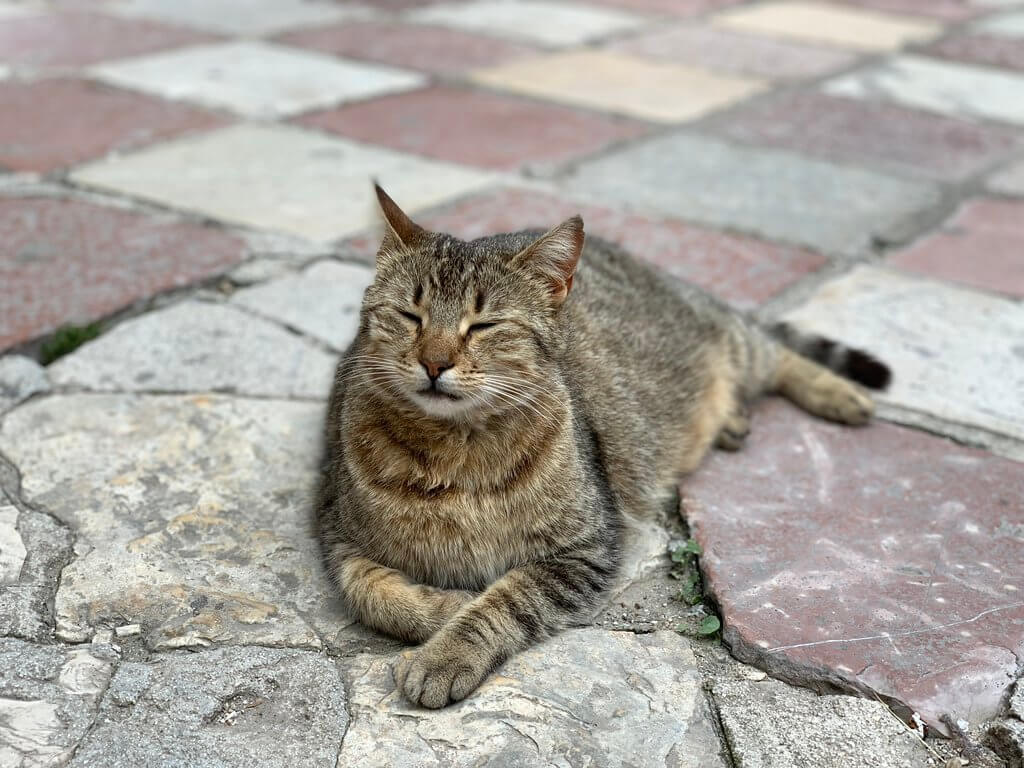 More Ways You Can Help
Here is a list of ways you can help while in Montenegro. This list is reprinted with permission from the wonderful people at Kotor Kitties.
If there are homeless cats around the hotel, guest house, or vacation rental you're staying in, take note of whether they have water and a regular feeding schedule. If they do, take time to thank the manager or host, and tell them how nice it is to see that they're cared for! Be sure to follow up in any review you leave, and send us a picture of the feeding station, name of facility, etc. so we can also thank them
If they're not being fed and have no fresh water, talk to the management about how much you enjoy seeing the cats, but how much nicer it would be to see them well cared for!
In either case, tell them about our free spay/neuter program, which includes vaccine and flea treatment. Kotor Kitties can lend them a carrier AND take care of the vet bill!
One of our greatest needs is for help transporting cats to and from the vet for surgery! If you're willing to take some time out of your vacation to help with transport, please contact us a few weeks ahead of time. We'll try to match you up with a kitty ready to go in for care. The vet is about a 15 minute walk from Old Town Kotor; if you have a car there are cats and kittens around the Bay needing transport!
On a tight budget but really want to donate? Many of us face that as tourists. Instead of filling your suitcases with souvenir gifts for friends and family, consider giving them the picture of a kitty you've had spayed or neutered in their honor. The vet offers us a special rate of 20 euros for a male or 30 euros for a female street cat
When you interact with locals about the cats, try to keep the communication positive. In this part of the world, unwanted animals are still routinely poisoned or drowned. So it's important to educate people on humane solutions, rather than emphasize the "problem"
If you have the ability to bring a hard-sided pet carrier (easy to sterilize after use) or a humane trap with you to Kotor, it would be greatly appreciated and put to good use immediately!
Also point out the benefits of a well-cared-for group of cats:
1. They help control rodents year-round, even when they're fed
2. They will discourage new cats from moving into the territory
3. They are much healthier once spayed or neutered and treated
4.Tourists are charmed by visiting with healthy cats and dogs; they frequently miss their pets at home, and enjoy cuddling them when they're healthy and well cared for
5. Less build-up of garbage from left-over food left by well-meaning tourists
Kotor Kitties
Book Your Trip With My Recommended Providers
Kotor Kitties: Changing Montenegro's Attitude to Cats