Montenegro Pulse contains affiliate links and is a member of the Amazon Services LLC Associates Program. If you make a purchase using one of these links, I may receive compensation at no extra cost to you. See my disclaimer for more information.

How to Move to Montenegro - What You Need to Know!
Guest post by Jennifer Bennett
Montenegro is truly a one-of-a-kind place. Bordering Bosnia and Herzegovina, as well as Serbia and Kosovo, the country is smaller than Connecticut, and home of only about 650,000 people. When you live here, you'll have access to some of the best things that Eastern Europe has to offer, and a truly unique lifestyle.
But there are a few things you should know before you move to Montenegro. Let's go over them now!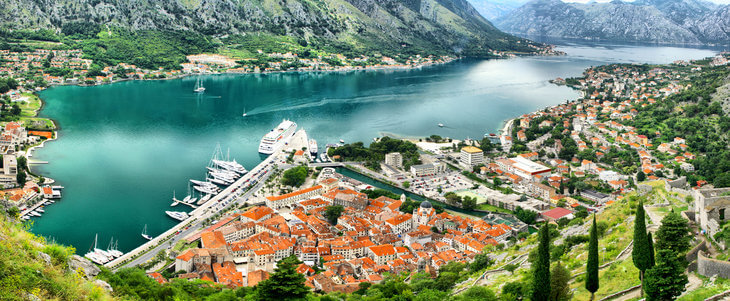 Kotor. Image: Deposit Photos
1. You'll Need to Prepare for Months (Or Even Years!)
Montenegro isn't a place like Canada, or another place where you can move if you have a decent command of English and some desirable skills. The country is small, so their rules about immigration are, correspondingly, quite strict.
While U.S. citizens can visit the country for up to 90 days without a visa, moving there permanently is another matter entirely. There are a few ways to get permanent residency in Montenegro, such as: 
Work – If you work for a company in Montenegro, you may be able to get a permanent residence or temporary work residence permit, for as long as you work with the company.
Study – If you are studying in Montenegro, you will be able to get a student residential permit to live in the country.
Marriage – If you marry an individual from Montenegro, you will be allowed to live in the country permanently.
Purchasing property – If you own property in the country above a certain value, you may be permitted to apply for residency.
Some folks simply move to Montenegro, and leave the country every 3 months (90 days), and return in order to "refresh" their visa, and stay legally for another 90 days. However, this is not a permanent solution, and you cannot do this if you wish to legally work in Montenegro, send your children to school, and so on.
I recommend working with an experienced immigration attorney in order to obtain the requisite permit for living in Montenegro. This is very beneficial, especially if you are not familiar with the Montenegrin language.
2. There May Be  A Language Gap
In the larger cities in Montenegro, many people speak English. However, this is not the case everywhere. In smaller cities and rural areas, you may have some issues unless you become familiar with Montenegrin or another related Cyrillic language.
I recommend that you do take some kind of course, or do your own studies on the Montenegrin language. If you are looking to live here permanently, you will need to be able to understand the language for administrative tasks, and to communicate with other people around you.
3. You Can Get Great Deals on Real Estate in Most Cities In Montenegro
Whether you are renting or buying, you'll likely be able to find a place to live for a pretty good rate. Montenegro was heavily affected by the global financial crisis of the late 2000s, and only officially gained its independence in 2006. Together, these two factors have kept real estate prices quite low in most areas, though you'll pay more in dense, urban areas like Podgorica.
So, whether you're planning on renting and staying here temporarily, or putting down roots by buying real estate to obtain a residency permit, you will likely be able to get a great deal, compared to the rest of Europe and the Americas.
4. You'll Need To Figure Out Schooling For Your Kids
There are some international schools in Montenegro, primarily located Podgorica and the coast, due to the relatively high numbers of expatriates living there. You will likely want your child to be educated in your native language such as English, German, or French, so an international school is a must.
However, some parents do choose to send their children to boarding schools elsewhere in Europe or in their home countries, which is always an option for you, as well. And if you don't have kids, you don't need to worry about this! 
5. You Need to Get Your Taxes Straight
I recommend hiring a tax attorney both in your home country, and in Montenegro, once you do move to the country. You want to make sure that you are not getting "double taxed", and that you are not violating any tax laws in Montenegro. Doing so could lead to legal troubles, or even the revocation of your residency permit.
While there are many websites out there with advice about taxes, I always recommend turning to professionals. You don't want the IRS or the Department of Public Revenues in Montenegro knocking on your door!
6. You'll Need To Hire The Right Moving Company
As was outlined in this page Montenegro has several ports, and shipping by sea is often the best way to move large household goods and personal effects, should you need to move your possessions to your new home.
We recommend traveling light when establishing your residence, and then shipping your more expensive and heavy items like furniture and heirlooms only once you have obtained residence. This will help you save some hassle and headaches.
You can import cars to Montenegro. However, they may be subject to steep duties and VAT, expensive inspections, and other fees. Often, it's a better idea to sell your vehicles before you move, and use the cash to purchase or lease a new vehicle once you've moved to Montenegro. This saves you the expense of shipping the vehicle.
So, look for a moving company that specializes in international transports, especially to the Balkans and the rest of Central and Eastern Europe. Doing so will save you quite a bit of hassle when you move your stuff!
Get Ready for Life in Montenegro with this Guide!
Becoming an expatriate is not something you should ever take lightly. So think long and hard about whether Montenegro is right for you! Whether you have relatives in the country, or simply love the area and the idea of establishing a new home, this guide will help you understand some of the details related to your move.

More Articles To Help You Move to Montenegro
10 Montenegrin Commandments: Hilarious Guide to the Good Life - Follow these 10 Montenegrin Commandments to enjoy life like a Montenegrin!
How to Buy Montenegro Real Estate Without Losing Your Shirt (or Your Mind!)
Book Your Trip With My Recommended Providers