Montenegro Pulse contains affiliate links and is a member of the Amazon Services LLC Associates Program. If you make a purchase using one of these links, I may receive compensation at no extra cost to you. See my disclaimer for more information.

Podgorica Airport: Everything You Need to Know (Local's Guide) 2023
Find out everything you need to know about Podgorica Airport. Get insider tips on amenities, transport links and more!
Located 11 kilometers south of the city of Podgorica, Podgorica Airport is one of two international airports in Montenegro. This airport serves as the gateway to this underrated country for over 1 million passengers every year.
Podgorica may be the busiest Montenegro airport, but it's not exactly JFK or Heathrow. Don't expect to find the sprawling terminals and abundant services you'll find in the world's biggest airports here. 
Still, Podgorica does have the services you need to get you into and out of Montenegro so you can begin enjoying your trip to one of Europe's most exciting and up-and-coming destinations.
Although Tivat Airport is closer to us, we often fly in and out of Podgorica because it has more connections and often has cheaper flights. And I love that it's so quick to get in and out of. No hour-long security queues here!
In this article you'll find out everything you need to know about Podgorica airport, including airport services, how to get from Podgorica airport to city center, rent a car in Podgorica, Montenegro and more.
Contents
Transport to and From Airport Podgorica
Frequently Asked Questions About Podgorica Airport
Final Thoughts About Podgorica Airport
Podgorica Airport Information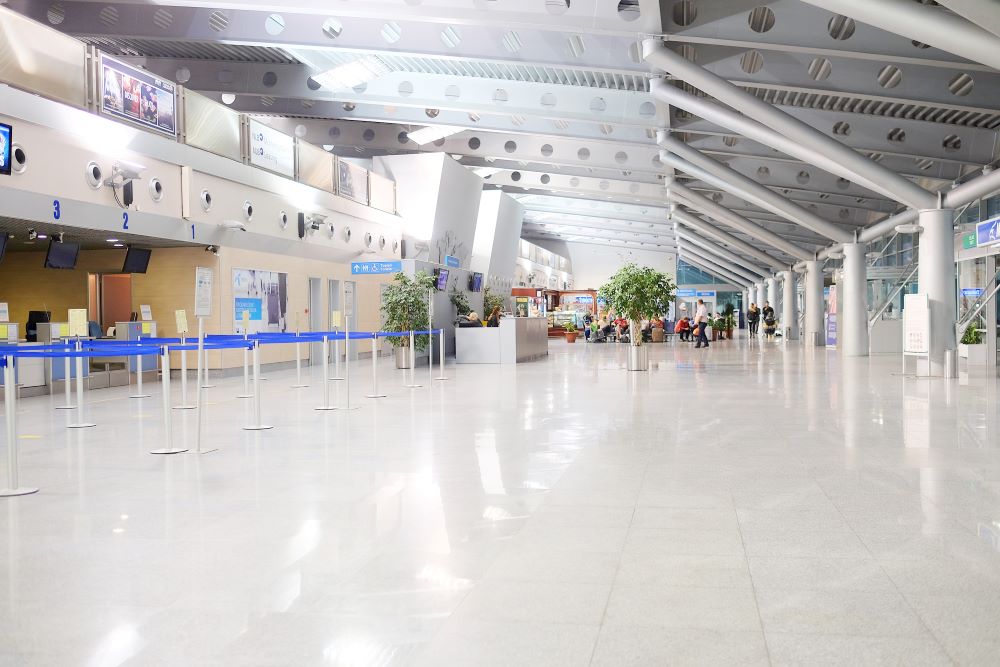 Landside in Podgorica Airport. Image: Deposit Photos
Podgorica Airport code: TGD
'Airport' in Montenegrin: Aerodrom
Podgorica Airport (TGD) is one of two international airports in Montenegro. The other is Tivat Airport in the Bay of Kotor. 
Podgorica is Montenegro's main airport because it's based in the capital city. Although Tivat Airport is more convenient for visitors staying in Kotor Bay, it can't accommodation night-time landings and has fewer connections, which is why many people fly into Podgorica even if they're staying on the coast.
Podgorica Airport is served by various airlines, including Air Montenegro (formerly Montenegro Airlines), Air Serbia, Aegean Airlines, Ryanair, Wizz Air, Transavia, and Turkish Airlines. That makes the airport reachable from cities like Athens, Manchester, Istanbul, Barcelona, Paris, and Berlin. 
You can find cheap flights to Podgorica from London with Wizz Air. This is my favourite place to search for cheap flights. This site has saved me thousands on travel costs (it saved me US$864 on just one trip!) and it's my go-to for booking flights now.
I also use WayAway Plus to get cashback on my flights. With a WayAway Plus membership you can get up to 20% cashback on your flights, accommodation and tour bookings. Click here to find out if WayAway Plus worth it for you.
The most popular route to Podgorica Airport is from Belgrade in Serbia. Both Air Montenegro and Air Serbia fly this route daily, which makes Belgrade an ideal connecting airport for your flight to Podgorica.
Many flights to and from Podgorica are seasonal flights and are only available in the tourist season, from April to November. Here is a current list of Podgorica flights:
Local's Tip: Podgorica Airport doesn't accept mobile boarding passes generated by the Wizz Air app (or any other airline). It does accept PDF boarding passes, either printed or electronic.
If you're travelling with Wizz Air, make sure you have your PDF boarding passes at check in!
Podgorica Airport Year-Round Flights
Aegean Airlines: Athens (Greece)
Air Montenegro: Belgrade (Serbia), Ljubljana (Slovenia)
Air Serbia: Belgrade (Serbia)
Austrian Airlines: Vienna (Austria)
Pegasus Airlines: Istanbul (Turkey
Ryanair: Berlin (Germany), Brussels (Belgium), Gdansk (Poland), Krakow (Poland), London-Stansted (UK)
Turkish Airlines: Istanbul
Wizz Air: Budapest (Hungary), Dortmund (Germany), Memmingen (Germany), Milan (Italy)
Podgorica Airport Seasonal Flights
Air Astana: Almaty and Astana (Kazakhstan)
Air Montenegro: Bratislava (Slovakia), Copenhagen (Denmark), Frankfurt (Germany), Istanbul (Turkey), Lyon (France), Nantes (France), Paris (France), Sarajevo (Bosnia and Herzegovina), Zürich (Switzerland), Katowice (Poland), Rzeszow (Poland)
Albastar: Madrid (Spain)
Enter Air: Katowice (Poland), Poznan (Poland)
LOT Polish Airlines: Warsaw (Poland)
Luxair: Luxembourg
Ryanair: Barcelona (Spain), Manchester (UK), Wroclaw (Poland), Zagreb (Croatia)
Tailwind Airlines: Istanbul (Turkey)
Transavia: Paris (France)
Wizz Air: Katowice (Poland), London (UK), Rome (Italy), Vienna (Austria), Warsaw (Poland)
Transport to and From Airport Podgorica
Once you've arrived at Podgorica Airport, you'll need to find a way to get into the city itself and begin exploring the Montenegrin capital and beyond.
Public Transport
Unfortunately, Podgorica Airport does not have a direct train or subway line to the city like you'll find at large airports. There is a train station on the Belgrade to Bar railway, about a 20-minute walk from the airport, but the inconsistent train schedules mean it's not a viable option for getting to and from the airport.
There is also no public bus transport from Podgorica Airport to the city. If you are travelling further, you can book bus tickets from Podgorica to Kotor (and Belgrade, Tirana and Sarajevo) on Busbud.
Taxis and Transfers
Officially licensed Podgorica Airport taxis operate at the airport and provide access to Podgorica and other cities for a flat fee.
Here are the current rates: 
Podgorica Airport to city centre: €12
Podgorica Airport to Cetinje: €30
Podgorica Airport to Bar: €30
Podgorica Airport to Budva: €45 
Podgorica Airport to Kotor: €55
Podgorica Airport to Tivat: €70
Podgorica Airport to Herceg-Novi: €100
Podgorica Airport to Ulcinj: €65
You can also book these luxury transfer services to the coast:
I strongly recommend booking a transfer in advance and having a driver waiting for you on arrival to avoid being scammed.
My mother arrived into Podgorica airport with two friends. They were aggressively ushered into a taxi by a man with some kind of official-looking badge. They were told the fare was €150, not the €100 it should have been and felt helpless to argue and the driver claimed to speak no English.
Once we called, speaking Montenegrin, wanting the dispatcher's number and asking why they were told the price was 50% more than the official price list the driver claimed ignorance but still refused to bring them all the way. 
We still paid €100 for him to bring them just past Tivat and accompany them across the ferry, without the car in 35-degree heat. From now on, we will always book transfers online in advance to avoid these problems.
Car Rental Podgorica Montenegro
If you prefer to drive, the drive from the airport into central Podgorica usually only takes around 15 minutes, depending on traffic. Driving in Montenegro is very easy and having a rental car will make your stay so much easier and save you money.
Localrent is my preferred supplier for rental cars in Montenegro for several reasons. 
First, they're usually 5-25% cheaper than other car rental companies in Montenegro. A quick search for rental cars in Podgorica on Localrent has brought up prices starting from €280 for a week's hire. The cheapest car on Discover Cars is €362.67.
That makes Localrent €82.67 cheaper!
Podgorica Airport car rental with Localrent
Podgorica Airport car rental with Discover Cars
Not to mention, a child seat is €20 with Localrent while it's €96 with Discover Cars. And an additional driver with Localrent is free, while it will cost you another €80 with Discover Cars.
Not only are they cheaper, Localrent are based in Montenegro. They have easy-to-understand, plain English contracts, a huge range of vehicles, including luxury cars and security deposits as low as €100. If you book the cheapest car on Discover Cars, the car rental company will take at least €1,000 security deposit from you!
If you do book with Discover Cars, I recommend avoiding Green Motion because they have terrible reviews.
Driving Times From Podgorica Airport to Main Towns in Montenegro
Podgorica Airport to Cetinje: 30 mins
Podgorica Airport to Kotor: 2 hours
Podgorica Airport to Tivat: 2 hours
Podgorica Airport to Herceg Novi: 2.5 hours
Podgorica Airport to Bar: 1 hour
Podgorica Airport to Ulcinj: 1.5 hours
Podgorica Airport to Nikšić: 40 mins
Podgorica Airport to Žabljak: 2 hours
Podgorica Airport Hotel
There is no hotel in Podgorica Airport, but there are plenty of comfortable and affordable accommodation options nearby. If you have an early morning departure or late arrival, staying near the airport can make your trip more comfortable.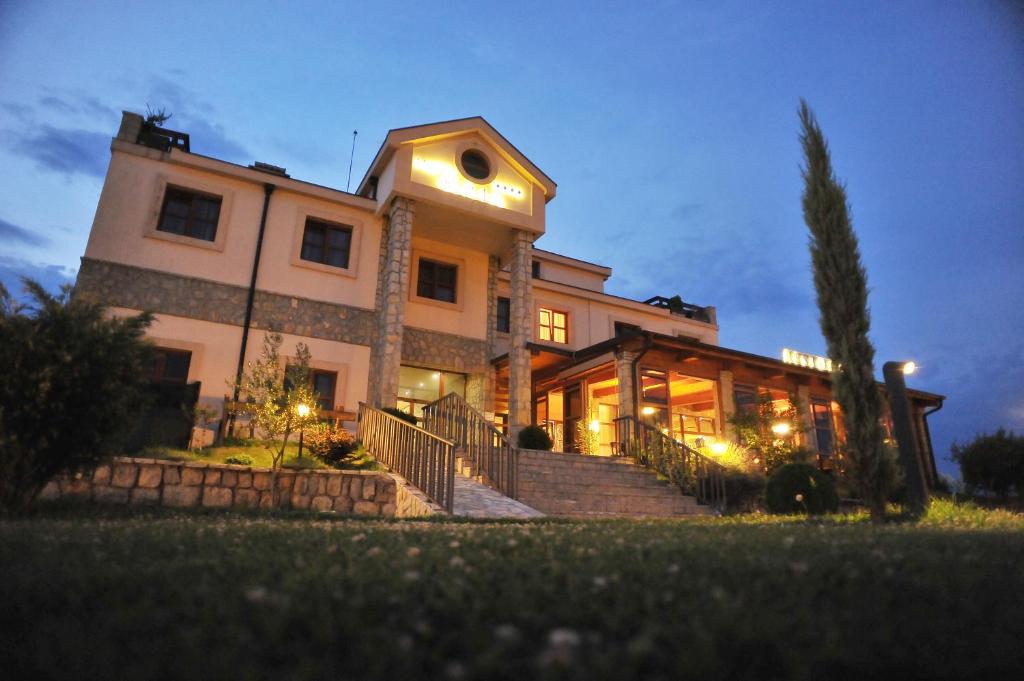 Hotel Aria, Podgorica
RATING: 8.8 (841+ reviews) | LOCATION: 900m / 0.5 miles from Podgorica Airport | BOOK NOW
If you're looking for a comfortable place to get a night's sleep before or after a long flight, Hotel Aria has rooms and suites that sleep up to 5 people.
You can choose from twin rooms that sleep 2, deluxe suites with a king-size bed and pull-out sofa and a junior suite that has a king-size bed and 3 singles.
This a great place for families because it has a fantastic play room, lots of outdoor space for kids to play and a pool! It also has a lovely outdoor terrace restaurant which serves reasonably-priced meals throughout the day.
The 24-hour front desk makes it easy for late check-ins and early check-outs and breakfast is included with every stay. If you have to check out before breakfast, they'll pack you one.
The hotel has plenty of free parking for your rental car and they have a free airport shuttle if you don't have one.
If you're looking for a comfortable place to get your Montenegrin trip or trip home off to a great start, look no further than Hotel Aria. 
"The location of the hotel was perfect for an early morning flight at the Podgorica airport. A 5 minute taxi ride...cost 5 Euro. We had a spacious room with a large balcony." - Sumner, USA
Simo Apartments Podgorica Airport
RATING: 9.6 (1,142+ reviews) | LOCATION: 1.9km / 1.2 miles from Podgorica Airport | BOOK NOW
Nestled in a tranquil neighborhood, these ultra-clean and roomy apartments offer complimentary Wi-Fi, private parking, and en-suite bathrooms, ensuring a comfortable and convenient stay.

Just 1km or 15 minutes' walk from Airport Podgorica, these apartments make an ideal choice if you have a late-night arrival or early morning departure from the airport.
Located just 8 km from Podgorica, the apartments are also a stone's throw away - only 1 km - from the nearest train station.
The amiable host is always ready to assist, providing free airport transfers to make your journey smoother. The self-contained studio apartments have king-sized or twin single beds and can sleep up to 3 people.
"This is the best airport hotel I've ever stayed in. Just half a mile from Podgorica airport, with free shuttle. Warm welcome, spacious room, comfortable beds, wonderful bathroom, little kitchenette. The dining table is already set for two people when you arrive. Bring a picnic and a bottle of wine and have a quiet relaxing evening before your morning flight!." - Heather, USA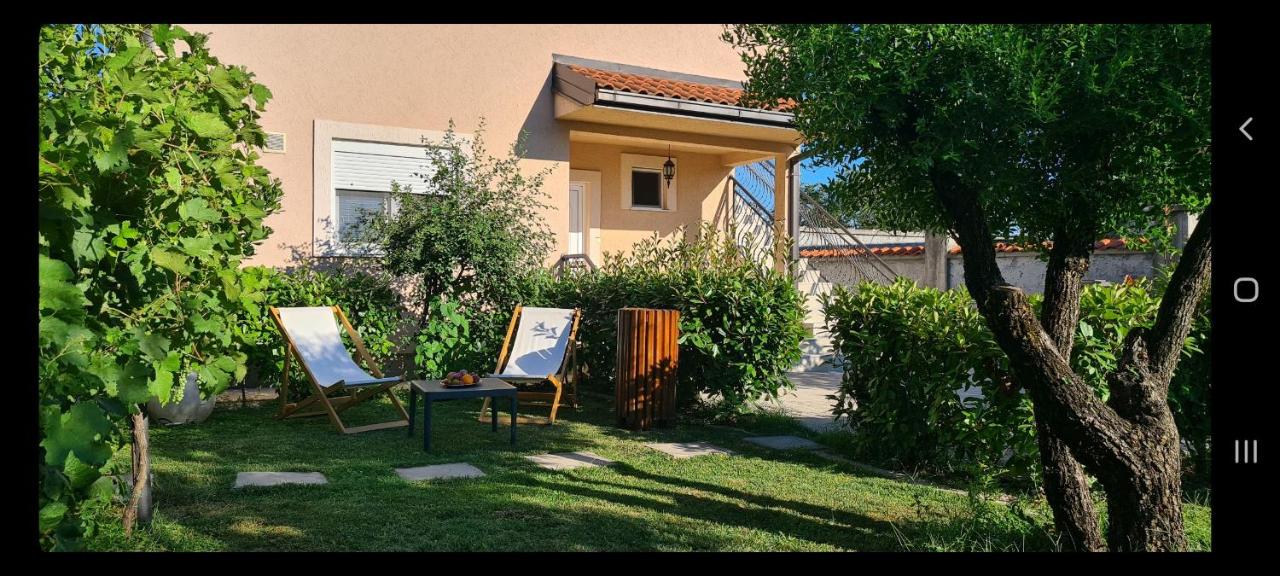 Apartments Aerodrom, Podgorica
RATING: 9.7 (554+ reviews) | LOCATION: 2.3km / 1.4 miles from Podgorica Airport | BOOK NOW
Apartments Aerodrom has been a popular stopover for travellers to Podgorica Airport for many years.
Set in a quiet area of Podgorica, near the airport, Apartments Aerodrom has affordable apartments that sleep up to 5 people.
You can choose between studios and one-bedroom apartments with balconies and you can upgrade with an optional breakfast for just a few Euros per person.
People love the garden with a table tennis table and helpful hosts here. With soccer/football nets and a quiet neighbourhood, this is another great place for families.
Some of the apartments aren't suitable for people with mobility issues because there's a ladder to get to the mezzanine floor. If you have any issues climbing ladders, keep in mind the Apartment with Terrace (sleeps 4) has the 4th person sleeping on the mezzanine floor and the One-Bedroom Apartment is a better option.
This is a great place to stay if you're looking for a warm hosted experience where you feel like you're at home.
"Excellent location, very close to the Podgorica airport. There is a very nice green garden and a cafe that offers tea and coffee free of charge to the clients. The room had all we needed, beds were comfortable and overall it was an excellent value for money." - Irada, Qatar
Podgorica Airport Services
Shopping
Don't expect to find the shopping opportunities here you would at larger airports. Podgorica Airport isn't a place where you going to spend a lot of time browsing the shelves.
However, it does have a duty-free store that takes advantage of the fact that Montenegro is not currently part of the European Union. A couple of tobacco shops also function as newsagents and souvenir stores, so you can pick up drinks, snacks, and something to read on your flight.
If you're hungry, there is also a coffee shop and bakery that can provide you with something tasty to enjoy while you wait for your flight.
Lounge
Podgorica Airport has a business lounge open to first or business-class passengers, frequent flyers, or those with airport lounge benefits offered by their credit cards.
The airport also has two VIP lounges which are accessible by booking the airport's VIP service ahead of time. The lounges provide a private waiting area with a capacity for up to eight people, and they offer free Wi-Fi, cable TV, and a private bathroom. 
It costs €150 an hour to rent these lounges or €200 an hour to rent the Presidential VIP lounge, putting it out of the reach of most travelers. Still, it's something to consider if you're a visiting head of state or celebrity.
Passport control and customs
Montenegro is not part of the Schengen area of free travel within Europe or the European Union, and so no matter where you're going from here, you can expect to encounter passport control. 
I recommend you arrive at Podgorica Airport at least two hours before your flight is scheduled to leave. That should give you enough time to get through security and customs control and still make it to your flight on time.
Make sure that you have all your travel documents, including a valid passport with at least six months left before it expires.
If you're travelling alone with your children ie. without the other parent, make sure you have a notarised permission document from the other parent. In the case you have sole custody or the other parent is deceased, it pays to carry proof of this too. I've been asked for this at many borders including Montenegro, Canada and the USA. 
Parking at Podgorica Airport
There is plenty of parking at Podgorica Airport and unlike other international airports, it won't cost you a fortune!
Parking at Podgorica Airport costs just €1 per hour, €6 per day or €60.50 per month. And the first 15 minutes is free!
Luggage Storage in Podgorica
If you have a late flight out of Podgorica, but need to check out of your accommodation in the morning, Bounce luggage storage the ideal place to leave your bags while you spend some more time in the city.
Bag storage with Bounce starts from €5 per day and leaves you baggage-free to take a Podgorica walking tour, visit Šipčanik wine cellar, go kayaking on the Zeta river or even solve a Sherlock Holmes murder mystery before your flight!
Frequently Asked Questions About Podgorica Airport
There are 15 airlines that fly from Podgorica: Aegean Airlines, Air Astana, Air Montenegro, Air Serbia, AlbaStar, Austrian Airlines, Enter Air, LOT Polish Airlines, Luxair, Pegasus Airlines, Ryanair, Tailwind Airlines, Transavia, Turkish Airlines and Wizz Air.
You should fly into either Podgorica Airport or Tivat Airport, whichever is closest to your accommodation and has the best connections for you. A third popular option is Dubrovnik Airport in Croatia, which is just 45 minutes' drive from Montenegro.
Podgorica Airport is in the country of Montenegro.
Yes, Podgorica Airport does have a train station. Aerodrom train station is 1.4km from Podgorica Airport and is serviced by local trains to the cities of Bar, Bijelo Polje and Nikšić in Montenegro, and Belgrade, Subotica and Zemun in Serbia. You can find timetables on the Montenegro Railways website.
The best way to get from Podgorica Airport to the city is by taking a licensed taxi from the airport or by booking an airport transfer. You can also get to the city by local bus for €2-3.
Taxi fares from Podgorica Airport to Podgorica are set at €12.
Podgorica Airport closes at night and you can't sleep in the airport. You can find both comfortable and affordable accommodation near the airport at Hotel Aria, Simo Apartments Podgorica Airport or Apartments Aerodrom.
The following cities fly direct to Montenegro: Athens, Almaty, Astana, Belgrade, Ljubljana, Bratislava, Copenhagen, Frankfurt, Istanbul, Lyon, Nantes, Paris, Sarajevo, Zurich, Katowice, Rzesow, Madrid, Vienna, Poznan, Luxembourg, Warsaw, Berlin, Gdansk, London, Brussels, Barcelona, Manchester, Zagreb, Wroclaw, Budapest, Dortmund, Memmingen, Milan and Rome.
Final Thoughts About Podgorica Airport
Podgorica Airport may not be the biggest airport in the world, but it is a useful hub to get into and out of this fascinating country. It's centrally located, so fast and easy to get through and there are lots of connections to other centres around Europe.
Don't forget to check WayAway for cheap flights to Podgorica, Localrent for cheap car hire in Podgorica and Simo Apartments for immaculate and friendly accommodation near the airport.
Podgorica Airport is the ideal place to begin your Montenegrin adventure!
Related Articles
Book Your Trip With My Recommended Providers
Podgorica Airport: Everything You Need to Know