Montenegro Pulse contains affiliate links and is a member of the Amazon Services LLC Associates Program. If you make a purchase using one of these links, I may receive compensation at no extra cost to you. See my disclaimer for more information.

Top 9 Hotels in Podgorica
There are some great hotels in Podgorica. Although it's not a touristy city and you might wonder whether you'll be able to find nice accommodation, rest assured you can.
Podgorica is Montenegro's capital city and hosts a lot of diplomats and business meetings, meaning you'll find some top-notch places to stay. But they're not all upmarket business hotels, you'll also find a few places that are ideal for families with have play areas and swimming pools.
Most hotels are in the central city and the great thing about Podgorica is it's so compact and easy to get around, you can stay in the old town, downtown or in the new CBD and you'll be able to get around on foot or by taxi.
Let's explore the top 10 hotels in Podgorica >
CentreVille Hotel and Experiences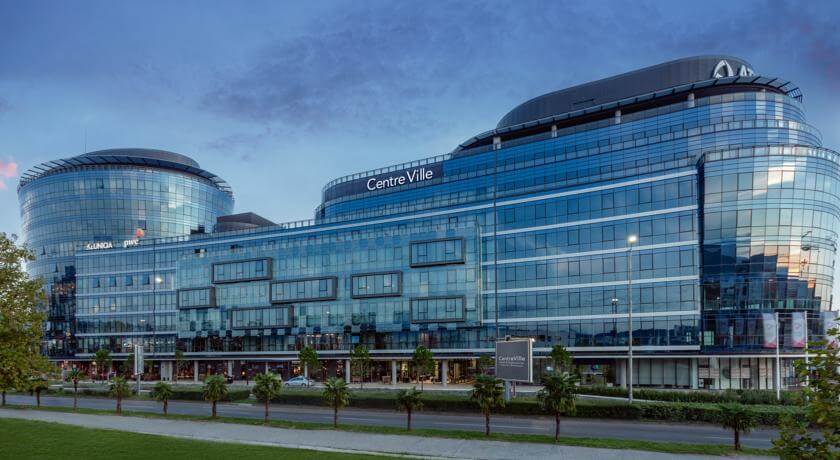 CentreVille Hotel and Experiences is in brand new, upmarket Capital Plaza shopping centre. It's in the centre of new Podgorica and you'll find plenty of restaurants, shops and nightlife within walking distance.
The hotel has a wellness centre and free WiFi throughout. It also has a range of rooms, including luxury suites which makes it ideal for business travelers. 

There's an a la carte restaurant onsite and a Hard Rock Café in Capital Plaza, where you can grab a burger and relax with some live music at night. 

---
Hilton Podgorica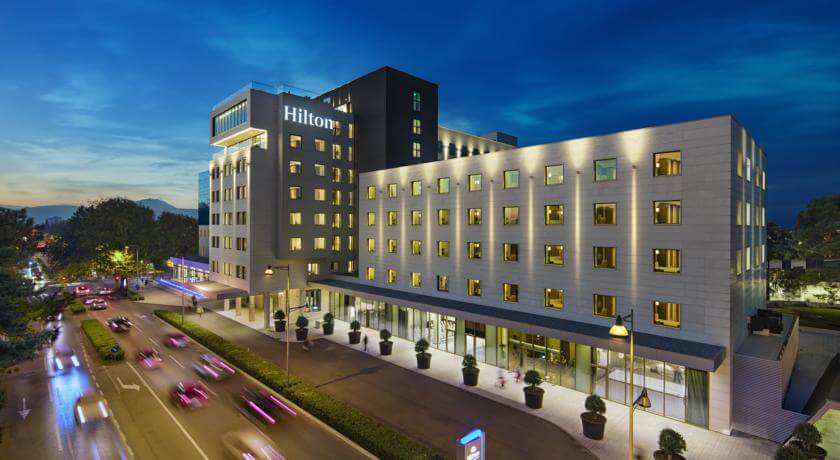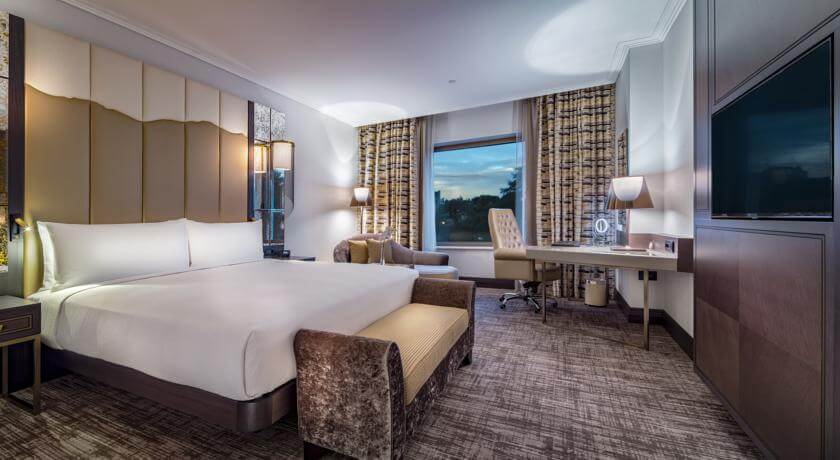 The Hilton Podgorica is downtown where the embassies and government offices are, making it ideal for business travelers. This used to be Hotel Crna Gora, an old hotel in a top spot in town. It was completely renovated and now it's a luxurious member of the five star Hilton brand.
When you stay there, you have an indoor pool, wellness centre, parking and even pets are allowed. This really is a great place to stay in Podgorica. They also do high tea, so even if you're not staying here you can treat yourself to high tea at the Hilton!

---
Hotel Ziya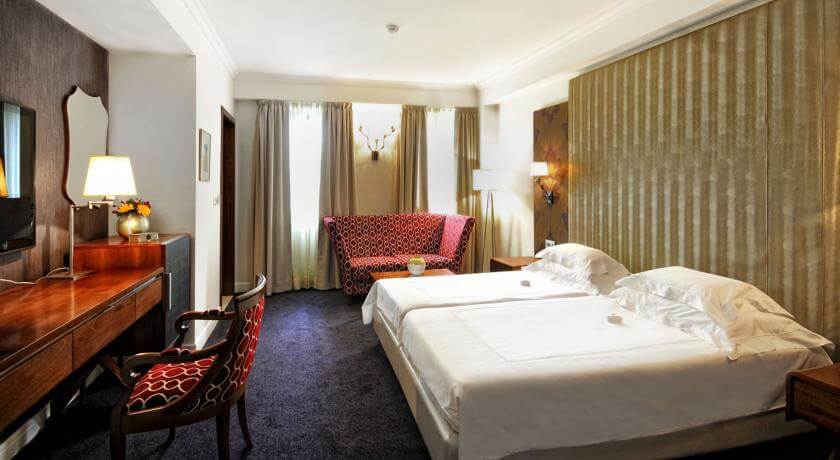 If you like 5 star hotels, but like something more cosy and boutique than the Hilton, you'll like Hotel Ziya, which is tucked away in a quiet street in downtown Podgorica. It's close to Donja Gorica Forest Park and it's also walking distance to downtown Podgorica.
They have a lovely outdoor terrace in front of the hotel as well as an indoor pool and wellness centre. The marble spiral staircase and chandeliers are very ott!

---
Find Deals on Hotels in Podgorica
---
Wellness and Spa Hotel Verde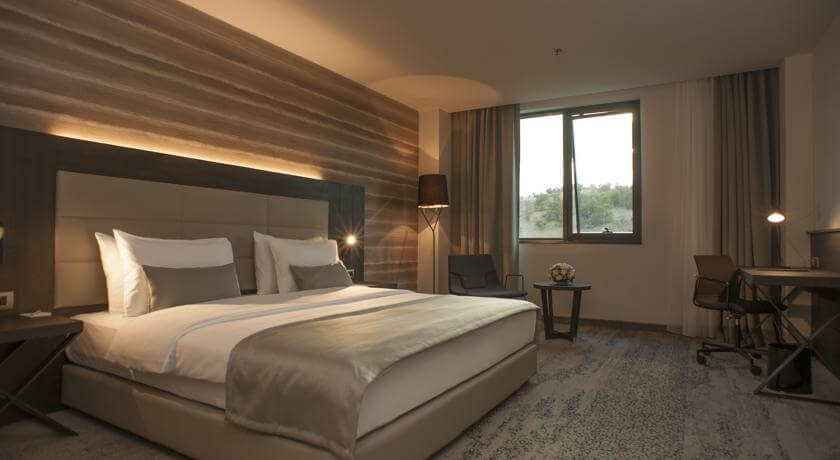 This hotel is 5km from Podgorica, so I'd recommend it only for those who'll have rental car. With the surrounding hills and onsite facilities, it's the perfect place if you want to keep active during your stay. There's a huge indoor pool (great if you're a swimming family like ours and still have to train, even on holiday!), tennis court other wellness centre goodies like massage room, gym and sauna.
The sun terrace is ideal place to soak up a bit of Podgorica's sunshine during your stay.

---
Hotel Aria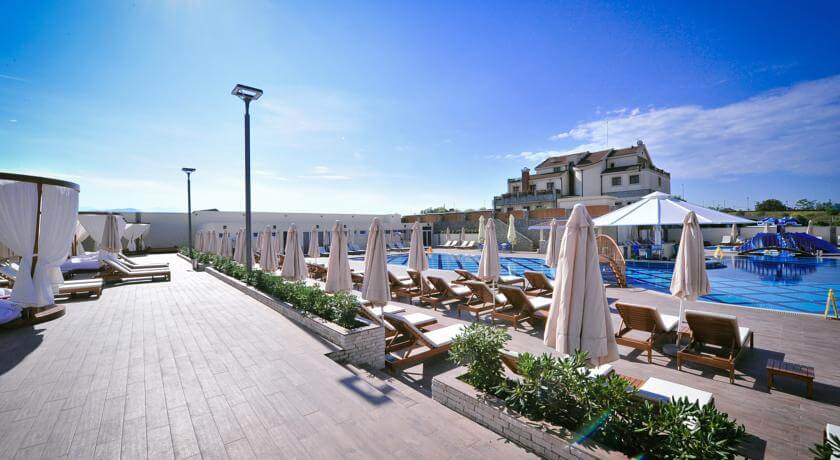 Hotel Aria is a bit out of the town centre (7km), but it's the ideal hotel for families. Not only does it have a soft-play where your kids can play while you have a coffee, it has a pool! Podgorica can be sweltering during July and August and a pool is the best place to be during the heat of the day. There's also plenty of outdoor space for kids to play.
Hotel Aria has a free airport shuttle and you can either rent a car for your stay or get around Podgorica easily and cheaply using local taxis.

---
Hotel Hemera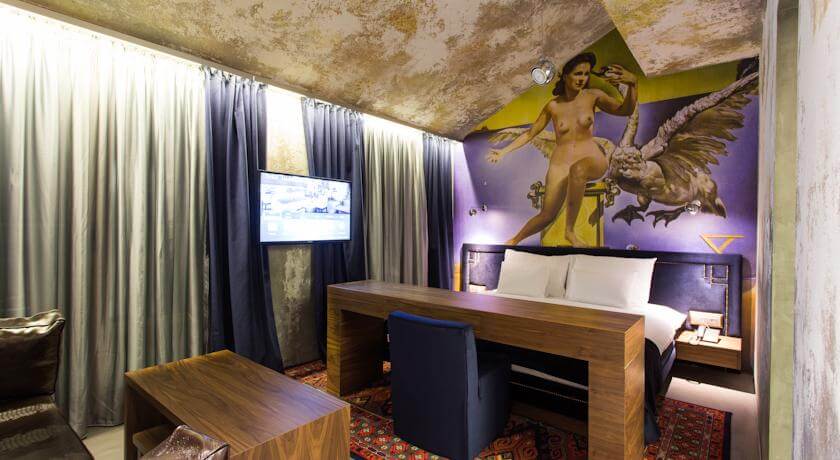 Tired of all the beige-toned business hotels? Looking for a funky hotel with character? You'll love Hotel Hemera. A sister hotel of Astoria Kotor and Astora Budva, the Greek-inspired décor shows this hotel has a little more edge – I especially love the room with the huge mural of the naked woman and the swan!
Hotel Hemera is in the heart of downtown Podgorica, so you can walk anywhere in the city from here. The top-rated ground floor restaurant is a great place to hang out and people watch.

---
Hotel Aurel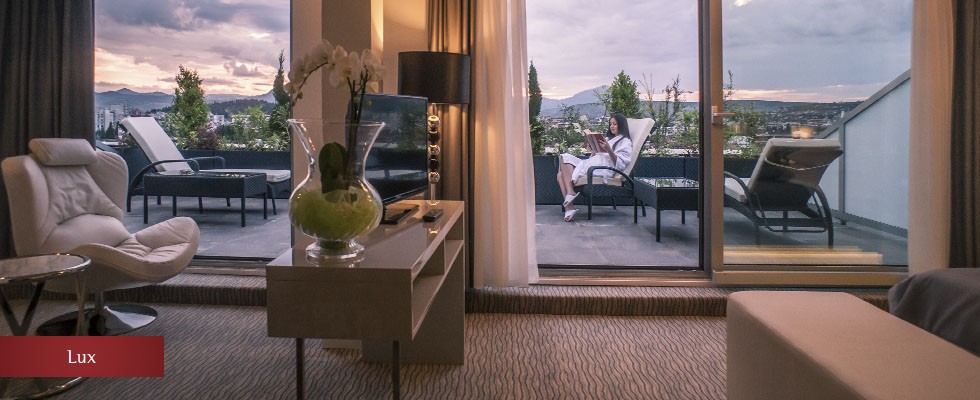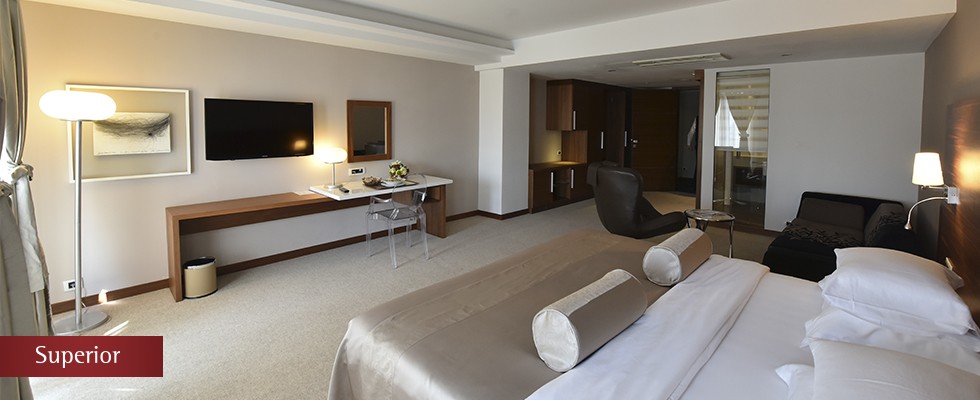 Hotel Aurel is comfortable and modern hotel on the outskirts of Podgorica. It's on the main road from the coast that leads north, so it's an easy place to overnight if you're coming from the coast or the airport. They also offer a free airport shuttle!
You get free parking here and it's just 1.5km / 1 mile to downtown Podgorica, so it's an easy walk to restaurants, shops and some of the monuments in this part of town. Some of their rooms have private terraces with mountain views – fantastic when you're such a short walk to the city. But what makes this hotel so popular is the service, the service here is excellent.

---
Hotel Podgorica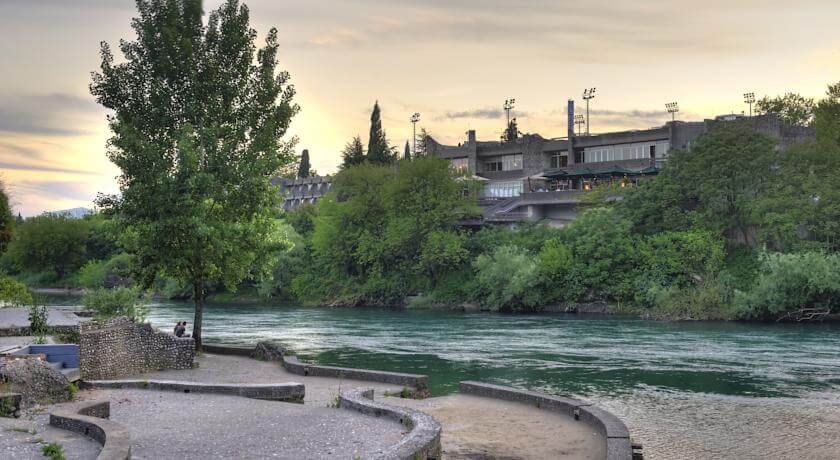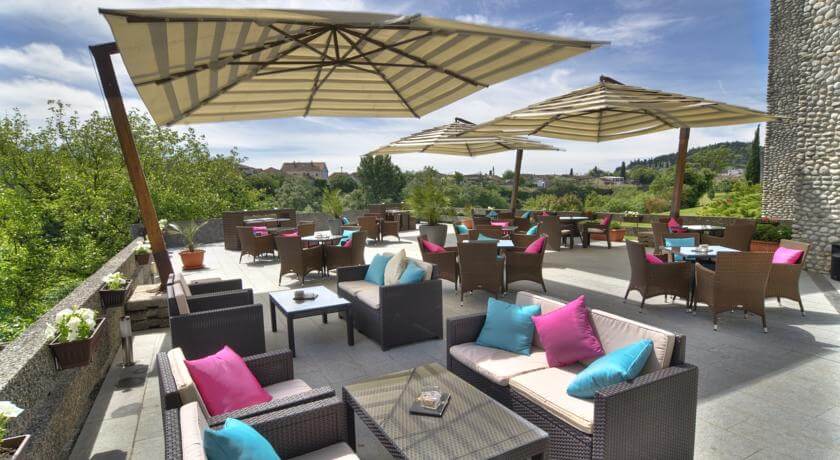 Hotel Podgorica is in one of the best locations in Podgorica, right on the banks of the Moraca River. From here you walk through the town's parks to Ribnica, the old town and the new quarter.
This is an older hotel, which shows the brutalist architecture of the formerly Communist town.  

But the rooms here are modern and tasteful and the terrace with river and park views is why this hotel has always been one of the most popular in Podgorica. 

---
Hotel Ramada
Hotel Ramada is modern, new hotel that's part of the Ramada chain. It's next door to Mall of Montenegro, in a busy part of the city, not far from the old quarter and downtown Podgorica.
It's a good quality, modestly priced hotel that's popular with business travelers. There's an onsite wellness centre and gym. 
Although there are lots of small businesses close by, if you want to see the sights and try the best restaurants, you'll want to head downtown, which is a 10 minute walk.

---
Not Found The Perfect Hotel in Podgorica? 
If you're still looking for your perfect match, you can use the search box below to see all apartments and hotels in Podgorica.
---
Pin The Top Hotels in Podgorica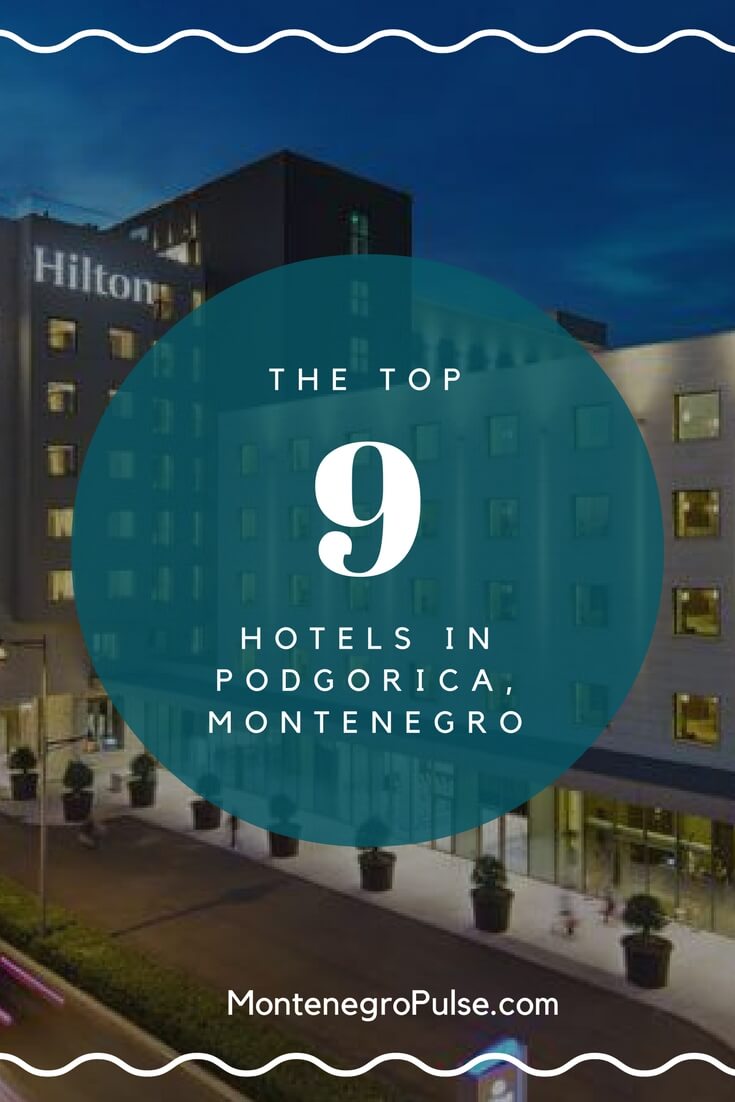 ---
Related Articles
Hotels in Podgorica
Book Your Trip With My Recommended Providers