Montenegro Pulse contains affiliate links and is a member of the Amazon Services LLC Associates Program. If you make a purchase using one of these links, I may receive compensation at no extra cost to you. See my disclaimer for more information.

Best Restaurants in Podgorica
Restaurants in Podgorica can be a sea of sameness – pizzas, pastas and sandwiches rule.
But there are some stand-outs which you shouldn't miss during your stay in the capital of Montenegro. There are some traditional Montenegrin places where you can get huge plates of Balkan grill served up in a homey atmosphere. But you'll also find more contemporary fare as well as some great – and cheap! – off the beaten track eats.
One of the most frequently asked questions about Podgorica is: is there a McDonald's in Podgorica? No, there's no McDonald's, KFC, Burger King or any other fast food chain in Podgorica or any other town in Montenegro - yet!
If you're a burger-lover, you can get a taste of 'home' at Hard Rock Cafe but I'd also recommend trying a Montenegrin burger at a Balkan grill stand. You have a choice of meat that's grilled while you wait and put into a giant bread roll called somun and then you add your choice of fillings and sauces... they're delicious! They're also only about €3, so they're cheap too!
Let's explore the best restaurants in Podgorica!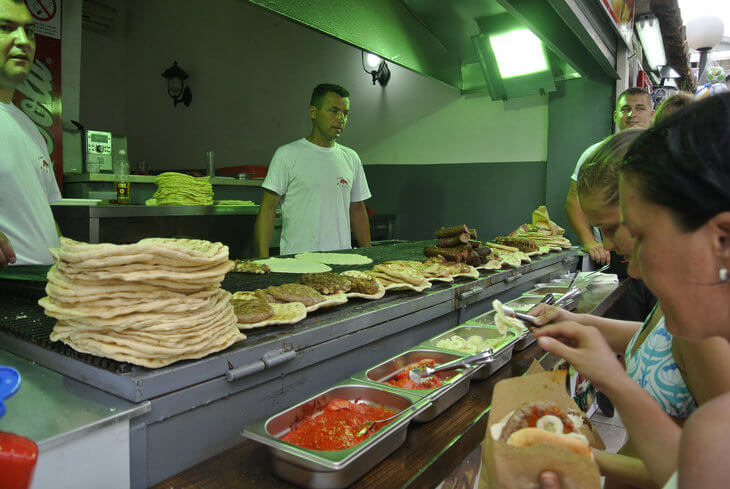 ---
Quick Links
---
Classic montenegrin
Pod Volat
If you've done any travelling, you'll know that whenever a place is full of locals it must be good. Pod Volat is always full and it's always good.
Known for its generous portion sizes and modest prices, this is one of the best restaurants in Podgorica to try Balkan grill. We recommend trying ispod sac - roast veal or lamb, cevapi – Balkan sausages and hamburger (this is just a meat patty here, no bun) with kajmak cheese.
Address: 1 Trg Vojvode Becira Osmanagica
Phone: +382 (0)69 618 633
Hours: 7am – midnight
Prices: €€€
Reviews >
---
Niagara
Niagara is a traditional Montenegrin restaurant by the Cijevna River. You can sit inside or outside beside the river. With a small playground, grassed area and rabbits, it's a great place to bring kids. You can walk up the side of the restaurant to the Cijevna River waterfalls and even take a dip in the river in summer.
Address: Kuca Rakica, Podgorica
Hours: 8am – midnight
Prices: €€€
Reviews >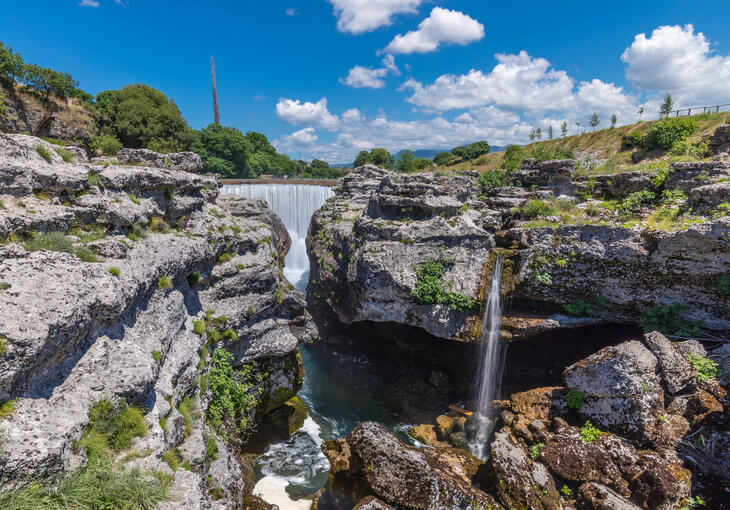 Cijevna River waterfalls
Image: Deposit photos
---
Voda U Krsu
This is one of my favourite restaurants in Podgorica. You can go to their restaurant or eat at the food court in Delta City Mall. They serve an excellent range of classic meat and fish dishes.
I love that you can get food here that's not usually served in Montenegrin restaurants, but are staples in homes around the region. You'll find stuffed capsicums and pickled cabbage, spicy cheese spread and a big salad bar in the Delta City location. It's also great value, two full meals in their Delta City restaurant costs around €10.
Address: Vladike Danila 24 and Delta City Mall (Cetinjski Put, Podgorica)
Phone: +382 (0)67 262 775
Prices: €€-€€€
Reviews >
---
Contemporary Restaurants
Hard Rock Cafe
Can't live without your burgers? Looking for a taste of home?
Hard Rock Café Podgorica is the first (and so far only) Hard Rock Café in the Balkans. You'll find the usual Hard Rock Café menu, which is sometimes exactly what you need after days of eating foreign food!
Address: Capital Plaza, Cetinjski Put, Podgorica
Phone: +382 (0)20 226 992
Hours: 8am - midnight
Prices: €€€
Reviews >
---
Hemera
Hemera is one of the most popular restaurants in Podgorica's downtown area. You'll find steaks, pasta and Asian-inspired dishes. If you want somewhere trendy and contemporary, this is the place to go. Since it's downtown, you can easily head over here for dinner and continue into the wee hours in the bars and clubs nearby.
Hemera has two sister restaurants and hotels, Astoria Kotor and Astoria Budva which are equally popular. This is also a popular hotel and a good place to stay if you're looking for a fashionable hotel in downtown Podgorica. Hemera Hotel >

Address: Njegoseva 17, Podgorica
Phone: +382 (0)67 173 000
Hours: 7am - 1am
Prices: €€€
Reviews >

---
Foreign
Zheng He
Zheng He is one of the best Asian restaurants in Montenegro (Taste of Asia in Budva is another good one). Unlike some of the places I've tried here that serve Balkanised versions of Asian food (think cheese in spring rolls and noodles that were more like spaghetti marinara), Zheng He serves authentic Asian dishes made by their Chinese chef. The restaurant is upmarket and a nice place to get something different.
Address: Vojvode Masa Djurovica 31, Podgorica
Phone: +382 (0)20 23 551
Hours: 8am – midnight
Prices: €€€€
Reviews >
---
Panda
Panda is a new Chinese restaurant downtown. It's not as fancy as Zheng He, but you'll still get authentic Chinese food by their Chinese chef. I like Panda because it's run by a Chinese husband and wife team who have made Podgorica home and you'll always find local Chinese eating there – that's always a vote of confidence for the food!
Address: Njegoseva 16, Podgorica
Phone: +382 (0)67 734 781
Hours: 8am – midnight
Prices: €€€
Reviews >

---
Munchen Bierhaus
Munchen Bierhaus is another favourite with foreigners looking for something, well foreign. As well as German beer, they serve German sausages, burgers and ribs to go with it.
Address: L3 Studentska, Podgorica
Phone: +382 (0)67 222 211
Prices: €€
Reviews >

---
Mantra
This modern restaurant and lounge bar is decorated with bright colours and silky fabrics that match the Indian-inspired menu. You'll find curries, Indian-fusion sandwiches, rice dishes and a few contemporary meals like salmon and pasta. This is good option for vegetarians struggling with the limited vegetarian choices in Montenegro.
Address: Ivana Milutinovica 21, Podgorica
Phone: +382 (0)20 242 888
Hours: 8am – 1am
Prices: €€€
Reviews >

---
Healthy and Vegetarian
Baba Ganus
Montenegro doesn't do vegetarian very well… mostly you'll be met with confused looks when you ask for a meal with no meat. But it's becoming more popular and Baba Ganus is one of the new restaurants in Podgorica where vegetables and legumes take centre stage. The food is middle-eastern inspired and you'll find hummus, lots of salads and vegan meals.
Address: Studentska Ulica, Podgorica
Phone: +382 (0)69 398 399
Hours: 7am – 10pm
Prices: €€€
---
Sweets, Snacks and Cheap Eats
Poslasticarnica Carolija
From the sweet pink décor to the layered cakes and pies, Poslasticarnica Carolija (no, I can't pronounce it either) is a favourite with anyone with a sweet tooth. You can stop by for coffee and cake or a slice of cheese pie made of layers of filo pastry if you're not into sweets. Either way, it's all good.
If you need a cake for a special occasion, you can also order cakes made to order.
Address: Moskovska 27, Podgorica
Phone: +382 (0)67 226 558
Hours: 9am – 11.30pm
Prices: €€
Reviews >

---
Lumberjack's
This is a little outdoor kiosk, which is made almost entirely of logs. You can eat burgers perched on log-topped stools or swing on wooden swings. Lumberjack's is the kind of place where you meet local characters. A true work of passion, the owner made all the wood details by hand and he'll be only too happy to tell you about Podgorica and Montenegro over a beer.
Address: Bulevar Revolucije bb, Podgorica
Phone: +382 (0)67 915 8617
Prices: €€
Reviews >

---
Burekdzinica Zabjelo
What do Montenegrins eat on the run? Burek.
Burek is the traditional breakfast around here and ideal for a snack, although most of them are big enough to be a whole meal! They come in all different flavours, but the most common are meat, cheese, spinach and potato.
Burek is a long roll of filo pastry, filled with your chosen filling and rolled up like a snail. The perfect burek is always hot and has the right ratio of pastry and filling. With each bite, flakey, crusty pastry gives way to steaming hot filling. And the perfect accompaniment to go with your burek is a bottle of plain yogurt.
The best burek in Podgorica is at Burekdzinica Zabjelo, owned by brothers Fetah and Helmedin Mahmutovic, whose family has been making burek here for four generations.  You'll find a huge range of fillings and at around €1.20, burek is a tasty and cheap meal at any time of day.
Local's Tip: Pick up some mantije while you're there. These bite-sized pastry pockets are delicious and also come with a range of fillings. My favourites are the pizza and apple ones!
Address: Vaka Djurovica Stadion, Podgorica
Phone: +382 (0)67 881 269
Prices: €
Reviews >

---
Drinks
Majstor Za Pivo
Majstor Za Pivo (Beer Master) is the place to go for craft beer in Montenegro. If you want to try something other than Montenegro's national brew, Niksicko Pivo, head over to Majstor Za Pivo to try craft beer from Montenegro and around Europe.
Address: Vojvode Masa Djurovica 7
Phone: +382 (0)68 000 064
Hours: 8am – midnight
Prices: €€€
Reviews >

---
Plantaze
Montenegro's largest wine producer, Plantaze, is in Podgorica and if you want to go a step further than picking up a bottle of their wine in the supermarket, you can visit the winery. They have a large cellar where you can book tastings with local cheese and prosciutto starting from €10 per person. Tastings also include a tride through the vineyard, which is the largest unbroken vineyard in Europe, on their tourist train.
---
Pin The Best Restaurants in Podgorica
---
Related Articles
Restaurants in Podgorica
Book Your Trip With My Recommended Providers