Montenegro Pulse contains affiliate links and is a member of the Amazon Services LLC Associates Program. If you make a purchase using one of these links, I may receive compensation at no extra cost to you. See my disclaimer for more information.

Podgorica: Top 13 Things To Do in Montenegro's Capital (2023)
It's not boring! Find out the top 13 things to do in Podgorica.
It's been called the most boring city in Europe. But there are some really good things to do in Podgorica – if you know where to look.
Step out of the central city and you'll find a vibrant city that includes ancient history, plenty of green spaces and a flourishing arts scene. 
You can:
Take a vineyard tour through Montenegro's top winery
Explore a 2,000 year old ruined town
Navigate a tree-top obstacle course
Visit museums
Get chased by emus - yup, seriously

Go shopping
And dance the night away!
It's not the kind of town where you can just wander around and bump into interesting sights, so you'll need to plan what you want to see in advance. The great thing is almost everything is within 5km from town, so even if you don't have a rental car you can catch a cab for just a few euros.
Here are the top things to do in Podgorica...
Ribnica Bridge / Adži-Paša's Bridge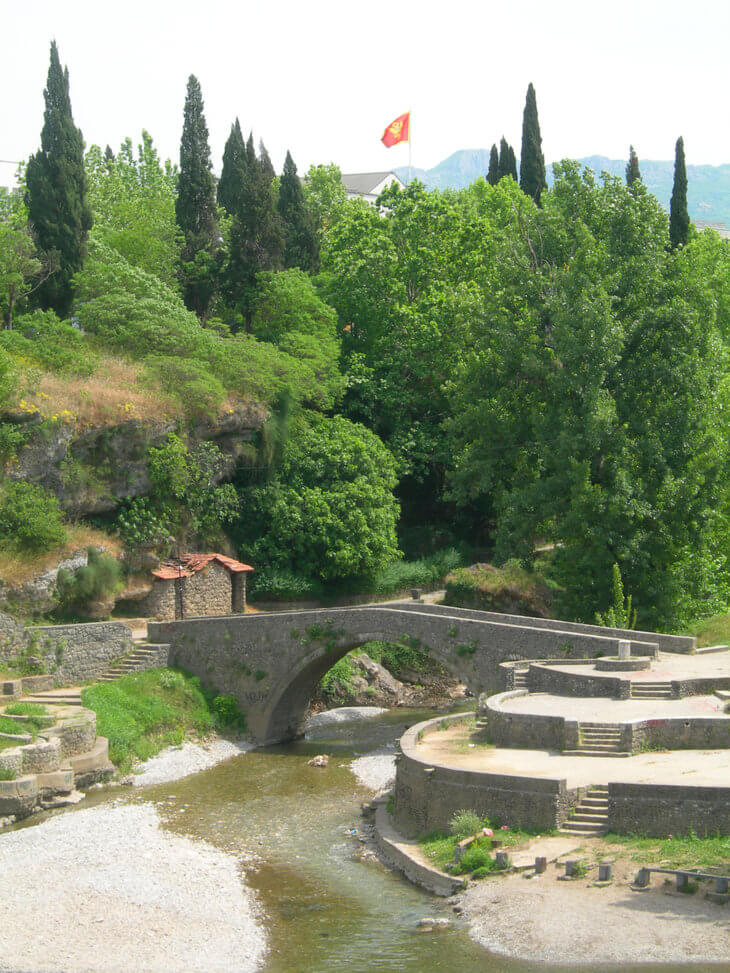 Ribnica Bridge. Image: Deposit Photos
This is one of the most historic sites in Podgorica. People have been here since about the 5th century, and what started as an outpost gradually became a settlement and then a town. The bridge was originally built by the Romans and then it was renovated under Ottoman rule, which is why it's also known as Adži-Paša's Bridge.
You can walk over the bridge and around the ruins of the fortifications. Unfortunately, there's been no investment to preserve the ruins and there's a lot of litter. Still, it's a pretty area around the Ribnica River and if you like history and ruins, this is a must-see while in Podgorica.
While you're here head over to Karver, a book store, café and gallery that used to be a Turkish bath. This spot under the bridge is a popular place to grab a coffee and soak up some of Podgorica's literary culture. 
Related tour:
Address: Obala Ribnice, Cvijetin Brijeg bb, 81000 Podgorica
Phone: +382 (0)20 602 625
Hours: 9am – 8pm (bookstore), 9am – 11:30pm (café)

Stara Varoš - Old Town
Podgorica's old town was built under Ottoman rule and it's an old shopping district with winding streets full of jewelry shops, restaurants and boutiques.
Podgorica was heavily bombed during WWII so not much of it remains. The only remnants of Turkish are two mosques and a clock tower. The clock tower was rebuilt in 2005 – look out for signs for Sahat Kula. 
Related tour: 
Centre of Contemporary Art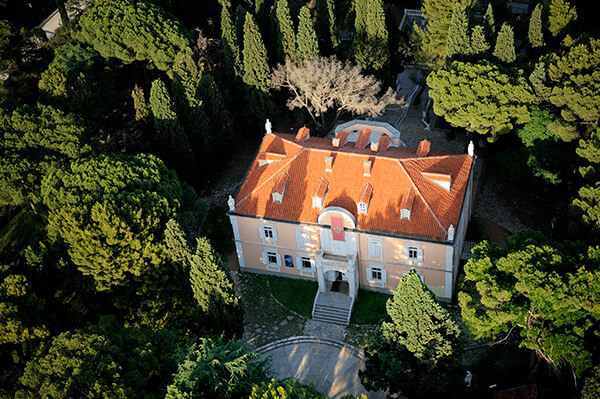 Centre of Contemporary Art in King Nikola's Palace. Image: Deposit Photos
Podgorica's Center of Contemporary Art is housed in the former winter palace of King Nikola Petrović in Kruševac. There are regular exhibitions from local artists as well as permanent exhibitions which are divided into: Europe, Latin America, Asia and Africa.
While you're here take a walk through the gardens… it's a lovely spot for a picnic.
Address: Kruševac bb, 81 000 Podgorica
Hours: Monday-Friday 8am – 8pm, Saturdays 10am – 2pm
Podgorica Museum
Most of Montenegro's historical artefacts are kept on display in the old royal capital, Cetinje. But some of them have been kept in Podgorica and you'll find an interesting display of items from everyday life in this region.
The most interesting display here is the antiquities from Doclea, the old Roman town just north of Podgorica. There are also archaeological, ethnographic, historical and cultural-historical displays.
Address: Marka Miljanova 4
Phone: +382 20 242 605
Hours: 9am – 8pm, closed Mondays
Entrance: €1 for locals, €3 for foreigners, 50c for children
Plantaže Winery
One of the best things to do in Podgorica is – you guessed it, drinking!
A little-known fact about Podgorica is that it's home to the largest unbroken vineyard in Europe, owned by Plantaže Winery. Whenever you go to a restaurant in Montenegro, you'll find Plantaže wine and you can pick up a bottle in supermarkets. Click here to read more about which wines to try during your stay in Montenegro.
You can visit Plantaže's Šipčanik wine cellar and do wine tastings. All tastings include a ride through the vineyard on a tourist train, a guided tour of Šipčanik wine cellar and an expert guide through your tasting.
Interestingly, the wine cellar used to be a secret underground aircraft hangar. It was bombed in 1999 and abandoned until it found a second lease on life as a wine cellar. It now houses around two million liters of wine!
If you have a little more time you can combine a visit to Šipčanik with a wine tasting at nearby Lake Skadar, Montenegro's premier wine-producing region.
Related tours: 
Niagara / Cijevna Waterfalls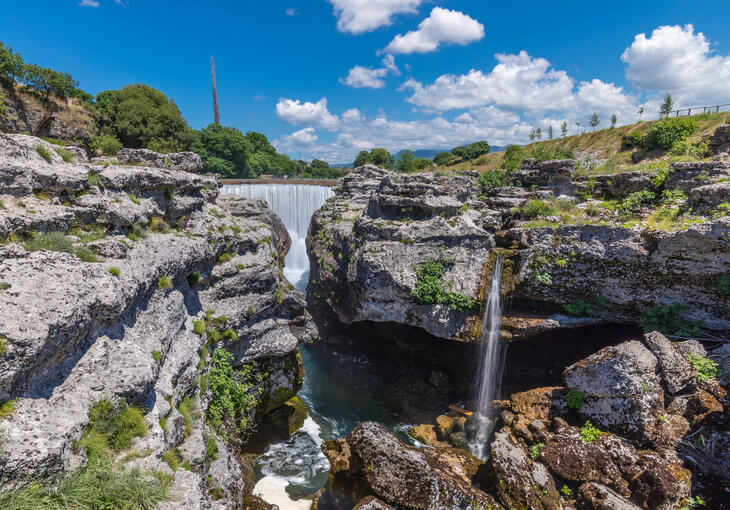 Montenegro's answer to Niagara Falls on the Cijevna River. Image: Deposit Photos
A short drive out of Podgorica brings you to Montenegro's Niagara on the Cijevna River.
The best way to see the falls is from Niagara restaurant. You can park there and walk along the river. This is a great place to eat too. They have outdoor tables by the river and serve classic Montenegro meat and fish dishes. They also have outdoor play areas and rabbits for kids.
To see the falls, walk past the outdoor seating and past the restaurant. A little rock-hopping will bring you to the impressive waterfalls that seem to come from all sides. Beware though that if you come out in the height of summer or autumn, the river might be dry and there'll be no waterfall. If there's water, it's a favorite place with the locals to take a dip so bring your swimmers!
If you don't have a rental car (I recommend Localrent.com for the best deals) you can book a Podgorica tour that includes a visit to the Cijevna waterfalls.
Related tours: 
Address: Restoran Niagara, Cijevna bb, Podgorica

Montenegro Animal Sanctuary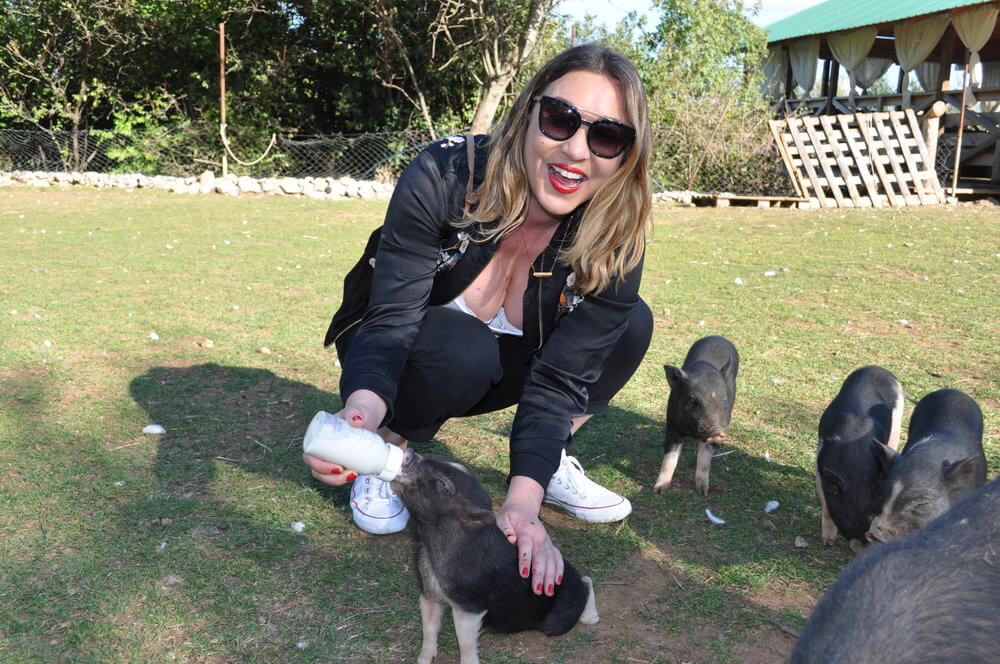 More than a petting zoo, the Montenegro animal sanctuary (Prihvatilište i Oporavak Životinja Crna Gora) is heaven on earth for kids and animal lovers. 
Forget segregated pens, this sanctuary in the hills just outside of Podgorica is an open space where goat kids jump around, deer graze, mama pigs trot along followed by their grunting offspring and abandoned circus llamas and camels sniff you looking for carrots. 
All the animals mingle, watched over by ultra-chill Great Dane, Iri, and you feel like you've landed in the middle of a Disney movie. 
Your kids will love it here.
You can bottle-feed piglets, feed carrots to the camels and yes, get chased by the flock of emus. There are also peacocks, geese, pigeons, rabbits, horses, dogs, turtles and any other animals that need help. 
Related tours:
ATV Tours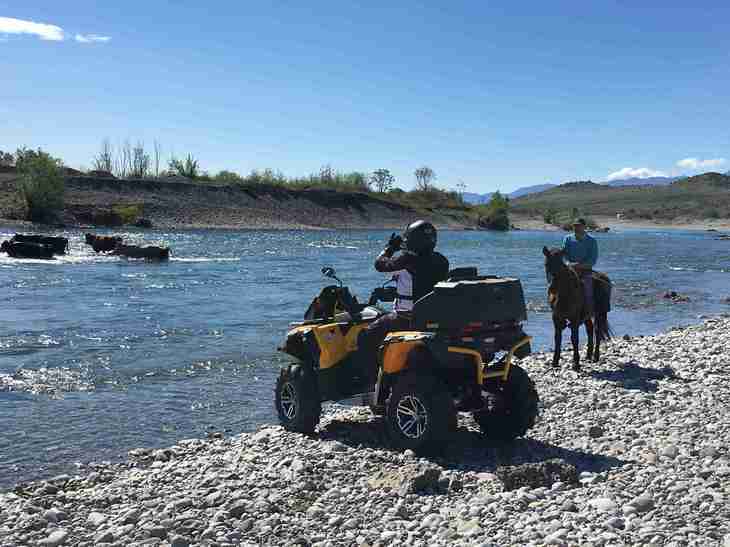 Explore some of Montenegro's stunning scenery on an exciting ATV tour, the hardest part will be choosing which tour to take. One tour takes you around Podgorica's countryside and to one of Montenegro's top wineries.
Read More: ATV Tours in Montenegro
Horse Riding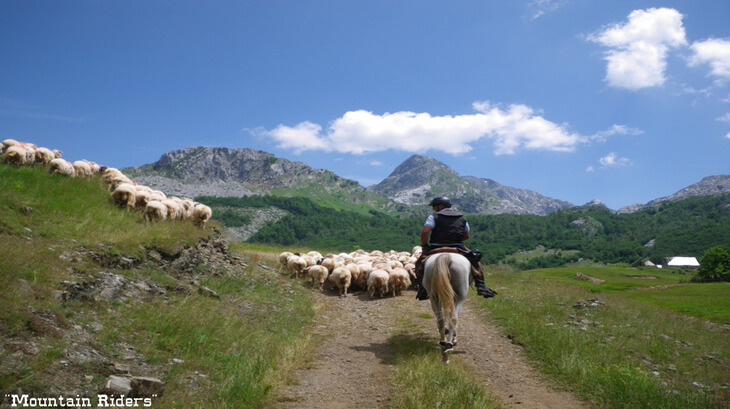 A Montenegrin traffic jam
Just 15 minutes from Podgorica, you'll find Mountain Riders Ranch in the heart of the Komani Highlands. 
Mountain Riders have horse treks for everyone, from complete beginners to experienced riders. Exploring the country on horseback is a fun and exciting way to explore true off-the-tourist-track destinations in Montenegro. You'll see remote villages, pick fruit in the orchards of abandoned stone villages and have riverside picnics.
Read More: Horse Riding in Montenegro
Doclea Ruins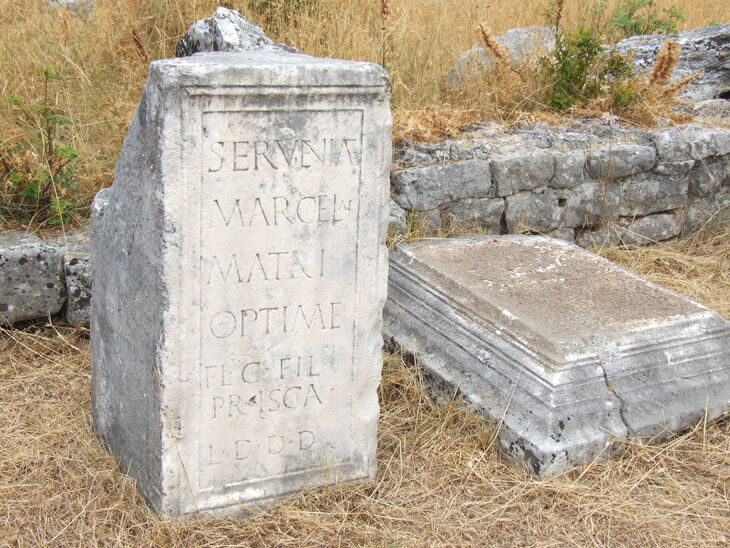 Ancient Roman headstones at Doclea
Photo: Monika
Doclea (or Duklja in Montenegrin) is a ruined Roman town that's been submitted for consideration as a UNESCO World Heritage site. The ruins are only 5km out of Podgorica town and a great place to see while you're here.
The site is unfortunately unprotected and unpreserved. Early archaeologists removed any artefacts they found and they're now on display in Podgorica Museum, but the stone ruins now lie in the unprotected field.
You can walk around the area and imagine life here 2,000 years ago. Interestingly, archaeologists found about 300 tombs here that date back to the 1st century. If you want to go here, I recommend doing some research on the history of the area because there's no information onsite.
Related tours:
Address: Duklja ruins, Podgorica
Hram Hristog Vaskrsenja / Cathedral of the Resurrection of Christ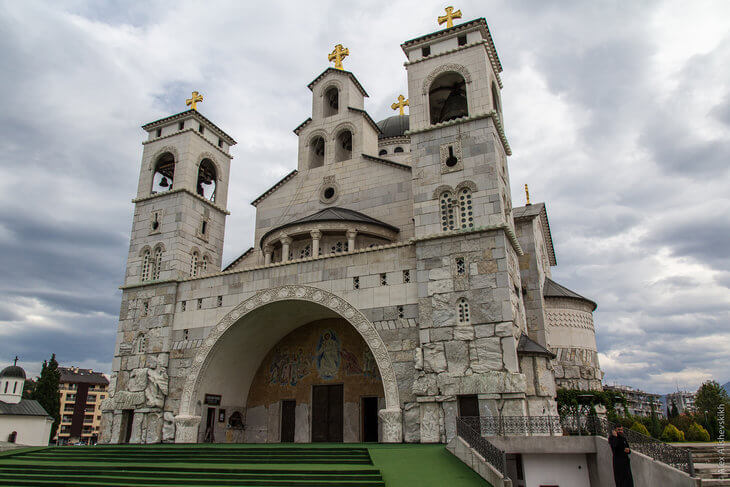 Photo: Alex Alishevskikh
The Cathedral of the Resurrection of Christ is a Serbian Orthodox cathedral in downtown Podgorica. It's relatively new, it was started in 1993 and took 10 years to finish.
The cathedral sits in an open field, surrounded by tombstones that date back to the 9th century. One of the most interesting things about this church is the design. It was designed by Dr Predrag Ristić, a Serbian architect who's built over 100 churches in his career. The stone slabs at the bottom of the building are huge and rough and the stone gets smoother and finer as it goes up. The ornate details carved into the building really showcase the skill of local stonemasons. Inside, you'll see lots of murals of saints on a background of gold.
Guide to Visting an Orthodox Church in montenegro
When visiting an orthodox church you should dress modestly, with knees and shoulders covered. Orthodox followers often make the sign of the cross when they enter and exit the church, but you don't have to do this. If you do, be sure to cross yourself top to bottom, then right to left.
You'll see a corner in the church where you can buy souvenirs. Whenever people visit an Orthodox church they buy candles here and light them. You'll see a stand of lit candles where they place them. They kiss a candle, then light it and place it in the top tray. This is a blessing for their living family and friends. They do the same for the bottom tray and this is a blessing for their family and friends who have passed away. It's a lovely ritual and one you can do too when visiting any Orthodox church in Montenegro.
Related tours:
Address: Bulevar Dzordza Vasingtona 3, 81000, Podgorica
Phone: +382 (0)20 219 310

Adventure Park Gorica
Adventure Park Gorica is a tree-top ropes course in Gorica Forest Park that has courses for the whole family. There are three children's courses and two adult's courses. Each course has 10-15 obstacles you have to overcome  to complete the course.
There's also a gym, playground and café, making this a great place to hang out and enjoy one of Podgorica's many green spaces.
Address: Gorica Forest Park, 81000, Podgorica
Hours: Monday – Sunday: 7am – midnight
Phone: +382 20 673 645
Price: €5-12 per person

Go Carting Podgorica
Looking for something faster paced? Karting Centar Podgorica is an outdoor go-cart track where you can race yourself or others around the track.
They also have indoor simulators, a go-carting school and café.
Address: Lijesnje bb, Montenegro
Hours: 9am – 10pm daily
Phone: +382 (0)69 123 111
Prices: Adults €12, children €9

Shopping
Podgorica is the best place to go shopping in Montenegro. In fact, most locals will make day trips to the capital to stock up on clothes, shoes and special items. There are three shopping centers:
Delta City
Mall of Montenegro
Capital Plaza
Delta City is the most popular and has lots of brands like Zara, Bershka, Tommy Hilfiger, Office Shoes and Sergeant Major. It also has a cinemaplex, where you can watch the latest blockbuster – great rainy day activity!
The food court only has two restaurants, but one is worth visiting. Voda u Kršu serves homestyle Montenegrin favorites like stuffed capsicums, spicy cheese spread, roast potatoes and schnitzels. There's a huge variety of mains and salads and a typical meal is a bargain at around €4.
Mall of Montenegro is a smaller mall with more independent shops and Turkish brands. A big part of the inside is Podgorica's green market, where you can pick up fresh produce very cheaply. Upstairs, there are stalls selling cheap clothing and shoes – great place to get a bargain.
Podgorica's Ramada Hotel adjoins the mall.
Capital Plaza is the newest shopping center in Podgorica and is home to upmarket clothing and homeware brands. You'll also find a pharmacy, dry cleaners, florist, salon, health food store and the Balkans' only Hard Rock Cafe.
Capital Plaza is in the center of town and it's a good place to base yourself if you're staying overnight. You can stay onsite at CentreVille Hotel and Experiences, one of the top hotels in Podgorica.
Outside of the malls, you'll find luxury brands like Max Mara and Liu Jo along Bulevar Dzordza Vasingtona, which is the central business district. For bargain shopping, head over to the old part of Podgorica, Stara Varoš.
Addresses:
Delta City and Capital Plaza: Cetinjski Put, Podgorica
Mall of Montenegro: Bratsva i Jedinstva
Local's Tip: If you love bargain shopping, head over to Tramp Outlet (1 Ulica Kralja Nikole, Zgrada Sofranac, upstairs). You'll find branded clothing, sportswear and shoes for much less than usual. I picked up a stunning Calvin Klein jacket that was originally €450 for just €45.

Nightlife
In a city of 200,000 where the locals love to party, there's always something going on. The best place to go is Bokeska and adjacent Njegoseva streets in downtown Podgorica. There are lots of cafes and bars and it's busy most nights.
For nightclubs where you can dance until the early hours, head over the football stadium where you'll find District and Gavroche (Ulica 19 December, Podgorica). District is a nightclub and Gavroche is a culture centre which often hosts indie bands and concerts.
Pin this List of Top Things to do in Podgorica
Best Things to Do in Podgorica
Book Your Trip With My Recommended Providers
Best Things to Do in Podgorica