Montenegro Pulse contains affiliate links and is a member of the Amazon Services LLC Associates Program. If you make a purchase using one of these links, I may receive compensation at no extra cost to you. See my disclaimer for more information.

Ulcinj: Best Things to Do in Ulcinj, Montenegro (2023)
There are plenty of things to do in Ulcinj for the intrepid traveller, looking for an off-the-beaten-track destination. I also highly recommend seeing this southern coastal town in a day trip from just about anywhere in Montenegro.
Ulcinj's attractions include:
Endless sandy beaches: Ulcinj's beach parties are a low-key and cool antidote to Budva's glitzy and hyper ones. 
Old town: Ulcinj also has a pretty old town with plenty of history, that's a must-see while you're here.
Natural reserves: Nature-lovers love Valdanos Cove's ancient olive groves and seeing the flamingos in Ulcinjska Salina is a real treat.
Kite surfing: if you're looking for something more energetic, you must try kite-surfing through the waves on Velika Plaza. Enthusiasts come from all over the world to kite-surf by day and party by night. 
Let's explore the best things to do in Ulcinj >
---
ulcinj Old Town
Ulcinj's old town was founded by the Illyrians and has been continuously added to by various rulers over the last 2,500 years.
There aren't a lot of attractions to see inside the old town, but it's a charmingly authentic place that's still being fixed up after the earthquake in 1979 that devastated most of Montenegro's old towns. Neighbouring Bar's old town was abandoned and still lies in ruins.
The main attractions in the old town are the town museum and the views. A walk through it should take you no more than an hour or so. 
See top hotels in Ulcinj old town >
Local's Tip: Time your walk through the old town to finish at sunset you can watch the sun go down over the Adriatic over dinner at one of the old town's restaurants.
Town Museum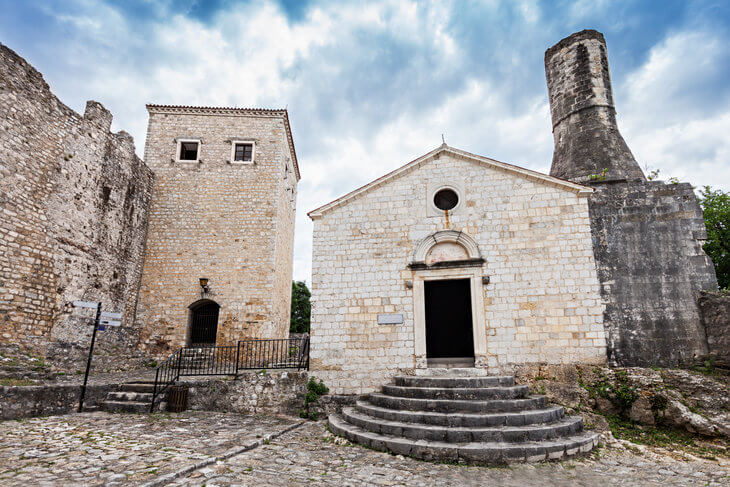 Ulcinj museum
Image: Deposit photos
When you head up the steep path into the town, just inside the gates you'll come to the town's museum. The museum has a collection of Roman and Ottoman artifacts and there's a church dating back to 1510 that was turned into a mosque in the 17th century.
Part of the museum includes Balsic Tower which houses art displays. Behind the church you'll find displays of old photos of Montenegro and examples of traditional dress.
Entrance: €2 per person.
Opening Hours: 1st May – 30th October: 9am – 8pm daily, 1st November – 30th April: 8am – 3pm daily. Closed Mondays.
You Should Know: There are lots of stairs and no lifts. Like many places in Montenegro, safety barriers and signs are not up to Western standards. Keep a close eye on small children, especially at the top of the tower.
---
Balsic Tower
This was built by the Balsic Dynasty who ruled the area from Lake Skadar. It was later added to by the Ottoman Turks. These days it's used as an art gallery or meeting place of the local poet's society.
---
Slave Square
Part of Ulcinj's illustrious history includes a fair bit of slave trading. Initially the slave trading started more as kidnapping. Wealthy landowners from Italy and Dalmatia would be attacked and taken prisoner and brought here. Rather than put to work, they would be ransomed and kept until their families paid to have them returned.
Later, slaves were brought from Africa and sold in the square. Those who were lucky enough to stay were, according to local accounts, freed and became citizens involved in seafaring or agriculture. As evidence of this, there are still black families living here today.
Slave Square is the open square right outside the museum.
---
Venetian Palace
The Venetian Palace is believed to be the former home of the Venetian administrator to Ulcinj. Now it's a 4 star hotel called Palata Venezia – a great place to wake up during your stay here. The hotel pool and restaurant overlooks the town and Mala Plaza (Small Beach). 

---
Mala Plaza - City Beach
Mala Plaza overlooked by Ulcinj old town
Going to the beach is one of the must-do things to do in Ulcinj. There are plenty of them and you can chose between rocky and sandy.
Mala Plaza, meaning Small Beach is a 350m stretch of sandy beach next to the old town. This beach fits up to 2,500 people in summer and it's popular with families because it's sandy and shallow.
It's backed by cafes and restaurants and a mosque. So between sunbathing and cooling off in the sea, you can go shopping and try the local restaurants just behind the beach. 
---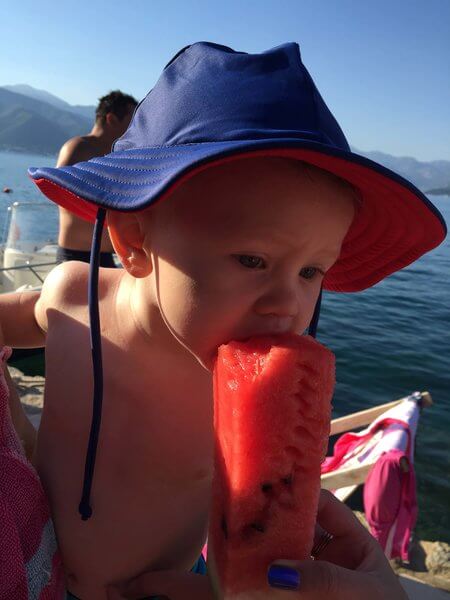 Mmmmm... tasty!
Local's Tip: Top of the list of list of things to do in Ulcinj is try their watermelon.
When you head down the main road to Velika Plaza beach, you'll see watermelon fields all along the side of the road. These beauties are sweet, juicy and delicious. The best you'll ever have! 
Buy one whole and keep it in your fridge, or buy a plate of it in a restaurant. You won't be disappointed!
Pine Wood and Ladies' Beach
East of Mala Plaza you'll find Pine Wood and Ladies' Beach. A walk in Pine Wood is known as a local cure for ills like asthma. Likewise, a dip in the sulphur springs of Ladies' Beach is a well-known remedy for infertility. If you're a lady, it's also a good place to enjoy the sun without the admiring glances of male beach goers. The beach here is rocky rather than sandy, like the most popular beaches, so bring something to sunbathe on.
---
Velika Plaza - Long Beach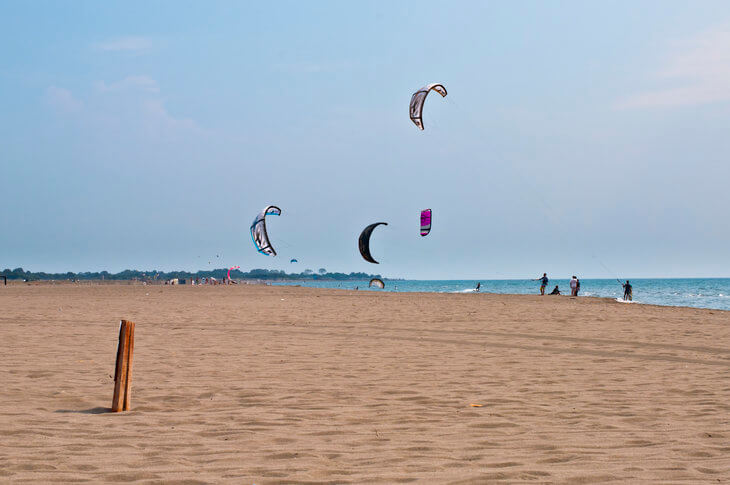 Kite surfers at Velika Plaza
Ulcinj's star attraction is Velika Plaza, Long Beach in English – we get really creative with names here in Montenengro! This 13km stretch of sandy beach is an idyll amongst Montenegro's mostly rocky and pebbly beaches. 
It's covered with loungers, umbrellas, open areas and beach bars. It's known for being windy and that's made it a popular kite surfing destination. If you want to give it a try, you can hire equipment and get lessons from local clubs.
Velika Plaza is divided up into individual beaches where you can hire loungers, sun umbrellas, cabanas and find restaurants and beach bars. You don't have to hire loungers at any of the beaches. You can also lay your towel in any clear spot for free.
We recommend choosing which beach you want to go to in advance. Some are nudist beaches, some are party beaches and some are designed for families. Here's a summary of each:
Ada Bojana
Adriatica Beach
Loungers
Umbrellas
Beach bar
Restaurant
Playground
Forest walks
Coco Beach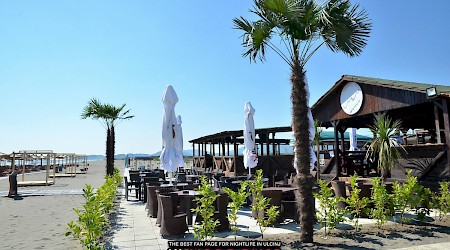 Restaurant
Playground
Kite surf school
Beach bar
Copacabana Beach
900m of beach
800 loungers
Restaurant
Beach bar
Location of Southern Soul Festival
The 'coolest' beach with Rita Ora and Lewis Hamilton choosing this beach to hang out on during their 2016 visit.
Ivana Beach
Kite Surf Beach
Kite surf lessons and hire
Loungers
Cabanas
Daily parties

Beach bar
DJ
MCM Beach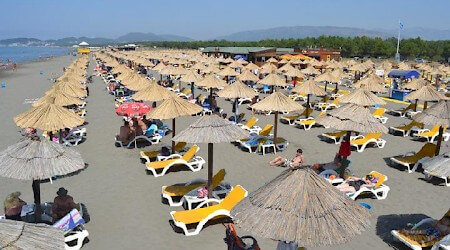 Miami Beach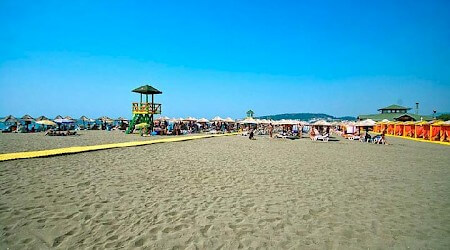 240m

Blue flag beach

Playground

Restaurant

Beach bar

Volleyball courts

Mini soccer ground

Canoes and pedal boats
Mohito Beach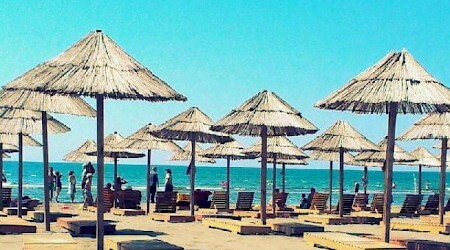 Loungers
Umbrellas
Beach bar
Music
Theme Parties
Safari Beach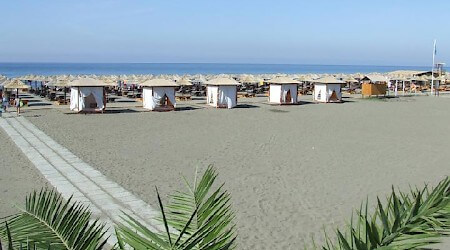 Blue flag beach
Kite surfing school
Restaurant
Beach bar
Shop
Campsite
Saranda Beach
Loungers
Umbrellas
Playground
Restaurant
Tampico Beach
Toni Grill Beach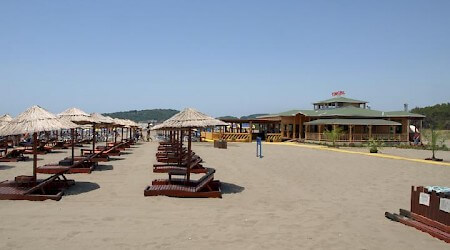 Loungers
Umbrellas
Restaurant
Playground
Tropicana Beach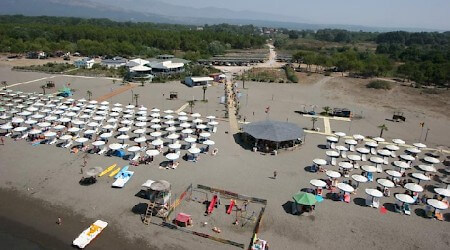 Loungers
Umbrellas
Restaurant
Convenience store
Campsite
Getting there: To get there, drive 10 minutes south along the main road. You'll see access points to the beach signposted. If you don't have a car, a taxi will cost you about €7 each way. There aren't any public transport links to the beach.
---
Rocky Beaches
Aquarius Beach
400m from Mala Plaza
Beach bar
Music
Restaurant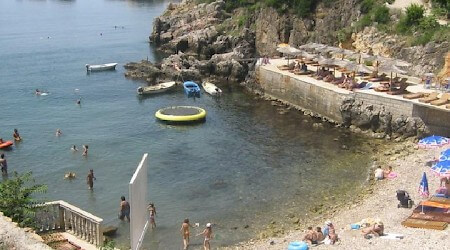 Liman Beach II
Pizza restaurant
Loungers
Paddle boats
Massages
Sapore di Mare Beach
Loungers and umbrellas
Nice restaurant on a point overlooking the sea. 
---
Valdanos Cove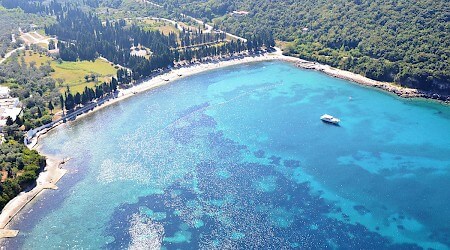 Valdanos Cove is a peaceful and beautiful stretch of Adriatic coastline where you can find a haven away from the traditional summer crowds.
The cove is covered with 18,000 olive trees that are up to 2,000 years old. Bring a picnic and enjoy a nap among the olives! 

And while you're there take a walk down the road heading left (when looking out to sea) and you'll find the lighthouse.
There's also 300m of beach here that's busier during summer, but much less crowded than Mala Plaza because it's rocky, not sandy.

Our advice is to see Valdanos Cove while you can. For years there have been rumours of privatization, which have been strongly opposed by locals. Privatisation could see Valdanos Cove, like Sveti Stefan, become off-limits to everyone but those who can afford high-end prices.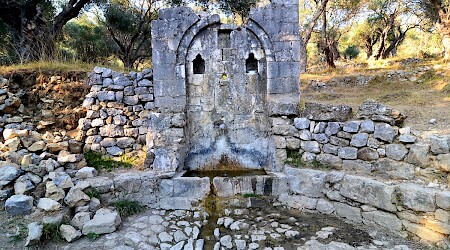 Getting there: There's no public transport to Valdanos Cove, you'll need to drive or take a taxi. 

---
Ada Bojana
The Bojana River runs through Ulcinj and its path has created Ada Bojana, Montenegro's premier naturist resort. It's hard to imagine a more ideal place for naturism. The island's geography offers privacy, the triangle-shaped island has river on two sides and the sea on the other. The sun and almost 4km of sandy beaches offer lots of room for outdoor activities.
This is also where you'll find some of the best restaurants. Set on the river, you'll have views of the birds (no, not the naked, sunbathing kind) and the little bungalows on stilts that line the river.
Our top picks to try are:
---
Ulcinjska Salina
Ulcinjska Salina is another of Montenegro's treasures fighting development and privatization. The salt pan is home to more than half (HALF!) of the 500 bird species in Europe, but it's under threat of being turned into a hotel and golf resort. Local and international organisations are fighting this, and it seems the EU are stepping in by making the protection of the salina one of the conditions for Montenegro's ascention into the EU – something the government is dedicated to. 

Read More: Ulcinj Salt Pans Could Be Saved By The Very Birds It Protects
In the mean time you can take a walk around the salina and see the birds. The stand out feature here is the flamingo colony – one of only two places in Europe you can see wild flamingo colonies.
---
Lake Sas
One of the least-known things to do in Ulcinj, Lake Sas (pronounced Shash) is another spot where you can do some bird watching. This peaceful spot is great place to bring kids – let them run free or take a boat ride out on the lake.
If you venture up the hill above the lake, you'll find the ruins of Sas old town. The town was originally thought to be a monastery and was invaded by the Serbs in 1183, Mongols in 1242 and destroyed by the Ottoman Turks in 1571. This was the death toll for Sas and it's been left to ruin ever since.
There's nothing much left of the town, but if you're by the lake it's an interesting detour.  
---
Kite Surfing, Windsurfing  and Stand Up Paddling
One of the most popular things to do in Ulcinj is kite surfing. Lots of people come in summer to ride the waves by day and party after dark. If you want to hire equipment or take lessons, these companies offer both:
D'Olcinium Kite Surf Club: Copacabana Beach, +382 (0)69 330 492, www.kitesurfclub.me
Kitesfera: Ada Bojana rivermouth, +382 (0)69 210 249.

---
Diving
D'Olcinium Diving Club: Rentals, shore dives, boat dives and night dives from €15. +382 67 319 100, www.uldiving.com.

Pin Things to Do in Ulcinj
More Articles like Things to Do in Ulcinj
Things to Do in Ulcinj
Book Your Trip With My Recommended Providers
Best Things to Do in Ulcinj