Rugged and Wild - Adventure into The Mountains of Montenegro
(This post may contain affiliate links. Find more info in my disclaimer.)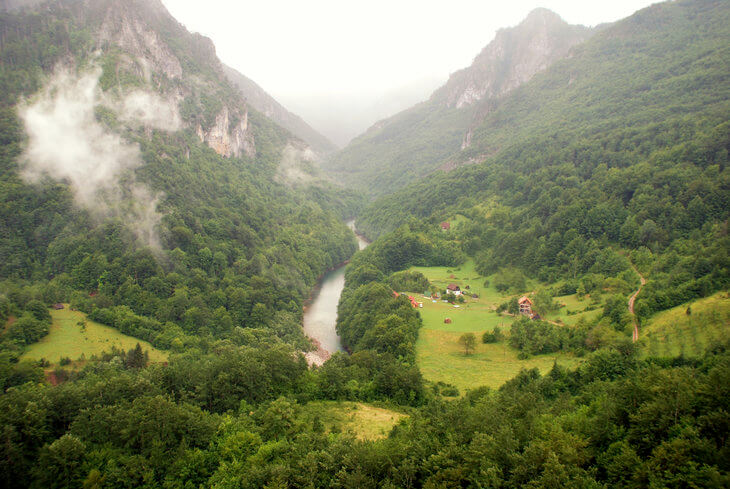 The mountains of Montenegro are truly spectacular. In fact, they're what the country is named for. Monte - mountain. Negro - black. Or in Montenegrin - Crna Gora, meaning 'Black Mountain'.
They're rugged, wild and stunning. 
In these wildernesses bears and wolf packs still roam the countryside. 
And because Montenegro's so small, you too can adventure off the beaten path and experience the beauty for yourself. Even in a day trip.

You certainly see how Montenegro got its name when you drive through the mountains. They're covered in dark green forest that looks almost black. Even on the coast, the mountains are a constant and dramatic backdrop.
So while on your holiday it's great to take a little time off the beach (I know, I know, but I promise you it's worth it!) to visit the mountains of Montenegro.

---
The National Parks - Gateways to the Mountains of Montenegro
Visiting one of the national parks is one of the best ways to visit the mountains of Montenegro. The other being taking a rafting trip.
The national parks are very accessible from the coast - you can visit Lovcen and Skadar Lake in day trips. The others are great to incorporate into a tour around Montenegro. There are hotels, b&bs and camping sites at each.
If you're interested in doing some hiking on your trip, grab a copy of the Mountains of Montenegro. This is a complete guide to the hiking trails throughout the country and is an indispensable guide.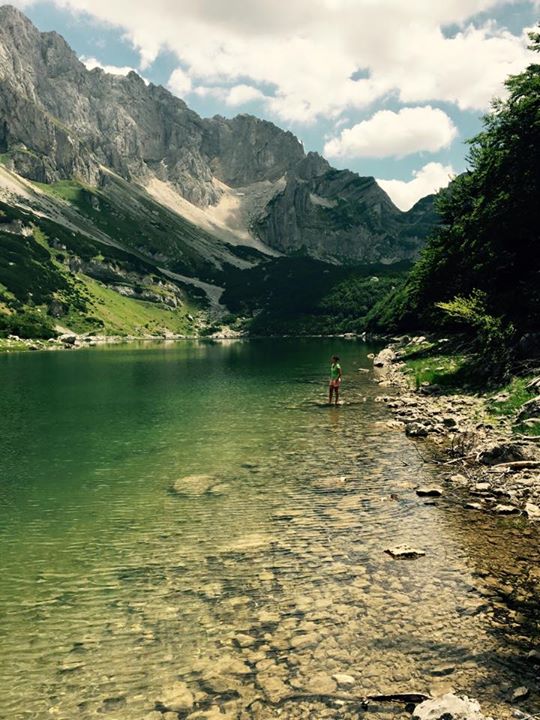 Photo thanks to Jennifer Bendayan
---
Lovcen National Park and Cetinje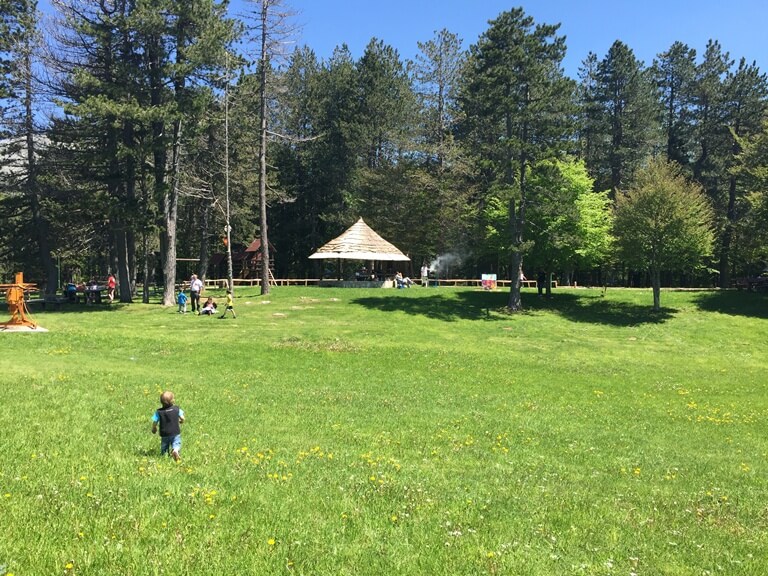 Lovcen National Park
Lovcen is a short drive from Kotor and is a popular spot with locals from April to November.

Beware though that the road up here can still have plenty of snow in May. It's substantially cooler up here than down at sea level. It's a great place for a picnic, walking, mountain biking and for cooling off during the summer months.
Click here to find out more about Lovcen National Park.

Lovcen is also a short drive from Cetinje, the old capital of Montenegro. It's a small town with a lot of history and this is where the national museum is. You can easily incorporate both into a day trip.

---
Skadar Lake National Park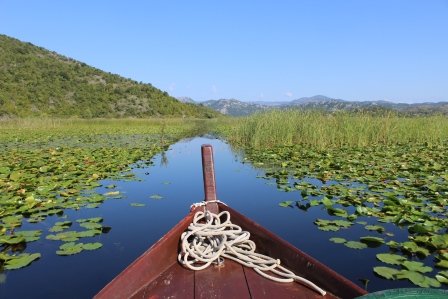 There's nothing like cruising through the lily pads on Skadar Lake
---
Zabljak and Durmitor National Park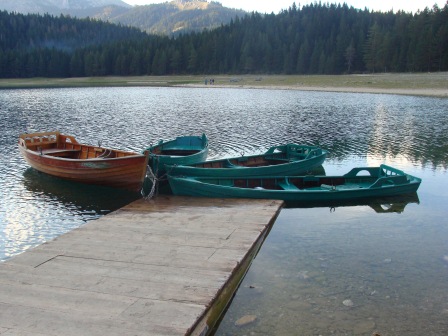 Boats on Black Lake in Zabljak
Further inland, Zabljak is the entrance to Durmitor National Park and although it's further away (about a two and a half hour drive from the coast), you can visit in a day trip. If you have time, an overnight trip will allow you to make the most of the scenery and try out some walks in the area.
Read More: Durmitor National Park
---
Kolasin and Biogradska Gora National Park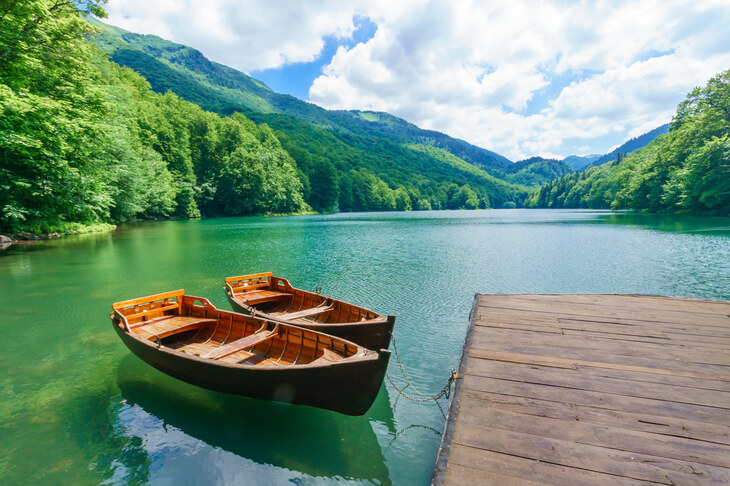 Lake Biograd in Biogradska Gora National Park
Image: Deposit photos
Along with Zabljak, Kolasin is one of the most popular mountain resorts in Montenegro. It's the home of skiing in Montenegro and is popular with locals throughout winter. Zabljak also has a smaller ski field with one lift.

It's a great place to visit in summer as it sits on the edge of Biogradska Gora National Park and the drive up from the coast is simply stunning. If you head up via Skadar Lake, you'll be treated to beautiful lake views and once you pass Podgorica, you follow the winding Moraca Canyon all the way to Kolasin.
Kolasin itself is a very small town with some nice hotels (see Bianca Resort) and a few restaurants. The area is very beautiful and it's ideally located to enjoy some walking and the clean, mountain air.
Read More: Biogradska Gora National Park
---
Ostrog Monastery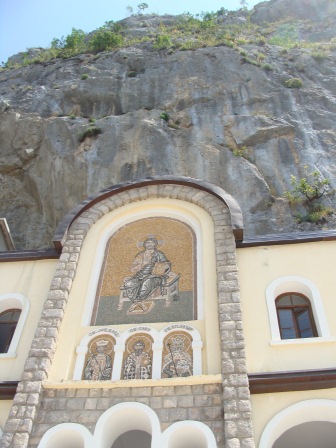 Ostrog Monastery is considered the most holy place in all of ex Yugoslavia for those of the Orthodox religion. People come from all over the region, including Russia, to visit this famous monastery.
The monastery lies between Podgorica and Niksic and you can find tour buses going there every day from the coast. You can also drive yourself up there - a word of caution: the access road is quite steep and narrow so it's not for nervous drivers.
When you get there you'll have to park either at the lower church or in a car park a bit further up and there's an uphill walk through the forest to Ostrog.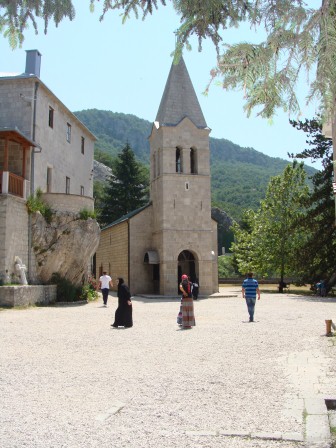 The lower church
The forest path up to the monastery
The monastery was built into a cliff- face in the 17th Century and the founder, now a saint, still lies in the monastery. You can visit St Vasilije's bones inside a small room inside. There's usually a queue at the entrance and a monk watches over the worshippers.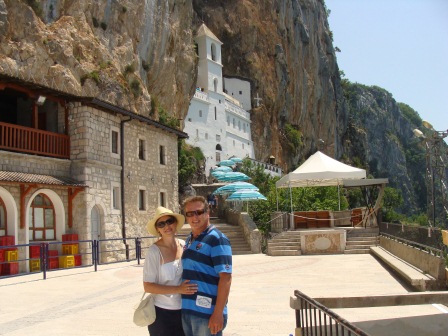 The monastery in the cliff behind us
In contrast to Our Lady of the Rocks in Perast, which is generally bustling with tourists and guides, Ostrog is filled with worshipers and is a more sombre and serious place.
Read my guide if you're interested in visiting Ostrog. I have detailed information about the customs you'll need to respect when you go there.
So as you can see, it's actually very easy to experience the beautiful mountains of Montenegro, even if you're limited with time.
All of the inland areas are doable in overnight trips and some (for example Lovcen, Ostrog, Cetinje and at a push Zabljak) can even be done in day trips.
---
Related Articles
Coast of Montenegro
Climate of Montenegro
Visit Montenegro
---
Home
› Mountains of Montenegro
---
help the stray animals of Montenegro
Book your accommodation anywhere in the world through any of the search boxes on our site and we'll make a donation towards sterilising stray animals in Montenegro. 
It costs you nothing, and you get the biggest selection and lowest prices guaranteed. It's a win-win!