Montenegro Pulse contains affiliate links and is a member of the Amazon Services LLC Associates Program. If you make a purchase using one of these Amazon links, I may receive compensation at no extra cost to you. See my disclaimer for more information.

The Mountains of Montenegro - Adventure into the Wild
Discover the truly spectacular mountains of Montenegro. Where to go, what to see and what to eat!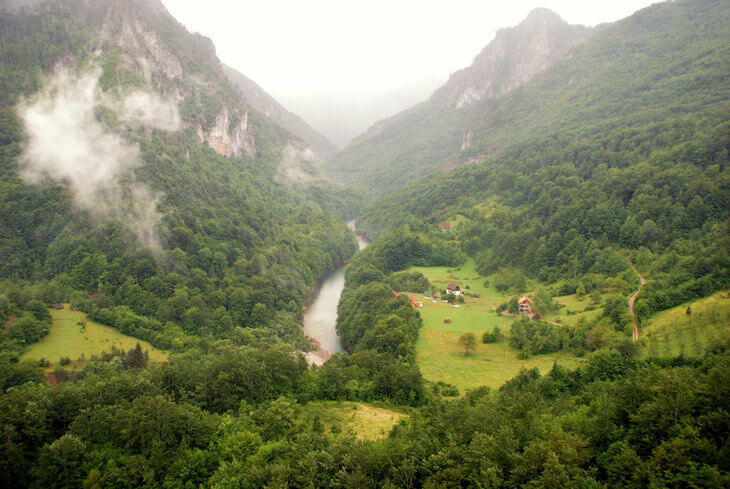 The mountains of Montenegro. Image: Deposit Photos
For a country mostly known for its sun-drenched beaches, azure seas and idyllic coastal old towns, it's the mountains of Montenegro that have traditionally been the country's calling card.
In fact, a whopping 90% of Montenegro is mountainous. And the mountains are what the country is named for. Monte - mountain. Negro - black. Or in Montenegrin - Crna Gora (pronounced 'tsrrrna gorra'), which also means 'Black Mountain'.
Montenegro's mountains will give you a completely different experience to the coast. While the Montenegro coast offers you lazy days of sun, sea and the feel of the Med, the mountains offer you dramatic, moody vistas.
They're rugged, wild and stunning. 
In these wildernesses bears and wolves still rule the forests. 
And it's not just the landscape. The Montenegrins who live here are hard-working, gnarled and grizzly-looking. But like all Montenegrins their hospitality is second to none and they'll feed and take care of you like you're their own family.
The food in the mountains of Montenegro is also different. Instead of plates of seafood buzara you'll find roast meat and kačamak, a hearty cornmeal porridge with potatoes and cheese. 
And this contrast is why I recommend planning a visit to the mountains to Montenegro. To really experience Montenegro, you have to visit the black mountains. And they're the perfect destinations for all kinds of activities. You can go hiking, biking, canyoning, rafting, even zip-lining on one of the longest zip lines in Europe!
Luckily, because the country's so small, you can get a taste of the other side of Montenegro, even if you only have a day.
Let's explore all the ways you too can explore the mountains of Montenegro...
Quick Links
Montenegro National Parks | Top Activities | Top Attractions
What to Eat | Top Tours
The National Parks - Gateways to the Mountains of Montenegro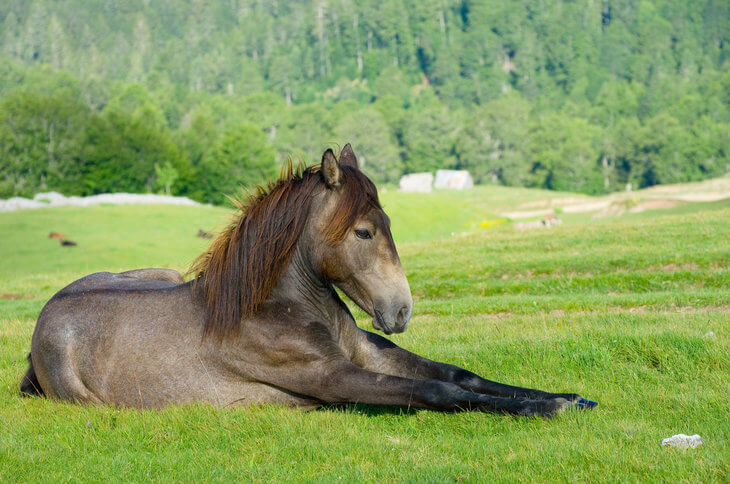 Horse in Biogradska National Park. Image: Deposit Photos
Visiting one of the national parks is the most popular way to visit the mountains of Montenegro.
There are five national parks in Montenegro and they're very accessible. You can either visit them on day trips from the coast or plan to spend a few nights in the north of Montenegro.
The most popular places to stay overnight are in Žabljak and Kolašin, which are close to Durmitor National Park and Biogradska Gora National Park respectively. The other national parks are Lovćen, Skadar Lake and Prokletije. There are towns near each so you can spend a night in or near any of the parks.
All the national parks are vastly different, I'll give a brief description of each below to help you decide which you'd like visit. For more information, and to plan your trip, you can read about each on their dedicated pages.
Lovćen National Park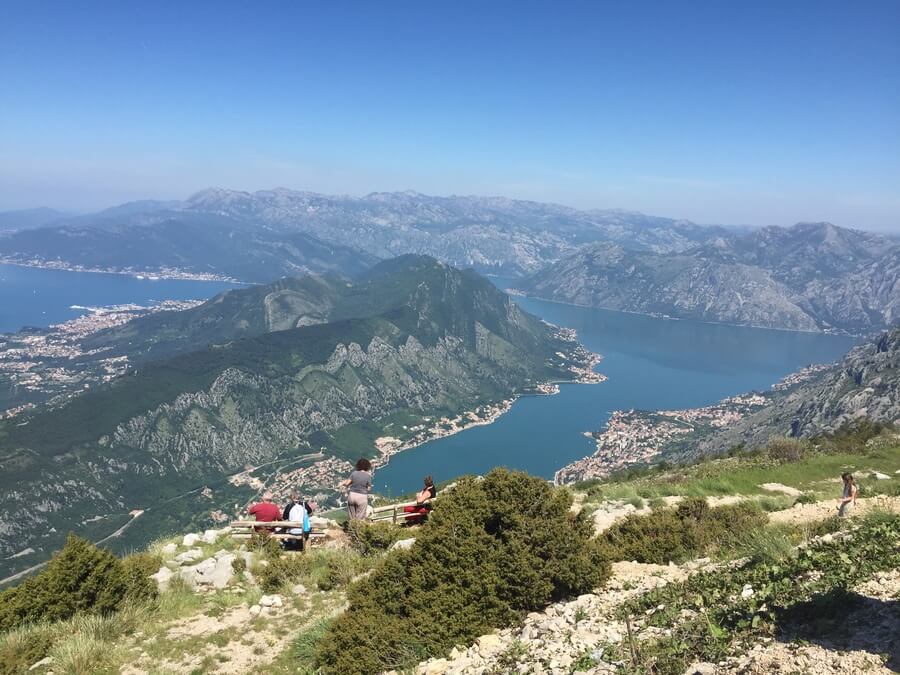 The Bay of Kotor from Lovćen National Park
Lovćen National Park is the easiest park to visit from the Bay of Kotor. It's a popular destination for people staying in Kotor, and if you're visiting Kotor on a cruise you'll see many tours visit Lovćen because it's so close.
Highlights in Lovćen:
Serpentine Road: From Kotor you'll drive up the serpentine road with its 25 hairpin turns. The view of the Bay of Kotor gets better with each turn until you enter the national park where you get the view above
Njeguši Village: On the way into the park you'll go through a village called Njeguši. This is the birthplace of Montenegro's favourite ruler, Petar Petrović-Njegoš. The village is also famous for its prosciutto and cheese, and you can try both (along with a slug of rakija brandy and some local wine) at Montenegro's oldest restaurant, Kod Pera na Bukovicu
Petar Petrović-Njegoš Mausoleum: The mausoleum on Jezerski Vrh, the second-highest peak on Mount Lovćen, was the highest altitude mausoleum in the world when it was built. The ornate mausoleum is fascinating and you'll get views of Montenegro, Croatia and even Albania from the 360° lookout behind the mausoleum, but beware, you'll have to scale 461 steps to get there!
Ivanova Korita: Ivanova Korita is a favourite weekend destination for Bay of Kotor families. The grassy fields include playgrounds, walking tracks, bike rental, barbecue facilities and a high ropes course. It's the perfect place to spread a picnic take a snooze in the sun
Skadar Lake National Park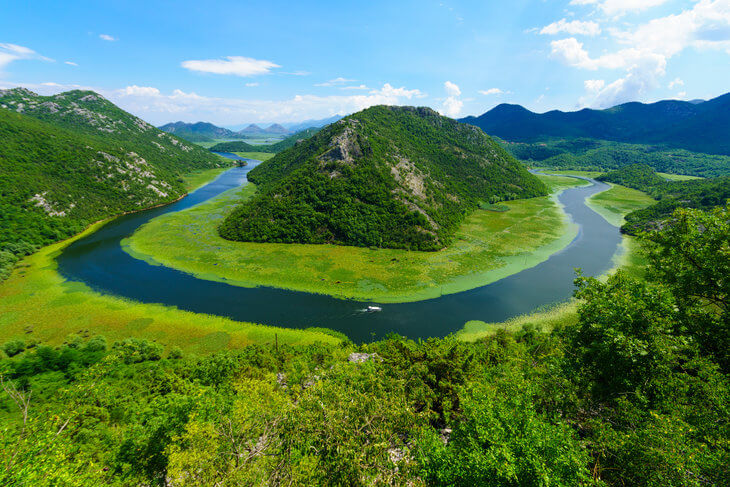 Pavlova Strana. Image: Deposit Photos
Skadar Lake National Park lies between Budva and Podgorica and makes up part of the border with Albania.
Highlights of Skadar Lake:
Bird Watching: Skadar Lake is one of the largest lakes in Europe, it's the largest bird reserve in Europe and it's home to over 280 bird species. You can take cruises on the lake to see Dalmatian Pelicans, Pygmy Cormorants, herons, kingfishers and ducks. You can also kayak and hike and bike the trails around the lake
Wine: The Crmnica region around Skadar Lake is Montenegro's premier wine region. You'll find lots of traditional, boutique wineries here and you can do wine tastings which also come with samplers of local cuisine
Durmitor National Park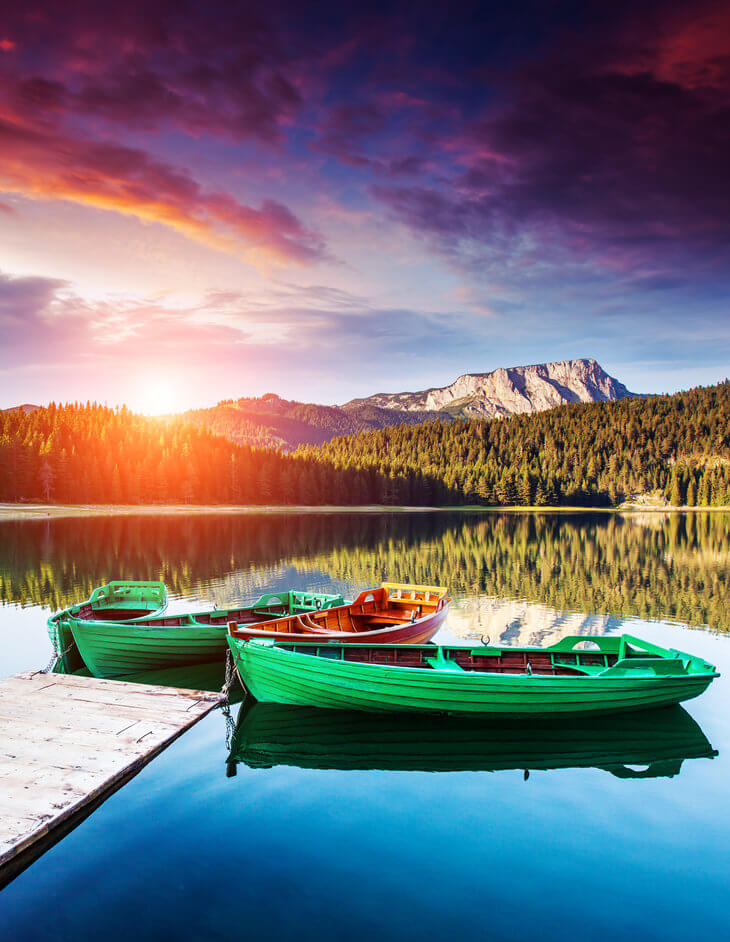 The Black Lake. Image: Deposit Photos
Durmitor National Park is where you'll find some of the most dramatic scenery in the mountains of Montenegro.
The national park has 48 peaks over 2,000 metres and 18 glacial lakes. It's the perfect place for some serious hiking, but it's equally good for a relaxed mountain getaway.
At around two and a half hours' drive from the coast you can visit in a day trip, but you can also stay in Žabljak for a night or two to have more time to explore.
Highlights of Durmitor National Park:
The Black Lake: The 4km track around the Black Lake is an easy and popular way to experience Durmitor. You can also hire a boat or kayaks on the lake
Bobotov Kuk: A popular hike to the peak of Bobotov Kuk at 2,523m
Durmitor Ring: Durmitor Ring (Durmitorski Prsten) is a circuit route of around 76km that will take you through some of Durmitor's most stunning scenery. The Sedlo Pass is particularly beautiful and has some great photo ops
Tara Canyon: The Tara Canyon is the deepest canyon in Europe and the second-deepest canyon in the world after the Grand Canyon. The best way to experience it is by rafting down it, but you can also see it or zip line across it from the Đurđevića Tara Bridge
Bogumiljski Stećci: Bogumiljski Stećci are medieval Greek tombstones from the 7th to 8th century that lie near Riblje Jezero

Biogradska Gora National Park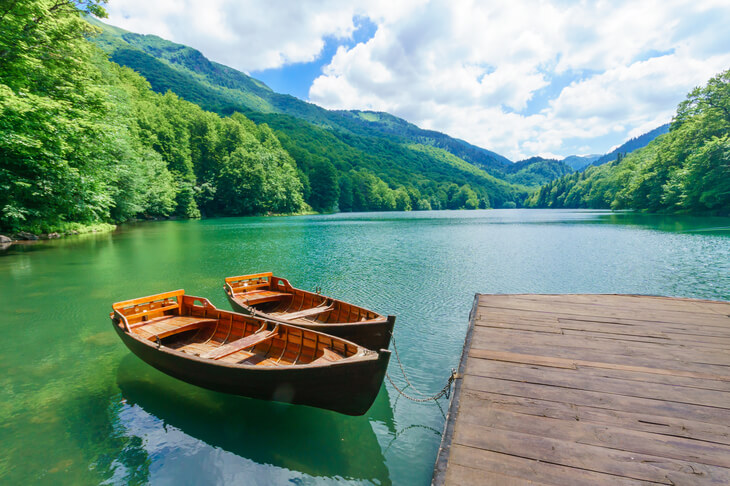 Lake Biograd in Biogradska Gora National Park. Image: Deposit Photos
Biogradska Gora National Park is one of only three primeval forests left in Europe and it's a popular tourist destination summer and winter. If you want to stay here there best place to stay is Kolašin, a little mountain town around 20km from the national park, or you can go for the authentic experience and stay in a katun, a shepherd's hut in the mountains.
Highlights of Biogradska Gora:
Like Durmitor, Biogradska Gora National Park is best seen in an overnight trip but you can visit it in a day trip, especially if you're staying in Podgorica. The drive up from the coast is simply stunning. If you head up via Skadar Lake, you'll be treated to beautiful lake views and along the winding Moraca Canyon.

Prokletije National Park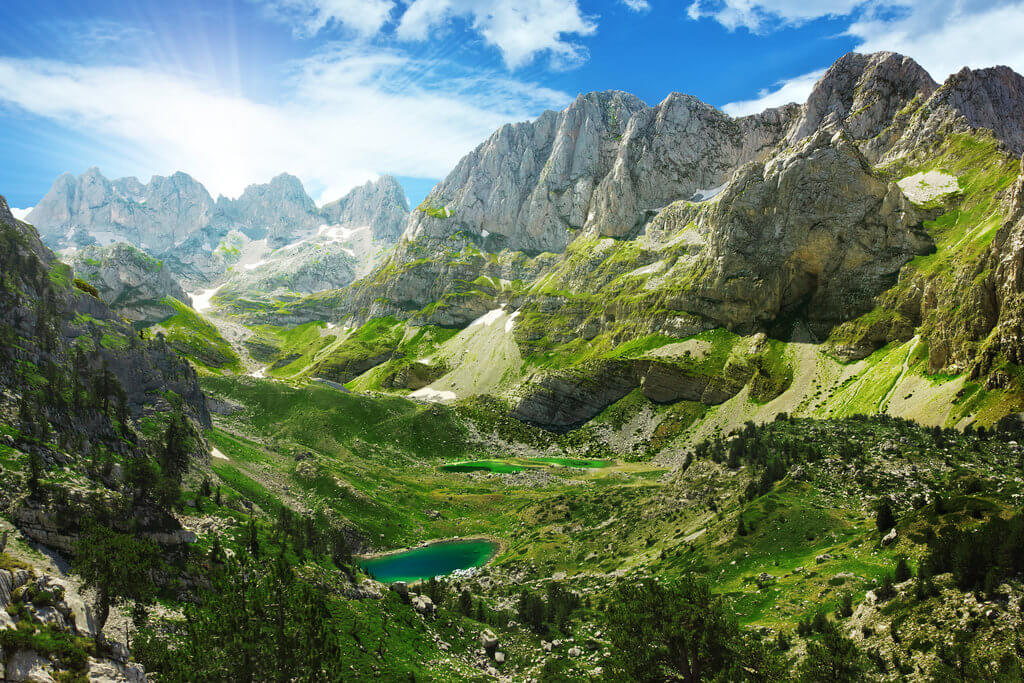 Prokletije Mountain Range. Image: Deposit Photos
Prokletije National Park lies on the border with Albania and includes the Prokletije mountain range. Literally translated the range is called the Accursed Mountain, which gives you an idea of how inhospitable it is. 
Bobotov Kuk in Durmitor National Park is often given the title of highest peak in Montenegro, but it's actually Zla Kolata at 2,534m (8,314ft) here in Prokletije that's the highest.
Because it lies in a dead end in the north east of Montenegro, Prokletije is usually only visited by keen mountaineers and intrepid tourists. This means you'll find less in the way of tourist attractions, but also fewer tourists.
The best place to stay in Prokletije is the small town of Plav. Here you'll find modest accommodation and a pretty lake that's a favourite swimming spot in summer.
---
Top Activities in the Mountains of Montenegro
Hiking
Without a doubt the mountains of Montenegro are gaining a reputation as a top hiking destination in Europe. Here you'll find challenging peaks, sheer cliffs and rolling hills. You'll also find canyons like Mrtvica Canyon near Morača Monastery, Austro-Hungarian fortresses along the coast, ancient Greek graveyards, wild animals and welcoming locals along the trails.
As well as the well-marked trails throughout the country, Montenegro is part of the Via Dinarica mega trail that extends from Albania to Slovenia.
Self-Guided hiking
If you're interested in serious hiking in Montenegro, Rudolph Abraham's The Mountains of Montenegro, A Walker's and Trekker's Guide is a must-have guide to the best peaks and trails in Montenegro. 
There are lots of easy, well-marked trails and easy hikes like:
Guided Hiking
Hiking with a guide is a great way to see the best of the mountains of Montenegro and get to know a bit about local history and culture. Here are some popular hikes you can do with a guide:
Rafting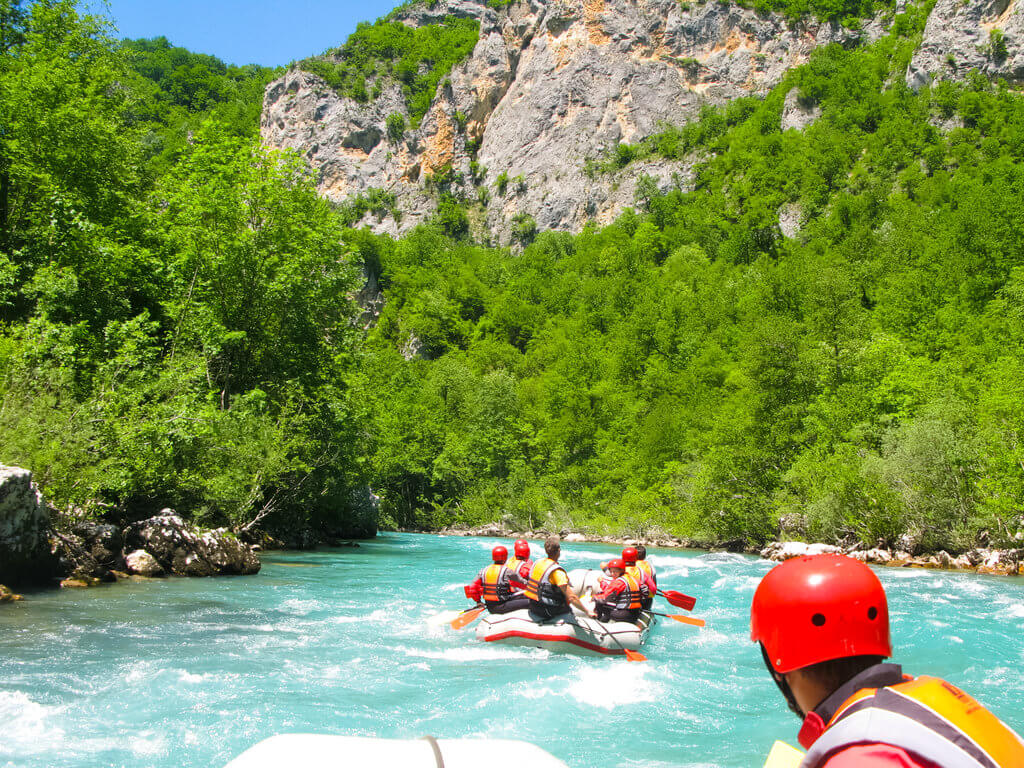 Rafting in Tara Canyon. Image: Deposit Photos
Rafting through the Tara Canyon is one of the most popular things to do in Montenegro and you'll find rafting tours from just about everywhere.
The water in the Tara is icy cold at around 7 - 10 degrees celcius and is so clean you can drink it. The rapids are most thrilling in spring and early summer as ice melt makes the river swell. Then they peter out towards the end of summer and autumn, although this depends on rainfall.
Rafting is great for a wide age group and the drive up to the canyon takes you through some stunning mountain scenery around Piva lake.
Canyoning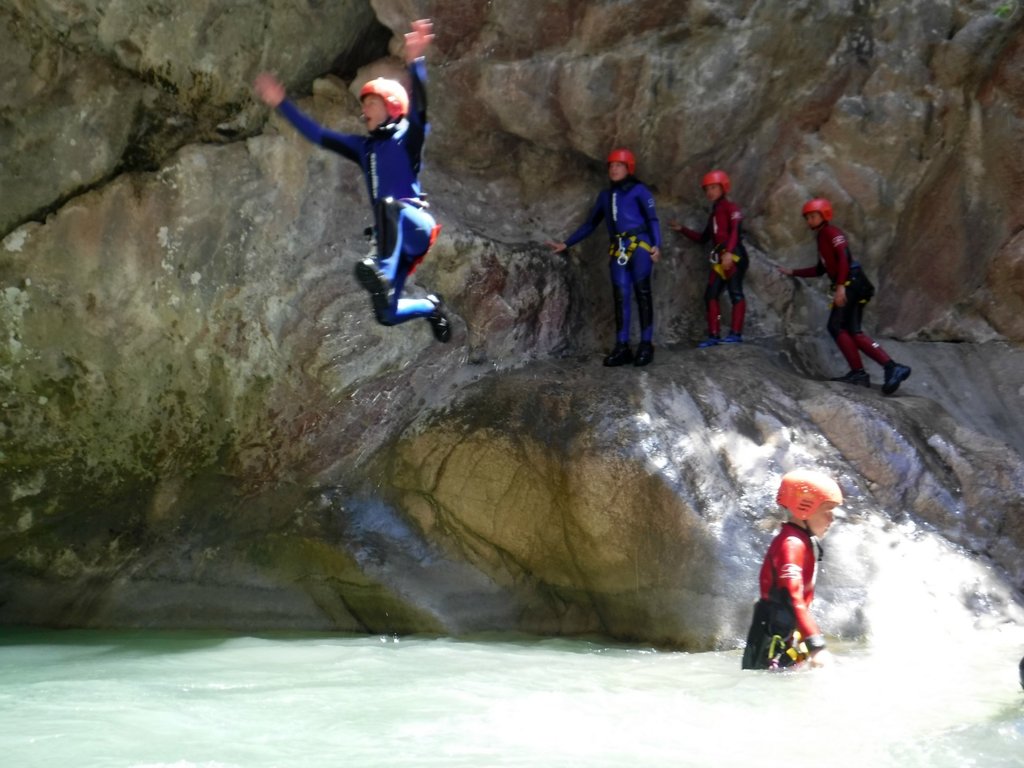 Canyoning in Montenegro
Canyoning is a more challenging activity that includes lots of abseiling, swimming, jumping, hiking and sliding through a canyon. There are canyons for (almost) all age groups and skill levels. It's a great activity for seasoned thrill seekers and families looking for a fun and exciting activity they can do together.
Skiing, snowboarding and Snow sports
Montenegro's top ski centres are based in Kolašin and Žabljak. Kolašin is the most popular and modern destination with two resorts, Kolašin 1450 and Kolašin 1600. Žabljak's Savin Kuk is a modest resort with one lift. There are also two small  ski centres, Vučje and Hajla, with tows.
In summer you can ride the lifts in both Kolašin and Žabljak to get stunning views of the surrounding mountains. The mountains of Montenegro have fantastic potential for snow sports, but haven't been developed yet and don't compete with other European ski centres. If you're looking for a ski holiday I love Kopaonik in Serbia and highly recommend it.
---
Top Attractions in the Mountains of Montenegro
Aside from the national parks there are some top attractions to put on your list of places to see in the mountains of Montenegro. You can choose a few that fit into your plans or plan a circuit around Montenegro and hit them all.
Ostrog Monastery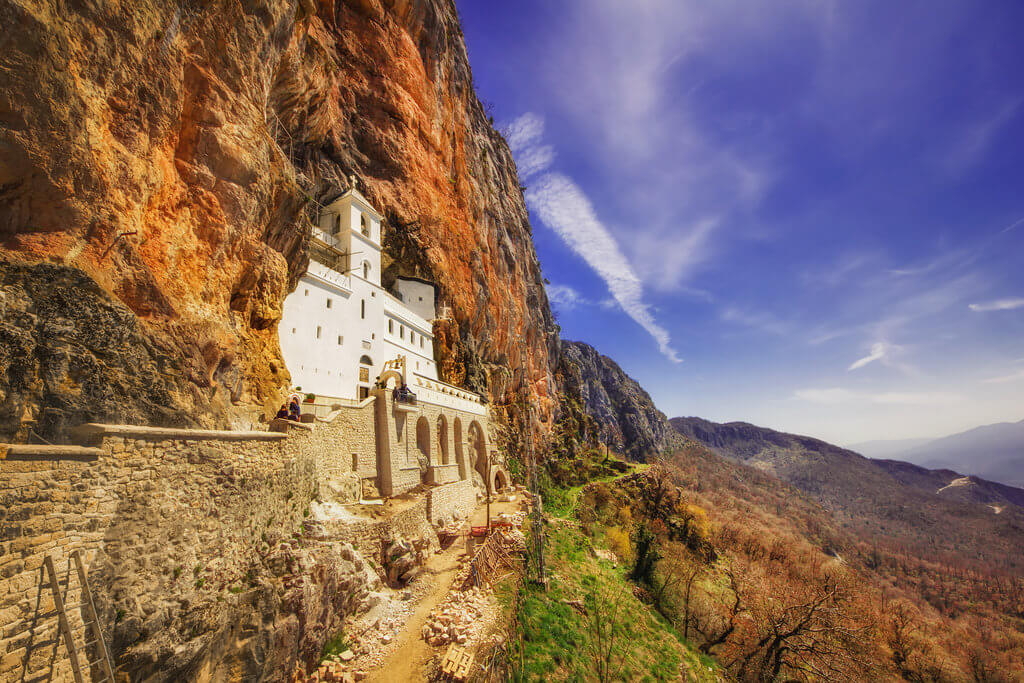 Ostrog Monastery. Image: Deposit Photos
Ostrog Monastery is considered the most holy place in all of ex Yugoslavia for those of the Orthodox religion. People come from all over the region, including Russia, to visit this famous monastery.
The monastery lies between Podgorica and Niksic and you can find tour buses going there every day from the coast. You can also drive yourself up there - a word of caution: the access road is quite steep and narrow so it's not for nervous drivers.
The monastery was built into a cliff- face in the 17th Century and the founder, now a saint, still lies in the monastery. You can visit St Vasilije's bones inside a small room inside. There's usually a queue at the entrance and a monk watches over the worshippers. 
In contrast to Our Lady of the Rocks in Perast, which is generally bustling with tourists and guides, Ostrog is filled with worshipers and is a more sombre and serious place.
Đurđevića Tara Bridge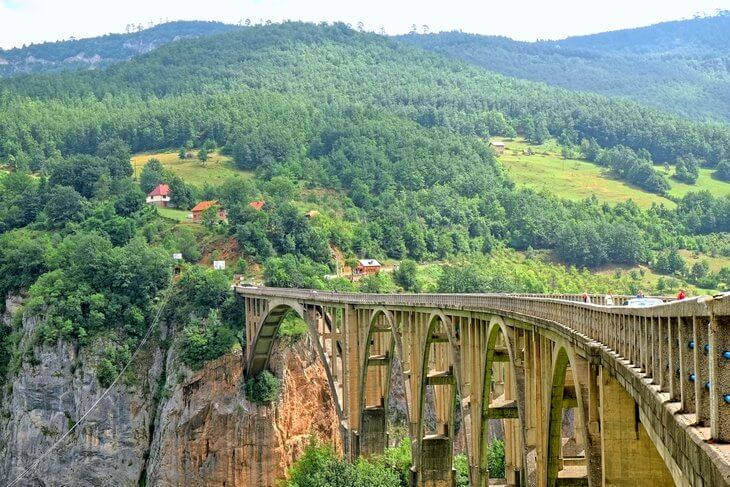 Đurđevića Tara Bridge. Image: Deposit Photos
The Đurđevića Tara Bridge spans the Tara Canyon and is a great place to see the canyon if you're not keen on rafting down it.
When it was built it was the highest vehicular concrete arch bridge in the world and it towers over 170m above the riverbed below. The bridge was intentionally blown up by one of its engineers during World War II. With the bridge destroyed the Fascist Italian advance was effectively halted in its tracks by the impassable canyon.
You can walk along the bridge to see the canyon and the lush, green countryside or you can take the zip line from one side to the other!
Address: Đurđevića Tara Bridge, Durmitor National Park, Pljevlja
Morača Monastery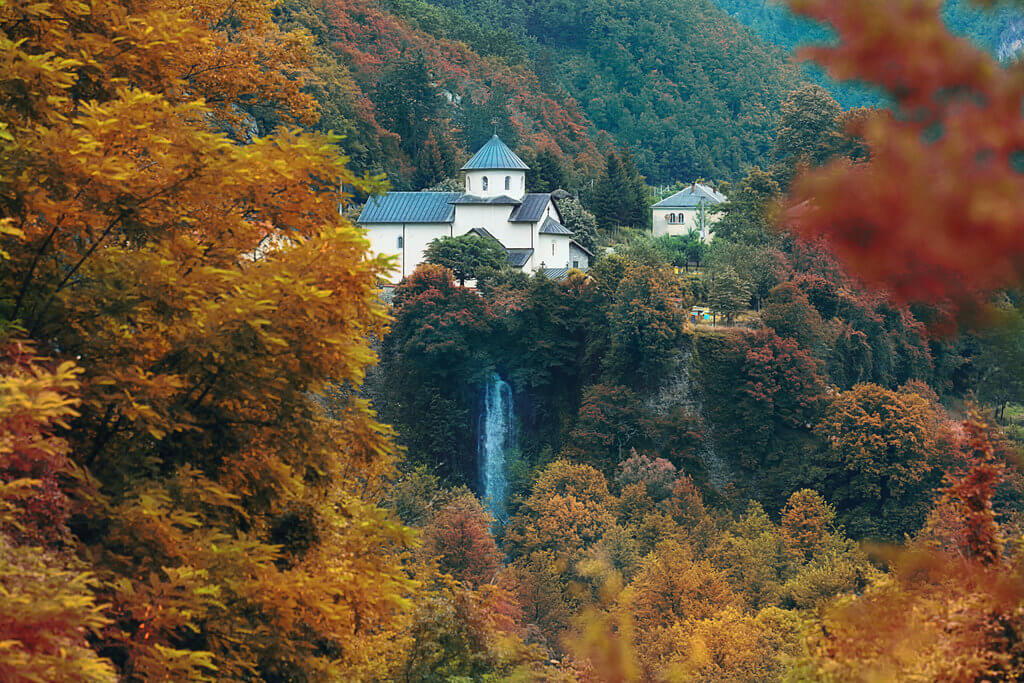 Morača Monastery. Image: Deposit Photos
Morača Monastery is a beautiful monastery on the edge of the Morača Canyon, near Kolašin. It was founded in 1252 by the Stefan Vukanović of the Serbian Nemanjić Dynasty. It was built over a spot where water cascades out of the cliff and creates a pretty waterfall into the canyon below.
The monastery has beautiful monastic buildings and gardens and you can visit the old church with its ancient frescoes. There are also picnic tables and grassy areas where you can enjoy the peaceful atmosphere.
Address: Morača Monastery, Kolašin
Pavlova Strana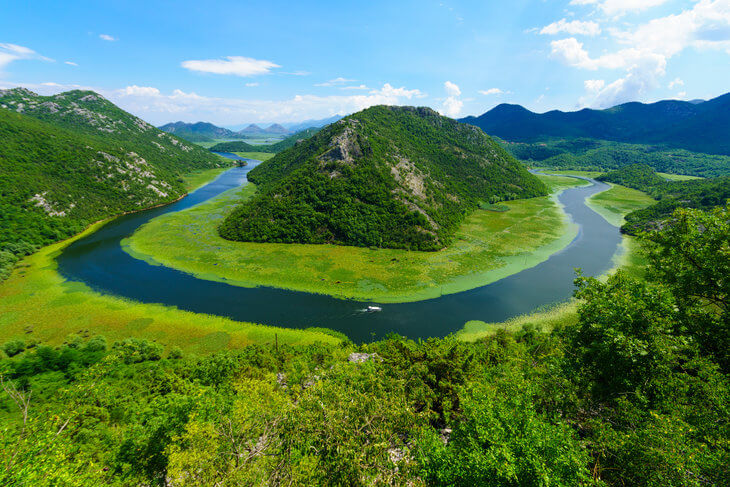 Pavlova Strana. Image: Deposit Photos
Pavlova Strana is one of the most popular photos of Montenegro. But its exact location isn't widely known!
The viewpoint is part of Skadar Lake National Park, but rather than being near the park's hub, Virpazar, you'll find this viewpoint near the sleepy township of Rijeka Crnojevića. To find it you take the road out of town towards Podgorica. The horseshoe bend is part of Rijeka Crnojevića, the Crnojević River.
Address: Pavlova Strana, Skadar Lake National Park, Rijeka Crnojevića
---
What to Eat in the Mountains of Montenegro
The cuisine in the mountains of Montenegro is distinctly different to what you'll find on the coast. Instead of seafood and fresh salads you'll find hearty, cooked meals and comfort food that's ideal after a day in the outdoors. Here are some top dishes to try:
Sač

:

You'll also find this on the coast but eating it surrounded by mountains is the way to really enjoy sač. Sač (pronounced 'such') is meat (usually lamb or veal, sometimes goat) that's been slow roasted under an iron dome. It comes with the best roast potatoes you've ever had and it goes best with a simple cabbage salad. Try this, you won't be sorry!
Pasulj

:

When it comes to food so good your eyes roll back in your head, the humble bean stew might not be the first thing that comes to mind. That's because you haven't had pasulj. This innocuous-looking bean stew that cooked with smoked sausages will blow. Your. Mind
Kačamak: Kačamak

is a maize porridge that's made with potatoes and

kajmak

cheese, which is a kind of clotted cream

Kajmak: You can also try kajmak

on its own. Fresh

kajmak

is milder, while more aged

kajmak

is stronger. If you really want to go local head to the local farmers market and look for

skorup

,

kajmak

aged in a sheep's stomach



Lamb cooked in milk:

This dish is just what the name says. Lamb is slowly stewed in milk with vegetables and spices. The result is deliciously tender and flavourful meat
---
Tours to the Mountains of Montenegro
There are lots of tour options to the mountains of Montenegro. You can join a day trip or a multi-day tour and there are group, private and self-drive options.
top Day Tours
Top Multi-Day Tours
Activity Holidays: You can book guided, multi-day holidays that include a combination of activities like hiking, canyoning and rafting. The accommodation is in authentic ethno villages and the focus is on enjoying nature. 
Scenic Montenegro Tour: This is a private, guided tour around all of Montenegro's top spots, including the coast and mountains of Montenegro. 
Discover Montenegro Tour: This is a self-guided itinerary that I've created. You can personalise it to suit you or just follow it as it is. 
Recommended Montenegro holiday Resources
If you haven't booked your trip to Montenegro yet, here are some useful resources to help you get the holiday of your dreams:
Related Articles
Mountains of Montenegro
Book Your Trip With My Recommended Providers