Montenegro Pulse contains affiliate links and is a member of the Amazon Services LLC Associates Program. If you make a purchase using one of these links, I may receive compensation at no extra cost to you. See my disclaimer for more information.

Adventure Park Lovcen
Adventure Park Lovcen is series of ropes trails set up in the trees in Lovcen National Park. The national park is a fantastic area to visit during your stay in Montenegro – it's close to the coast, the scenery on the way up from Kotor is stunning and there's plenty to see and do up there. Have a look at our Lovcen National Park page here.
The Adventure Park has a series of ropes trails for you to navigate, all varying in difficulty. The great thing is there are trails here for everyone over the age of 5, so it's a great family activity too. When you enter the park, you have can work your way around the courses and choose only those you feel comfortable with.
Each trail has 15 obstacles within in for you to complete with your group. There are trained instructors on site who'll show you how to play the obstacles and complete the courses.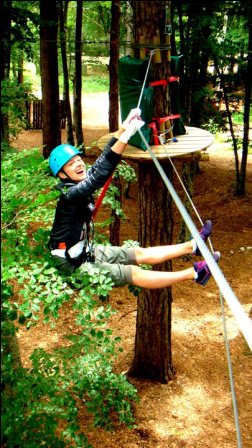 The Trails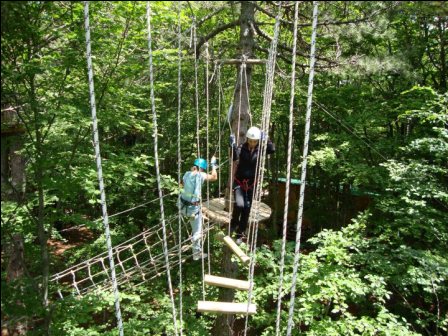 The trails are differing levels of difficulty. They go yellow, green, blue, red and black, with black being the most difficult.
Koala Trail (yellow): this is the easiest course and is designed for children from 5 years old. There are 14 obstacles within the trail and the course goes up to 1.5m high with an opportunity for kids to try a rope descent.
Spiderman Trail (green): this trail has 15 obstacles and goes a bit higher – up to 3.5m. It also has an abseiling opportunity.
Cheetah Trail (blue): this is where things get a bit more challenging. This course will take you up to 6m off the ground and has 16 obstacles for you to complete. There's a minimum age of 15 for this trail.
Panther Trail (red): this is the second hardest course and has 17 obstacles to complete. The trail takes you up to 11m off the ground! It also has an age limit of 18.
Tarzan Trail (black): the most challenging trail in the park, this course has 19 obstacles to overcome that go up to 15m the air. Leap like Tarzan and take a 100m cable downhill cable ride!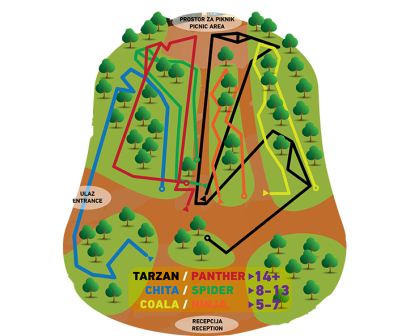 Prices
Adults (14yrs +) - €18
Children 8-13yrs - €12
Children 5 – 7yrs - €8
Opening Times
15th April – 1st June: 12pm – 6pm Saturdays and Sundays only
1st June – 15th September: 10am – 6pm
15th September – 30th October: 12pm – 6pm Saturdays and Sundays only
How to Get to Adventure Park Lovcen
Adventure Park Lovcen is at Ivanova Korita in Lovcen National Park. To get there you'll want head up there either via the serpentine road from Kotor or via Cetinje. Check your route on this map: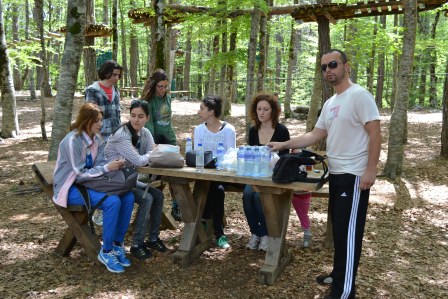 Ivanova Korita is the gateway to Lovcen National Park. You can park here and explore the area from here – do the Adventure Park, hire bikes, eat at the restaurants or take a picnic! There's a large grassed area that's perfect for ball games and you'll find picnic tables under shady trees.
To Book
The park is always open during the opening times above and you can just arrive, no booking required.
If you want to contact them or ask any questions, you can do that with the phone number and query form below.
Phone: +382 (0)69 543 156
Have you tried out the ropes at Adventure Park Lovcen? We'd love to hear about your experience! Let us know in the comments below.
Related Articles
Lovcen National Park
Canyoning in Montenegro
Rafting in Montenegro
Adventure Park Lovcen
Book Your Trip With My Recommended Providers