Montenegro Pulse contains affiliate links and is a member of the Amazon Services LLC Associates Program. If you make a purchase using one of these links, I may receive compensation at no extra cost to you. See my disclaimer for more information.

Lipa Cave: Fun and Adventure in Montenegro
Lipa Cave is a fun, family-friendly attraction in Montenegro that has something to offer visitors of all ages.

For kids there's the train (are your kiddos as obsessed with trains as mine?) and the adventure of heading into a deep dark cave filled with endless possibilities.

As adults we can't help but feel awed in the presence of such a huge and ancient space, shaped by eons of dripping water. When you see stalactites and stalagmites that have been created, drop by tiny drop, over centuries, it's impossible not to be impressed by nature's raw power and ability to create beauty.
Okay, and you'll love the train ride too ;).
The cave is just 5km from Montenegro's old royal capital, Cetinje, and only 32km from the coast. It easily fits into day trip itineraries around Montenegro's most scenic and historic regions, so why not make a day of it and explore some of Montenegro's wild beauty?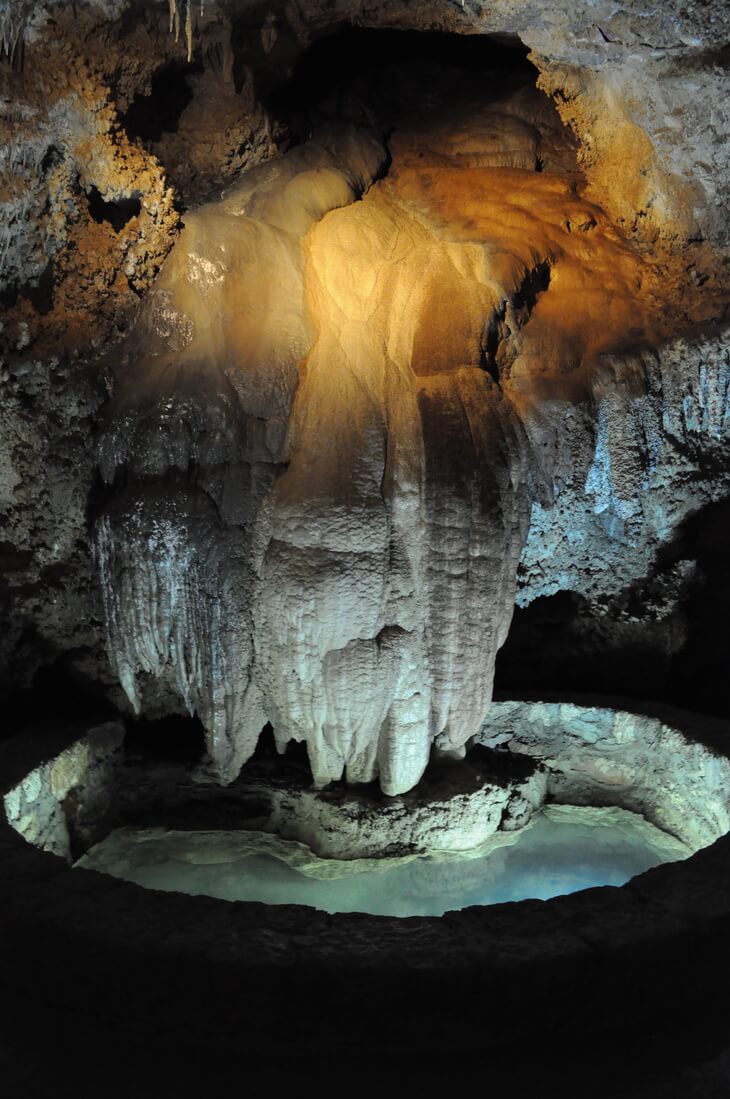 ---
Quick Links
---
About Lipa Cave
Lipa Cave (Lipska Pećina in the local language) is a karst cave and is one of the largest in Montenegro. So far, about 3.5km of the cave has been surveyed and the system includes an underground river. 
This cave was first discovered by a dog that fell through a hole and into the cave. The dog managed to escape through another opening and the locals started exploring the cave.
The first written account of the cave was by an English researcher called Austen Henry Leyard, who visited it in 1839. Lipa Cave was surveyed into the 20th century and first opened as a tourist attraction in 1918. It's been closed and reopened several times since then, but in 2015 reopened as a fantastic addition to Montenegro's attractions.

---
Inside Lipa Cave
Since we were travelling with our kiddos, we did the one hour Cave Tour. We got there early and enjoyed a coffee in the café overlooking the Cetinje hillside covered in autumn foliage.
I can't tell you how excited the kids were to see the train. For the little ones, this was the real highlight of the trip. And we adults loved it too.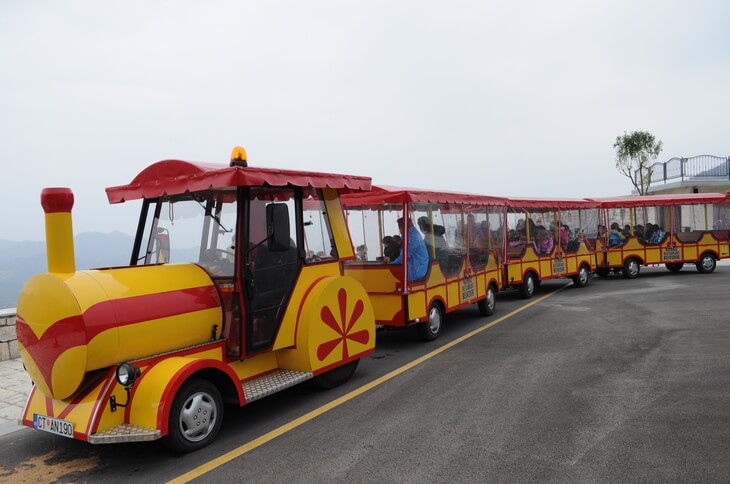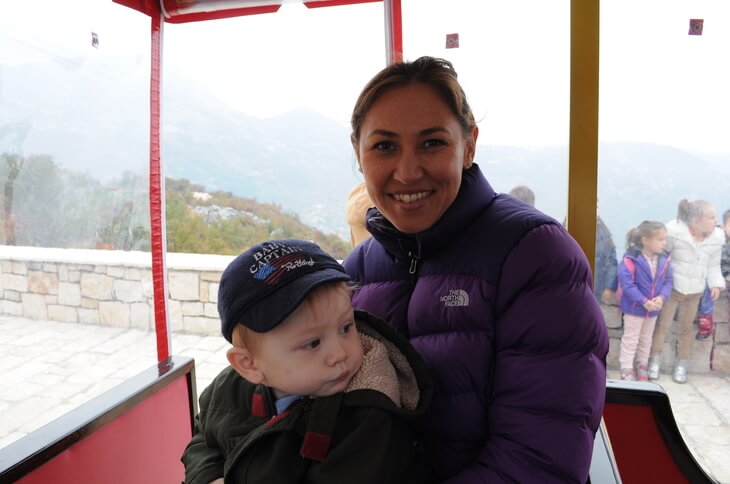 Who doesn't love riding in a tiny train?!
As we wound our way down the narrow road to the cave's entrance we passed local farms, were within sniffing distance of a cow grazing happily by a wild pomegranate tree and got eyeballed by a herd of goats.

At the cave's entrance you can really feel the temperature difference. We went on a cold day, but were literally blasted by an icy-cold wind coming up from the cave's entrance. At just 8-12 degrees (46-54 F) you will definitely need to bring a jacket, no matter what time of year you visit. You'll also need some sturdy shoes because the descent down into the cave is quite steep.

As you walk down, it feels like you're entering another world. It's dark and silent, except for the sound of dripping water. You can't help but feel awe and the urge to whisper in the presence of these ancient stalactites and stalagmites.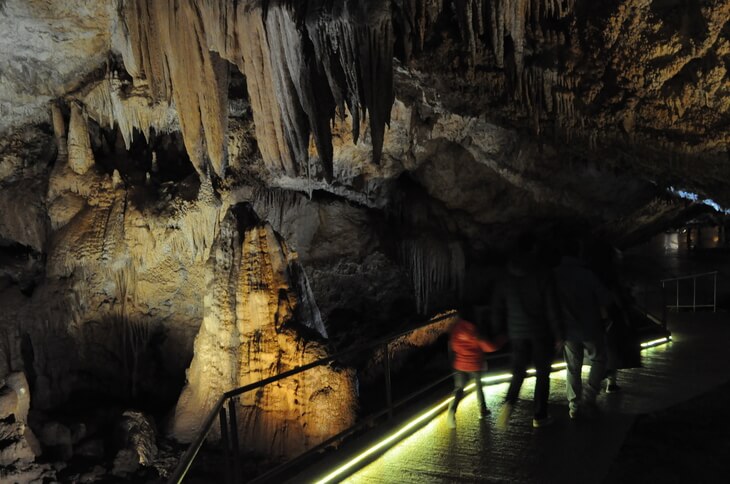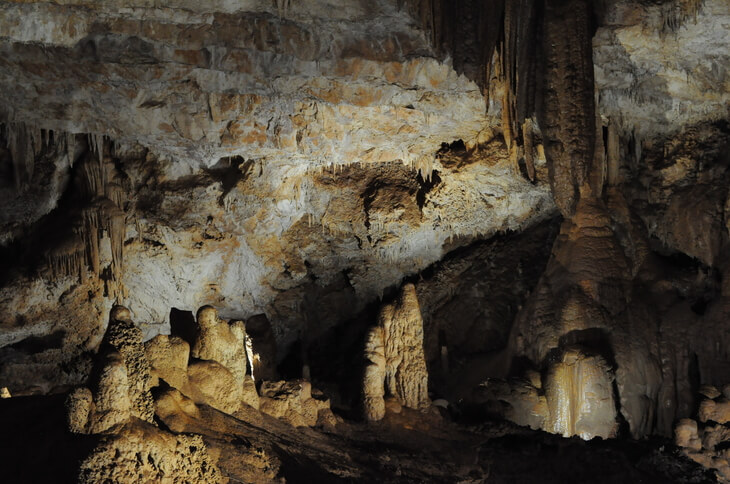 The paths are well lit and we had a guide for just our group, making it a really intimate experience. We had the chance to ask lots of questions and travel through the cave at our own pace. It was obvious our guide was really knowledgeable about speleology and passionate about Lipa Cave.

Near the entrance there's a bar, where you can get a drink in the special atmosphere of the cave. It wasn't working when we visited (issues with getting card processors working in that environment), but it looks like it's working now and you can get a drink while you're down there.
After our tour through the cave, we jumped backed in the train and rode back up to the car park. It was a fun end to the tour, but wouldn't be a bad walk in nice weather either.
We really enjoyed our fascinating tour into Lipa Cave. This is a rare chance to explore a real cave system and get up close to some of nature's most impressive structures. 
---
Lipa Cave Tours
The cave is open from the beginning of May to the end of October. There are three tours available:
Cave Tour
Cave Extreme
Private Tour From Kotor
Map of the cave
Cave Tour
The Cave Tour is the one hour tour we did. The tour starts with a train ride from the car park down to the entrance of the cave. Then you have a guided group tour through the main parts of the cave, with ambient lighting along a concrete path. 
Tour Details
Start times: 10am, 11.30am, 1pm, 2.30pm, 4pm daily (May-Oct)
Price: Adults €10.90, children (5-15 yrs) €6.90, preschoolers (0-5yrs) €1.
Read More: Cave Tour

---
Cave Extreme
This tour is a private tour that takes you to explore the entire area of Lipa Cave. You'll visit parts of the cave that aren't open to general tours, so there's no lighting and you have the feeling you're a real speleologist (cave explorer). You'll also be able to drink from the pure spring water that's purified through the layers of rock and flows through the cave (the cave was an important water source for Austro-Hungarian soldiers during WWI)
These tours are customized to you, whether you're a family with kids or wanting to abseil into the cave from above.

Tour Details
Start times: Flexible (May-Oct)
Price: Adults €50, children (5-15 yrs) €25, family tickets (2 adults + 2/3 children) €125.
Booking enquiries: Reservations for this tour need to be made in advance by emailing info@lipa-cave.me. 

---
Lipa Cave Private Tour from Kotor
If you haven't got a rental car, you can also book an all-inclusive half-day trip to Lipa Cave from Kotor. The trip includes a chauffeured transfer to the cave and Cave Tour for up to 6 people. 
Tour Details
Start time: 9.30am.
Finish time: 2pm (approx.)
Start point: Kotor Old Town.
Price: €463 (up to 6 people).
Read More: Lipa Cave Tour From Kotor
This tour is very overpriced though, so here's a cheaper way to do it if you haven't got your own wheels:
Book the Cave Tour above.
Book a transfer (from Kotor or wherever you are) on Kiwitaxi. You can send a transfer request to get a quote because the cave isn't on the destination list. Transfers from Kotor to Cetinje in a 7-seater are €78, so a return transfer will be around €160. If there are only 4 of you, transfers go for as little as €40 each way.
If you pay €160 for transfers plus a maximum of €65.40 for entrance fees (6 adult tickets) the same trip will cost you €225.40 vs €463 charged for this tour. That's a saving of €237.60!
---
Getting to Lipa Cave
Lipa Cave is 5km from Cetinje, so it's a fun and fascinating add-on to your visit to Montenegro's old royal capital. The cave makes a great change of pace after all the museums and history of Cetinje, especially if you're travelling with kids.  
---
Onsite Facilities
There's a large (free) car park, which is where the tour starts from. There's also a cafe and souvenir shop.
If you're looking for food around here you can't beat Belveder Restaurant, which you'll drive past when you turn off the main Cetinje - Podgorica road towards the cave. 
They've got great views and traditional Montenegrin cuisine like ispod sac, the Montenegrin version of a roast, and Balkan grill. 
This was the first restaurant I visited when we first arrived in Montenegro. I didn't understand a word of the conversation, but I remember thinking 'With portions like this, I'll never go hungry in this country!'
---
What to Bring
At just 8-12 degrees, it's cold, cold, cold in the cave! Especially if you're coming from 30+ degree summer temperatures outside. So make sure you bring appropriate clothing:
Warm jacket
Walking shoes or boots
Trousers

 

Long sleeves
Hat/scarf
Camera – although no flash photography is allowed
---
Day Trip Itinerary
I've created a self-drive day trip itinerary that takes you to visit Lipa Cave and some of the most beautiful scenic and historic sites in Montenegro.
The itinerary is completely customisable and suitable for everyone from families to couples. I've also included a free, printable copy of the itinerary that you can take with you on the day. 
Read More: Mountain High to Cavern Deep Self-drive Day Trip Itinerary >
---
Lipa Cave is a fascinating attraction for all ages and I guarantee your kids will be delighted. At just 33km from Budva and so close to Cetinje, Lovcen and Skadar Lake National Parks, it makes a great addition to a day trip around some of Montenegro's top attractions. 
Related Articles
Visitor's Guide to Cetinje, the Historic Heart of Montenegro
Rijeka Crnojevica: What to See and Do in this Historic Seaside Town
Book Your Trip With My Recommended Providers