Montenegro Pulse contains affiliate links and is a member of the Amazon Services LLC Associates Program. If you make a purchase using one of these links, I may receive compensation at no extra cost to you. See my disclaimer for more information.

Petar II Petrović Njegoš Mausoleum in Lovćen National Park
Discover the Petar II Petrović Njegoš Mausoleum, one of the most-visited attractions in Lovćen National Park.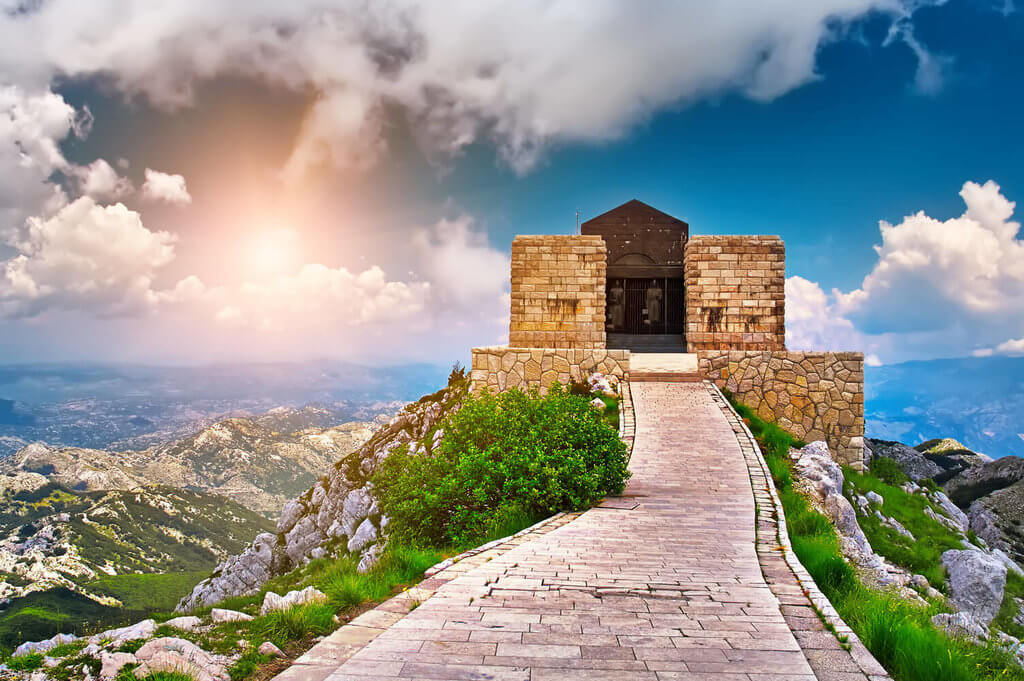 Petar II Petrović Njegoš Mausoleum in Lovćen National Park
The Petar II Petrović Njegoš Mausoleum on Mt Lovćen is an important landmark in Montenegro. It's a dedication to one of Montenegro's greatest sons, a teenager who found himself in charge of an unrecognised country of feuding tribes surrounded by powerful armies. Njegoš used courage and cunning to unify and defend Montenegro, while also writing several books of epic poetry.
It's fitting then, that Petar II Petrović Njegoš should be honoured with this impressive mausoleum on a beautiful mountaintop. The Petar II Petrović Njegoš Mausoleum is a popular attraction and a must-see in Lovćen National Park.
Petar II Petrović Njegoš – Prince, Bishop, Poet

The only known photograph of Njegoš, taken shortly before his death by Anastas Jovanović in the summer of 1851
Petar II Petrović Njegoš is so famous in the former Yugoslav states he's just referred to by the name Njegoš (pronounced Nye-gosh).
Njegoš was born Radivoje Petrović in 1813 in Njeguši village, near Cetinje, as a middle son. But he rose to the rank of vladika, the bishop prince, as the third choice of his uncle, Petar I Petrović Njegoš, when Petar I's first choice died and his second choice chose to stay in Russia.
A teenager when he was chosen, Radivoje was trained and when Petar I died in 1830, he took the throne just before his 18th birthday. At the time, Montenegro's ruler also became the head of the church, so he became prince and bishop. Radivoje took the ecclesiastical name Petar in honour of his predecessor and became Petar II Petrović Njegoš.
At the time Njegoš became vladika, Montenegro was little more than a territory of warring clans. The Austro-Hungarian Empire ruled the coast of modern day Montenegro and the Ottoman Turks still laid claim to Montenegro's territory. Luckily, the Turks didn't bother wasting resources trying to subdue the clans since they didn't pay tax anyway, but the clans also refused to pay tax to a central Montenegrin government.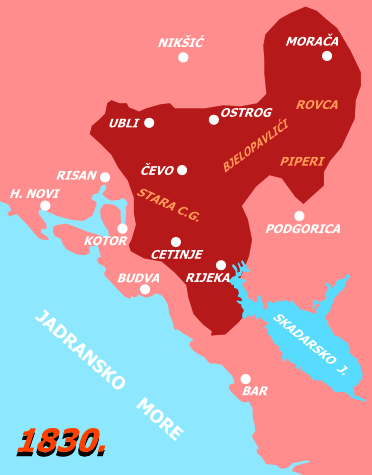 Montenegro in 1830. Image: by Bratislav - Own work, CC BY-SA 3.0
So, at 17, Njegoš inherited a land which was  internationally unrecognised, besieged by blood feuds, surrounded by the Austro-Hungarians on one side and Ottoman Turks on the other, reliant on Russia for money and which had no army or police force.

Despite his young age, Njegoš passed his first test and managed to successfully quash dissent from a rival clan who wanted tried to overthrow him. The consequence of this was the establishment of a Governing Senate and Njegoš then presided over Montenegro's first state institution, financed and controlled by Russia. But Njegoš made the wise move of appointing chieftains of the clans as senators, which had the effect of quelling opposition and calming tribal rivalries.
Njegoš was clever and his achievements continued. At 20 he convinced the Russian czar to bend the rules and consecrate him as the Metropolitan of Cetinje, even though he didn't meet the age requirement of 30. He established a (somewhat successful) taxation system in Montenegro by getting Petar I canonised, he established the first two elementary schools in a country that only had a handful of literate people and he acquired the country's only modern printing press.
Throughout his reign he was forced to balance appeasing his supporters, controlling the tribes who liked nothing more than a good raid in Ottoman territory and Ottoman land grabs. But between the political intrigues he had to negotiate, Njegoš still found time to write and he published several works during his reign. The Mountain Wreath, with 2,800 verses, is his most famous work and has been translated into 10 languages.
In 1849 Njegoš was diagnosed with tuberculosis. Before he died he said he wanted to be buried on Mount Lovćen in a chapel he designed and built in 1845. Njegoš is often praised for his modesty for choosing Jezerski vrh, the second-highest peak of Mount Lovćen because he felt sure that in the future Montenegro would have a greater leader than him who deserved the highest peak. He died in Cetinje in 1851 at the age of 37.
When he died Njegoš was interred at Cetinje Monastery and then moved to the chapel on Mount Lovćen in 1855. But his remains had to be moved when the Austrians decided they wanted to build a monument to the Austrian Emperor Franz Joseph in the same place. In 1925 Njegoš' remains were reburied in the chapel.
---
Petar II Petrović Njegoš Mausoleum

At the end of World War II, Montenegro, including the coast that formerly been part of the Austrian Empire, became part of communist Yugoslavia. Religion became unpopular with the authorities and they wanted a secular mausoleum instead of the Byzantine chapel that Njegoš had built.
Croatian sculptor, Ivan Meštrović, was chosen to design the mausoleum among outcry from locals. However, plans went ahead, the chapel was demolished and the new mausoleum was finished in 1971. 
Today, the Petar II Petrović Njegoš Mausoleum is one of Montenegro's top attractions, and regardless of its controversial beginnings, it's as popular with Montenegrins as it is with foreign visitors. The imposing building is a beautiful place to visit.
The Petar II Petrović Njegoš Mausoleum is the highest mausoleum in the world, sitting at 1,657m. While you can drive most of the way, you need to scale 461 steps to get to the mausoleum. This sounds like a lot, but in reality it's a 15 minute walk, and it's very easy to use the expansive views as an excuse to take breaks 'to enjoy the view' as you climb.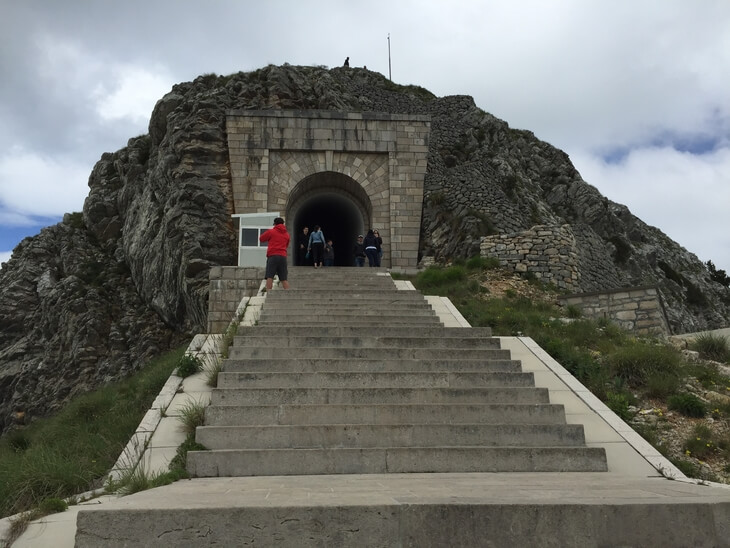 Stairs leading to Petar II Petrović Njegoš Mausoleum
The mausoleum is surrounded by high stone walls and in the centre there's an atrium with a well in the middle. At the entrance there are two caryatids (female sculptures that support the building like pillars) that are dressed in traditional Montenegrin folk costume.
Inside, the crypt is made of marble from the Bay of Kotor and Brač in Croatia and 200,000 gold tiles that used 18kg of gold cover the ceiling. Underneath that, a 28-tonne granite statue of Njegoš, sculpted by Meštrović, sits with an eagle on his shoulder and an open book on his lap.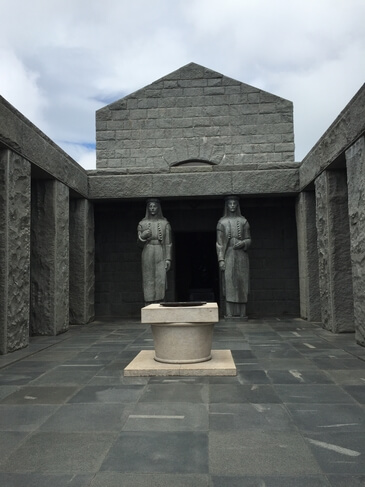 The caryatids at Petar II Petrović Njegoš Mausoleum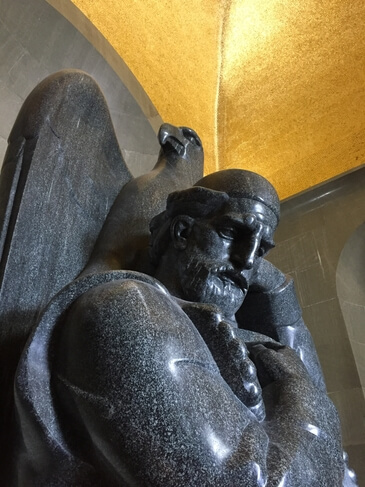 Petar II Petrović Njegoš sculpture under gold tiled roof
From the crypt you can head around the back of the mausoleum, which is where you'll find Njegoš' marble sarcophagus and the path to a viewpoint where you'll get spectacular views. Although Meštrović had never been to Lovćen when he designed the mausoleum, he did a superb job adding this viewpoint.

---
Petar II Petrović Njegoš Mausoleum Viewpoint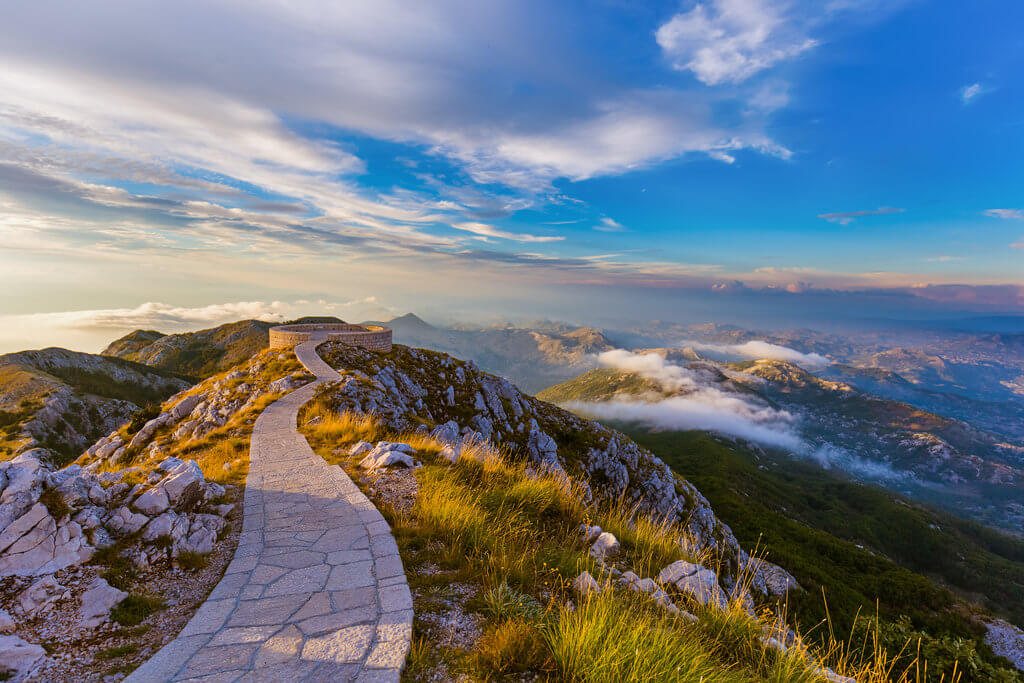 Petar II Petrović Njegoš Mausoleum viewpoint
In contrast to the strong lines of the mausoleum, a gently meandering path leads you out to the viewpoint at Petar II Petrović Njegoš Mausoleum. The viewpoint is a round circle that's just like the guvno, the threshing floors that are found in all Montenegrin villages. Threshing floors are where village leaders would gather to discuss important issues and make decisions. 
The Petar II Petrović Njegoš Mausoleum viewpoint gives you views of a large part of Montenegro across to Skadar Lake and Albania. You'll also see almost the entire north of Montenegro, some of Croatia and maybe even Italy on a clear day.
While you're here, there's a great photo op. Stand on the wall of the threshing floor and get someone to crouch down, ready to take a photo of you. Jump up and onto the ground of the threshing floor while they take the shot. The end result will be something like this: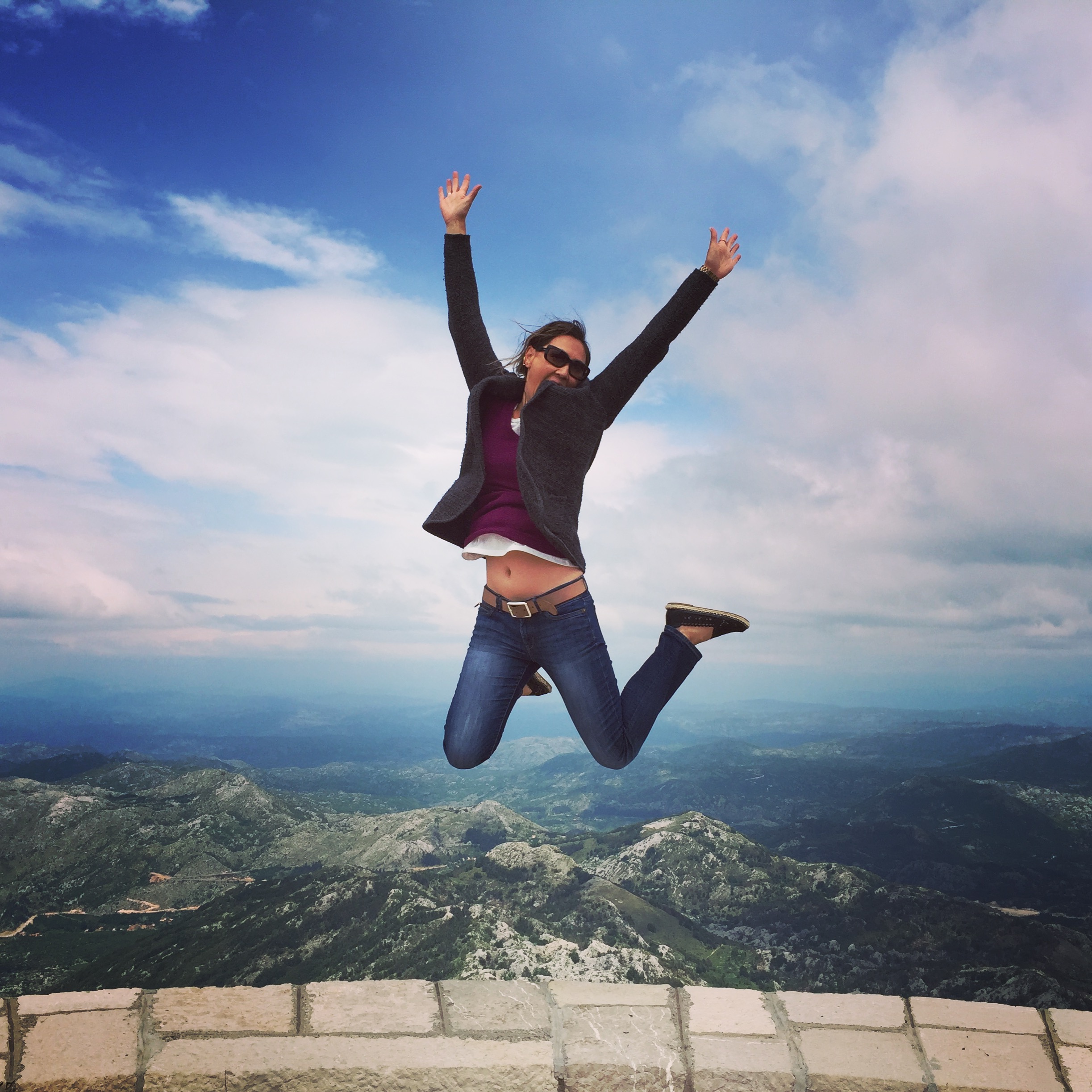 Cool photo, right?!
---
Getting to Petar II Petrović Njegoš Mausoleum

Self-Drive
If you have a rental car you can drive yourself to Petar II Petrović Njegoš Mausoleum. The serpentine road up from Kotor is an attraction in itself. There are 25 hairpin turns on the road and you'll get panoramic views of the Bay of Kotor as you go up.
Kotor - Petar II Petrović Njegoš Mausoleum: 34km (21mi)
Cetinje - Petar II Petrović Njegoš Mausoleum: 19km (12mi)
Budva - Petar II Petrović Njegoš Mausoleum: 50km (31mi)
Podgorica - Petar II Petrović Njegoš Mausoleum: 55km (37mi)
Address: Petar II Petrović-Njegoš Mausoleum, Lovćen National Park
Lovćen mausoleum opening hours: 1st April – 30th November 9am – 5pm, 1st December – 31st March 9am – 4pm
Entrance: €8 per person. Note: there's also an entrance fee of  €5 per person for Lovćen National Park
Tours to Petar II Petrović Njegoš Mausoleum
You can also book tours to Petar II Petrović Njegoš Mausoleum. Here are some of the best:
Great Montenegro Tour – this tour covers a wide-array of Montenegrin culture and attractions including the Petar II Petrović Njegoš Mausoleum, Njeguši village, Cetinje, Pavlova Strana, Rijeka Crnojevića and the Budva Riviera and is fuelled by liberal doses of prosciutto, cheese, fish, wine and brandy!
Historical Zig-Zag Tour – a private tour with a lovely guide called Ana, that includes Kotor, Lovćen and Cetinje.
Private Day Trip to Lovćen and Skadar Lake - this is a private tour with Mladen, a fun and entertaining guide from Kotor.
---
More Things to Do Near Petar II Petrović Njegoš Mausoleum

Njeguši Village – Njeguši village is the birthplace of Petar II Petrović Njegoš. Here, you'll find Montenegro's oldest restaurant and the village is famous for its prosciutto and cheese. You can visit Njegoš' family home and try and buy traditional products, like Montenegrin brandy, in the village.
Ivanova Korita – Petar II Petrović Njegoš Mausoleum lies in Lovćen National Park. Ivanova Korita is the centre of the national park and there you'll find wide fields, playgrounds, barbecue facilities, restaurants, accommodation, hiking and biking trails and Lovćen Adventure Park.
Cetinje - Petar II Petrović Njegoš spent most of his life in Cetinje, the old royal capital of Montenegro. You can visit the residence he built, the Bilijarda, as well as Cetinje Monastery, King Nikola's Court and the national museum.
Lipa Cave – just outside Cetinje, Lipa Cave is a family-friendly attraction that takes you down into the underground world of stalactites and stalagmites.
---
Accommodation Near Petar II Petrović Njegoš Mausoleum

The closest places to stay to the mausoleum are either at Ivanova Korita, inside Lovćen National Park or in Njeguši village. These are quite rural, so if you'd prefer larger towns head to Cetinje which is 19km (12mi) away or Kotor which is 34km (24mi) away.
Ethno Village Saint George **** – a luxurious version of the traditional ethno village experience complete with fountain, pool and four star accommodation.
Ivanov Konak **** – a comfortable four star hotel with a traditional-style restaurant onsite and lots of outdoor activities nearby in the heart of Lovćen National Park.
Related Articles
Book Your Trip With My Recommended Providers
Petar II Petrović Njegoš Mausoleum