Cetinje - The Royal Capital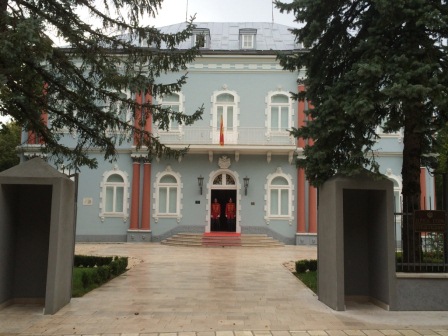 The Blue Palace, official residence of the Montenegrin president
(This post may contain affiliate links. Find more info in my disclaimer.)
A short drive inland from the Budva Riviera will bring you to Cetinje, the old royal capital of Montenegro. It's a compact town that you can get around on foot and is very cute.
There's a lot of history in the former capital and it's a really quintessential inland Montenegro town. There's nothing high end in here, the restaurants and shopping are basic, but the town has a certain old world charm and you can easily imagine it as it was when it was home to the royal family.

Getting There
From Budva: A 10 minute drive south of Budva old town there's a turning that heads inland to Podgorica. This turning will take you on a tour above Budva which will give you panoramic views of the Budva Riviera. The road leads straight to Cetinje, so you can't get lost!
From the Bay of Kotor: You can also get there via Lovcen, which is an especially scenic route - you'll take the stunning serpentine road above Kotor to Njegusi (don't forget to stop and try some of the famous Njegusi parma ham or proscuitto), head over to Lovcen then continue on to Cetinje. 
Although Google maps only shows the route via Budva, rest assured you don't have go all the way to Budva. Just go to Trojica and then follow the serpentine road up to Njegusi, Lovcen and then on to Cetinje. This makes a fabulous day trip from Kotor Bay. 
There's a large parking area (€5 per day) next to the Royal Court Garden. This is a short walk from all of the main attractions. There's also an information centre, toilets and small stalls selling souvenirs here. Zoom in on the map above to see where it is.
---
Main Attractions
The National Museum
The historical and arts history museum

Montenegro's national museum is actually made up of five smaller museums (although one is located in Njegusi). For the very reasonable price of €10 you can visit all of them. 

The historic and fine arts museums are in a single building, the former government building. 

The historic part is particularly interesting and well-curated. 

The artifacts are divided into the main periods of Montenegro's history - from prehistory through the rule of the Ottoman Empire to modern day.

If you want to see just the historic museum, entrance is €3 and that includes an English-speaking guide who'll talk you through the history of the country.
---
King Nikola's Court
King Nikola's Court
This rather stunning red building is in the central square in the middle of town and can't be missed. It's been very well preserved and is full of period furniture and antiques - most being exquisite gifts from foreign leaders. 
Again, the price of entrance includes and English-speaking guide who'll take you through the entire museum. I don't know about you, but I enjoy this so much more than the set of headphones you usually get because I can ask questions.


The back of the court leads to the Royal Court Garden which is a nice spot for a stroll and leads you back to your car.

Cetinje Park behind King Nikola's Palace
---
The President's Residence
If you turn right after passing King Nikola's Court, you find yourself in Njegoseva Ulica. About 200m down the street you'll come across The Blue Palace which is used by the president of Montenegro for official business. The building is a striking blue colour and has guards at the entrance, so it can't be missed.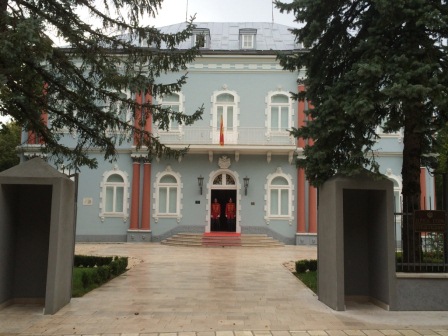 The Blue Palace
---
The Main Street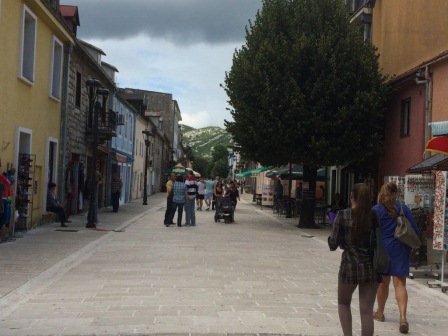 Cetinje's main street is pedestrian only
Turning left after King Nikola's Court will bring you to the central street in Cetinje, a pedestrian only street with restaurants, cafes and shops.
The street is very cute and gives a glimpse of the town's past, with classic European architecture which is quite different to the stone Venetian style on the coast. You'll see a lot of run down old cottages but keep an eye out for Djukanovic's Palace on the left. 
| | |
| --- | --- |
| Djukanovic Palace | One of manys historic ruins in the main street |
Cetinje Monastery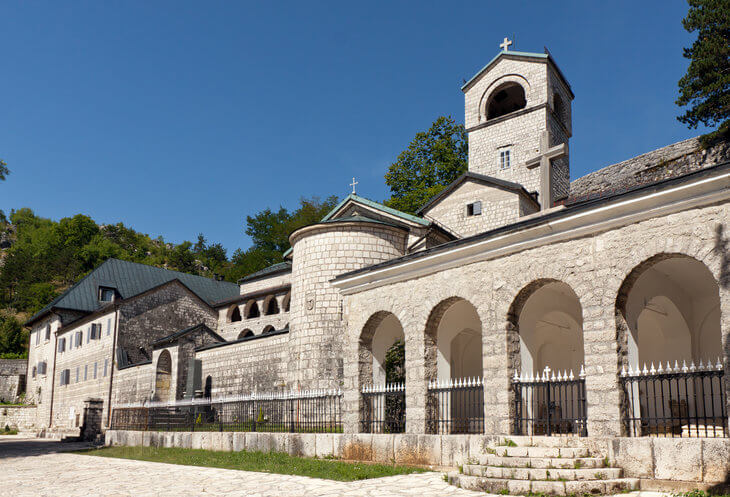 Image: Deposit photos
Opposite the main carpark, across the road, you'll find Cipur Church and Cetinje Monastery. The monastery is home to St John the Baptist's right hand, but it's not on display. In fact, you can't always enter the monastery unless you're with a large tour group. If you do go in, they ask that you're modestly dressed, so try to come prepared. If not, you can also get scarves to cover yourself with. 
Lipa Cave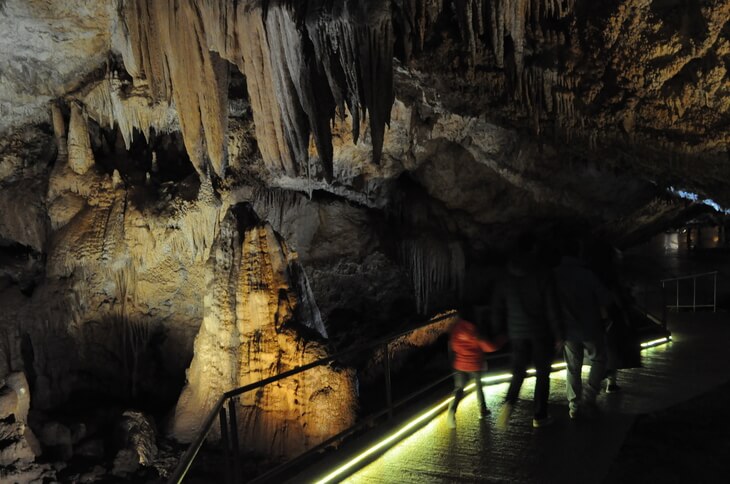 Lipa Cave just 5km from Cetinje and is a fantastic attraction for all ages. The tours start with a mini-train ride to the entrance of the cave and then you have a guided tour through the cave system. 
There are two tours to choose from and the cave fits beautifully into day trip itineraries to some of Montenegro's most historic and scenic sites. 
Read More: Lipa Cave >
---
Tours to Cetinje
Booking a tour to Cetinje is a great way to see the town, especially if you don't have a rental car. We can tailor a tour for you so that you can also visit Njegusi, Lovcen or Budva in the same trip. The licensed guides we work with will personally guide you and show you the best of each area you visit.
---
---
Home

>
Where is Montenegro
> Cetinje
---
help the stray animals of Montenegro
Book your accommodation anywhere in the world through any of the search boxes on our site and we'll make a donation towards sterilising stray animals in Montenegro. 
It costs you nothing, and you get the biggest selection and lowest prices guaranteed. It's a win-win!