Best Places to See Stećci in Žabljak
This post may contain affiliate links which means that if you purchase through my link I may earn a small commission which helps to keep this site going. Thank you. You can find more info in my disclaimer.
Visit the mysterious and unusual stećci in Žabljak. These medieval tombstones can only be found in a certain area of the Balkans.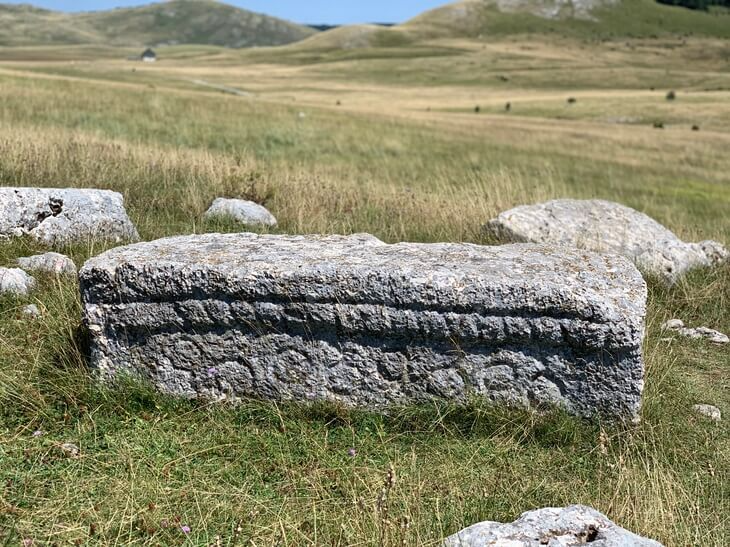 Stećci are an interesting phenomenon that you'll only be able to see in certain areas of the Balkans and two of the best sites to see stećci in Montenegro are in Žabljak, near Durmitor National Park.
Stećci are medieval tombstones that are only found in certain parts of Montenegro, Bosnia and Herzegovina, Serbia and Croatia. The word stećak (the singular of stećci) literally translates as 'standing tombstone'.
Stećci date back to the 12th to 16th centuries and even though they're being studied, there are still a lot of mysteries surrounding stećci. It was thought that stećci might have been used by the Bogomil religion, but most historians now agree that stećci are part of the culture of this region, rather than belonging to a particular religious group. It's likely that Stećci were a part of the pre-Christian Vlach culture and some of the carvings are similar to Illyrian symbolism.

discover kotor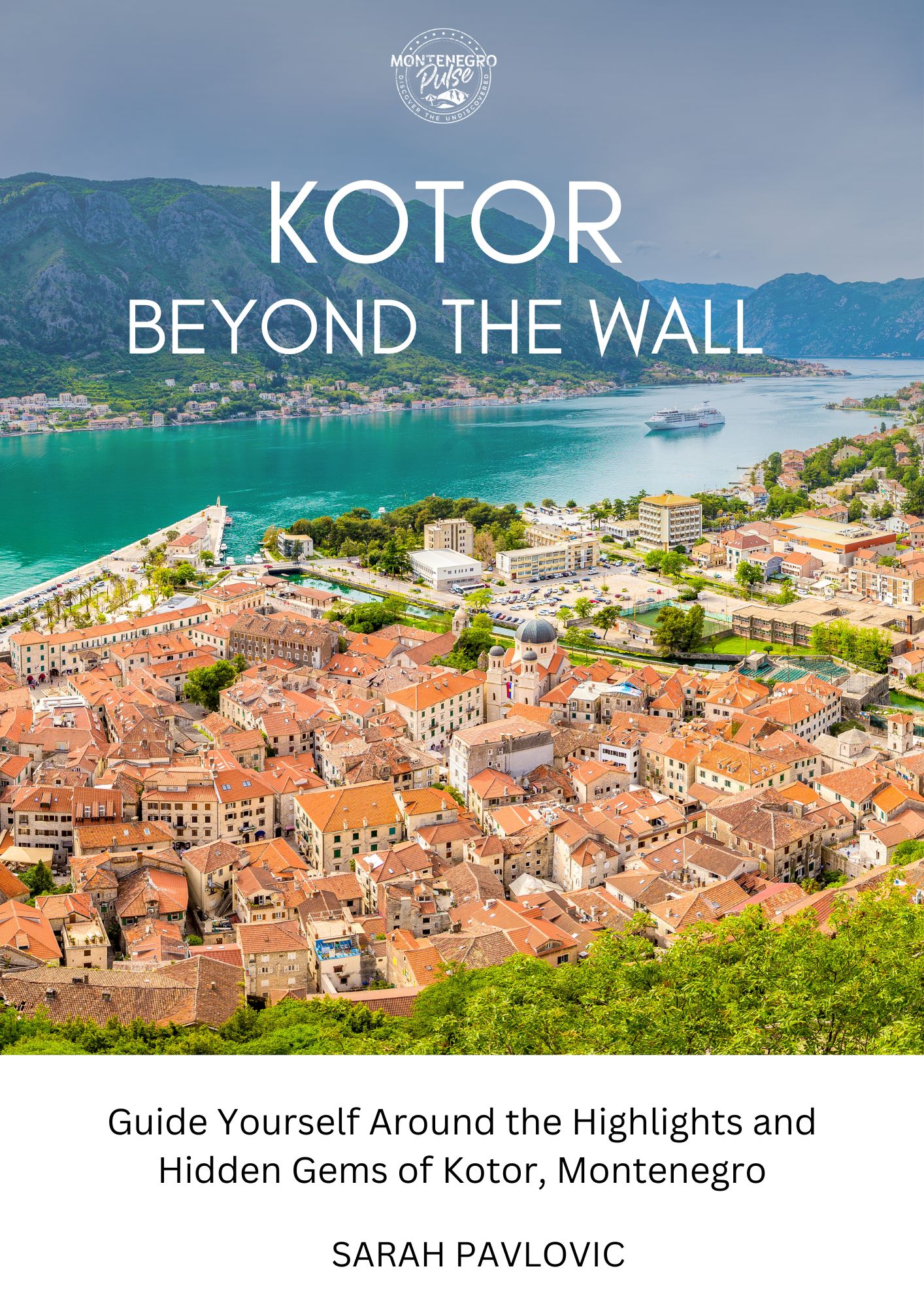 Guide yourself with the
"World's Best Guide to Kotor"
Top attractions
Hidden gems
Bonus walking tour
What to eat
Exclusive experiences
Essential visitor tips
Stećci were probably used to mark the graves of the nobility. They're found in groups of anywhere from 30 to several hundred. The Stećci themselves are carved blocks of stone. The shapes can be slabs, chests, sarcophagi, pillars and crosses, and some have been set on pedestals.

The difference between stećci and sarcophagi of the time is stećci are solid blocks of stone that were placed on top of a grave or in a graveyard, the body of the person could even be buried somewhere else.

Stećci are decorated with unusual and beautiful carvings, which is another reason why people are so intrigued by them. They carry an air of mysticism and represent a time when paganism mixed with Christianity. They often have spirals, rosettes, crosses, lilies, vine leaves and grapes carved into them. Many have a crescent moon and stars on them. They also have people dancing the kolo, a traditional folk dance in Balkans where people dance in a circle, deer, horses, hunting and an image of a man with an upraised hand, possibly in greeting.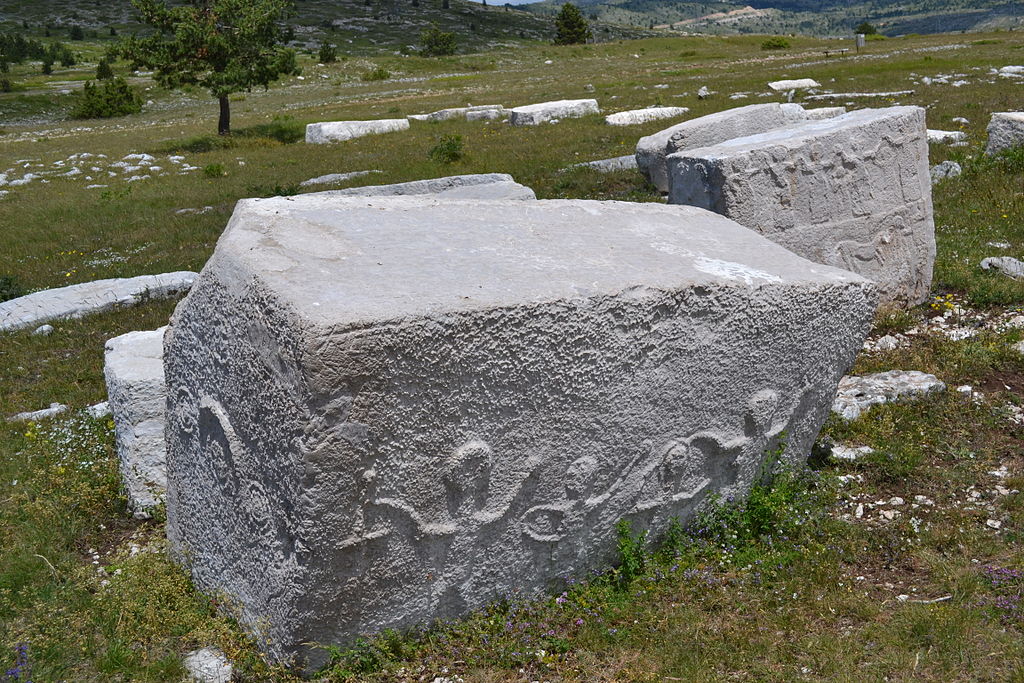 Stećak showing the kolo dance. Image: Dino Džino CC 3.0
Stećci stopped being made and stećci sites were abandoned in the 16th century. This coincides with the Ottoman Turks conquering this area, so historians believe the tradition of stećci was stopped when people converted to Islam or moved away.
There are over 70,000 stećci at 3,300 sites throughout Montenegro, Serbia, Bosnia and Herzegovina and Croatia. 28 of those, including three in Montenegro, are now protected UNESCO World Heritage sites. Two of these are where you can find stećci in Žabljak: Grčko Groblje and Bare Žugića.
Grčko Groblje Stećci in Žabljak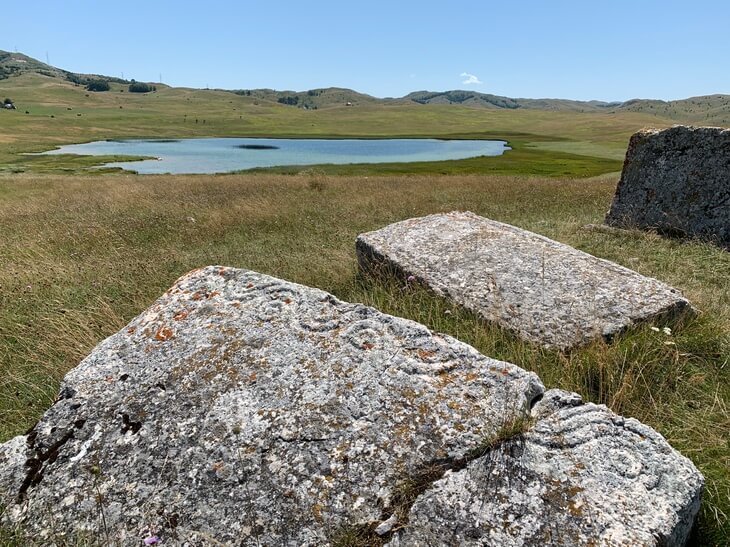 There are two sites in Montenegro with the name Grčko Groblje, meaning Greek Necropolis. Although that implies that Greeks lived and were buried here, the head of Montenegro's UNESCO office, Milica Nikolić, believes they got the name because 'Greek' became a synonym for anything 'old' in later generations. Greeks were one of the original groups of settlers in the Balkans.
The Grčko Groblje site near Žabljak (the other is near Plužine) lies beside Riblje Lake (Riblje Jezero). It's a beautiful site and you'll get wonderful rural views from here. 
The ancient tombstones are strewn in an area of about 500 square metres, 50m from the road. There are no inscriptions on the tombstones and they're decorated mostly with friezes, twisting bands, spirals, twining vines, crosses and hunting scenes. There are 49 stećci and it's assumed that people from the local feudal nobility were buried here in the 14th and 15th centuries.
Address: Bogumilski stećci XII-XVI vijek
Hours: 24 hours
Entrance: Free
Bare Žugića Stećci in Žabljak

Bare Žugića, the second site of stećci in Žabljak is much larger than Grčko Groblje. There are 300 stećci here from the second half of the 14th and 15th centuries.
The two sites are only 2.5km apart, so if you're driving it's easy to visit both sites at the same time. In fact, you can do a circular route starting on the P5 south of Žabljak and finishing on the P5 that comes from the Đurđevića Tara Bridge or vice versa.
Address: Bogumilski stećci
Hours: 24 hours
Entrance: Free
Vražje Lake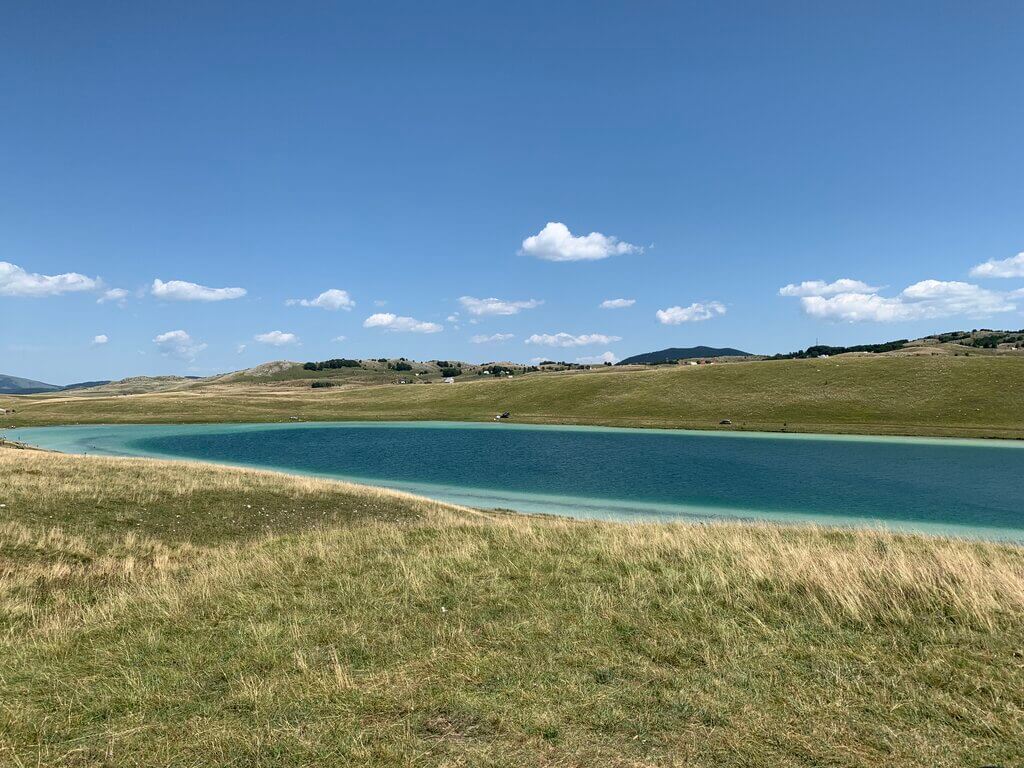 Vražje Lake in July
Near the two sites of stećci in Žabljak, you'll also find Vražje Lake (Vražje Jezero). The lake is an uncrowded place that's popular with locals to cool off in the summer months.
Bring your swimsuit and a picnic and relax as an alternative to the Black Lake in Žabljak. You might even get to see a few riders come through to cool off with their horses!

The Bogomils
Stećci are also often called Bogomil Stećci and related to the Bogomils who lived here. Bogomilism was founded in the 10th century in today's Macedonia. The Bogomils were a group of people who rejected the Orthodox Church and opted for a very ascetic lifestyle. They didn't use the cross or build churches, they believed people should pray at home and they were generally anti-establishment. 
Many of them were Vlachs, and when they were expelled from Serbia in the 12th century they escaped to Bosnia and Herzegovina, Montenegro and Croatia. They were considered heretics by the Catholic Church and there were several unsuccessful crusades into Bosnia to try to rid it of Bogomilism. 
Bogomilism was popular in the Balkans until the Ottomans conquered it in the 15th century, which coincides with the time these necropolises was abandoned. However, leading stećci researcher, Marian Wenzel, believed that stećci were not used just by the Bogomils and that this was an idea created by the Austro-Hungarian Empire in the late 19th century.
Related Articles
Đurđevića Tara Bridge: Tara Canyon Viewpoint and Zipline
Visiting the Black Lake in Montenegro's Durmitor National Park
Tara River Canyon - Best Places to See the Jewel of North Montenegro
Žabljak, Gateway to Durmitor National Park

Durmitor National Park, the Perfect Mountain Escape in Montenegro
help the stray animals of Montenegro
Book your accommodation anywhere in the world through any of the search boxes on our site and we'll make a donation towards sterilising stray animals in Montenegro. 
It costs you nothing, and you get the biggest selection and lowest prices guaranteed. It's a win-win!