Montenegro Pulse contains affiliate links and is a member of the Amazon Services LLC Associates Program. If you make a purchase using one of these links, I may receive compensation at no extra cost to you. See my disclaimer for more information.

Tara River Canyon: How To Get There And What To See 2023
Discover the best ways to see the Tara River Canyon, Europe's deepest canyon and one of the most beautiful places in Montenegro.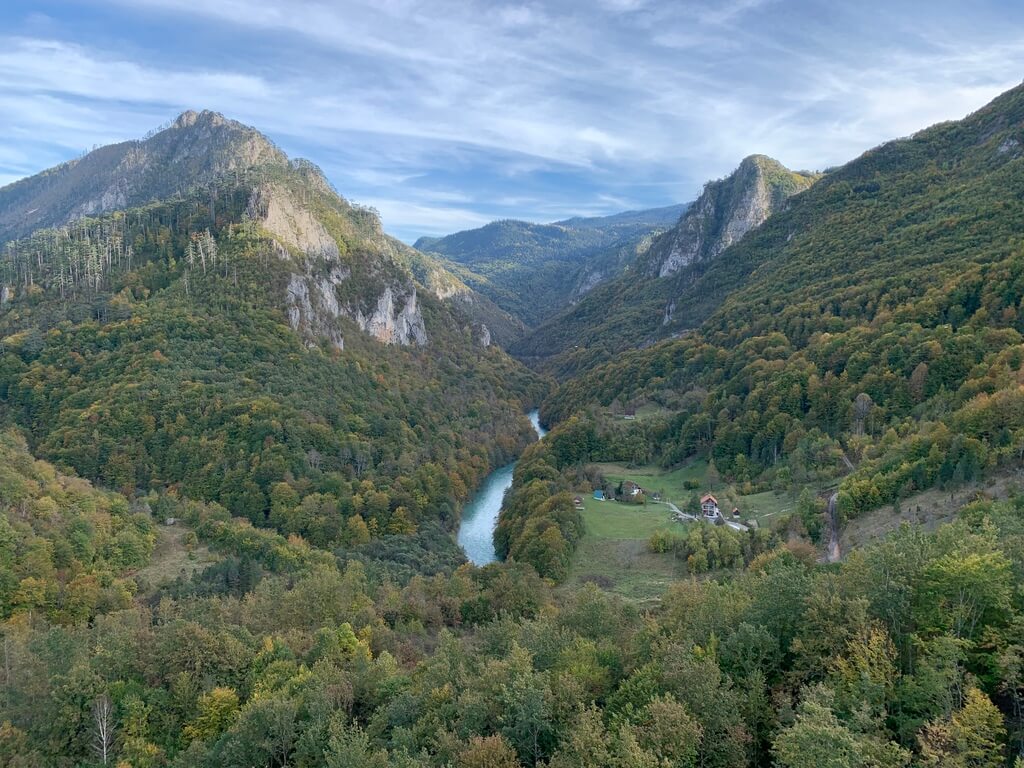 Tara River Canyon from Đurđevića Tara Bridge
The Tara River Canyon is one of the most beautiful and impressive sights in Montenegro. The turquoise blue of the Tara River snakes its way through mountains of dense, green forest that just seem to keep going up... and up… and UP!
While the Tara Canyon falls inside Durmitor National Park and is mostly inaccessible by road, there are a few excellent ways to see the canyon, including some very adventurous ones!
But don't worry, even if you wouldn't describe yourself as adventurous you'll still be able to see this magnificent jewel of north Montenegro.
Table of Contents
Tara Canyon in Durmitor National Park | Tara Canyon Rafting
Tara Canyon Bridge | Tara Canyon Zipline | Tara Canyon Hiking
Tara Canyon Weather | Getting There
About Tara River Canyon in Durmitor National Park
At 1,300m (4,300ft) deep, the Tara River Canyon is the deepest canyon in Europe, and the second-deepest in the world next to the Grand Canyon in the United States. 
Although it's hard to visualise just how deep that is, when you're standing on the Đurđevića Tara Bridge watching the Tara River flowing 170m below you and realise that's just a fraction of it, you start to get an idea of the scale of this canyon. 
The Tara River, also known as the 'Tear of Europe' because it's so clean and clear, starts all the way over in the Komovi mountains in eastern Montenegro as the Opasnanica and Veruša Rivers, which combine to make the Tara. Then it winds its way across Montenegro and is fed by 14 more rivers until it joins the Piva River to become the Drina River all the way in the north-western tip of Montenegro.
The Tara River Canyon covers 80km of the Tara River's 158km length and makes up part of Durmitor National Park, which has been a UNESCO World Heritage Site since 1980 because of its rich habitat and species diversity. 
1,300 plant species are found in Durmitor National Park, among them many endemic and relic species. And this habitat supports animals a vast array of animals like trout, otters, eagles, squirrels, chamois, deer, foxes, wolves and bears.
Tara River Canyon Rafting
Tara River Cayon rafting
Tara Canyon rafting is by far the most fun and exciting way to see the Tara Canyon. We love Tara River rafting and usually go every summer. The water is crystal clear, waterfalls rush down into the river and you can even stand under a waterfall!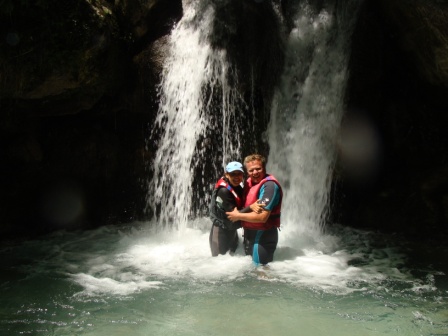 Rafting tours start from Šćepan Polje in the north-west tip of Montenegro, on the border with Bosnia and Herzegovina. On a tour you usually spend around two to three hours on the river, which includes a stop at a waterfall and for refreshments and swimming. But with a water temperature of around 8°C (46°F), it's usually a quick swim!
Here's a video of one of our rafting trips in 2021:
You can take a rafting tour any time between April and October, but it's best from June onwards. In April and May the river fills with spring snow melt and the rapids go up to class 5-, meaning it's only for experienced rafters. From June the rapids go down to level 4 and then 3, meaning it's suitable for everyone, including kids. 
You can take rafting tours from the coast or drive yourself to Šćepan Polje. They usually take a half day or a day, depending where you start from. They often include breakfast, lunch and transport.
Best Tara Canyon Rafting Tours
Tara River Canyon Bridge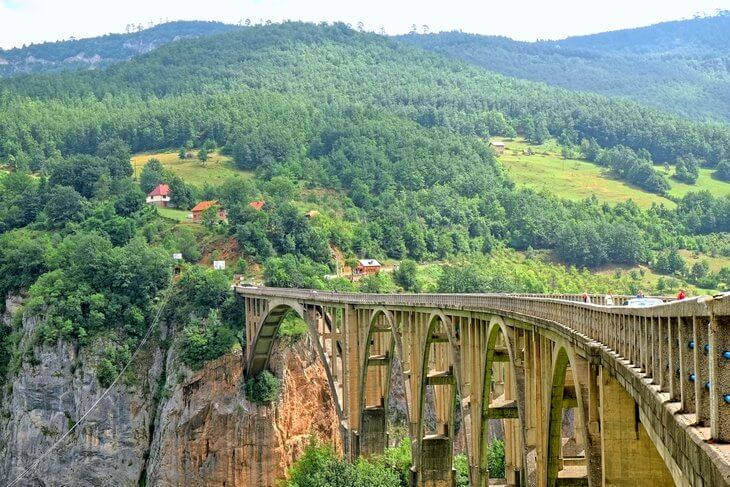 Đurđevića Tara Bridge. Image: Deposit Photos
Another great way to see the Tara Canyon is at the Đurđevića Tara Bridge. A beautiful structure, the bridge stands 172m above the Tara River and connects the two sides of the canyon. 
You can walk out onto the bridge and from there you'll get magnificent views of the Tara River Canyon and Tara River. 
The Đurđevića Tara Bridge is conveniently located between the towns of Žabljak and Kolašin, so it's easy to visit if you're doing the Montenegro self-drive tour.
If you're based on the coast, the Durmitor, Tara and Ostrog Monastery Day Trip is a great way to see north Montenegro's stunning scenery. The tour includes the Đurđevića Tara Bridge, the Black Lake in Durmitor National Park and Ostrog Monastery.
Best Tours to Đurđevića Tara Bridge
Zip Line Tara Canyon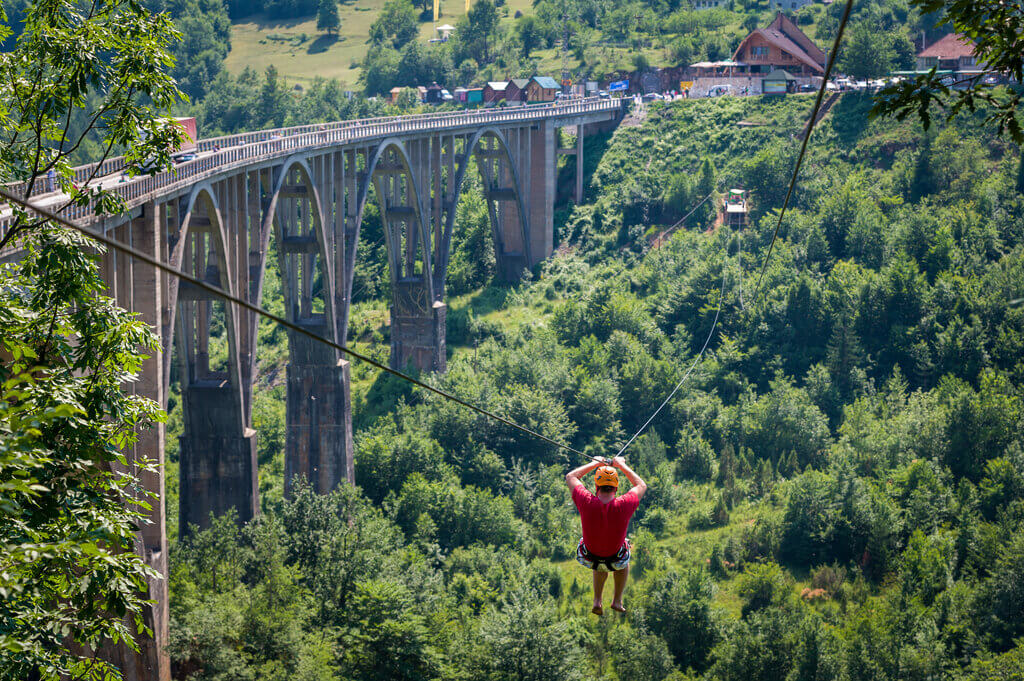 Zip line Tara Canyon. Image: Deposit Photos
While you're at the Đurđevića Tara Bridge you can zip line across the canyon. There are two different zip lines run by two different companies:
Extreme Zipline Tara is just over 1km in length and flies across the canyon at up to 120km/h
Red Rock Zipline is 350m long and has two lines so you can go at the same time as someone else. 
Address: Most na Đurđevića Tari, Durmitor National Park
Hours: 10am – 7pm, 15th April – 1st October
Pricing: Extreme Zipline Tara €25, Red Rock €10
Tara River Canyon Hiking
Durmitor National Park is home to some of Montenegro's highest peaks and there are lots of hiking trails in the park. Most are quite challenging hikes, so you need to come prepared if you want to go hiking here. The weather is very changeable and the trails can be dangerous.
If you'd like to go hiking in Montenegro, The Mountains of Montenegro: A Walker's and Trekker's Guide is an excellent book which covers the best trails in Montenegro.
There are also two easy hikes that don't require any special equipment and will give you some great views of the Tara Canyon: Mt Ćurevac and the circular trail from Podgora.
Mount Ćurevac

One of the most popular hikes to get views of Tara River Canyon is a short hike to Mount Ćurevac. It's around 3km return and starts 8km outside of Žabljak. From the top you can see the Tara Canyon and Tara River in the distance.
GPS coordinates: 43.193896, 19.089645
Tara River Canyon Viewpoint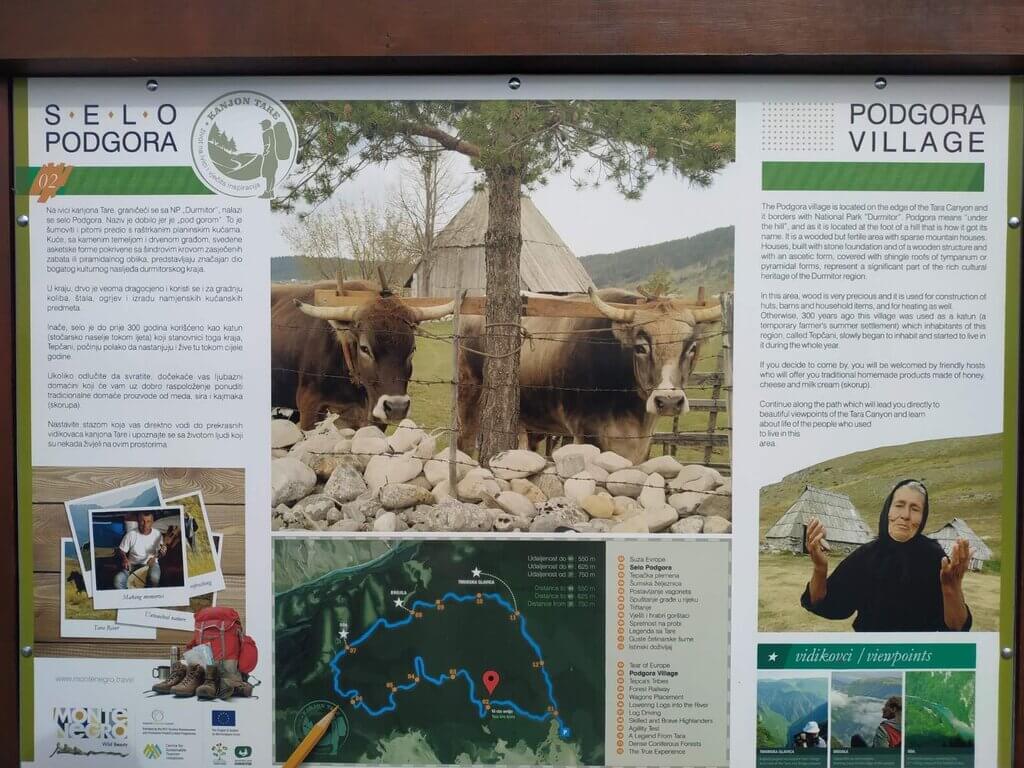 About 5km from Žabljak, there is a little-known Tara Canyon hike that starts from Podgora village. The 6.1km, circular route takes you to three viewpoints overlooking the Tara Canyon: Soa, Brojila and Tmorska Glavica. This is an easy hike and these are the best views of the canyon you'll get on a hike.
To get there from Žabljak, take the road towards the Đurđevića Tara Bridge and take a left towards Podgora. The road is narrow and bumpy, but it is signposted. A billboard at the start point shows you the route and the trail is marked. Park in Podgora and follow the marked trail.
Address: Podgora, Montenegro
Tara River Canyon Weather
The weather in the Tara Canyon is relatively cool compared to the coast, so if you're planning a trip here you'll need to bring some warmer clothes.
The average daytime temperature in the hottest months (July and August) is only around 20°C (67°F), although it can get up to 40°C (100°F).
If you go rafting it's a good idea to take some warmer layers (trousers, long sleeves and a jacket) to put on afterwards because it's easy to get chilled on the river, especially if you go for a swim.
January: -6.5 – 0.6°C / 20.3 – 30.9°F
February: -5.6 – 1.3°C / 21.9 – 34.3°F
March: -3 – 4.9°C / 26.6 – 40.8°F
April: 0.2 – 8.3°C / 31.6 – 46.9°F
May: 4.1 – 13.5°C / 39.4 – 56.3°F
June: 7.3 – 16.9°C / 45.1 – 62.4°F
July: 9.3 – 19.7°C / 48.7 – 67.5°F
August: 9 – 19.7°C / 48.2 – 67.5°F
September: 6.5 – 16.5°C / 43.7 – 61.7°F
October: 3.2 – 11.6°C / 37.8 – 52.9°F
November: -1.1 – 5°C / 30 – 41°F
December: -4.4 – 0.9°C / 24.1 – 33.6°F
How to Get to Tara River Canyon
The closest town is Žabljak and you can take rafting tours from there, but you can stay closer by staying in Šćepan Polje or somewhere like Rafting Camp Waterfall along the Piva River.
Kolašin the next closest suitable town to stay in. Kolašin is also close to Biogradska Gora National Park, so you can quite easily see both the national park and the bridge at the same time.
Žabljak to Đurđevića Tara Bridge: 23km (14mi)
Kolašin to Đurđevića Tara Bridge: 68km (42mi)
Podgorica to Đurđevića Tara Bridge: 138km (86mi)
Kotor to Đurđevića Tara Bridge: 184km (114mi)
Budva to Đurđevića Tara Bridge: 201km (125mi)
Related Articles
Book Your Trip With My Recommended Providers