Montenegro Pulse contains affiliate links and is a member of the Amazon Services LLC Associates Program. If you make a purchase using one of these links, I may receive compensation at no extra cost to you. See my disclaimer for more information.

Bay of Kotor, Montenegro: Best Things to See and Do (2023)

Discover the best things to see and do in the Bay of Kotor in Montenegro. Choose from boat trips, walking tours, historical sites and many more!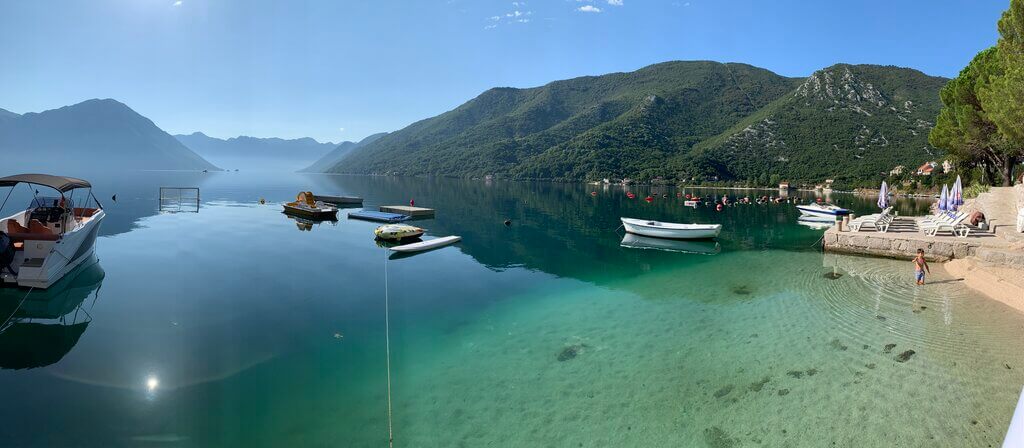 Beach idyll in Kotor Bay
"Jaw-dropping"
"Idyllic"
"Dramatic"
These are some of the words often used to describe the Bay of Kotor.
Kotor Bay, known to locals simply as Boka, is one of the most beautiful places in Montenegro. This Mediterranean idyll offers quaint seaside villages, a relaxed atmosphere and calm beaches of crystal clear water.

When you visit this part of Montenegro, you'll join a centuries-old club of people who have been seduced by its natural beauty and romantic architecture. 
The Bay of Kotor is everything you dream of when you think of a holiday in Montenegro:
Sleepy seaside villages of stone villas
Unhurried locals enjoying the sun and sea
Boats slowly cruising back and forth
Pebble beaches full of happy children splashing
Cats sunbathing on stone walls while they wait to be thrown a fish or two
Seaside restaurants serving fresh seafood, crisp salads and Montenegrin wines
Warm, evening strolls with the moon reflected in the sea
It's for these reasons, and more, that Boka Kotorska is such a popular destination in Montenegro.
About the Bay of Kotor
The bay is often called Europe's southern-most fjord, but it's not a fjord. It's a ria, a collapsed river bed, that opens into the Adriatic Sea. In Montenegro you'll often hear it it just called 'Boka' or 'The Bay'... there's no need to say which bay, around here there's only one. 
People have been living in the Bay of Kotor since around 229 BC when the Illyrian queen Teuta ruled from today's Risan. More recently the bay was a powerful naval area, with a fleet of around 300 ships in the 18th century. The best place to find out about the history of the bay is in the museums in Kotor and Perast, which show the mainly naval history of the area.
Video of Kotor Bay
---
Things to Do in the Bay of Kotor
Kotor Old Town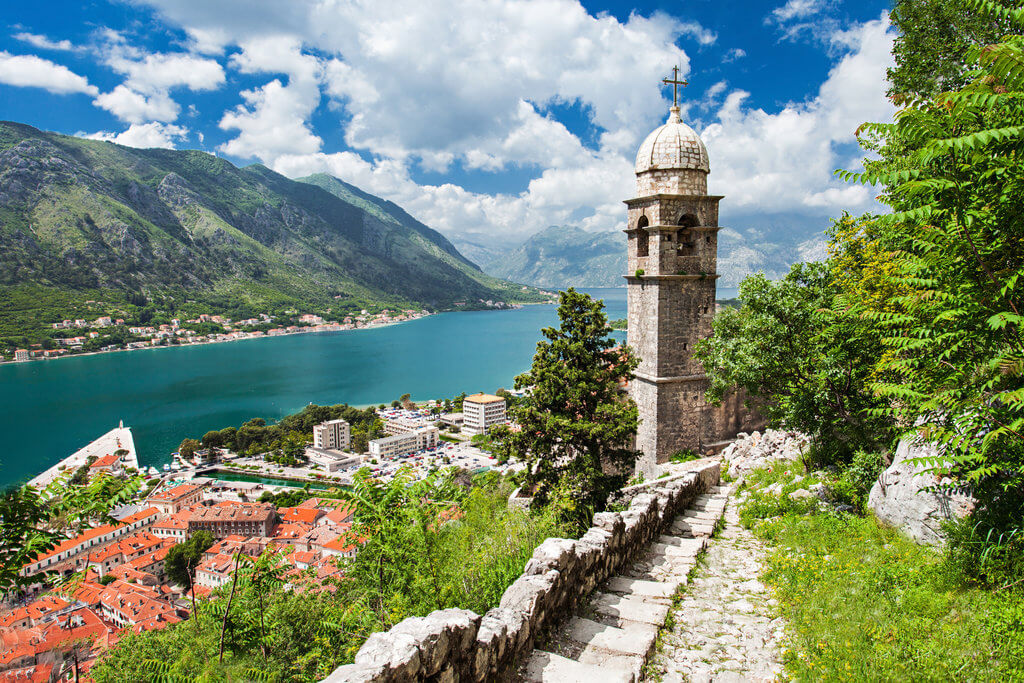 The walk up Kotor's walls to San Giovanni Fortress. Image: Deposit Photos
Tucked away in the back of the bay, Kotor old town is the jewel in the crown of the Bay of Kotor and a must-see destination in Kotor Bay.
The Venetian old town is a rabbit warren of alleyways, art galleries, churches and museums that lead visitors through the town's 2,000 year old history. I highly recommend exploring the town on a guided tour, with the help of my Kotor guidebook or on the Kotor Secret City Trail. That way you'll learn about the history of the town and be able to see the top sights.
Above the old town, Kotor's 4.5km impregnable walls snake up Mount St John. These walls are thought to be the most expensive off the walled towns in Europe, and one of the few complete fortifications left in Europe. You can walk up the walls or take the longer but less intense route up the old packhorse route, the Ladder of Kotor. Either will give you stunning views over the Bay of Kotor.
Read More:
Perast

The beautiful Baroque town of Perast. Image: Deposit Photos
Perast is another must-see in the Bay of Kotor. The beautifully preserved Baroque stone town looks right down the center of the Verige Strait and was once where the wealth and power of the bay was concentrated. Wealthy merchants and who made their fortunes from shipbuilding lived here and the seafront is lined with palaces and churches.
Perast Museum is located in Bujović Palace, a 17th century seafront palace, and is the ideal place to discover the history and culture of this one-powerful Venetian town.
Two islands, Saint George and Our Lady of the Rocks, float off Perast's shore. Our Lady of the Rocks is one of the bay's most popular attractions and you can take a guided tour through the church and museum on the island. You can get a boat to the island from Perast for €5 per person return or take a boat trip to Perast and Our Lady of the Rocks from Kotor. 
Whatever you do in Perast, one of the best ways to soak up the beauty and atmosphere of this iconic Bay of Kotor town is by settling down with a plate of fresh calamari and a glass of Montenegrin Vranac wine  and watching village life on as it has here for centuries. Ever-popular Conte restaurant in Hotel Conte offers superb local specialties on the seaside, while the Heritage Grand Perast offers fine dining in its 5 star hotel. 
Read More:
Our Lady of the Rocks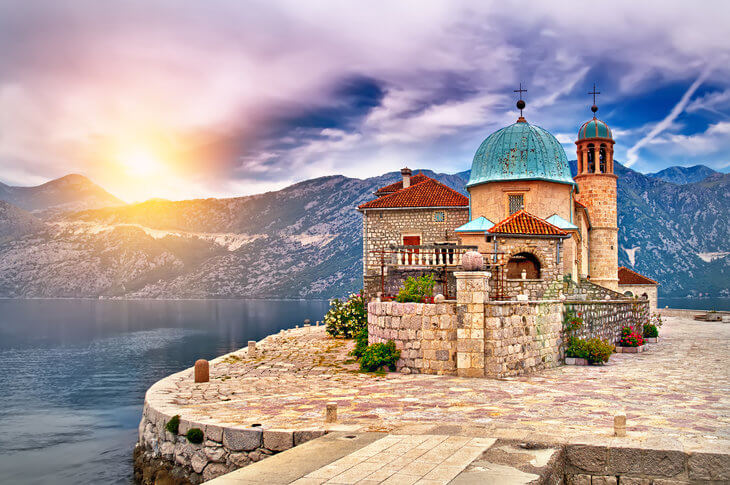 Our Lady of the Rocks. Image: Deposit Photos
Our Lady of the Rocks is one of the Bay of Kotor's most picturesque and popular attractions. The church is modest by global standards, but it's hard to imagine a more idyllic spot.
The stone church sits on a man-made stone island overlooking Perast on one side and the Verige Strait, the narrowest part of the Bay of Kotor on the other. The Benedictine monastery of St George lies beside it and boats circle, bringing visitors to the island.
There are many legends attached to this little island church, which you can read about here along with the best ways to visit this tiny gem.
The best ways to see Our Lady of the Rocks are by getting a boat from Perast (around €5 per person return) or by booking a boat trip from Kotor. A boat trip from Kotor is a great way to combine seeing several sights at once and you get to see the Bay of Kotor from the sea, which is absolutely stunning. The most popular tours are: 
Read More:
Roman mosaics
Mosaic of Hypnos, God of Sleep, in the Roman Mosaics of Risan. Image: Sailko CC by 3.0
Risan was once the centre of the Bay of Kotor. Queen Teuta ruled from Risan between 231 - 229 BC, before she was defeated by the Roman Empire.
In 1930 archaeologists from Cetinje discovered the ruins of Villa Urbana, a Roman villa that covered about 700 sqm. The mosaics you can see on display today were part of the villa, built between 96 and 192 AD. For a small fee you can take a walk around the displays of preserved mosaics, stone monuments and information displays about the history of the area.
Read More:
Lipci Prehistoric Drawings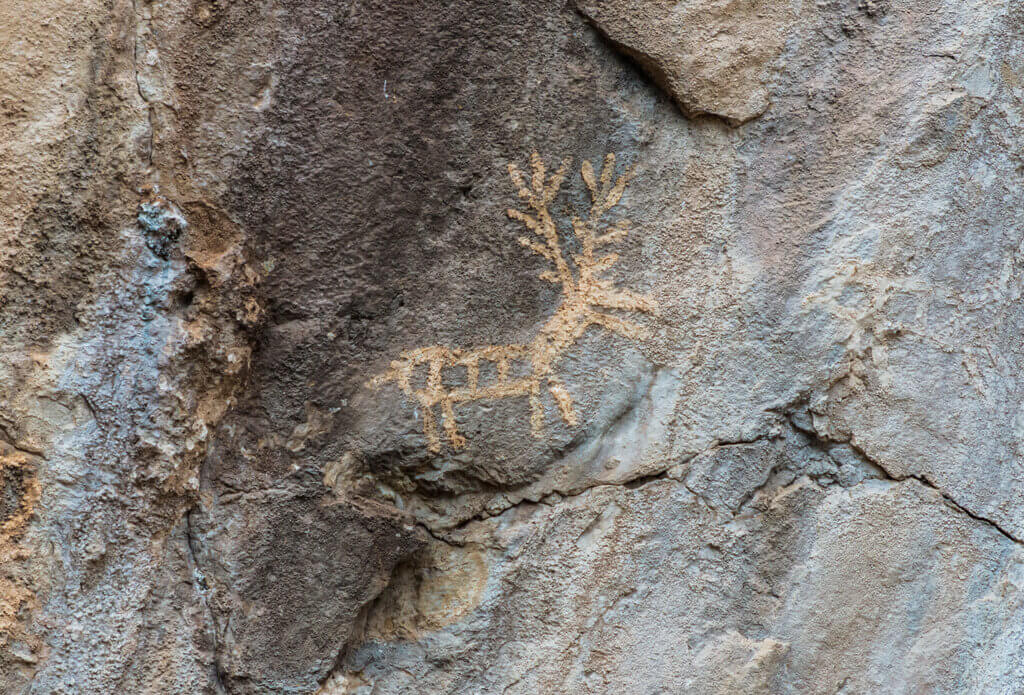 Prehistoric drawings in Lipci, Bay of Kotor. Image: Deposit Photos
When you drive along around the Bay of Kotor, you'll see signs for the Lipci prehistoric drawings. The drawings depict two hunters on horses throwing spears at five stags and a doe. They also depict the rising sun and other symbols. The drawings have been dated to the 8th century BC, which makes them the second-oldest drawings on the Adriatic coast and the best example of prehistoric Balkan art.
Despite their intrinsic value, the drawings are essentially abandoned and very difficult to find. Here are detailed instructions for finding this incredibly rare sight:
When coming from Herceg Novi, drive past Morinj and continue along the seaside road through the roundabout. The road going uphill from the roundabout leads to Niksic. Take the first left about 100m past the roundabout into a narrow street leading uphill. If you're coming from Kotor, just go right around the roundabout and then look for the first left. There are no signs for this road.
Keep heading uphill up this narrow road. You'll pass some stone houses and a small church. At the top you'll come to a clearing and a wooden sign for the drawings. You can park here and follow the rough path up on foot.
Walk up the path for about 10 minutes and you'll come to a cave which is unfortunately usually strewn with rubbish. Just past this you'll see the drawings high on a rock cliff on your right. Again, there's no sign so you'll have to keep a look out!
Local's tip: Bring mosquito repellant!
Water Sports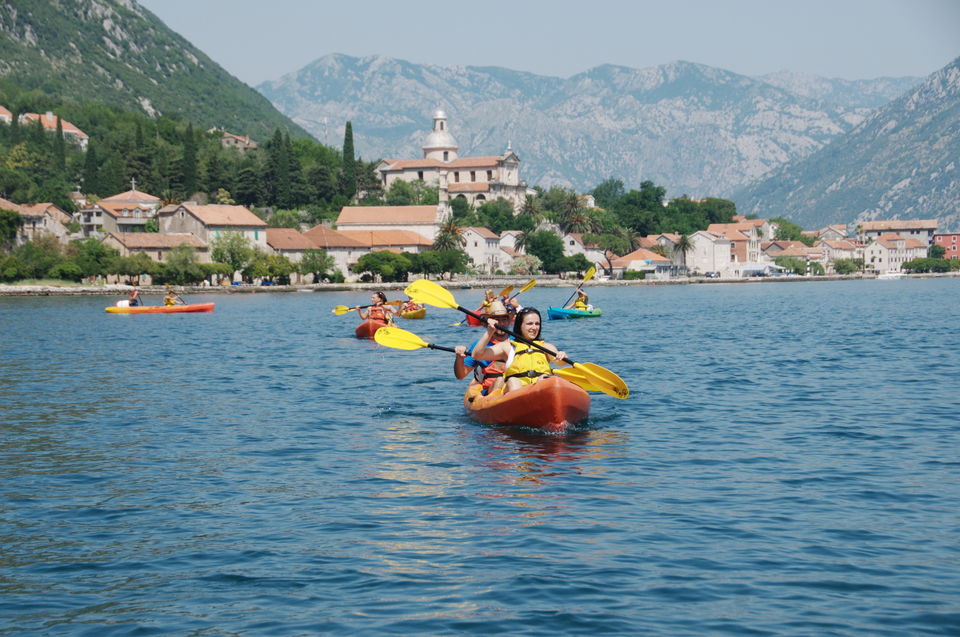 Bay of Kotor kayak tour
With the calm, clear and warm Kotor Bay waters calling you, it's impossible to resist getting out on the water during your time here.
Whether it's a boat trip, paddle boarding, kayaking or just lazing on the beach, the choice is yours.
Boat trips or hiring a boat are by far the most popular ways of getting out on the water, with the 3 hour Blue Cave boat tour and full-day boat cruise being the most popular.
But if you feel like something more active, you can take a guided kayak tour or guided stand up paddle board tour of the bay. This is a great way to combine a fun activity on the water with seeing the beautiful Bay of Kotor.
Biking around the Bay
Epic 25 Turns Bike Descent with Best Views of Kotor Bay tour
Cycling the lower roads of the villages around the Bay of Kotor is another great way to see the bay's beautiful architecture and scenery.
There are lots of options for exploring the bay by bike. You can hire bikes by the day and cycle part or all of the bay. If you'd like to do a loop of the bay you can start out from Kotor and head around the bay to the Kotor Bay ferry dock in Kamenari. Then you can take the ferry to the other side with your bike and cycle back along the seaside to Kotor, passing the picturesque villages of Stoliv and Prčanj along the way.
Other popular bike options include a guided e-bike tour around the bay and the adventurous Epic 25 Turns Bike Descent with Best Views of Kotor Bay that takes you down the bay's most scenic road.
Adventure activities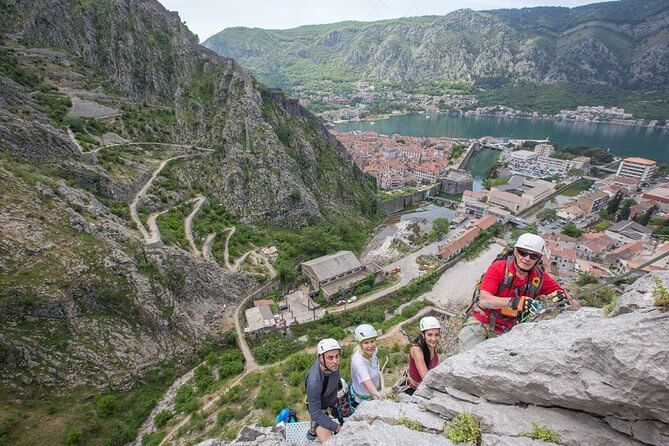 Via ferrata Kotor
While known for its history and beauty, the Bay of Kotor also offers some exciting adventure activities for thrill-seekers.
Just outside Kotor's walls you can try via ferrata a climbing technique that was invented in the mountains of Italy. Harnessed to a steel cable, you navigate your way up a path to get some of the best views in the bay!
For a water-based adventure activity, coasteering is an emerging adventure sport that you can do in the bay. Starting with a boat trip, you swim, walk and jump your way along the coast.
Porto Montenegro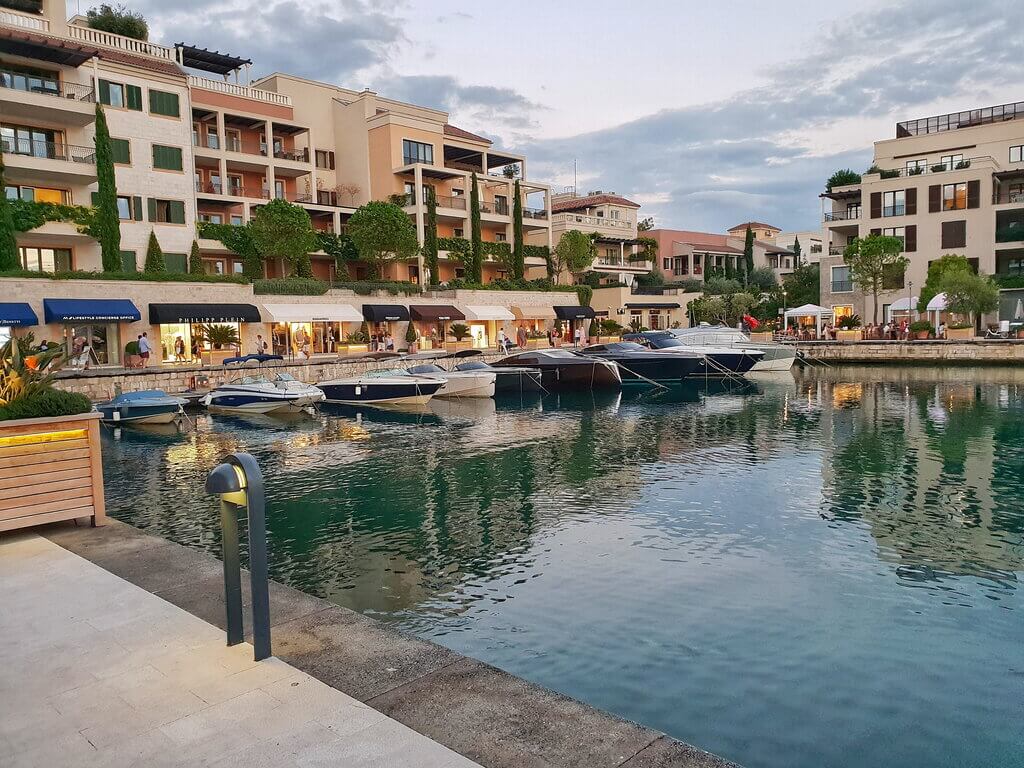 Porto Montenegro. Deposit Photos
A little over a decade ago Tivat was a sleepy town with a decaying military shipyard.
Until Peter Munk, a Canadian billionaire, arrived with his plans to turn the shipyard into the world's best marina.
Fast forward 10 years and Tivat has been transformed. It's now a hotspot of 'flip-flop luxury' in Europe and boasts a lively town of boutiques, fashionable eateries and nightlife.
Porto Montenegro is the world's only platinum-rated marina and draws superyachts into the Bay of Kotor from all over the world. Stroll the marina's Jetty One to see some of the most lavish superyachts in the world. Then wander through the village for designer shops and modern eateries that offer drinks and meals at a fraction of the price you'd pay in such luxurious surroundings in other countries in Europe.
You can even stay in Porto Montenegro, a stone's throw from Tivat center. Regent Porto Montenegro offers five star accommodation overlooking the marina.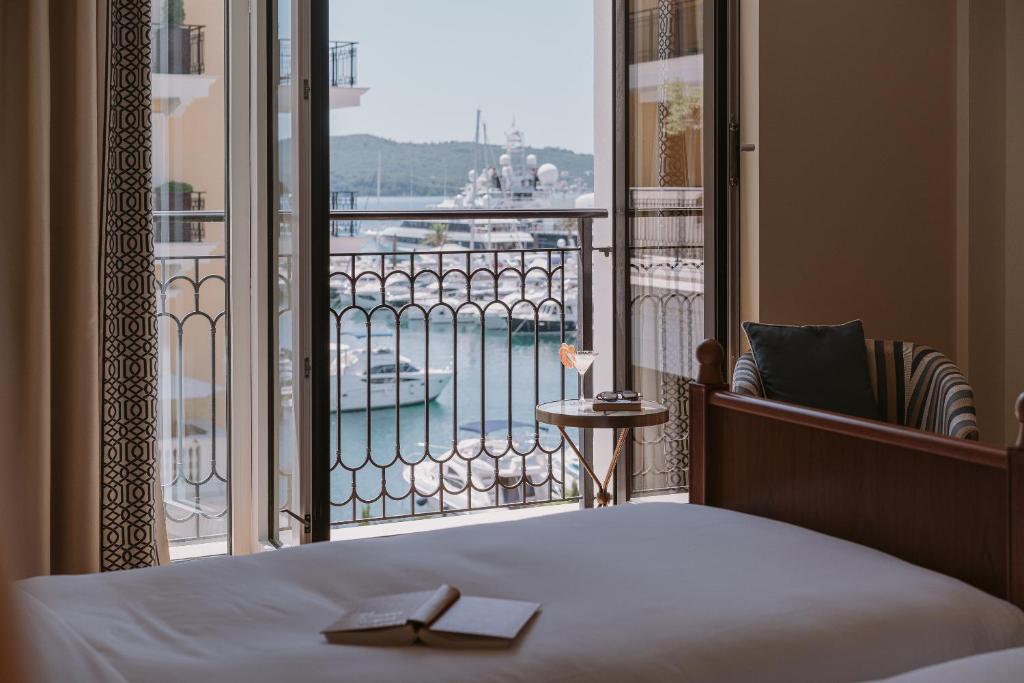 Regent Porto Montenegro
Wine Tasting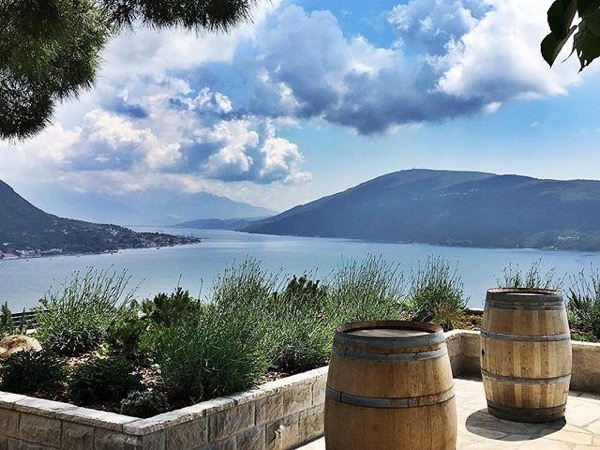 Wine is an integral part of life in the Bay of Kotor and people have been making wine here for 2,000 years.
I highly recommend trying some Montenegrin wines while you're visiting and although the Lake Skadar region is the premier wine-making region in Montenegro, you don't have to go that far if you're short on time.
Dry red Vranac wine is made in every winery in Montenegro and it's a must-try while you're here. You'll find it in restaurants and on winery tours, like this Kotor wine tour or this Kotor walking tour with a wine and food tasting.
Krstač is a white wine that's only made around Podgorica in Montenegro, and it goes perfectly with seafood dishes. You can try it in restaurants or pick up a bottle at any supermarket.
---
Main Towns In The Bay of Kotor
There are three main towns in the bay:
Herceg Novi - a sunny town at the entrance of the bay
Tivat - a modern town that's centrally located and home to a super yacht marina
Kotor - the prettiest part of the bay, with a walled town and old stone palaces
The great thing about the bay is it's so compact, whichever one of these you choose to stay near, you can reach any of the others within an hour. In fact, Kotor and Tivat are only 10-15 minutes apart by car. 
In between each of the main towns, and running all along the coast of the bay, are small villages. Choosing one of these to stay in will give you a quieter atmosphere than in a town center, and there are still lots of nice accommodation options to choose from.
In general, you'll have sea views, will be not far from at least one restaurant (usually within 2km/a mile), will be close to small beaches and will have access to taxis and local buses.

---
Where To Stay in the Bay
The Bay of Kotor is one of the most popular places to stay in Montenegro. The villages dotted around the Bay of Kotor offer you an authentic experience and have all the charm you'd expect when choosing to holiday in Montenegro. 
They're also never far from a town, so you have the peace and atmosphere of a quaint Montenegrin fishing village combined with the convenience of being close to sights and amenities.
The other great thing about choosing to stay in one of the seaside villages is that if you rent a villa or apartment from a local family, you will generally get treated to some famous Montenegrin hospitality.
They'll welcome you with some produce from their garden and more than likely a glass of their home-made rakija or wine. They're also the perfect people to ask for advice on the best local restaurants, the local history and the local sights.
The bay is roughly a butterfly shape, as you see here.
It's divided up into:
Herceg Novi Riviera
Risan Bay
Kotor Bay
Tivat Bay
Lustica Riviera
The areas are quite different so I'll go over each of them to help you choose a place to stay.
---
Herceg Novi Riviera
The Herceg Novi Riviera is newer and doesn't have the stone fishing villages along the coast that you'll find closer to Kotor. There are a lot of holiday apartments along this part of the coast and you'll find prices are cheaper than the more sought-after areas like Kotor, Muo and Dobrota. 
The riviera extends from Herceg Novi through to Morinj. Here's a short description of each:
Njivice – Njivice has some nice beaches. It's also known for the nudist beach here, so take care! It's right on the slope of a west-facing hill, so you get morning sun here but not afternoon sun. This is great in the heat of summer, but not good from October to April when it's cooler.
Kumbor, Djenovici and Baosici – These three villages have plenty of little shops, cafes and restaurants all along the seafront. There are little beaches where you can hire loungers and paddleboats (€3-5 per hour) and the promenade is busy all summer.
There are two small trains that travel the length of the promenade between Kumbor and Bijela in summer. Kids love these rides and you can get on and off wherever you like. It takes 2 hours to do a full return trip and costs €3 per person with children under 8 going free. Trains depart Kumbor and Bijela on the hour from 6pm.
You'll find the exclusive marina and residence development Portonovi in Kumbor. You can walk around the complex and there are several cafes, restaurants and a very good ice cream parlour called Godo.
Bijela – Bijela has a large shipyard, so take care that you're choosing somewhere to stay at least 200m from the shipyard to avoid having your view blocked. Bijela is less popular than the other Herceg Novi Riviera villages and has similar beaches, but less restaurants and shops.
Kamenari – this is where the ferry crosses over to Lepetane and Tivat. It's a small village with beaches and basic amenities. Hotel Casa Del Mare Capitano and  Hotel Casa Del Mare Mediterraneo are very nice here and have a lovely beach for guests well away from the ferry.
Kostanjica – there's not a lot in Kostanjica apart from beaches and one of our favourite restaurants, Ribar. It's perfect if you want a quiet getaway and quieter beaches. Kostanjica and Morinj (below) suffer from a lack of sun in the winter months, so avoid these if you're coming anywhere between November and April.
Read More: Best Hotels in Herceg Novi
Kotor Villages
The villages around Kotor will offer you beautiful architecture and atmosphere with the convenience of being close to key attractions. This is the most popular place to stay and accommodation prices are highest here.

Morinj – Morinj has a small mini market, a sandy beach and two restaurants. Tramontana is a casual beach bar with pizzas and sandwiches while Catovica Mlini is one of the top restaurants in Montenegro. 
The best place to stay in Morinj is in one of these Lavender Bay apartments:
Risan – this is a small, historic village which is home to a set of preserved Roman mosaics. The town is dominated by a rundown hotel and some abandoned factory buildings, so it's not an ideal place to stay.

Perast – the star of the bay. The UNESCO Heritage protected town is all stone and looks as though it hasn't changed in centuries. There are some lovely hotels to stay in, like Iberostar Grand Perast, Hotel Conte and Per Astra. And the cherry on the top are the two islands - Our Lady of the Rocks and St George - that you can see from anywhere in the village.  
Orahovac – Orahovac is pretty, close to Kotor and is a quiet village with a single restaurant. 
Ljuta – you'll find Stari Mlini, a beautiful waterfront restaurant here in Ljuta. You'll also a find a large fish market called Cogi. The seafront road has lots of stone ruins and it's a very pretty place.
Dobrota – Dobrota is next to Kotor, so you'll find lots of restaurants, cafes and beaches here. It's a good place to stay that's outside of but still within walking distance of Kotor old town.
Muo – Muo has fewer restaurants and beaches than Dobrota, but is also generally within walking distance of Kotor. This is a really popular place to stay and there are lots of apartments available. Since it lies across the water from Kotor, you'll get great views of Kotor old town from here.
Prcanj – Prcanj is very pretty, has a number of nice little restaurants and is only about 15 minutes by car from both Kotor and Tivat. It doesn't get the sun in winter so you wouldn't want to stay then, but it's great for summer.
Stoliv – Stoliv also has local restaurants and beaches. You can walk up to the old abandoned village of Gornji (Upper) Stoliv. It's also about 10 minutes from Tivat and 15 from Kotor.
Read More:
---
Villages Around Tivat
These Bay of Kotor villages are all within a short drive from Tivat:
Seljanovo – Seljanovo is next to Tivat and borders Porto Montenegro. The few beaches in Tivat are here. It's quiet and relaxed, but just a 10 minute walk to Tivat town.
Donja Lastva – Donja Lastva is a cute village with some old stone houses and a nice hotel, Hotel Carrubba. This quiet village is just a 10-15 minute walk from Porto Montenegro.

Lepetane – Lepetane is where the ferry coming from Kamenari docks. It's only a five minute trip to the other side. It's a 10 minute drive to Tivat from Lepetane.
Stoliv – Stoliv also has a few local restaurants and beaches. You can walk up to the old abandoned village of Gornji (Upper) Stoliv. It's a 10-15 minute drive to Tivat from here.
Prcanj - Prcanj has a number of nice little restaurants and is a 15 minute drive from both Kotor in Tivat. It's a popular place to stay and has a nice, village feel.
Solila – Solila is around on the Lustica Peninsula side of the Bay of Kotor and is home to a small wetland reserve. Movida Beach, where you can hire catamarans, loungers and party into the wee hours is here.
Krasici – Krasici is also on the Lustica Peninsula side of the bay. There are lots of holiday accommodation options and it's a short drive to Kotor and Tivat. You'll need a rental car to get around here.
Read More:
Wherever you stay in the Bay of Kotor you'll find accommmodation with stunning views and have at least a few beaches and restaurants close by. The landscape goes from the sea straight up into mountain so all the villages and towns are centred right on the waterfront. 
Apart from the old stone houses down on the shore, most accommodation is located up the hill a little which means you'll get fantastic sea views. And wherever you find a restaurant on the waterfront you'll get amazing views of the bay and mountains on all sides.

Search for Accommodation in the Bay of Kotor
Local's Tip: No matter where you stay, I highly recommend taking a drive right around the Bay of Kotor. There are lots of interesting sights on the way and the views will have you stopping and reaching for your camera at every turn. Find Montenegro's top drives here.
---
The Best Bay of Kotor Restaurants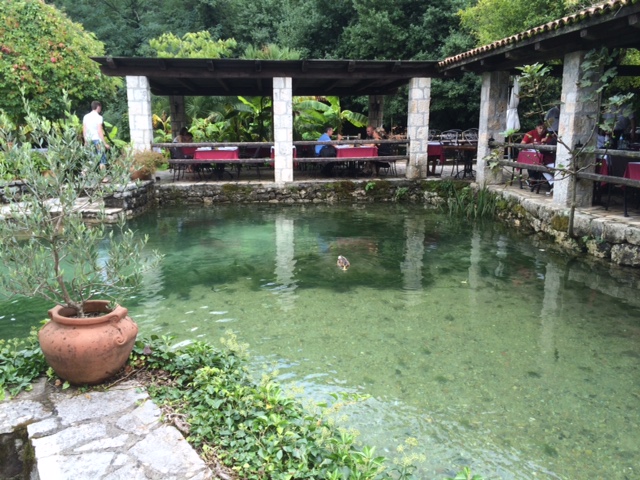 One of Montenegro's top restaurants - Catovica Mlini
Some of the best restaurants in Montenegro are found in the bay. The best ones specialise in local-style seafood, but you can find Balkan grill and fresh salads too. The really special thing about restaurants here is the surroundings. 
Sit waterside overlooking Our Lady of the Rocks.
Or dine in a transformed watermill while ducks roam freely at Ćatovica Mlini.
Try 5 star dining among super yachts at Porto Montenegro.
Or watch the Kotor fortress lights twinkle over sea bass at Galion.
I know you won't be disappointed with the Bay of Kotor's choice of stunning restaurants.
Read More: Bay of Kotor Restaurants
---
Getting Around
The easiest way to get around the Bay of Kotor is with a rental car. If you're planning to go without one, there are regular buses connecting the towns.
The best place to find bus timetables and buy tickets is on Busticket4.me. A ticket from Herceg Novi to Kotor costs around €3.50 one way. These buses stop at the main stops in each village along the way so you could catch a bus from Herceg Novi to Kotor and get out in Perast.
Taxis are available in all towns. Although prices are relatively inexpensive, they double to triple between June and September. A 30 minute taxi ride in summer will cost around €75. If you don't want to hire a car, book a transfer in advance to avoid paying high fares to get to your accommodation.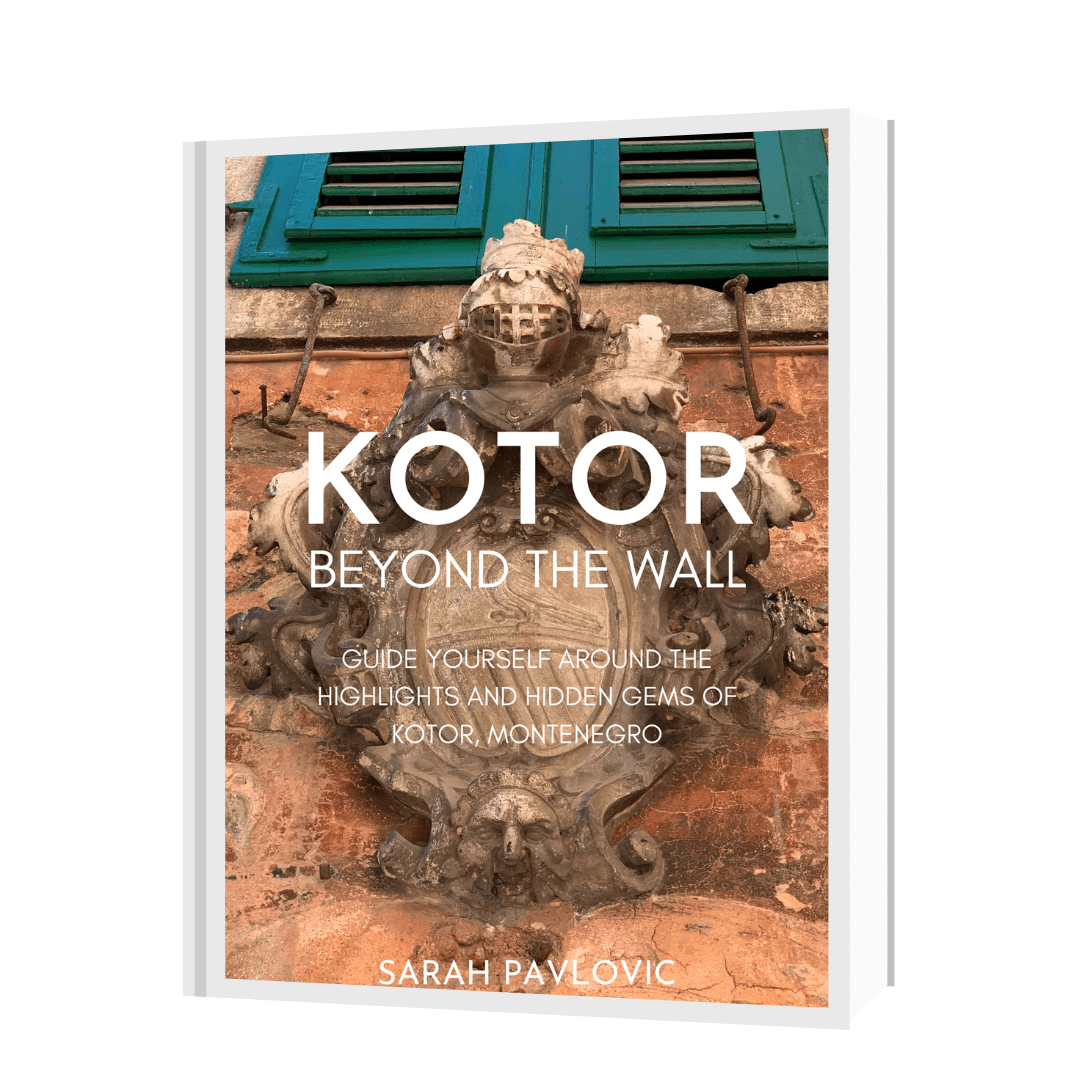 Visiting Kotor?
The Kotor Beyond The Wall guidebook is the safe and easy way to explore Kotor's most beautiful sights, discover hidden gems and find authentic experiences at your own pace.

More Articles About Kotor Bay
Book Your Trip With My Recommended Providers
Bay of Kotor Travel Guide