Montenegro Pulse contains affiliate links and is a member of the Amazon Services LLC Associates Program. If you make a purchase using one of these links, I may receive compensation at no extra cost to you. See my disclaimer for more information.

Ultimate Guide to Car Insurance in Montenegro: What You Need to Know
Find out everything you need to know about car insurance in Montenegro with this guide that covers Green Cards, rental insurance and Montenegro-registered car insurance.
Montenegro is a beautiful country and its small size and diverse landscapes make it the ideal destination for a road trip.
If you're planning to explore this beautiful nation by car, understanding your car insurance options is crucial. But car insurance policies are notoriously complicated and trying to understand your options can be overwhelming.
This comprehensive guide aims to provide you with all the information you need, whether you're driving your own car to Montenegro, renting one here, or buying a car as a foreigner. We'll go over the Green Card System, choosing the right cover for your rental car, and your insurance options when you buy a car here.
And all in plain English!
Contents
Driving to Montenegro With Your Own Car
Rental Car Insurance in Montenegro
Car Insurance Options for Foreigners Buying a Car in Montenegro
Driving to Montenegro With Your Own Car
Before you set off on your journey to Montenegro, ensure you have the following documents:
Passport
Driving license
Vehicle registration
Insurance papers
You don't need a vignette or road tax sticker for Montenegro, but some countries may require them, so it's best to check in advance.
If you're driving into Montenegro with a car registered abroad, you must have a motor third-party liability international insurance policy valid for Montenegro. There are two ways to have this:
Green Card System
Buy Montenegro car insurance at border
International Motor Insurance Card - The Green Card System
The Green Card System is a cross-border insurance card that allows you to drive in most European countries, including Montenegro. This card serves as proof of insurance and is usually issued with your insurance policy if your car is registered in one of the member countries.
There are two categories of members in the Green Card System:
Members whose registration plates serve as proof of cover
Members who must show a physical Green Card at the border
Check the lists below to see if you fall into either of these categories. If not, you can buy insurance at the border (you'll find more details below).
Green Card Car Insurance: Registration Plates
If your car is registered in any of the following countries your existing insurance is valid in Montenegro and you do not need a separate Green Card to be covered in Montenegro. You'll need to bring your current insurance papers.
Austria (A)
Andorra (AND)
Belgium (B)
Bulgaria (BG)
Bosnia and Herzegovina (BIH)
Switzerland (CH)
Cyprus (CY)
Czech Republic (CZ)
Germany (D)
Denmark (DK)
Spain (E)
Estonia (EST)
France (F)
Finland (FIN)
Great Britain (GB)
Greece (GR)
Hungary (H)
Croatia (HR)
Italy (I)
Ireland (IRL)
Island (IS)
Luxemburg (L)
Lithuania (LT)
Latvia (LV)
Malta (M)
Norway (N)
Netherlands (NL)
Portugal (P)
Poland (PL)
Romania (RO)
Sweden (S)
Slovakia (SK)
Slovenia (SLO)
Serbia (SRB)
Green Card Insurance Montenegro
Some countries are members of the Green Card System, but drivers from these countries still need to show they have Green Card auto insurance at the border. If your car is registered in any of the following countries you'll need to bring a Green Card to drive into Montenegro. 
Albania (AL)
Azerbaijan (AZ)
Belorussia (BY)
Israel (IL)
Iran (IR)
Morocco (MA)
Moldavia (MD)
North Macedonia (MK)
Russia (RUS)
Tunis (TN)
Turkey (TR)
Ukraine (UA)
You can check that you're covered by checking that the international letters "MNE" on your Green Card are not crossed out. The proof of this insurance can be a green or white card, depending on the country of origin.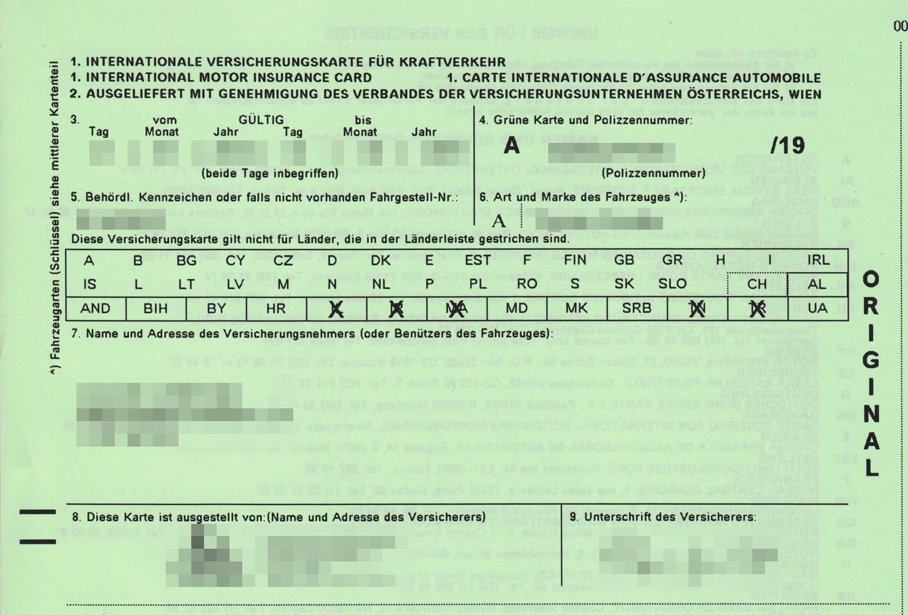 Image: Skoops CC By-SA 3.0
Green Card insurance price: You can obtain a Green Card from your current insurance provider. It's generally free, although some intermediaries might charge an administrative fee.
Temporary Car Insurance
If the Green Card System doesn't apply to you, you can also purchase temporary car insurance for Montenegro at the Montenegrin border. These policies are short-term and can last from 15 days to a year.
Temporary Car Insurance Price
Passenger vehicles:
15 days: €15
1 month: €28
3 months: €80
6 months: €153
1 year: €205
If you are driving any other kind of vehicle eg. a bus, click here to check the price for your vehicle.
Where to Buy Temporary Car Insurance
Purchase insurance online before your trip.
Buy insurance at the border; look for insurance booths or ask the border guard at the crossing. 
If you end up involved in an accident in Montenegro, it's important to follow these rules:
Call your rental car company.
Call the police on 122.
Don't move your car. Even if it's a small fender-bender and you're blocking the traffic don't move your car. The police require the cars stay as is and you'll need a police report to claim insurance. Without the police report you'll liable for 100% of the cost of the damage.
Rental Car Insurance in Montenegro
Understanding Car Hire Insurance in Montenegro
Renting a car offers you the freedom to explore Montenegro at your own pace. However, understanding your insurance options available is crucial for a hassle-free experience.
Most of the complaints I dealt with when working for a Montenegrin tour operator came from people who did not understand their car insurance and had to pay for damages. Unfortunately, they had chosen their insurance policy and there was nothing I could do to help them.
Read on to understand your options before you book your rental car.
Third-Party Liability Insurance (TPL)
This is the most basic form of insurance and is mandatory and included when renting a car here. It covers damage to other vehicles, property, or individuals in case of an accident where you are at fault. 
Importantly, it doesn't cover damage to your rental car, and any damage you do to the car will be paid for with your deposit.
Deposits
Usually, a security deposit is required by your rental car company. This becomes your deductible in the event of an accident. So, if your deposit is €100, the maximum you'll pay for any damage is €100. If your deposit is €500, you could pay up to €500 for damages. This is why having a low deposit is advantageous.
I always recommend Localrent as my preferred rental agency for car hire in Montenegro, and one of the reasons is their low deposits.
Localrent typically requires a deposit ranging from €100 to €300, payable in cash, which is refunded when you return the car. This means that the maximum you will pay for any damage to the car is the amount of your deposit. 
With Localrent you can see the amount of the deposit and choose your insurance before you book a car, so there are no nasty surprises when it comes time to collect your rental car.
In contrast, international companies like Sixt and Avis (you can compare car hire prices from these companies on Discover Cars) require a minimum deposit of €500, which can go up to €2,500 for premium vehicles.
When you book a rental car with one of these companies, you don't find out how much your deposit will be until you collect the car. You have to pay it with a credit card; they don't accept debit cards, so if you don't have a credit card you can't rent a car with them.
While your card is not technically charged, the amount of the deposit is blocked so you can't use that amount. The block is lifted when you return the car (minus any charges for damage to the car).
It's important to know that if you hire a large or luxury vehicle you could have a substantial amount of money tied up in the deposit. Even after the block is removed, it generally takes 3-5 days for the funds to become available again.
If you do book a car with an international brand, make sure you plan for this expense on your trip.
Collision Damage Waiver (CDW)
CDW is an optional insurance that covers the cost of repairs to the rental car in case of an accident. However, it often comes with an excess fee/deductible (your deposit), which means you'll have to pay a certain amount before the insurance kicks in.
For example, if you incur damage to your rental car worth €1,000 and your deposit is €500, you'll lose your deposit and the insurance will cover the remaining €500.
This insurance covers the car's body. It doesn't cover the tires, windows, wheels, engine, lights, mirrors, undercarriage or interior.
Many smaller vehicles on Localrent don't have this option and you can only get TPL insurance with your rental. With these cars, your deposit is usually only €100, so your liability is limited to that amount.
Super Collision Damage Waiver (SCDW)
SCDW is an enhanced version of CDW. It offers additional coverage, including tires, roof, and undercarriage of the car. Each company's coverage is different, so it pays to read your contract carefully before you sign it.
SCDW also typically has a lower excess fee/deductible compared to standard CDW. Many credit cards include CDW or SCDW for rental cars, so if you have a credit card it pays to check whether you have this and whether Montenegro is included.
Always read the fine print before opting for any insurance.
Check if your credit card offers any car rental insurance benefits. Many credit cards (especially in the USA)  include CDW for rental cars.
Additional Insurance Options
Personal Accident Insurance
This insurance covers medical expenses for you and your passengers in case of an accident.
Medical insurance is essential for your trip to Montenegro. Thanks to Montenegro's socialized medical system, you can be treated at a hospital in Montenegro for free, even as a tourist.
However, Montenegro's public medical system is very poor and I recommend going to a private clinic for anything serious (like a broken bone). I also recommend making sure you have medical evacuation cover with your travel insurance so that you can be transported and treated in another country in case of a serious injury.
I recommend SafetyWing for travel insurance because of their excellent coverage (including medical evacuation), reputation for paying out and the affordability of their policies. You can choose their Nomad Insurance even if you're not a nomad. It is regular travel insurance that will cover things like lost luggage and medical care.  
Theft Protection
Covers the cost of the car if it's stolen during the rental period. Car theft is rare in Montenegro and it's common to see cars left unlocked and with the keys in the ignition if the owner is nearby. I think this insurance is unnecessary in Montenegro.
Montenegro Car Insurance For Montenego-Registered Cars
If you're a foreigner who has decided to buy a car in Montenegro, you have two options for car insurance:
Third-party liability insurance
Comprehensive insurance
Types of Insurance Available
Third-Party Liability Insurance
This insurance is compulsory by law and covers damage to other vehicles, property, or individuals in case of an accident where you are at fault. It does not cover damage to your own car.
You pay for this insurance when you register your car every year, so you don't need to buy it separately. This insurance policy belongs with the car, so if you are buying a car the policy will come with it and last until the next registration is due.
Comprehensive Insurance (kasko osiguranje)
This type of insurance covers a wide range of scenarios, including theft, natural disasters, and damage to your car in addition to third-party liability. 
You can't buy this insurance when you register your car. You need to buy it separately from an insurance company. In addition to this insurance, you can add other types of cover eg. roadside assistance and windshield protection.
Car Insurance Montenegro Cost
The price of car insurance in Montenegro depends on the size and value of your car. The bigger your car's engine is, the more you will pay to register it. My 2012 Subaru Forrester has a 1998cc engine and costs €325 a year to register (including insurance and a mechanical check).
If you're looking to save on your insurance and registration, look for a car with an engine size under 2000cc. Cars over 2000cc are significantly more expensive to register.
Where to Buy Montenegro Car Insurance
You can purchase insurance from various providers in Montenegro, both online and in-person. Comprehensive insurance in Montenegro is quite pricey. I recommend comparing quotes from different companies to get the best deal.
The most popular Montenegro insurance companies are:
Lovćen Osiguranje
Sava Osiguranje
Uniqa Osiguranje
Generali Osiguranje
Traveling Overseas With Your Montenegro-Registered Car
If you travel overseas with your Montenegrin-registered car you'll need border insurance, which you can buy from your insurer.
Exemption Countries
If you are traveling to any of the following countries you don't need a Green Card because these countries accept your Montenegrin insurance:
European Union members
Switzerland
Norway
Iceland
Andorra
Serbia
Bosnia and Herzegovina
By understanding your insurance options and carefully selecting the right plan, you can enjoy your time driving in Montenegro with peace of mind.
Frequently Asked Questions about Car Insurance in Montenegro
Yes, you need car insurance in Montenegro. Third-party liability (TPL) is mandatory for all vehicles and you can be covered by the Green Card scheme or buy insurance for your car online or at the border.
You can buy insurance at the border crossing as you enter Montenegro. At the Debeli Brijeg border (between Croatia and Montenegro) there is a Sava insurance office where you can buy it. At other borders, you can buy vehicle insurance inside the building.
Green Cards are usually issued for free from your insurer. Temporary car insurance in Montenegro starts from €15 for 15 days. Comprehensive insurance for rental cars costs €5-10 per day. For Montenegro-registered cars, third-party liability is included with the cost of your annual registration.
Final Thoughts on Car Insurance in Montenegro
Whether you're driving your own car into Montenegro or renting one here, making sure you're covered with the right insurance will give you peace of mind and ensure you enjoy your travels around Montenegro to the fullest.
If your country is not part of the Green Card System you can buy your insurance online in advance or at the border. You can also save money and stress by choosing to rent a car with a low deposit, like with Localrent. 
If you're buying a car in Montenegro as a foreigner, third-party liability insurance is included with your registration, but you can add extra protection by buying comprehensive insurance from a Montenegro insurance company. Just be sure to shop around to make sure you get the best deal.
And don't forget to get comprehensive travel insurance so that you're also covered in case of any medical emergencies.
Have an incredible journey exploring all that Montenegro has to offer!
Book Your Trip With My Recommended Providers
Car Insurance in Montenegro