Montenegro Pulse contains affiliate links and is a member of the Amazon Services LLC Associates Program. If you make a purchase using one of these links, I may receive compensation at no extra cost to you. See my disclaimer for more information.

Driving in Montenegro: 44 Things to Know Before You Rent a Car
Find out everything you need to know about driving in Montenegro. From speed limits to seatbelts, we cover all you need for a safe and enjoyable trip.
Are you wondering what driving in Montenegro is like and whether you should hire a car?
You're not alone.
One of the most common questions about Montenegro is: Is it safe to drive in Montenegro?
The short answer is yes, it is safe to drive in Montenegro.
I've been driving in Montenegro for the last 15 years, and while it's quite different from driving in my home country of New Zealand (like driving on the right-hand side of the road instead of the left!), it's easy and safe and it's a great way to see Montenegro!
Montenegro is small and offers so much to see and do. But it doesn't have a great public transport network that covers all the attractions, so hiring a car and driving yourself around Montenegro is a great option.
It can save you a lot on tours and it gives you the freedom to explore and see the sights you can't get to on buses. It also allows you to fit a lot more into your days here because you're not limited by bus timetables.
As you'll see in this article, driving in Montenegro is very straightforward. There are a few rules you should follow, like keeping your headlights on, even during the day, but I'll go over all of those here so you'll feel confident and comfortable driving in Montenegro.
Contents
Find Car Hire Deals in Montenegro
Essential Montenegro Driving Rules
Driver's License Requirements
Driving Montenegro Roads
Renting a Car in Montenegro
Driving Your Own Car in Montenegro
Navigation in Montenegro
Petrol Stations in Montenegro
Montenegro Driving Tips
Exploring Montenegro's Top Driving Routes
Parking in Montenegro
Dealing with Fines
Frequently Asked Questions About Driving in Montenegro
Final Thoughts About Driving in Montenegro
Find Car Hire Deals in Montenegro
I recommend Localrent for the best choice, service and car hire prices in Montenegro. Hire a car from just €15 a day!
Essential Montenegro Driving Rules
Here are the main driving rules that you should know when driving in Montenegro:
Montenegro Driving Side
In Montenegro, vehicles drive on the right-hand side of the road. If you're used to driving on the left-hand side, this might seem a bit daunting, however I found it quick and easy to get used to.
I recommend hiring a car with an automatic transmission because I found with a manual I kept hitting the door with my left hand when I automatically tried to use it to change gears.
Take care when turning corners because that's when you might instinctively want to drive on left-hand side. And when going through roundabouts remember to give way to traffic coming from your left ie. cars that are already in the roundabout.
Montenegro Speed Limits
The general speed limits in Montenegro are 50 km/h (31 mph) in urban areas, 80 km/h (50 mph) on open roads, and 100 km/h (62 mph) on highways, unless otherwise indicated by road signs. All speed signs are in kilometres per hour.
These can change rapidly and be much slower than you might expect. Follow the signs carefully because the police often lie in wait in places where speed limits suddenly decrease and they're only too happy to issue fines, which can be anywhere between €30 and €2,000!
Seatbelts
Using seatbelts is mandatory for both drivers and passengers in the front and back seats in Montenegro.
Montenegro Blood Alcohol Limit
The legal blood alcohol limit for driving in Montenegro is 0.03%. This is very strictly enforced, so you should avoid drinking and driving altogether to avoid any problems.
Montenegro has some incredible cellar doors and I highly recommend doing a wine-tasting tour while you're here, but be sure to book a taxi or have a designated driver when if you do one.
Mobile Phones
You are not allowed to use a mobile phone while driving in Montenegro. If you need to make a call, use a hands-free device or pull over.
Overtaking
Overtake vehicles on the left side, and make sure there is sufficient space and visibility to do so safely. Locals tend to overtake in much tighter spots than we foreigners are used to. I recommend being very conservative!
Roundabouts
Give priority to vehicles already in the roundabout. Yield to the left and enter the roundabout when it is clear.
Child safety
Children under 12 or under 150 cm (4'11'') in height must sit in the back seat. Children under 5 must sit in fitted car seats. You can get car seats and booster seats free of charge with your rental when you hire a car from Localrent. Just be sure to select it as an add-on when you book.
Headlights
Keep your headlights on low beam at all times, even during the daytime. Montenegrin law states you have to drive with your headlights dipped and you'll be fined €30 if you don't.
Mandatory Equipment
There are certain things you must have in your car, and these are:
Collapsible warning triangle
Reflective jacket
First aid kit
Your rental car agency must provide these, so just check you have them before you drive away.
Emergency Numbers in Montenegro
Dial 112 for general Emergency services in Montenegro
Dial 122 for the Police
Dial 123 for the Fire service
Dial 124 for the Ambulance service
Driver's License Requirements
You don't need an international driver's license to drive in Montenegro. As long as your driver's license is written in the Roman alphabet you can use it here. If it's in another alphabet you'll need to bring an official translation or and International Driving Permit (IDP).
I have been driving on my New Zealand driver's license in Montenegro for 15 years without issue.
Some rental car agencies may require an IDP. If you're hiring a car from Localrent.com, all you need is your driving license from home and your passport (another reason I love them!).
However, you do need to have at least 2 years driving experience, which means that if you've been issued with a new license in the last 2 years you need to bring your old license with you to prove you have at least 2 years' experience.
Driving Montenegro Roads
Montenegrin roads tend to be narrower than Westerners are used to, but in general, they're well-maintained.
You might have come across reviews that talk about Montenegrin roads being 'precarious' and 'pot-holed'. Rest assured, these are out of date. The main roads that you'll drive to Montenegro's main destinations are all in good condition, especially in urban areas.
You may come across pot-holed or gravel (unsealed) roads in rural areas if you explore some off-the-beaten-track locations. In that case, just drive slowly and carefully.
Narrow Roads
Many of the roads in the towns have narrow streets. With cars parked on both sides, a two-lane street becomes a one-lane street. Passing cars on these kinds of streets can make you nervous, but it doesn't need to be stressful. 
Just drive slowly and carefully, and if in doubt, just pull over as far as you can and let the driver coming in the opposite direction pass. Locals are masters at navigating these small gaps.
The rule of thumb here is that you should give way if you're in a better position to pull over. Sometimes this means you'll need to reverse to where the road is wide enough for two cars to pass.
Steep Roads
Being such a mountainous country, some roads in Montenegro are very steep. If you're staying anywhere with an elevated sea view, there's a good chance there's a steep road leading up to it.
In that case, I recommend hiring a car with at least a 1.5L engine. When I was working for a Montenegrin tour operator, I regularly had guests saying they had to all get out of the car with their luggage and walk up the hill to their accommodation because their car's 1.2L engine wasn't strong enough to get them all up the hill.
You don't need a 4x4 to get up hills, but if you've booked a nice villa with elevated sea views, a 1.8L engine will give you peace of mind that you'll be able to drive all the way.
I love that Localrent.com gives you the option to filter by engine size, so you can search for a car you know will be right for your needs!
Mountain Roads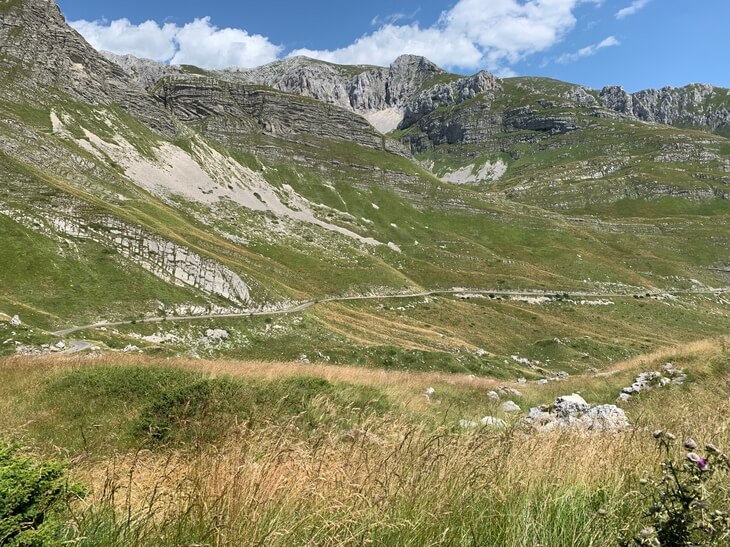 Durmitor Ring road through Durmitor National Park
Montenegro's mountainous terrain requires extra caution. They're not usually overly steep, but they can be twisty and narrow. 
Drive at a safe speed, use low gears when descending, and be prepared for tight turns and steep gradients.
Highways
Montenegro has a few highways/multi-lane roads. Always keep to the right lane unless you're overtaking. If you're driving in the left lane and a driver behind you is flashing their lights or honking, move into the right lane and let them pass.
Tunnels
Montenegro is a mountainous country (Montenegro literally means Black Mountain!) and there are lots of tunnels here.
The longer ones are well-lit and there's always signage to warn you about upcoming tunnels. In winter, you should take care in tunnels because of ice and icicles that form on the road and inside the tunnels. Other than that, they're not hazardous.
Renting a Car in Montenegro
When it comes to renting a car in Montenegro, choosing a reputable rental agency is key. Look for well-established companies that offer reliable vehicles and transparent rental policies.
I recommend Localrent.com for several reasons. They have brought together the best Montenegrin car rental companies to offer you the best choice and the lowest prices. They have simple and transparent contracts, the best service, low deposits and offer a huge choice of vehicles, including luxury cars.
To find out more about renting a car in Montenegro, go to my guide on hiring a car in Montenegro.
Not sure whether you need a car in Montenegro? Find out with this comparison of the pros and cons of hiring a car versus using public transport.
Driving Your Own Car in Montenegro
Driving your own car in Montenegro is very easy. Here is a list of what you'll need:
Driving license
Vehicle registration
Safety equipment - warning triangle, high-viz vest, first aid kit and spare light bulbs
Sticker showing where your vehicle is from eg. UK, F, D etc
Winter tires in winter (I also recommend bringing chains if you're travelling inland)
You used to need to buy a green card (insurance) at the border on entry into Montenegro. The green card system has been scrapped in Europe now and it's no longer necessary. However, you should make sure your car insurance covers Montenegro.
Navigation in Montenegro
Montenegro's roads are very simple and many small towns have just a few roads. You don't need a GPS to find your way around Montenegro, Google Maps is all you'll need.
You'll need a sim card with data to use Google Maps or you can download the whole city or country to map to your phone. Montenegro is not part of the EU, so don't make the mistake of thinking your EU data will cover Montenegro.
To avoid a roaming bill you can pick up a tourist sim card from one of the major networks like T-com at one of their stores or a newspaper kiosk. You'll need your passport to get one.
To save time and hassle, especially if you're travelling to other countries too, I recommend getting an e-sim from Airalo. They have Montenegrin e-sim cards starting from US$6.50 and global e-sim cards that work in 84 countries including Montenegro starting from US$9.
Using an Airalo e-sim is very simple. It takes just 4 simple steps:
Download their app
Choose your package
Install the e-sim
Activate the e-sim
No need to go to any stores or install a physical sim card in your phone. That means you can keep your sim card from home in your phone and keep using it too (however, you might want to remove it to avoid accidental roaming charges).
Petrol Stations in Montenegro
Petrol stations are plentiful throughout Montenegro, although they're mainly found in towns, not rural areas. That's why I recommend always filling up in a town and not letting your car get close to empty.
Petrol stations sell diesel and unleaded petrol (higher and lower quality). The thing I love about Montenegrin petrol stations is they still have attendants. This means someone will come out and fill up your car for you and all you have to do is pay! (both cash and card are accepted)
Montenegro Driving Tips
While driving in Montenegro can be a wonderful experience, it's essential to prioritise safety.
Here are some tips to help you navigate the roads with confidence:
Weather Conditions
Weather in Montenegro can change quickly, especially in the mountainous regions. Keep an eye on the forecast and adjust your plans accordingly. Roads can be very slippery when it rains, especially when the rain has just started.
In winter, ensure your vehicle is equipped with snow chains and winter tires if you plan on driving in snowy areas. You can get snow chains with your car hire for around €30.
View Points
Montenegro is studded with incredible view points that you'll undoubtedly want to pull over to snap a picture of. Things like lakes, coastal views and mountain vistas are one of the reasons you're coming to Montenegro in the first place!
When you see a beautiful view, rest assured there'll be a designated spot where you can pull over to get a photo. With Montenegro's roads typically being narrow, it's not safe to pull over on a narrow shoulder.
Just keep driving until you see a place for pulling over. This is usually where you'll get the best shot anyway!
Horn Etiquette
Everyone knows everyone in Montenegro, so don't be surprised if you come across two cars blocking a narrow street while the drivers have a chat.
While that might be cause for an immediate and long horn blast in other countries, in Montenegro you should give them 20-30 seconds to finish up. They probably know you're there and will finish their chat quickly.
In case they don't notice you and continue to block the road, a quick horn blast to let them know is enough. Anything else is considered very rude and offensive and might result in a confrontation. Not what you want on vacation! 
This is Montenegro, no one is in a hurry. Try to be like the locals and sit back and relax!
Drive Defensively
The Montenegro driving style tends to be aggressive, which can make foreign drivers nervous, but Montenegrins are very skillful drivers and are used to navigating the roads here.
When driving here, you should drive defensively and cautiously. Overtaking is very common and you should always be prepared to brake if necessary.
Many locals seem to think using their indicators is optional, so always keep a good distance between you and the car ahead, and don't be surprised if a car suddenly changes direction halfway through a roundabout.
Wildlife Encounters
Montenegro is home to diverse wildlife, including deer and wild boars. It's also common to come across cows meandering down the road (even on the main Adriatic Highway!), herds of goats, a flock of sheep blocking the road along the Durmitor Ring and chickens. Not to mention stray cats and dogs.
Stay alert, particularly when driving in rural areas or near national parks, to avoid potential collisions.
Local's Tip: Get up to date information on road closures (usually due to road works or snow) on the official Montenegro road network website AMSCG.org.
Exploring Montenegro's Top Driving Routes
Now, let's dive into some of the most captivating driving routes in Montenegro. These scenic routes will take you through breathtaking landscapes and reveal the country's hidden treasures.
Kotor Bay Loop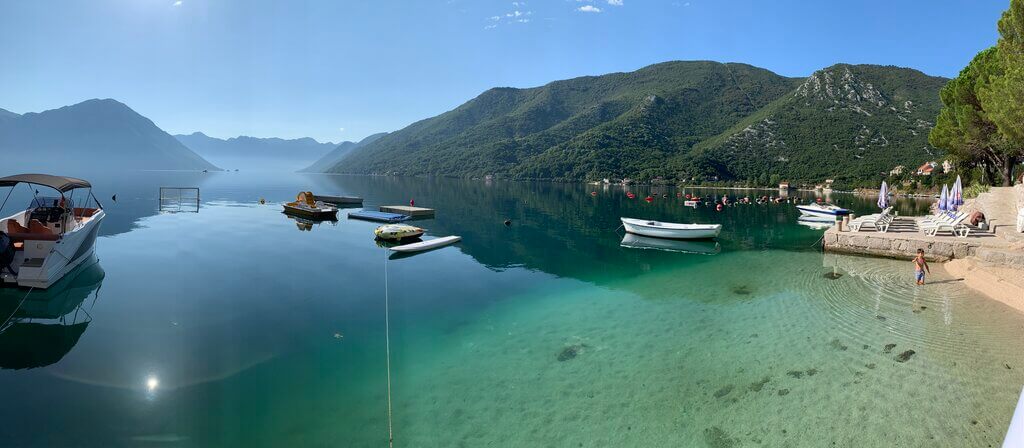 Bay of Kotor beach
Start your journey in the pretty town of Herceg Novi and embark on a scenic drive around the stunning Kotor Bay to Kotor. You can also drive it in the opposite direction, but driving it this way will give you the best seaside views.
This drive will treat you to fjord-like landscapes, charming coastal villages and hidden beaches.
There's no shortage of photo ops and places to stop - from seaside restaurants like Ćatovića Mlini to UNESCO-protected towns such as Perast. The drive from Kamenari to Kotor is 30km / 18.5 miles and is a must-do if you're hiring a car in Montenegro!
To return to Herceg Novi you have two choices:
You can carry on around the seaside road to Lepetane where the ferries dock and return to Kamenari via the Bay of Kotor ferry. This road takes you through the villages of Muo, Prcanj and Stoliv
You can head to Tivat via the tunnel and drive to Lepetane from Tivat
Recommendations for this drive:
Morinj beach
Sopot waterfall in Risan
Durmitor National Park
Frame around Mt Sedlo on the Durmitor Ring drive
Durmitor National Park offers rugged beauty and some of the best scenery in the mountains of Montenegro. Drive through winding roads, surrounded by towering peaks, deep canyons, and pristine lakes. 
The Durmitor Ring drive is the perfect way to see Durmitor National Park. This 85km circular route from Žabljak takes you to viewpoints of the Tara Canyon and through the beautiful Sedlo Pass.
Along the way you'll see traditional mountain villages and there are hiking opportunities galore.
Recommendations for this drive:
Lake Sušic
Mala Crna Gora village
Trsa village
Sedlo pass
Kotor to Cetinje via Lovćen National Park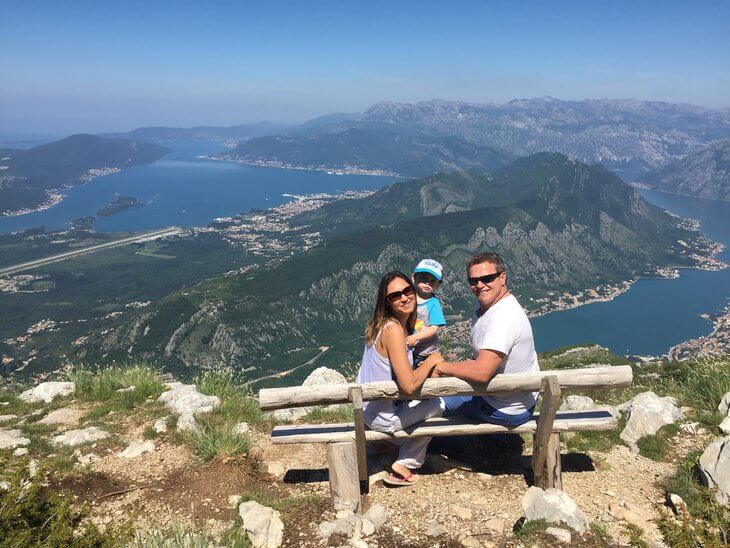 Kotor Bay View from Lovćen National Park
Commonly referred to as the Serpentine Road, the road that leads up to Njeguši and Lovćen National Park from Kotor really is worth the drive. There are 25 hairpin turns - so be prepared to go slow, but the views are absolutely magnificent.
Along the way you can stop in Njeguši to pick up some of Montenegro's best prosciutto, try some traditional cheese, wine and Montenegrin brandy (keep those for after you've finished the drive though).
From there, head into Lovćen National Park, where you can have a picnic at Ivanova Korita, the centre of the national park. Try the treetops ropes course at Adventure Park Lovćen, go for a hike or hire some bikes to ride the trails.
A must-see in the national park is the Petar II Petrović-Njegoš mausoleum, the final resting place of Montenegro's beloved poet and ruler. From here you'll get incredible panoramic views over all of Montenegro.
Recommendations for this drive:
Kod Pera na Bukoviću restaurant in Njeguši - Montenegro's oldest restaurant
Ivanova Korita rest area
Horizont - drinks with a beautiful view of the Bay of Kotor
Njevesta Jadrana restaurant - excellent traditional-style meals and service overlooking the Bay of Kotor
Coast to Lake Skadar or Podgorica
Virpazar, Lake Skadar National Park
From anywhere along the coast to Lake Skadar you'll be treated to gorgeous vistas. First you'll get the stunning sea views along the coastal roads and then you'll be treated to the lake views as you cross the bridge over the lake. When you cross this bridge you'll see the lake on both sides of you with the unique lake boats floating in the water.
If you stop in Virpazar, make sure you carry on across the bridge to Vranjina to make the most of the views. There's a visitor's centre there with some very nice displays about Montenegro's national parks and cultural history.
Recommendations for this drive:
Visitor's centre in Vranjina
Plantaže wine cellar in Vranjina (it's in a cave next to the visitor's centre)
Podgorica to Kolašin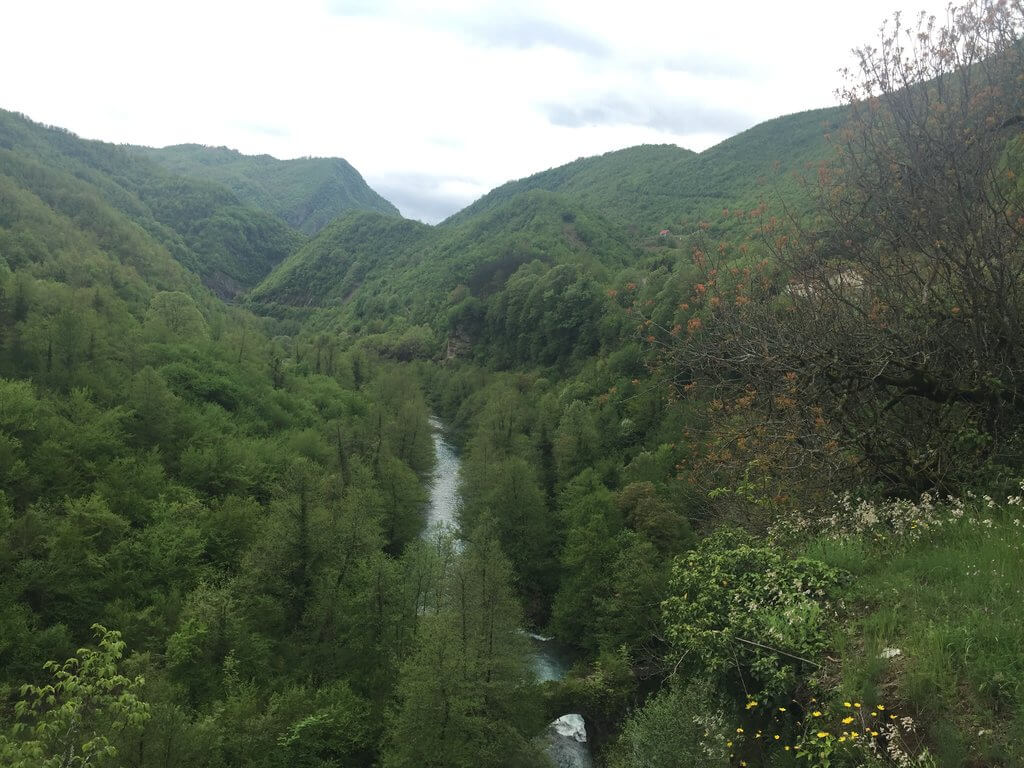 Morača Canyon
Kolašin lies on the edge of Biogradska Gora National Park and is a popular spot in winter and summer. In winter it's the ski capital of Montenegro and in summer it's a great spot to relax and do some walking.
The drive to Kolašin from Podgorica will take you along the Morača Canyon. The scenery is very dramatic and mountainous and will give you a good insight into the reason Montenegro is named for its 'black mountains.'
Recommendations for this drive:
Montenegro Road Trip
Taking a road trip around Montenegro is one of the best things you can do here. This country is so diverse and offers so much in the way of attractions and activities, taking to the road on a road trip is an absolute joy!
I've put together a week-long Montenegro road trip itinerary that you can download and follow. It covers all of Montenegro's top destinations including:
The Bay of Kotor
Budva Riviera
Durmitor National Park
Biogradska Gora National Park
Tara Canyon
Lake Skadar
Bar
Ulcinj
And so much more!
Parking in Montenegro
One of the great things about driving in Montenegro is having the freedom to go wherever you like. Pop over to Kotor for a morning walk, Budva for lunch and Sveti Stefan for sunset.
Sounds amazing, right?!
The only challenge can be finding parking, especially on the coast in the peak months of July and August. Usually, a bit of patience is all you need. I've never not found a parking space in Montenegro.
Parking Lots
The paid parking lots are your best bet. You'll take a ticket from a machine, or occasionally, a hand-written piece of paper from an attendant and pay when you exit the parking lot. Hourly fees are around €1-2 per hour and you'll need cash for payment.
Street Parking
If you park on the street, you can buy a 'pay and display' ticket to put on your dashboard at newspaper kiosks. You can also pay by text message. You'll see signs with pricing for different coloured zones and the number to send a text message to.
Send an SMS with your licence plate number to the appropriate number for the zone you've parked in. The cost of the parking will be deducted from your phone balance and you'll get a 5-minute warning when your parking time is about to expire.
Beware the Spider!
Take care to park only in designated areas. Each city has pauk (spider) trucks that can literally lift a car up, put it on their flatbeds and drive away with it. 
If this happens to you, you'll have to find where it's been taken to and pay around €80 to get it back (ask me how I know!).
Dealing with Fines
Despite our best efforts, sometimes we accidentally break the law and get fined. Here's what to do if that happens to you.
First of all, your best chance of avoiding a fine is by being polite and apologetic if you do get pulled over and told you've broken the law. Show them your driving license and rental agreement if you've hired a car.
Minor Infringements
In case you are issued with a fine, the police officer will take your driving license and give you the fine. You will need to drive to a bank or post office to pay the fine and then come back with proof of payment to get your driver's license back.
If it's after hours (after 4pm), you'll need to pay the fine the next day and go to the police station in the town you were in when you were fined, to get your license. For example, if you were stopped by police in Herceg Novi, but you're staying in Kotor, you'll need to pay the fine and return to Herceg Novi police station to get your license.
Major Infringements
In case of a major offence, you'll need to go to the local court. The police magistrate will issue you with two documents: one for the fine and one for payment of the court costs (around €20). You will need to pay these at a bank or post office.
When you do this, you'll need to fill in two separate payment forms, one for the fine and one for the court costs. Keep receipts for both and show them at the police station to get your license back.
Frequently Asked Questions About Driving in Montenegro
No, driving is not difficult in Montenegro. The roads along the busiest routes are well-maintained and very easy to navigate. The main things to know are to drive on the right-hand side, keep your headlights on and follow the speed limits carefully.
Yes, tourists can drive in Montenegro. You will need your valid foreign driving license if it written in the Roman alphabet. If not, you'll need an official translation or an International Driving Permit.
No, you do not need an international driver's license to rent a car in Montenegro. Your license (as long as it is written in the Roman alphabet) is fine.
No, you don't need a car in Montenegro. However, hiring a car or driving your own gives you a lot more freedom and allows you to see sights and places you wouldn't be able to see if you were using just public transport and tours.
Yes, driving in Montenegro is generally safe. However, be cautious on mountainous roads, respect speed limits, and adapt to local driving customs to ensure a safe journey
If you have a valid driver's license written in the Roman alphabet, you can legally drive in Montenegro. If your driver's license is in another alphabet, you'll need a translation or an international driving license.
Yes, key regulations include speed limits, wearing seatbelts at all times and keeping  your headlights on at all times.
To rent a car in Montenegro, you'll typically need a valid driver's license, a credit card, and to meet the age requirement set by the rental agency (usually 21 or 25 years old).
Montenegro's road conditions vary, with major highways and well-maintained coastal roads, but some mountainous routes may be narrower and winding. Drive carefully, especially in rural areas, and be prepared for occasional potholes.
Yes, you can drive in Montenegro during winter. However, be cautious of snowy and icy conditions in mountainous areas, and ensure your rental car is equipped with appropriate winter tires and snow chains.
Yes, there are one toll road in Montenegro: the highway to Serbia. There is also a toll on the Sozina Tunnel that connects Podgorica with the coast.
Yes, there are parking facilities available in all popular destinations. However, finding parking can be challenging, especially during peak seasons. Consider using public parking lots or designated areas outside city centers.
Yes, it's important to have insurance coverage for your rental car. Most rental agencies offer insurance options, but review the terms and conditions to ensure you have adequate coverage for your trip.
In case of a breakdown or emergency, call 112 for emergency services or your rental car agency.
It takes only 3 hours to drive through Montenegro if you drive from the coast to the north-western border. However, you can easily spend a week driving through Montenegro on a Montenegrin road trip.
Final Thoughts About Driving in Montenegro
If you've been on the fence about driving in Montenegro or worried about driving here, I hope I've laid your fears to rest.
If you're an experienced driver you can, and should, drive in Montenegro!
Hiring a car and driving around Montenegro's beautiful landscapes is one of the best things you can do in this stunning country.
Follow the simple road rules here, be patient and polite and you'll love driving in Montenegro too!
Safe travels, and enjoy the journey!
Book Your Trip With My Recommended Providers
Driving in Montenegro: Things to Know Before You Rent a Car